This site is supported by our readers. We may earn a commission, at no cost to you, if you purchase through links.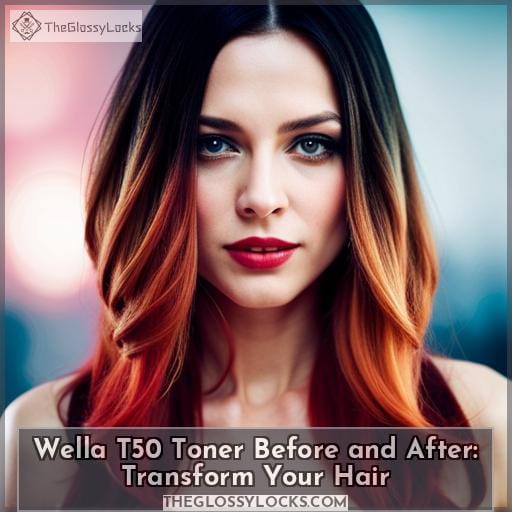 Ready to transform your hair with Wella T50 toner? As the old saying goes, "A picture is worth a thousand words" – and in this case, it's true.
This popular product has been making waves in the hair color industry for decades due to its ability to reduce brassiness from blonde hair while leaving behind an eye-catching pink blossom tone. In this article, we'll tell you exactly what you need to know about using Wella T50.
So get ready as we take a deeper dive into all things Wella T50 toner before and after – let's go!
Key Takeaways
T50 toner is a subtle pink hue for pre-lightened or natural blonde hair.
It reduces brassiness, enhances shine, and is free of parabens, phthalates, and gluten.
It is important to use the toner on level 9 or 10 blonde for the best results.
The toner's effectiveness can vary based on the initial shade of the hair and its health.
What is Wella T50?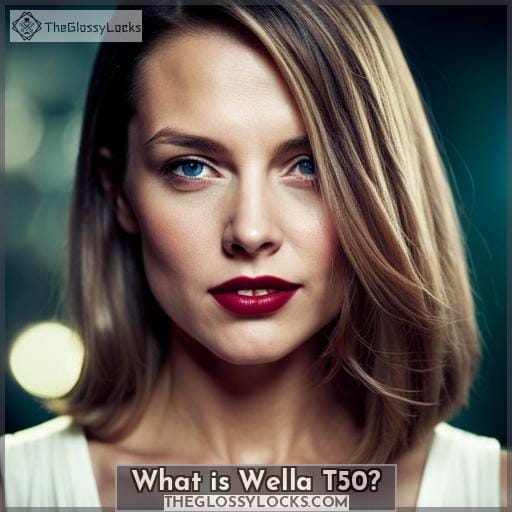 Experience the gentle, subtle light pink hue of Wella's T50 toner and give your pre-lightened or natural blonde hair a chic finish while reducing brassiness and enhancing shine.
Suitable for all blondes, this paraben-, phthalate-, gluten-free toner is free from animal-derived ingredients to provide optimal results with minimal damage.
Use on hair lightened to level 9 or 10 for best results. If your hair isn't light enough, consider bleaching it unless already damaged.
Wash before application, then mix a 1:2 ratio of toner to developer (10 volume recommended).
Shampoo and condition after use. Styling comes next.
Maintenance includes re-toning every few weeks as color fades over time due to shampooing and conditioning.
Use related shades like T15, 11 & 28 if you want an even stronger look than T50 can offer alone – consult a stylist or Wella professionals beforehand for guidance.
The Before: What Should Your Hair Look Like?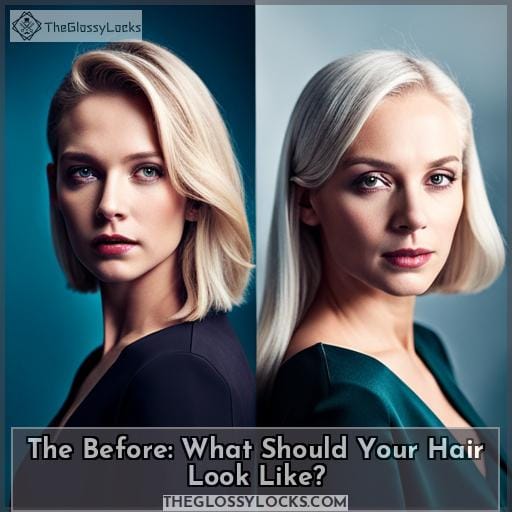 Before toning your hair with Wella T50, make sure it's lightened to the desired shade – like a blank canvas waiting for an artist's brush. Hair preparation is key to achieving beautiful results from toning. For the best results, aim for a level 9 or 10 platinum blonde before applying the T50 Pink Blossom Tonner.
This will ensure even coverage and help you achieve optimum color payoff without damaging your hair health.
It's important to note that if your natural or pre-lightened locks aren't light enough, you may need to bleach further until you reach the ideal shade of blonde.
During application, be mindful of mixing ratios and timing. Use only 10 volume developer with a 1:2 ratio and no more than 20 minutes of processing time, as instructed on the product packaging.
When working in sections, apply the toner evenly throughout your strands. Rinse after the recommended time has elapsed.
By following these steps correctly, you can expect vibrant pink tones while reducing brassiness and enhancing shine, leaving everyone wanting pastel perfection!
What Does Wella T50 Toner Do to Your Hair?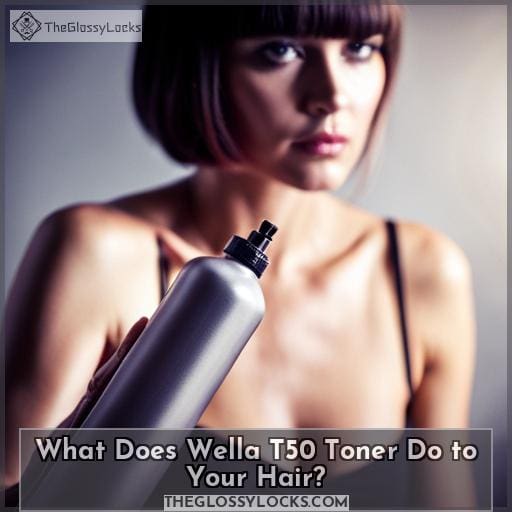 Discover how Wella T50 Permanent Toner can give you a gentle, subtle, and chic light pink hue that reduces brassiness, improves evenness, and enhances shine. To achieve the desired results from this toner, it's important to make sure your hair has been sufficiently pre-lightened to a level 9 or 10.
For best results, section your hair off with clips and mix the toner with developer in a 1:2 ratio before application. During the process, don't exceed 20 minutes of processing time to prevent damage or over-processing of your hair color.
After rinsing out the toner, be sure to shampoo, condition, and style your hair. Additionally, consider using nourishing treatments in between coloring sessions if necessary. The long-term effects of Wella T50 toner will depend on how often you use clarifying shampoos or bleach baths.
Generally speaking, you can expect vibrant pastel pink hues to last for 4-6 weeks, gradually fading into softer shades after several washes before needing to be re-toned.
For optimal outcomes in achieving the perfect soft shade, it's recommended to seek advice from an experienced stylist. They can provide guidance on which products are best suited for your individual needs.
Can Wella T50 Toner Be Used on Dark Hair?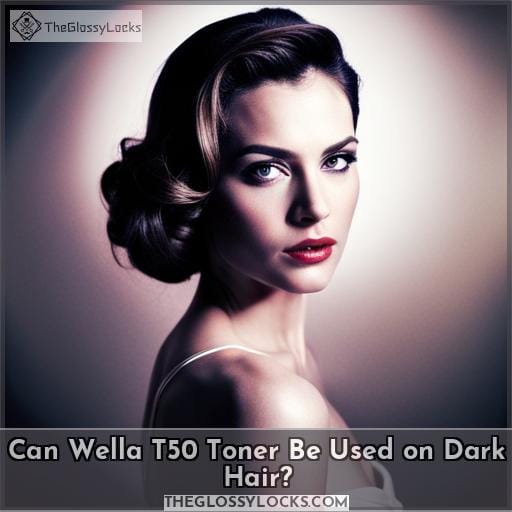 You can't use Wella T50 toner on dark hair, as it's specifically designed for pre-lightened or natural blonde hair. However, if you've already lightened your dark locks and want to achieve a subtle pink hue, then this is an option.
To get the best results from using Wella T50 toner on darker shades of hair:
Use 10 volume developer
Consult a stylist or Wella representative for guidance
Pre-tone with the correct mix of color codes (e.g., 8/38)
Avoid excessively processing the length of your hair – 20 minutes is enough!
Don't forget post-toning care such as shampoo and conditioners tailored to colored treated strands!
When used correctly in combination with adequate lightening, accurate mixing ratio, and strand testing, it can be possible to achieve beautiful pastel tones on darker hues. However, keep in mind that results will never be quite like those achieved by lighter base colors due to underlying pigment levels, which may still show through despite application techniques being followed precisely.
If you're looking for a more vibrant tone, pay attention not only when selecting products but also timing processes carefully – too long could result in undesired outcomes, so stick closely within manufacturer guidelines provided where available.
Dos and Don'ts of Using Wella T50 Toner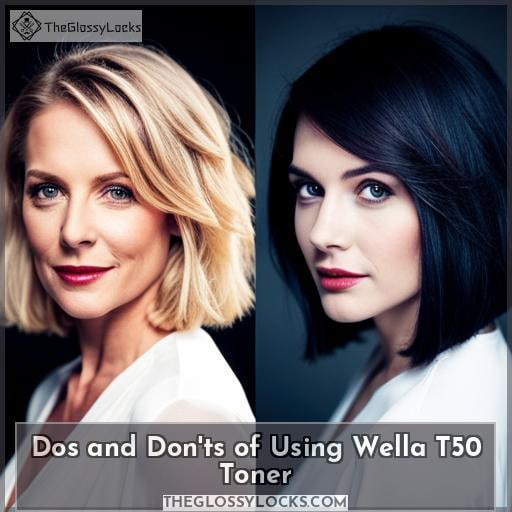 When it comes to using Wella T50 toner, there are a few golden rules you should adhere to. Whether you want to achieve an icy blonde look or a gentle pink hue, following the dos and don'ts of using this product will help ensure maximum results with minimal damage.
Dos
When using Wella T50 Toner, make sure to do adequate lightening and use the correct mixing ratio for best results. Don't cut corners or you'll find yourself back at square one! Haircare tips are essential for achieving the desired outcome.
Start by sectioning the hair and use a Framar family brush for application. Only use a 10-volume developer. It's important to do a strand test to determine how long the toner should process. The maximum processing time should be 20 minutes. If you want an icy blonde look, mix 5/81 depth with major/minor tones 8/38 to reduce orange tinges.
For pinkish hues, try using pastel blondes like Pink Blossom's T96 blend. After toning, take care of your hair by selecting the right shampoo and conditioner.
Don'ts
Don't damage your hair with Wella T50 toner or exceed the processing time of 20 minutes.
Common mistakes to avoid during application include not using gloves, incorrect mixing ratio, failing to do a strand test, and neglecting sectioning.
Post-toning care is critical for long-lasting results and should never be overlooked.
Hair must also be pre-lightened prior to use if you want optimal results. It's best used on level 9/10 lightness but can still work on lighter shades too!
When it comes to toning errors, hair care blunders are all too real. Take your time in understanding how products interact before diving into application missteps that could lead down the wrong path.
Avoid these pitfalls by taking adequate precautions beforehand!
What Developer Should You Use With Wella T50 Toner?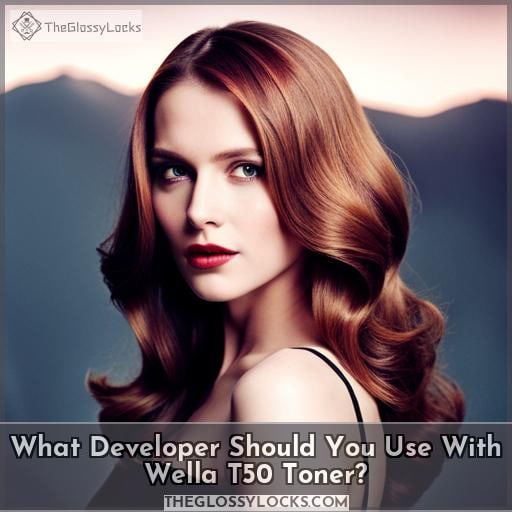 When using Wella T50 toner, it's important to choose the right developer to achieve optimal results. The best developer for this product is 10-volume, as recommended by Wella. However, if you need more power, you can consider a higher volume like 20 or 30-volume.
Keep in mind that higher volumes should only be used on prelightened hair, not natural blonde hair, to avoid potential damage from excessive lift.
If your goal is subtle toning of brown hair without further lifting, you can use alternative options like semi-permanent dyes. These will still provide good color payoff without risking too much damage from overprocessing.
Here are some tips for using T50:
Always remember the 1:2 ratio of toner and developer.
Conduct strand tests before applying all over.
Section off the hair properly to ensure equal coverage.
Don't leave the toner on for longer than 20 minutes, unless instructed otherwise by a professional.
Follow up with post-toning care, such as shampoo and conditioners specifically designed for color-treated hair.
Avoid products that contain sulfates or parabens, as they can strip away the newly acquired tone.
By following these steps carefully, you can achieve beautiful light pink pastel locks at home without needing to visit a salon.
Tips for Maintaining Your Wella T50 Toned Hair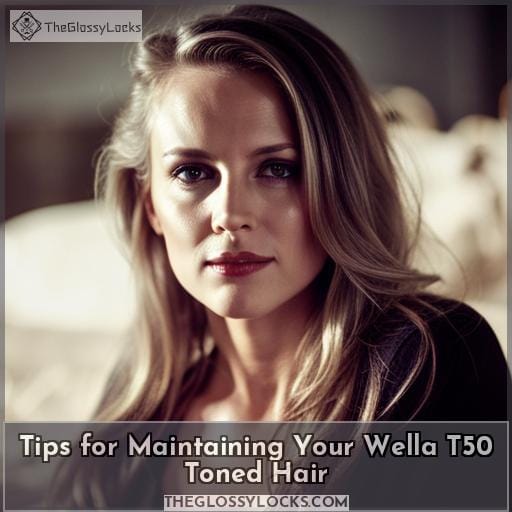 To keep your T50 toned hair looking vibrant, regular post-toning care is essential.
Shampoo less often with sulfate-free shampoo to maintain the tone of the hair and prevent fading.
Use a protein treatment once or twice per month. Overprocessing can cause breakage in colored hair that needs extra nourishment after undergoing chemical processes such as bleaching or toning.
Avoid putting too much heat on your strands when styling. This will help preserve the color for longer periods of time by preventing damage caused by exposure to high temperatures from blow dryers and curling irons.
Reapply Wella's Color Charm Toner every 4-6 weeks if needed. Depending on how frequently you wash it, it may need more frequent refreshes.
Is Wella T50 Toner Suitable for All Hair Types?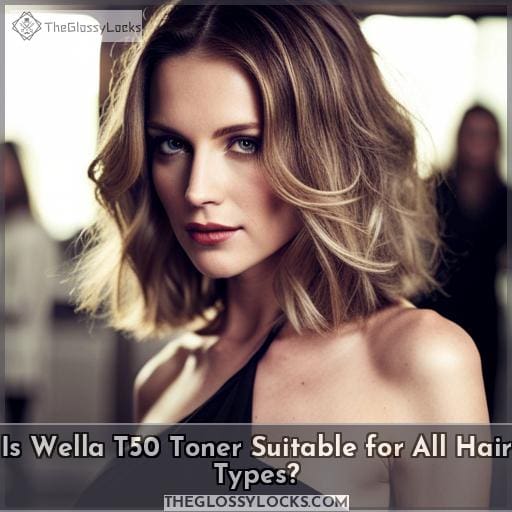 Whether you have light or dark hair, Wella T50 toner can help bring out your natural beauty with its gentle, subtle hue. But is it suitable for all hair types? Let's take a look at how the effectiveness of this toner may vary according to different types of hair.
For those who prefer to work with their natural color and texture, the T50 will be compatible, but results will depend on the initial shade and health of strands. It works best when applied to pre-lightened or naturally blonde locks that are not damaged for maximum impact.
So, if your mane has already been colored previously, then consider using a semi-permanent option instead, as over-processing could cause further damage.
The application process also varies depending on the type. Finer tresses need more delicate handling, while thick-haired beauties should section off before applying evenly throughout sections in order to achieve the desired results and avoid any patchy patches! No matter what type you have, though, remember not to exceed 20 minutes of processing time during use!
In short, whether you're rocking long locks or cropped curls, there is no doubt that Wella Color Charm Toner T50 Pink Blossom can provide impressive results regardless of your individual hair type variations.
Conclusion
Using Wella T50 toner is a great way to transform your hair from dull to dazzling. If you're looking to give your hair a subtle, pinkish hue, this toner is the perfect choice. Whether you have pre-lightened or natural blonde hair, you'll achieve a chic, light pink hue that will enhance your shine and reduce brassiness.
To get the best results, make sure to follow the dos and don'ts of using Wella T50 toner. Consider using the right developer and doing a strand test. With proper care and maintenance, you can keep your Wella T50 toned hair looking healthy and vibrant.
So go ahead and give your hair the transformation of a lifetime!