This site is supported by our readers. We may earn a commission, at no cost to you, if you purchase through links.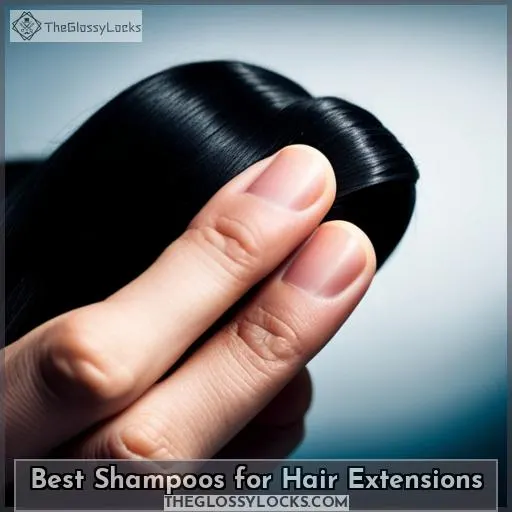 Breathe life into your hair extensions with the right shampoo! When it comes to caring for hair extensions, using a high-quality shampoo is one of the most important steps. It's essential you choose one that not only cleanses but also nourishes and preserves your tresses.
From shampoos specifically designed for color-treated or Remy human locks, to sulfate-free formulas packed with botanicals like coconut milk, shea butter, and argan oil – there are plenty of options out there that can help keep those strands looking their best.
Read on for all you need to know about picking the perfect product so you can make sure your beautiful mane always looks lusciously luxurious!
Key Takeaways
Choose sulfate-free shampoos for hair extensions.
Look for shampoos with hydrating ingredients like argan oil, jojoba oil, and sweet almond oil.
Use specific shampoos for different types of hair extensions.
Follow shampooing tips such as waiting a few days after applying extensions, detangling before shampooing, and air drying for the best results.
12 Best Shampoos for Hair Extensions
Looking for the best shampoos for hair extensions? Look no further! From Videri Lemon Sage Shampoo to Batiste Dry Shampoo Variety, this article showcases twelve of the most popular and effective products available on the market today.
Each product is designed to cleanse, condition, nourish, and protect your hair extensions while providing an enjoyable scent experience.
1. Videri Lemon Sage Shampoo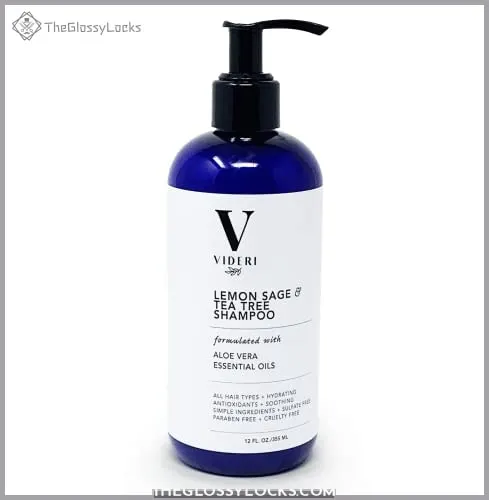 View On Amazon
You'll love Videri Lemon Sage Shampoo's refreshing scent and its ability to nourish your scalp without stripping away essential oils. It's blended with organic aloe vera, glycerin, hydrolyzed wheat protein, provitamin B5, and lavender distillates.
This sulfate-free shampoo is also free of parabens and cruelty. It's made in the USA with high manufacturing standards, so you can trust that it won't damage your hair extensions or strip them of their natural oils.
Nourishes hair & scalp for a cleaner feel
Delightful citrus scent provides an uplifting sensory experience
Sulfate & Paraben Free Formula; Cruelty Free
Dissolved keratin treatments
2. SheaMoisture Raw Shea Butter Shampoo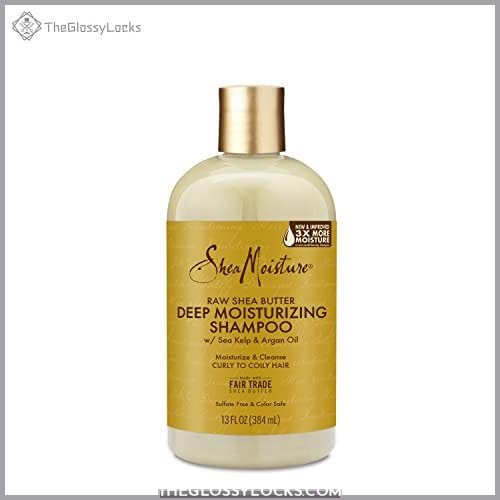 View On Amazon
Discover how SheaMoisture Raw Shea Butter Shampoo helps nourish and protect hair while providing a pleasant scent. This hydrating shampoo is formulated with Fair Trade shea butter, argan oil, and sea kelp to replenish moisture in dry or damaged hair.
Its sulfate-free formula allows it to cleanse without harsh chemicals that can strip away natural oils from the scalp or cause irritation.
Suitable for 3A to 4C hair types as well as transitioning and natural hairstyles, this product can be used by those who heat style their hair occasionally without fear of damage over time. It also contains no silicones, parabens, phthalates, mineral oil, or petrolatum, which are all known irritants for some users with sensitive skin conditions like eczema or psoriasis.
The unique combination of ingredients makes this shampoo an excellent choice for anyone looking for a gentle but effective cleansing agent that won't leave any residue behind on the scalp after use – plus its 100% natural composition means there are no hidden nasties lurking inside!
Many users have commented positively about its light yet lasting scent too. One user even reported having received compliments from strangers when using this product! Despite being quite pricey compared to other shampoos on the market today, it's worth every penny if you're looking for something truly luxurious.
Hydrates dry & damaged Hair
Sulfate Free Formula
No Silicone/Paraben/Phthalates/Mineral Oil/Petrolatum
Pleasant Light Fragrance
Pricey Compared To Other Products On The Market
3. OGX Coconut Milk Shampoo Conditioner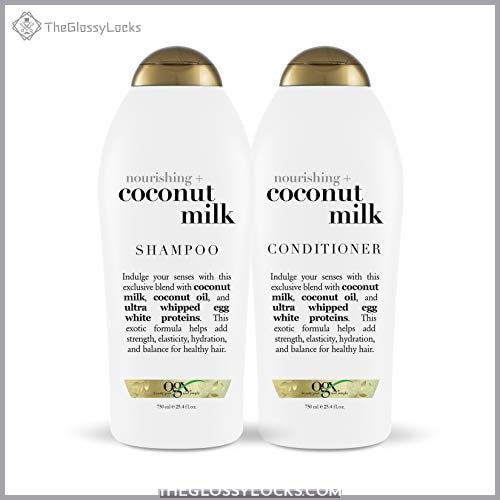 View On Amazon
Unlock the benefits of OGX Coconut Milk Shampoo Conditioner, with its ultra-creamy blend infused with coconut milk and egg white proteins to enhance natural strength, elasticity, and shine.
It helps maintain color vibrancy in your locks while providing nourishment where it's needed most. Customers have been raving about this product because of its effectiveness at cleaning without overdrying their hair or leaving any texture or grip behind.
With regular use, users report softer and shinier locks as well as improved scalp health due to the vitamin-rich formula inside each bottle.
Sulfate-free
Suitable for all hair types
Enhances natural strength and elasticity
Expensive compared to other brands
Some experienced scalp dryness and itchiness
4. Pureology Hydrate Shampoo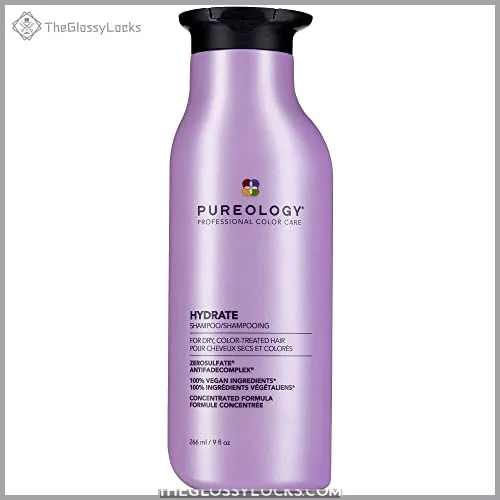 View On Amazon
Experience intense hydration and hair protection with Pureology Hydrate Shampoo. This luxurious shampoo is formulated to nourish all hair types, from normal to thick and dry, color-treated or natural. Jojoba oil hydrates the scalp while Rose Extract helps prevent hair loss. Green Tea provides a wealth of antioxidants for scalp health, and Sage stimulates follicles for growth potential.
While lathering up this sulfate-free product, you'll feel your locks become softer while still maintaining their strength against damage—all without any greasy residue left behind! Hair feels touchable after use; its clean scent of Lavender, Patchouli, and Bergamot will linger in your locks long after cleansing is done!
Moisturizes dry damaged hair effectively
Keeps colored treated strands vibrant longer
Suitable for all textures
Expensive compared to other shampoos
Not suitable if you need an anti-dandruff solution
5. Big Kizzy Biotin Shampoo Conditioner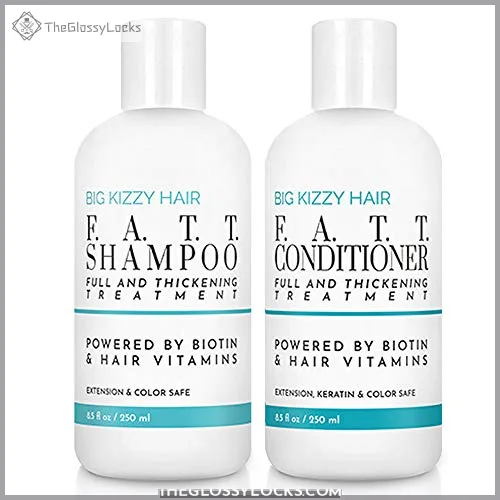 View On Amazon
Revive dry, damaged hair with Big Kizzy Biotin Shampoo Conditioner—a professional-grade set fortified with nourishing ingredients that promote natural hair growth and prevent breakage. This cruelty-free shampoo is formulated to add body and volume to fine or thick hair, while also strengthening fragile strands.
The set includes 8.5 ounces of shampoo plus an 8.5-ounce conditioner, both infused with beneficial vitamins like biotin and ProVitamin B5 along with 11 amino acids for maximum protection against damage from heat styling tools or color treatments.
Enhances volume for thicker, fuller hair
Nourishes and strengthens fine, thin hair
Suitable for all types of extensions, including keratin-treated styles
Cruelty-free, lightly scented formula without Silicone Sulfates or Parabens
Mixed user experiences; some report it doesn't volumize fine/thin hairs effectively
Small bottle size & price may be a concern
Some users found it left their hair feeling greasy or weighed down
6. The Hair Shop Extension Shampoo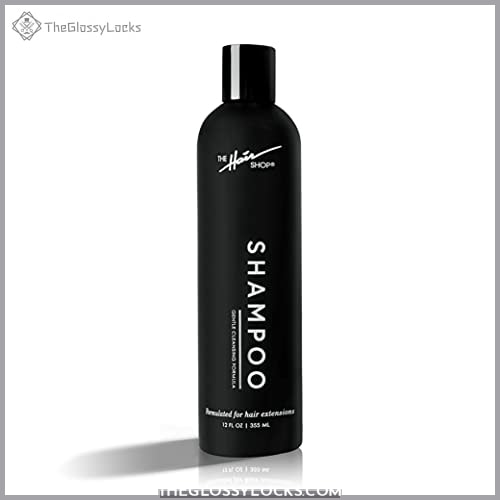 View On Amazon
Rejuvenate your hair with The Hair Shop Extension Shampoo, a luxurious liquid blend of chamomile and rosemary to combat split ends, aloe and biotin for growth promotion, all encased in a refreshing cucumber scent.
This professional-grade shampoo is specially formulated to gently cleanse extensions without overdrying them. It lathers well in wet hair while keeping it hydrated, thanks to its natural ingredients that provide shine and softness, as well as strengthen the roots against damage caused by everyday styling tools like heaters or hairdryers.
Effective at cleaning extensions and natural hair.
Pleasant cucumber scent.
Leaves hair clean, soft, hydrating, and prevents frizz.
Narrow non-slip bottle design.
Product exploded resulting in loss during delivery.
Expensive but potentially worth extending the life of extensions.
Some users prefer more lather in shampoo.
7. NYK1 Color Treated Hair Shampoo Conditioner Set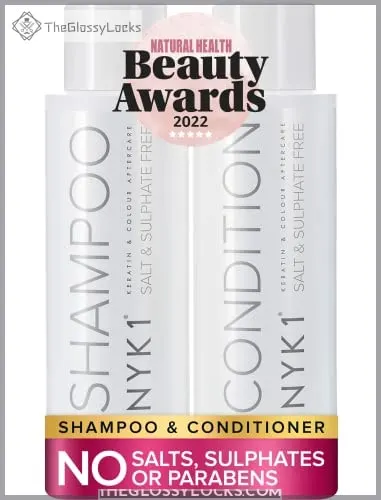 View On Amazon
NYK1 Color Treated Hair Shampoo Conditioner Set is a must-have for anyone looking to take their hair game up an extra notch. This sulfate, sodium lauryl sulphate, and paraben-free shampoo and conditioner set helps maintain color vibrancy while hydrating dry hair.
Suitable for all types of hair, including Brazilian Keratin treatments, this shampoo leaves locks feeling thicker, softer, and healthier than ever before without stripping away any natural oils or moisture.
PROS:
Leaves hair feeling thicker & softer
Great value – 500ml bottle + pump dispenser included
Helps maintain color vibrancy
Hydrates dry hair
Extends blowouts & lengthens time between styling sessions
CONS:
Some users experienced spillage during shipping due to a lack of tape on bottles
No noticeable difference in color longevity reported by some users
Not everyone was keen on the scent
8. COLOR WOW Shampoo Healthy Hair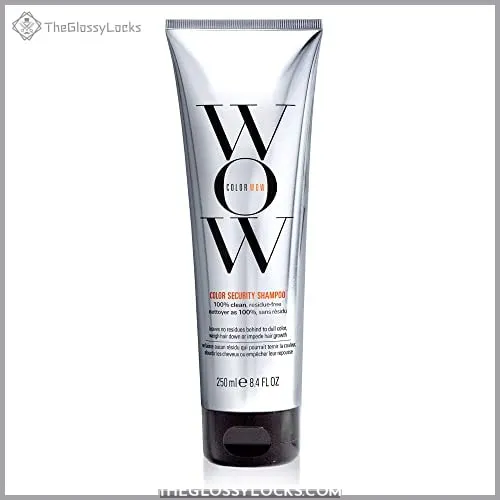 View On Amazon
Nourish and protect your fragile, colored, or chemically treated hair with COLOR WOW Shampoo Healthy Hair – a sulfate-free solution for all hair types that preserves color vibrancy while leaving it feeling soft and healthy.
Formulated without silicones, thickening agents, conditioning ingredients, or anti-frizz components that can weigh down hair or cause irritation to the scalp, this rinse clean formula is suitable for those who are looking to extend their blowouts between styling sessions as well as keep their color vibrant longer.
Made in the USA by a highly rated manufacturer, this shampoo is recommended for all ages! Many users have experienced great results such as improved scalp health, luminous blonde locks, a pleasant scent, and effective removal of product buildup.
A little goes a long way, making this product very economical despite its slightly higher price tag when compared with others in the market today.
Sulfate-free formula suitable for all hair types
Does not contain silicones & anti-frizz components
Keeps color vibrant longer
Suitable for extending blowout time
Highly rated US-made manufacturer
Economical (a little goes a long way)
Slightly pricier than other brands
9. Oribe Gold Lust Dry Shampoo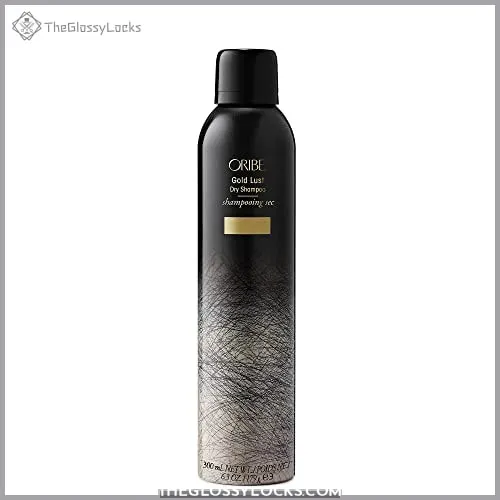 View On Amazon
Experience luxurious hydration with Oribe Gold Lust Dry Shampoo, formulated without sulfates, parabens, or sodium chloride. This weightless powder instantly absorbs dirt and oil from hair and scalp while nourishing and fortifying dry, damaged locks.
With its unique blend of vitamins, nutrients, and proteins, it helps maintain hair health by extending blowouts and prolonging time between styling sessions for lasting vibrancy that will make any mane look sleek all day long.
It's dermatologist tested, so you can be sure your tresses are safe even during frequent use – not to mention leaving behind a pleasant scent! Achieve fuller-looking strands in no time with this cult-favorite product; the perfect solution for those who shampoo infrequently but still want lusciously soft locks.
Adds fullness to fine hair
Pleasant smell & texture
Long-lasting
Difficult to spray due to requiring too much pressure
Pricey
Scent may not appeal to everyone
Expensive quantity provided
10. Giovanni Eco Chic Shampoo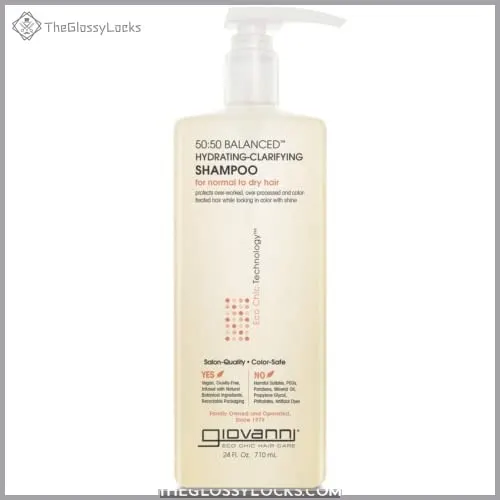 View On Amazon
Giovanni Eco Chic Shampoo helps to create a luxurious hair experience, nourishing and strengthening your hair with vitamins, nutrients, and proteins.
Its eco-friendly packaging has been designed for maximum convenience and safety during transport, while its light rosemary scent means that you don't have to worry about strong chemical odors. Giovanni Eco Chic Shampoo is suitable for normal to dry hair types, so no matter what your individual needs are, this product will be able to help out.
Hydrates and clarifies the scalp and restores softness and smoothness
Vegan-friendly
Cruelty-free
Light rosemary scent
Suitable for all normal and dry hair types
Some issues with packaging (leaking)
Not ideal for daily use
11. Moroccanoil Moisture Repair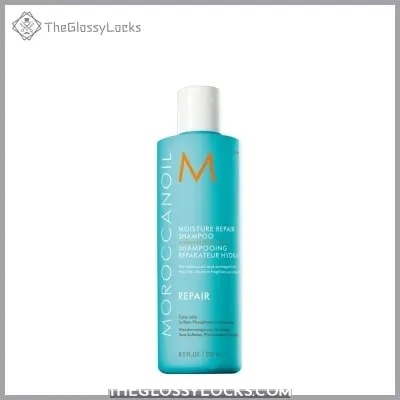 View On Amazon
Transform your tresses with Moroccanoil Moisture Repair – a luxurious cream, gel, and lotion to provide intensive moisture for damaged hair. It is formulated with vitamins, nutrients, and proteins, making it suitable for normal to dry hair types.
This product is enriched with argan oil, which helps detangle hair while restoring softness and smoothness. It also assists in repairing damage caused by styling or environmental factors. Regular use of this product will result in noticeably smoother locks that are easier to manage while still retaining their natural texture.
With its subtle Fragrance Originale scent, Moroccanoil Moisture Repair has won over many fans who have praised its effectiveness in terms of hydration and smoothing properties. Users have reported reduced frizz and increased smoothness after a single use. It is also effective in softening and smoothing hair.
Noticeably smoother hair after a single use
Reduced frizz and increased smoothness
Effective in softening and smoothing hair
Expensive compared to other haircare products (but effective)
Some users may find it too scented
12. Batiste Dry Shampoo Variety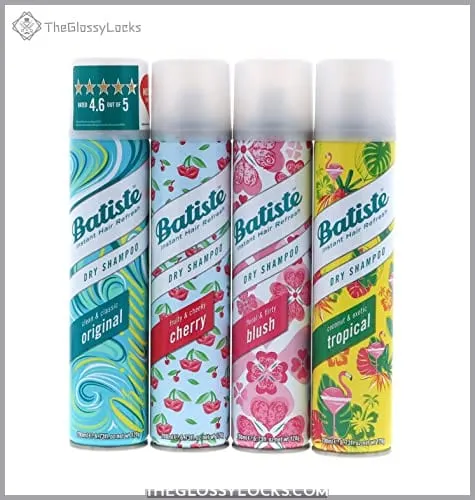 View On Amazon
Batiste Dry Shampoo Variety is the icing on the cake for reviving and refreshing your hair – like a cool breeze restoring life to wilting petals. This four-pack of 200ml sprays comes in an array of scents, including unscented, so you can choose one that suits your tastebuds.
The light lingering scent it leaves behind will be appreciated by those who enjoy feeling their locks are clean and fresh between washes. It absorbs oil well without leaving any residue or texture in dry hair, making this product suitable for all types of hair, even color-treated ones! Some users have noted a slight product residue, but not heavy enough to cause discomfort or irritation, which makes this ideal if shampooing infrequently or extending time between styling sessions.
Leaves a light, lingering scent on hair
Absorbs well in dry/colored/chemically treated hairs
Extends time between styling sessions
May leave some product residue (but not enough to cause discomfort)
Pricier than other brands − Not suitable for those with oily scalp
Avoiding Toxic Ingredients in Hair Extension Shampoos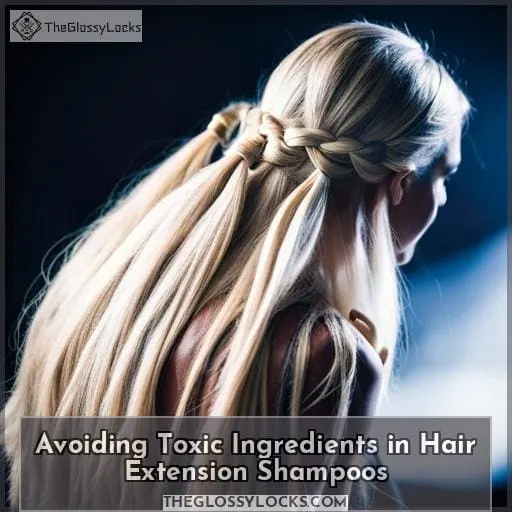 When it comes to taking care of your hair extensions, it's important to avoid toxic ingredients that could cause damage and lead to breakage. Paying attention to ingredient selection is key when choosing a shampoo for your extensions.
Many products contain additives such as sulfates, parabens, or alcohols, which can be harmful and strip away moisture from the hair. To protect your extensions, look for safer alternatives like sulfate-free shampoos with natural moisturizing ingredients such as argan oil, jojoba oil, or sweet almond oil.
Label reading is essential to become aware of what you are putting on your extension hair, so make sure you check all product labels before use! With careful ingredient awareness and label reading, combined with regular maintenance tips recommended above, you can ensure quality shine and longevity for your precious locks!
Proper Way to Wash Your Hair Extensions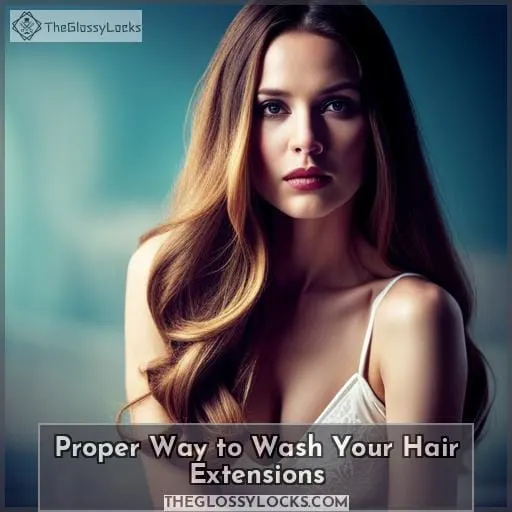 Because of their unique needs, it's essential to wash your hair extensions the right way. For optimal extension care, choose a shampoo specifically designed for hair extensions and follow a regular haircare routine.
Look for sulfate-free shampoos with natural ingredients like argan oil or jojoba oil that are free from parabens and silicones as well. To maintain color vibrancy and prevent dryness, wait 2-3 days after application before washing; then limit yourself to every other day or two days at most.
Always use warm water instead of hot when wetting your hair – not too hot though! Gently detangle them before you start lathering up the shampoo in order to avoid breakage during rinsing; rinse until the water runs clear so all traces of product buildup are gone from between strands.
Lastly, finishing off with an air dry is best – no towel drying needed here! With these tips under your belt, you'll be sure to keep those beautiful locks looking healthy while extending their longevity!
Choosing the Right Shampoo for Your Hair Extensions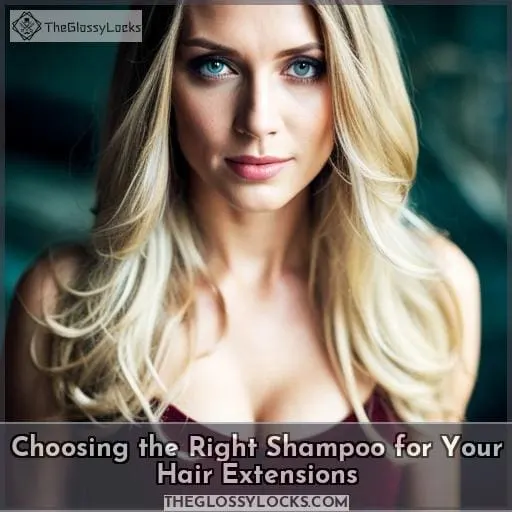 Choosing the right shampoo for your hair extensions is essential to ensure their longevity and quality. It is important to find a sulfate-free shampoo with hydrating ingredients like argan oil, jojoba oil, and sweet almond oil, and to avoid short-chain alcohols or added perfumes.
Depending on the extension type, there are recommended shampoos that can help keep them clean and healthy, such as Videri Lemon Sage Tea Tree Hair & Scalp Treatment for oily extensions or SheaMoisture Raw Shea Butter Shampoo for African American hair types.
Importance of sulfate-free.
Using a sulfate-free shampoo is essential to protecting your extensions from damage. However, it's important to make sure the product you choose also contains natural ingredients that will hydrate and nourish them.
Sulfates strip hair of its natural oils, leading to dryness and breakage – especially when applied directly on bonds or wefts of extensions. Instead, opt for shampoos with argan oil, jojoba oil, and sweet almond oil for gentle cleansing without compromising longevity or quality.
An added bonus? Natural ingredients help preserve color-treated extensions too! Haircare can be a daunting task, but proper maintenance is key in ensuring healthy-looking locks and preserving overall extension quality over time.
Suitable ingredients for extensions.
Look for hydrating ingredients like argan oil, jojoba oil, and sweet almond oil to nourish your extensions. Consider adding natural proteins from egg white or hydrolyzed wheat protein to strengthen hair bonds and add a protective layer.
For color-treated extensions, antioxidants like green tea extract will protect against fading and provide extra shine. Avoid sulfates, which can strip away the moisture of extensions, as well as harsh alcohols that make them brittle over time.
Recommended shampoos by type
For each type of hair extensions, there's a shampoo specifically designed to help maintain their quality. Remy or human hair extensions need the best hydrating ingredients, like argan oil, jojoba oil, and sweet almond oil, for proper maintenance while avoiding sulfates and perfumes.
African American hairs should use Shea Moisture Retention Shampoo. Brazilian/Indian hairs require OGX Nourishing Coconut Milk. Color-treated strands are perfect for Pureology Hydrate Shampoo. Damaged locks can benefit from Kerastase Nutritive Bain Satin 2.
All these shampoos provide essential nourishment while avoiding harsh chemicals that could harm your locks!
Conclusion
If you're looking for gorgeous, long-lasting hair extensions, you need to be extra vigilant about the shampoo you use. Sulfate-free shampoos are key, as are ingredients like argan oil, jojoba oil, and sweet almond oil that help hydrate and nourish the hair.
Different extension types require different shampoos. For oily and greasy extensions, Videri Lemon and Tea Tree Shampoo is recommended. African American hair extensions benefit from Shea Moisture Raw Shea Retention Shampoo.
Damaged extensions can be treated with Kerastase Nutritive Bain Satin 2 Shampoo.
Whatever your hair extension type, make sure to find a shampoo that provides the extra care and attention it needs to look its best. With the right shampoo and proper maintenance, you can keep your hair extensions looking and feeling beautiful for longer.