This site is supported by our readers. We may earn a commission, at no cost to you, if you purchase through links.
Do you wonder if purple shampoo is beneficial for naturally blonde hair? With the right product, it absolutely can be!
Not only does this type of shampoo provide toning pigments to neutralize brassiness, but it also contains nourishing ingredients that keep hair soft and healthy.
Plus, its powerful cleansing action leaves locks looking bright and luminous.
In this article, we'll discuss all the benefits of using a purple shampoo for natural blondes in 2023 – from how to use it correctly without tinting your hair purple to what causes brassy tones in naturally blonde tresses.
Let's dive into understanding why a good quality purple shampoo should become part of every natural blonde's haircare routine!
Key Takeaways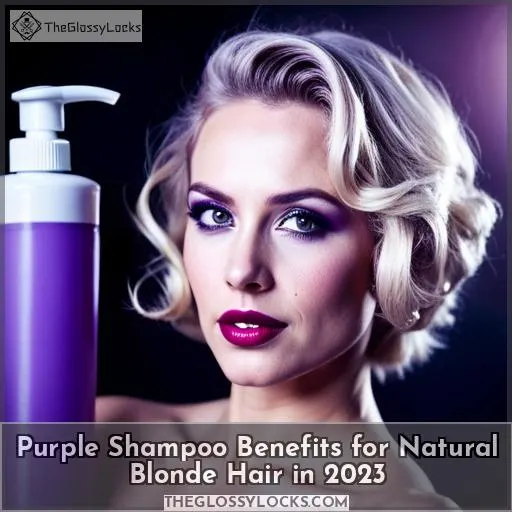 Purple shampoo is specifically designed for naturally blonde hair and helps neutralize brassiness and fight off yellow undertones.
Purple shampoo also helps protect color-treated or highlighted blondes from fading.
Purple shampoo contains toning pigments that reveal a cooler and brighter tone, combating brassiness and yellow undertones.
Purple shampoo is formulated with hair-loving ingredients like hyaluronic acid, keratin, and plant extracts that moisturize, protect from UV exposure, and maintain color.
What is Purple Shampoo?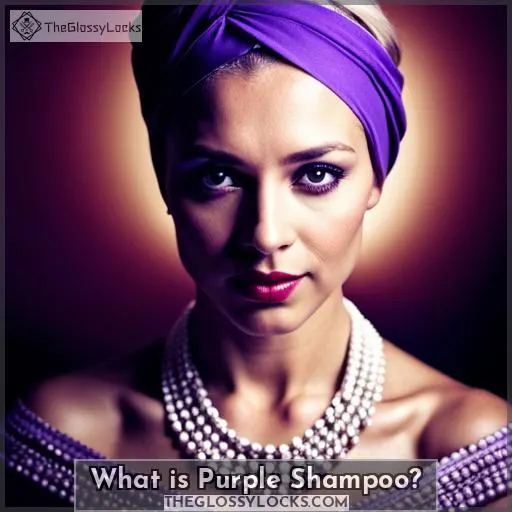 You can use a toning shampoo to maintain your vibrant locks and keep them looking their best – it's like giving your hair some love! Purple shampoos are specifically designed for naturally blonde hair, helping to neutralize brassiness while fighting off yellow undertones.
If you're trying to achieve luminous blonde hair, look no further than the best purple shampoos on the market today. These sulfate-free products are formulated with nourishing ingredients that provide long-lasting results without damaging natural tresses in any way.
From Joico Cool Blonde Purple Shampoo, Redken's Cool Blonde Ash Shampoo, and Schwarzkopf Goodbye Yellow Shampoo; all these options will help combat brassy blonde strands so you can enjoy your beautiful hue day after day! Discover which one of these amazing purple shampoos works best for you as they get rid of unwanted warmth and brighten dull tones in an instant while protecting against future damage at the same time – leaving you with incredible shimmery locks that everyone notices!
Benefits of Purple Shampoo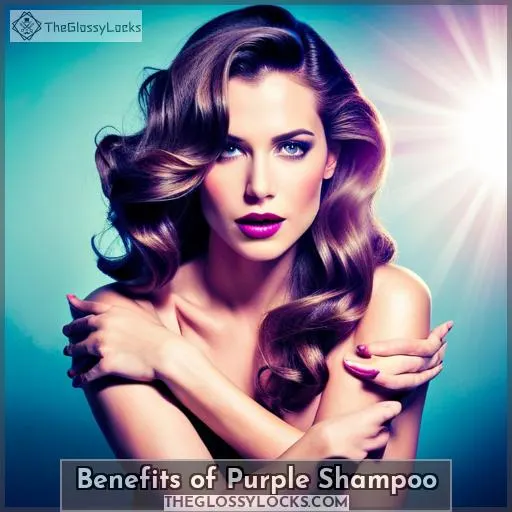 Inspired by the beauty of natural blondes, purple shampoo is a must-have for anyone who wants to maintain their hair color. With toning pigments, nourishing ingredients, and powerful cleansing agents, this product has it all! It not only effectively cancels out any brassiness or yellow tones in your locks but also helps replenish vital nutrients that keep them looking healthy and vibrant.
Toning Pigments
Toning pigments in purple shampoos work to reveal a cooler and brighter tone, combating unwanted brassiness and yellow undertones for dazzlingly luminous locks. Direct dyes provide an effective ash look while toning down brassy orange hair after coloring.
Purple pigments help neutralize underlying warm tones in light blonde hair, leaving you with an ashy silver hue.
Hair-Loving Ingredients
You'll be glad to know that the best purple shampoos contain hair-loving ingredients like hyaluronic acid, keratin, and plant extracts. These natural ingredients provide moisturizing properties while protecting from UV exposure, neutralizing brass, maintaining color, and brightening gray hair.
The key benefits of these sulfate-free formulas include nourishing locks, maintaining salon vibrancy, preventing breakage and dryness, preserving blonde shimmer, and reducing yellow tones and brassiness.
Cleansing Power
Experience the power of cleansing as it helps keep your locks in top condition and free from dryness. Purple shampoos for natural blondes are specifically formulated to meet their specific needs, providing an effective moisturizing effect and depositing pigments to neutralize yellow undertones while protecting hair from heat damage.
The strengthening benefits also help maintain color vibrancy and protect hair against future brassiness.
These purple shampoos provide a gentle solution for maintaining healthy blonde tones without breaking or drying out strands – perfect if you're looking to retain your desired shade! With nourishing ingredients like keratin, hyaluronic acid, and plant extracts that work together on both the surface of the hair as well as within its structure, this shampoo is a surefire way to achieve brightened locks with lasting shine.
How to Use Purple Shampoo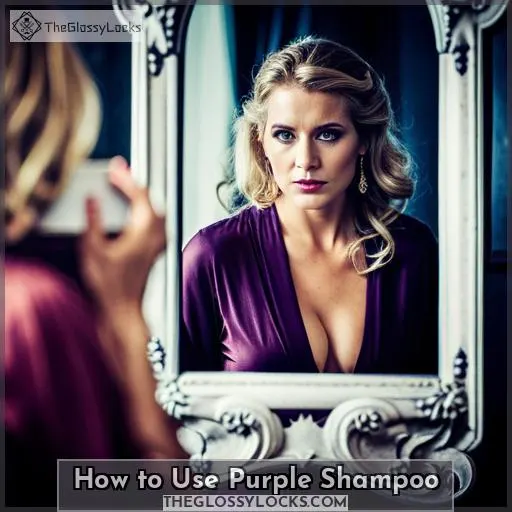 Are you wondering what to do if your purple shampoo tints your hair? Or, are you curious whether or not it needs to be sulfate-free? If so, then this discussion on using purple shampoo for naturally blonde hair is for you.
We'll cover topics such as the potential risks of overusing and underusing this product, tips for avoiding discoloration due to its pigments, and considerations when selecting a sulfate-free version.
What Can I Do if My Purple Shampoo Tints My Hair Purple?
If your hair has a subtle hint of purple after using the shampoo, try washing it off with cool water instead of hot. If you're dealing with discoloration caused by hard water or toning that's gone wrong, professional color theory and proper use of purple shampoo can help prevent unwanted hues.
Color-depositing shampoos like Joico Color Balance Purple Shampoo are ideal for clarifying gray hair, minimizing brassiness in blondes, restoring vibrancy to dyed strands, and correcting yellowing due to environmental damage.
Hair stylists recommend being mindful when applying these products as overuse can lead to an undesired hue.
To keep blonde hues vibrant between salon visits while preventing color fading from hard water minerals or chlorine exposure, be sure to give your locks some love and lather up regularly with the right purple shampoo!
Does My Purple Shampoo Need to Be Sulfate-free?
Soothe your tresses and keep them healthy with a sulfate-free purple shampoo – you'll be glad you did! Protecting hair color, repairing damage, and enhancing tone are all possible when using this type of formula.
Color depositing ingredients such as lauryl sulfate or citric acid can help to remove any brassy tinge while hyaluronic acid adds hydration to the strands. Copper tones can also be neutralized for long-lasting results without drying out the hair like other shampoos that contain harsh chemicals.
Look no further than a good quality sulfate-free purple shampoo for beautiful blonde locks with added shine and body!
Get Bright, Luminous Hair With a Purple Shampoo for Natural Blondes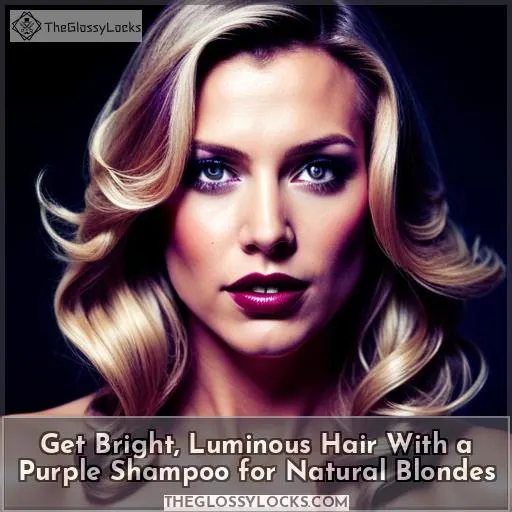 Discover the perfect way to enhance your blonde locks with a purple toning shampoo designed specifically for natural blondes. Purple shampoos contain rich purple pigments that help neutralize warm undertones and yellow-orange tones in the hair, resulting in brighter, more luminous color results.
These shampoos not only provide a beautiful finish but also offer vital protection from further damage or fading of color due to their nourishing ingredients. With regular use, these products can help keep hair healthy while preventing brassiness and dryness over time.
Whether you're looking for an everyday solution or something extra special to bring out those cool highlights – there's a product perfect for everyone! Enjoy long-lasting toning effects without worrying about discoloration or dullness when you choose one of these specially formulated purple shampoos for natural blondes!
What Causes Brassy Tones in Naturally Blonde Hair?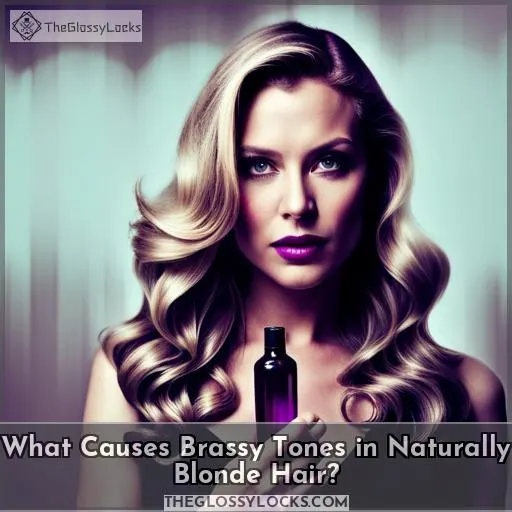 You may be noticing brassy tones in your blonde locks, which are caused by a variety of factors including over-processing with heat styling tools and overexposure to UV rays. Hair can also become brassy from the chlorine found in swimming pools or tobacco smoke.
NYC-based trichologist Shab Reslan recommends using a good purple shampoo to counteract these effects, as it helps tone down any unwanted yellow or orange hue and reveals brighter hair color results. Proper use of purple shampoos for natural blondes will not only provide an instant toning effect but also offer long-term benefits such as protection against future brassiness due to its nourishing ingredients like keratin and fig extract.
Redken's Color Extend Blondage line is known for providing excellent protection from fading while delivering luminous results every time you wash your hair! Use these products regularly for maximum toning benefits that leave you feeling confident about your beautiful blonde tresses all day long!
Does Purple Shampoo Work on Natural Blonde Hair?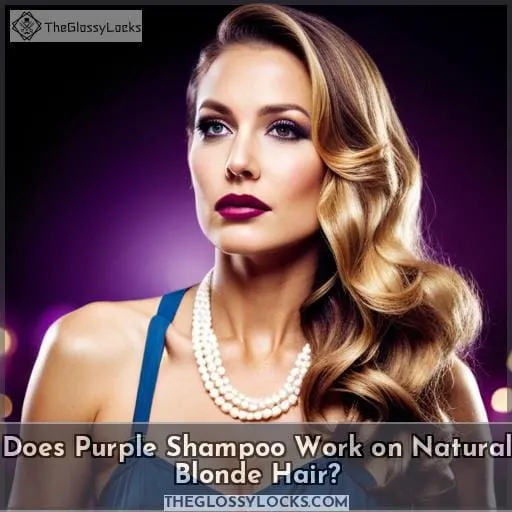 When it comes to finding the right shampoo for natural blonde hair, a purple shampoo is essential. Not only does it help color-correct results, but it also provides protection from future brassiness and orange tones.
With its unique formula that neutralizes brassy yellow and orange hues in light blondes or grey hair while providing moisture for healthier-looking locks, you can get a brighter tone with every use!
Here are three tips on how to get the most out of purple shampoos:
Use regularly – even up to twice a week if needed.
When applying, be sure not to leave it in too long as you don't want the dye molecules penetrating too deeply into your strands.
Make sure you follow up with conditioner afterward so your mane doesn't dry out.
Whether you're trying to maintain blonde highlights or achieve an ash silver look, by utilizing these tips along with choosing quality products like OGX Purple Toning Blonde Shampoo, you'll feel confident about rocking beautiful tresses all day long!
Frequently Asked Questions (FAQs)
How often should I use purple shampoo for natural blondes?
Use purple shampoo for natural blondes as often as you need to achieve your desired look. Its powerful toning effect can help you get rid of brassiness, revealing a brighter and cooler hue that will leave heads turning in awe! Make sure not to overuse it though – once or twice every week should be plenty enough.
Is purple shampoo safe for lightened or bleached hair?
Yes, purple shampoo is safe for lightened or bleached hair. It helps maintain vibrant color and prevents brassiness while nourishing your locks with its special formula. By delivering moisture to strands without drying them out, it tones down brassy yellow and orange undertones for long-lasting results.
Does purple shampoo help protect hair from sun and chlorine exposure?
Yes, purple shampoos can help protect hair from sun and chlorine exposure. They contain nourishing ingredients to strengthen and condition strands, while also providing a toning effect that keeps color vibrant.
Are there any side effects of using purple shampoo?
Using purple shampoo can cause dry and brittle hair, as well as breakage. It may also leave a residue on the scalp that needs to be cleaned off. Overuse of this product can lead to fading or discoloration of blonde hair, so it's important to use it in moderation.
Is purple shampoo suitable for gray hair?
Yes, purple shampoo can be suitable for gray hair. It helps to prevent brassiness and yellow tones while maintaining the ashy silver look. Its pigmented formula brightens gray hair, leaving it soft and manageable without drying out or staining your hands.
Conclusion
Using a purple shampoo for naturally blonde hair is like giving your hair a drink of water. It helps to keep it hydrated, nourished, and healthy while toning down any brassy or yellow tones. It can help your hair look more vibrant, luminous, and beautiful with regular use.
This type of shampoo is specifically formulated to work with natural blonde hair, so it's a great option to help keep your hair color looking at its best. With the right purple shampoo, you can keep your hair looking healthy and beautiful.