This site is supported by our readers. We may earn a commission, at no cost to you, if you purchase through links.
Have you been looking for a pre-poo treatment that will work wonders on your natural hair? Aloe vera is an amazing ingredient to use as it has many medicinal properties. It can help to nourish and restore the health of your hair while also providing much-needed moisture.
Pre-pooing with aloe vera gel or juice can reduce shedding during washing and add shine, making it an effective way to condition the scalp without using harsh chemicals.
Key Takeaways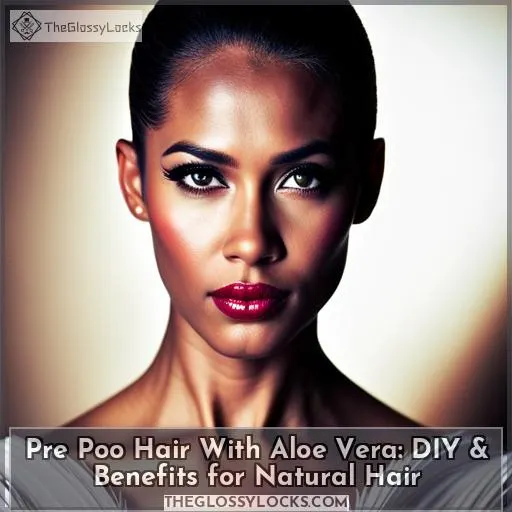 Aloe vera is a beneficial ingredient for pre-poo treatments on natural hair, providing nourishment, moisture, and shine.
Mixing aloe vera gel with oils like olive oil or coconut oil enhances the moisturizing effect of pre-poo treatments.
Pre-pooing with aloe vera helps condition the scalp without harsh chemicals, promoting healthy growth and strength in natural hair.
Aloe vera pre-poo treatments help strengthen, detangle, and protect the hair, resulting in soft, shiny, and manageable locks.
What is Pre Poo?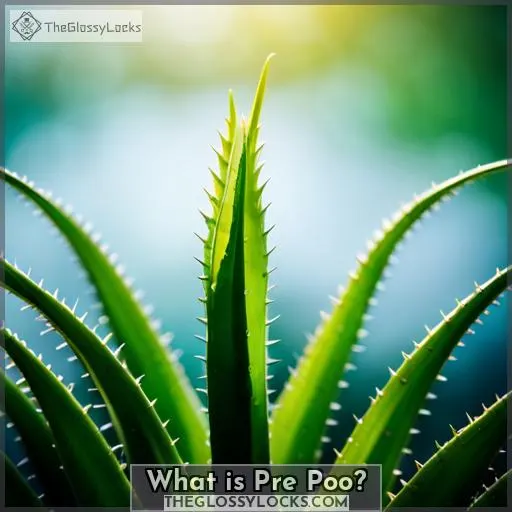 You can give your hair some extra TLC with a pre-shampoo treatment that features aloe vera for maximum nourishment and hydration. Pre Poo is a routine used before shampooing the hair to help strengthen and detangle it, as well as seal in moisture.
Aloe vera has small powerhouse benefits when incorporated into your pre poo routine. Not only does it condition the hair, but it adds shine while also making it more manageable by strengthening each individual strand of hair's follicles.
A popular way to apply this mixture is overnight, so you wake up feeling refreshed and ready for wash day morning! This natural approach helps promote balanced scalp pH levels while keeping locks shiny all day long – what's not to love?
Additionally, using herbal oils such as amla mixed in with other essential oils like rosemary can provide even further protection from sun damage, plus add volume if needed over time.
So why wait? Incorporate this powerful combination into your regular beauty regimen today – we guarantee you won't regret taking advantage of its many perks!
Benefits of Pre Poo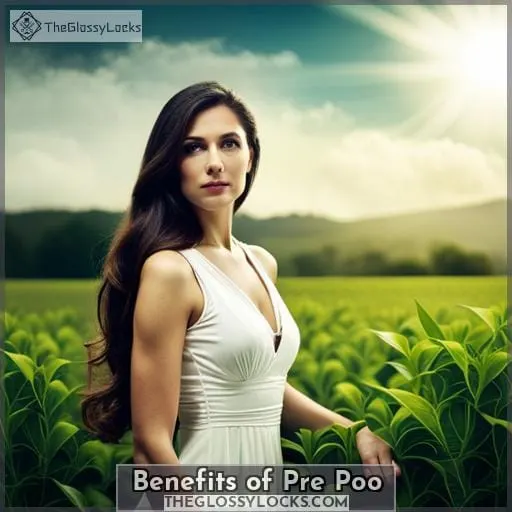 Are you looking for an easy and natural way to improve your hair's health? Pre-Pooing with aloe vera can help promote growth, strengthen strands, and make detangling a breeze. This pre-shampoo treatment is packed with vitamins, minerals, essential fatty acids, and other incredible nutrients that are necessary for healthy hair.
Hair Growth
Using a pre-shampoo treatment featuring aloe vera can give your locks an extra boost of nourishment and hydration, while also helping to stimulate hair growth and protect from sun damage.
Benefits include:
Oil benefits for smoother strands
Moisturizing benefits with shea butter or African Pride Moisture Miracle Aloe
Stress relief with essential oils like lavender or rosemary
Strengthening of the follicles using natural oils such as coconut, olive, and almond oil
Plus, added volume over time using an Aloe Vera plant extract.
Pre-pooing regularly helps keep strands healthy by locking in vital nutrients deep into each strand so they stay strong against breakage even during styling.
Strengthening
By incorporating aloe vera into your pre-poo routine, you can help strengthen the hair follicles and reduce breakage. Infused with essential fatty acids, proteins, vitamins, and minerals, it provides nourishment for healthier-looking locks.
The powerful combination of shea butter or African Pride Moisture Miracle Aloe with extra virgin olive oil helps to lock in moisture before washing without leaving a greasy feel.
For an amazing pre-poo treatment, try mixing Amla powder with Ayurvedic herbal oils to stimulate growth that will last long after wash day! Protein treatments like coconut oil are great for protecting against hygral fatigue, while rosemary essential oil boosts volume towards achieving those hair goals!
Get ready for soft, shiny tresses by using natural ingredients that work together to give you an effective yet gentle result!
Detangling

Slather on a nourishing pre-poo mixture to detangle and protect strands before washing for soft, manageable locks. Natural oils like coconut, olive, or almond oil are great to use as a hot oil treatment or overnight mask.
For an even more luxurious experience, try adding some essential oils like rosemary into your DIY aloe vera hair mask.
With all these ingredients combined, your tresses will look super shiny and feel incredibly smooth without feeling greasy afterwards.
How to Pre Poo Hair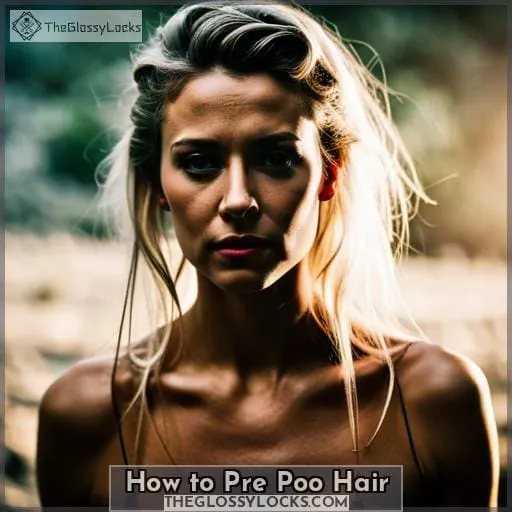 Looking to upgrade your pre-poo routine? Olive Oil Pre-Poo, Shea Butter Pre-Poo, and Aloe Vera Pre-Poo are all great options for keeping hair healthy, moisturized, and strong. Each of these treatments provides essential nutrients that help nourish the scalp as well as protect against damage from the sun's rays.
Olive Oil Pre Poo
Try treating your locks with Palermo Cold-Pressed Olive Oil for a luxurious pre-poo experience! It's rich in beneficial fatty acids, vitamin E, phytosterols, and lauric acid. This oil will nourish and moisturize your hair while providing protection from sun damage.
This oil is great for several purposes. First, it promotes the growth of eyelashes, brows, and beards. Second, it locks in moisture before washing the hair. Third, you can use it as an oil spray or add it to other pre-shampoo products like aloe vera gel or protein treatments.
Plus, it's free of parabens, mineral oils, sulfates, and petrolatum. So you can rest assured that this olive oil is good for you! Pre-pooing with olive oil helps reduce breakage while keeping your scalp balanced.
This gives you naturally beautiful curls that shine without feeling weighed down.
Shea Butter Pre Poo
Make your pre-wash routine complete with Shea Butter – a rich butter that provides intense hydration and nourishment to dry, damaged hair. Its Vitamin A content helps reduce scalp inflammation while its antioxidants help repair damage caused by UV rays and other environmental stressors.
It also contains Omega Fatty Acids which deeply condition the hair, encouraging healthy growth from root to tip.
This DIY Pre Poo is an effective way for naturalistas looking for protein treatments without spending too much money on expensive products.
Your choice of ingredients combined together will provide amazing benefits such as faster growth rates resulting in longer locks over time, along with added shine making them look vibrant and healthier than ever before!
Aloe Vera Pre Poo
Give your hair the nourishment it needs with an aloe vera pre-poo treatment! This simple yet effective method offers a number of benefits to keep your hair healthy and strong.
Aloe vera is rich in vitamins, minerals, proteins, and essential fatty acids that help to maintain moisture levels while repairing damage. To use this overnight prepoo, simply apply the gel from an aloe vera leaf onto wet scalp before adding in one of your favorite oils, such as coconut or olive oil, for maximum effectiveness.
The application of this beneficial substance adds shine to dull strands while preventing breakage due to its high protein content, which helps strengthen each strand from within.
Enjoy all these amazing benefits by making pre-pooing with aloe part of your regular hair care routine!
How Long Should You Pre Poo?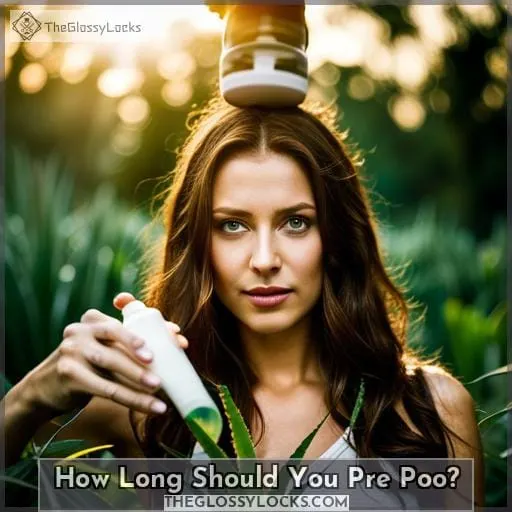 For best results, allow your aloe vera pre-poo treatment to sit in your hair for at least one hour.
Pre Pooing is a simple yet effective method of preparing the hair before shampooing. It helps nourish the scalp and protect against damage from sun exposure, as well as provide essential nutrients for healthy locks.
Here are some tips on how you can get the most out of your pre-poo routine:
Start with dirty or unwashed hair. This will ensure maximum absorption of all beneficial ingredients from oils, conditioners, etc.
Use natural ingredients such as Aloe Vera gel combined with other oils like olive oil, shea butter, or almond oil.
Experiment with different recipes by adding herbs like Amla powder, which contains anti-inflammatory properties that stimulate growth while providing a whole host of other amazing ingredients!
Try using rinse-off conditioner instead when mixing together an herbal blend. It provides extra slip, making detangling easier, and adds moisture without weighing down strands.
Finally, timing is key when it comes to pre-pooing.
Protein Pre-Poo Treatment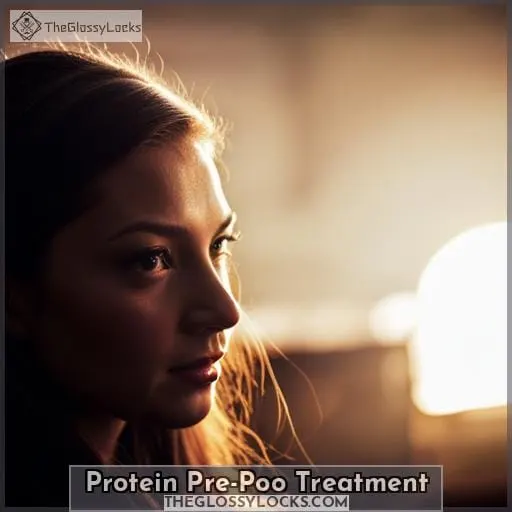 Try out a protein pre-poo treatment for your natural hair to strengthen, detangle, and add shine – all while protecting it from damage. Protein treatments are great for helping to restore strength and elasticity in the hair strands.
This is due to the presence of amino acids, which act as building blocks that help nourish and protect against breakage.
A few benefits of using a protein pre-poo include increased moisture retention, promoting healthy growth, and preventing future breakage.
Moringa leaf powder is also known for its strengthening properties when used on natural tresses before shampooing! Mix moringa powder in equal parts along with coconut milk or water into a paste and apply this mixture section by section onto the dampened scalp area prior to washing away any dirt build-up left behind after styling sessions too!
When looking at different recipes, make sure you're taking note of how long each one should stay on depending on what your individual goals are: whether they're restoring strength back into damaged locks or just maintaining already healthy ones – either way, these proteins will definitely do the trick! Get creative when experimenting because there's no limit here, so don't be afraid if something doesn't work out right away; keep trying until desired results have been achieved.
But remember, not all formulas work the same across everyone, so adjust accordingly based on each person's needs specifically tailored towards their own unique head of curls/coils, etc.
Lastly, enjoy creating endless possibilities within this amazing world we call 'hair care'—the sky really is your only limit here, so never forget that beauty comes from within always!
Developing the Aloe Vera and Herbal Oil Pre-Poo

If you're looking to take your natural hair care routine up a notch, pre-pooing with aloe vera and herbal oil could be the perfect addition. Pre-treatment with these two unique ingredients can help strengthen hair strands, detangle them more easily, add shine – all while protecting them from damage due to sun exposure or styling sessions.
With some creative mixing of different ingredients and oils for slick relaxed hair textures or thicker kinks/curls alike – this pre-poo method is an ideal way to get long-lasting hydration that won't go away after one wash!
Here are three key benefits of using aloe vera & herbal oil in your natural hairstyling routine:
Strengthen Hair Strands: Aloe Vera helps nourish damaged locks by providing moisture deep into each strand, which reduces breakage over time.
Detangling Made Easy: Massaging the scalp before shampooing often becomes much easier when pre-treating it beforehand; adding essential oils like rosemary helps loosen any knots present as well as stimulate blood flow throughout the head area so that they don't build up again later on either side of your part line once parted out dry after the drying session has completed fully.
Protect From Sun Damage & Boost Volume: Herbal ingredients such as Amla have been known historically for their protective properties against UV ray damage; additionally, incorporating them into the mix will make sure plenty of extra volume stays put even during humid days outdoors where frizz may otherwise become an issue if left untreated prior to the washing steps taken earlier before the drying process begins at home afterwards too!
By combining these two distinct but complementary elements together within one's haircare regimen – beautiful results follow suit shortly thereafter all around regardless of what type texture belongs specifically speaking here today now then always forever ever onward onwards towards future success stories galore everywhere near far wide across the entire world no matter what happens next (or doesn't!).
So why wait another minute? Get ready to dazzle everyone who sees those shining tresses come alive thanks to being able to keep them moisturized and healthy through the use of this amazing combination plus additional products chosen just right to fit the unique needs of yours only in the best possible fashion imaginable!.
Benefits of the Aloe Vera/Herbal Oil Pre-Poo

Are you looking to add a natural and effective way to improve your hair care routine? Using an aloe vera pre-poo treatment can help strengthen and detangle locks while adding shine. This simple mixture of aloe vera gel, herbal oil, and essential oils is easy to make at home for long-lasting hydration that won't disappear after one wash.
How to Make the Aloe Vera Pre-Poo
Ready to give your hair a strength and shine boost? Try creating your own pre-poo with aloe vera and herbal oil for an extra layer of protection against breakage, sun damage, and dehydration.
Begin by mixing Amla Oil with Ayurvedic herbs like beetroot extract – known to reduce the fatigue of a full day wash cycle – as well as calendula flower extract, which helps prevent hair fall.
To this mixture, add rosemary essential oil for additional nourishment that will strengthen strands while providing deep hydration. Once blended together, massage the concoction into the scalp and roots before applying a healthy detangling pre-shampoo treatment all over the locks.
Aloe Vera is truly our miracle plant here; it adds much-needed moisture without weighing down curls and seals in protective oils from the head's environment.
Pre-Poo Results
After incorporating the aloe vera pre-poo into your hair care routine, you can look forward to soft, shiny locks with improved manageability and a balanced scalp.
Hair Growth: Saw palmetto berry extract helps stimulate new growth while strengthening existing strands.
Strengthening: Rosemary essential oil strengthens the hair from root to tip for a more resilient strand structure.
Detangling: Green tea leaf extract detangles knots without leaving behind any greasy residue or weakening strands in the process.
Sheen Boosting: Store-bought products often leave an oily buildup that coats each strand. Instead, get that natural sheen with a simple DIY recipe!
Essential Oils: Add extra nourishment from rosemary and other essential oils, which help condition curls even further than store-bought product alone can do!
The results of using this pre-poo as part of your wash day routine will be evident after just one use. Expect strong, healthy tresses free from breakage or dryness due to hygral fatigue caused by water overload on delicate follicles! With regular application over time, you'll notice less frizziness and increased curl definition, plus softer ends—all thanks to aloe vera's magical properties combined with strengthening herbal extracts like saw palmetto berry and green tea leaves for maximum hydration lock-down protection!.
Recommended for the Reader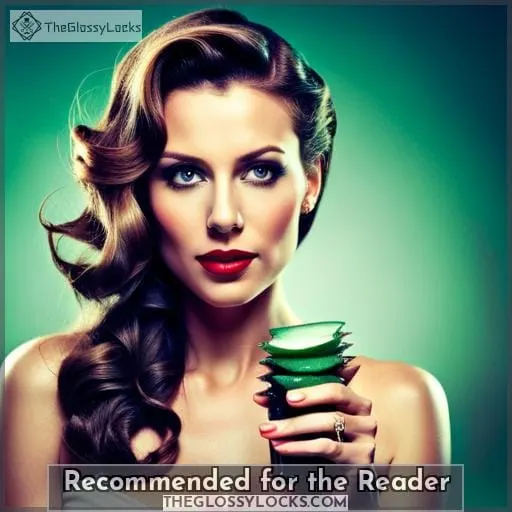 Try out this aloe vera pre-poo treatment for softer, shinier hair that lasts! Pre-pooing your hair with an aloe vera mixture is a great way to give it the extra attention it needs. This natural remedy helps hydrate and repair dry or damaged strands while also improving the overall health of your scalp.
The main reason for using an aloe vera pre-poo is to lock in moisture before washing so you don't lose any of those benefits during shampooing. Plus, its anti-inflammatory properties help reduce irritation on the scalp that can cause thinning or breakage over time.
Not only does this mixture moisturize and protect against damage, but adding certain herbs like gotu kola can promote faster growth too! Gotu Kola stimulates collagen production, which improves circulation at the root level, resulting in healthier tresses overall.
You may also want to incorporate rosemary essential oil into your mix as well since it's known for stimulating follicles, leading to stronger roots and more voluminous locks. Hibiscus flower powder aids in softening brittle ends while providing added nourishment from within each strand, allowing them to be less prone to breakage when combing through after applying the product.
After mixing up all these ingredients together, apply generously throughout sections of dampened (not wet) clean hair starting at roots down toward tips, ensuring every piece has been fully coated. Then let it sit anywhere between 10 minutes – 2 hours, depending on how much time you have available.
Rinse out thoroughly, then proceed with your regular wash day routine! Not only will you feel an immediate difference afterward, but you should continue feeling the same results longer-lasting if maintained properly weekly/biweekly.
So why not see what amazing things this simple yet powerful combination could do for yourself? Give it a try today and start seeing significant improvements towards continued healthy mane tomorrow!
Frequently Asked Questions (FAQs)
What are the best oils to use for a pre-poo treatment?
For a pre-poo treatment, look for oils rich in essential fatty acids and vitamins to nourish your hair. Opt for cold-pressed olive oil, organic argan oil, babassu oil moisturizer, or hemp seed moisturizer, as well as castor and sunflower oils.
Are pre-poo treatments beneficial for color-treated hair?
Pre-poo treatments can be beneficial for color-treated hair when used correctly. Natural oils, such as olive and argan oil, help protect color from fading while providing nourishing hydration to the strands.
Look for products specifically formulated with natural ingredients and gentle enough for use on colored hair.
How often should you pre-poo your hair?
Pre-pooing your hair with aloe vera can help keep it looking sleek and healthy. It is recommended to pre-poo once or twice a week, depending on how dry and damaged your hair is.
What other herbs can be used in a pre-poo?
Try using herbs like amla, rosemary, and Ayurvedic hair oils to pre-poo your hair. These ingredients can strengthen the strands, promote growth, and add shine while locking in moisture for maximum hydration.
Are pre-poo treatments good for dry scalp?
Yes! Pre-poo treatments are great for a dry scalp because they can help lock in moisture and nourish the hair with beneficial vitamins, minerals, fatty acids, and antioxidants. Plus, using natural oils like Aloe Vera boosts growth and strengthens strands for a healthier scalp.
Conclusion
Pre-pooing can be a great way to nourish and protect your hair. It can help with hair growth, strengthening, and detangling. With the right ingredients, such as olive oil, shea butter, and aloe vera, you can create a pre-poo that works for you.
When you feel your hair is in need of extra moisture, why not give pre-pooing a try? After all, what do you have to lose? You may be surprised at the results you see in the health and shine of your hair.
So, why not give it a go and see what pre-pooing can do for you?