This site is supported by our readers. We may earn a commission, at no cost to you, if you purchase through links.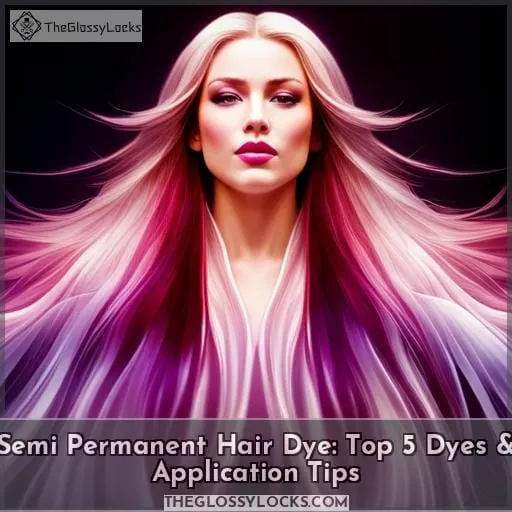 Curious about semi-permanent hair dye? You're not alone! From subtle tweaks to momentary makeovers, temporary hair color can be the perfect way to experiment with a new look without committing long-term.
But before you go ahead and pick up the first box of semi-permanent dye off the shelf, it's important to understand what makes a good quality product and how best to apply it for maximum impact. Read on for our top five picks of semi-permanent dyes, plus advice on application techniques that'll give your style staying power.
Key Takeaways
Semi-permanent hair dye provides a temporary color change without long-term commitment.
The top 5 semi-permanent dyes include Wella Color Charm 10A Blonde and Clairol Natural Instincts Brown Hair Dye.
Considerations for vibrant results include base color compatibility and understanding fade patterns.
Preparation steps, application techniques, and post-color care are important for maintaining and enhancing semi-permanent color.
Top 5 Semi Permanent Hair Dyes
Ready to experiment with your hair color? Look no further than Wella Color Charm 10A Blonde and Clairol Natural Instincts Brown Hair Dye. Both of these professional-grade semi-permanent dyes are gentle on the hair, provide an amazing glossy finish, and last for weeks! With a range of shades available from blonde to brown, you'll be able to find the perfect hue for your look.
Wella Color Charm 10A Blonde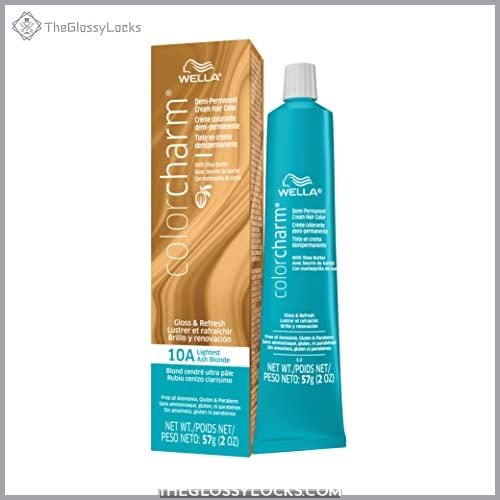 View On Amazon
For a dazzling blonde hue and glossy shine, try Wella Color Charm 10A Blonde – the trusted choice of hair professionals. This professional-quality hair gloss is suitable for at-home use and provides long-lasting color with added shine.
If you want to kick it up a notch in terms of tone or vibrancy, then this product is sure to satisfy those desires. Just follow instructions carefully for best results. The creme formula contains conditioning agents, making it gentle on all types of tresses while also giving them that extra oomph they need.
It also provides lasting protection against fading or discoloration from sun exposure and other environmental factors.
With Clairol Natural Instincts Brown Hair Dye, there's no more waiting around – get ready to take your look up another level!
Provides a stunning blonde hair color with a glossy finish
Ammonia-free, reducing damage
Suitable for at-home use
No developer required
Contains conditioning agents providing gentle care
Long-lasting protection against fading & discoloration
Requires careful following of instructions
Not ideal if looking for dramatic changes in shade
Clairol Natural Instincts Brown Hair Dye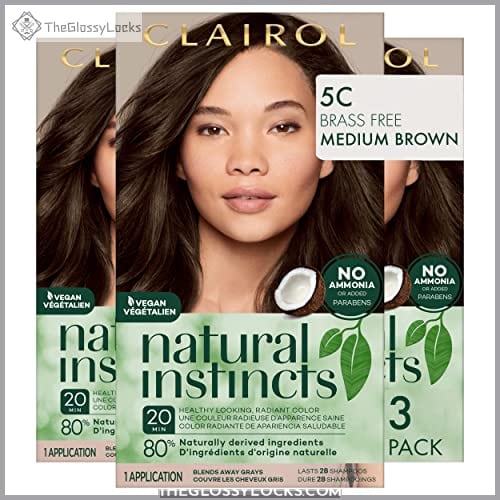 View On Amazon
Try Clairol Natural Instincts Brown Hair Dye for a gentle, demi-permanent color that boosts shine and blends away gray hairs while nourishing your hair with coconut and aloe vera. This dye is free of ammonia or added parabens, making it suitable for all hair types and textures.
It provides long-lasting results – up to 28 washes – so you don't need to touch up too often! Plus, it adds an amazing glossy finish that will have everyone asking what product you used! Clairol Natural Instincts Brown Hair Dye helps provide natural-looking coverage as well as vibrant tones when paired with the right shade selection.
With its unique blend of ingredients like coconut oil and aloe vera, this product can help keep your locks feeling soft and healthy throughout the day without worrying about damage from harsh chemicals in other dyes on the market today.
Boosts shine for radiant, healthy-looking hair
Blends away gray hairs
No ammonia or added parabens
Gentle on all hair types/textures
Lasts up to 28 washes
Limited shade selection available
Requires Wella developer (sold separately)
Color fades over time
What to Consider When Choosing a Semi Permanent Hair Color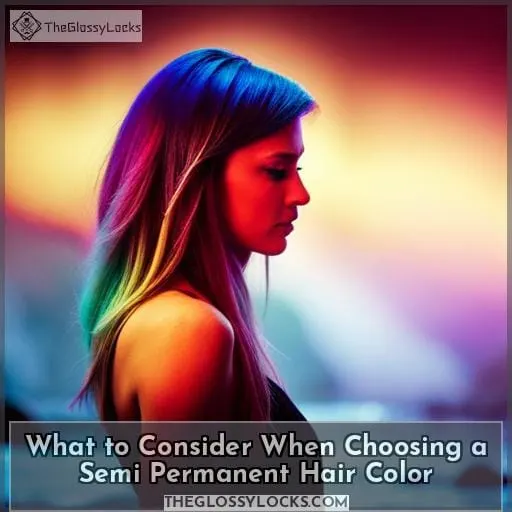 When selecting a semi-permanent hair color, it is important to consider the compatibility of your current base color for vibrant results and select flattering shades that will bring out your skin and eye tones.
Knowing what dye works best with each type of hair can help you achieve the look you desire without compromising on hair health.
Base Color Compatibility
Before choosing a semi-permanent hair color, consider your base color for vibrant shades and how it will interact with the dye. Color vibrancy and intensity depend on pigment interaction between existing hair colors and dyes, as well as fade patterns over time.
To ensure desired results when altering your hue, consider these key factors: shade selection; compatibility of the base color to dyed hues; fading process associated with various types of hair dye; potential change in texture or porosity after coloring.
With mindful consideration of each factor, you can achieve optimal satisfaction from any semi-permanent dye choice.
Flattering Shade Selection
Consider your skin and eye tone when selecting a flattering shade of semi-permanent hair color. Choosing complementary tones will help ensure that the end result is more natural-looking. Look for products with natural ingredients like coconut oil or aloe vera to nourish while coloring.
To prevent color fading, use tonal variation in your application and select shades that won't require frequent touch-ups. Shades should also be chosen based on how they enhance eye color. Warm colors such as copper can brighten blue eyes, while cooler hues like mocha are great for bringing out brown eyes.
Hair beauty isn't just about having the right hue—it's finding one that complements you!
How to Apply Semi-Permanent Hair Color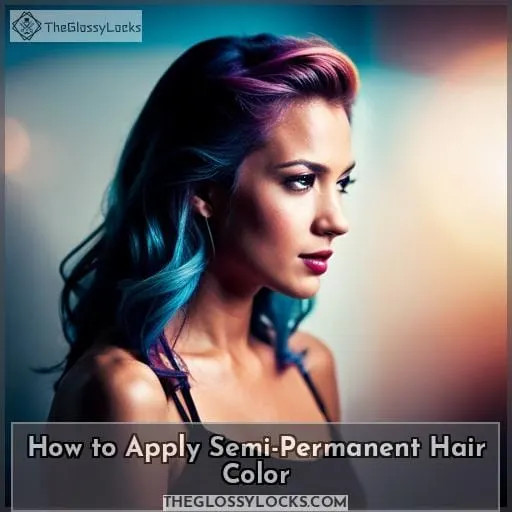 Choosing the right semi-permanent hair color for you can be daunting, but with the proper preparation and application, it is easier than ever. To achieve your desired look, take time to prepare your hair before applying dye, apply evenly following instructions carefully, and ensure proper post-color care for the longevity of the hue.
Step 1: Preparing Your Hair
Start your journey to a new shade of beauty by prepping your hair for semi-permanent color. Do a pre-color treatment if necessary. Assess the porosity and use color wheel analysis to choose the right hue.
A strand test is also essential before applying dye. Remember to wear gloves and avoid contact with eyes and scalp for protection. When selecting a product, read the ingredients carefully and avoid ammonia or hydrogen peroxide, as they can damage curls.
Follow the processing time instructions included in the pack. During the application period, reduce washing and heat styling for the best results.
Step 2: Applying the Dye
Grab your gloves and start applying the color to your hair, making sure to spread it evenly. Divide your strands into sections for easier application and even coverage. Follow the manufacturer's instructions for the processing time, which is usually 15-30 minutes.
Then, rinse your hair with cold water until the dye is completely removed. Keep your gloves on throughout the process to avoid skin irritation from prolonged contact with the dye or developer solution used in semi-permanent dyes.
For deeper shades, add a few extra minutes of processing time to ensure maximum saturation of color. However, be careful not to exceed a total of 45 minutes, as this can cause damage to textured hair care products like curls or kinks due to excessive heat buildup within the follicles during the coloring process.
As you apply the dye, keep an eye on the timer and regularly check that each strand has been adequately covered before rinsing off when you're done!
Step 3: Post-Color Care
Now that you've applied the semi-permanent color, it's time to take care of your tresses and make sure your locks stay vibrant. To lock in color, try using sulfate-free shampoos and conditioners that are free from parabens, as they can strip away hair dye.
Regularly moisturize with a deep conditioning treatment every few weeks to keep strands hydrated for lasting vibrancy. It's important to keep heat styling to a minimum or use heat protection products when necessary.
Investing in quality, color-safe products will also help prevent fading over time.
How Long Does Semi-Permanent Hair Color Last?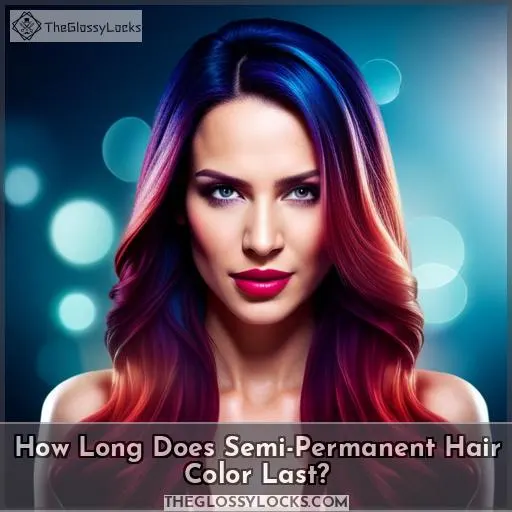 Depending on the brand, semi-permanent hair color can last up to 28 washes and fade gradually with proper care. To prolong its vibrancy, you must follow a maintenance routine that includes using sulfate-free shampoo and conditioner, as well as avoiding hot water when washing your hair.
Other factors affecting its longevity include the type of chemicals used in the dye, how often you wash it, whether or not you use heat tools during styling sessions, and local water quality.
If needed for color refreshment or correction between salon visits, an at-home demi-permanent option is available too! With all these tips in mind, plus experimenting with different shades, you'll have the freedom to express yourself without fear of commitment!
Tips for Maintaining and Extending the Lifespan of Semi-Permanent Hair Color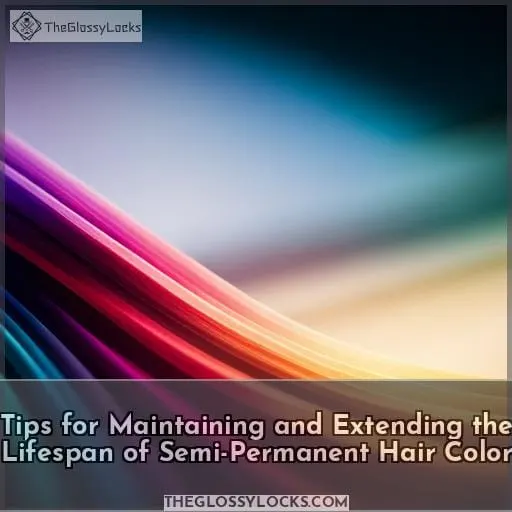 Take control of your hair color with these expert tips for maintaining and extending the lifespan of your semi-permanent dye. To protect from fading, always use a shampoo and conditioner formulated to be gentle on color-treated hair.
When showering, keep water lukewarm or cold as hot can strip away pigment faster.
Additionally, keep sun exposure to a minimum by wearing hats or using protective styling products when outdoors. Reduce hair washing frequency; twice per week is ideal for semi-permanent dye longevity.
To extend the life of colored locks, try using color-enhancing products. An at-home gloss treatment once every couple of weeks can boost vibrancy and shine.
Conclusion
You're ready to take the plunge and try out a new hair color! Semi-permanent hair dyes are a great way to temporarily change up your look without the commitment of a permanent dye. With the right product, you can get a glossy, long-lasting color that won't damage your hair.
When choosing a semi-permanent dye, consider the compatibility with your base color, the selection of flattering shades, and the duration of the color. Applying the dye is easy – just follow the manufacturer's instructions and make sure to give your hair the proper post-color care.
With the right product and routine maintenance, you can keep your semi-permanent hair dye looking vibrant and beautiful for weeks!