This site is supported by our readers. We may earn a commission, at no cost to you, if you purchase through links.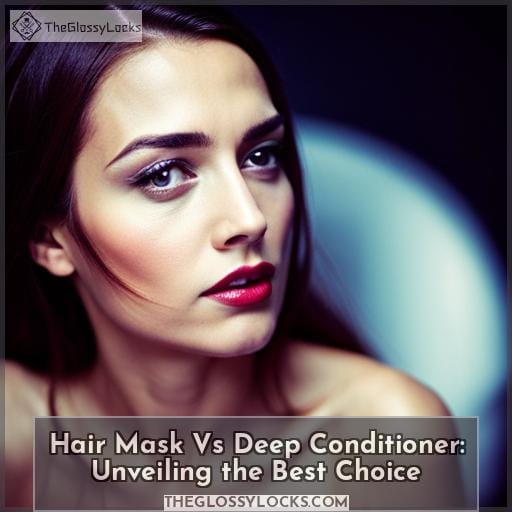 Are you looking for something to provide the perfect nourishment and conditioning for your hair? With so many products on the market, it can be hard to decide which one is right for you.
A study of 2,000 people found that nearly 70% weren't sure if they were using a mask or a deep conditioner correctly! So let's take a look at how these two product types differ and how best to choose according to your own unique hair type.
Hair mask vs deep conditioner: spot the difference here!
Key Takeaways
Hair masks and deep conditioners serve different purposes and should be used together for optimal hair health.
Hair masks are more effective in repairing split ends and providing deep nourishment, while deep conditioners provide surface shine and quick rejuvenation.
The correct usage of hair masks and deep conditioners is often confusing, with many users unsure of when and how to use them.
When selecting hair masks and deep conditioners, it is important to consider hair type and to check product labels for effective ingredients.
Top 10 Best Hair Masks and Deep Conditioners
Are you wondering which hair masks and deep conditioners are the best? Look no further! This article will discuss the top 10 products, including Blueberry Bliss Hair Mask, Kinky Curly Stellar Strands 8oz, Miracle Repairx Hydrating Hair Mask, Coconut Shea Hair Masque Treatment, and Hydrating Hair Masque with Natural Oils.
Blueberry Bliss Hair Mask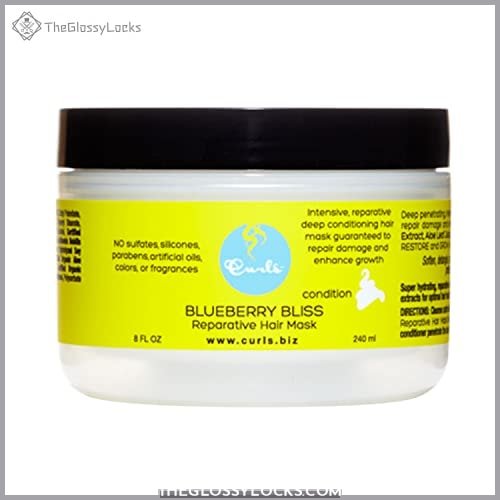 View On Amazon
Try Curls' Blueberry Bliss Hair Mask for the ultimate reparative conditioning experience, perfect for restoring moisture and promoting curl growth. Formulated with certified organic blueberry extract, aloe leaf juice, and chamomile extract, this cream-based product is a godsend to those of us with 2A to 3C curls.
It provides softness without weighing down our strands while offering deep hydration that repairs damage from breakage or heat styling tools.
Users have praised its effectiveness in enhancing curl definition and softness, as well as its affordability compared to pricier brands on the market.
Deep penetration repair and moisturizing
Clinically proven solution
Softens without weighing down curls
Affordable compared to high-end products
Mixed reviews on scent
Not suitable for those sensitive to smells
Kinky Curly Stellar Strands 8oz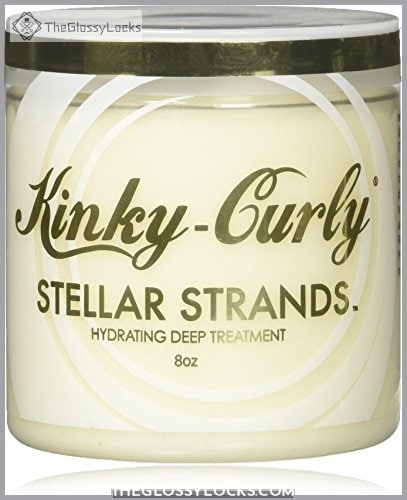 View On Amazon
Indulge in an indulgent hair treatment with Kinky Curly Stellar Strands 8oz, your ticket to bouncy and beautifully defined curls! Formulated for all curly hair types (2A-3C), this deep conditioner is packed with Coconut Oil and Shea Butter that penetrate the strands, preventing protein loss while delivering intense hydration.
With every application, you can expect improved elasticity and reduced breakage. The sulfate-free formula makes it perfect for those following the curly-girl method as well as those looking to revive thin or grey locks.
In addition, EDEN BodyWorks' commitment towards cruelty-free products ensures that you're getting only natural goodness in each jar of miracle repairx hydrating mask.
Enhanced curl definition & softness
Intense hydration & improved elasticity
Affordable compared to higher-end brands
Sulfate-free & suitable even for delicate hair
Cruelty-Free Products
Subtle blueberry scent has mixed reviews
Miracle Repairx Hydrating Hair Mask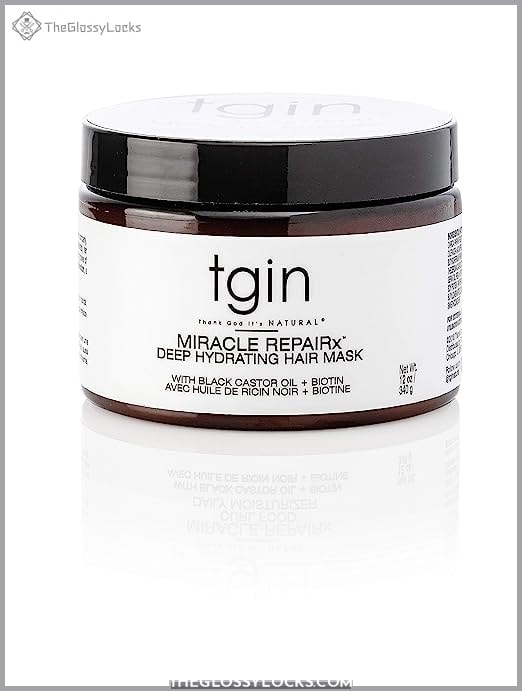 View On Amazon
Experience the Miracle Repairx Hydrating Hair Mask and witness your hair's transformation. This luxurious cream-based masque is designed to cater to all hair textures, offering deep and lasting hydration for even the most brittle strands.
Infused with healing biotin and moisturizing black castor oil, this intensive formula repairs damage while leaving locks smooth, light, and velvety-soft.
Say goodbye to breakage as you indulge in this sulfate-free product, free from parabens, petrolatum, lanolin, or artificial colors – a true testament to tgin's dedication towards cruelty-free products that are safe for everyone! And with their commitment towards quality comes an amazing fragrance reminiscent of sweet tarts & razzles – perfect if you're looking for something that isn't too strong but still offers a pleasant scent after application.
This mask works wonders on thickening thinning gray hairs while transforming straw-like texture into smooth, shiny locks. Plus, it excels at preventing further breakage and protein loss by penetrating deeply into the scalp, providing essential nutrients needed throughout any repair process.
The reviews speak volumes. Customers have reported visible results after just one use!
Repairs damaged hair
Prevents breakage
Deeply hydrating
Enhances sheen
Pleasant fragrance
Free from harsh chemicals
Results may vary based on individual's sensitivity
Coconut Shea Hair Masque Treatment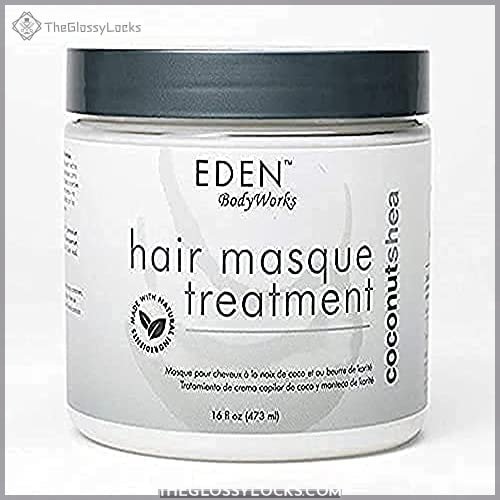 View On Amazon
Unlock the potential of your hair with EDEN BodyWorks' Coconut Shea Hair Masque Treatment, a powerful elixir that provides intense moisture and rejuvenation. Crafted for all hair types, this treatment contains natural ingredients such as Coconut Oil and Shea Butter to penetrate deep into the scalp while preventing protein loss and breakage.
Experience an unrivaled transformation as your locks become softer, smoother, and lighter while boasting irresistible shine.
Suitable for all hair types
Natural blend of coconut oil & shea butter offers intensive moisturization
Prevents protein loss & breakage
Enhances curl definition & softness
Cruelty-free product without sulfates or parabens
Pleasant fragrance that lingers
Mixed reviews on smell depending on individual sensitivity level
Not suitable/not effective enough for certain curly texture (3C-4A)
Packaging may have issues during shipment.
Hydrating Hair Masque With Natural Oils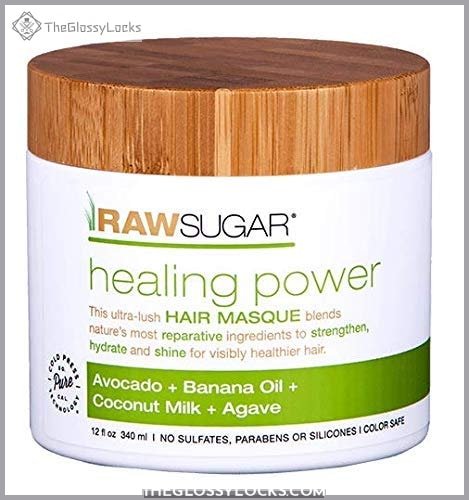 View On Amazon
Discover the transformative power of Raw Sugar Living's Hydrating Hair Masque with Natural Oils and be amazed by its luxurious, organic ingredients that revive your locks.
Formulated to address dry scalp and itchiness, this masque is perfect for all hair types – including thick, naturally curly, or frizzy hair. It functions as an effective alternative to straightener use while providing soft and silky results with just one application.
The Coconut Oil-Shea Butter blend penetrates the shafts of each strand, deeply nourishing it from within, thus restoring shine while promoting elasticity from root to tip!
This product stands out among others due in part because of its clean formula free from harmful sulfates or parabens, which makes it ideal for those looking for a safe solution without compromising on effectiveness.
Moreover, you can also anticipate improvement in scalp health after only one use, making this product a must-have if you suffer frequently from dryness or irritation caused by other masks whose formulas are either too harsh or contain potentially damaging substances such as alcohols that may act negatively over time when used consistently.
With consistent usage, users report improved curl definition, leaving them feeling confident about their look without having had to resort to expensive treatments such as keratin straightening services!
Formulated specifically suitable for thick, naturally curly & frizzy hair
Cleansing but gentle formula free sulfates & parabens
Restores shine & promotes elasticity
More expensive than other products available
Higher price when purchased via Amazon compared to stores
Olaplex Hair Repair Treatment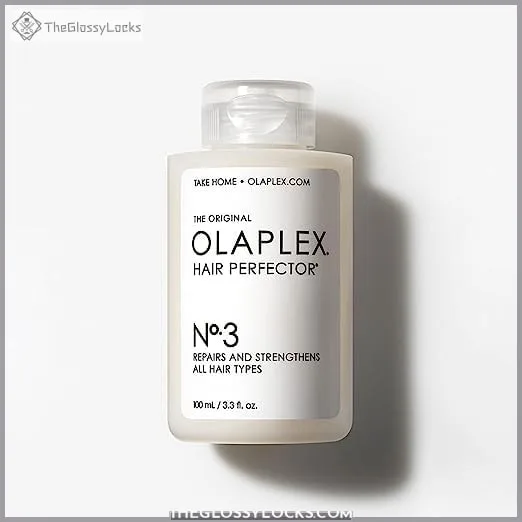 View On Amazon
Transform your hair with Olaplex Hair Repair Treatment, a powerful elixir that repairs damaged and brittle strands while restoring a healthy appearance and texture. This intensive treatment is infused with reparative ingredients such as Biotin, Coconut Oil, and Shea Butter to nourish compromised hair from the inside out.
The sulfate-free formula works wonders in softening rough textures and managing frizz for defined curl patterns. It's suitable for all hair types – from those requiring extra moisture to those looking for protection against further damage.
Experience intense hydration without weighing down your locks; it's lightweight enough even for thinning or grey hairs.
To use, apply generously on damp towel-dried hair from roots to ends. Leave on anywhere between 10 minutes or more before rinsing off completely.
Repairs damaged and brittle strands
Strengthens and protects the structure of the hair
Enhances shine and manageability
Restores healthier appearance and texture
Not suited if not used consistently
Application typically 1-2 times per week
VERB Ghost Hair Mask 6.3oz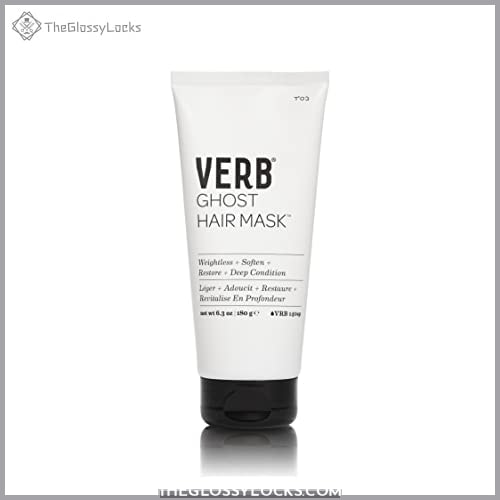 View On Amazon
Experience the luxury of VERB Ghost Hair Mask 6.3oz and reap its nourishing, moisturizing benefits for your hair! Rich in Moringa Oil, this sulfate-free and paraben-free deep conditioning mask repairs damaged locks while adding shine without leaving residue.
Glycerin binds moisture for added softness and radiance, reducing frizziness so you can flaunt vibrant curls or sleek strands with confidence.
Perfectly formulated for all hair types as part of Verb's Ghost collection, this hair mask is cruelty-free and made in the USA using only natural ingredients.
Users are amazed at how well this product works. Multiple reviews have praised it for restoring dryness caused by damage from coloring or heat styling tools within just one use.
However, some people have experienced an unpleasant smell coming from the bottle itself, while others did not find it as effective compared to other items within Verb's range. But overall, most were delighted with their results when used regularly over time.
Paraben-Free & Gluten-Free Formula
Lightweight & Non-Residue Formulation
Cruelty-Free Product Made In The USA
Suitable For All Hair Types
Unpleasant Smell From Bottle
Not As Effective As Other Products From The Range
Television Hair Masque: Replenish & Nourish
Unlock your inner salon-style with RCo's Television Hair Masque: Replenish & Nourish, designed to leave you feeling like a million bucks. Formulated with Snow Mushroom Extract for superior hydration, antioxidants to protect against damage from environmental stressors, and Murumuru Butter for an intense moisture boost that creates the ultimate glossiness and silkiness.
This miracle mask is suitable for all types of dry hair but works especially well on waves or frizzy locks due to its lightweight formula, which won't weigh down delicate strands. Enhance your look even further by experiencing the strong masculine scent – not too flowery or light – that lingers long after application has ended.
Those who have used it are raving about how this product leaves their hair smooth and silky without needing any extra styling products afterwards either, so what more could one want? However, some users reported skin allergies when using this product, while others noted there was no shine added after use, making it unsuitable for those seeking such effects.
On top of this, if very dry hair is something you're dealing with, then maybe try another option instead since people seem split on whether they've had success here.
Leaves hair moisturized without weighing it down
Works well for wavy/frizzy hairs
Strong masculine scent (non-flowery) gives a fresh-cut feel
Long-lasting smoothness & Silkiness
Can cause skin allergies in some cases
No shine added
Not suitable
Prickly Pear Regenerating Hair Mask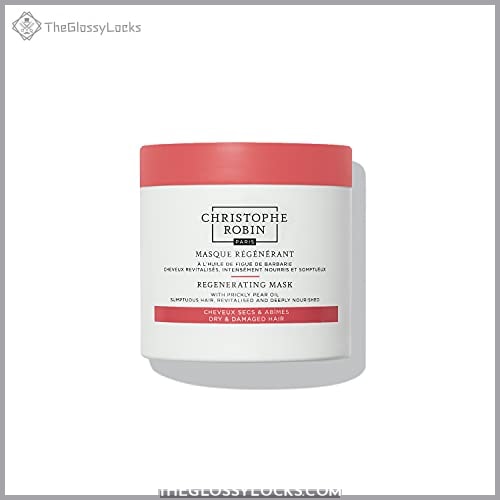 View On Amazon
Replenish and nourish your hair with the Prickly Pear Regenerating Hair Mask from Christophe Robin, an intensely nourishing mask that's 97% natural origin ingredients. This vegan, gluten-free product is free of parabens, formaldehydes, formaldehyde-releasing agents, and phthalates, making it a safe choice for those looking to restore dry or damaged hair.
The naturally derived formula helps protect color-treated locks while also smoothing frizziness and split ends. Vitamin F Complex works to revitalize the appearance of each strand, while Prickly Pear Seed Oil provides intense hydration along with omegas 6 & 9 for long-lasting suppleness.
Customers love how soft their tresses feel after using this mask, as well as its light baby powder scent which lingers even after rinsing out the product! However, some have raised doubts about authenticity due to packaging issues – there being no seal on most products – as well as allergic reactions experienced by some users who were sensitive to one or more of its ingredients.
Softens hair
Enhances shine
Manages frizz
Light baby powder scent
Hydrates effectively
Doubts about authenticity
Packaging issues (no seal)
Allergic reaction for some users
No improvement observed in results
Moroccan Clay & Shea Butter Hair Masque
Treat yourself to the Moroccan Clay & Shea Butter Hair Masque and get ready for a luxurious journey of transformation that will leave your locks soft, light, and full of life. This naturally formulated hair mask from African Pride boasts powerful ingredients such as Moroccan Red Clay and Shea Butter to help detoxify the scalp while restoring moisture levels in order to reduce breakage.
Great for all curl types – ranging from 2A-4C – this product is free from parabens, mineral oil, sulfates, petrolatum, or lanolin. The usage instructions are straightforward. Section clean wet hair before applying generously onto roots through ends.
Then cover with a plastic cap or warm towel before leaving it on for up to 30 minutes.
This award-winning formula is part of the Moisture Miracle line specifically designed for coily/curly textures by an empowering 96%-female team who are passionate about delivering high-quality products without harming animals during testing phases! Customers have praised its effectiveness, particularly how it slowly but surely transforms straw-like textures into softer, more manageable curls accompanied with remarkable shine after using just once per week!
Some, however, have noted that additional conditioner may be required alongside use due to limited detangling capabilities.
Naturally formulated – free from harmful components (parabens, etc.)
Suitable across multiple curl types (2A-4C)
Award-winning formula – recognized by customers worldwide
Clinically proven results – visibly revitalizes dry, brittle strands
Additional conditioners required if wanting detangling benefits
Strong men's cologne-type scent, which can be offputting
Deep Conditioner Benefits in Hair Care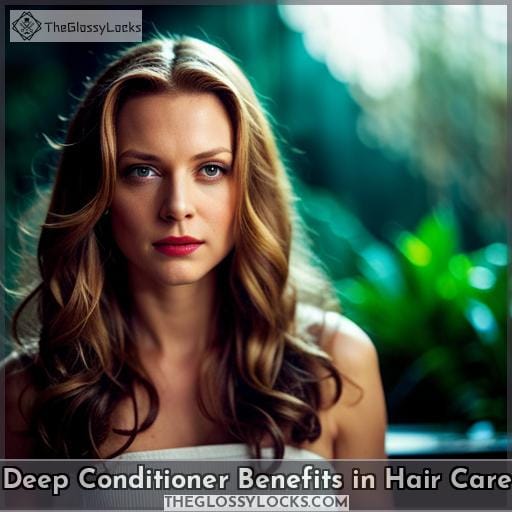 You deserve the best for your hair! Deep conditioners offer hydration, frizz-free locks, a shiny finish, and protection against breakage and split ends. With deep conditioning treatments such as Dove Intense Repair Conditioner or TRESemmé Keratin Smooth Conditioner, you can achieve nourished hair that looks healthy and feels soft to the touch.
Hydration
Experience the unparalleled power of hydration in hair care with a deep conditioner or specialized hair mask.
Deep conditioners protect against breakage and split ends while adding shine to all types of hair.
Hair masks are highly concentrated treatments that deliver targeted nutrition to repair damaged strands.
Natural oils, ranging from coconut oil to shea butter, give an extra boost of moisture for stronger tresses. With regular use, you'll find yourself sporting healthier-looking locks in no time!
Frizz-free
Reap the rewards of a nourished, frizz-free mane with a deep conditioner – you'll be strutting your stuff in no time! Deep conditioners are formulated to provide intense hydration, reducing breakage and replenishing lost moisture.
They are packed with conditioning agents that help prevent damage from heating tools, tame flyaways, and provide humidity control. With regular use, your hair will be left soft and smooth, and your curls will become more defined without that dreaded frizz.
Plus, it's an easy way to give your locks some love. Simply massage the deep conditioner into damp strands for 3-5 minutes before rinsing off, and you'll notice a difference right away! Enjoy the power of fabulous-looking hair by using deep conditioners regularly as part of your haircare regimen.
Shine
Enjoy the luxurious benefits of deep conditioners, which can work wonders in enhancing your hair's natural shine. Comparing their effects to those of a hair mask, you'll find that both offer nourishing ingredients and application techniques for boosting glossiness.
Natural shine boosters include avocado-based recipes or coconut milk deep conditioner as part of weekly treatments.
Hair masks provide deeper hydration than conditioners while revitalizing damaged strands too.
Protection
Dive into the world of Olaplex Hair Repair Treatment and feel your hair being protected from damage, breakage, and split ends like never before! The difference in protection between deep conditioner vs mask is clear.
Choosing the right products for your specific needs can enhance hair resilience.
Deep conditioners provide surface protection, while masks penetrate deeply to aid damaged hair recovery. A balanced approach to hydration with both a deep conditioning product and regular use of a masque offers maximum benefits over time.
Weekly application is key for long-term repair results in your overall haircare routine.
Investing in quality products like Olaplex will help protect against environmental stressors, restore natural softness and shine, and strengthen brittle strands.
Hair Masks Benefits in Hair Care

You may be wondering what the difference is between a hair mask and a deep conditioner. While both provide different benefits to your hair, there are distinct purposes for each product. Hair masks offer extra nutrition and penetrate deeper into the follicles than deep conditioners, which helps with damage repair and the revival of dry or brittle strands.
Different Purposes
Discover the difference between a deep conditioner and hair mask, and what each can do for your hair!
Deep conditioners are creamy with a soft texture. They offer immediate results by smoothing strands, reducing frizziness, preventing breakage, and sun damage.
Hair masks contain natural oils plus concentrated nutrients to penetrate deeply for long-term repair.
Application techniques vary: mid-lengths only for deep conditioning; roots too when using a mask.
Frequency is once per week for masks, while benefits of both include hydration, enhanced shine, and protection against split ends.
Depending on your specific needs, choose one or combine them – the result? Healthy locks restored to their fullest potential.
Extra Nutrition
Unlock your hair's potential with a nourishing hair mask and reap the long-term rewards – A stitch in time saves nine.
Hair masks offer nutrient-rich treatments to intensively treat dry, damaged, and colored locks. They provide extra nutrition compared to deep conditioners for optimal hydration, elasticity, and shine that guarantee lasting results.
With regular use of a hydrating hair mask, you can ensure full nourishment from root to tip while easily maintaining healthy-looking tresses as part of your daily routine.
Choose wisely between a deep conditioning debate or an intense treatment for better protection against sun damage; both are equally important steps in achieving salon-worthy styles at home!
Deep Penetration
Feel the power of a hair mask as it penetrates deep within your strands, delivering an intense infusion of nutrients and protection. Hair masks are enriched with natural oils and other ingredients specifically designed to deliver maximum moisture at every level.
Comparing deep conditioner to hair masks reveals that maintenance products penetrate superficially while treatments like a mask can reach deeper.
Inner nourishment is key when looking after natural or curly hair types. Maximizing treatment efficacy with consistent use allows you to reap the benefits of proper care in terms of health, vibrancy, shine, elasticity – even curl definition!
Hair Revival
Experience the miraculous revival of your hair's strength and vitality with a nourishing hair mask. Unlike deep conditioners, masks penetrate deeper for long-lasting hydration and repair. Essential ingredients like natural oils, vitamins, and proteins can help regenerate damaged strands while preventing future breakage or split ends.
To achieve optimal results when choosing between a mask versus a conditioner, consider your individual needs – texture type and desired effects – to decide which product is best suited for you.
Spot the Difference: Deep Conditioner VS Hair Masks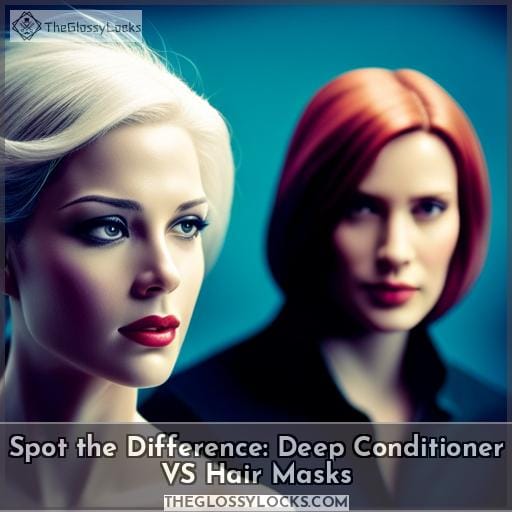 Are you curious about the differences between a deep conditioner and a hair mask? Both products have unique benefits, applications, and features that make them valuable additions to your hair care routine.
To gain insight into their purpose, features, and terms of use, let's explore the particulars of each product.
Purpose
Discover the distinct purpose of deep conditioners and hair masks to find out which one best suits your individual needs. Hair masks are enriched with natural oils and nutrients, designed for targeted recovery and nutrition.
Deep conditioners generally contain frizz-control ingredients or hydration enhancers, aiming for enhanced shine on hair surfaces.
Application techniques also vary – deep conditioner should be applied mid-length while mask can cover roots too. For those with curly hair types from 2A to 3C, a cream-based mask such as Blueberry Bliss is recommended.
Kinky Curly's Stellar Strands 8oz caters to all textures in a luxurious cream formula that repairs damage done by heat or coloring products like Miracle Repairx Hydrating Hair Mask or Coconut Shea Hair Masque Treatment by EDEN Bodyworks.
To complete the routine, finish off with Raw Sugar Living's Hydrating Hair Masque that nourishes the scalp effectively without harsh chemicals present in many other brands!
Features
Unlock the unique features of hair masks and deep conditioners, noticing nourishing nutrients and concentrated creaminess that bring your locks to life.
Hair mask application requires more time than deep conditioner – three to twenty minutes versus just two to five minutes for traditional conditioning.
Hair masks penetrate deeper into scalp tissue, restoring essential oils while softening strands and strengthening cuticles from within.
Ingredient comparisons provide a better understanding of product suitability: DIY treatments combine natural agents like avocado or aloe vera gel with essential oils; store-bought formulas can include sulfates or drying alcohols based on individual sensitivities.
Long term vs immediate effects vary too – hair mask benefits last longer but deep conditioners offer instant relief in terms of shine, frizz control, split ends prevention.
Terms of Use
When it comes to using deep conditioners and hair masks, the terms of use can vary depending on your hair type. Deep conditioner application should be done post-shampooing for mid-length strands, whereas mask treatments are recommended for roots too.
Hair masks provide deeper hydration than traditional conditioners and penetrate follicles to nourish from within.
When used together, they create a powerful combination of surface care plus deep repair; softening dry strands while moisturizing curls into healthiness.
How to Choose the Correct Option for Your Hair Type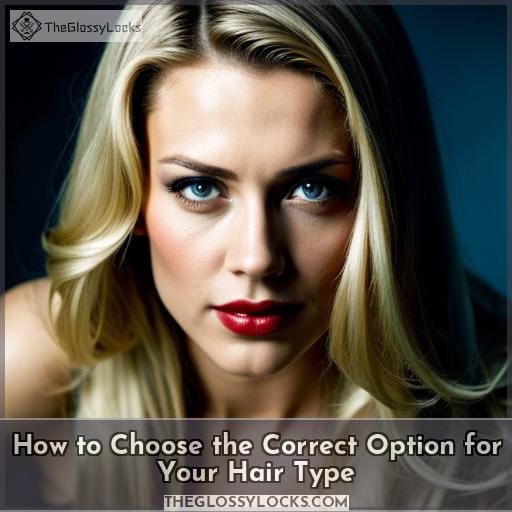 Are you looking for the best way to strengthen or soften your hair? Trying to figure out how often you should use masks and deep conditioners, and wondering just how long they should be left in for? With a little research, you can easily find the right option for your hair type.
Let's explore what makes each of these treatments unique so that we can make an informed decision about which one is best suited to our individual needs.
Softening or Strengthening?
It's time to decide on the best way to soothe your stressed-out strands and make them shine – do you need a deep conditioner or hair mask? Moisture vs Strength: Choosing the Right Treatment.
Hair Mask Application Techniques: Tips and Tricks.
Maximizing Deep Conditioning: Tips for Best Results.
Customizing Hair Care: Mixing Masks and Conditioners.
Balancing Hydration and Protein: Finding the Perfect Routine.
Both masks and conditioners have their place in creating strong yet hydrated locks with enhanced shine. Experimentation is key; try different combinations of products until you find what works best for your individual hair type.
With patience and effort come beautiful results – discover healthy curls that truly speak volumes about who you are!
How Often Should You Use Masks and Deep Conditioners?
To achieve healthy hair, you'll want to combine both a deep conditioner and mask in your routine – but how often should you be using them? It depends on different factors such as individual hair texture, the type of treatment used (mask or deep conditioner), and the desired results.
For general maintenance purposes, it is recommended to use masks once per week. Regular conditioning with a quality product can be done daily. When selecting products for your unique needs, consider ingredients like natural oils for nourishment or reparative agents if damage has occurred.
Results will vary depending on the frequency of use, so trial and error may be necessary before settling into a routine that best suits your specific goals and needs.
How Long Do I Leave This Thing in For?!
Discovering the correct duration for your hair mask or deep conditioner is crucial to achieving optimal results. For effective results, it is recommended that you leave a hair mask in for 3-20 minutes and a deep conditioner for 2-5 minutes.
Additionally, consider your unique hair texture when deciding on the application time – use less product if you have finer strands and vice versa. You can maximize the benefits by leaving treatments like coconut oil overnight or using raw shea butter as a pre-shampoo treatment once a week.
Hair Mask Ingredients: Coconut, Protein and Argan… Oh My!

Unlock the nourishing power of Coconut Oil, Protein, and Argan in your hair mask for a truly revitalizing experience. With customized care tailored to all hair types, you can rest assured that each ingredient works hard to deliver maximum hydration and strength.
Nutrient Showdown
Coconut vs. Argan
Strengthening Hair Care
Coconut oil is packed with vitamins and minerals essential for healthy hair growth while also providing antifungal properties. It's an ideal choice if you're looking for extra protection against dandruff or scalp irritations. It contains lauric acid, which helps restore the natural moisture balance as well as promoting intense softness from root to tip!
Hydration Battle
Argan oil is enriched with Vitamin E, making it perfect for strengthening damaged strands without weighing them down. It also contains antioxidants that ensure long-lasting shine.
Protein Power
Protein brings its own unique benefits. It increases elasticity, leading to fewer breakages and split ends, while improving manageability and overall texture. This helps curls remain bouncy and hydrated throughout the day!
Moisture Marvel
Coconut oil and argan oil both provide excellent hydration for your hair. Coconut oil helps restore the natural moisture balance, while argan oil ensures long-lasting shine.
Natural vs Chemical
Coconut oil and argan oil are natural ingredients, while protein can be either natural or chemical-based.
Ingredient Comparison
All in all, these ingredients work together beautifully, ensuring your locks are left feeling softer than ever before.
The Benefits of Hair Masques and Deep Conditioners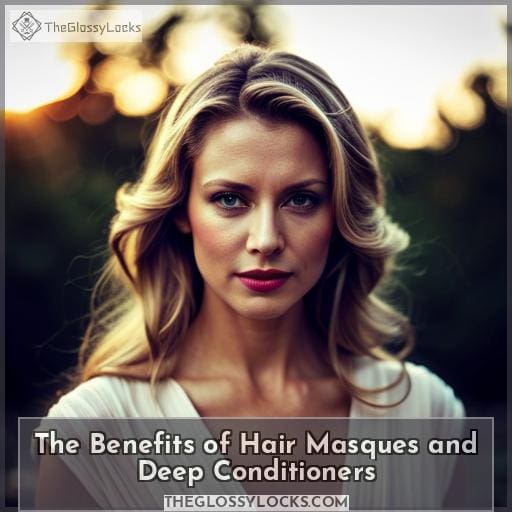 Are you looking to nourish your hair? If so, then Hair Masques and Deep Conditioners are the perfect choice! Both products provide hydration for all types of hair, from thick to thin, curly or straight.
With ingredients like coconut oil, proteins, and argan oil offering a wide range of benefits such as improved moisture retention and reduced frizziness – these treatments can help transform lackluster locks into lusciously healthy ones.
Hair Masques
Reap the rewards of a hair masque and discover softer, smoother locks that last! A mask is an essential part of your haircare routine if you want to add moisture, repair split ends, and improve hair texture.
Incorporate natural ingredients such as coconut oil or argan oil for best results.
Start with a clean scalp, then apply the product from root to tip before leaving it in for three to twenty minutes, depending on the level of damage. Use once weekly for maximum benefit when combined with regular deep conditioning treatments.
Try out different application techniques, like warm towel wraps, until you find what works best for you!
Deep Conditioners
Experience the rejuvenating power of deep conditioners and enjoy luscious, vibrant curls with every application. Nourish your damaged strands with a rich blend of natural oils, vitamins, and minerals designed to replenish moisture levels.
Select the right product for your hair type. Lighter formulas are ideal for thinning or fine hair, while heavier options work best on thick curly locks. Deep conditioning works quickly. Apply after shampooing wet strands, then rinse off in two to five minutes.
Hair masks penetrate deeper than conditioners but can take up to twenty minutes before rinsing off, so be sure not to leave it too long! For maximum benefits, combine deep conditioning with masques once a week for healthier-looking natural hair you'll love running your fingers through!
Conclusion
Your hair is your crowning glory, and to keep it looking its best, you need to find the right combination of hair masks and deep conditioners. Whether you're looking for hydration, extra nutrition, frizz-free locks, or shine, you'll want to explore the wide range of options on offer.
From Blueberry Bliss Hair Masks to Olaplex Hair Repair Treatments, each product offers something unique to the table. While deep conditioners are designed to provide a quick boost of surface shine, hair masks penetrate deeper to nourish and repair, delivering long-term results.
To get the most out of your hair care routine, use both deep conditioners and hair masks, and be sure to check the product ingredients and labels for the best results. With the right combination, you can achieve healthy, beautiful hair that radiates health and vitality.