This site is supported by our readers. We may earn a commission, at no cost to you, if you purchase through links.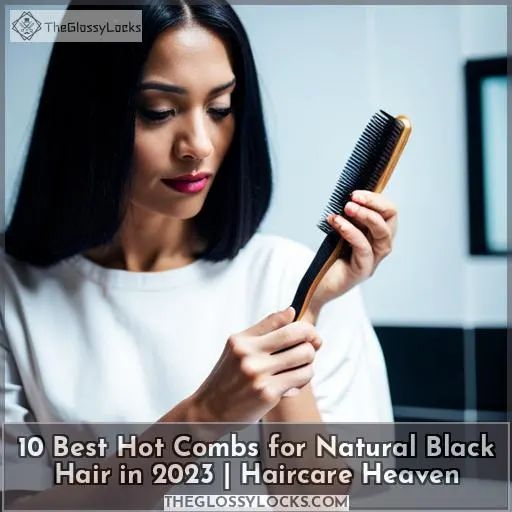 Need smooth, silky hair without the frizz? I've got you covered – let's talk hot combs, the must-have tool for beautiful natural hair.
These babies straighten kinky coils in a snap, leaving your mane sleek, bouncy and oh-so-touchable. But with tons of options on the market, picking the perfect hot comb can seem tougher than taming a tangled weave.
I've rounded up 10 stellar hot combs guaranteed to give you that flawless press. From adjustable temperature settings to extra-wide teeth, these hot combs cater to all hair types and styling needs.
Trust me, by the time we're done, you'll be hot comb confident – ready to achieve salon-worthy looks at home. Now let's get smoothing! With the right techniques and tools, you'll have luscious locks in no time.
Key Takeaways
Opt for hot combs with adjustable heat settings to customize the temperature for your hair type and texture.
Consider safety features like auto shut-off and insulated tips to avoid burning your scalp or hands.
Look for combs with swivel power cords and a lightweight design for flexibility and ease of use when styling.
Clean the hot comb regularly and store it properly after each use to maintain performance and extend its lifespan.
What to Look for in a Hot Comb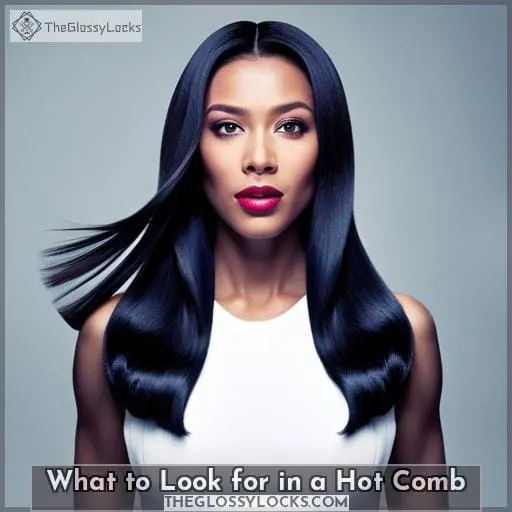 When shopping for the best hot comb for black hair, consider the different types and key features. Electric hot combs offer adjustable heat settings, faster heating, and safety features to prevent burns.
Opt for a lightweight, ergonomic design with ceramic technology for even heating and ion generators to reduce frizz.
Types of Hot Comb
You'll find manual pressing combs heated on the stovetop as well as electric pressing combs that use electricity to heat up faster and cause less damage. Opt for adjustable heat settings to customize for your hair needs. Heat-protectant sprays help minimize any potential damage.
Practice on lower temperatures first until you're comfortable handling the hot tool. Curling the ends creates a chic, retro-glam look. With care, hot combs allow salon-quality styling at home.
Key Features
Adjustable heat settings help prevent burning delicate strands. Seek options with fast-heating ceramic teeth that distribute heat evenly. Prioritize safety features like dual voltage for global use, auto shut-off, and heat recovery to maintain constant temperatures.
A lengthy, 360° swivel cord makes styling more convenient. Lightweight combs with variable heat settings smoothly style all hair types.
How to Use a Hot Comb on Black Hair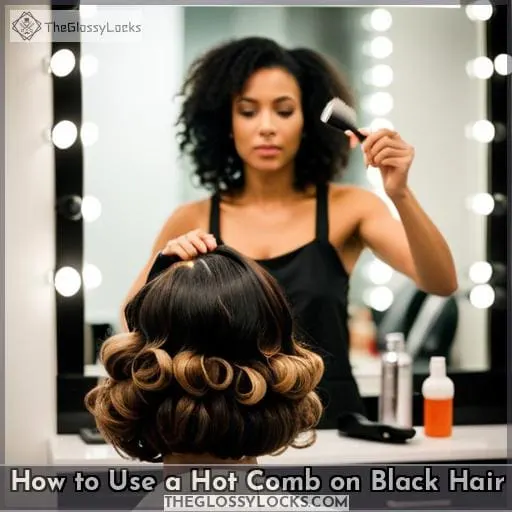 When preparing to hot comb black hair, start by sectioning the hair into manageable parts and applying a heat protectant. This will allow you to smoothly pass the hot comb through each section without causing excessive heat damage.
Sectioning
After dividing your locks into workable sections, run the heated comb through each segment slowly to straighten black hair. Before starting, ensure the hot comb reaches the ideal temperature for your tresses' thickness.
Then, begin lifting hair in half-inch parts, brushing thoroughly from roots to tips. Pass the comb over each section multiple times, keeping tension to lift and align strands. To finish, douse in a cool rinse and style as desired. Proper sectioning allows you to thoroughly straighten while minimizing damage.
Heat Protection
Before straightening, it's vital to coat strands in a heat protectant.
Choose a lightweight, silicone-free spray formulated for high heat styling.
Mist hair evenly before sectioning – focus on the ends.
Let the product dry completely so it can form a barrier.
Wear gloves to protect hands and enhance your grip.
The right prep helps safeguard hair from too much heat. Styling with care preserves the health of your strands.
Top 10 Hot Combs for Black Hair
When styling black hair, having the right hot comb makes all the difference for achieving sleek, straight styles without damage. We've rounded up the top 10 hot combs to help you pick the best one for your hair type, whether you need high heat for thick tresses or want an affordable option for touch-ups.
The Andis ceramic straightener, Gold N Hot multi-temp comb, and Conair turbo heat model all make the list for their quick heat-up, adjustable temperatures, and smoothing results.
1. Andis Heat Ceramic Press Hair Straightener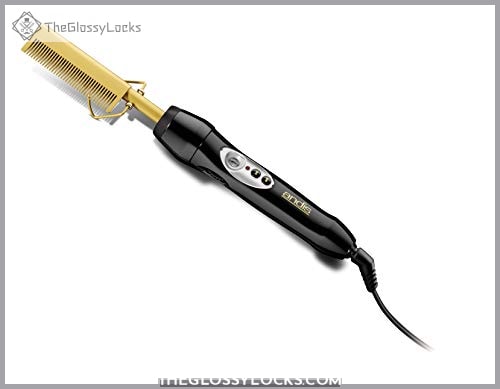 View On Amazon
You'll love the Andis ceramic heat comb for quickly straightening your hair without damage. This lightweight, easy-to-use straightener heats up in just 30 seconds to 450°F, with 20 adjustable settings to customize for your hair type and thickness.
The uniform heat prevents scorching while the smooth ceramic teeth glide through strands to banish frizz without pulling or snagging. With auto shut-off for safety and dual voltage for worldwide use, you can achieve a sleek, polished look in half the time.
Heats up quickly to high 450°F temperature
20 adjustable heat settings for custom styling
Ceramic prevents damaging hot spots
Lightweight and easy to handle
Can cause burns if not careful
Shorter cord may limit maneuverability
Not ideal for very coarse or thick hair
2. Gold Hot Professional Styling Comb Multi Temp Regulator

View On Amazon
These wedge-shaped, temp-regulated teeth'll help style fine or thick hair. With Gold N Hot's Professional Styling Comb, you can heat style all hair textures and types. The 24k gold-plated finish elegantly retains its adjustable 200-430°F heat for consistent pressing.
Simply section hair, clamp the wedges along the length and glide down gently for sleek, smooth results. The lightweight professional comb offers effortless handling with its lengthy, rotating cord – so you can move freely to directly access roots or flipped sections.
After fully heating up, it'll have your locks ready for flawless styling in a snap.
For reasonably-priced versatility, it's a trusted intro comb to avoid burns and achieve a salon-finish.
Trusted brand
Adjustable heat settings
Lightweight and easy to handle
Long swivel cord for flexibility
Reasonably priced
Takes time to fully heat up
May not reach roots as traditional pressing comb
Some reliability complaints
3. Conair Hype Hot Comb Ultra Hot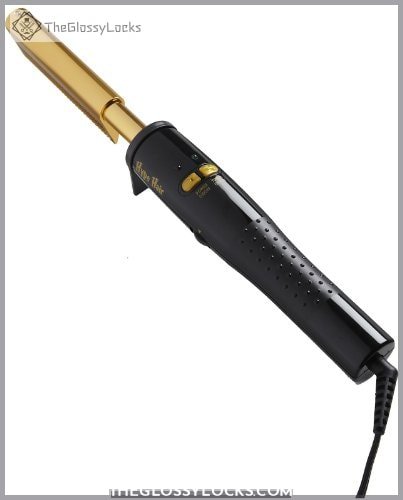 View On Amazon
Here you go, let's bring this vividly to life:
As you glide Conair's hot honeycomb through your locks, its turbo-infused heat melts your curls like butter, leaving hair silken and sleek with just a touch. With velvety precision, the comb's golden bristles tame frizz and flyaways in an instant—no need for a full blowout to look runway-ready.
Its intelligent heat tech remembers your favorite temperature, while auto shut-off provides peace of mind when you're on the go. For touchable, enviable hair pronto, Conair's glide-and-go comb is your new secret styling weapon.
Ultra-hot turbo setting for instant sleekness
Even heat distribution prevents damage
Portable and lightweight for on-the-go styling
30 customizable heat settings suit all hair types
May not get hot enough for very coarse hair
Durability issues reported in some reviews
Confusing lack of Conair branding on packaging
4. Sorlakar Ceramic Hair Straightening Comb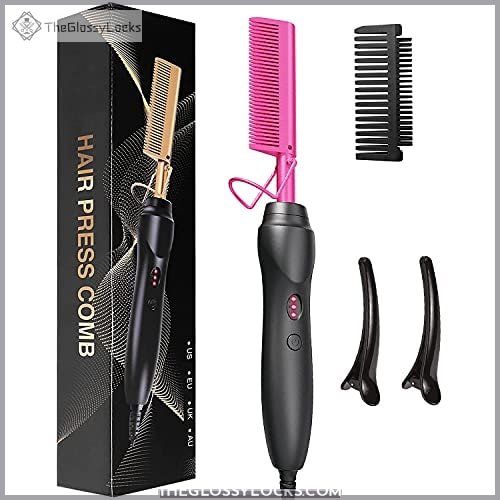 View On Amazon
Get ready to style that hair, 'cause this lightweight pink ceramic comb can straighten and smooth your dry locks quickly. The electric-powered, 10.55 oz AMP00606PinkUS glides through tresses, leaving them frizz-free with a smooth finish thanks to even ceramic heating.
Though details on settings and safety features are unclear, the ceramic plates should provide carefree straightening for easy, fuss-free hair.
Lightweight and portable
Ceramic plates for even heating
Good for on-the-go styling
Details on settings and safety unclear
Effectiveness on very coarse or thick hair unknown
5. Secura Hair Straightener Comb Ceramic Heating Levels Temperature Control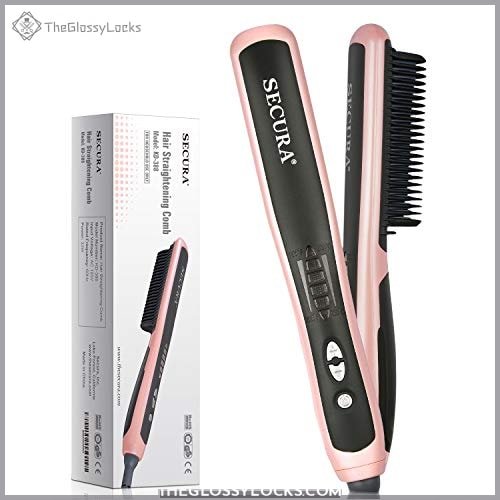 View On Amazon
You'll cherish the Secura hair straightener comb for its sunrise over past methods, emitting nourishing rays that embrace all hair types. This dynamic duo of ceramic and technology straightens, adds shine, reduces frizz, and controls static in a snap.
The easy glide infinitely whips hair into submission with more tenderness than its primitive counterparts. Adjustable heat settings pave the path for all hair types to experience silky soft tresses.
Ceramic heating is gentle on hair
Adjustable heat settings for all hair types
Quickly straightens and reduces frizz
Adds shine and controls static
Swiveling cord allows flexible styling
May not fully straighten very coarse or curly hair
Temperature settings can be tricky to adjust
Ceramic teeth may chip over time
Can snag wet hair
6. Terviiix Electric Hot Comb for Natural Black Hair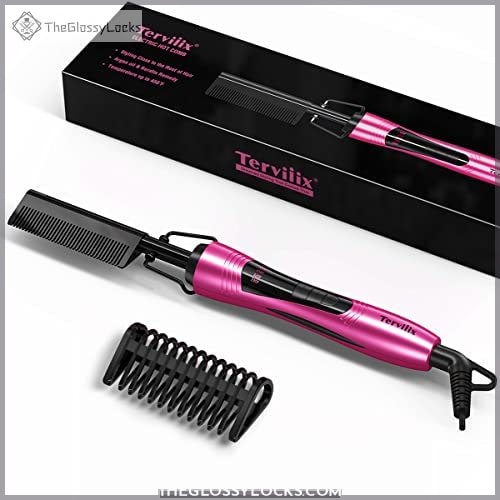 View On Amazon
Feeling your gorgeous curls become sleek, smooth perfection, the Terviiix electric hot comb glides effortlessly through your tresses. This lightweight pink comb provides the true versatility of heat styling with adjustable settings up to 450°F for use on all hair types.
The ceramic-coated teeth, infused with argan oil and keratin, nourish while gently straightening to banish frizz and flyaways. The anti-scald shield accessory ensures avoiding burns for safe home styling. With automatic shut-off, dual voltage, and a lengthy swivel cord, you can create salon-worthy sleek styles wherever you roam.
Simply section and smoothly comb through from roots to ends for model-esque straight strands.
Adjustable heat settings for all hair
Anti-scald shield prevents burns
Infused keratin and oils reduce damage
Dual voltage for worldwide use
Can cause breakage if overused
Hand grip can get hot during use
Not ideal for tight curl patterns
7. Anti Scald Hot Comb Straightener for African American Hair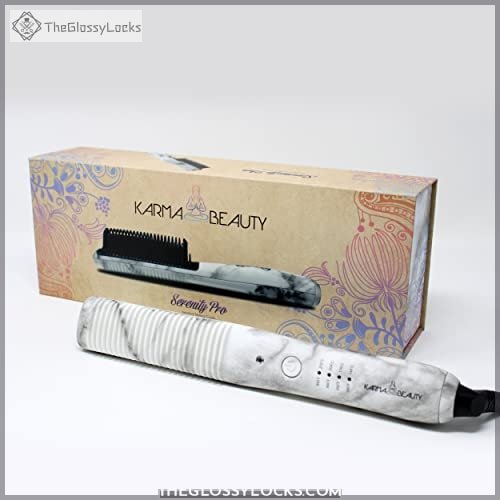 View On Amazon
Stand poised as the anti-scalding hot comb glides through your locks like a hot knife through butter, taming those wild curls into sleek, smooth strands. The Karma Beauty 4-in-1 Styling Comb lets you recreate salon-straight styles at home without the burn.
Its ceramic bristles maintain an even high heat to iron out kinks and coils minus the scalding. Say goodbye to frizz and wrestle unruly roots into submission with its triangular teeth that detangle while they straighten.
Reduce static and boost shine for hair that stays sleek for days. With rapid heat-up and auto shut-off, you can style safely with peace of mind. An affordable alternative to the old hot comb days, it brings modern convenience to vintage straightening.
Ceramic prevents scalding
Tames frizz and flyaways
Adds shine and reduces static
Auto shut-off for safety
Affordable vs salon straightening
Portable for travel styling
Can take a few passes for full straightening
Less effective for very coarse or thick hair
Doesn't reach roots as easily
Requires some technique to use properly
8. Annie Fine Teeth Copper Straightening Comb
View On Amazon
The Annie copper straightening comb enables at-home straightening with its extremely hot, old-school design that requires proper technique for minimizing damage. This vintage-style comb gets extremely hot when heated on the stove, letting you create smooth, frizz-free hairstyles from home.
Use once a month with caution and proper prep like applying oils first to avoid excessive heat damage. While quality varies and teeth may detach, it provides a throwback DIY styling method that nostalgic beauty lovers will appreciate.
Vintage, nostalgic straightening tool
Allows at-home straightening
Glides smoothly through hair
Requires stove heating
Quality issues reported
Can damage hair if used improperly
9. Medium Fine Brass Teeth Copper Spacer Double Press Comb
View On Amazon
You'll get salon-quality straight 'dos quickly and effortlessly with this durable fine-toothed brass comb. Forget fussing with flat irons or cheap hot combs – the classic Kentucky Maid double press is unmatched for heat distribution and snag-free smoothing.
The metal material holds styles longer while resisting humidity. All hair types benefit from the easy glide and curling ability. With quality to last ages, this retro straightening staple is simply unbeatable.
Even heat distribution
Smooth, snag-free styling
Holds style longer than flat irons
Resists humidity
Can curl ends
Durable and long lasting
Handle gets very hot
Need to use low heat and handle carefully
10. Maybelline New York Super Stay Matte Ink Liquid Lipstick Lover Mauve Neutral
View On Amazon
You're gonna lose it when you see how this lipstick stays vibrant and kiss-proof for 16 hours straight. Get ready to slay your look with this highly pigmented, matte liquid lippie. Just one swipe of the arrow applicator delivers intense, saturated color that'll last through work, play, and everything in between.
We're talkin' through meals, drinks, smooches – you name it! This smudge and transfer-proof formula dries down to a flawless, lightweight finish that feels comfy, not cracky.
Extremely long-lasting
Vibrant matte color
Transfer-resistant
Huge range of shades
Can feel drying on lips
Hard to remove completely
Colors may vary slightly from tube
Hot Comb Vs Flat Iron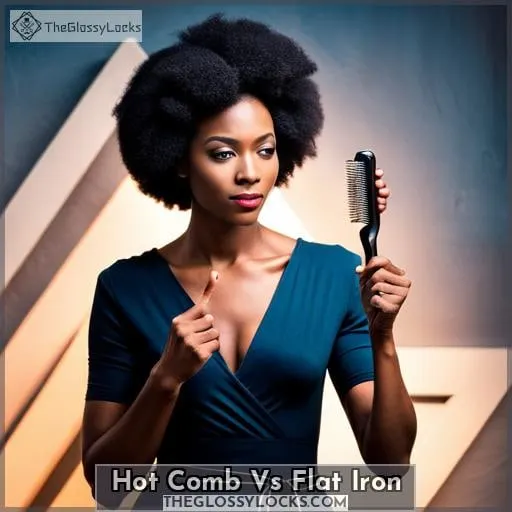 When it comes to straightening kinks and curls, hot combs and flat irons each have their strengths for styling black hair. Both tools heat hair to relax the strands, but hot combs distribute heat more evenly, while clamping irons enable you to get silky-smooth straight locks.
Heat Distribution
The comb's even heat flows through strands like a river's steady current, distributing warmth smoothly across your scalp. Curved teeth grip each section as the comb moves methodically. Your wrist turns the swiveling cord effortlessly to reach every angle.
The streamlined handle and balanced weight cradle comfortably in your palm. You savor the sensation of heat radiating evenly across your locks—no scalding spots or missed frizz. With the right hot comb, achieving sleek, smooth strands feels almost effortless.
Styling Ability
Straightening your hair, a hot comb provides more flexibility and control over styling than a flat iron. With a comb, you can create sleek, smooth styles while worrying less about damage from excessive high heat.
Adjustable temperature settings allow you to customize the heat for your hair texture and thickness. Unlike flat irons, combs let you style small sections at a time, adding volume or flipping ends under.
Overall, hot combs enable more versatile styling with less potential for heat damage.
Damage Reduction
Electric hot combs with adjustable heat settings reduce damage by up to 50% compared to the uncontrolled heat from manual pressing combs. Heat damage can compromise hair health over time. Take preventative measures like sectioning, using heat protectant, and proper temperature settings for the individual's texture and hair type.
Ceramic teeth distribute heat evenly. Avoid dry hair and overheating electric or manual combs to minimize harm.
Hot Comb Tips and Tricks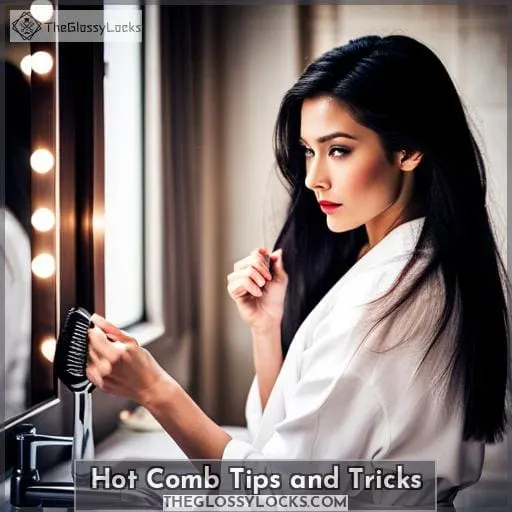 When styling hair with a hot comb, protect your tresses and perfect your technique. Before plugging in your heated comb, prep strands with a nourishing heat protectant spray.
Protectant Sprays
Cause heat-protectant sprays help reduce the damage hot combs can do.
Smooth down hair for easier combing.
Apply from roots to ends before heat styling.
Choose sprays formulated for straightening.
Pick lightweight sprays that don't weigh hair down.
Protectant sprays create a barrier between the hot comb's intense heat and delicate strands. Using them makes the styling process smoother by helping the comb glide from root to tip with no snagging or breakage.
The right formula also keeps hair soft and shiny instead of dried out and damaged. Apply liberally and style away for hair that's sleek, frizz-free, and undamaged.
Proper Technique
You'll get sleek, smooth hair by sectioning it carefully and gliding the heated comb downward from roots to ends.
To get the best results with a hot comb, follow these key steps:
| Steps | Thick, Coarse Hair | Fine, Thin Hair |
| --- | --- | --- |
| Heat Setting | Highest, 450°F | Lowest, 200-300°F |
| Section Width | 1-2 inches | 0.5-1 inch |
| Press Motion | Slow, overlapping | Quick, with light pressure |
| Finish with | Light serum | Shine spray |
With the proper technique matched to your hair texture, hot combs straighten gently and smoothly for frizz-free, sleek styles.
Maintenance
After each use, unplug your comb and wipe it down with a damp cloth to remove any excess product buildup. Doing so will help extend the lifespan of your hot comb by preventing a buildup of oils and styling products.
Regular cleaning of the teeth and handle is key for keeping it in optimal condition.
Frequently Asked Questions (FAQs)
How often should you use a hot comb on black hair?
Use a hot comb on black hair once a week at most. Frequent hot combing can damage hair.
Can you use a hot comb on wet hair?
You can't hot comb wet hair – moisture causes uneven heating and potential burns. I know you want to skip blow drying, but be patient. Air dry first, then use a quality hot comb on dry strands for smooth, sleek styles that turn heads.
What happens if you leave the hot comb on too long?
You! Leaving a hot comb on too long will overheat hair fast and scald scalp. Those snags and knots will fray and frizz strands. Go quick and low; your mane won't complain after swift gliding and primping for just enough shine time – so don't burn out.
Is it better to use a hot comb or flat iron for achieving sleek styles?
For sleek styles, flat irons are better; they clamp hair for straightening while hot combs just gently remove frizz.
What temperature setting should you use for transitioning or heat-trained natural hair?
Start with a lower temperature like 300-350°F to avoid damage when your strands are not used to heat. Gradually increase the temperature as your hair adjusts over time, but avoid max settings at first.
As your strands transition, you can start using higher temps if needed. Going slowly allows hair to acclimate without getting heat damage. However, listen to your hair's needs – some may prefer staying at lower settings.
The goal is finding the right balance between straightening while maintaining health. Be patient and cautious when newly heat-free strands are getting re-acquainted with hot tools.
Conclusion
There you have it, beautiful! Our top picks to straighten and sleek those curls with a hot comb's warm caress. Andis delivers salon-smooth strands quick as can be, while Gold 'N Hot lives up to its name, taming even the thickest mane.
But be wary, lovelies, that even these electric beauties can burn if misused. Take it from your stylist – protect those locks, section by section. Compared to clamping flat irons, combs let you style with flexibility and grace.
Follow these tips and tricks, and you'll have healthy, head-turning hair in a heartbeat!