This site is supported by our readers. We may earn a commission, at no cost to you, if you purchase through links.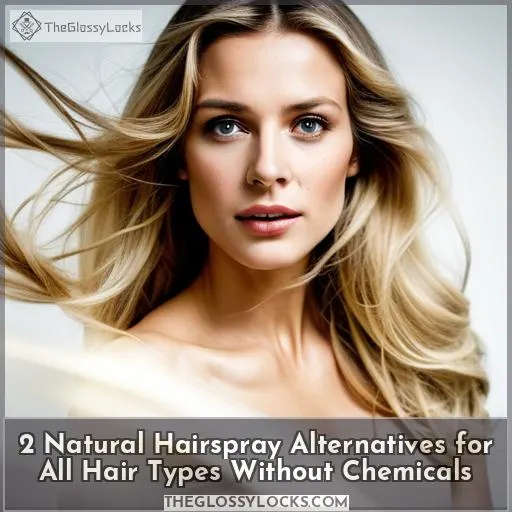 You're ready to ditch the hairspray but need alternatives to keep your hair in place. We've all been there – you love your hairstyle but hate how hairspray makes your hair crunchy or irritates your scalp.
Or maybe you're trying to use less aerosol for environmental reasons. Whatever your reasons, you want options that'll keep flyaways and frizz at bay without nasty chemicals.
We've got your back. In this article, we'll explore natural alternatives to hairspray including leave-in conditioners, styling creams, mousses, gels, pomades, and texture sprays. You'll discover options free of harsh alcohols and packed with nourishing oils, butters, proteins, and extracts.
We'll cover lightweight and firm hold products so you can pick what works for your hair type and style goals. Get ready to find new staples that'll give you gorgeous, touchable hold while making your hair and the planet happy.
Key Takeaways
Moisturizing ingredients like shea butter and coconut oil hydrate hair.
Non-greasy pomades provide touchable hold without greasiness.
Defining gels nourish and define curls without weighing them down.
Volumizing sprays boost volume at the roots and ends for lift and body.
Alternatives to Hairspray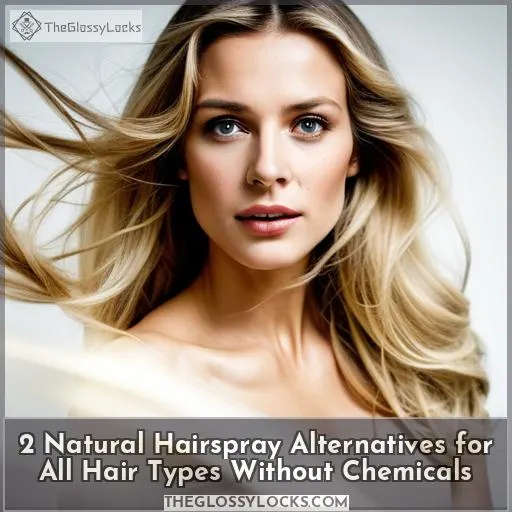 Are you looking for a styling product that offers hair stiffness and retention but doesn't contain harsh chemicals? Finding the right alternative to hairspray depends on your desired level of hold, as well as your hair type.
There are now more options than ever before when it comes to finding safe alternatives that nourish and protect your locks while still giving you the style you want.
Hair Stiffness and Retention
You'll find the stiff hold you crave using natural styling options that won't parch your tresses.
Mix beeswax and shea butter for touchable hold.
Style with pomade for shine and definition.
Sculpt hair with clay for texture sans flakes.
Shape your mane using homegrown gels. Whip up flaxseed gel that retains its grip for hours. Dissolve gelatin in heated water and chill it into a styling mousse. With smart choices, you can achieve any look and strengthen hair at the roots.
Hair Type
Your curls sing when pampered with gentle stylers that let them shine. Select products with care based on your hair's thirst and texture. Dry, brittle tresses need deep hydration from moisturizing creams and butters. Seek lightweight mousses and gels for fine locks prone to greasiness.
Embrace hairstyles that flaunt your hair's natural beauty. With the right care, your mane will dazzle with health, movement, and sheen.
Safety of Ingredients
Read the labels—chemical creams and sprays may harm your mane.
Avoid alcohol, which dries hair.
Skip sulfates that strip oils.
Select natural oils to nourish.
Choose products with few, recognizable ingredients.
Seeking healthy hair? Explore natural DIY options like flaxseed gel. Add beeswax for hold without harm. Whip up shea butter mousse for soft curls. With mindful selections, you can style sensibly.
SheaMoisture Curl Mousse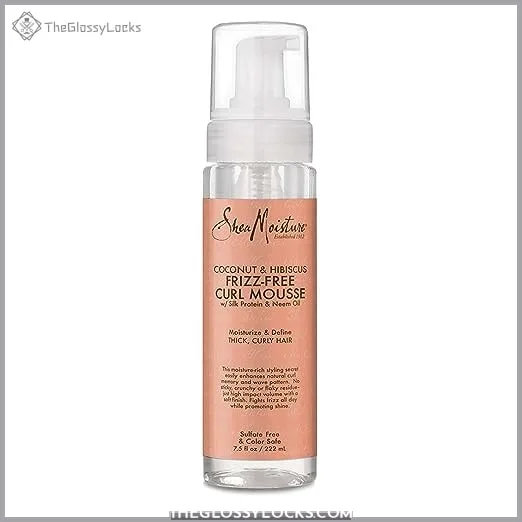 View On Amazon
Embrace SheaMoisture's curl mousse to define and nourish your curls without compromising your health. This sulfate-free styling product brings out your natural texture with medium hold. The moisturizing formula contains shea butter, coconut oil, and neem oil to hydrate locks while reducing frizz.
Compared to traditional hairsprays, SheaMoisture mousse avoids harsh chemicals found in typical styling products. It gives your curls definition without dryness or damage. Plus, it makes stubborn shrinkage manageable.
When you need lasting curl enhancement and frizz control without health risks, reach for SheaMoisture. Their caring ingredients promote hair health so you can rock your natural pattern.
| Pros | Cons |
| --- | --- |
| Moisturizing ingredients | May weigh down fine hair |
| Medium hold | Strong fragrance |
| Frizz reduction | Need to avoid sulfates |
With caring formulas like SheaMoisture, you can style worry-free. Their curl mousse lets you define those coils without nasty chemicals.
Cremo Premium Thickening Paste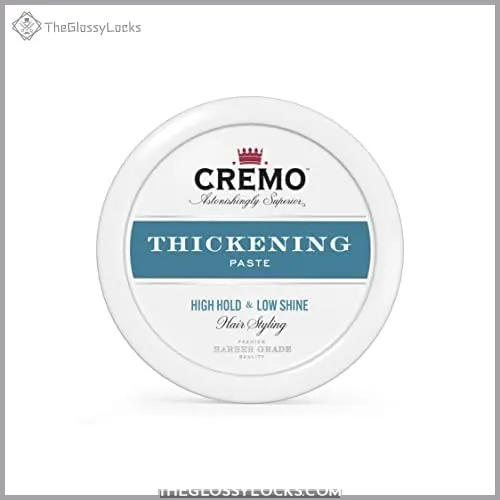 View On Amazon
You'll love Cremo's non-greasy thickening paste for sculpting men's hairstyles with a subtle shine. Over 80% of users say it adds texture without dryness or flaking. This medium hold styling paste contains beeswax, carnauba wax, and bentonite clay to grip hair and provide flexible hold that isn't too stiff.
Applies easily to damp or dry hair.
Leaves no flaky residue behind.
Made in the USA without parabens or sulfates.
Safe for all hair types and textures.
The thickening and texturizing effects allow you to shape and style your hair as desired. Simply warm a small amount between your palms, work it through your hair, and sculpt your locks into place. Cremo paste lets you achieve your ideal look with subtle shine and soft, brushable texture that lasts.
Ditch the crunchy hairspray and let this nourishing pomade enhance your style.
Garnier Fructis Style Pure Clean Styling Gel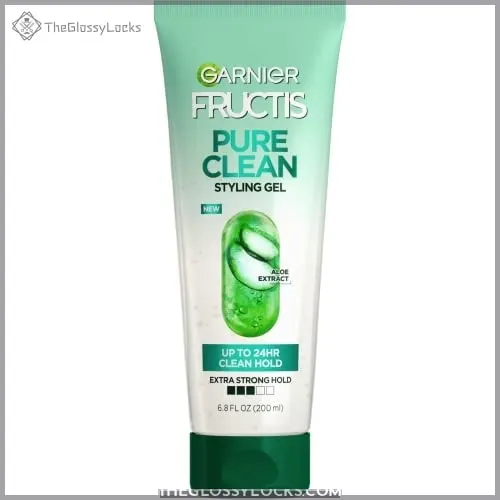 View On Amazon
Try Garnier Fructis Style Pure Clean Styling Gel for a flexible hold and natural nourishment with antioxidant-rich fruit extracts. This affordable drugstore brand offers a paraben-free, 98% naturally derived formula that leaves hair soft without any flaky residue.
Made in the USA, the vegan gel comes in a 6.8 fl oz recyclable tube and works for all hair types.
| Pros | Cons |
| --- | --- |
| Flexible hold | May cause buildup |
| Nourishes hair | Perfume-free |
| No flaky residue | |
| All hair types | |
| Affordable | |
Whether you have curly, straight, thick, or fine hair, this gel delivers lightweight control. The nourishing ingredients like fruit extracts provide antioxidants to improve hair health. Simply apply to wet hair and let it air dry to set your style in place without crunchiness.
If you want touchable texture and soft movement without hairspray, try Garnier Pure Clean Styling Gel.
Smooth Viking Hair Clay for Men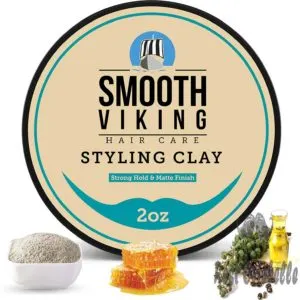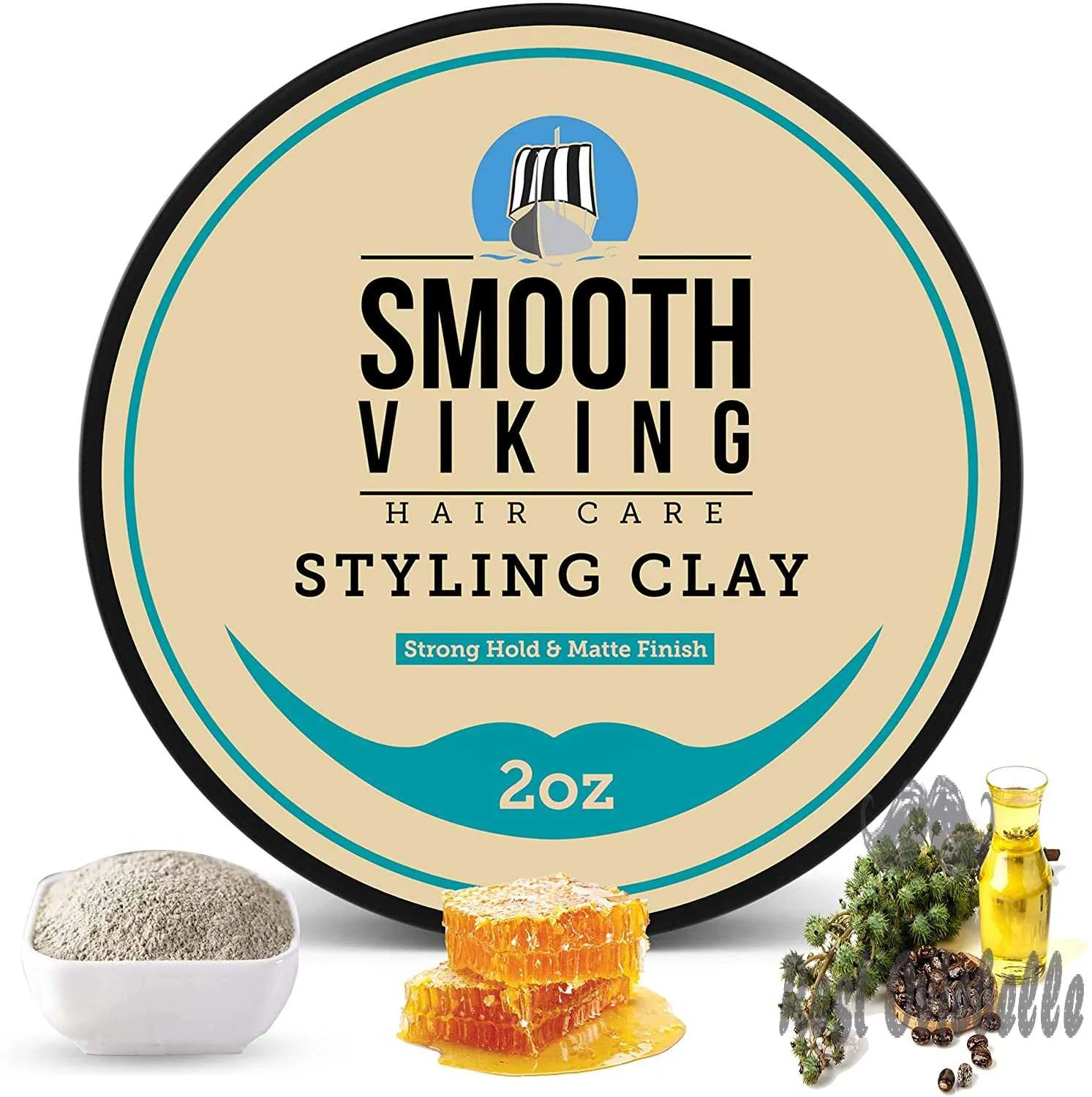 View On Amazon
Sculpt your ideal matte hairstyle with Smooth Viking's flexible hold hair clay. This 2 oz styling solution contains beeswax, kaolin clay, and vitamin E to nourish your hair follicles without drying them out or leaving behind any flaky residue.
Simply rub between palms to warm the product and then work it through damp or dry locks as desired for a natural matte finish that will last all day long.
Whether you need extra volume at the roots or want to add texture throughout, this versatile pomade alternative works great on all types of styles – from short spikes to longer combed looks – so you get maximum control over how much hold is needed in each area.
And unlike many other styling products used on wet hair, which take ages (and lots of blow-drying) to set properly, this one dries quickly for easy application on rushed mornings when there's not enough time left before heading out the door! So try using Smooth Viking Hair Clay today and forget about reaching for those expensive dry shampoos ever again; just a little goes a long way here!
Kenra Platinum Dry Texture Spray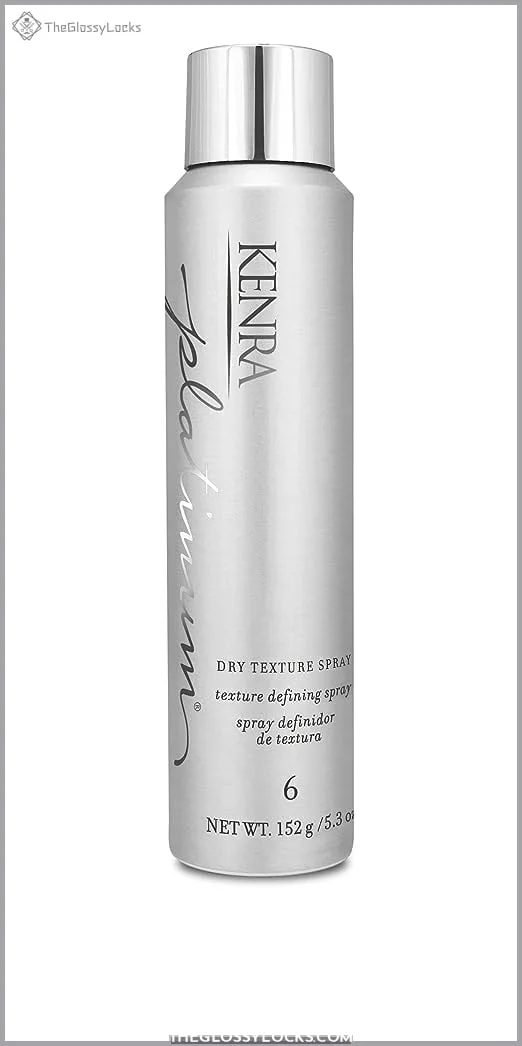 View On Amazon
After sculpting your hair with Smooth Viking's clay, try a light spritz of Kenra Platinum Dry Texture Spray for extra volume and separation. This touchably soft, floral-scented spray grips hair gently without causing dryness or flaking.
It's a great way to refresh your style between washes or give fine to medium hair a boost.
To use, shake the can well and mist it onto dry locks, focusing on the roots and ends. The lightweight formula contains rice starch and volcanic rock powder to add texture and grip that lasts around 10 minutes.
You'll love how it leaves hair brushable yet full of volume, minus any sticky residue. With buildable hold, reapply as needed until you achieve your perfect bedhead or beach waves.
Here are some tips for getting the most from Kenra Dry Texture Spray:
Apply to second-day hair to revive flattened roots or limp strands.
Use when braiding, twisting, or pinning up styles to increase hold.
Mix with a dime-size dollop of hair paste for extra separation and sheen.
Pair with a dry shampoo like Batiste to absorb oils for a just-washed look.
Review ingredients if you have sensitivities – discontinue use if irritation occurs.
With this versatile spray, you can easily achieve soft, touchable texture and volume without harming your hair like traditional sprays.
Batiste Dry Shampoo Original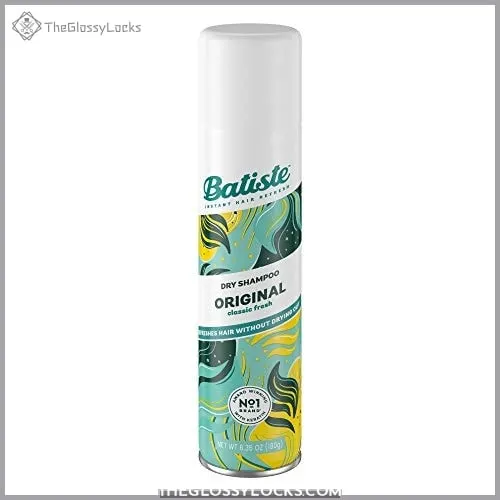 View On Amazon
You can get a quick refresh with Batiste Dry Shampoo Original when you're short on time. This convenient no-water formula helps absorb excess oils and grease between washes, leaving hair feeling clean and fresh.
| Feature | Benefit |
| --- | --- |
| Absorbs oils and grease | Leaves hair feeling freshly washed |
| Adds volume | Creates fuller, bouncier hair |
| Provides texture | Gives hair grit and hold for styling |
| No water needed | Quick and easy application |
The non-aerosol dry shampoo comes in Batiste's classic original scent with a light fragrance. It helps refresh hair fast when you don't have time for a full wash and blowout. Simply massage it into roots and work through to ends to revive limp, oily strands into full, touchable texture.
Let it sit briefly before brushing out any powder residue. You can style messy, bedhead looks or boost volume in updos with this cruelty-free, vegan formula.
Rediscover quick, fuss-free hair refreshes between washes.
Seven Minerals Organic Aloe Vera Gel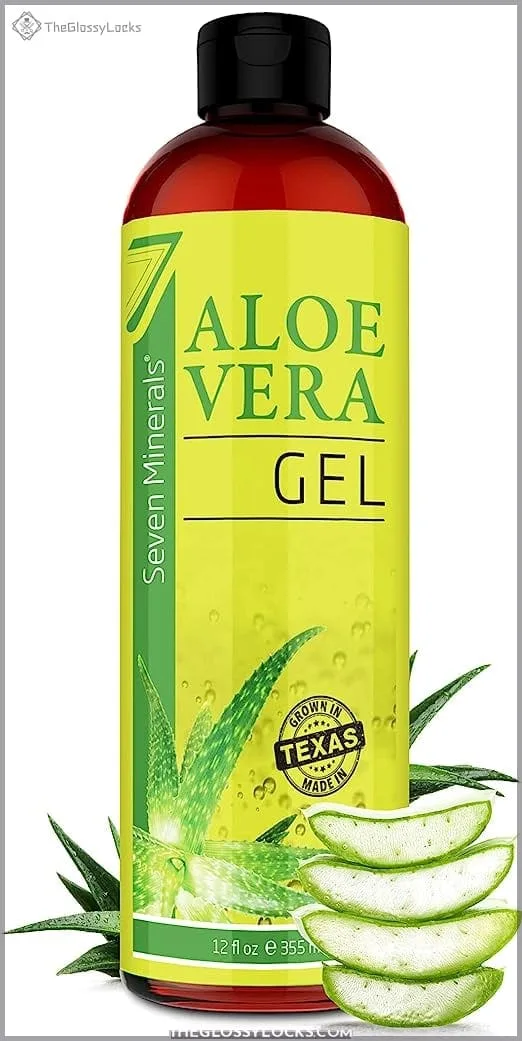 View On Amazon
Nourish your skin daily with Seven Minerals' organic aloe vera gel. Made from 100% pure, organic aloe vera grown sustainably in Mexico, this award-winning skincare hydrates and soothes skin without any added chemicals.
The cold-pressed processing method retains aloe's natural polysaccharides, leading to deep absorption and nourishment. With the power of nature, this gel helps treat sunburns, dry skin, acne breakouts, and razor burn as it supports healthy skin.
Recommended by dermatologists, the versatile gel absorbs quickly to hydrate face and body without leaving behind greasiness. Experience the tingling sensation of natural aloe nourishment. Vegan and cruelty-free, this 4oz bottle provides 3-4 months of skincare with daily use.
Keep it at room temperature and away from sunlight for maximum freshness and efficacy.
Rediscover your skin's natural glow and suppleness with Seven Minerals' organic aloe, a natural alternative to conventional products.
100% organic aloe vera
No added chemicals
Treats sunburns, dry skin, etc.
Quickly absorbed, non-greasy
Dermatologist recommended
Might cause mild tingling
Needs proper storage conditions
Small bottle doesn't last long
Better Shea Butter
View On Amazon
Squeeze Better Shea Butter on dry hair 'til saturated, then twist or braid tresses for high-definition styling without harmful chemicals.
Shea butter deeply conditions dry, brittle strands.
The fair trade shea butter nourishes and smooths hair.
Twist your hair saturated in shea butter to define curls overnight.
Braid your hair saturated in shea butter for heatless waves.
Experience the moisturizing power of shea butter on strands, allowing you to ditch damaging hairsprays. Ethically sourced from Ghana, vitamin-rich Better Shea Butter hydrates thirsty tresses without chemicals found in typical styling products.
Massage it into damp hair before braiding or twisting for soft, shiny, defined texture.
The cruelty-free shea butter absorbs into hair, sealing in moisture and leaving hair touchably soft. Rediscover supple, nourished, frizz-free locks with this natural styling multitasker. Twist, braid, or smooth it through strands for volume, definition, and hydration without toxic chemicals harming your health and hair.
African Shea Butter
View On Amazon
Massage unrefined African shea butter into damp hair, letting its indulgent richness envelop strands with deep conditioning vitamins that smooth and define without any help from toxic hairsprays.
This natural, unrefined shea butter has been used for centuries by African women to nourish skin and hair with its blend of vitamins A, E, and F, as well as anti-inflammatory fatty acids.
Sustainably sourced from the nut of the African shea tree, this creamy moisturizer is free of added fragrances or chemicals, leaving behind only softness in place of dryness after each application.
For those looking for an alternative styling product to harsh, chemical-laden hairspray, look no further than nurturing African Shea Butter! Its high levels of fatty acids hydrate thirsty tresses while locking in moisture, so your style is more defined yet still flexible enough to move naturally throughout the day.
The fragrance-free formula absorbs quickly without feeling heavy on the skin, making it perfect for all types, including sensitive complexions.
Natural & Unrefined Shea Butter
High Levels Of Fatty Acids
Locks In Moisture For Defined Styles
Fragrance-Free Formula
May Feel Heavy On Skin For Some People
Must Store Properly To Ensure Maximum Shelf Life Benefits
Frequently Asked Questions (FAQs)
How long does the hold last for these natural alternatives compared to traditional hairspray?
You'll find that natural styling products generally provide a lighter, more flexible hold than traditional hairsprays. Their hold may only last for several hours compared to the all-day stiffness from chemical sprays.
However, nourishing ingredients can strengthen hair over time – a tradeoff for less rigid styling.
Which of these products can safely be used on color-treated or chemically processed hair?
You can safely use aloe vera gel, shea butter, and coconut oil on color-treated or chemically processed hair. They provide hydration and nourishment without stripping color. Avoiding harsh chemicals will help maintain your hair's health.
Are any of these products not suitable for fine or thin hair types?
You'll want to avoid the thickening paste, as it can weigh down fine hair. The aloe vera gel and shea butter provide moisture without heaviness. Most other options can work for fine hair, just use sparingly. Focus on volumizing mousse or soft hold hairspray instead of heavy gels or butters.
Do I need to apply heat to set these natural styling products like some traditional hairsprays?
Many of the natural styling products can air-dry to set your style without heat. However, blow-drying or diffusing will help lock in curls and volume better with options like mousse and sea salt spray.
What is the best application method for each of these natural hair styling products to avoid wasting product?
When styling au naturel, bend, not break the rules. Lightly massage mousses into roots, smooth clays over waves, pinch gels into ends. Let shea butter melt in palms before coating coils. And always spritz sea salt with eyes wide open.
Conclusion
Your hair deserves care and nourishment. Like yourself, it needs proper guidance to find its best form and purpose. Choosing the health of your hair over harsh chemicals allows its true nature to shine through.
Let shea butter moisturize while aloe vera soothes. Allow mousses and gels to define gently, not constrain. Finding alternatives to hairspray nurtures your locks from root to tip. When you treat your hair with love, it will bloom, wave, and curl into the beautiful styles it was meant to hold.