This site is supported by our readers. We may earn a commission, at no cost to you, if you purchase through links.
I am sorry you are losing your hair.
I know that losing your hair makes you stressed, and you need the fastest and most effective remedy to correct the situation.
Did you know that lasers regrow hair?
Unlike their LED counterparts, lasers have a higher energy density that allows for more intense and effective stimulation of the hair follicle.
The best laser cap for hair loss reactivates your hair's natural growth patterns by promoting blood circulation and collagen production, resulting in increased hair growth and thickness.
But not all cases of hair loss need treatment. If we put it, people lose about 100 strands of hair from their scalp every day. It may not be visibly obvious – some of it falls naturally or while combing and hair wash.
Unless an underlying health condition is causing your hair to fall or inherited, you can try laser light therapy for hair loss.
That's why I've devoted this article to discuss the best laser caps for hair loss. Treating hair loss, which can be a great addition to your overall regimen. They are easy to use and a convenient way to prevent hair loss.
Before we get to the laser hair growth treatment reviews, let's take a look at how these miracle devices really work. If you already know everything there is to know about laser caps for hair loss, feel free to use the following navigation panel to go directly to the laser light therapy for hair loss reviews.
How Does a Laser Cap for Hair Loss Work?
A laser cap is a device attached with laser-emitting diodes. These caps work according to the concept of Low-Level Laser Therapy, "LLLT". These caps are designed to stimulate your hair roots with low laser energy.
This is a non-destructive and cool "low energetic" spectrum of lasers that enter skin cells to elicit responses to prevent hair loss and promote hair growth.
Laser caps are FDA approved and considered the safest way to prevent hair loss and support hair growth "1".
Who Can Benefit from Laser Hair Growth Devices?
People with thinning hair usually have a specific pattern of hair loss.
The Ludwig-Savin scale can grade women, and the Norwood-Hamilton rating can grade men.
Women in categories I-4, II-1, II-2 who have frontal hair loss may benefit from light light therapy.
The same is true for men who fall into classifications IIa to V "2".
Read on for the list of the best laser caps for hair growth and hair loss prevention in the next section.

Best Laser Cap for Hair Loss (Top 10 Reviews) of 2023
Here is a detailed overview of the best laser caps for hair loss. At the end of laser light therapy for hair loss reviews, you should be able to decide which device is best for you, taking all the factors into account. The devices are as follows:
1. Capillus82 Mobile Laser Therapy Cap for Hair Regrowth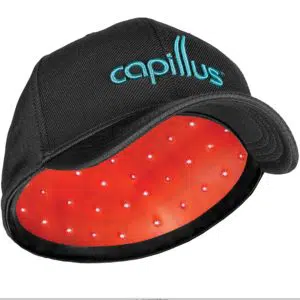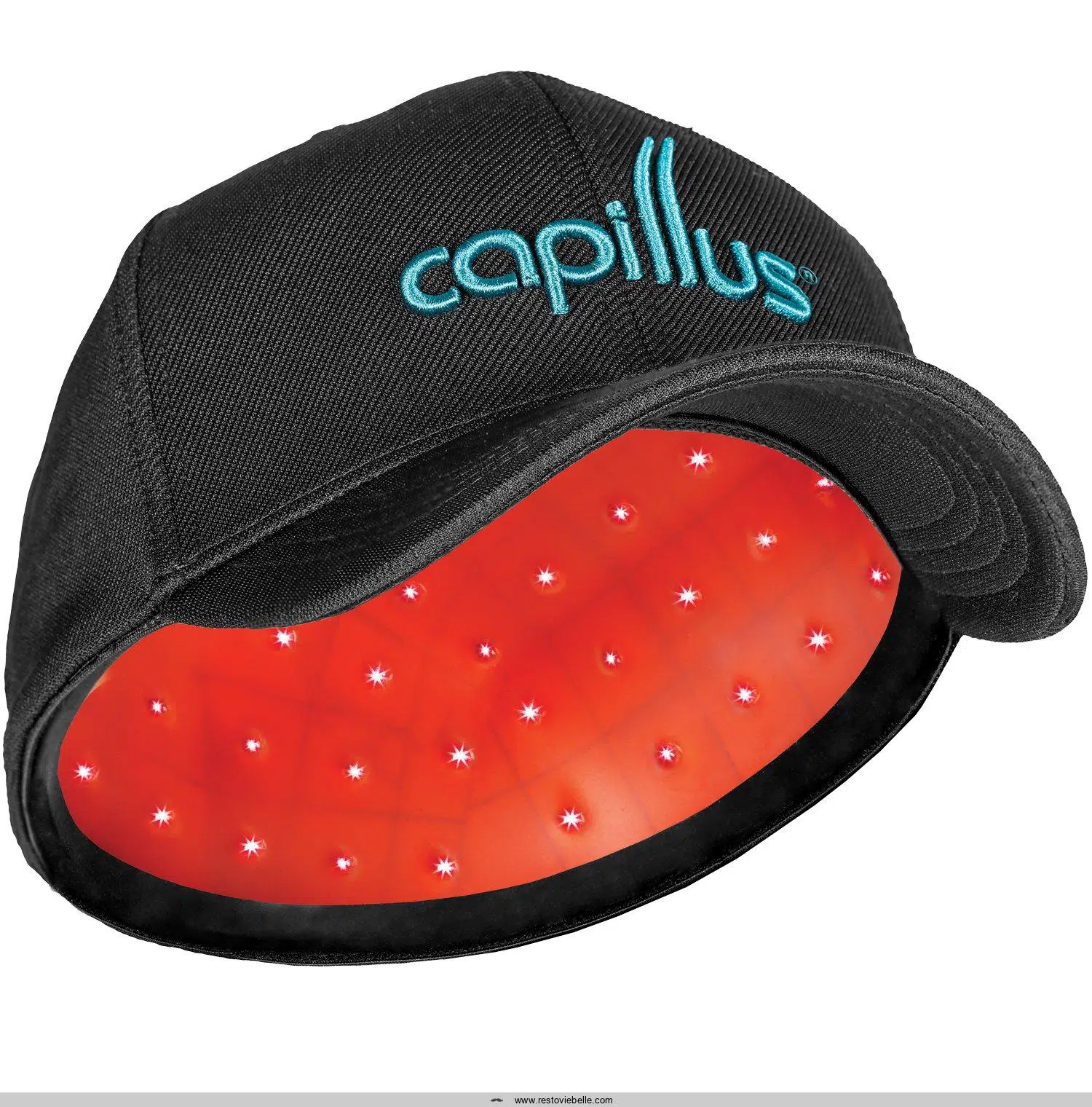 View On AmazonThis is the third laser hood from Capillus included in our best laser hoods for hair loss. It also happens to be the brand's simplest option. As a result, it is far more economical than its advanced brethren.
When we say it's simple, we mean the number of laser diodes. This laser hood has only 82 laser diodes. This number of lasers pales in comparison to more advanced products with 202 or even 272 laser diodes.
It also means that this laser hood delivers much slower results than those products. However, the company is still claiming results in the period between six and 12 months.
Also, reduced laser diodes mean a smaller coverage area and more diffuse treatment of the scalp. The best way to get around this reduced effectiveness is to combine the laser cap with strict dietary controls and topical hair loss treatments.
However, this laser hood has the same studies that back up the more advanced versions. As a result, it promises a 95 percent success rate and can grow 51 percent more hair. Of course, it also enjoys FDA approval as a treatment against androgenetic.
Like all Capillus laser hoods, you have to wear these for six minutes every day. It is also a completely hands-free device as it has a rechargeable battery. Sessions when it is fully charged.
The laser hood is also flexible, making it very easy to carry around. The fact that it comes with a carrying case is a bonus to your travel plans.
Since laser hair loss technology is what it is, you will have to wait a long time to see results, and you may not even see results, as no hair loss treatment can promise a 100 percent success rate.
Price-wise, this device is at the top of the mid-range prices.
Who It's for: If you travel a lot, need a laser cap for hair loss, and don't have to worry about money, get this one.

It only needs to be used for six minutes a day.
Backed by reliable clinical studies
Wireless format
The battery can be charged up to seven times.
Easy to use
Provides automatic shutdown
Portable because it is flexible
It comes with a carrying case.
It takes a long time to show results.
It May does not work for everyone.
Could have had more laser diodes
On the expensive side
2. Theradome Pro Laser Hair Growth Helmet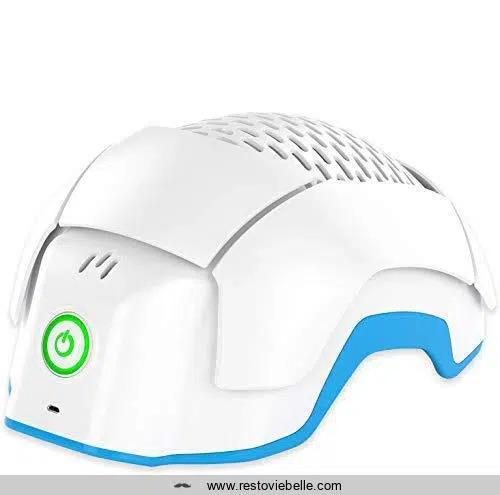 View On AmazonKnown as the only wireless laser hood on the market, the Theradome PRO laser hair growth helmet has no cord, giving you the freedom to move comfortably and without restrictions, making it the perfect option for those who are always on the go.
That's not all. The cap contains about 80 patented lasers that deliver a low-light laser with a wavelength of 680 nanometers. It uses only cool laser phototherapy – no LEDs – to achieve the best results. It is recommended to use this cap for 20 minutes only twice a week!
In addition to its cordless design, this cap is considered the most advanced of them, as it comes with voice commands and a one-touch activation system.

This is backed by a 6-month 100% money-back guarantee.
The rechargeable battery lasts up to 18,000 treatments.
With its soft rubber pegs and comfortable pads, this cap fits nicely and comfortably around your head.
The charging process is also wireless!
The cap has a one-size-fits-all design.
It has a helmet design, so you cannot use it outside.
The price is a bit high.
3. iRestore Laser Hair Growth System
View On AmazonThis is one of the more famous LLLT devices you will find in the market today. The iRestore Laser Hair Growth System has recently been renamed to iRestore Essential because it has also released an improved model called iRestore Professional, equipped with more laser diodes. They, let's dive deeper into the specifications of this iRestore Essential device.
The highly recognizable iRestore dome is made of white-colored plastic. The inner part of the dome is highly customized with cushions and a strap designed to hold the dome to your head during therapy sessions. A wearable controller is also attached to the dome, allowing you to start and stop therapy sessions at your leisure.
Inside the dome are 21 medical-grade lasers and 30 light-emitting diodes "LEDs". These are designed to emit light in a specific wavelength recommended for this therapy. Display that shows battery life, and there is also a timer on.
According to the manual, the sessions should last about 25 minutes as the light-emitting diodes will turn your head. Conveniently, the controller will beep to warn you that the 25-minute session is over. Time the leds and lasers automatically turn off, and you are free to take off the helmet.

FDA approved
Developed in GMP certified facilities
100% money-back guarantee
Clinically tested and proven
Lightweight
Ergonomic design
It takes a long time to show results
It May does not work for everyone
Wireless version costs extra
Could have had more laser diodes
4. Hairmaxlaserband 82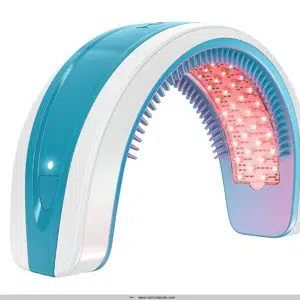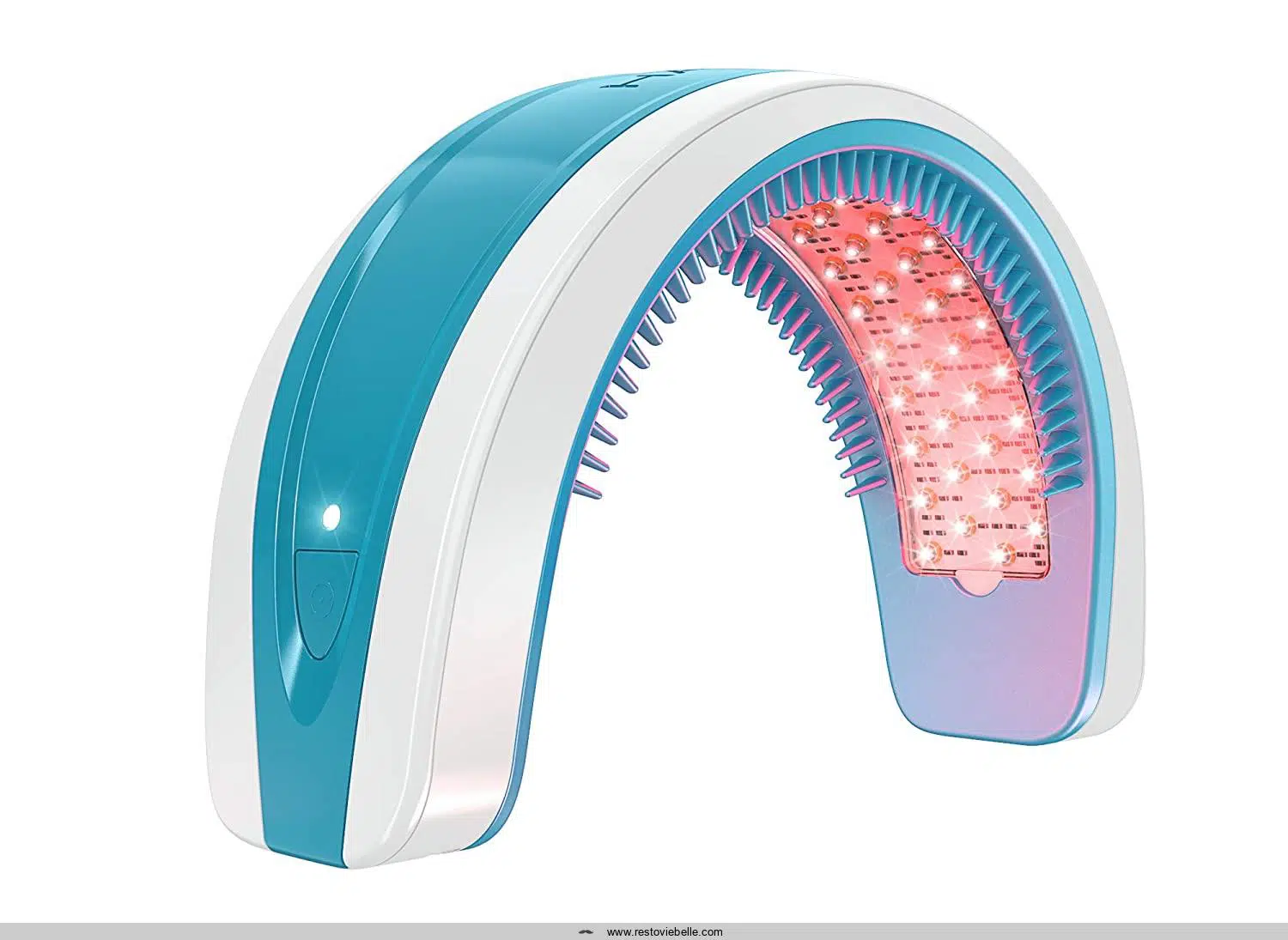 View On AmazonTechnically this is not a laser cap, it is a laser band, but a list of best laser caps for hair loss that do not contain this product cannot be considered exhaustive.
You see, this was the first product to receive FDA approval for the treatment of hair loss. The approval that led to an entirely new industry came in 2007. In addition to the FDA, this device has the approval of 14 comparable authorities. All over the world.
The unique shape of this device is the source of its great strength and weakness. The shape ensures that the laser diodes are concentrated on a small area. However, the smaller coverage area also means that it does not cover the scalp in one session.
If you want to treat your entire scalp with this laser device, you even have to move the band around. You can place it in three different positions on your scalp. In fact, you use it with one placement and then move it further.
The saving grace for this annoyance is that you only need to hold this device in one position for 30 seconds. As a result, you have the entire scalp covered in 90 seconds!
This is the best turnaround for any hair loss laser device if you can practically tolerate it. In case you were wondering, you don't have to do this every day. To be done once a week.
Even if you think that 90 seconds is not enough for your specific case, you can use this device for 10 minutes at a time. Despite this company recommendation, we recommend limiting the entire session to 10 minutes instead of 10 minutes for each placement.
While not much research has been done on overexposure to LLLT, the fact that laser hair removal devices exist gives us a break. You risk more hair loss if you take too much hair—laser cap for hair loss.
However, if you follow the instructions given, don't worry. In fact, this HairMax product is one of the best-researched products on the market.
It has been the subject of seven different clinical studies. In fact, the company says the findings of those studies have been published in six peer-reviewed medical journals.
While this is an incredibly effective device, we must point out that laser caps with more laser diodes are more effective and faster to deliver results because they provide more coverage.
However, this unit still outperforms a laser hood with 82 diodes, thanks to its patented hair separation teeth system. These prongs are placed on both edges of the unit. Simply put, they ensure that you do not prevent photons from reaching the hair follicle.
The device is light enough for easy portability, but be warned it won't fold. The company does, however, supply a carrying case.
As usual, this device may take its own sweet time to deliver results, and in fact, it may not produce those results for some of you, as no treatment for hair loss can be guaranteed in this world—promised result.

It offers a unique shape and design.
Supported by multiple clinical studies
Wireless format
Easy to use
Teeth provide increased exposure to lasers.
It only needs to be used for 90 seconds three times a week – It comes with a carrying case.
It takes a long time to show results.
It May does not work for everyone.
Could have had more laser diodes
Strange shape and usage may cause problems.
5. Illumiflow 272 Hair Growth Device
View On AmazonComfort, durability, affordability, and effectiveness are the first words that come to mind when we think of illumiflow 272: a highly rated device made with 272 lasers to ensure maximum coverage and optimal results against hair loss. Illumiflow is confident in its product and offers a 5-year warranty on this hair growth cap. Don't worry; the battery is expected to last up to 20,000 sessions over the entire treatment period, so you are very unlikely to need this warranty.
It is recommended to use this appliance three times a week, with a short 30-minute treatment to strengthen and regrow your hair. The cap has an automatic shut-off with audible beeps.24" It's hard to believe it won't suit everyone. Most importantly, the device has FDA approval for safety and efficiency, issued in 2018. Nevertheless, we consider illumiflow 272 a solid choice, and if it doesn't work, you get your money back – great!

They offer a 5 year warranty
272 low-level lasers for full coverage
FDA approved for 100% safe and effective use in the treatment of hair loss
It lasts up to 20,000 treatments.
Advanced cooling technology for shielding lasers to protect
The cap is not really comfortable and flexible.
6. Hairmax Regrowmd Laser Hair Growth Cap
View On AmazonThe HairMax RegrowMD Laser Hair Growth Cap is another clinically proven laser cap. According to studies, this shows a 90% success rate and can result in an average increase in hair count of 129 per square inch.
It has 272 medical-grade lasers capable of delivering a total output power of 1360 mW. It is recommended to use this hood for 30 minutes, 3 days a week.
What makes this laser cap unit is that it comes with an exclusive Bio-Light comfort design that delivers laser light through calibrated openings. The openings are designed to provide unobstructed light flow to the hair follicle.

It comes with a flexible insert for a comfortable fit.
The hood has openings to facilitate direct light flow to your hair.
It has a beep timer.
The cap uses medical-grade lasers. No LED.
A 6-month money-back guarantee covers this.
The size of the cap is a bit small for others.
The hard cap design is not comfortable on the head.
7. IGrow Laser Hair Growth Helmet
View On AmazonThis is an LLLT stimulating light therapy device that claims to rejuvenate cells to prevent hair loss. This clinically tested device was found to increase hair count by 35% in men and 37% in women in 16 weeks. It has four adjustable columns, adjustable headphones, and aux hooks and covers the entire scalp comfortably.
This has been approved by the FDA 501, proving that it is safe and effective.
You only need to use it for 25 minutes.
This is designed for all hair types.
It has a dual voltage, so you can use it when traveling.
No rechargeable batteries are required.
It would be best if you used this daily.
It would help if you had an electrical outlet to use this.
8. Supergro Laser Hair Growth 272 Diode
View On AmazonTraditional wisdom says that the more laser diodes a laser cap contains, the more expensive it will be, but SuperGro seems to have found a way to get around that basic principle.
The company offers this 272 diode laser cap at an extremely competitive price. Not only this, they even offer a specialized anti-DHT shampoo with the appropriate laser cap. The price-performance ratio offered here is simply incomparable.
Even the included anti-DHT shampoo offers tremendous value as you get not one but three different 0.7-ounce bottles. The Anti-DHT shampoo contains 11 different DHT blockers, no need for the argument that it is quite effective in combination with this laser hood.
In fact, the manufacturer of this FDA-approved product claims that it will produce results between three to five months, which is one month less than competing products, but the frequency of use is the same as other products, namely 20minutes, three times a week.
However, unlike competing products, this one isn't wireless. Although it comes with a 6-foot power cord, it limits your freedom of movement to some extent.
On the other hand, this product's warranty is better than its competitors. The company offers a three-year warranty on Amazon purchases. Plus, this is a dual-voltage device, meaning you can use it anywhere in the world without the need for converters or adapters.
The biggest problem you can face with this device is build quality. This is where you realize you are getting what you pay for. Build quality is the worst in the business. In fact, it's so bad that it is visible to the naked eye.
Additionally, like all other LLLT-based devices, this device doesn't deliver fast results and can't even offer a 100 percent success rate. Still, since the rate is so low, it's not for you.

It can hold lots of laser diodes.
Easy to use
It has a 6-foot cord.
It only needs to be used three times a week for 20 minutes.
It comes with three bottles of DHT blocking mix – a 3-year warranty.
Dual voltage device
Amazingly priced
It takes a long time to show results.
It May does not work for everyone.
The wired device restricts movement.
Inferior build quality
9. Theradome Evo Lh40
View On AmazonThis device contains 40 laser diodes and claims to reduce hair loss and hair loss. It is a wireless device and recommended by doctors. The manufacturer claims the device provides visible clinical power results within 180 days.
FDA approved
Rechargeable batteries
Proximity sensors
One-touch automated device
Wireless
Laser diodes only cover the top and back and not the sides.
10. Hairmax Laser 272 Powerflex Cap
View On AmazonIt is a laser hood by nature and is somewhat reminiscent of the aforementioned Capillus 82 hood in construction. PowerFlex laser hood was developed by HairMax, the pioneering laser hair loss treatment company. Starting with the first laser combs released by the FDA for the treatment of hair loss, PowerFlex 272 laser hood is the newest device from HairMax.
Like previous devices, PowerFlex has a rechargeable battery and is mobile so that you can move around during use. When you fully charge the battery, which takes 3-5 hours, it takes six to eight 30-minute sessions, which means you only need to charge twice a month for a full treatment.
Since you use the device regularly, three times a week, the manufacturer says it will last between 10 and 15 years if the laser diodes built into PowerFlex are made of high-quality materials.
When it comes to looks, the cap looks like a baseball cap in design. The inner layer of the cap is covered with 272 high-quality lasers evenly distributed. Overall, the cap is lightweight and flexible, making it comfortable to wear.
However, keep in mind that it "one size fits all" might be comfortable to wear at home, but it is not designed for exercise-intensive activities such as sports.
The good thing about the Laser 272 PowerFlex Cap is that the laser liner is very versatile. It can be removed and attached to your baseball cap or any hat you like.
The manufacturer also states that the BioLight Comfort design uses linear laser apertures, which help ensure a smooth laser flow, so even if you have a full head of hair, the device's effectiveness should not be noticeably affected.
Largest number of medical-grade lasers
Flexible – can be carried with any hood or booth
2 year warranty on laser diodes
Manufactured by a pioneering brand in home LLLT treatment
Relatively expensive
It May be subject to poor ventilation, which may cause some discomfort.
How Are Laser Caps for Hair Loss Different From Hair Removal Laser Devices?
Although laser caps for hair loss are just as effective as minoxidil, they are not that popular. One reason for this is that people confuse laser hair loss technology with laser hair removal technology.
Both techniques use lasers to achieve their goals, but their effects differ for two reasons: the wattage and wavelengths of the lasers used.
In laser devices designed to stimulate hair growth, the lasers have a wattage of five milliwatts and emit light in the wavelength range of 630 to 670 nm. In contrast, laser devices designed for hair removal have a wattage of 100 watts and emit wavelengths of up to 910 nm.
While the wavelength difference between the two technology variations is important, the difference in wattage is crucial. Laser hair removal devices have 20,000 times more wattage than laser hair growth devices.
This is the reason why they can generate the amount of heat it takes to burn hair follicles.
Benefits Of Laser Caps For Hair Growth
Painless: The lasers are painless and will not damage your skin.
Effective: Low-level laser therapy is a proven way to improve hair growth. The laser caps use LLLT to treat hair loss.
FDA Approved: This is another benefit. The FDA has approved this treatment as safe and effective.
Can be used at home: you don't need a doctor's prescription to use the laser caps for hair loss.
Non-Invasive Treatment: It & s is simple, unlike other hair treatments such as transplants, etc. You only need to wear a cap for 20 minutes a day.
Suitable for all hair types and conditions: regardless of your hair condition and type, laser caps have the same effect.
Besides, a laser hood is a one-time investment.
Conclusion
There are many LLLT devices available for treatment to get rid of hair loss. However, these are among the best laser cap for hair loss you can find in the market. You can choose the one that suits you best.
I wish you the best of luck in regrowing your hair.
There is always an option to stop a treatment that is not working for you and consider another. You will no doubt find a device that works well for your skin.
If you've discovered a hair growth laser device that works well for you today, tell us about it in the comments below.
References
hairstylecamp.com
hairworldmag.com
stylecraze.com
hairverse.com