This site is supported by our readers. We may earn a commission, at no cost to you, if you purchase through links.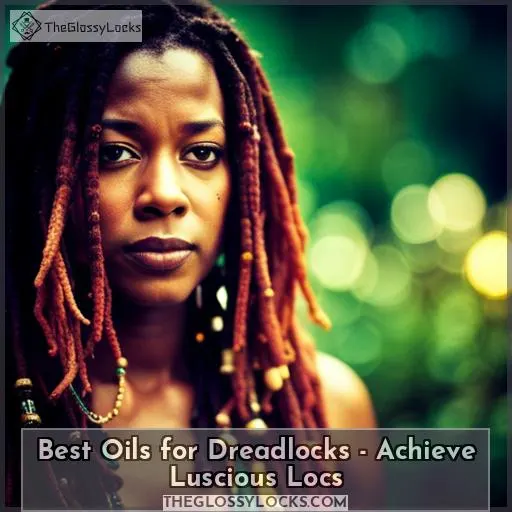 Are you looking to achieve luscious locs? Oiling is one of the best ways to keep your dreadlocks nourished and healthy.
From Leven Rose Pumpkin Seed Oil Hair to Avocado Oil Hair Skin Nails – each has its own set of benefits that will leave you with beautiful locks in no time! Read on as we go through different types of natural oils along with how-tos and tips about maintaining them effectively.
Key Takeaways
Oiling is essential for healthy dreadlocks.
Consider factors such as hair type, allergies, and scalp condition when choosing oils.
Choose natural oils over chemical-based products.
DIY oil blends can be customized for specific treatments.
Top 10 Best Oils for Dreadlocks
Discover the best oils for dreadlocks to help protect and nourish your hair, including Leven Rose Pumpkin Seed Oil Hair, Pure Grapeseed Oil, Eve Hansen Organic Tea Tree Oil, UpNature Peppermint oil, and more.
With these products, you can achieve a healthier scalp with enhanced hydration while keeping your locs looking neat and tidy.
1. Leven Rose Pumpkin Seed Oil Hair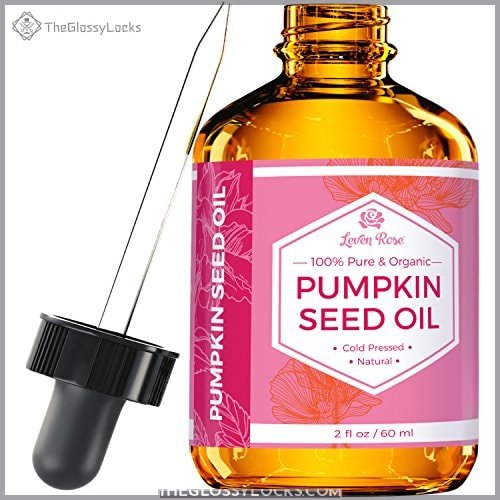 View On Amazon
Be amazed by the power of Leven Rose Pumpkin Seed Oil Hair, a 100% pure and natural daily beauty treatment that will have your skin glowing and hair thriving! This oil is perfect for nourishing the scalp, as it is rich in essential fatty acids, antioxidants, vitamins, and minerals.
It prevents hair loss while restoring smoothness to dry skin. Additionally, it can prevent breakouts and blemishes, heal scars from acne or stretch marks, and renew split ends or damage caused by hot tools like flat irons or blow dryers.
On top of its hydrating capabilities, this oil also strengthens follicles against enzymes causing hair loss. It is free from added fragrances or parabens, making it vegan-friendly and safe for use. By choosing this organic product, you not only take care of yourself but also do no harm to nature's creatures.
Deeply hydrates moisturizer
Strengthens follicles & prevents breakage
2. Pure Grapeseed Oil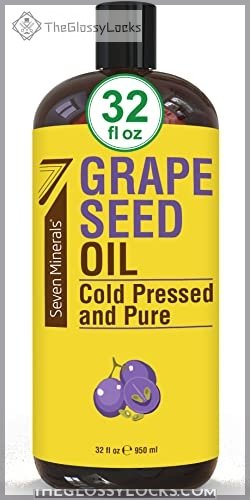 View On Amazon
Pure Grapeseed Oil is a therapeutic-grade, lightweight oil made from Vitis Vinifera that delivers nourishment and revitalization to your hair while leaving skin soft and moisturized. Rich in antioxidants and vitamins, it's perfect for all seasons – no GMOs or added ingredients mean you can use it with confidence.
With its mild flavor, this eco-friendly 32oz bottle reduces plastic usage while providing quality cooking and baking ingredients.
Eco-Friendly 32oz Bottle Reduces Plastic Usage
Mild Flavor Suitable For Cooking & Baking Ingredients
Natural & Organic Without Any Added Ingredients Or GMOs & Hexane Free
3. Eve Hansen Organic Tea Tree Oil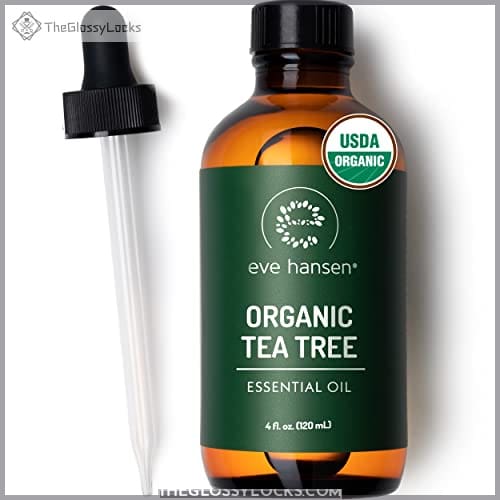 View On Amazon
Discover the natural greatness of Eve Hansen Organic Tea Tree Oil, a therapeutic grade essential oil that provides relief for skin and hair care. This pure, undiluted product is rigorously tested to ensure potency and can be used in DIY home cleaners, aromatherapy treatments, added to shampoo or lotion, as well as cuticle care.
Customers love this oil's effectiveness on dandruff and flakes, while others report it works great against cold sores.
Pure & undiluted therapeutic grade essential oil made in the USA
Rigorously GC/MS tested for purity & potency
Safe for use in DIY home cleaners & aromatherapy treatments
Reduces the appearance of dandruff/flakes effectively
Natural bug repellent when applied directly onto linens/humidifiers
Affordable price point compared to other brands
Strong scent may not suit some individuals' preferences
Unpleasant taste if ingested
4. UpNature Peppermint Oil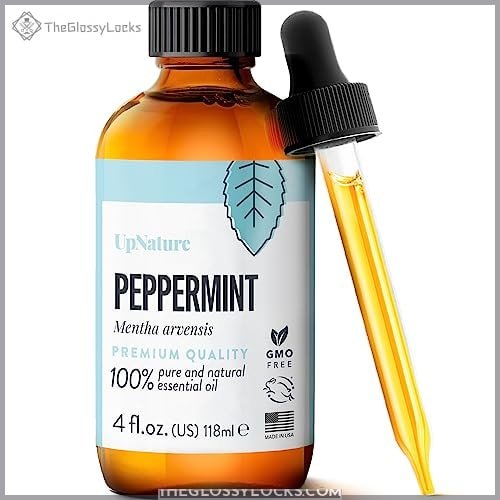 View On Amazon
Experience the invigorating aroma of UpNature Peppermint Oil as you massage it into your scalp for an energizing and soothing break.
It has many benefits when used in aromatherapy or added to shampoo, lotion, or soap.
Additionally, this sustainable product comes with a 365-day money-back guarantee should you be unsatisfied with its results.
For those on-the-go, UpNature Peppermint Oil can also act as a natural bug repellent when placed in humidifiers or on linens, making it a great option for traveling.
With its mild peppermint scent that dissipates quickly upon application, this premium oil is sure to leave both your skin and hair feeling nourished and refreshed!
Undiluted & GMO Free
Suitable For All Hair Types
Natural Bug Repellent Option
Mild Scent That Quickly Dissipates
Money Back Guarantee
Unpleasant Taste
Can Cause Skin Irritation
5. Organic Black Seed Oil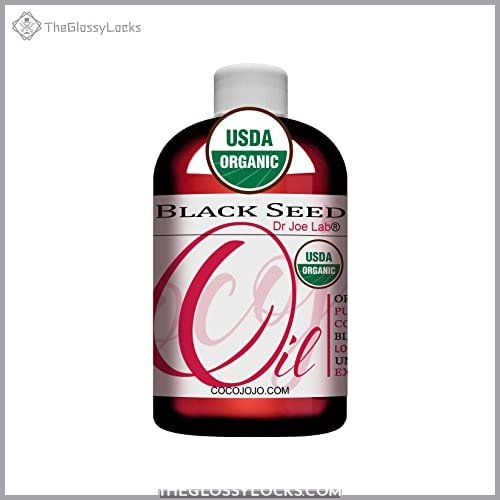 View On Amazon
Dr. Joe Lab's Organic Black Seed Oil is packed with antioxidants and vitamins, perfect for nourishing your scalp and hair without the unpleasant taste. This 100% pure natural cold-pressed unrefined oil is made from certified USDA organic Saudi Arabian black cumin seeds.
Rich in oleic acid and vitamin E, this oil can help improve skin tone as well as texture while taming frizziness.
And because it comes packaged in a plastic bottle with a mild black seed smell that quickly dissipates when applied to the skin, it won't be disruptive when used around others.
Rich in antioxidants & vitamins for skin health
Soothing & moisturizing for both skin & scalp
Improves skin tone & texture; tames frizziness
Unpleasant taste
Temporary strong scent
Potential health benefits not extensively evaluated
6. Avocado Oil Hair Skin Nails
View On Amazon
Feel the natural power of avocado oil as it nourishes and moisturizes your dreadlocks. With its cold-pressed unrefined formula, Avocado Oil Hair Skin Nails from Maple Holistics is a multi-tasking product that helps strengthen hair, restore skin tone and texture, and reduce wrinkles for fresher-looking skin.
It's rich in oleic acid and vitamin E to hydrate dry hair without heavy greasiness or added weight.
The pump dispenser allows you to blend with other essential oils for an aromatherapy experience that will leave your scalp feeling invigorated and refreshed throughout the day.
Experience all these amazing benefits while getting real results with Maple Holistics' natural ingredients crafted just for locs maintenance!
Rich in oleic acid & Vitamin E
Multi-tasking product strengthens hair & restores skin tone/texture
Reduces wrinkles & acts as an anti-aging moisturizer
Odorless watery consistency
Some users find it unpleasant
7. Moroccanoil Treatment Travel Size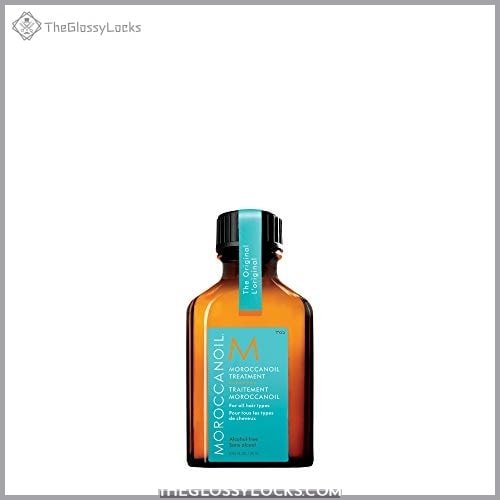 View On Amazon
Treat yourself to the luxurious benefits of Moroccanoil Treatment Travel Size – a multitasking oil that conditions, smooths frizz and flyaways, detangles, and boosts shine! Infused with argan oil for healthier locks, this cruelty-free product is suitable for all hair types.
Small and travel-friendly (25ml), it provides hydration to dry hair while reducing frizz and enhancing natural curls. With its pleasant scent and long-lasting results, this multitasker is sure to become your go-to styling routine foundation or refresh second-day strands.
Suitable for all hair types
Cruelty-free
Reduces Frizz & Enhances Natural Curls
Pleasant Scent & Long-Lasting Results
Cost-Effective Product
Small bottle may leak when traveling
Not ideal as an everyday use product
Can be expensive compared to some other products
8. Cliganic Jojoba Oil

View On Amazon
Try Cliganic Jojoba Oil for a nourishing, vegan-friendly oil that'll be gentle on your locs and scalp. This multipurpose oil is perfect for DIY beauty needs as it's 100% pure and unrefined, containing no synthetic additives.
For those with sensitive skin, this jojoba oil has you covered – its mild yet nutty scent won't cause any irritation while giving you the desired effect of softness and hydration to your dreadlocks. Plus, it's sustainably sourced from certified organic farms in cold press form so there are no worries about the quality being compromised by unnecessary processing or added ingredients.
To maximize its benefits, use Cliganic Jojoba Oil after washing your hair to lock in moisture without leaving an oily residue behind.
100% Pure single ingredient formula
Suitable for all skin types, including sensitive skin
Non-GMO certified & Vegan friendly
Mild but not unpleasant odor may not appeal to everyone
May have a stronger smell when used alone compared to when blended with other oils
Larger 16 Fl Oz size can be too much if only using occasionally
9. Majestic Pure Lavender Oil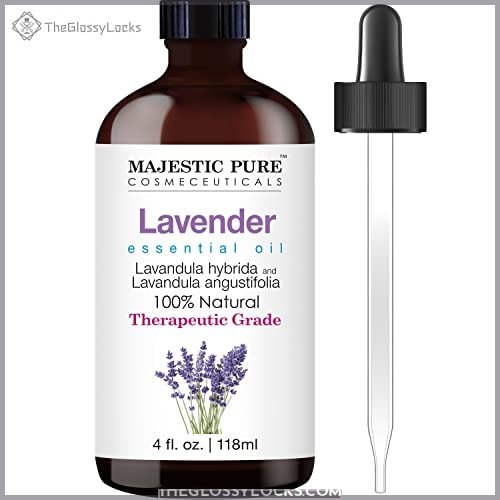 View On Amazon
Discover the calming and soothing aroma of Majestic Pure Lavender Oil, a therapeutic-grade blend of essential oils perfect for your daily wellness routine. This oil is made from two distinct lavenders – Bulgarian Lavandula angustifolia and French Lavandula hybrida – that are steam distilled to maximize their potency.
With its top note and rich floral scent, it blends well with other fragrances for an even more enjoyable aromatherapy experience.
The convenient premium glass dropper ensures accurate product measurements during use while also being safe enough to keep out of reach from children.
Therapeutic-grade blend
Rich floral scent
Blends well with other fragrances
Not suitable for direct eye contact
Can cause skin irritation if used undiluted
10. Jamaican Mango Lime Scalp Oil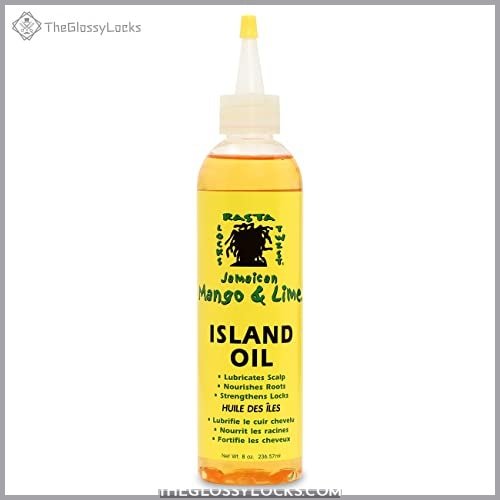 View On Amazon
Experience the relief of Jamaican Mango Lime Scalp Oil, a non-greasy blend that nourishes your scalp and roots in as little as 3 minutes. This natural, drug-free formula is made from Manuka Honey and Moringa seed oil to promote healthy hair growth without the use of harsh chemicals or additives.
It's suitable for all hair types and textures, providing deep moisturizing properties with each application.
With its thick texture and pleasant scent, this 8-ounce bottle will give you long-lasting results without causing any buildup on your locs.
Deeply moisturizes dry scalp and prevents breakage
Formulated without petrolatum, sulfates, or parabens
Suitable for all hair types and textures
Pleasant smell and thick texture provide long-lasting results
Can be oily and drip if overused
Not as thick or heavy-duty compared to other oils
How to Use Oils for Locs?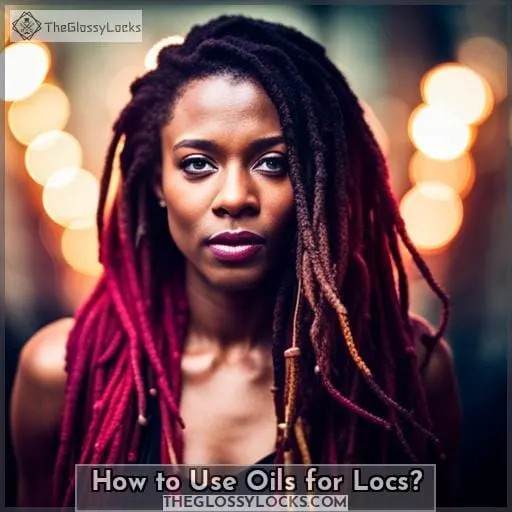 Gain insight into the benefits of using natural oils for loc care and how to use them effectively for maximum nourishment. Essential oils provide powerful nutrients that can be used in combination with carrier oils, such as jojoba, olive, or coconut oil, to create deep conditioning treatments.
Scalp massages with a blend of essential and carrier oil help stimulate circulation while promoting hair growth. Before applying any type of oil on your locs, it is important to perform a patch test. This will help determine if you have an allergic reaction before full application.
When mixing DIY blends, consider factors like scent preference and skin allergies. This way, you can select the best ingredients that suit your specific needs. Proper application involves warming up the product before using it on a clean scalp.
Then, gently massage it onto each strand from root to tip until fully coated, without oversaturating the locks.
With regular maintenance steps, including proper hydration through drinking water, adding protective headgear at night, taking herbal supplements when necessary, and choosing quality products, you'll soon notice healthy dreadlocks that are stronger and longer than ever!
How to Choose the Best Oils for Locs?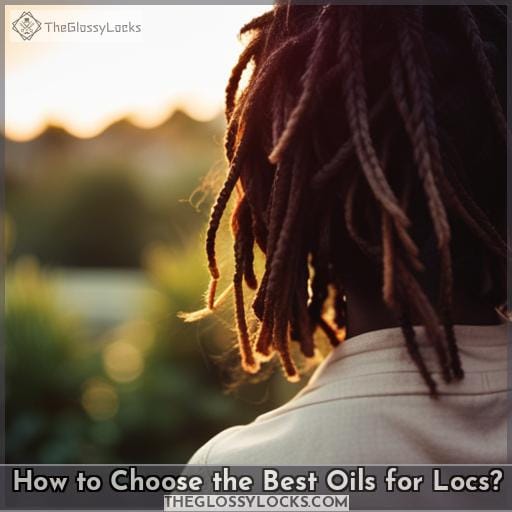 Are you seeking a natural way to nourish and strengthen your locs? Then, utilizing the correct oils is crucial. Here, we will discuss the advantages of natural oils and how to select the best ones for your locs.
Benefits of natural oils
Enjoy the many benefits of natural oils for locs care, from nourishment and strength to scalp health and antifungal properties. Olive oil can strengthen hair while jojoba oil provides moisture without greasiness.
Grapeseed oil is lightweight for easy application, and almond oil stimulates growth naturally.
DIY blends are great for customizing your own treatments. Rosemary boosts circulation, while peppermint controls excess sebum production on the scalp. For deep hydration, try avocado or castor oils, which also promote healthy hair growth.
Chamomile imparts natural highlights and has calming effects. Lavender soothes skin irritation around the edges of locs.
Crafting your own unique recipe will provide longer-lasting results than store-bought products!
Factors to consider
When choosing oils for locs, consider factors such as your hair type, scalp condition, and desired results to ensure you find the perfect blend of natural ingredients. Hair types vary from coarse to fine, so choose oil accordingly. Scalp health should always be a priority; look for anti-inflammatory and antioxidant properties in an oil when tackling dandruff or skin irritation.
DIY oil blend recipes
Create your own nourishing blend of oils with DIY essential oil recipes for loc care!
From scalp massage blends to hair growth treatments, the possibilities are endless.
Mix and match essential oils like tea tree, peppermint, lavender, or ylang-ylang with carrier oils such as coconut or avocado for a custom remedy tailored to your needs.
Essential oil combinations can also be used in homemade sprays and mists. Simply add distilled water and shake before using!
Natural products bring out the beauty of dreadlocks without harsh chemicals.
Try different recipes until you find one that works best for you. It's an empowering experience that will help keep locks looking their best!
DIY Essential Oil Blend Recipes for Loc Care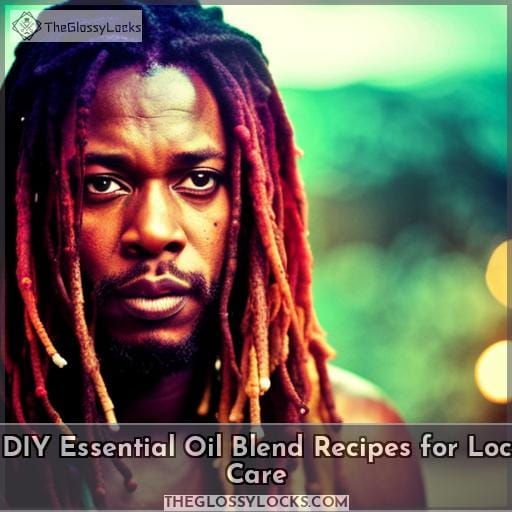 Transform your locs with custom-made essential oil recipes that work wonders for nourishing and moisturizing. DIY blend recipes offer the perfect combination of aromatherapy benefits, scalp massage techniques, hair growth stimulation, herbal hair rinses, and more.
From coconut oil to jojoba oil and argan to olive, each ingredient has properties that help protect dreadlocks from dryness or damage while providing intense hydration.
To get started creating your own special concoction, try adding 10 drops of lavender into 1 ounce of castor oil for an anti-inflammatory effect. Alternatively, you can combine 5 drops of rosemary with 2 ounces of sweet almond oil for stronger strands.
Regardless of what you choose, make sure it's tailored to fit individual needs, as different oils have specific benefits.
Benefits of Using Natural Oils for Loc Care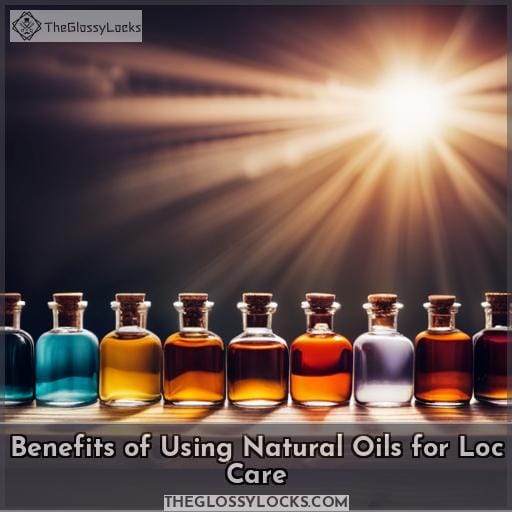 When it comes to loc care, the benefits of using natural oils are hard to deny. Not only does a blend of ingredients provide balanced nutrition for dreadlocks, but choosing the right oil is essential for deep nourishment, and proper application tips must be followed in order to gain maximum benefit from regular treatments.
Benefits of natural oils
You'll be amazed at the plethora of benefits natural oils can provide for your locs.
Choose from a wide selection of organic, vegan options like coconut oil or jojoba oil. You can even create custom DIY blends with essential oils such as peppermint or tea tree for extra conditioning power.
Regular treatments will help keep your locs healthy and strong while preventing dryness and flakes associated with dreadlock maintenance.
Choosing the right oils
Choosing the right oils for your locs can be a powerful way to nourish and protect them, creating an environment that promotes health and vibrancy. Consider factors like hair type, scalp condition, and desired hair goals when selecting oil products.
Choose from natural ingredients like sweet almond oil or pumpkin seed oil; heavier options such as castor or argan oil; avocado for deep hydration; and many more! Developing a hair care routine with moisturizing techniques appropriate for your individual needs is key to maintaining healthy locs.
Effective oil application
Applying oils to your locks can be an invigorating experience, unlocking strands of beauty and strength. Techniques like scalp massages with essential oil blends, diluting eucalyptus or chamomile oil in a carrier oil for deep hydration, and adding rosemary or hemp seed oils to shampoo can all help ensure healthy hair growth.
Lavender essential oil works as both a natural bug repellent and relaxant while preventing buildup from regular use of heavier products like coconut milk or avocado butter.
Importance of Regular Oil Treatments for Locs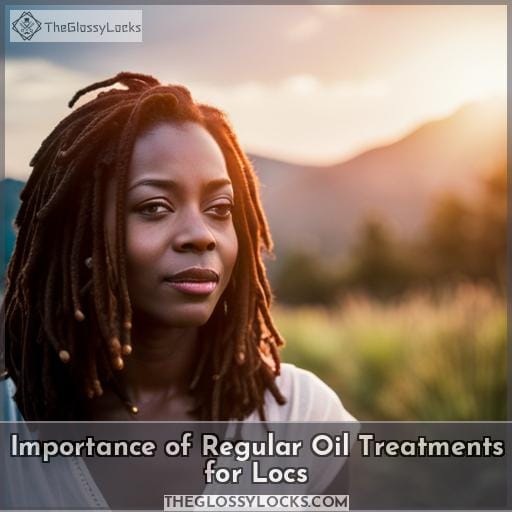 Regularly treating your locs with the right oils will keep them healthy, shiny, and feeling great. Benefits of oiling locs include nourishing strands, moisturizing the scalp to prevent dryness and flakes, strengthening roots for growth retention, and keeping hair soft.
Natural oils are more effective than commercial products as they provide beneficial nutrients without harsh chemicals that can damage delicate locks. When choosing an oil for your specific needs, consider its texture – lightweight or heavier – as well as its scent preferences.
Hair maintenance is essential to maintain healthy dreadlocks. Applying a light coating of natural oil every 1-2 weeks can make all the difference in preventing dandruff while providing ample hydration throughout each strand down to the root!
Regular treatments with appropriate ingredients will help maintain beautiful locks that look better over time! Incorporating DIY recipes using essential oils like peppermint or tea tree into one's regular routine gives you complete control over what goes on scalp health while creating custom blends tailored specifically for individual needs.
Tips for Moisturizing Dreadlocks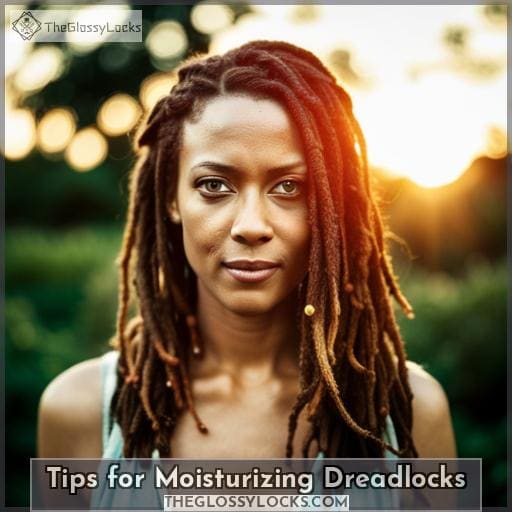 Moisturizing your dreadlocks is essential for their overall health and longevity. Using natural oils can be an effective way to do it, as studies have shown that over 75% of people who use them experience positive results.
To keep locks hydrated and healthy, consider adding avocado oil to your routine for moisture retention. Aloe vera gel helps prevent dryness while providing essential fatty acids. Applying castor oil regularly will nourish the hair strands.
Natural remedies such as coconut milk or rosemary tea are also great options for lock maintenance.
When moisturizing dreadlocks, remember the importance of balance. Too much product can cause buildup, which leads to scalp irritation and unhealthy-looking locs.
Avoid chemical-based products in favor of all-natural ingredients like olive oil, jojoba oil, or argan oil instead. They provide just enough hydration without weighing down the hair follicles with heavy residue.
Finally, make sure you cover your head at night with a satin scarf so that any product applied during the day has time to sink into each strand fully before being rinsed out in the morning!
Factors to Consider When Choosing Oils for Loc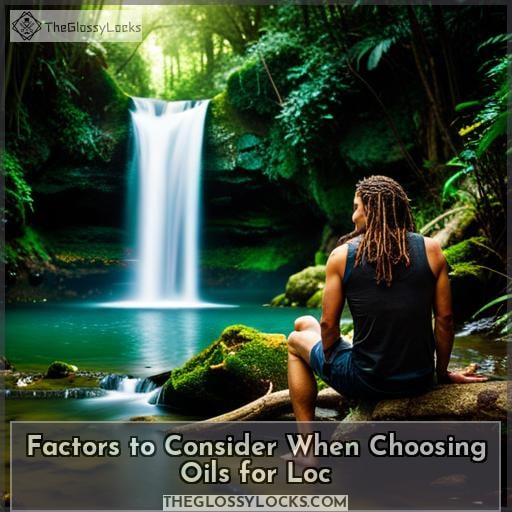 When it comes to choosing the right oil for locs, there are several factors you should consider. Hair type and scalp condition will affect which oils work best, while allergies and budget must be taken into account too.
Additionally, your own hair goals and preferences need to be considered when selecting an oil that works with – not against – your locks.
Hair type and scalp condition.
Unlock the true potential of your locs with natural oils that cater to your unique hair type and scalp condition. Hydrate, nourish, and protect strands with coconut oil for moisture balance. Use jojoba oil to hydrate ends, and argan oil for deep conditioning.
Strengthen locks and add shine with olive or sweet almond oils. Essential oils like tea tree, peppermint, and cedarwood can promote scalp health, while rosemary stimulates healthy growth. Vitamin E helps retain moisture in dry locs, and chamomile naturally adds highlights.
Don't forget to try lemongrass or patchouli too! When you need an extra boost of protection, rosehip is great, and sandalwood soothes the senses while adding a delicate aroma.
Hair goals and preferences.
When deciding on which oil to use for your locs, it's important to consider what hair goals you have and what scent preferences you like.
Hair texture, styling options, scalp health, and haircare routines should all be taken into account when choosing an oil that will nourish your locks. Loc accessories can also help enhance the benefits of using natural oils. Scarves or turbans keep moisture in while sleeping, and shower caps are great for deep conditioning treatments.
Ultimately, choose a product that is tailored specifically towards dreadlock care with organic ingredients free from parabens or chemicals to get the best results!
Allergies and budget
It's important to take into account any potential allergies and budget when selecting the ideal oil for your locs. Consider oils like black seed, cedarwood, ylang-ylang, or lavender flowers with vitamin E oil that are antimicrobial and provide natural highlights.
Allergy considerations should supersede cost concerns as reactions can be serious. Moreover, many budget-friendly options exist, such as jojoba oil, which offers high moisture retention without greasiness, or castor oil, which stimulates hair growth while aiding scalp health.
Always make sure you're using an all-natural product free of chemicals to get the best results from your treatments!
Conclusion
Achieving luscious dreadlocks requires careful maintenance and the right products. Natural oils are an amazing way to nourish locs, providing essential vitamins and minerals to keep them healthy and strong.
From jojoba oil for moisture to castor oil for hair growth, we've compiled a list of the best oils for dreads. With the right application and regular treatments, these oils can help maintain healthy locs free from damage, frizz, and flakes.
So if you want to achieve luscious dreads, make sure you choose the right natural oils and enjoy the journey to your perfect locs.