This site is supported by our readers. We may earn a commission, at no cost to you, if you purchase through links.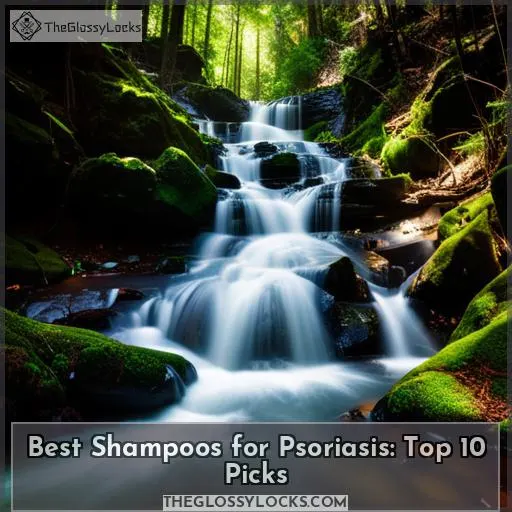 Around 80% of those affected by psoriasis will experience scalp psoriasis – a chronic skin condition causing flaky, itchy scaly skin on the scalp. To tackle this uncomfortable and often embarrassing issue, there are specially formulated shampoos available to help bring some relief.
In this article, we present our top ten picks for the best shampoo for psoriasis and discuss what ingredients you should look out for when choosing the right product. We also provide tips on how to manage your symptoms and why trusting expert recommendations is important in finding an effective treatment option that works best with your lifestyle needs.
Key Takeaways
Scalp psoriasis affects approximately 80% of individuals with psoriasis.
Treatment options include topical creams, shampoos, and medications.
Look for shampoos containing salicylic acid, coal tar, hydrocortisone, urea, and lactic acid.
Trust dermatologist recommendations and products with the National Psoriasis Foundation Seal of Recognition.
Top 10 Best Shampoos for Psoriasis
Are you searching for the best shampoo to manage your psoriasis? Look no further! From MG217 Psoriasis Scalp Shampoo Conditioner, Neutrogena Anti-Dandruff Shampoo, FCL Salicylic Acid Tea Tree Shampoo, and more, this list of top 10 shampoos will help reduce itchy scalp and flaking.
With their natural ingredients like tea tree oil or salicylic acid, as well as specially formulated products to treat severe cases of scalp psoriasis, these shampoos are sure to provide relief.
1. MG217 Psoriasis Scalp Shampoo Conditioner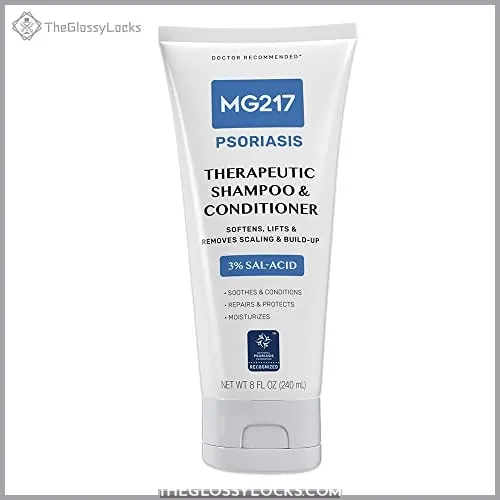 View On Amazon
Take control of your scalp psoriasis and enjoy a soothing, moisturizing treatment with MG217's 2-in-1 shampoo and conditioner. This 8oz bottle contains 3% salicylic acid to soften, lift, and remove scaling build-up on the scalp.
It also includes chamomile extract and panthenol to help soothe any irritation or discomfort.
This shampoo and conditioner is effective for adults as well as African American hair with dreadlocks or other affected areas. It is recommended by dermatologists around the world due to its impressive ability to reduce dry scaly patches and stop recurrent episodes of psoriasis from occurring again in the future.
This shampoo is a must-have for anyone suffering from severe itching or uncomfortable scaling build-up. Its clear watery consistency makes it easy to spread through your hair evenly without leaving behind any strong odors afterwards.
Softens & lifts scalp scales
Soothes & moisturizes
Suitable for adult/African American dreadlocked hairs
Controls scalp build-up
Reduces dry scaly patches
Prevents recurrent psoriasis episodes
Can strip natural oils away
Use conditioning afterwards
2. Neutrogena Anti-Dandruff Shampoo
View On Amazon
Experience the cooling sensation of Neutrogena's Anti-Dandruff Shampoo, clinically proven to control itchy and flaky scalp due to dandruff. Formulated with 2.5% salicylic acid and a refreshing peppermint fragrance, this luxuriously lathering shampoo helps remove excess oils and dead skin cells while providing long-lasting relief from itchiness.
It can be used on all hair types, including African American dreadlocks, as well as color-treated or chemically processed hair for those looking for an effective solution to their dandruff issue.
With continued use of this shampoo, you can keep your scalp balanced without any added fragrances or extra fuss – perfect if you're short on time but still want maximum results!
Clinically proven
Quick-acting formula
Gentle formulation – suitable for all hair types & colors
Refreshing peppermint scent
Long-lasting relief from itching & flakes
Some find it thick & difficult to move around the scalp
May not work immediately
3. FCL Salicylic Acid Tea Tree Shampoo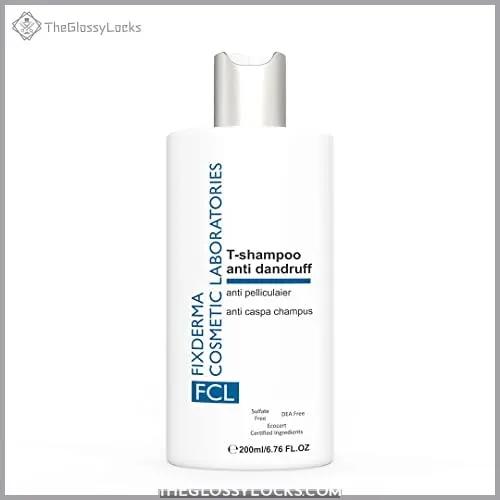 View On Amazon
Treat your scalp and soothe irritation with FCL Salicylic Acid Tea Tree Shampoo, a powerful formula that helps reduce itching and excess oiling. It contains Sodium Shale Oil Sulfonate, Salicylic Acid, and Tea Tree Oil to provide long-term efficacy and tolerance for those suffering from dandruff or psoriasis.
This shampoo is suitable for all hair types – even color treated or chemically processed hair – providing visible anti-dandruff results with continued use. Customers have reported positive results after the first application as well as great value for money making it an excellent choice in relieving symptoms of scalp disorders.
To get the best out of this product, you must wet your hair thoroughly before pouring a generous dollop into the palm, then creating a rich lather. The lather should be massaged into the scalp before leaving it on for 2-3 minutes, followed by rinsing thoroughly.
Apply two or three times per week depending on the severity of the condition experienced.
With its pleasant coconut scent, high patient compliance formulation, fragrance-free properties, and compatibility with various shampoos, this is an ideal solution to treat troublesome scalp conditions such as dandruff and psoriasis.
High patient compliance formulation
Pleasant coconut smell
Fragrance Free
Compatible w/ other shampoos
Expensive
Unpleasant scent
4. Sphagnum Psoriasis Shampoo Extra Strength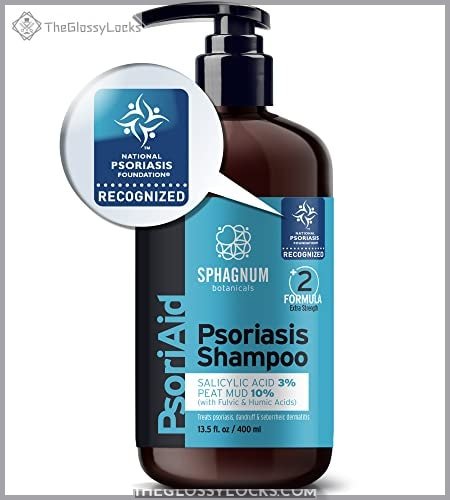 View On Amazon
Soothe your scalp with Sphagnum Psoriasis Shampoo Extra Strength, which offers relief from psoriasis and dandruff using natural ingredients like peppermint and sweet orange essential oils. This dermatologist-developed shampoo is perfume-free and contains organic peat and argan oil to reduce itching while encouraging hair renewal.
The gentle formula is suitable for all skin types, including dry scalps or dyed hair, as it may reduce color fading over time. Customers report positive results after prolonged use, with many noting the pleasant aroma of peppermint and sweet orange essential oils that leave them feeling refreshed without any added fragrances.
Gentle on hair; no need for conditioner
Provides relief from plaque psoriasis and itching
Pleasant mild herbal scent
Improved scalp condition over time
Effective yet non-drying
Limited effectiveness against itchiness
Temporary relief only
May not justify the price
5. Nizoral AntiDandruff Shampoo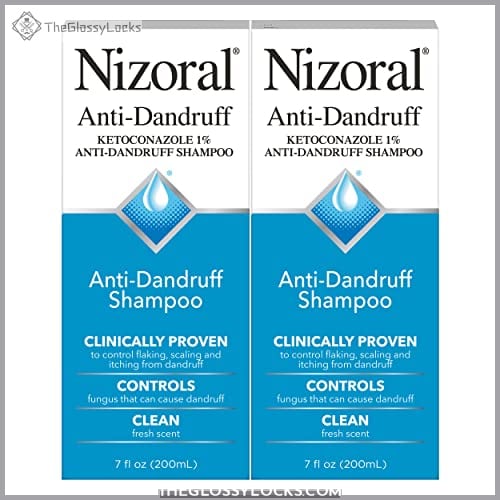 View On Amazon
Nizoral AntiDandruff Shampoo offers powerful relief for itchy and flaky scalps, containing 1% Ketoconazole to help bind with the hair's natural protein. It lathers beautifully and leaves hair clean and fresh-smelling, suitable for adults of all hair types, including color-treated or chemically processed strands.
Clinical studies have shown Nizoral to be effective from the first use. Customers report successful relief from dandruff symptoms as well as positive results in reducing hair loss when used regularly over time.
The shampoo also helps control itchiness without drying out your scalp too much. However, some users experienced chemical reactions when using this product with certain conditioners, so patch testing is recommended before full use.
Clinically proven to work from the first use
Controls itchiness & flaking without drying out the scalp
Suitable for adults & various types of hair
Can leave hair feeling dry at times; suggest using a conditioner
May lead to psoriasis in some cases
Some chemical reactions observed when used with certain conditioners
6. Dermarest Psoriasis Shampoo Conditioner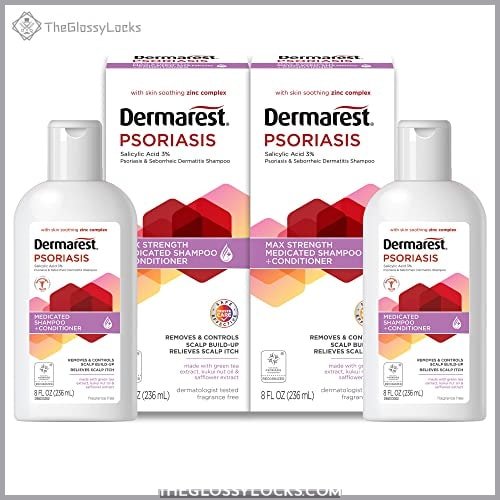 View On Amazon
Dermarest Psoriasis Shampoo Conditioner is a two-in-one solution to tackle psoriasis symptoms, like flaking and itching, like a warrior. Formulated with 3% salicylic acid and zinc complex, it relieves and prevents scalp irritation while restoring moisture.
This dermatologist tested product comes in an 8 ounce bottle for easy use at least twice a week or as directed by your doctor. It's also recognized by the National Psoriasis Foundation for its effectiveness against psoriasis symptoms.
The rich lather removes build up on the scalp while soothing skin irritation upon contact; providing long lasting relief from itching associated with psoriatic scalps without any added fragrances that can irritate sensitive skin further.
Though this shampoo may dry out hair if used too often or before applying additional moisturizers such as conditioners, when used properly it can provide quick relief of irritating flare ups due to its active ingredients reducing inflammation of affected areas quickly while encouraging healing over time through continued use.
Relieves & Prevents Scalp Irritation & Flaking Due To Psoriasis
Dermatologist Tested & Recognized By NPF For Effectiveness Against Symptoms
Provides Long Lasting Relief From Itching Without Fragrance That Can Irritate Sensitive Skin Further
May Dry Out Hair If Used Too Often Or Before Applying Additional Moisturizers
Potentially Ineffective When Not Used Consistently
7. BIOLAGE Scalp Sync AntiDandruff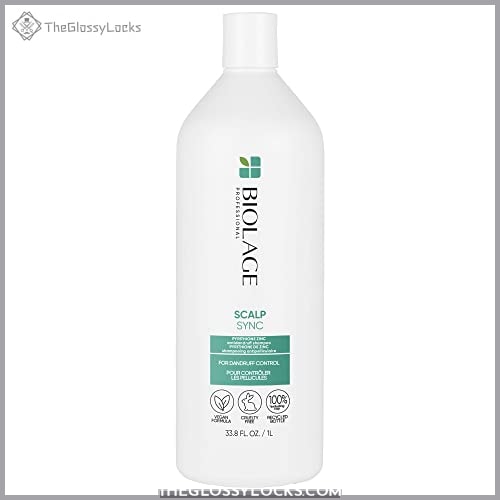 View On Amazon
BIOLAGE Scalp Sync AntiDandruff Shampoo is a powerful dandruff-fighting solution that uses Pyrithione Zinc to control flaky scalp and eliminate visible flakes, so you can enjoy balanced, healthy hair. Inspired by the anti-bacterial and calming properties of mint leaf extract, it's suitable for all hair types.
The shampoo lathers beautifully to leave your scalp refreshed while cleansing away excess oils and dead skin cells. With continued use, Biolage helps prevent dryness, irritation, and flaking – leaving you with manageable locks that feel soft to the touch.
In addition, this shampoo is pH balanced at 5.5, which makes it gentle enough for color-treated or chemically processed hair without stripping away essential moisture or causing further damage.
For best results, apply twice a week, allowing 2 minutes before rinsing thoroughly from root to tip.
Controls flaky scalp & dandruff
Balances & calms irritated scalps
Leaves hair clean & healthy
Not designed as an everyday wash product
Contains sulfates
8. Selsun Blue Aloe Anti-Dandruff Shampoo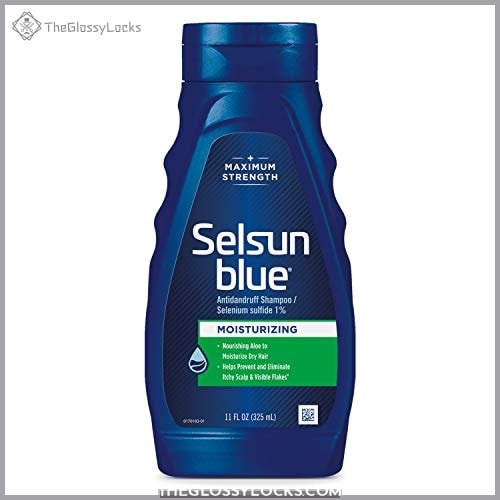 View On Amazon
Selsun Blue Aloe Anti-Dandruff Shampoo is a powerful dandruff-fighting solution enriched with aloe for added moisture and a refreshing coconut scent. The quick lathering formula helps eliminate itchy scalp and visible flakes, making it an ideal solution for dry hair.
Clinically proven to work from the first use, this shampoo provides long-lasting relief from flaking, itching, and other symptoms of dandruff.
With continued use, you can achieve lasting protection against recurring problems such as psoriasis or seborrheic dermatitis on your scalp.
Quick Lathers
Provides Long-Lasting Relief
Effective Against Dandruff & Scalp Issues
Can Cause Irritation Or Dryness In Some Cases
Contains Prop 65 Warning
9. Psoriasis Scalp Care Shampoo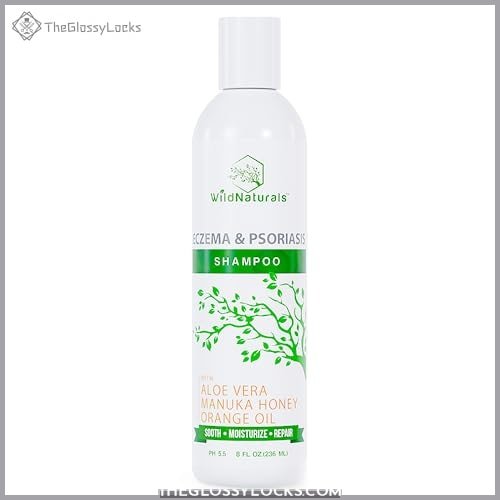 View On Amazon
Wild Naturals Psoriasis Scalp Care Shampoo is a non-medicated solution that can help restore balance to your scalp and reduce itching, irritation, redness, flaking, and scaling due to psoriasis. Like an oasis in the desert for your hair and scalp health needs, this vegan shampoo is free of steroids, sulfates, parabens, dyes, and fragrances, so you can trust it won't irritate or worsen any symptoms.
Infused with natural ingredients such as Manuka Honey from New Zealand, Aloe Vera extract, and Australian Cehami, this unique formula has been developed specifically for those suffering from eczema or psoriasis.
It is a gentle yet effective way to cleanse their hair without causing further damage. The shampoo is perfectly pH balanced at 5.5, making it suitable for all skin types, even on sensitive scalps where other shampoos may cause more harm than good when used long term.
Non-medicated shampoo infused with natural ingredients
Free of steroids, sulfates, parabens, dyes, and artificial fragrances
Cruelty-free and hypoallergenic, safe even on babies' delicate scalps
Perfectly pH balanced at 5.5, suitable for all skin types
Requires a larger amount to lather up properly
Scent is faint and doesn't last too long
Not as effective compared to regular dandruff shampoos
Watery consistency requires more product for thorough cleaning
10. DHS SAL Shampoo 4oz
View On Amazon
DHS SAL Shampoo 4oz is a gentle and effective formula for dry, color-treated hair that contains panthenol to preserve color and protect permed, straightened, or colored strands. It's a fragrance-free, PABA-free formulation that is compatible with various shampoos and cleansing systems.
Dermatologists recommend it for scalp issues such as dandruff, psoriasis, seborrheic dermatitis due to its ability to add moisture while reducing tangles in the hair shafts. Many customers have reported positive results from using this shampoo, noting a significant reduction of flakes on their scalps within a short time frame.
DHS SAL Shampoo 4oz has been praised by those who suffer from sensitive skin as well since it does not aggravate any existing condition they may have had prior use of the product.
Effective for reducing flakes and scalp issues
Notable improvement in a short time
Recommended by dermatologists
Suitable even for those with sensitive skin
Helpful even when other solutions fail
May require occasional use to avoid hair dryness
Can lead to dryness of the hair shaft
What is Scalp Psoriasis?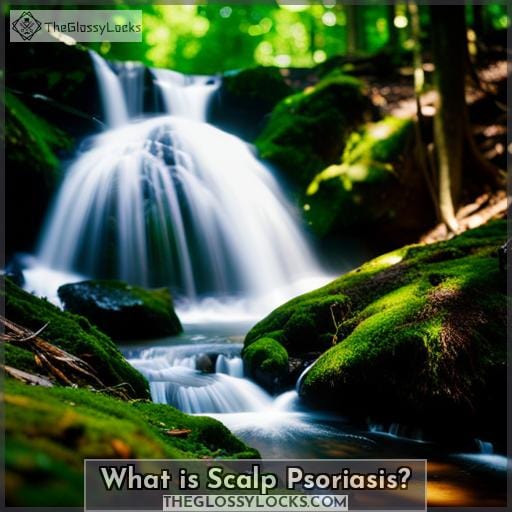 Scalp psoriasis is a chronic skin condition characterized by itchy, red patches of thickened and scaly skin on the scalp. It can often be difficult to manage, but relief is possible with the right treatment options.
Scalp treatments may include topical creams or ointments, as well as specialized shampoos containing active ingredients like salicylic acid and coal tar. These help reduce itching and flaking of the scalp while controlling inflammation.
The National Psoriasis Foundation Seal of Recognition certifies certain over-the-counter products safe for people with psoriasis. These should be used in conjunction with any prescription medications prescribed by a dermatologist for severe cases or if symptoms worsen over time.
Avoid sulfates, parabens, and fragrances in shampoo formulas, as they can further irritate an already sensitive area. Opt instead for gentle cleansers that contain soothing natural oils such as jojoba oil or aloe vera gel to provide moisture without irritation.
For more effective results, use medicated shampoos directly onto affected areas, focusing only on roots rather than hair shafts. Follow up with a regular shampooing routine thereafter. This helps prevent overdrying scalps from too frequent usage of dandruff control shampoos.
Patch test any new product before full use, as some individuals could have allergic reactions even though they are formulated specifically for those who suffer from scalp issues like eczema and psoriasis.
With proper care, you may find long-lasting relief from your irritating symptoms associated with scalp psoriasis!
What to Look for in a Psoriasis Shampoo

Forget your woes and put a stop to those flakes with the perfect psoriasis shampoo! When it comes to choosing the best one for you, there are several key ingredients to look out for.
Salicylic acid and coal tar both help reduce inflammation, while hydrocortisone reduces itching. Urea and lactic acid can also be helpful in loosening scaling build-up on the scalp.
A dermatologist's recommendation is always worth considering. They may suggest an OTC product like MG217's Psoriasis Scalp Shampoo + Conditioner or Neutrogena T/Gel Therapeutic Shampoo Original Formula, as well as products containing vitamins C and hyaluronic acids like Fixderma 2% Salicylic Acid T-Shampoo or Sphagnum Botanicals Psoriasis Shampoo.
For maximum effectiveness, avoid shampoos with sulfates, fragrances, dyes, and alcohols – all of which can cause further irritation.
Now go ahead and treat yourself right. Slip into something soothing from this guide of top psoriasis shampoos!
Tips for Managing Scalp Psoriasis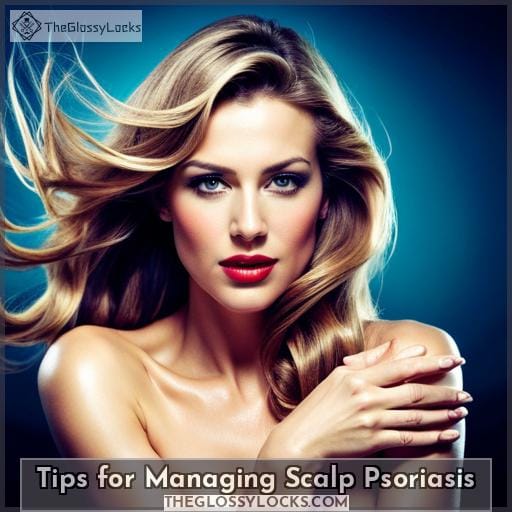 With the right treatment plan, you can manage your scalp psoriasis and reduce its discomfort. To ensure product safety, look for shampoos that are dermatologist-recommended or have the National Psoriasis Foundation's Seal of Recognition.
Choose a shampoo based on symptom severity such as MG217's Scalp Shampoo + Conditioner with salicylic acid for mild cases or Neutrogena T/Gel Therapeutic Original Formula with coal tar for more severe cases.
Regularly wash hair every two to three days using active ingredients like salicylic acid and coal tar to remove flakes while avoiding sulfates, parabens, and fragrances which may irritate sensitive skin.
Avoid long exposure in hot water; instead, use lukewarm water followed by regular moisturizing conditioners paired with specialized shampoos to soothe irritation while promoting healthy hydration levels in the scalp area.
With proper care tailored to individual needs, psoriasis sufferers can enjoy relief from itching, flaking, and scaling associated symptoms without compromising their health or lifestyle goals.
Why Trust Expert Recommendations for Psoriasis Shampoos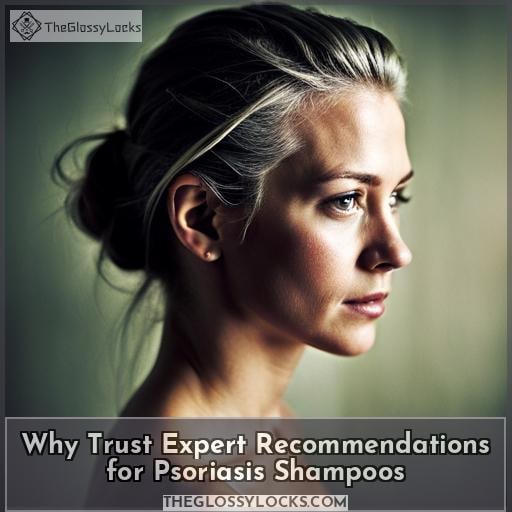 Trust the experts' recommendations when it comes to selecting a psoriasis shampoo, as they know best and have your health in mind – after all, there's no use crying over spilt milk. Dermatologists provide valuable insights into what is best for scalp psoriasis treatment and can help you find the right product tailored to your specific needs.
Narrowing down choices based on ingredients such as salicylic acid or coal tar that are proven effective against skin irritation makes it easier to select an appropriate shampoo with maximum benefits. The National Psoriasis Foundation also provides guidance by certifying OTC products safe for people suffering from this condition while offering advice on how often these should be used depending on the severity of symptoms.
With trust in expertise come guarantees of efficacy; dermatologist-recommended shampoos offer well-rounded solutions that target multiple symptoms including itching, flaking, redness, and scaling without compromising safety standards set by organizations like the NPF Seal of Recognition program.
While medicated shampoos may not always be suitable for daily use due to their potency, pairing them with moisturizing conditioners helps create a protective barrier against further damage.
Conclusion
Having your scalp covered in psoriasis can be a real pain in the neck, but the good news is that there are a number of great shampoos out there to help you manage your symptoms.
From MG217's Psoriasis Scalp Shampoo + Conditioner to Neutrogena's Scalp Therapy Anti-Dandruff Shampoo and Nizoral Anti-Dandruff Shampoo, there are plenty of options to choose from when it comes to the best shampoo for psoriasis.
Just remember to consult your doctor to make sure you're using the right product for your condition.
With the right shampoo in your arsenal, you'll be able to keep your psoriasis in check and get back to enjoying life.