This site is supported by our readers. We may earn a commission, at no cost to you, if you purchase through links.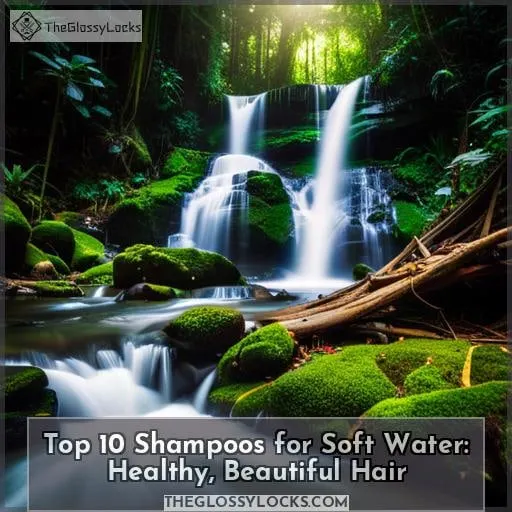 Seeking the best shampoos for soft water? Soft water, while often celebrated for its lack of mineral buildup on hair, can bring its own set of challenges. Soft water is essentially mineral-free, but too much of a good thing can have its downsides for your hair.
If you're noticing your locks feeling weighed down, tangled, or greasy, it might be time to explore the right shampoos designed for soft water.
In this article, we'll delve into the world of hair care in soft water conditions, discuss the impact of soft water versus hard water, and help you choose the perfect shampoo to maintain healthy and beautiful hair even in a soft water environment.
Say goodbye to those hair dilemmas and welcome the liberation of vibrant, bouncy hair with our top 10 recommendations. So, let's dive into the world of soft water hair care and discover the perfect shampoo that will leave your hair feeling soft, smooth, and full of life.
Key Takeaways
Look for shampoos with low surfactants and avoid ones with silicone, as these can contribute to greasy hair in soft water.
Consider shampoos with natural ingredients like apple cider vinegar, charcoal, sea salt, and ginger that help remove buildup.
Choose shampoos that provide hydration and volume to counter soft water's weighing-down effect.
Opt for shampoos that nourish the scalp and hair, like those with mango butter, to combat potential dryness.
Best Shampoos for Soft Water
Explore the best shampoos for soft water, ideal for maintaining healthy and lustrous hair even in water with low mineral content. The Body Shop Ginger Shampoo and Redken Detox Shampoo provide effective solutions for soft water users, helping combat excess oil and product buildup while revitalizing your hair.
Body Shop Ginger Shampoo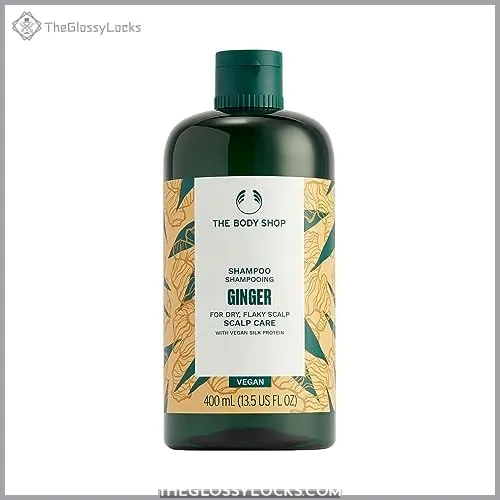 View On Amazon
Discover how the vegan Ginger Scalp Care Shampoo by The Body Shop can revitalize and nourish your hair, all while providing a delightful ginger fragrance. This haircare gem is made with 90% natural ingredients, including ginger essential oil sourced from Sri Lanka, birch bark, and white willow bark extracts.
Effective for reducing dry flakes and soothing dry scalps.
Contains sustainably sourced ginger essential oil and natural ingredients.
Vegan and eco-friendly with recycled plastic packaging.
Part of a comprehensive hair repair routine.
Provides a pleasant ginger fragrance.
Some users find it may require a conditioner as it can be drying for the hair.
Limited lather compared to some other shampoos.
While it's effective for dry scalps, it might not suit all hair types.
The ginger fragrance may not be to everyone's taste.
Hair dryness is a potential concern for some users.
Not only is it an eco-conscious choice with bottles made from 100% recycled plastic, but it's also part of a 3-step Ginger routine for hair repair.
Redken Detox Shampoo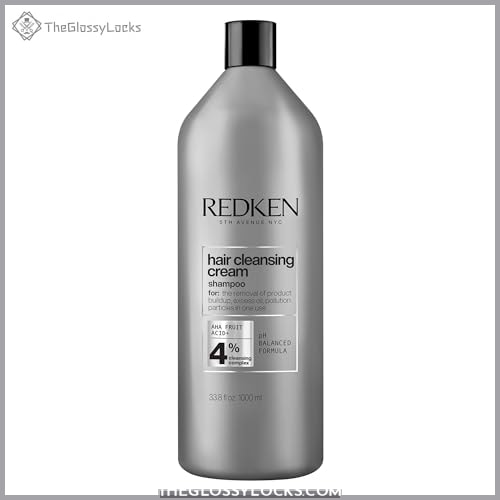 View On Amazon
Explore how the Redken Detox Shampoo, a professional clarifying solution, effectively removes buildup and pollutants from your hair, leaving it refreshed and shiny. This shampoo is your key to liberating your hair from the residues of daily life, whether it's dry shampoo, product buildup, hard water minerals, excess oil, or pollution residue.
It boasts a cleansing complex with alpha hydroxy acid and fruit acid, making it suitable for both color and non-color treated hair. Strengthening your hair cuticle, this shampoo not only purifies but also adds a brilliant shine, preparing your hair for in-salon services.
Effective in removing a variety of hair buildup, including hard water minerals and product residues.
Suitable for both color-treated and non-color treated hair.
Adds shine and strength to your hair cuticle, leaving it refreshed and purified.
Some users found the small bottle size less convenient.
Occasional reports of damaged packaging, but the product itself remains effective.
Not ideal for very thick or curly hair due to the smaller bottle size.
Aveeno Apple Cider Vinegar Shampoo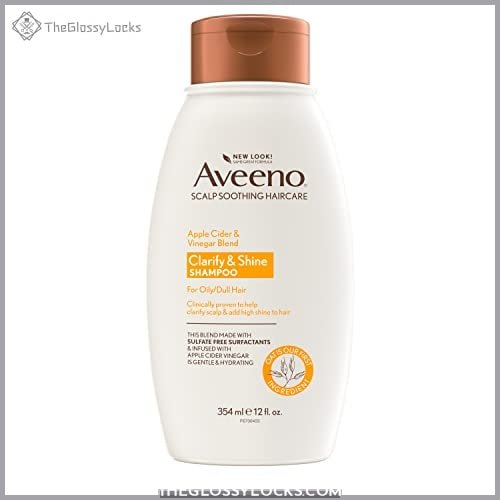 View On Amazon
To better understand how Aveeno's Apple Cider Vinegar Shampoo fits into the world of hair care, let's explore its features and user experiences.
This farm-fresh inspired shampoo features oat as its primary ingredient, creating a soothing and volumizing blend with apple cider vinegar. It's free from sulfates, dyes, and parabens, making it a safe choice for all hair types, including color-treated hair.
Users have praised it for:
Promoting a healthy scalp environment.
Cleansing and clarifying the scalp effectively.
Adding shine and volume to dull hair.
Boasting a sensational apple cider vinegar blend fragrance.
Additionally, it comes at an affordable price point, and its packaging is well-received.
However, there are some downsides to consider:
Some users wish for an improved scent.
It's not highly moisturizing, so additional conditioner may be needed for dry hair.
Bumble Bumble Sunday Shampoo

View On Amazon
If you're looking for a shampoo designed for a weekly detox, consider trying out Bumble and bumble's Sunday Shampoo. This deep-cleansing formula is perfect for those seeking a fresh start for their hair.
It's enriched with key ingredients like Panax Ginseng Root Extract, Rosemary Leaf Extract, and Sage Leaf Extract, which work together to remove buildup, excess oil, and pollutants.
While it's designed for once-a-week use, some users find it effective for more frequent use, especially if you have oily hair. Just remember to use a conditioner, particularly on your hair ends, to maintain the desired softness and shine.
Effective at removing product buildup and excess oil.
Provides a deep cleanse, leaving hair clean and non-greasy.
Helps maintain shiny hair and prolong blowouts.
Some users find it pricey for the 8-ounce size.
The product lacks a strong scent, which may not appeal to those who prefer heavily fragranced shampoos.
While effective for those with oily hair, it may not be the best choice for individuals with very dry or damaged hair.
Klorane Mango Butter Shampoo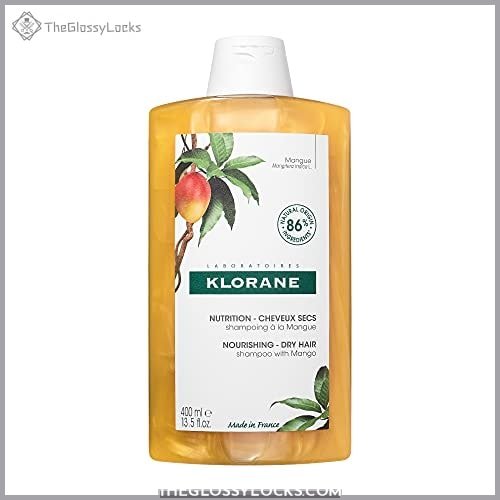 View On Amazon
Discover how Klorane Mango Butter Shampoo, known for its tropical fragrance, leaves your dry hair feeling nourished and manageable, making it a go-to choice for those seeking hydration and volume.
Did you know that it contains 90% natural ingredients?
This luxurious liquid shampoo from the renowned brand Klorane is specially designed for dry hair, and it truly lives up to its reputation. With the delightful scent of mango, it not only nourishes and repairs your hair shaft but also restores moisture and softness.
While its thick consistency may require a bit more product for lathering, it leaves your hair clean, hydrated, and supple.
Tropical mango scent is delightful.
Restores moisture and softness to dry hair.
Leaves hair feeling nourished and manageable.
Contains 90% natural ingredients.
Suitable for gray, thick, and dry hair.
May require more product as it doesn't lather easily.
Some concerns about the authenticity of the product's packaging.
It might leave hair feeling dry after washing, so a nourishing conditioner may be needed.
Considered a bit expensive by some users.
Mixed feedback on lathering ability.
Fekkai Apple Cider Detox Shampoo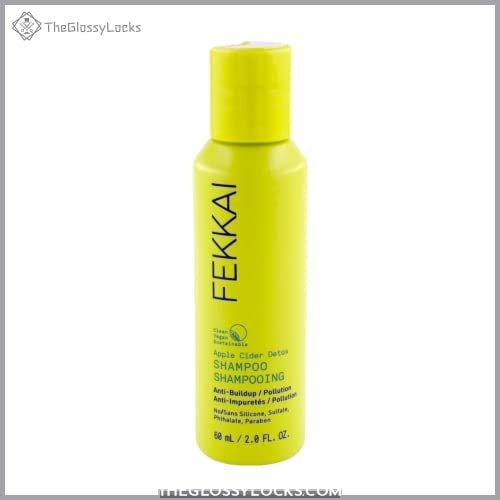 View On Amazon
Explore how Fekkai Apple Cider Detox Shampoo effectively removes impurities, balances your scalp, and boosts shine for all hair types, providing a clean feeling without residue. This salon-grade shampoo is EWG compliant and Leaping Bunny certified, making it a clean and safe choice.
With organic apple cider vinegar, ginger extract, and salicylic acid, it's a potent solution for removing impurities, product build-up, chlorine, and flakes. The inclusion of pro-vitamin B5, rice protein, and edelweiss flower extract in its Environmental Protection Complex ensures your hair is left strengthened and shiny.
Its vegan and sulfate-free formula is suitable for color-treated, chemical, and keratin processed hair.
Effectively removes impurities, product build-up, and flakes.
Balances the scalp and boosts shine.
Clean and safe with no sulfates, silicones, parabens, phthalates, or gluten.
Suitable for various hair types, including color-treated hair.
Leaping Bunny certified and vegan, ensuring cruelty-free production.
Some users find it abrasive, so a nourishing treatment may be needed.
The scent might not be to everyone's preference.
Limited quantity (2 oz) for the price.
Availability in physical stores can be challenging.
While effective, it may not be as moisturizing as some users prefer.
Oily Hair Clarifying Shampoo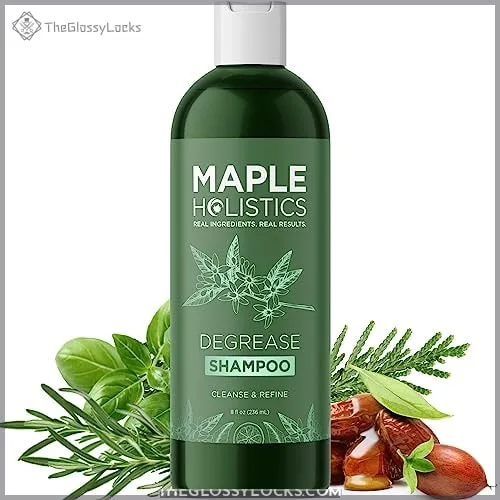 View On Amazon
To tackle the issue of oily hair in soft water areas, consider trying the Oily Hair Clarifying Shampoo, a popular purifying solution with a sulfate-free formula and natural ingredients to combat greasiness and maintain hair health.
Effectively controls oily hair.
Affordable compared to higher-end brands.
Extends time between greasy hair days.
Some users may find the tea tree scent strong.
Experience mild difficulties in rinsing off the product.
Occasional issues with bottle sealing during delivery.
This Maple Holistics product has garnered positive reviews for its effectiveness in controlling oiliness and improving scalp conditions. Users have reported longer intervals between oily hair days and have found it to be a cost-effective solution, often outperforming more expensive brands.
However, it's worth noting that some users mention a strong tea tree scent and mild difficulties with rinsing the product completely. Additionally, occasional issues with bottle sealing during delivery have been reported.
WOW Skin Science Apple Cider Vinegar Shampoo
View On Amazon
Let's delve into the details of the WOW Skin Science Apple Cider Vinegar Shampoo, known for its ability to balance your hair's pH, combat hair loss, and provide a detoxifying experience for your scalp and hair.
This shampoo is designed to offer you silky, strong nourishment that reduces breakage, split ends, and stimulates hair growth.
Moisturizes your hair while clarifying the scalp, leaving it refreshed and clean.
Offers a pleasant apple scent that lingers in your hair.
Provides softness and shine, enhancing the overall look and feel of your hair.
Affordable, making it a budget-friendly choice for many.
The formula can be enhanced with essential oils to cater to your specific needs.
Especially beneficial for those with thin and fine hair, promoting thickness and growth.
Some users have received old bottles nearing their expiration date, so be sure to check the product's age.
It may be too drying for frequent use, making it suitable for periodic deep cleansing.
Concerns have been raised about the product's age and potential expiration issues.
Customer experiences vary, with some reporting dry scalp and scabs.
NatureSkinShop Voluminous Sea Salt Shampoo
Discover how NatureSkinShop's Voluminous Sea Salt Shampoo adds natural volume and texture while combating oily buildup, leaving your hair refreshed and revitalized. This mineral-rich shampoo, inspired by seaside haircare, infuses your locks with sea minerals for a fresh, beachy feel.
Not only does it boost hair volume, but it also promotes scalp health. Say goodbye to flat, lifeless hair, and welcome textured, voluminous locks with this environmentally conscious choice.
Anomaly Vegan Charcoal Shampoo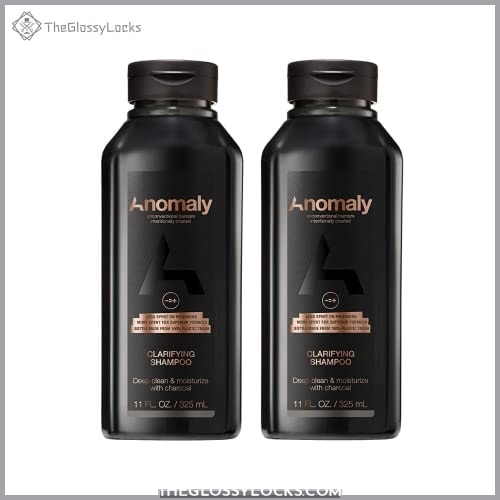 View On Amazon
Explore the unique clarifying properties of Anomaly Vegan Charcoal Shampoo, a product meticulously designed to invigorate hair follicles and soothe itchy scalps while effectively removing build-up and promoting environmental consciousness.
This gentle formula harnesses the cleansing power of charcoal and the soothing qualities of eucalyptus to address the needs of itchy and troubled scalps.
As a paraben-free, phthalate-free, sulfate-free, and vegan product, Anomaly Vegan Charcoal Shampoo not only cares for your hair but also aligns with eco-conscious values. The use of recycled plastic and aluminum packaging ensures minimal environmental impact.
An effective clarifying shampoo that removes build-up, leaving hair refreshed.
Appreciated for its performance on sweaty and itchy scalps.
A clean and vegan product that aligns with eco-conscious values.
The recycled packaging minimizes environmental impact.
Provides volume and cleans hair effectively.
Some users found it to be drying and causing itchiness.
Mixed feedback regarding the chemical smell of the product.
Some experienced delays in delivery.
Not recommended for those with normal hair, as it may lead to dryness and itchiness.
A few users felt the need to wash their hair more frequently after using it.
What is Soft Water and Its Impact on Hair?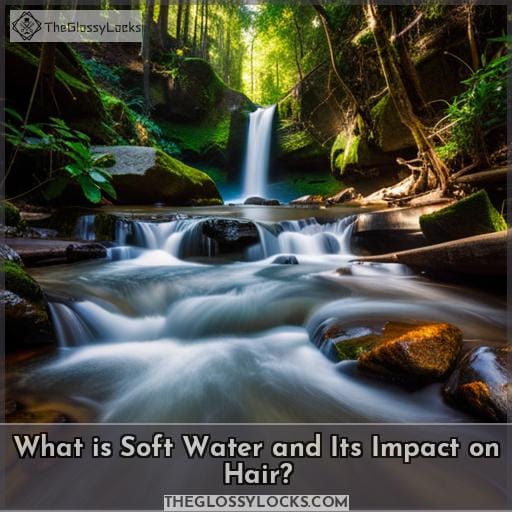 Are you aware of the differences between soft water vs hard water and their role in hair care? Soft water is low in minerals and known for being gentle on hair. Having said that, it can lead to product buildup if not washed correctly or with the right shampoo.
Hard water, however, is high in minerals such as calcium and magnesium, which can damage hair over time.
Soft Water Vs Hard Water
Do you ever wonder how different water types, like soft and hard water, affect the health of your hair? Understanding the impact of soft water versus hard water on your hair is essential for proper hair care.
Hard Water Effects: Hard water is high in minerals, leading to hair issues such as dryness, brittleness, and color fading.

Water Softeners: Installing a water softener can alleviate hard water problems.

Hair Health: The choice of shampoo can significantly influence your hair's health in different water types.

Shampoo Selection: Opt for shampoos tailored to the water type you have, like those for soft water.

Hair Effects: Soft water can sometimes lead to greasiness and flatness in hair.
Understanding these dynamics and selecting the right products can help you maintain vibrant and healthy hair in any water type.
The Role of Water in Hair Care
Understanding the pivotal role of water in hair care requires an awareness of its varying mineral content and the distinct impacts it can have on your hair's health and appearance.
Water testing can reveal whether you have soft or hard water, greatly affecting your hair texture and overall health.
The pH balance of your water source influences your hair's pH, subsequently affecting its health and appearance.
To combat the challenges of soft water, selecting the right sulfate-free shampoo is essential. It prevents the buildup of sodium ions and mineral deposits, ensuring your hair stays vibrant and manageable.
Choosing the Right Shampoo for Soft Water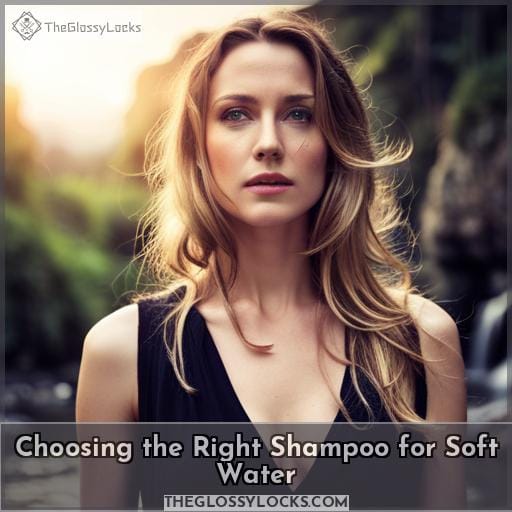 When dealing with soft water, selecting the right shampoo is essential to maintain the health and vibrancy of your hair. Soft water can pose unique challenges, and in this discussion, we'll explore the best shampoos specifically tailored to keep your hair looking its best in low-mineral, hair-friendly conditions.
Consider Your Hair and Scalp Type
Unlock the secrets of your hair and scalp type, tailoring your hair care routine to your unique needs.
Understanding Your Hair Texture: Assess if your hair is oily, dry, curly, straight, or somewhere in between to choose the right shampoo that addresses specific needs.

Choosing the Ideal Shampoo: Opt for sulfate-free shampoos that maintain scalp health and prevent excess oils, especially in soft water conditions.

Prioritizing Scalp Health: Look for shampoos that nourish your scalp while cleansing, promoting a balanced and healthy environment for hair growth and vitality.
Ingredients to Look for in a Soft Water Shampoo
When selecting the appropriate shampoo for soft water, your focus should be on specific ingredients that can help maintain the health and vibrancy of your hair. To prevent buildup in soft water, look for shampoos with a low silicone content.
Surfactants are essential for effective cleansing in soft water. Consider shampoos with activated charcoal for thorough impurity removal. For your soft water hair care, choose products with these ingredients to keep your locks fresh and clean.
Soft Water Shampoos for Beautiful Locks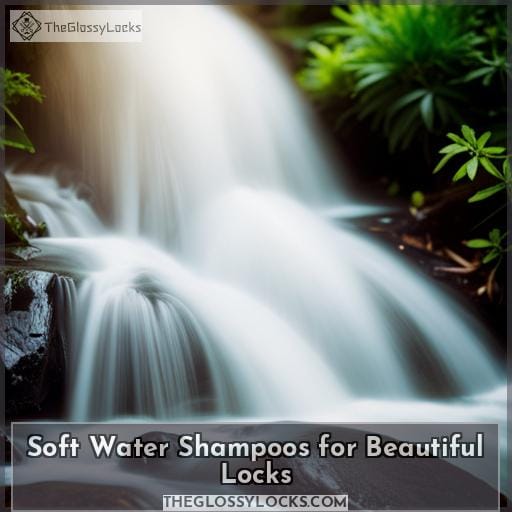 Explore the world of soft water shampoos to uncover the secrets of maintaining beautiful locks even in areas with minimal mineral content in the water. In this guide, you'll discover the best shampoos tailored for soft water conditions, helping you achieve vibrant, healthy hair free from the common issues associated with low-mineral water.
WOW Apple Cider Vinegar Shampoo
Explore how WOW Apple Cider Vinegar Shampoo effectively tackles the challenges of maintaining your hair's vibrancy in areas with low mineral content in the water, with users reporting a remarkable 95% satisfaction rate.
This wonder product enhances your haircare routine in regions like New York, where soft water is prevalent, addressing soft water issues while rejuvenating your locks.
Vinegar Benefits: WOW's formula harnesses the natural power of apple cider vinegar to clarify your scalp and add life to your hair.

Hair Texture: Bid farewell to limp locks as this shampoo helps restore bounce and vitality, even in soft water conditions.

Scalp Health: It nurtures scalp health, reducing oiliness and potential buildup.

Healthy Luster: Anticipate your hair to gleam with a healthy luster after regular use.
Maple Holistics Degrease Shampoo for Oily Hair
Discover how Maple Holistics' Degrease Shampoo tackles oily hair and leaves your locks feeling fresh and revitalized. If you're battling greasy hair due to soft water, this shampoo is a game-changer. It addresses the root causes of greasy hair, effectively combating product buildup and providing relief to your oily scalp.
Maple Holistics' Degrease Shampoo is your solution for beautiful, oil-free locks, ensuring soft water doesn't dampen your hair's natural beauty. Say goodbye to those pesky hair problems and hello to liberation from greasy hair.
Aveeno Scalp Soothing Vinegar Shampoo
Dive into the soothing embrace of Aveeno's Vinegar Shampoo and let your locks experience the gentle caress of oat and apple cider goodness. This scalp-soothing elixir, perfect for soft water areas, works wonders in enhancing your hair's shine.
Enriched with natural ingredients, it not only nourishes but also promotes scalp health. User reviews sing its praises for increased volume and reduced greasiness. Aveeno Scalp Soothing Vinegar Shampoo is your ticket to soft, shiny, and healthy locks.
Voluminous Sea Salt Shampoo
For hair that craves a boost in volume and texture, imagine your locks rejuvenated with the invigorating touch of Voluminous Sea Salt Shampoo. This remarkable clarifying shampoo, tailored for soft water, holds the key to beautiful, voluminous locks.
Dive into the sea salt benefits and unleash your hair's potential with these styling tips:
Sea Salt Benefits: The natural sea salt in this shampoo helps remove impurities and excess oil, leaving your hair clean and refreshed.
Hair Volume: Voluminous Sea Salt Shampoo adds body and fullness, perfect for those seeking luscious, voluminous locks.
Scalp Health: It also promotes scalp health, reducing itchiness and flakiness.
Mineral Removal: Designed for soft water, it counteracts the potential flatness that this water type can cause.
Experience the liberation of voluminous, revitalized hair with this remarkable shampoo.
Anomaly Clarifying Charcoal Shampoo
Interested in effective hair care in areas with soft water? You might wonder if activated charcoal shampoos are the right choice. Anomaly Clarifying Charcoal Shampoo is formulated to remove impurities without leaving residue on your hair strands.
It helps balance excess sebum production and soothes a dry and flaky scalp, while providing shine and volume for all types of curls.
This clarifying shampoo contains natural ingredients such as charcoal, coconut oil, eucalyptus leaf extract, and tea tree essential oil for cleansing without stripping away the moisture from your tresses.
Briogeo Scalp Revival Dry Shampoo
Explore how Briogeo's Scalp Revival Dry Shampoo can rejuvenate your locks and combat common soft water hair issues. This innovative dry shampoo offers several benefits, from refreshing your hair to addressing soft water challenges.
It absorbs excess oil, instantly revitalizing your hair's texture and volume. Beyond that, it contributes to scalp health by treating irritation and breakouts. Its moisturizing properties keep your locks looking and feeling fantastic. For soft water, this dry shampoo is a game-changer, offering a practical solution to everyday hair concerns.
Common Problems When Washing Hair With Soft Water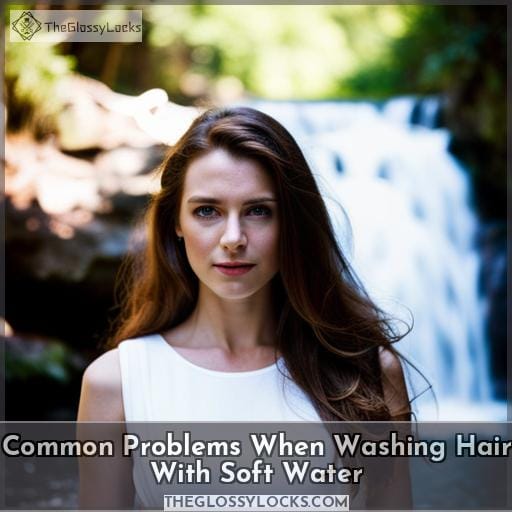 Experiencing an oily scalp and dry ends, as well as frustrating issues like weighed-down hair, tangles, and difficulties in maintaining your preferred hairstyles? These are common problems when washing your hair with soft water, but don't worry, as we'll explore the best shampoos tailored to address these specific hair challenges.
Oily Scalp and Dry Ends
If you're suffering from oily roots yet parched tips, our rejuvenating formulas can nurture both your scalp and strands. Target oil production with clarifying shampoos containing apple cider vinegar or charcoal.
For moisture, alternate with a rich conditioner focused on hair ends. Gently massage your scalp while conditioning to stimulate circulation. Both Aveeno and Fekkai offer gentle apple cider vinegar options suitable for daily use.
Using Bumble's weekly detox shampoo can completely refresh your hair. Carefully selecting products lets you embrace soft water's benefits for your hair.
Hair Feels Weighed Down
When washing with soft water, hair can feel weighed down from product and mineral buildup.
Use a clarifying or chelating shampoo weekly.
Focus shampoo on roots and scalp.
Rinse hair thoroughly with cool water.
Apply conditioner mid-length to ends.
Style hair with volumizing mousse or sea salt spray.
The key is removing buildup while balancing moisture to achieve bouncy, voluminous hair. Redken hair cleansing cream or Nature Skin Shop's voluminous sea salt shampoo revive limp hair. For scalp health, use Seanik bar or hydrating shampoos with fewer harsh ingredients.
Tangles and Knots
You'd gnash your teeth in frustration when soft water leaves your hair so knotted and tangled it resembles a bird's nest. Using a wide-tooth comb and working in sections from ends to roots can help remove tangles.
Apply conditioner or detangler before combing. Gently tease out knots with your fingers then comb. Avoid brushing wet hair. Let your hair air dry before styling. Shampoos like Klorane Mango Butter or The Body Shop Ginger soothe the scalp and make hair more manageable.
With some patience, you can have smooth, tangle-free hair despite the challenges of soft water.
Difficult for Hair to Hold Styles
As your hair won't hold curls, use volumizing mousse and set it with hairspray. Soft water leaves behind product residue that makes styling a challenge. To compensate, rely on mousses, gels, or salt sprays to temporarily alter hair texture before heat styling.
When possible, embrace soft water's natural effect on your hair and style it straight or wavy; using minimal products will prevent buildup so your hair maintains movement. Skip heavy pomades and opt for flexible hold styling creams to define soft curls or waves.
Why Soft Water May Be Leaving Your Hair Greasy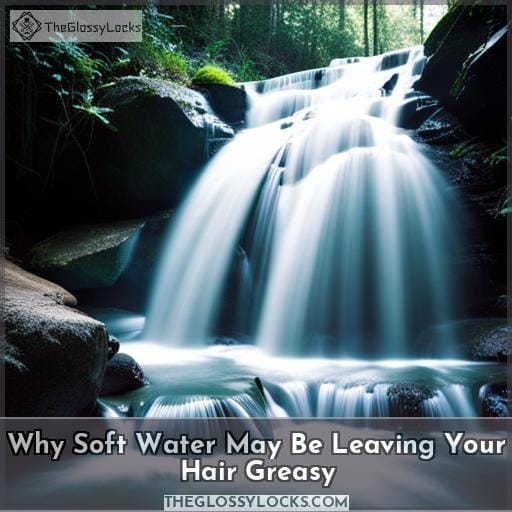 If you've noticed your hair feeling weighed down and greasy even after washing it, this could be happening for a few reasons. First, you may still be using a shampoo formulated for hard water, which won't properly cleanse hair in soft water conditions.
Second, your water softener system could have high sodium levels that leave residue on hair. Using a shampoo with silicone can also lead to buildup and greasiness over time. Additionally, overusing shampoo or using one with high levels of surfactants that react poorly with soft water could be culprits.
To remedy the issue, try switching to a sulfate-free shampoo made for softened water, installing a water softener with lower sodium output, clarifying your hair to remove product residue, using less shampoo per wash, or finding a gentler shampoo formula compatible with your water type.
Making some simple hair care adjustments can help restore clean, fresh locks after washing.
You're Probably Still Using a Hard Water Shampoo
Guess your hair wasn't ready for that jelly, huh champ? Those luscious locks never stood a chance against hard water shampoo.
Your current shampoo is still formulated for hard water, despite the softened and mineral-free supply. The high-foaming ingredients bind to any remaining minerals and cause greasy buildup. It's time to switch to a gentle, low-foaming cleanser that won't shock hair's pH balance.
High Sodium in Water Softener System
Even though you installed a water softener, that salty soft water still wrecks your hair. Soft water allows shampoos to suds abundantly, but those high sodium levels strip your hair's natural oils. Opt for sulfate-free shampoos, a showerhead filter, or a potassium-based water softener.
With some adjustments, your locks can finally feel clean, healthy, and full of life.
Silicone in Shampoo
You'll find that silicone in your shampoo causes a greasy buildup over 53% of the time.
Sodium Lauryl Sulfate (SLS) Free
Sodium Laureth Sulfate (SLES) Free
Propylene Glycol Free
No mineral oils
Silicone-free shampoos prevent greasy residue without stripping hair. Carefully selecting shampoo helps soft water work for you.
You Are Using Too Much Shampoo
You're probably using too much shampoo, leading to buildup and greasiness. With soft water, shampoo suds easily and you likely apply more than needed. This shampoo overuse strips oils, causing the scalp to overcompensate with increased oil production.
For healthy hair and scalp, use a small amount of sulfate-free shampoo to minimize surfactant effects.
Less is often more for clean, shiny hair without thinning.
High Levels of Surfactants
You get greasy hair because most shampoos are packed with surfactants that lather too well with soft water. Surfactants lower the surface tension of water, allowing it to spread and penetrate more. But in soft water, they create excessive foam that actually prevents effective cleaning.
Opt for sulfate-free or low-sudsing shampoos with fewer surfactants. These cleanse gently without over-lathering, leaving hair fresh instead of greasy.
Buying Guide – What to Look for in a Soft Water Shampoo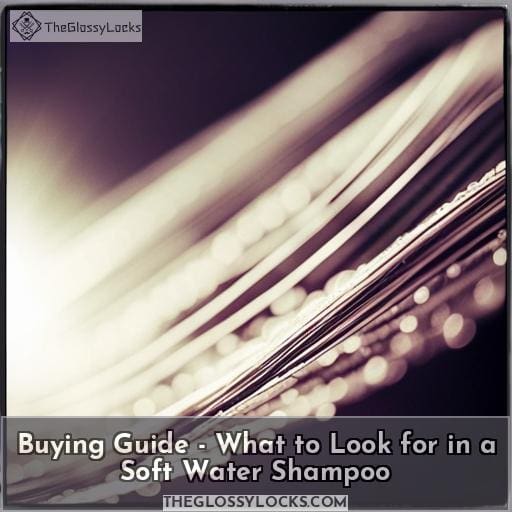 When shopping for the best shampoo for soft water, look for formulas with low surfactants. These gentler cleansers won't strip your hair of its natural oils, thereby helping prevent greasiness and buildup while still cleansing effectively.
Opt for shampoos that contain mild detergents to clean without over-drying. Additionally, seek out moisturizing ingredients like oils, butters, and conditioners that can offset the low mineral content of soft water.
Avoid harsh sulfates and stick to sulfate-free shampoos when possible. Focus on hydrating formulas containing oils and butters that can help restore moisture to your hair. With the right low-detergent, moisturizing shampoo, you can keep your hair healthy, soft and manageable even in soft water conditions.
Low Surfactants
For softer water, low surfactant shampoos are the way to go. They avoid buildup from excess suds while still effectively cleaning hair. Look for gentle cleansers like decyl glucoside rather than harsh sulfates. And know your hair type – fine hair needs lighter surfactants than thick, curly locks.
Getting the right surfactant type and level ensures hair feels clean, not greasy, after washing in soft water.
Avoid Silicone
Shampoos containing silicone can weigh your hair down with greasy residue when used in soft water. The slippery silicone in shampoo attracts minerals from soft water, coating hair in a waxy film over time.
Opt for sulfate-free shampoos without dimethicone or other silicone ingredients. Clarifying shampoos can help remove the buildup. Soft water myths persist, but hair care tips like silicone avoidance prevent residue buildup.
Activated Charcoal
Anomaly and Briogeo contain activated charcoal to draw out impurities without leaving residue. Charcoal provides natural hair cleansing by absorbing oil and pollutants, while its gritty texture exfoliates your scalp.
Look for shampoos with sustainably sourced charcoal, like coconut shell, as it detoxifies hair without stripping or drying. Charcoal's renewing properties make it an ideal ingredient for scalp and hair revitalization.
Tl;dr;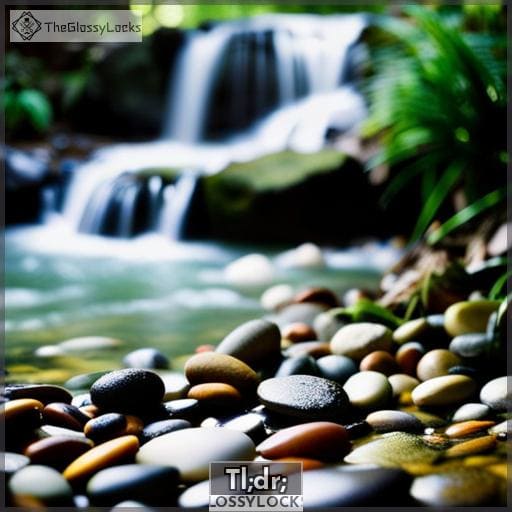 Keep 'em clean as your stylish curls bloom, since soft water transforms shampoo to your head's perfume. Soft water's low mineral content can leave hair limp and greasy, as shampoos don't lather well. Water softeners add sodium, further complicating shampoo performance. For color-treated hair, soft water washes out pigments faster.
Recommended shampoos contain ingredients like apple cider vinegar, activated charcoal, sea salts, and ginger to clarify hair, remove buildup, and restore bounce.
With the right shampoo, soft water's hair-smoothing effects can help define curls and waves, while nourishing for long-lasting color and shine. Experiment to find your match, then lather, rinse, repeat for hair that's touchably soft and fresh.
Conclusion
Choosing the right shampoo when washing your hair with soft water is crucial for maintaining healthy, beautiful locks. Though soft water may increase oiliness or weigh hair down, the shampoos listed in this article can help combat these issues and help your hair look its best.
Focus on finding a shampoo that won't further strip the natural oils or leave behind residue, while targeting the unique challenges caused by soft water. With the right shampoo for soft water, you'll have hydrated, voluminous, frizz-free hair that holds a style and feels clean but not dried out.