This site is supported by our readers. We may earn a commission, at no cost to you, if you purchase through links.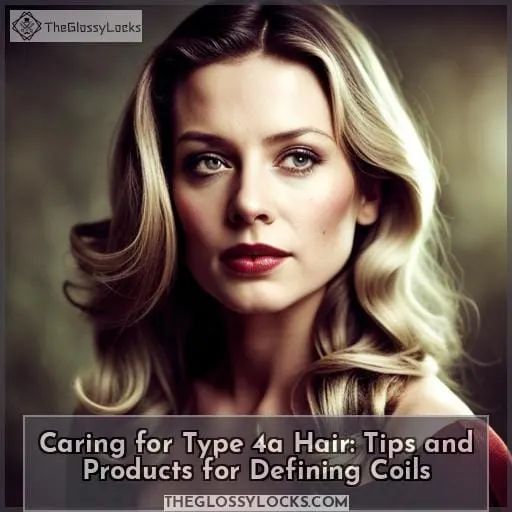 Do you have a 4a hair type? If so, then you're in luck! With the right knowledge and products, your coily curls can look amazing. Here, we'll discuss the best products for 4a hair types, along with helpful care tips and how to maximize its versatility.
We'll also help you embrace and celebrate your beautiful natural texture – because it's time to unlock all that power within those coils! From understanding what makes this curl pattern unique to creating an effective routine, get ready for healthier locks that show off all their glory.
Key Takeaways
4a hair type has a tight S-shaped pattern and needs moisture.
The top 10 products for 4a hair type include VERB Curl Leave-In Conditioner, Design Essentials Curl Mousse, As I Am Coconut Cowash, Carol's Daughter Hair Milk, and more.
Key ingredients for 4a hair type products include coconut oil, sweet almond oil, aloe leaf juice, babassu oil, ginger extract, saw palmetto, and castor oil.
Care tips for 4a hair type include moisturizing regularly, using gentle detangling methods, avoiding excessive heat, and deep conditioning.
Top 10 Best Products for 4a Hair Type
If you have 4a hair type, it is important to find the right products that will nourish and moisturize your curls. Here are the top 10 best products for 4a hair types, ranging from leave-in conditioners and mousses to styling creams and gels.
1. VERB Curl LeaveIn Conditioner
View On Amazon
For 4a hair, VERB Curl Leave-In Conditioner is a lightweight vegan product that repairs damage and reduces frizz while adding memory to your curl pattern. It is enriched with sunflower seed extract and glycerin, helping to keep the curls bouncy without weighing them down or leaving them feeling greasy.
This leave-in conditioner is suitable for various hair types, including thick curly tresses, and is free from sulfates, parabens, gluten, and mineral oil. It is an ideal choice for those looking for an all-natural solution to styling their manes.
Customers have praised its effectiveness in detangling knots, as well as its mild scent, which does not overpower the senses.
Lightweight formula designed specifically for curls
Repairs damaged strands while promoting shine and reducing frizz
Free from drying chemicals like sulfates and parabens
Suitable for various hair types, including thick curly tresses
Mild scent won't overwhelm your senses
May not be suitable for very dense/curly textures
Not effective at controlling flyaways
Some users may find residue left behind after use
2. Design Essentials Curl Mousse
View On Amazon
Experience the ultimate definition, hold, and shine for your curls with Design Essentials Curl Mousse! This lightweight styling solution is formulated to enhance curl definition without adding any greasiness.
It contains Sweet Almond Oil and Avocado extracts that help moisturize hair strands, while Olive Oil and Vitamin B Complex provide strength and elasticity.
Perfect for waves, coils, as well as curly textures, this mousse offers a soft, pliable hold that lasts all day long.
The formula of this product ensures no flakes or build-up on the scalp when used correctly. It also reduces frizz significantly, leaving you with luminous locks instead of a mane full of flyaways. The 11.2oz container makes it easy to carry around in your bag whenever you need an extra boost throughout the day – making sure humidity does not mess up your style! Moreover, it's free from parabens, petrolatum, mineral oil, etc.
Lightweight formula
Enhances curl definition
Reduces frizz
Non-greasy finish
Soft, pliable hold
Free from harsh chemicals
Some users may find the scent too strong
Not suitable for fine hair types
3. As I Am Coconut Cowash
View On Amazon
Slather your 4a curls with As I Am Coconut Cowash for a luxurious, silky-smooth ride to hydrated and healthy locks—like slipping into a warm bath of coconut oil. This revolutionary hair care product is designed to deeply nourish and cleanse while preserving natural moisture.
Its rich blend of Coconut Oil, Castor Oil, Saw Palmetto, Phytosterols, and Tangerine works wonders on curly hair. It reduces combing effort by up to 55% while keeping curls tangle-free and defined. The sulfate-, paraben-, phthalate-free formula actively promotes healthy growth from the follicular level without any harsh chemicals or heat styling treatments needed.
The lightweight yet powerful mixture offers maximum moisture that won't clog pores or create build-up – just softness you can feel! Customers have praised its effectiveness at adding texture to fine hair as well as restoring their natural curl pattern without creating frizziness or leaving residue behind after washing out.
Lightweight & non-greasy formula
Reduces dryness & damage control
Safe & Natural Cleansing
Promotes Healthy Growth
Pleasant scent
Inconvenient screw-top lid (container)
4. Carols Daughter Hair Milk
View On Amazon
Try Carol's Daughter Hair Milk to refresh and redefine your curls with intense moisture and manageability! Powered by natural ingredients such as Agave Nectar, Wheat Protein, Sweet Almond Oil, Cocoa Butter, and Shea Butter, this lightweight mist will deeply moisturize your hair while preventing frizz.
Perfect for naturally curly hair types from 4c to 1c waves, it offers a great hold without leaving residue or making the scalp itchy. It also complements other Carol's Daughter products like its cleansing conditioner, leave-in conditioner, or styling pudding for best results.
Customers love how soft the product leaves their curls feeling after use, plus its pleasant coconut scent makes you feel like you're in an oasis of nourishment each time you apply it! This vegan formula is free from parabens, sulfates, phthalates, mineral oil, artificial colors, and petrolatum, making it safe to use on all types of curly locks – 3b-3c included!
Whether looking for a light refreshed look or something more defined, this product provides just enough definition without crunchiness so that any style can be achieved with ease.
Lightweight & non-greasy formula
Pleasant Coconut Scent
Free From Damaging Chemicals
Reduces dryness & damage
Enhances curl definition
May make hair greasy in some cases
Less effective in humid weather
5. Mielle Organics Honey Ginger Gel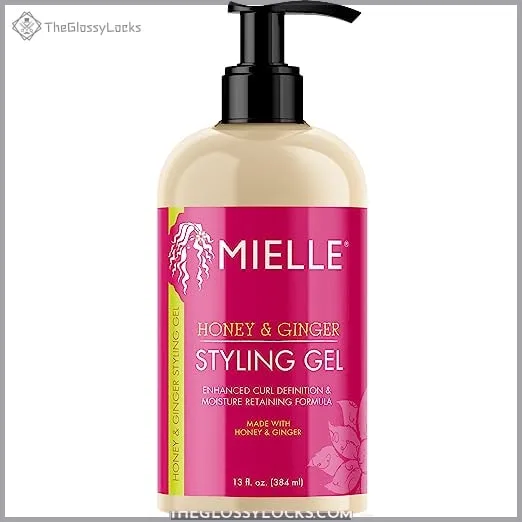 View On Amazon
Discover the Mielle Organics Honey Ginger Gel: a natural styling gel designed to promote healthier and stronger hair for all types of curls, waves, and kinks. Could it be your perfect match? This vegan-friendly styling gel is infused with honey, ginger extract, aloe leaf juice, and babassu oil.
It's free from product build-up or damaging chemicals, so you can style without worry.
Perfect for those with 3A to 4C natural hair textures who want flexibility in their look while still maintaining a strong hold. The unique blend of nourishing ingredients helps reduce frizz as well as add thickness and curl to flat strands – giving you that gorgeous definition you crave! Plus, its pleasant ginger scent won't overwhelm your senses.
Vegan-friendly formula
No product build-up or damaging chemicals
Reduces frizz and adds thickness/curl to flat strands
Strong ginger scent may not be for everyone
Some users have experienced a rancid smell after 1 year
6. Goddess Curls Botanical Gel
View On Amazon
Unlock your curls' potential with Goddess Curls Botanical Gel – a natural-looking styling product that fights frizz and defines waves. This 8 fl oz gel is formulated with Plumeria Alba Flower Extract and Aloe Leaf Juice for sheen, nourishment, and soft hold.
It's perfect for curly hair of all types – from 3A to 4C – as it eliminates shrinkage and adds thickness without the need for chemicals or heat damage.
Plus, it's free from parabens, sulfates, phthalates, or mineral oil, so you can feel safe knowing you're using a cruelty-free product that won't weigh down your tresses!
Mix this gel up with some curling cream to achieve even more definition in your look while still maintaining moisture levels throughout the day.
Eliminates shrinkage & frizz without harsh chemicals or heat
Adds thickness & curl definition whilst moisturizing
Cruelty-free; no parabens, sulfates, phthalates, or mineral oil
Not suitable for dense hair; better suited towards strong hold styles
May dry messy & inconsistent on wash day
7. Rucker Roots Styling Mousse
View On Amazon
Indulge your curls with Rucker Roots Styling Mousse, a vegan hair support solution packed with vitamin B7 and Hydrolyzed Castor Oil to keep moisture locked in. The unique blend of natural ingredients such as ginger root oil, turnip root oil, and carrot root oil helps stimulate keratin production for healthier hair growth.
This sulfate-free product defines waves and sets curls without the need for harsh chemicals or heat styling tools.
Lightweight formula creates definition while locking in moisture
Free from synthetic color & mineral oils
Cruelty-free & vegan friendly
Pleasant Ginger Clay scent
Some users have reported a rancid smell after one year
Can be difficult to apply evenly on thicker sections
8. Hair Rules Kinky Curl Cream
View On Amazon
Tame your kinks and curls with Hair Rules Kinky Curl Cream, a non-greasy gel-cream formula designed to provide deep moisture and manageability for all hair types. This cruelty-free product is free from parabens, sulfates, phthalates, and mineral oil.
It works by transforming spongy kinks into vibrant bouncy spirals while also preventing unwanted shrinkage or frizz. The cream contains hydrolyzed wheat protein, which helps enhance elasticity as well as bounce and volume for the perfect look every time.
Perfect for daily use to embrace natural curls without harsh chemicals or heat tools!
Effective leave-in conditioner & styling product
Works great on 4c hair
Recommended in GQ YouTube Video
Impressive results in terms of hair appearance
Contains soy, which can be an issue for some users
Leaves some users' hair dry & crunchy despite using moisturizers
May work better on longer strands of curly/kinky/wavy
9. Vernon François Hair Mist
View On Amazon
Revive your curls with Vernon François Hair Mist, a vegan-friendly, replenishing treatment mist designed by celebrity stylist Vernon François! This top curl refresher spray is formulated with plant-based ingredients and natural botanicals to provide intense moisture while helping reduce dryness and damage.
The leave-in pre-styling treatment spray can be used on curly, coily, kinky wavy, or straight hair types for maximum nourishment that softens the strands without leaving residue or making itchy.
You won't need much of this 10-ounce bottle either – as only a minimal amount is needed to achieve amazing results – so one bottle will last quite some time before needing replacement! Users have praised its light scent along with its moisturizing properties, which make it great for keeping those pesky split ends away from ruining your style all day long.
On top of that, the convenient aerosol delivery system makes application fast and easy, even when you're short on time in between activities throughout the day.
However, not all users are pleased as some have noticed an unpleasant smell upon spraying their tresses initially, while others experienced a rancid smell after 1 year due to oxidation in aerosol containers over prolonged exposure.
Light scent
Moisturizing
Great spray bottle
Minimal amount needed
Rancid smell after 1 year
Some users didn't notice a significant difference
Unpleasant smell upon spraying for some users
Relatively pricey but little goes a long way
11. Maui Moisture Curl Smoothie
View On Amazon
Discover the power of Maui Moisture Curl Smoothie to transform your curls into vibrant, bouncy spirals with intense moisture and manageability. This vegan formula is free from silicones, parabens, mineral oil, and synthetic dyes – all known to damage hair.
It's also ammonia-free and chlorine-free, so you can feel confident using it on color-treated hair without fear of stripping away its vibrancy or health.
Infused with 100% aloe vera as well as coconut oil for hydration, plumeria extract for softness, and papaya extract to reduce frizziness, this styling cream offers a light yet long-lasting hold that will keep your waves defined while adding body too! Perfectly suited for twist outs or wash n' go styles, this smoothie helps lock in moisture without leaving behind any residue or making hair itchy afterwards.
The pleasant coconut scent is an added bonus that'll leave you smelling great!
Hydrates & smoothens curls
Reduces frizz & enhances curl definition
Defines waves & adds body without weighing down the hair
Suitable for thick hair and tight curls
May not be suitable if allergic to coconut oil
Not ideal if you don't like a strong coconut scent
Understanding the 4a Hair Type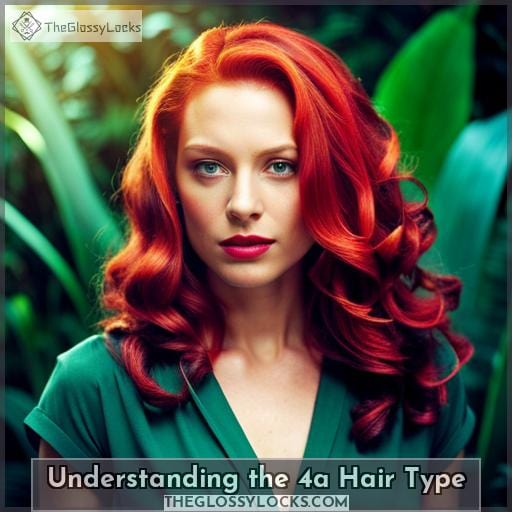 Understanding your 4a hair type is key to achieving the perfect style, so take a look at what you need to know for gorgeous curls and coils!
Characterized by its tight S-shaped pattern, 4a hair needs lots of moisture in order to thrive. To keep it nourished and looking great all day long, use lightweight products like leave-in conditioners or curl mousses that won't weigh down your locks.
For example, try VERB Curl Leave-In Conditioner or Design Essentials Curl Mousse – both are free from sulfates and other harsh ingredients.
When washing your 4a hair type, opt for gentle cleansers such as As I Am Coconut Cowash; this will help prevent breakage due to overstripping the strands of their natural oils.
Finally, don't forget about styling! Carol's Daughter Hair Milk provides just enough hold while adding shine without compromising on its light texture – plus, it smells amazing too!
How to Care for 4a Hair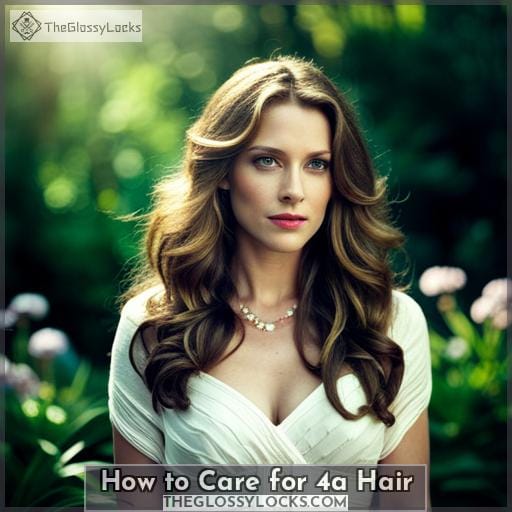 Caring for 4a hair requires a tailored approach that focuses on moisture and gentle styling to bring out the best of your curls. Start by hydrating with a nourishing moisturizer regularly, then use light oils or serums for added shine.
Protective hairstyles such as braids and bantu knots are great ways to reduce breakage while also giving you the freedom to switch up your look without any heat damage.
To keep frizz at bay, avoid over-brushing when detangling; opt instead for finger combing or using wide tooth combs after applying conditioner in sections from root-to-tip.
A successful haircare regimen should include regular deep conditioning masks, weekly trims if needed, limiting chemical treatments such as relaxers, texturizers, and dyes, avoiding excessive heat tools like blow dryers and flat irons, and choosing products designed specifically for 4a hair type like leave-in conditioners and curl creams that contain natural ingredients like aloe vera extract or sweet almond oil, which will help add nutrients back into each strand!
With proper care techniques, you'll be able to tackle frizziness while keeping your hair soft, defined, and hydrated all day long.
Tips for Maximizing Your 4a Hair Care Routine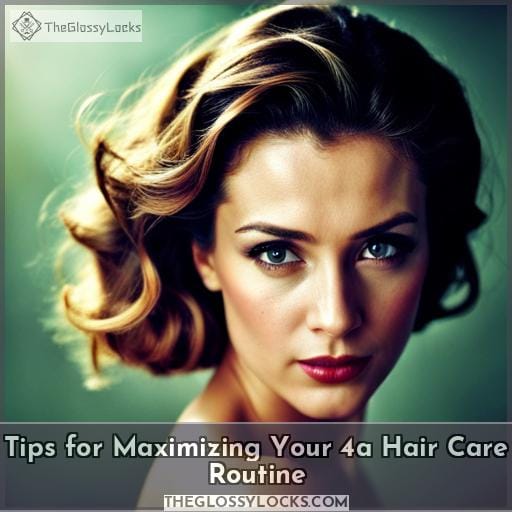 To maximize your 4a hair care routine, consider adding a few simple steps to keep your curls healthy and defined. Start with daily moisturizing using lightweight products like leave-in conditioners or curl mousses.
Add in a nighttime routine of deep conditioning for extra nourishment and hydration overnight. Protective styling techniques, such as braids, are also great for retaining moisture without causing breakage or tangles during sleep.
Incorporate detangling tips, including the use of wide-tooth combs and gentle motions when removing knots from coily hair strands. Finally, experiment with different styling techniques and products to find what works best for your natural hair type.
By combining these tips into one comprehensive 4a hair care routine, you'll have beautiful curls that last all day long!
The Versatility of 4a Hair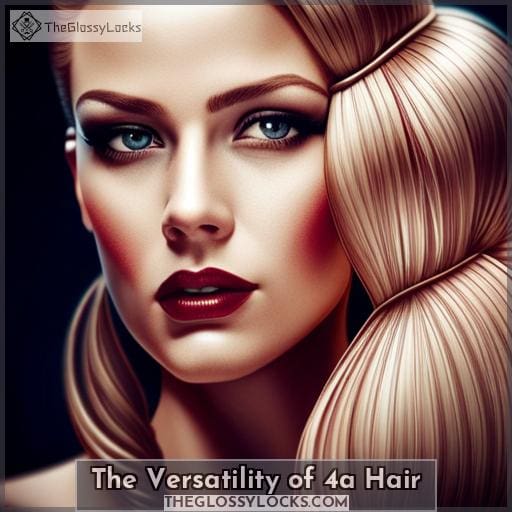 Discover the amazing versatility of your 4a hair type – from bouncy curls to sleek waves, you can achieve any look!
With its tight coils and texture variations, 4a hair is versatile enough for many styling options. In addition to wash-and-gos and twistouts, try protective styles such as braids or bantu knots.
And don't forget the haircare tips – moisturize regularly with cream or oil; use light products that won't weigh down your curl pattern; avoid heat tools when possible; limit chemical treatments like relaxers and dyes.
Celebrities with 4a hair have embraced their naturalness too – Beyonce Knowles Carter has been seen sporting her signature curly 'do while Tracee Ellis Ross shows off her big blonde coils in magazine shoots.
Embrace your unique beauty by experimenting with different hairstyles that will bring out the best in you! Try using a gel for extra definition if needed or an anti-frizz spray when humidity is high – there are endless possibilities available for loving what nature gave you!
Embracing and Celebrating Your 4a Hair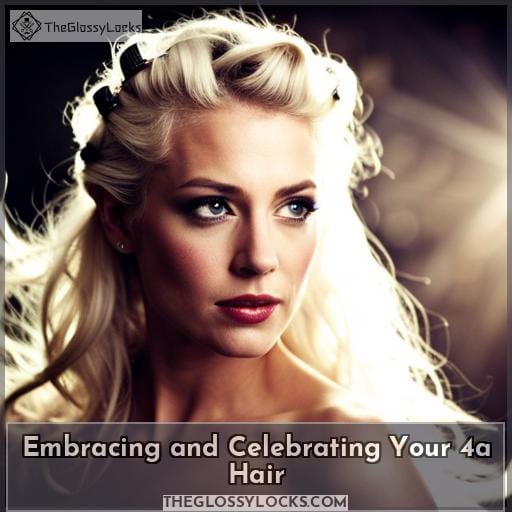 Celebrate your stunning 4a curls by giving them the TLC they deserve – this hair type deserves no less than royal treatment!
Start with a tailored hair regimen that includes regular deep conditioning treatments and moisturizing products specifically designed for curly textures.
Find styling inspiration online from other women rocking their gorgeous locks and don't be afraid to try something new!
Cultivate confidence in yourself as you appreciate the unique texture of your mane.
Representation matters when it comes to self-acceptance, so let's keep showing our natural beauty off through our hairstyles!
Conclusion
No matter your hair type, it's important to find the best products for your hair and know how to properly care for it. Specifically, 4a hair type requires special attention since its soft, fine texture is more prone to damage and frizz.
Fortunately, there are plenty of products and tips that can help you maximize your 4a hair care routine. From VERB Curl Leave-In Conditioner to Carol's Daughter Hair Milk, the right products can ensure that your 4a hair looks great and stays healthy.
Be sure to keep your hair hydrated, use minimal heat, and avoid over-washing it. With the right products and care tips, you can embrace and celebrate your 4a hair type and find the perfect style for your unique curls.