This site is supported by our readers. We may earn a commission, at no cost to you, if you purchase through links.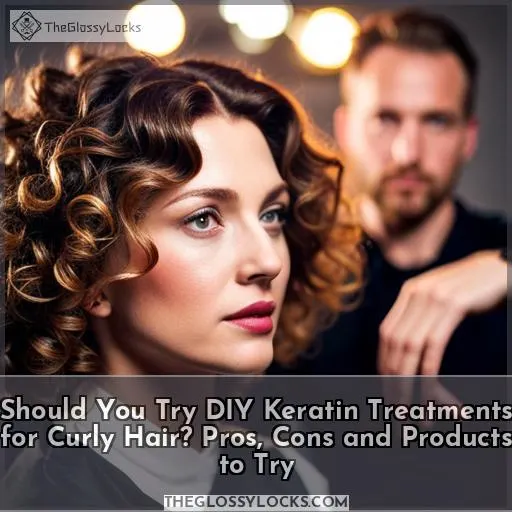 Bravely breaking convention may grant you the biggest rewards – especially when it comes to embracing your natural hair.
Before taking the plunge, equip yourself with knowledge. Learn the pros, cons and optimal products so you can make an informed decision.
Maybe DIY keratin is right for your curl goals, or maybe booking a salon is best.
Keratin could provide the smooth and frizz-free texture you crave, but research first to maximize results and avoid damage.
This introduction covers your bases, allowing you to seize control and determine the ideal keratin treatment path.
Hair freedom awaits!
Key Takeaways
At-home keratin treatments can help smooth and manage curly hair when done properly and safely.
It's important to research and select the right keratin treatment products for your specific hair type and texture.
Proper preparation, application technique, processing time and post-treatment care are essential for getting results from at-home keratin treatments.
While convenient, at-home keratin treatments require responsibility. You should take safety precautions like ventilation, gloves and doing a patch test to prevent damage or reactions.
7 Best At-Home Keratin Treatments for Curly Hair
Curly hair can certainly benefit from at-home keratin treatments. The K18 Hair Repair Mask, Kerastase Resistance Ciment Thermique, and CHI Keratin Silk Infusion are top choices for nourishing and protecting curls while reducing frizz.
Products like Keratin Research Brazilian Blowout Smoothing Coconut, Amazonliss Keratin Treatment, Moroccan Keratin Brazilian Keratin Treatment, and Davines Nourishing Keratin Sealer can provide long-lasting smoothing and straightening effects for up to months at a time.
3. K18 Hair Repair Mask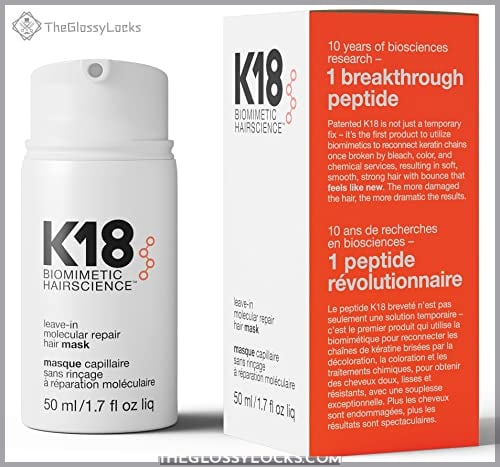 View On Amazon
You're desperate for a quick fix for your damaged curls, but this 4-minute miracle mask reconnects broken hair chains for renewed strength without the salon splurge. K18's patented K18Peptide technology infuses each strand to repair damage from bleach, color, heat styling, and chemicals.
While expensive compared to traditional conditioners, it provides immediate, long-lasting conditioning with positive reviews from users with dry, frizzy hair.
Repairs damage and protects hair
Noticeable improvement in minutes
Softens hair and reduces frizz
Small bottle for the price
Not a split-end solution
4. Kerastase Resistance Ciment Thermique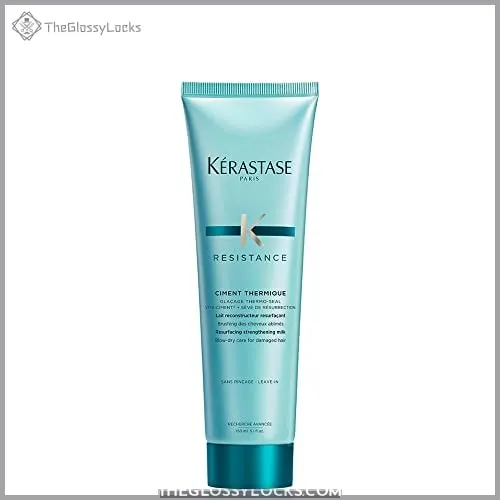 View On Amazon
You really benefit from applying Kerastase Resistance Ciment Thermique before heat styling, as it conditions hair and seals in moisture while protecting strands from damage. Formulated with resurrection plant sap, this blow dry primer offers intense hydration to strengthen and restore your hair.
It promotes elasticity and moisture retention while reducing breakage for noticeably smoother, softer, and shinier locks.
The primer seals in moisture and provides 450°F heat protection to shield hair from damage caused by hot styling tools. Layer it onto damp hair before blow drying or using a flat iron to treat your strands to expert nourishment and care.
Intense hydration
Heat protection up to 450°F
Reduces breakage
Restores hair health
Enhances shine
Lightweight formula
Can weigh down very fine hair
Not as effective on severely damaged hair
5. CHI Keratin Silk Infusion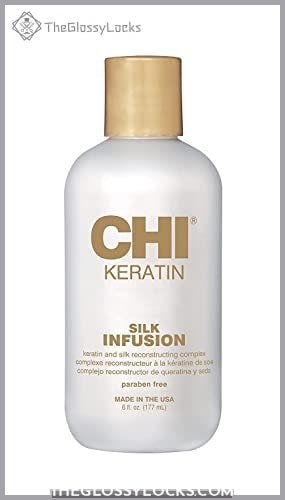 View On Amazon
CHI's reconstructing keratin complex helps damaged hair become softer and frizz-free. This hydrating infusion contains natural keratin to rebuild the hair's cuticle layer and silk to retain moisture, leaving hair more elastic with improved hydration and shine.
The smoothing effects eliminate frizz even in humidity, so waves stay defined without puffiness. With heat protection and preventage of breakage benefits, stylists recommend this treatment for client home maintenance between salon visits.
Softens and reduces frizz
Improves elasticity and hydration
Protects from thermal damage
Smooths and defines waves
Recommended by stylists
Scent is polarizing
Not as strong as salon treatments
Can weigh down very fine hair
6. KERATIN RESEARCH Brazilian Blowout Smoothing Coconut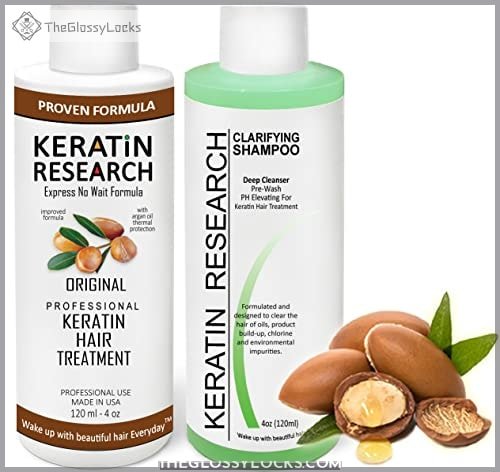 View On Amazon
After color fade and fumes, this keratin treatment delivered manageable texture for a first-timer. The KERATIN RESEARCH Brazilian Blowout Smoothing Coconut treatment impressed a user despite an eight-hour process.
It yielded moderately straightened curls for several months from a single application.
Although the user described fumes requiring a mask during use, the treatment sufficiently tamed frizz and made styling easier. The results weren't dramatically straight, but noticeably smoothed the hair's texture.
For people with curly hair wanting subtle change, this kit seems a solid at-home option.
Long-lasting 4-6 month results
Smooths and softens hair
Makes styling easier
Strong fumes during application
Can lighten hair color
Lengthy process
7. Amazonliss Keratin Treatment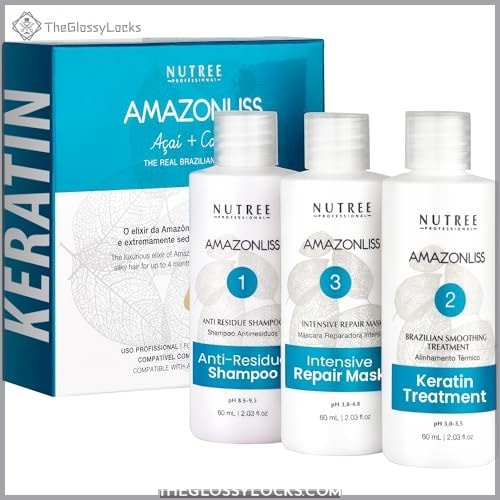 View On Amazon
Beware the strong scent as this Brazilian keratin penetrates for smoothed, resilient strands. Amazonliss Keratin Treatment offers long-lasting straightening and deep restoration without damaging hair structure.
Ideal for all hair types, the formula replenishes lost keratin, repairs damage, and moisturizes for elastic, vibrant tresses with stunning shine. Results last over three months before your natural texture emerges. Take care applying in a ventilated room as some experience discomfort from fumes that permeate.
Outcomes vary so set expectations aligned with your unique texture. While costly, transformed tresses may warrant the investment for some.
Long-lasting straightening results
Restores and replenishes keratin
Repairs damage and moisturizes
Ideal for all hair types
Strong, uncomfortable smell
Results vary based on hair texture
High cost
8. Moroccan Keratin Brazilian Keratin Treatment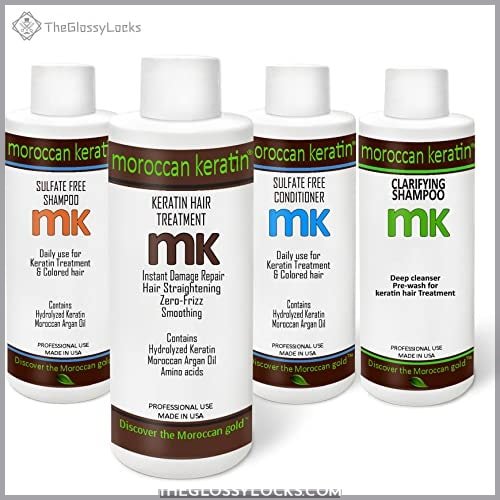 View On Amazon
Listen up folks, this Moroccan keratin magic potion might just be the frizz-fighting elixir your unruly locks have been wishin' for – but read the fine print before dousin' that 'fro! This Brazilian keratin treatment kit aims to leave your curls elastic yet soft for 3-7 months with its blend of oils and keratin.
Sounds like a miracle, but it may subtly alter your hair's tone, and the harsh treatment can cause breakage in some.
So weigh up the pros and cons carefully for your coils.
Long-lasting smoothing effects
Shiny, soft curls
Diminishes frizz
Can subtly alter hair color
Harsh process risks some breakage
Results vary across curl types
9. Davines Nourishing Keratin Sealer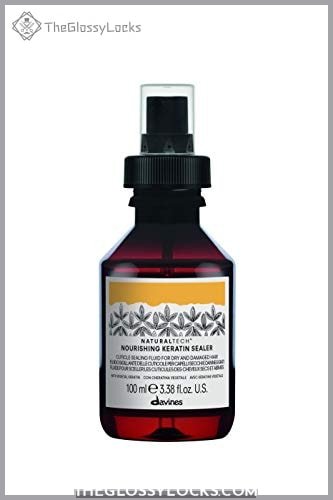 View On Amazon
Davines Nourishing Keratin Sealer
You're sure to delight in a soft, frizz-free mane when you massage this aromatic keratin infuser through your curls. With its nourishing formula containing sealing properties, the Davines Keratin Sealer helps damaged, weakened strands regain strength and elasticity.
The concentrated liquid treatment glides on to mend split ends and reinforce delicate areas prone to breakage. As you evenly distribute it from roots to tips, your unruly ringlets are miraculously tamed.
Despite some complaints about the overpowering scent, the remarkable softening and cuticle sealing effects make this salon-approved product worth considering.
Seals cuticles for long-lasting smoothness and frizz reduction
Softens without weighing hair down
Recommended by stylists for damaged, weakened hair
Strong fragrance some may not like
Possible issues with pump clogging reported
Understanding Keratin Treatments for Curly Hair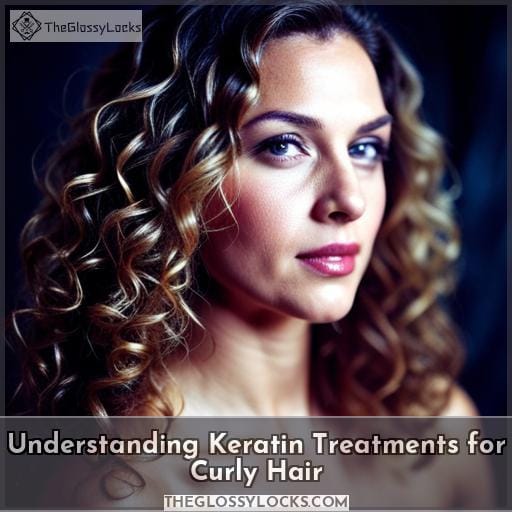 These protein-infused smoothing treatments can seriously tame your curls and coils. When properly applied, the treatment molecules bond inside the hair cuticle, making strands smoother, straighter, and less frizzy.
The effects may last around 3 months or longer with the right aftercare. Curly hair responds very well to keratin's strengthening, especially in humid climates. Still, caution is key. Misuse risks lasting damage or unwanted texture changes. Weigh salon versus at-home options carefully, asking questions.
An experienced stylist provides the safest custom results, though more costly. Research any DIY kits thoroughly first, ensuring gentleness for coils. Test a small section first. And remember – moderation is key for maintaining your curls' health.
At-Home Vs. Salon Keratin Treatments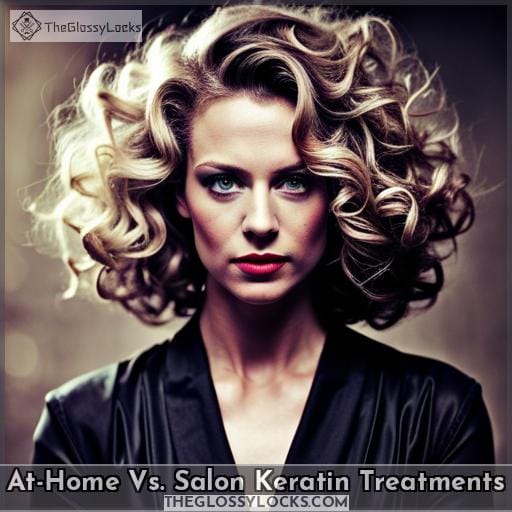 When it comes to keratin treatments, curly haired folks have an important choice – go to the salon or do it themselves at home. While professional keratin treatments tend to produce longer-lasting results, at-home options offer greater cost effectiveness.
Salon treatments last around 3-5 months but cost $300. At-home kits provide 1-2 months of smoothing for just $40.
Salons use higher concentrations and temperatures when sealing in the treatment. Home kits rely on you to properly complete each step.
Stylists can properly assess your hair and customize the process. DIY requires you to determine the right timing and temperature settings.
Overprocessing in salons can damage hair. But inexperienced home application also risks hair health if directions aren't followed.
Consult a stylist first to see if an at-home keratin treatment could work for your curls. While more affordable, they require meticulous technique to avoid damage while still smoothing effectively.
How to Do an At-Home Keratin Treatment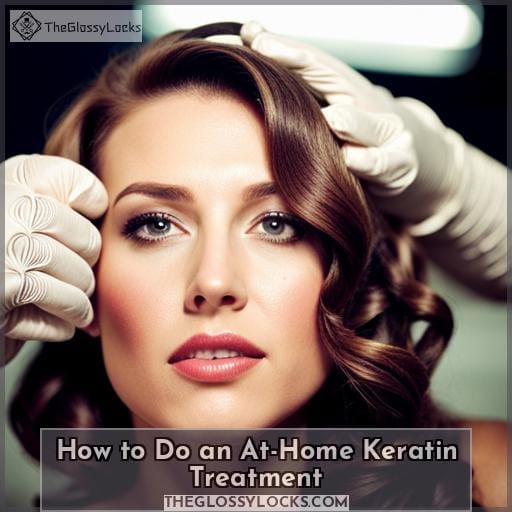 Simply follow the steps and precautions to customize an at-home treatment that works best for your hair type.
Shampoo and towel dry hair before application.
Section hair and apply the keratin product evenly from roots to ends.
Leave the product on for 15-30 minutes.
Blow dry each section straight with a round brush.
Flat iron each section 8-10 times at 450°F to seal in the keratin.
Avoid washing for 48-72 hours after treatment. Use a sulfate-free shampoo and conditioner for maintenance.
Consider doing an initial treatment at a salon if new to keratin. Consult with a stylist familiar with curly hair keratin treatments.
What to Look for in a Keratin Treatment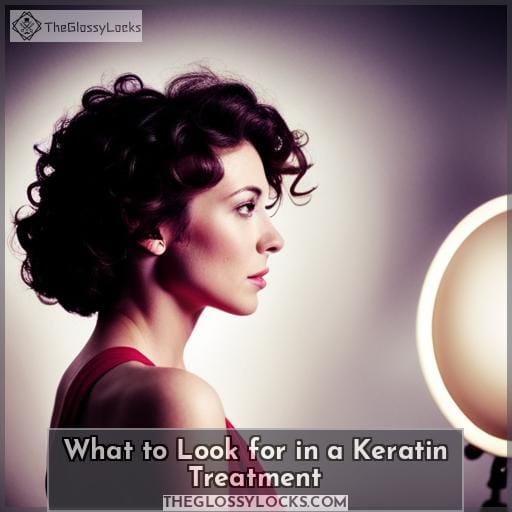 You'll feel as free as a bird once you find the perfect keratin treatment that tames those unruly curls into submission. When selecting an at-home keratin treatment for your curly hair, scrutinize the ingredients to ensure they're formaldehyde-free and contain natural proteins like keratin and collagen.
Opt for easy, mess-free application kits with clarifying shampoos to prep hair. Look for brands that promise long-lasting smoothing effects for 2-6 months.
Despite DIY convenience, the assistance of a stylist helps avoid potential side effects like dryness or breakage. They can also recommend the ideal product and process for your hair's health and condition.
With the right at-home keratin treatment, your curly mane will be smoother, softer, and full of renewed vibrancy.
Are At-Home Keratin Treatments Safe for Curly Hair?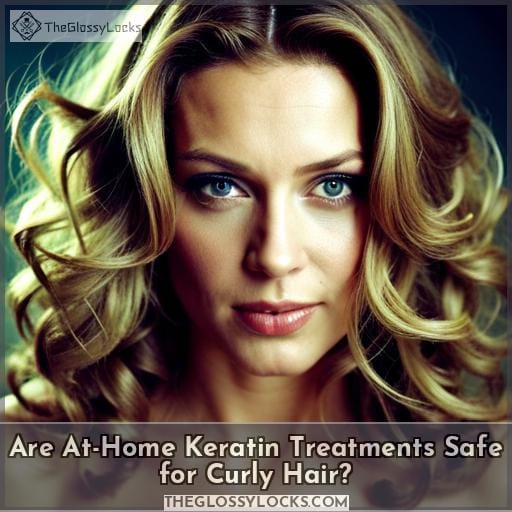 Your curls glow with care after an at-home keratin spa day. Yet safe keratin treatment for curly hair requires precautions. Monitor heat tool usage, as excessive heat damages curls. Seek professional advice on formula and application method suitability for your hair type.
Closely follow at-home kit instructions to avoid overprocessing. Schedule occasional salon treatments for expert care. With thoughtful prep and post-care, keratin treatments can gently relax unruly curls.
But improper use risks lasting damage. Your curls deserve nurturing wisdom. Trust their health to knowledgeable hands, professional or your own. At-home keratin kits offer a cost-effective curl-taming option when used wisely.
Conclusion
The decision to try DIY keratin treatments ultimately comes down to your hair goals, budget, and comfort level. For curly hair specifically, quality keratin products can help reduce frizz and enhance definition when properly applied.
However, misusing chemical straighteners at home risks irreversible damage if you don't take the right precautions.
While DIY kits provide an affordable option, it is wise to consult with a stylist first. Additionally, patch testing and following all instructions carefully are important steps to take. With the right keratin treatment products, technique, and maintenance to maximize results, you may find at-home smoothing is a viable styling choice for your curly hair.
But when in doubt, trust the professionals for the healthiest, frizz-free curls.