This site is supported by our readers. We may earn a commission, at no cost to you, if you purchase through links.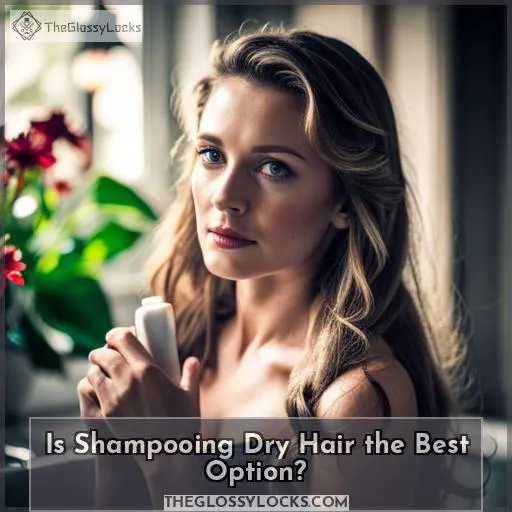 Unveil the secret to glorious locks – the age-old question: Is it better to put shampoo on dry hair?
It's a topic that's sparked countless debates among those in pursuit of luscious, vibrant tresses. The haircare ritual is like a canvas for many, a canvas that has the power to deliver liberation from dullness, empower you with confidence, and bestow a deeper understanding of your hair's unique needs.
Imagine stepping into a world where your haircare routine becomes a symphony of choices, where you have the power to transform your mane according to your desires.
In this exploration, we'll dissect the age-old debate: should you apply shampoo to dry or wet hair? You'll discover the pros and cons, the consequences of your choice, and how your hair type plays a crucial role in this decision.
It's time to unlock the hidden potential of your locks and embark on a journey of hair liberation, power, and understanding.
Key Takeaways
Applying shampoo on dry hair is a debated topic in hair care.
Dry shampoo is an exception, designed for quick fixes without water.
Traditional liquid shampoo is best applied to wet hair for even distribution.
Purple shampoo on dry hair can cause uneven toning, especially in blondes.
Can You Put Shampoo on Dry Hair?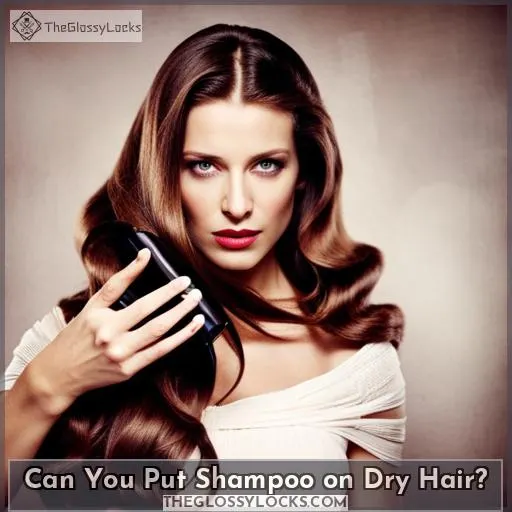 When it comes to cleansing your hair, the general consensus is to apply the product on wet strands for even distribution and effective results.
While traditional shampooing involves wetting your hair first, the concept of using shampoo on dry hair has gained attention, particularly with products like dry shampoo. Dry shampoo is designed to refresh your hair between washes, making it a suitable option for quick fixes.
It's an exception to the wet hair rule, as it's meant to absorb excess oil and provide volume without the need for water.
On the other hand, when discussing traditional liquid shampoo, it's better to stick to the routine of applying it on wet hair. Dry hair might not allow for even distribution, potentially leading to uneven toning and a scummy buildup, especially when using specialized products like purple shampoo.
So, while dry shampoo has its place in your haircare arsenal, regular shampooing is best reserved for your wet, thirsty locks.
Pros and Cons of Applying Shampoo to Dry Hair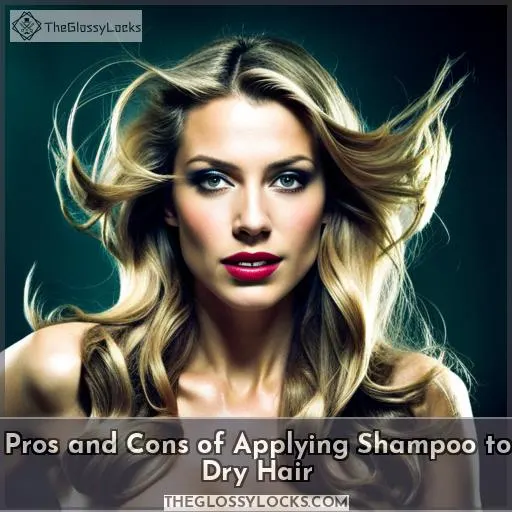 When it comes to applying shampoo to dry hair, you should proceed with caution. Uneven toning and potential consequences are two of the main downsides associated with this method.
Uneven Toning
To achieve a harmonious hue, make sure your toning method is as smooth as a symphony, preventing those patchy notes in your locks.
The debate over shampoo application on dry hair remains a subject of curiosity and confusion, especially in the context of using purple shampoo. Applying purple shampoo to dry hair can lead to uneven toning, which is far from the desired result in blonde maintenance.
This often occurs because the product isn't evenly distributed, causing some areas to soak up more purple pigment than others, resulting in a splotchy appearance.
For consistent and even toning, sticking to the recommended wet hair application is your best bet. The purple shampoo debate underscores the importance of debunking hair care myths. While some may argue for applying shampoo on dry hair, it's crucial to recognize the potential consequences.
In the realm of toning techniques, following the prescribed steps for purple shampoo application ensures your blonde locks receive the right balance of pigmentation.
So, in the ongoing debate, let wisdom prevail over experimentation to maintain your blonde's brilliance without uneven toning.
Potential Consequences
Using purple shampoo on dry hair can lead to consequences like uneven toning and potential issues with scummy buildup.
Your hair type plays a crucial role in this. For instance, high porosity hair tends to benefit from wetting it before shampooing.
Furthermore, emulsifying sulfate-free shampoo for even distribution is crucial in avoiding these consequences.
It's important to remember that your hair care routine should be tailored to your specific needs. While dry shampoo has its merits for oil removal, it's essential to follow the recommended guidelines for using purple shampoo on wet hair to achieve the best results in maintaining that vibrant blonde tone.
The Debate Between Shampooing on Dry or Wet Hair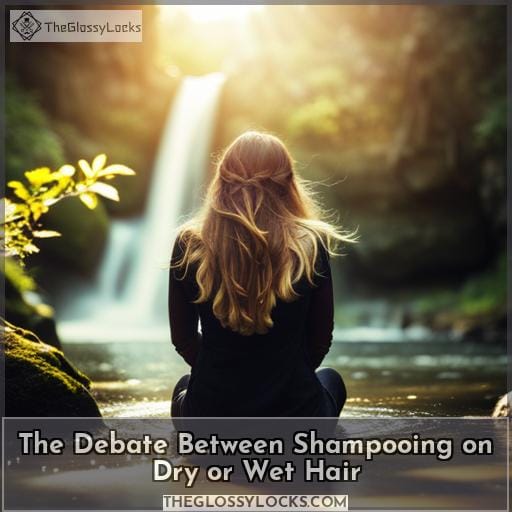 In the ongoing debate about applying shampoo, whether wet or dry, it's crucial to consider the unique needs of your hair. The choice between wet and dry shampooing methods can significantly impact the health and appearance of your hair.
Shampooing Methods: The debate between wet and dry hair shampooing hinges on whether water should be part of the process. Wet shampooing ensures even product distribution and allows the shampoo to lather effectively.
Hair Hydration: Wet hair can absorb and retain moisture better, making it ideal for hydrating shampoos. Dry hair may not benefit as much from hydrating products, as it can't absorb them as effectively.
Blonde Hair Care: For those with blonde hair, using purple shampoo on wet hair is essential for gentle toning. It's crucial to follow the recommended steps, including using a pigmented conditioner for intense toning.
In the end, the choice between wet and dry shampooing depends on your hair type and the specific product you're using.
Potential Consequences of Applying Shampoo to Dry Hair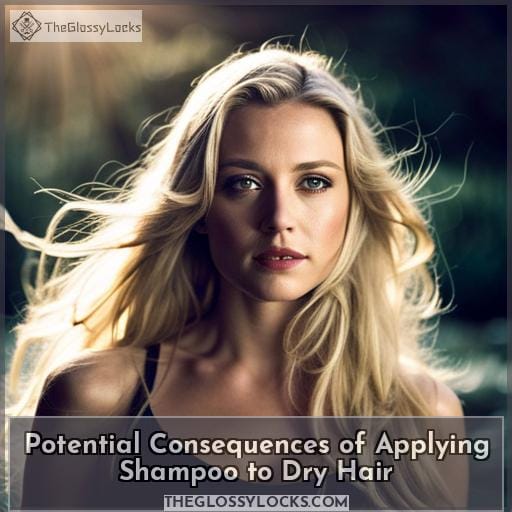 Consider the potential downsides of applying shampoo to dry hair. One significant concern is the risk of uneven toning. When you apply shampoo to dry hair, it doesn't distribute as evenly as it would on wet hair.
This can result in patchy color maintenance, leaving some areas too vibrant and others still brassy. Uneven toning is a headache for those seeking a consistent, beautiful shade in their hair.
Another issue to be aware of is the potential for scummy buildup. Shampoo is formulated to emulsify and break down oils, dirt, and product residues on your scalp and hair.
When applied to dry hair, it might not effectively do this job, leading to residue accumulation. This buildup can not only make your hair feel weighed down but also affect its overall appearance.
For the best results, it's generally recommended to use shampoo on wet hair. This ensures even distribution, proper cleansing, and thorough rinsing, all while maintaining hair hydration. So, when it comes to choosing whether to shampoo on dry or wet hair, it's wise to avoid the potential consequences of applying shampoo to dry hair and opt for the tried-and-true method of wet shampooing.
Effects of Using Shampoo Meant for Dry Hair on Dry Hair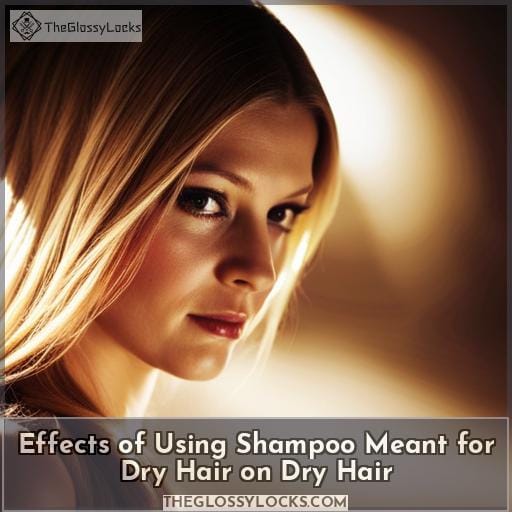 Imagine your hair as a sponge, and you're about to wash it with the wrong kind of detergent. Just as you wouldn't use dish soap on a dry sponge, applying shampoo meant for dry hair on dry hair can result in uneven product distribution, leaving parts of your hair unclean and others overloaded with product.
This can lead to a less-than-ideal hair washing experience and even potential consequences for your locks.
When considering the effects of using shampoo meant for dry hair on dry hair, here's what you need to know:
Risk Assessment: Applying dry hair shampoo to dry hair may not effectively cleanse your scalp and strands, as the product needs moisture to activate and distribute evenly.

Shampoo Effects: Shampoo formulated for dry hair is designed to add moisture, making it counterproductive on already dry hair, possibly worsening the issue.

Product Distribution: The absence of water in this scenario can hinder the shampoo's ability to create a rich lather and thoroughly cleanse, leaving you with suboptimal results.
To maintain healthy and well-cared-for hair, it's crucial to choose the right products and use them in the correct manner. When it comes to shampoo, applying it to wet hair is generally the recommended approach for effective cleansing and product distribution.
Importance of Proceeding With Caution When Applying Shampoo to Dry Hair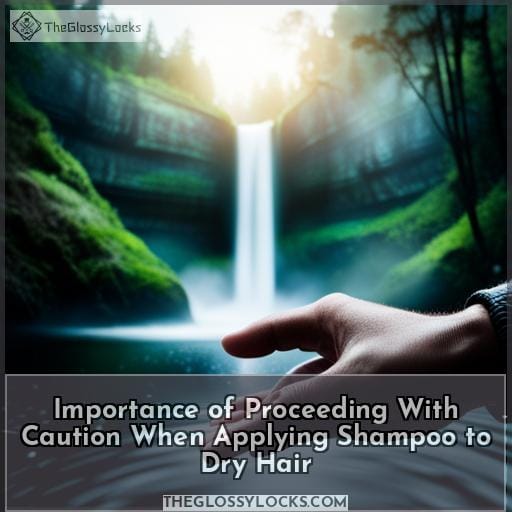 When applying shampoo to dry hair, proceed with caution to prevent potential consequences. In the world of hair care, the internet is rife with trends and hacks, and one of them suggests applying purple shampoo to dry hair for toning.
While this may sound tempting for the sake of convenience, it's essential to approach this method with a sense of consideration.
Purple shampoo is designed to work its magic when applied to wet hair. Deviating from this recommended usage may lead to uneven toning, scummy buildup, and less effective results.
The importance of adhering to the specified guidelines for shampoo application cannot be stressed enough. Caution should be exercised when it comes to following these internet trends. Purple shampoo, in particular, is formulated to neutralize brassy tones on damp hair, so deviating from this guideline can be a gamble with your desired results.
To achieve the best outcome for your blonde hair, it's advisable to stick to the tried-and-true method of using purple shampoo on wet hair, as outlined in the 5-step guide for optimal toning.
Emulsifying Sulfate-Free Shampoo for Even Distribution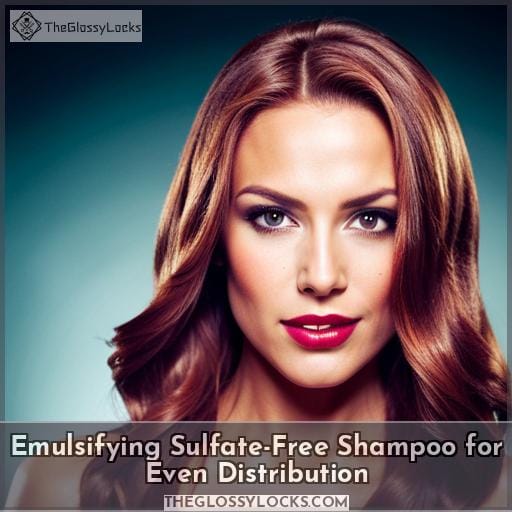 For more even product distribution, ensure you emulsify sulfate-free shampoo before application.
Product Selection: Begin by choosing a sulfate-free shampoo suitable for your specific hair type and concerns. This lays the foundation for effective emulsification.

Hair Porosity: Consider your hair's porosity. High porosity hair absorbs products quickly, so emulsifying prevents uneven distribution. Low porosity hair benefits from emulsification for better penetration.

Application Tips: Start with a small amount of shampoo, spread it between your palms, and vigorously rub your hands together to create a creamy, even consistency. This emulsified product applies more smoothly.

Distributing Shampoo: Apply the emulsified shampoo evenly to dry hair, focusing on your scalp and roots. Gently massage it for a thorough cleanse without clumps or residue.
Emulsifying sulfate-free shampoo not only enhances distribution but also allows your hair to fully benefit from the product, whether for cleansing, conditioning, or treatment. These techniques empower you to achieve the best results when shampooing on dry hair, ensuring even product application and a deeper understanding of your hair's needs.
Personal Preference and Hair Type in Emulsifying Shampoo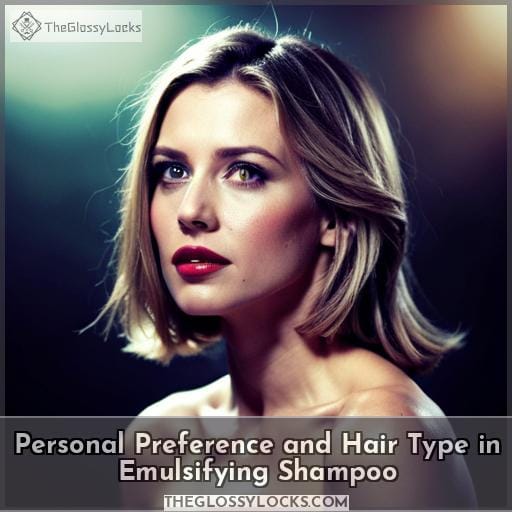 Consider your personal hair type and preferences when choosing the right method for emulsifying sulfate-free shampoo, as it can greatly impact the effectiveness of your hair care routine.
Hair type considerations are crucial. For instance, those with high porosity hair may benefit from wetting their hair before applying shampoo to ensure better moisture retention. On the other hand, individuals with low porosity hair may find that emulsifying the shampoo on dry hair allows for more even product distribution, preventing potential buildup.
Emulsifying benefits extend beyond hair type. Some people swear by the effectiveness of emulsifying sulfate-free shampoo, claiming it allows for a gentle cleanse while preserving natural oils. However, personal preference and product preferences also play a role. Some may find that dry hair application suits their routine better, while others prefer the traditional wet method.
Furthermore, if moisture concerns are paramount, wetting your hair before emulsifying the shampoo might be the way to go.
Ultimately, the choice between emulsifying shampoo on dry or wet hair boils down to your personal preferences and hair type. Experiment with both methods to discover what works best for you, ensuring that your haircare routine caters to your unique needs and desires.
Variability in What Works Best for Different People With High Porosity Hair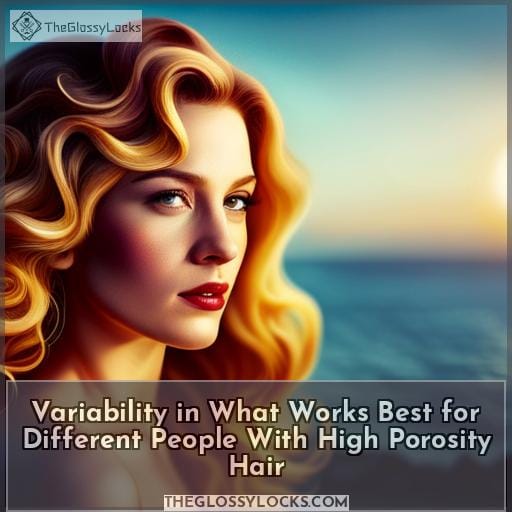 With high porosity hair, the path to healthy and vibrant locks often involves a fair amount of trial and error. The key to success lies in understanding the variability in what works best for different individuals with high porosity hair.
There's no one-size-fits-all solution, and that's where your journey to finding the perfect routine begins.
High porosity hair is prone to losing moisture, which is why finding the right hair products and methods is crucial. Some individuals with high porosity hair swear by the conditioner before shampooing approach.
This method involves applying conditioner to your dry hair before shampooing, which helps lock in moisture and prevent excessive drying during the washing process.
Others may opt for a more conventional approach of wetting their high porosity hair before shampooing to minimize moisture loss. The key is to experiment with different techniques and products to discover what best suits your unique hair needs.
In the world of hair care, understanding porosity preferences and individual hair care insights is your ticket to achieving luscious, well-moisturized high porosity hair. So, don't be afraid to explore and tailor your hair care routine to your specific needs.
Consideration of Hair Type in Choosing the Shampooing Method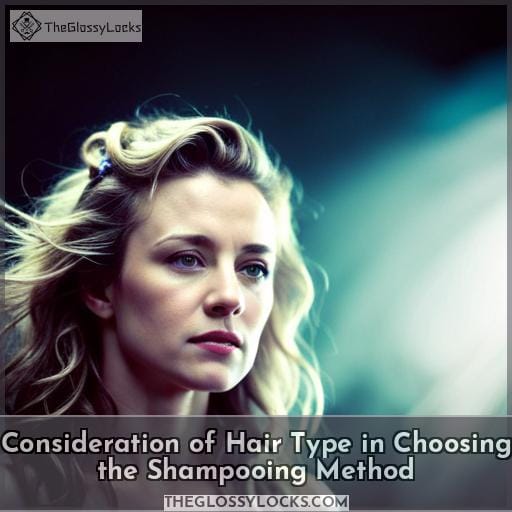 When it comes to selecting the most effective shampooing method, your hair type plays a pivotal role. Whether to shampoo on dry or wet hair depends on the specific characteristics of your hair, such as its porosity, condition, and your desired results.
It's essential to understand how different hair types interact with various shampooing techniques to ensure that your hair care routine yields the best outcomes.
Hair Type and Shampooing
When choosing how to care for your specific hair type, always remember that what works best can vary greatly from one person to another. Hair type and shampooing methods are intrinsically linked. High porosity hair often benefits from wet shampooing to retain moisture, while those with normal hair might prefer dry shampoo for quick removal of oil and product buildup.
Emulsifying techniques can also play a role, and purple shampoo tends to be most effective when applied to wet hair.
Dry vs. Wet Method
Selecting the right method for your hair type is crucial to achieve the best results in maintaining your blonde hair's vibrancy. When it comes to the dry vs. wet method debate, it's essential to consider your hair type.
For those with normal, healthy hair, applying shampoo to dry hair might not yield the best results due to uneven product distribution. However, high porosity hair benefits from wetting before shampooing to ensure even toning with purple or blue shampoo.
Purple Shampoo Guidelines
Transform your hair into a vibrant, eye-catching spectacle with these sensational purple shampoo guidelines. When it comes to purple shampoo application, remember that it's designed for use on wet hair.
Applying it to dry hair can lead to uneven toning and potential consequences. For optimal toning effectiveness and blonde hair care, follow the recommended steps, including using violet tri-blo for heat protection.
Don't be swayed by dry hair myths – stick to the purple shampoo guidelines to achieve stunning results.
Conclusion
To shampoo or not to shampoo on dry hair, that is the question. Imagine your hair as a delicate canvas, and shampoo as the paint that could either create a masterpiece or a mess. While some swear by the internet trend of using shampoo on dry hair, it's a risky move.
The pros of evenly toned, luscious locks are outweighed by the cons – potential consequences and uneven toning. It's wiser to stick with the traditional method of shampooing on wet hair, as it's tried, tested, and safer.