This site is supported by our readers. We may earn a commission, at no cost to you, if you purchase through links.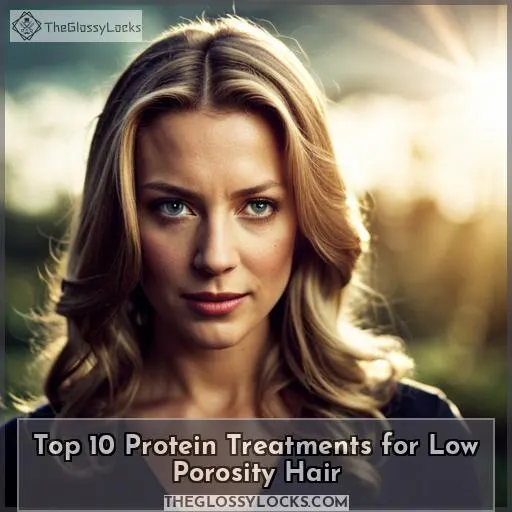 Struggling with low porosity hair? Protein could be your saving grace. If you have cuticles that are tightly shut, allowing little to no moisture to penetrate, protein can help strengthen the strands and make them more resilient to damage.
But too much of it can lead to dryness instead! In this blog post, we'll explore the top 10 protein treatments for low porosity hair and provide helpful tips on understanding how they work in order to get the best results possible.
Key Takeaways
Low porosity hair has tightly closed cuticles, necessitating specific care.
Protein treatments strengthen and prevent damage, enhancing curl definition.
Moisturizing conditioners and oil treatments offer effective alternatives to protein treatments.
Proper washing and styling routines are vital for low porosity hair care.
Top 10 Protein Treatments for Low Porosity Hair
Are you looking for the best proteins to nourish your low porosity hair? ApHogee Keratin Reconstructor, Mielle Organics Babassu Mint Conditioner, Giovanni Xtreme Protein Hair Infusion, Aubrey GPB Conditioner, Paul Mitchell SuperStrong Conditioner, Kinky Curly Shampoo Moisturizing Sulfate-Free, and Garnier Fructis Curl Nourish are just some of the top protein treatments available.
Neutrogena Clarifying Shampoo helps remove excess buildup while Davines OI Hair Milk Spray and Jessicurl Deep Condition offer intense hydrating properties.
ApHogee Keratin Reconstructor


View On Amazon
For those looking to repair years of damage caused by coloring and heat, Aphogee Keratin Reconstructor is an ideal choice that will strengthen hair before a relaxer and offer dramatic improvements. This liquid reconstructor contains antioxidant green tea to protect hair from further damage while adding body for easier styling.
It's suitable for damaged or relaxed 3b/c curls with medium porosity and density, as well as protein-sensitive or dry hair types.
After using it in the shower 8-10 minutes a few times per week over the course of about one year, users reported better curling results after highlights and improved texture overall.
This product has been praised by many customers who have experienced breakage control benefits along with softer yet more manageable hair following use of this intense two-minute keratin treatment. Despite its popularity, some may be disappointed at the different smell when they receive their order due to changes made in packaging materials used for shipping purposes only.
However, this should not affect quality nor performance according to manufacturer instructions on proper usage guidelines found online directly from Atlas Ethnic website where ApHogee products are manufactured under strict standards set forth since day one back when first introduced into the beauty market sector.
Today, it is still considered a top-rated brand name among professional hairstylists worldwide.
So, even if you're not able to pick up a bottle at a local store, you might find it helpful to utilize Amazon Prime or other major retailers to purchase it for the convenience and comfort of your own home without having to worry about the hassle of running around town trying to locate the item you want.
Strengthens Hair & Prevents Breakage & Split Ends
Adds Body For Easier Styling & Antioxidants Protect Hair From Further Damage
Suitable For Damaged Or Relaxed 3B/C Curls With Medium Porosity And Density
Protein Treatment Revitalizes Hair Even If You Have Protein Sensitive Or Dry Types Of Hair
Different Smell When Received Due To Changes In Packaging Materials Used During Shipping
Expensive Compared To Other Products On The Market
Mielle Organics Babassu Mint Conditioner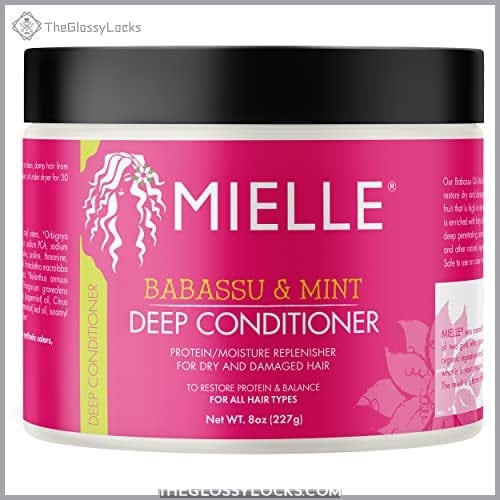 View On Amazon
Try Mielle Organics Babassu Mint Conditioner for an invigorating spa-like feeling while nourishing your hair with its nutrient-rich oils and complex amino acids. This conditioner fuses natural oils with healthy fatty acids from South American babassu oil to strengthen hair elasticity, reduce breakage, and smooth ends, frizz, and flyaways.
It is suitable for all types of curly or wavy hair, including 3A to 4C curls, as well as color-treated tresses like braids or weaves.
Mielle Organics' mission is to empower women by providing powerful products made up of gentle organic ingredients that emphasize natural beauty along with effective results – so why not try it out? With a long-lasting scent infused in their formulation, you can be sure that your scalp feels refreshed after every wash day too! Plus, its sulfate-free, paraben-free, cruelty-free, vegan formula makes this perfect for anyone looking to make the switch to more conscious haircare habits.
Fuses invigorating natural oils with healthy fatty acids from South American babassu oil
Contains nutrient-rich oils & complex amino acids from wheat & soy
Intensive blend of protein & conditioners ideal sculpting gel
Strong scent may require adjusting time according to usage needs
Relatively expensive compared to other brands
Giovanni Xtreme Protein Hair Infusion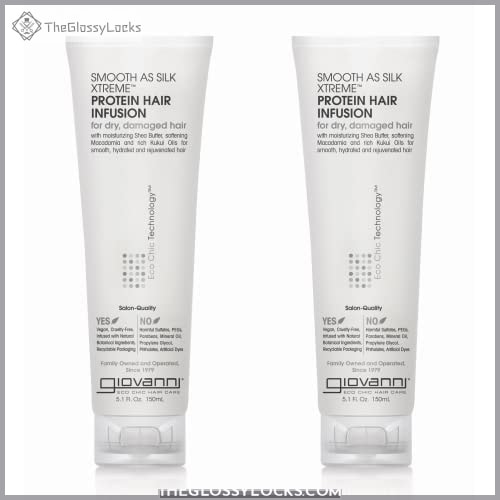 View On Amazon
Experience the ultimate in hair care with Giovanni Xtreme Protein Hair Infusion – a luxurious, salon-quality treatment that hydrates and repairs dry and damaged locks! Richly infused with shea butter, this product is formulated to deliver nourishment directly from the root to tip.
Vitamin-rich Kukui Oils help replenish moisture while smoothing out frayed ends for an overall softer feel.
Its vegan-friendly formula makes it suitable for all hair types – color treated or otherwise – without fear of fading or discoloration over time. Giovanni Xtreme Protein Hair Infusion offers superior damage relief thanks to its unique blend of natural ingredients which restore body, shine, and smoothness back into your strands.
Plus, its light texture means it won't weigh down your locks like some heavy conditioners do. Just apply evenly throughout dampened hair, then leave in as desired before rinsing off thoroughly after use.
Reduces shedding & split ends effectively
Adds body, shine & smoothness
Suitable for sensitive/long hair without leaving residue behind
Color-safe formula doesn't compromise on quality
Lightweight texture won't weigh down tresses
Some users dislike the scent
Thick consistency may be too much for some people
Misunderstanding regarding leave-in vs wash out
Aubrey GPB Conditioner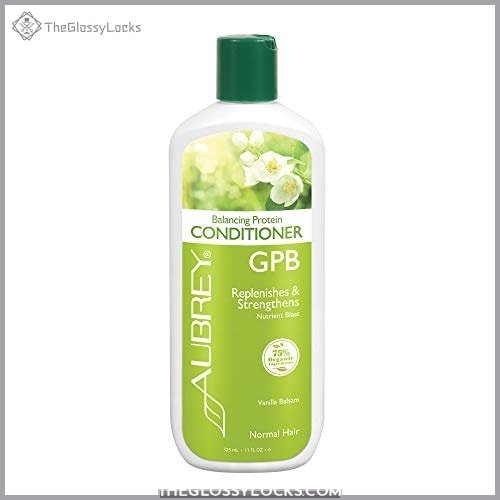 View On Amazon
Achieve salon-like results with Aubrey GPB Conditioner, a silicone-free treatment that strengthens hair fiber and replenishes moisture for smooth, frizz-free curls. Its nutrient blast of glycoprotein and milk protein repairs and fortifies weak or damaged areas.
Organic aloe vera extract, along with shea butter, provides intense nourishment to restore softness, shine, and manageability while detangling the hair without breakage. It's also vegan-friendly, making it suitable for those who are conscious about animal testing, as well as being free from harsh chemicals like parabens or phthalates, which can lead to irritations on scalp sensitive skin types.
Reviews have shown users satisfied with its ability to transform dry, straw-like locks into strong, healthy-looking curls in just one use! Long-term customers even testify they've been using this conditioner since their teenage years due to its effectiveness over decades!
Strengthens Hair Fiber
Nutrient Blast Replenishes Weak Areas
Provides Intense Nourishment & Moisture
Sticky Texture
Herbal Scent
Relatively Expensive
Paul Mitchell SuperStrong Conditioner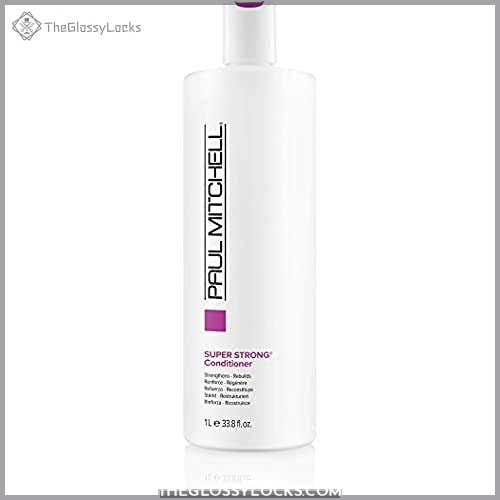 View On Amazon
Indulge in Paul Mitchell SuperStrong Conditioner to give your hair the strength, manageability, and shine it deserves. This salon-quality product is formulated with a unique Super Strong Complex that penetrates deep into the cortex for effective repair of damages caused by coloring and heat styling.
It offers sun protection against UVB damage while adding volume for healthy-looking locks. Suitable for normal hair types, customers have found this conditioner to be remarkably effective at restoring elasticity and reducing frizziness, as well as split ends, without weighing down their tresses after use.
With its pleasant scent, users also appreciate how easy it is to blend with other Paul Mitchell products, such as Extra Body Sculpting Foam when needed.
Strengthens damaged hair from within
Offers sun protection against UVB damage
Adds volume & restores elasticity
Pleasant scent & easy blending with other PM products
Not suitable for heavily dyed/chemically treated hair
Price increases on Amazon can be frustrating
May require more hydrating masks
Kinky Curly Shampoo Moisturizing Sulfate Free


View On Amazon
Cleanse your locks with Kinky Curly's Moisturizing Sulfate Free Shampoo and enjoy its natural citrusy scent, while gaining the benefit of a refreshing blend of Mandarin Orange extract and Sea Kelp for bouncy curls! This shampoo is formulated with Phytic Acid, Corn, Mandarin Orange extract, and Sea Kelp—all effective in maintaining moisture balance.
The unique combination helps reset curls when needed without stripping away too much moisture from dry hair.
Cleans effectively without excessive drying.
Natural citrusy scent that smells great all day long.
Suitable for low porosity & protein sensitive hair types; gentle enough for daily use.
Helps improve Seborrheic Dermatitis condition by cleansing oily build up; maintains balanced hydration levels in strands
Not suitable if you have mixed color damaged curly locks may be too harsh/drying
Needs consistent use before seeing results
Can strip some shine if used excessively
Garnier Fructis Curl Nourish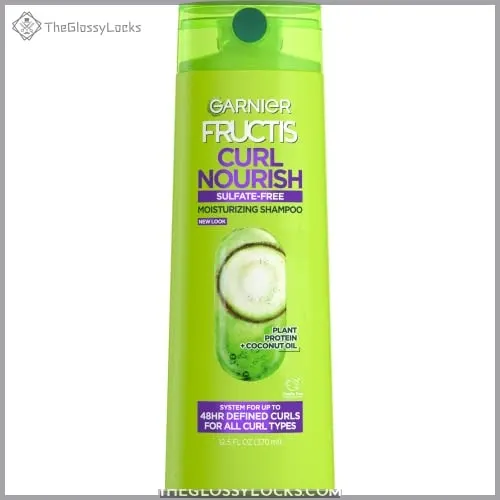 View On Amazon
Treat your tresses to Garnier Fructis Curl Nourish for nourishing, no-frizz curls. This complete system is formulated with plant protein and coconut oil that provides up to 48 hours of defined curls suitable for all curl types.
Bottles are made from 100% recycled plastic, reflecting the brand's commitment towards greener beauty.
The sulfate-free, paraben-free formulation is also cruelty-free and vegan certified, so everyone can enjoy it! The Coconut Oil & Jojoba Butter blend gently cleanses without stripping natural moisture while providing intense nourishment for healthier-looking hair with smoother and frizz-resistant curls.
With hydrating properties ideal for dry damaged hair, this shampoo could be excessive if you have very oily strands, but alternating between clarifying shampoos should do the trick!
Infused with plant protein coconut oil
Up to 48 hrs defined curls
Sulfate Free Paraben Free formula
Cruelty-free & Vegan Certified
Pleasant scent
Controls Frizz
Adds Silkiness
Not eligible for international shipping
Could be overpowering due to strong coconut presence
Excessive hydration levels for very oily hair
Neutrogena Clarifying Shampoo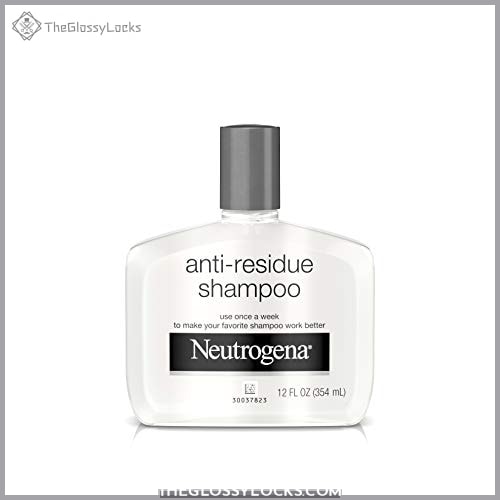 View On Amazon
Reboot your hair with Neutrogena Clarifying Shampoo for a fresh start and voluminous shine! This mild and gentle formula is designed to remove up to 90% of heavy residue from shampoos, conditioners, and styling products.
The 12-fluid ounce bottle is suitable for all hair types, including color-treated hair, making it an ideal weekly shampoo. Plus, the non-irritating formula helps boost volume, so you can enjoy healthy-looking shiny locks.
Customers love this product because it cleans effectively without stripping moisture away from their scalp or damaging their delicate strands.
Best of all, it's sulfate-free, so those with sensitive scalps due to conditions like Seborrheic Dermatitis can still use this clarifying cleanse safely without worry about irritation or further damage being done to their locks' luster.
Non-irritable formula
Suitable for all hair types, including color-treated hair
Boosts volume
Removes up to 90% of heavy residue
Pleasant fragrance
Discontinued product
Slightly on the pricier side
Davines OI Hair Milk Spray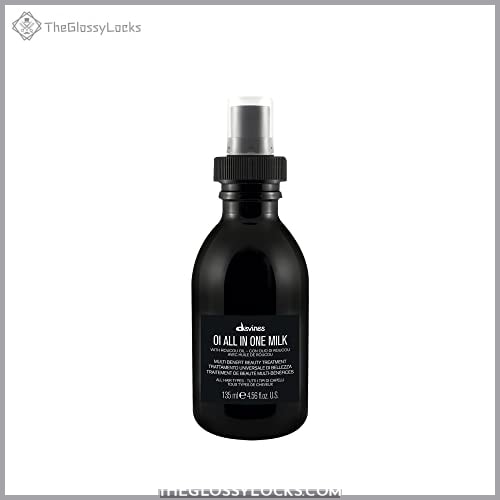 View On Amazon
Transform your dry and damaged hair into silky smooth locks with Davines OI Hair Milk Spray – it'll be the best beauty decision you ever make! This luxurious product is infused with plant protein and coconut oil to nourish curls while providing heat protection.
Its powdery musky fragrance will give you a spa-like experience, leaving your tresses looking vibrant and healthy in no time.
The lightweight spray helps repair damage, promoting a smoother appearance that lasts for up to 48 hours.
Infused with plant protein & coconut oil
Provides heat protection
Luxurious scent – powdery musky fragrance
Multi-benefit: moisturizes, adds shine, detangles & softens
Lightweight & smoothes hair
Expensive compared to other products on the market
Some users may find texture too sticky
Herbal scent might not appeal to some
Jessicurl Deep Conditioner

View On Amazon
Replenish your dry hair with Jessicurl's ultra-hydrating Deep Conditioner, featuring cocoa butter and shea butter to provide intense pampering. This sulfate-free, silicone-free, gluten-free, cruelty-free, and vegan product is suitable for color-treated hair.
Apply it to clean, wet hair and comb through with a wide-tooth comb before leaving it on for 30 minutes up to an hour or more if you want extra hydration.
With its pleasant Island Fantasy scent, this conditioner is ideal for those sensitive to fragrances as well as followers of the Curly Girl Method (CGM). Many users have reported that after regular use, their straw-like damaged tresses are transformed into silky smooth locks.
Pleasant Island Fantasy scent
Suitable for color-treated hair
Ideal for those sensitive to fragrances
Great moisturizing properties
Absence of protein in the product
Recent price increases
Understanding Low Porosity Hair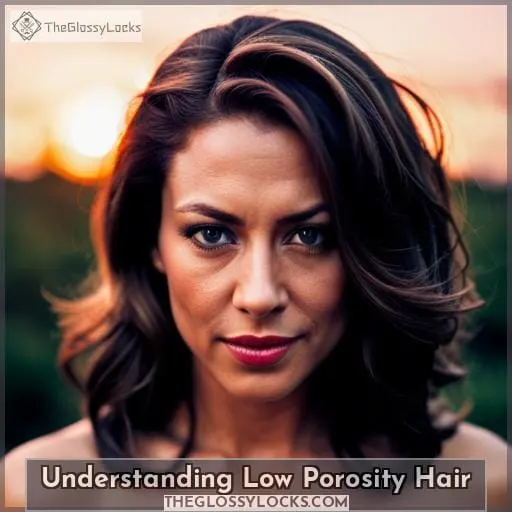 Low porosity hair is characterized by tightly closed cuticles, making it difficult to absorb moisture and products. To manage low porosity locks requires patience, as this type of hair needs extra conditioning treatments and specialized protein products for optimal health.
Low Porosity Hair Characteristics
Characterized by tightly-bound cuticles, low porosity hair requires a delicate balance of protein to avoid dryness and damage. Detangling techniques, moisture retention methods, heat styling alternatives, and product layering are all important for this type of hair.
Additionally, many common porosity myths don't apply when it comes to low porosity strands. For example, the idea that they need more or less hydration than other types of hair.
Moisturization with water-based products can help keep your locks healthy while avoiding overloading them with heavy oils or creams. These can create buildup on the surface and clog pores further down in your scalp's layers.
Tips for Taking Care of Low Porosity Hair
Discover how to effectively manage your low porosity hair with protein treatments that restore elasticity and smooth the cuticles for touchable, frizz-free curls. Prevention of protein overload is key. Choose conditioners specifically designed for low porosity hair, such as hydrolyzed keratin and wheat proteins, which will provide strength without drying out your strands.
Enhance moisture balance by using natural oils like coconut oil or argan oil once a week on wet hair before styling it with heat tools at moderate temperatures to avoid further damage. Keep in mind common misconceptions about high/low porosity when choosing products.
The Role of Protein in Low Porosity Hair Care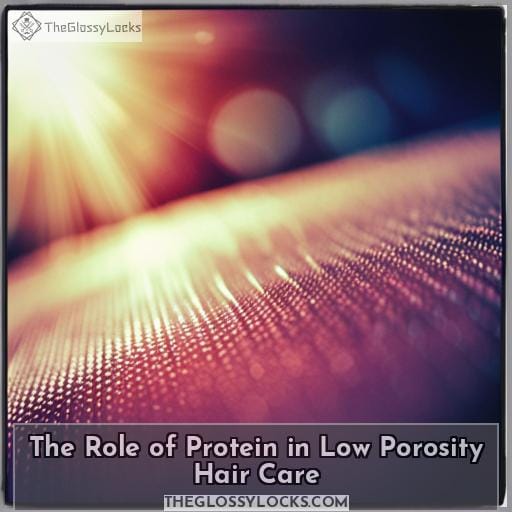 Do you have low porosity hair? If so, protein treatments may be essential for keeping your tresses healthy and strong. Understanding when to use proteins, addressing sensitivity issues, and choosing the right products can help maintain a balanced approach to low porosity hair care.
Does Low Porosity Hair Need Protein?
It is important to recognize the need for protein when managing low porosity hair, as it can assist in restoring elasticity and smoothing out cuticles. Protein benefits include improved moisture balance, enhanced shine and strength, and reduced frizziness and flyaways.
Hair structure affects how much protein is needed. A hair porosity test helps determine if protein sensitivity exists. Customized care means finding alternatives such as hydrolyzed proteins or high molecular weight proteins that are best suited for your individual needs.
With the proper use of suitable products like Bouncecurl Clarifying Shampoo or Carol's Daughter Sacred Tiare Restoring Hair Mask tailored to your specific needs, you will be able to keep your low porosity hair healthy with balanced levels of protein!
When to Use Protein Treatments for Low Porosity Hair
You can't just lather up your locks with any old protein-rich treatment; you need to make sure it's the right one for your low porosity hair. Whether you opt for a deep conditioner, leave-in, or mask, look out for natural ingredients like hydrolyzed proteins and amino acids that will strengthen without disrupting moisture balance.
Frequency of use also depends on individual hair type. Some recommend weekly treatments, while others suggest only once a month. Alternatives such as moisturizing conditioners or oils can help overcome sensitivity issues while still improving elasticity and shine.
Choose products customized to combat frizziness, dryness, and breakage according to specific needs in order to achieve optimal results!
Addressing Protein Sensitivity in Low Porosity Hair
Sometimes, too much of a good thing can be damaging – protein treatments are no exception for sensitive strands. Managing protein sensitivity in low porosity hair requires understanding the source and balancing levels to maintain a healthy texture.
Alternatives such as moisturizing conditioners, oil treatments, and styling without proteins help restore smoothness without overload. Clarifying shampoo removes buildup when needed while preventing future overloads with carefully selected products free of hydrolyzed proteins or high molecular weights that may cause damage.
Protein Treatment Options for Low Porosity Hair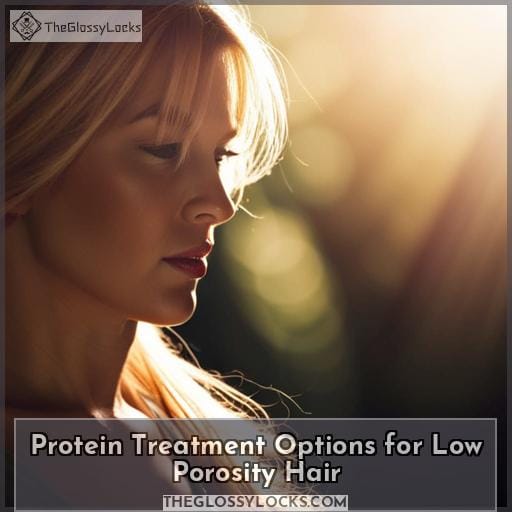 Low porosity hair requires special care, and protein treatments are an effective option. The La Aplanadora Treatment helps to rehydrate, while the BPT Wheat Germ Treatment repairs damaged strands. The Halka Baba De Caracol Treatment is a great choice for those with sensitive scalps due to its calming properties.
If you're looking for alternatives that don't include proteins, opt for moisturizing conditioners or oil-based products such as Carol's Daughter Sacred Tiare Restoring Hair Mask or Shea Moisture 100% Virgin Coconut Oil Leave-In treatment instead.
La Aplanadora Treatment
Try La Aplanadora Treatment for a dramatic improvement in your hair's texture and strength. Its nourishing complex of amino acids will help reduce breakage, boost shine, and increase manageability. The keratin-rich formula strengthens the hair shaft while smoothing the cuticle to lock in moisture without compromising protein balance.
Apply it after shampooing or as an overnight treatment for best results. This product is suitable for all curl types, from kinky curly to wavy. Its blend of natural oils also makes it ideal if you're looking to add softness and shine without excessive greasiness or residue build-up on your scalp.
With La Aplanadora Treatment, you can expect improved elasticity, fewer split ends, and flyaways – plus healthier locks overall!
BPT Wheat Germ Treatment
Experience the rejuvenating power of BPT Wheat Germ Treatment to fortify and strengthen your locks. Its unique blend of wheat germ oil, honey extract, and silk proteins helps restore hair elasticity while providing intense moisture for softness.
With regular use, you can enhance manageability and reduce frizz while promoting growth.
Wheat Germ Benefits: Rich in antioxidants that protect against environmental damage
Protein Treatment Frequency: Once a week to maintain balance between protein and moisture
Application Techniques: Massage scalp with product before rinsing off
Customizing Protein Care: Adjust as needed based on individual needs
Moisture Protein Balance: Helps keep both hydration and strength intact
Dive into this treatment's nourishing properties that help condition low porosity hair without causing buildup or dryness – it's an ideal choice for healthier-looking tresses!
Halka Baba De Caracol Treatment
For an intense protein treatment, try Halka Baba De Caracol. This sulfate-free shampoo is enriched with proteins and natural plant extracts to enhance hair moisturization and conditioning. It helps bring back flexibility in all types of hair while preventing breakage due to dryness or over-processing.
Users have reported positive results for their damaged curls after using this product regularly. The ingredients also include cocoa butter, shea butter, aloe vera juice, and sunflower oil extract. These ingredients provide nourishment without making the scalp feel oily or heavy.
Comparisons between similar products show that Halka Baba De Caracol outperforms its competitors in terms of long-lasting effects on the healthiness of your curls as well as its pleasant smell!
Alternatives to Protein Treatments for Protein Sensitive Hair
Rejuvenate your tresses with alternatives to protein treatments that won't leave you feeling stripped and dry. Gentle moisturizing techniques like deep conditioning, hair masks, and oil treatments are a great way to hydrate low porosity hair without resorting to proteins.
Nourishing ingredients like shea butter or aloe vera can help restore balance while combating damage and breakage from styling products or other environmental factors. When looking for conditioning solutions, look for products specifically formulated for curly/low porosity strands; these will provide the best results in terms of moisture retention and anti-frizz approaches.
Research is key when it comes to choosing the right hair products – read reviews carefully before making any purchases! Additionally, be sure you understand how each product should be applied correctly according to your specific needs so as not to overdo it or miss out on its benefits!
Low Porosity Hair Washing and Styling Tips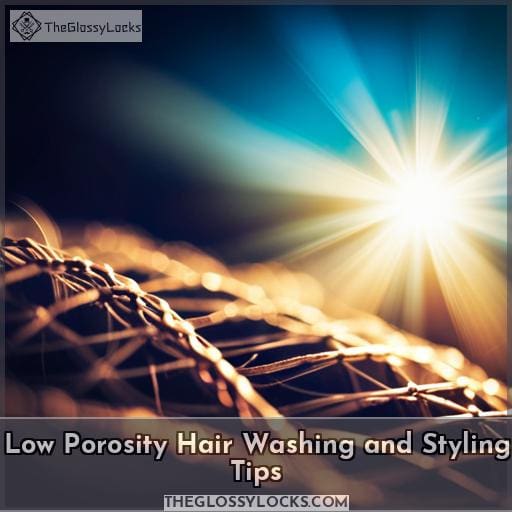 When it comes to caring for low porosity hair, washing and styling are essential steps. It is important to choose the right shampoo, conditioner, and deep conditioning treatments in order to ensure healthy-looking locks.
Understanding how best to wash your hair can help you achieve maximum moisture retention while avoiding damage from too much protein or chemical treatments.
Washing and Drying Low Porosity Hair
You can keep your low porosity hair healthy and strong by washing it using a gentle, sulfate-free shampoo and conditioner to prevent protein buildup. Diffusing techniques, moisture retention strategies like product layering with humectants, and avoiding heat styling when possible should all be incorporated into your hair routine.
To avoid product buildup on the strands of low porosity hair, choose cleansing products that are free from silicones or heavy oils. It's also important to avoid drying agents such as alcohols, as they could leave the cuticle layer dry and brittle.
Finally, consider investing in a quality blow dryer for an effective yet gentler alternative to air drying. This can help preserve natural curl definition without sacrificing hydration levels.
Choosing the Right Shampoo for Low Porosity Hair
To keep your locks lusciously moisturized and strong, choose a shampoo specifically formulated for low porosity hair that's bursting with protein-packed power!
Select products to ensure the pH balance is optimal.
Evaluate product ingredients prior to purchase – look out for lightweight formulations that won't weigh your hair down.
Clarifying methods are also essential; use shampoos free of sulfates on occasion as part of a regular grooming regimen.
For styling purposes, opt for products containing proteins like hydrolyzed keratin or silk amino acids — these will enhance manageability while helping lock in moisture and shine.
With the right shampoo selection, you'll be able to achieve healthier tresses with an improved texture!
Conditioning and Deep Conditioning Low Porosity Hair
Boosting your hair's strength and resilience starts with conditioning low porosity locks, using protein-rich products to fill in weakened areas. Deep conditioning techniques like steam treatments, routine trims, and detangling strategies can help restore hydration levels.
Protein-free alternatives like hydrating oils are an excellent way to maintain moisture balance without overloading on proteins. Heat styling tips, such as avoiding direct heat sources or reducing the temperature setting, should be considered for extra protection against damage caused by styling tools.
Lastly, incorporating a good hair care routine that includes regular moisturizing masks will leave you feeling confident that your low porosity curls are healthy!
Conclusion
Taking care of low porosity hair takes knowledge and practice. With the right protein treatments, you can achieve defined, healthy curls that last. ApHogee Keratin Reconstructor, Mielle Organics Babassu Mint Conditioner, Giovanni Xtreme Protein Hair Infusion, Aubrey GPB Conditioner, Paul Mitchell SuperStrong Conditioner, Kinky Curly Shampoo Moisturizing Sulfate Free, Garnier Fructis Curl Nourish, Neutrogena Clarifying Shampoo, Davines OI Hair Milk Spray, and Jessicurl Deep Conditioner are all great products for low porosity hair.
Understanding the characteristics of low porosity hair and the role of protein in its care is essential. With the right washing, styling, and protein treatment tips, your low porosity hair can look and feel its best.
Protein treatments are a simple and effective way to nourish and restore low porosity hair, so don't be afraid to give them a try.