This site is supported by our readers. We may earn a commission, at no cost to you, if you purchase through links.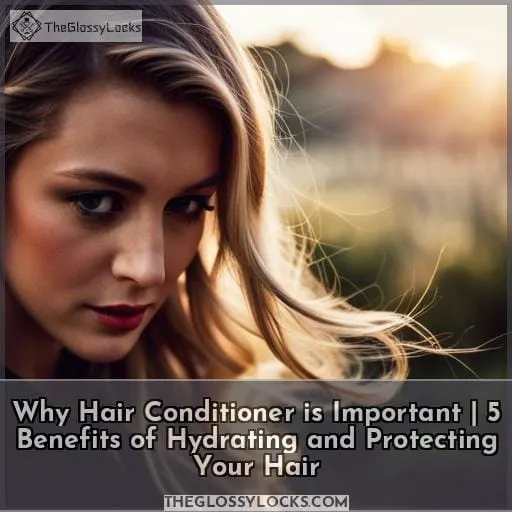 Do you know why hair conditioner is so important? It's not just a luxurious add-on to your shower routine; it actually helps protect and hydrate your hair in ways shampoo simply can't.
There are several types of conditioners available that cater to different kinds of hair, helping keep locks looking healthy and manageable for any occasion. Let's discuss the top 5 benefits of using an effective conditioning product on a regular basis.
First off, hydrating shampoos can help restore moisture lost from heat styling or environmental damage while also sealing down cuticle cells.
Conditioning products also prevent split ends by adding protein temporarily binding them together again. Furthermore, they increase elasticity to reduce breakage caused by excessive brushing or blow-drying.
Different formulas exist for color-treated tresses as well as textured curls, ensuring that every head gets its own specific match made in heaven when it comes to choosing the perfect conditioner!
Key Takeaways
Hair conditioners restore moisture and seal cuticles, preventing split ends and increasing elasticity.
Conditioners protect hair against UV rays, pollutants, heat styling, and chemical treatments, reducing frizz and adding shine and softness.
Conditioners invigorate the scalp, define curls, and improve manageability.
Deep conditioners are essential after heat/chemical treatments and provide added moisture for healthy, vibrant hair.
Top 5 Hair Conditioners for Healthier Hair
For healthier hair, it's important to choose the right conditioner. These five top-rated products – Shea Moisture Hair Mask, Moroccanoil Hydrating Mask, OUAI Leave-In Conditioner Heat Protectant, Paul Mitchell Leave-In Conditioner, and OGX Tea Tree Mint Conditioner – are all designed to nourish and protect your locks from damage while providing you with softness and shine.
1. Shea Moisture Hair Mask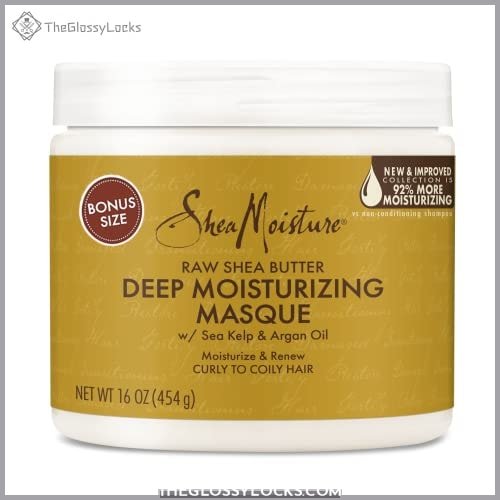 View On Amazon
You'll feel like a queen with Shea Moisture Hair Mask, as it helps restore moisture and oils to your tresses while repairing damage for unbeatable hair health. This deep moisturizing hair treatment contains certified organic shea butter along with nourishing ingredients such as Vitamin E, Argan Oil, and Sea Kelp.
All of these ingredients are ideal for transitioning from chemically processed to natural hair. Users report improved texture in their curls and reduced frizz due to the mask's hydrating properties. However, some customers have mentioned concerns about potential counterfeits or different formulas.
This leave-in conditioner spray protects your locks from heat/UV damage while smoothing split ends and eliminating static electricity at the same time! It has amino acids that strengthen strands, as well as Panthenol & Vitamin E for natural detangling action.
Once you start using this product daily, you can bid goodbye to dryness worries. The scent is pleasant too, so you won't need any additional perfumes if fragrance is important to you in choosing products.
Finally, OGX Tea Tree Mint Conditioner provides an invigorating sensation when used on dry scalp, giving much-needed relief. It contains peppermint oil and milk protein extract that work wonders on coarse strands, leaving them smooth and manageable even after several washes without further drying out over time.
Plus, its sulfate-free surfactant system ensures that no harsh chemicals compromise your precious mane's integrity.
Promotes healthy hair growth
Softens and makes hair easier to manage
Contains nourishing ingredients
Instantly transforms dull, dry, damaged hair
Protects against damaging environmental factors
Potential counterfeits or variation in formula
Mixed reviews regarding authenticity and consistency
2. Moroccanoil Hydrating Mask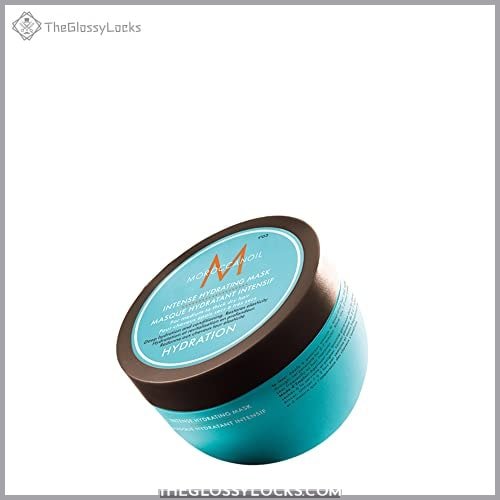 View On Amazon
Experience the hair-transforming benefits of Moroccanoil Hydrating Mask, a richly hydrating and conditioning treatment that nourishes dry locks while reducing static. This mask provides shine and softness to your hair without any cruelty involved.
Provides shine and some softness
Cruelty-free
Pleasant scent
Expensive
Not suitable for all budgets
For best results, apply generously to towel-dried hair. Comb through, then leave on for 5 to 7 minutes before rinsing thoroughly.
3. OUAI Leave Conditioner Heat Protectant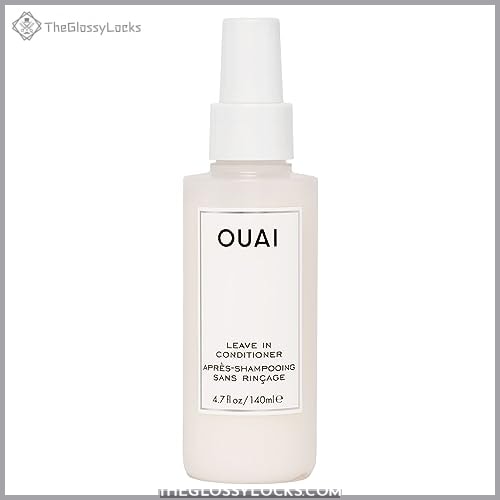 View On Amazon
You're in luck, with OUAI Leave Conditioner Heat Protectant, you can bid farewell to split ends and frizz for good! This leave-in conditioner spray is suitable for all hair types and protects from heat/UV damage while also providing gorgeous shine.
It contains amino acids to strengthen the hair, tamarind seed extract for weightless hydration, as well as Panthenol and Vitamin E that aid natural detangling. Its vegan formula works great on damaged or staticky hair – users report improved texture with less static after use.
The neutral scent of this product leaves a pleasant aroma without being overpowering; plus it doubles up as a skin moisturizer too! Moreover, its paraben-free & gluten-free composition makes sure your tresses are taken care of naturally yet effectively.
Protects from heat/UV damage
Smooths split ends & frizz
Neutral scent & provides shine
Vegan formula – paraben free & gluten free
Price may be an issue
Mixed opinions on the scent
4. Paul Mitchell Conditioner LeaveIn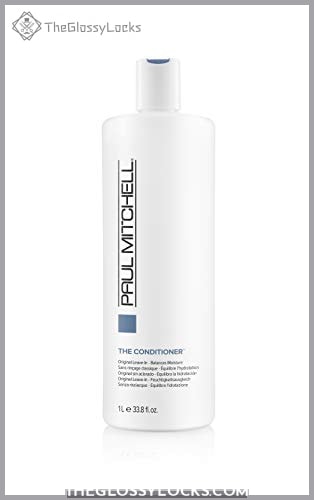 View On Amazon
Feel the difference of Paul Mitchell Conditioner Leave-In; it's vegan, color-safe formula smooths split ends and frizz while providing gorgeous shine. This lightweight conditioner is infused with Hawaiian awapuhi to provide moisture balance for all hair types.
It seals in previous products from washing routines so that each day brings new life into your style. Plus, it's paraben-free and gluten-free! If you struggle with dryness or static, then this leave-in conditioner is perfect for keeping those pesky flyaways at bay while restoring volume and body to fine tresses.
Suitable for thin hair with loose curls
Effective at taming frizz
Gentle on the scalp
Leaves hair silky smooth & soft
Provides body & volume for fine hairs
Hard to find in physical stores
Cost-effective compared to salon prices
5. OGX Tea Tree Mint Conditioner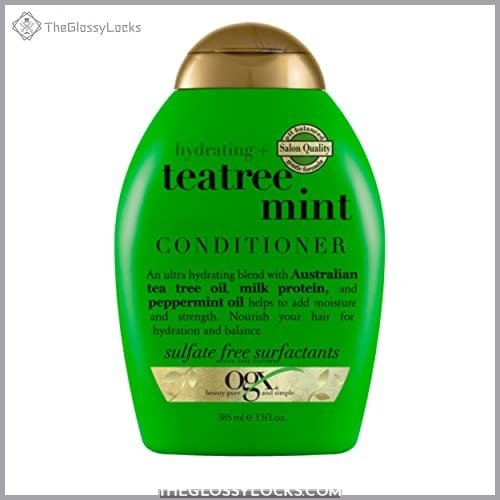 View On Amazon
Refresh your locks with OGX Tea Tree Mint Conditioner, a liquid conditioner that's like an invigorating spa day for your hair. Infused with peppermint and tea tree oil, this sulfate-free surfactant system helps to nourish and balance while providing the perfect amount of tingle.
Milk proteins strengthen hair fibers as they smooth out split ends and frizz while giving you long-lasting clean feeling results. With its irresistible scent of sweet peppermint, iced vanilla, and tea tree oil, it leaves you feeling refreshed without heavy residue or weighing down strands.
Customers have praised this product for its effective dandruff control as well as improved texture and appearance in their own natural curl pattern after use!
Hydrates and invigorates the scalp
Smoothes split ends and frizz
Provides effective dandruff control
Has an irresistible scent
Improves texture and appearance
Scent is not universally liked (similar to toothpaste)
Some users experienced worsened dandruff after use
Not suitable for all curly hair textures
A Conditioner Helps in Hydrating Your Hair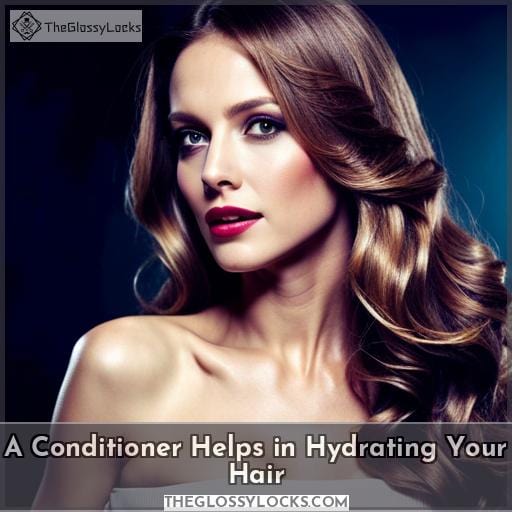 By using a conditioner that hydrates your tresses, you can help prevent dryness and ensure your hair remains healthy. Hair conditioners are designed to add moisture back into the strands after cleansing and environmental exposure.
Hydration Benefits: Conditioners provide an extra layer of hydration to the hair shaft, reducing breakage due to dryness or tangling from lack of lubrication.
Environmental Protection: Regular conditioning helps protect against harsh elements like sun rays and wind, which can cause damage over time without proper protection.
Frizz Control: Conditioning promotes smooth cuticles for improved elasticity, which in turn reduces frizz caused by static electricity or flyaways due to lack of moisture content in hair fibers.
Hair Elasticity: A quality conditioner will restore lost oils while providing essential nutrients such as vitamins B5 & E, making it easier for detangling with less stress on delicate strands. This improves overall manageability and resilience against breakage from combing or brushing too harshly when styling.
Conditioners come in a variety of different forms, ranging from leave-in treatments, rinses, deep treatment masks, co-washes, etc.
It Protects Hair From Environmental Damage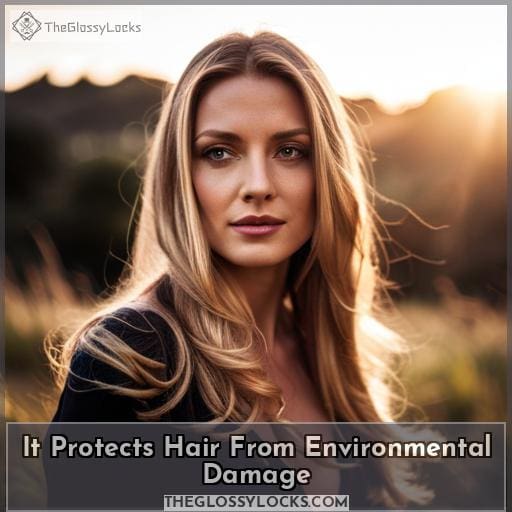 Continuing to condition your hair regularly helps protect it from environmental damage caused by sun, wind, and other elements. Hair conditioning benefits include climate defense against extreme temperatures that can dry out the hair cuticle.
Conditioners also coat the strands with protective oils, which act as a barrier to harmful UV rays and other pollutants in our air.
This shields your tresses from becoming brittle or breaking off due to exposure to these damaging forces while helping create resilience for long-term protection against future assaults on beautiful locks! Using conditioner is like putting up an umbrella every time you go outside – it'll help keep your mane looking lustrous despite any weather challenges ahead!
The right type of conditioner not only hydrates but strengthens each strand so that they can withstand tumultuous winds or scorching summer days without compromising their health. It's important, though, when choosing a product suitable for your specific needs, to make sure its ingredients are tailored specifically towards preventing environmental damage.
For example, avocado oil works wonders at shielding delicate locks from heat damage during styling sessions.
As we continue into this new era where awareness around protecting ourselves has increased exponentially, don't forget about one of the most crucial pieces – keeping up healthy haircare practices, including using appropriate products designed with environmental protection in mind! By incorporating regular use of quality conditioners suited for individualized needs into daily routines, anyone can ensure optimal health and beauty even amidst challenging climatic conditions.
It Helps in Removing Frizz and Tangles From Hair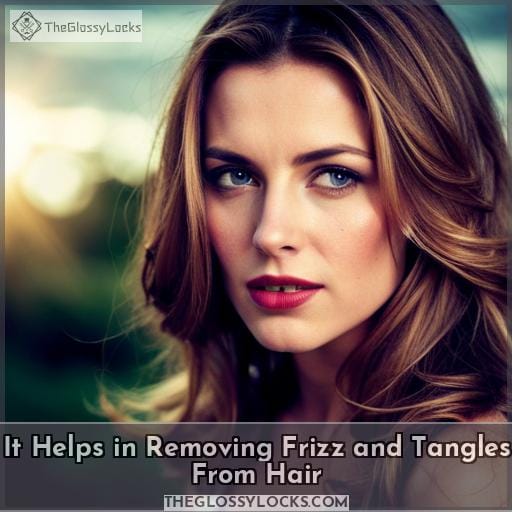 The importance of using a good quality hair conditioner cannot be overstated. Not only does it protect your hair from environmental damage, but it also helps in removing frizz and tangles while providing the necessary hydration for healthy-looking locks.
With regular use, you can enjoy all the benefits that come with having well-conditioned hair. These benefits include improved texture and shine, softer strands, reduced breakage due to combing or styling stresses on wet hair, better manageability during styling sessions, and increased elasticity, which will help prevent split ends.
When selecting a conditioner for your particular needs, look out for special features like frizz control formulas made specifically to tackle coarse or curly tresses. Also, consider detangling ingredients that are gentle enough to untangle even the most stubborn knots without causing further damage.
Additionally, moisturizing agents, including oils like almond oil, can add nourishing elements back into dry brittle locks. Strengthening proteins are also beneficial as they fill in cuticle gaps, making them more resistant against heat tools or harsh products used frequently throughout different hairstyles.
Conditioners act as an extra layer of protection between daily wear-and-tear on our manes caused by grooming habits such as brushing, combing, and blow-drying. They help us maintain healthier-looking lengths. So, if you're serious about giving yourself beautiful results when caring for your crowning glory, make sure you incorporate this essential step into your haircare routine by investing in high-quality conditioning treatments tailored towards specific types of tresses.
A Conditioner Increases Hair Elasticity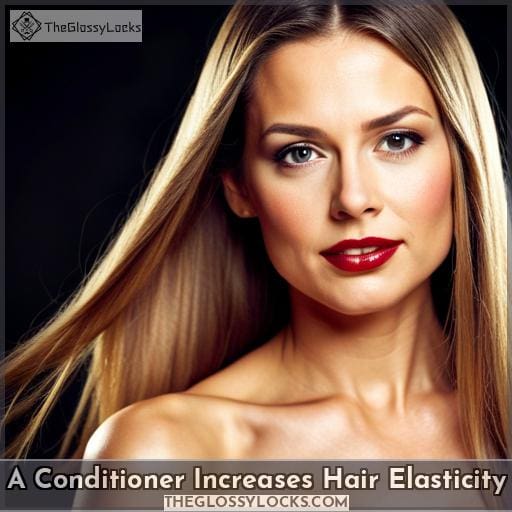 Rejuvenate your locks and give them newfound bounce by using a conditioner that increases hair elasticity. Elasticity is an important factor in healthy, vibrant-looking hair, as it determines how much the strands can stretch without breaking or becoming damaged.
By increasing elasticity, you can reduce breakage and split ends while improving the overall appearance of your mane.
Conditioners are formulated to do just this. They coat each strand with nourishing ingredients like shea butter, Vitamin E, argan oil, and sea kelp.
Not only does increased elasticity bring immediate cosmetic benefits, but it also makes long-term improvements on scalp health too. Regular conditioning will keep cuticles smooth, reducing breakage due to combing or brushing.
Unhealthy brittle strands tend to snag easily, leading to further damage down the line if not cared for properly.
If you want strong manageable tresses, then make sure you choose a good quality product specifically designed for upping elasticity, such as Paul Mitchell's Leave-In Conditioner Heat Protectant.
Different Types of Hair Conditioner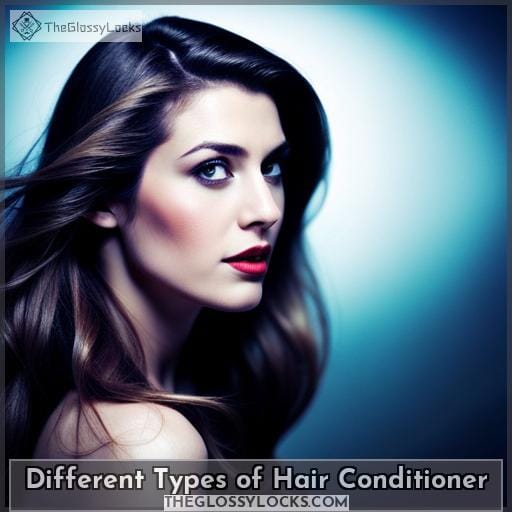 Discovering the right conditioner for your hair type and styling needs is key to achieving healthy, luscious locks. There are various types of conditioners that can help you get there: leave-in, rinse-out, and deep conditioning.
There are also formulas designed for different hair types, such as curly or thick hair. Some conditioners even contain natural ingredients like coconut oil or almond oil.
When applying conditioner, it's important to follow the product's instructions. Generally, you should focus on the ends of your hair and comb through it after shampooing. Allow the conditioner to process for 1-5 minutes before rinsing. For maximum benefit, use conditioner daily or with each shampoo.
Just be careful to avoid getting it in your eyes and make sure to apply it evenly throughout your strands.
When choosing a conditioner, consider your specific needs. If you frequently style your hair with heat, look for a conditioner that is specifically designed to protect against heat damage. Additionally, make sure to choose a conditioner that matches your unique hair type, whether it's thick or curly.
If you regularly use co-washing, be sure to clarify your hair from build-up occasionally.
Regular conditioning offers several benefits. It can improve the texture of your hair by restoring moisture levels. It can also reduce frizz and flyaways by smoothing the cuticles and increasing elasticity.
Think of it as filling gaps in your hair, much like cement fills potholes. Remember, consistency is key, so don't skip out on conditioning during your washings.
Harmful Effects of Hair Conditioner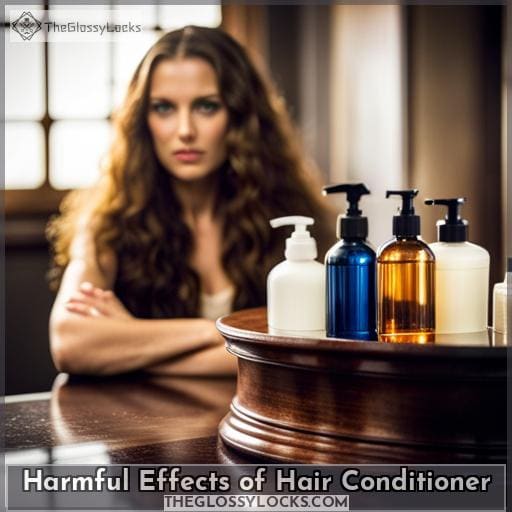 Be mindful of the potential for over-conditioning, which can weigh down your hair and make it prone to product build-up. Overusing conditioner can lead to silicone buildup on the scalp, causing an imbalance in oil production.
This results in dryness or greasiness that is difficult to manage with regular shampooing.
Additionally, over-conditioned hair may not respond as well to styling products like mousses or gels because they won't be able to penetrate into the strands due to a barrier created by too much conditioner residue left behind after rinsing out.
Moreover, some people experience allergic reactions when using certain types of haircare products containing allergens such as fragrances and dyes. This could cause skin irritation such as rashes and redness around the scalp area, leading to further damage, including possible hair loss if not treated promptly.
To avoid these harmful effects of conditioner, use treatments only when needed and focus more on natural oils like coconut, which nourishes without weighing down locks or damaging them while still providing necessary moisture levels without leaving behind any residues from silicone-based ingredients commonly found in formulas nowadays.
Lastly, always clarify regularly whether you co-wash or fully shampoo often so there's no buildup, making sure healthy-looking manes we all desire remain soft, strong, yet bouncy!
Why You Should Trust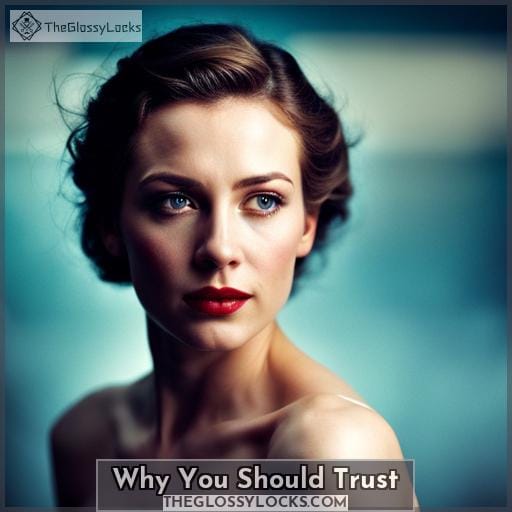 When it comes to taking care of your hair, you can trust that using a quality conditioner will help keep it healthy and looking great. Building consumer confidence in the products used for hair maintenance is essential for ensuring optimal results.
To achieve this, there are several credibility factors that should be considered when selecting a conditioner. Firstly, look at the ingredients list and make sure they're natural – such as coconut or avocado oils – so they don't damage your scalp or strip away any moisture from your hair strands.
Additionally, research reviews online to get an idea of how other people have found success with the product in question before making a purchase decision yourself.
Finally, consider what kind of trustworthiness indicators brands use within their marketing campaigns. Companies highlighting certifications like cruelty-free status provide assurance that their products meet certain standards, while others providing guarantees on performance demonstrate commitment to customer satisfaction even after money has changed hands.
Ultimately, by thoroughly researching potential options prior to buying them, consumers can have peace of mind knowing they're investing time and money into something trustworthy. This can effectively improve strength and shine without compromising natural hair care principles.
Conditioner for Color Treated Hair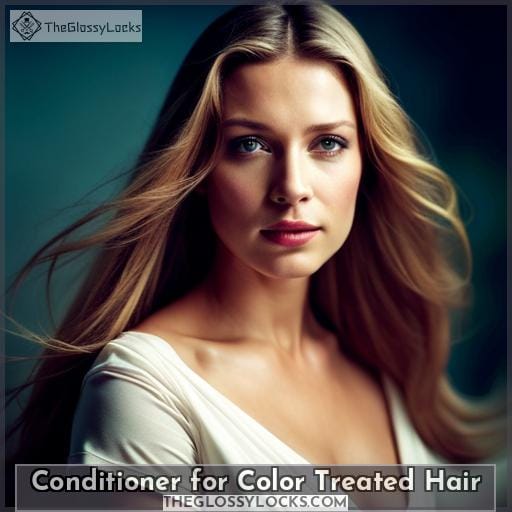 Treat your color-treated hair right with a conditioner designed specifically for it! Color-treated and dyed hair requires special care to keep vibrant hues looking their best. A quality conditioner will ensure that colored locks remain protected, maintain pigment retention, and prevent fading.
Using the right type of conditioner is essential in keeping colored tresses healthy as it provides nourishment, which helps improve texture while also protecting against environmental factors such as UV damage or extreme temperatures.
Here are some tips to help you find the perfect match:
Look for formulas specifically targeted towards color protection. This will usually be labeled on products as for colored/dyed hair or words like vibrant longevity or fade prevention.
Invest in deep conditioning treatments at least once a week. These masks can help restore moisture lost from chemical processes while providing an extra boost of dye maintenance.
Use lukewarm water when rinsing out any product. Hot water can strip away pigments faster than cold water would.
When applying shampoo/conditioners, always focus on mid-lengths & ends first before working up towards roots. This helps avoid over-drying scalp areas, which could lead to breakage. Don't forget about using leave-in treatments.
Overall, taking proper care of your newly dyed strands by investing in quality products formulated especially for color-treated hair is key in achieving beautiful results that last longer than expected.
Conditioner for Textured Hair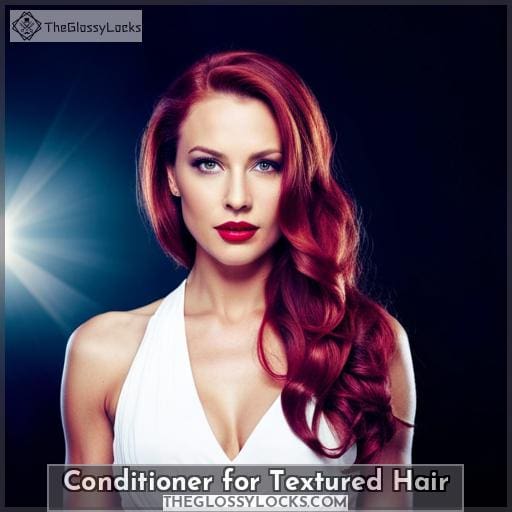 If your hair has texture, you know that finding the right conditioner is essential. Whether it's tight curls or kinky coils, textured hair requires extra TLC and the perfect product to keep it healthy and looking its best.
In this guide, we will discuss how to choose the right products for your unique needs as well as expert recommendations on proper application techniques so you can get maximum results from using conditioners specific to textured hair.
When selecting a leave-in (or rinse-out) conditioner specifically formulated for curly or coily strands, there are several factors that should be taken into consideration. These factors include ingredients used in formulation (for example, natural oils like coconut oil), pH balance levels suited for different types of textures, and moisturizing capabilities.
To make sure you get all these elements covered when picking out a product, take time to read labels before purchasing. Look at what's included in each formula and ensure they meet all requirements related to hydration, nourishment, and protection needed by your type of texture.
Additionally, avoid common mistakes like overloading with too much product, which can lead to heavy buildup on the scalp area resulting in a greasy feel rather than the desired softness after conditioning.
Hair experts agree that sticking with the same brand also helps in achieving better long-term results due to their formulas being designed together. Therefore, avoiding mix-matching between various brands is strongly recommended if possible.
The co-washing technique, which involves washing only through the use of a shampoo alternative such as diluted Apple Cider Vinegar solution instead of regular cleansing shampoos, might be another great option worth considering when dealing with dryness issues.
However, bear in mind that special attention must be paid towards clarifying routine regularly.
Taking all these tips into account will greatly improve the overall look while making the most out of the conditioning process!
Conditioner for Curly Hair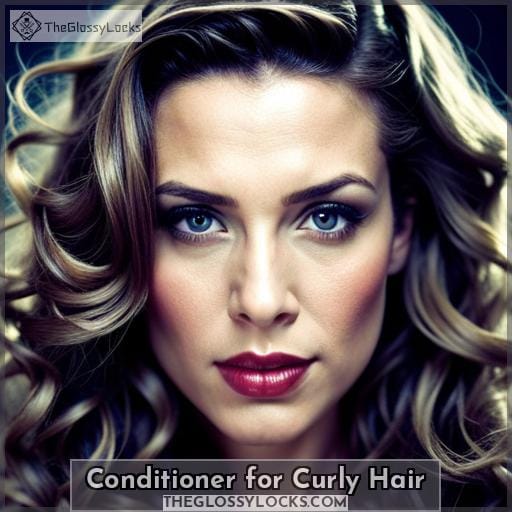 For curly hair, nourish and soften your locks with a deep conditioning mask that's formulated specifically for curls. Look for curl definition ingredients like coconut oil, aloe vera juice, shea butter, or natural oils in product selection to help restore moisture balance and protect against the side effects of heat styling.
Invest in a weekly hydration treatment like an overnight deep conditioner. It can make all the difference when it comes to achieving defined, bouncy curls without frizz. When styling your hair, use light-hold products such as mousses or gels. These won't weigh down the strands but will add texture while helping define each individual curl pattern more clearly.
To keep up with routine haircare maintenance, try using detangling tools such as wide-tooth combs or finger combing instead of brushes.
By incorporating these tips into your daily haircare regimen, you'll be sure to achieve beautiful, healthy-looking results every day!
Still Skeptical? Here Are Four Important Reasons to Make Conditioner Your Hair's Best Friend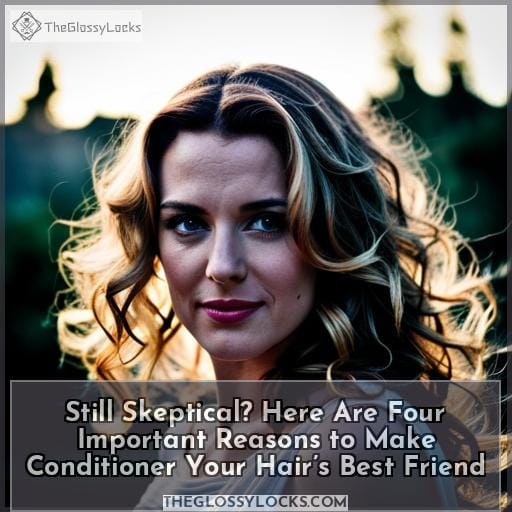 Are you still skeptical about using conditioner on your hair? If so, here are four important reasons to make it your best friend. Firstly, it will protect against damage caused by heat styling or chemical treatments.
Secondly, regular conditioning replenishes lost moisture and helps restore vital oils that can get stripped away by frequent shampooing. Thirdly, it tames frizz and flyaways while providing a smooth finish to keep locks looking healthy and glossy all day long.
Finally, conditioners provide essential nutrients for strengthening the hair cuticle, which in turn keeps strands strong and resilient over time.
Protection against damage
Combating damage, conditioning your tresses with the right formula replenishes vital oils and moisture to keep hair strong and healthy. Preventing breakage is key for those looking to maintain their locks' length as well as shine, while repairing split ends helps enhance smoothness and manageability.
Natural conditioners such as coconut or almond oil can restore elasticity. 2-in-1 shampoo/conditioner formulas are better for day-to-day clean hair care when aiming to increase volume.
Hydration and moisture restoration
You'll love how conditioners deeply hydrate and restore moisture to your locks, leaving you with glossy, vibrant tresses. Hydration benefits include increased hair elasticity and improved frizz control while maintaining natural movement.
Conditioner also helps retain moisture levels in the hair even when exposed to environmental stressors like sun or wind exposure.
Whether it's a leave-in formula or a rinse-out one, choosing the right conditioner for your needs can go a long way towards keeping those luscious curls looking their best all day long!
Taming frizz and flyaways
By using a conditioner formulated for your hair type, you can help tame flyaways and reduce frizz to get that sleek look. Choose one with moisture-locking ingredients such as natural oils like avocado or almond oil, which nourish the scalp and smooth out unruly strands.
Additionally, anti-frizz polymers provide extra shine and protection against humidity.
And if it's still not enough, try adding an occasional deep conditioning treatment in between washes for a major dose of hydration that will leave locks feeling silky soft all day long – no matter what the weather throws at them!
Conclusion
The importance of hair conditioner cannot be overlooked. It's your hair's best friend, providing protection against damage, restoring hydration and moisture, and taming frizz and flyaways. With the right hair conditioner, you can nourish and protect your hair, regardless of its type.
From Shea Moisture Hair Mask to OGX Tea Tree Mint Conditioner, there's an ideal product for everyone.