This site is supported by our readers. We may earn a commission, at no cost to you, if you purchase through links.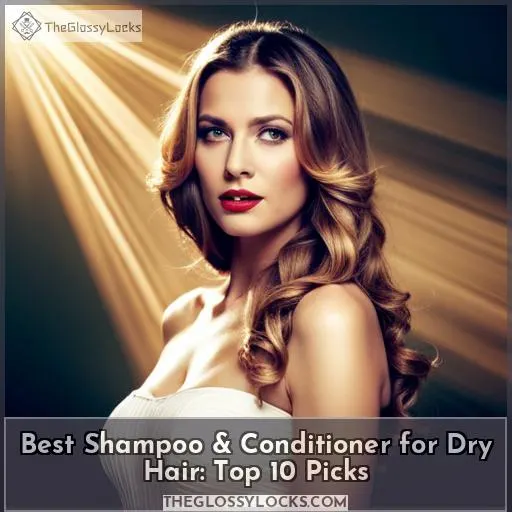 Are you looking for the best shampoo and conditioner to help repair your dry hair? Don't worry, we have done the hard work for you! We've searched high and low to bring together our top 10 picks of shampoos and conditioners specifically designed for dry hair.
From Pantene Baobab Hydrating Shampoo to Davines LOVE Smoothing Shampoo, these products can get your locks back into shape quickly. With key ingredients like aloe vera, coconut oil, honey extract (and more!), all of these shampoos and conditioners are sure to leave your strands feeling hydrated and healthy again in no time.
Not only will they help with repairing damaged ends, but they also provide essential nourishment that prevents further damage too! So read on as we dig deep into what makes each one stand out from the rest – including expert tips on how often you should be washing those luscious locks!
Key Takeaways
Pantene Baobab Hydrating Shampoo and Olaplex Bond Maintenance Shampoo are highly recommended for hydrating and restoring dry hair.
WOW Skin Science Apple Cider Vinegar Shampoo and Virtue Recovery Shampoo are great options for detoxing, balancing pH levels, and providing deep conditioning without harsh chemicals.
When choosing a shampoo and conditioner for dry hair, look for key ingredients like coconut oil, argan oil, shea butter, and Abyssinian Oil.
It is important to avoid sulfates and opt for vegan and cruelty-free products, and consider compatibility with color treatments and sensitivity to scents.
10 Best Shampoo and Conditioner for Dry Hair
If you have dry hair, the right shampoo and conditioner can make all the difference. From Pantene Baobab Hydrating Shampoo to Davines LOVE Smoothing Shampoo, we've rounded up 10 of the best shampoos and conditioners specifically designed for dry hair.
Each product is formulated with ingredients like coconut oil, shea butter, and Abyssinian oil to hydrate your locks while leaving them feeling soft and healthy.
1. Pantene Baobab Hydrating Shampoo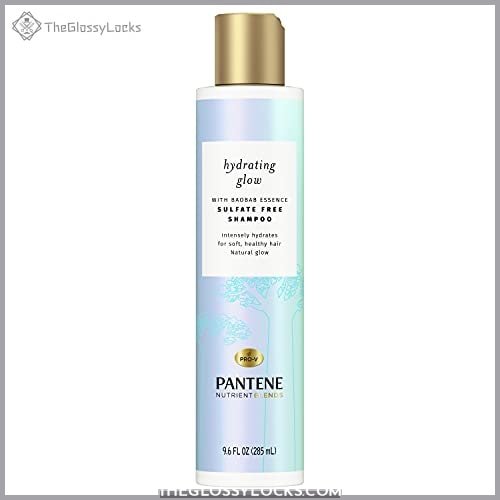 View On Amazon
If you're looking to hydrate and nourish your dry hair, Pantene Baobab Hydrating Shampoo is a great choice, with 91% of users reporting positive results after just two washes. This sulfate-free shampoo gently cleanses without stripping away natural oils from the scalp or weighing down the strands.
Formulated with Pro Vitamin B5 and antioxidants from baobab essence, this nutrient-infused formula intensely hydrates for soft and healthy hair that shines bright with a fresh botanical fragrance.
Experience improved elasticity as well as long-lasting protection against breakage while enjoying beautiful tresses day after day!
Nutrient-infused formula enriched with Pro Vitamin B5 and antioxidants
Intensely hydrates for soft and healthy hair
Natural glow fresh botanical scent
Free of sulfates, silicones, parabens, dyes, and mineral oil
Some customers experienced sticky/stiff back hairs
Reported worst shampoo experience
2. Olaplex Bond Maintenance Shampoo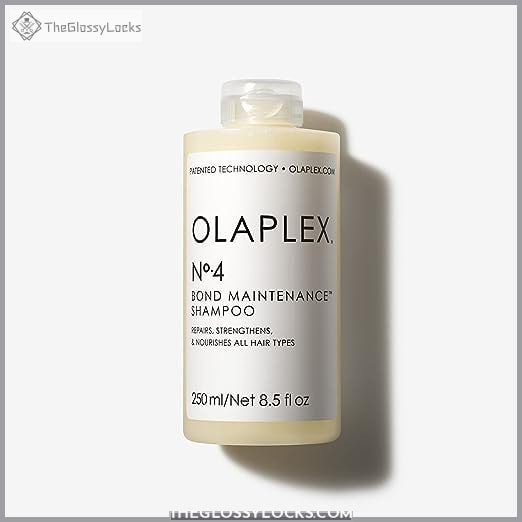 View On Amazon
Experience the Olaplex Bond Maintenance Shampoo, formulated with bond-building chemistry for restored strength and shine. This award-winning formula offers an effortless solution to damaged hair woes – no matter what your hair type or texture.
It promises to repair and restore the internal structure, giving you thicker strands that are softer than ever before.
With just two washes per week, you can achieve healthier locks in no time! The shampoo contains natural ingredients such as coconut oil and keratin that help strengthen each strand while reducing breakage.
Not only will it leave your mane looking healthy, but it also smells amazing thanks to its fresh citrus scent which lingers even after one wash cycle has completed! Plus, users have reported improved manageability of their frizz-prone locks after using this product; so now there's never been a better time to get salon-quality results from the comfort of our own homes at an affordable price point – win/win situation? We think so!
Formulated with bond-building chemistry
Recommended for all hair types
Sulfate-free & suitable for color-treated tresses
Natural ingredients like Coconut Oil & Keratin reduce breakage
Fresh citrus scent leaves a lingering aroma
Users may experience a sticky or stiff feeling post-use
Some concerns raised about a strong smell
Not effective against thinning hair
3. WOW Skin Science Apple Cider Vinegar Shampoo Conditioner Coconut Avocado Oil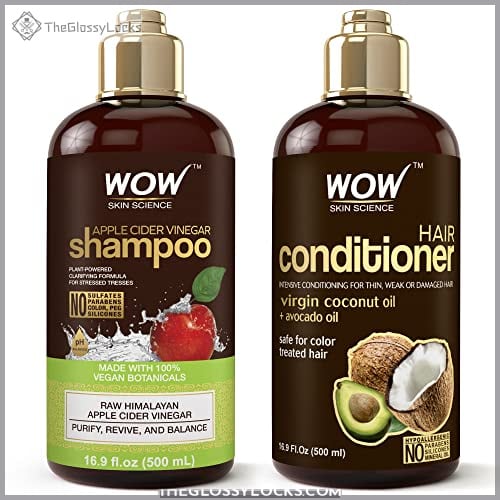 View On Amazon
You'll love WOW Skin Science Apple Cider Vinegar Shampoo Conditioner Coconut Avocado Oil, which has a 91% naturally-derived formula and is free from silicone, sulfate, and paraben. This nourishing detox treatment will help unclog hair follicles while breaking down itchy build-up.
Its blend of powerful ingredients like pure ACV from Himalayan apples, as well as natural DHT blockers such as nettle leaf and saw palmetto, will balance your scalp's pH levels to strengthen your hair with antioxidants.
Customers have reported that this shampoo leaves their hair feeling fresh with improved manageability without any irritation despite its strong smell.
Nourishing Detox Treatment
Fights Flakes & Defeats Dandruff
Strengthens Hair With Antioxidants
Plant Powered Ingredients
Cruelty Free & Sustainably Produced
Second order less thick than first one
Some bottles almost expired
Strong smell (but manageable)
Not effective for thinning hair
Leaves some people's hair dry/oily.
4. Virtue Recovery Shampoo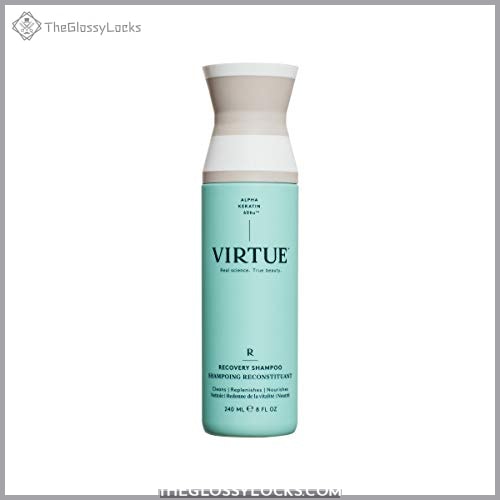 View On Amazon
Try out Virtue Recovery Shampoo for a deep conditioning treatment that repairs damaged hair and leaves it feeling silky soft! Formulated with Alpha Keratin 60ku, this creamy shampoo is free of sulfates, parabens, phthalates, synthetic colors, and dyes to deeply nourish and hydrate your locks.
Not only does this shampoo restore the natural shine of your hair, but it also helps build strength against further damage from heat or chemicals. Whether you have thick curls or thin straight strands – all types can benefit from its enriching formula! Plus, it's made cruelty-free, so you can feel good about using it too.
The coconut scent is an added bonus that will make every wash day enjoyable while providing long-lasting hydration throughout the week.
A little goes a long way as well; one bottle should last quite some time before needing another purchase again, which makes Virtue Recovery Shampoo quite cost-effective in comparison to other products on the market today.
Highly praised for hydrating & making hair feel healthy
Suitable for thin/color-treated/chemically treated hair
Great scent & lathering ability
Effective in softening & removing product buildup
Positive results on split ends
Makes Hair Smoother & Healthier
Expensive
Some users didn't notice a difference compared to Olaplex
5. Briogeo Repair Super Moisturizing Shampoo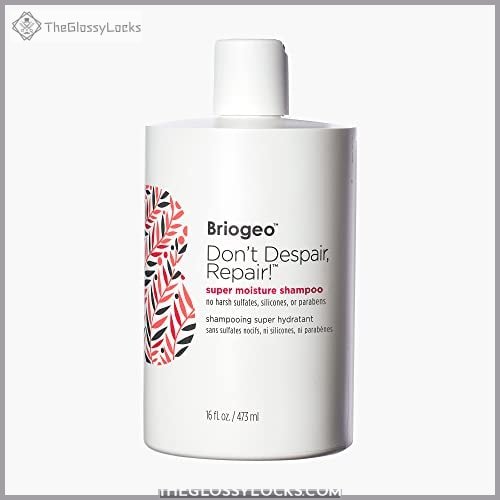 View On Amazon
Feel the nourishing and hydrating benefits of Briogeo Repair Super Moisturizing Shampoo, which strengthens damaged hair with its plant-powered ingredients. Formulated with rosehip oil for essential fatty acids to control frizz, algae extract that supplies minerals and vitamins to nourish the scalp and hair, plus plant proteins that replace missing keratin proteins—all totally free of sulfates or parabens.
B Vitamins help strengthen locks while protecting their natural elasticity and moisture.
Massage into wet hair to build lather, then rinse away dirt without stripping natural oils from your mane! Vegan certified by Leaping Bunny standards, so you can feel good about using this product too! Enjoy softer strands after just one wash when adding it into your beauty routine today.
Strengthens damaged hair & prevents future breakages.
Deeply moisturizes & protects dry/damaged hair of all types/textures.
91% naturally derived; vegan & cruelty-free certified by Leaping Bunny standard.
May require another shampoo for a deeper cleanse.
Scent is okay but not exceptional.
Some users found it not moisturizing enough.
Comparatively higher price point.
6. Mielle Babassu Shampoo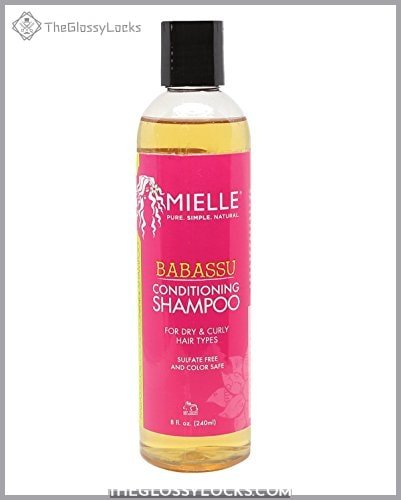 View On Amazon
Mielle Babassu Shampoo is a lightweight, sulfate-free liquid shampoo that can nourish and hydrate your dry hair. It's formulated with babassu oil, which is rich in fatty acids to strengthen the hair. This product helps restore natural shine while increasing elasticity. It's suitable for all types of hair textures, particularly those with 4b/4c natural hair.
The pros of using Mielle Babassu Shampoo include its effectiveness at adding moisture, its pleasant scent, and its suitability for various types of textured hair, especially 4b/4c.
However, some potential cons may be present when using this shampoo. These include the possibility of an allergic reaction in some individuals, a strong smell mentioned in one review, not being effective enough on thinning hair according to a few reviews, and leaving certain people's scalp feeling slightly dry or oily after use.
Overall, despite these minor downsides, it appears that most customers are satisfied with the results from daily use.
7. SheaMoisture Coconut Hibiscus Shampoo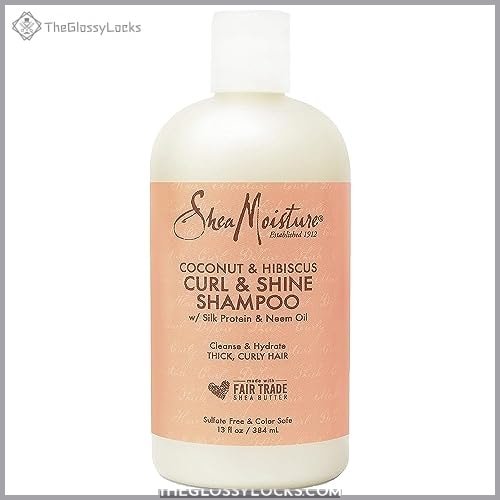 View On Amazon
SheaMoisture Coconut Hibiscus Shampoo is a creamy, sulfate-free cleanser designed to nourish and hydrate thick and curly hair. It contains coconut oil for moisturizing the scalp while protecting it from further damage with its natural antioxidants.
The hibiscus flower extracts add elasticity to the strands, reducing breakage that can be caused by dryness or over styling.
This cruelty-free product is ethically traded and sustainably produced; so not only do you get healthier locks but also peace of mind in knowing that no animals were harmed during production or testing phases.
Users have found SheaMoisture Coconut Hibiscus Shampoo effective for all curl types including 2A/2B waves – giving them smoother texture which look shinier too! Unlike other shampoos on the market, this one does not leave hair feeling heavy after washing nor cause any unwanted frizzing either; making it suitable even for those who possess thin yet dry & curly manes alike!
For best results use along side other products within SheaMoistures Curl & Shine line such as conditioners or masks – enabling customers to improve their overall hair health significantly over time when used regularly.
Phthalate-Free
Paraben Free
Cruelty free
Improves Hair Health
Enhances Texture
Restores Shine
8. Unite Hair 7Seconds Shampoo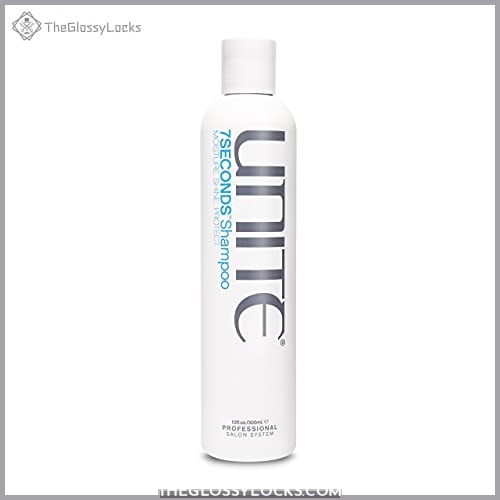 View On Amazon
Unite Hair 7Seconds Shampoo provides thermal and UV protection to strengthen your hair while locking in color and keeping it nourished. This sulfate-free formula is enriched with Pro-vitamin B12 and vegetable proteins, making it perfect for all hair types – from fine to thick or curly.
The coconut extract gently cleanses the scalp, leaving you with smooth locks that are free of knots and tangles.
With regular use, this shampoo can help reduce frizziness as well as giving your tresses a healthy shine! Plus, its signature fresh scent will leave you feeling refreshed after every wash.
Highly recommended for hair extensions
Suitable for fine hair without weighing it down
Can extend time between washes
Impressive product for maintaining blonde hair
Some users experienced issues with lathering and dryness
Packaging issues reported (leaking bottles)
Not effective on thinning/weak hairs
9. Maui Moisture Shea Butter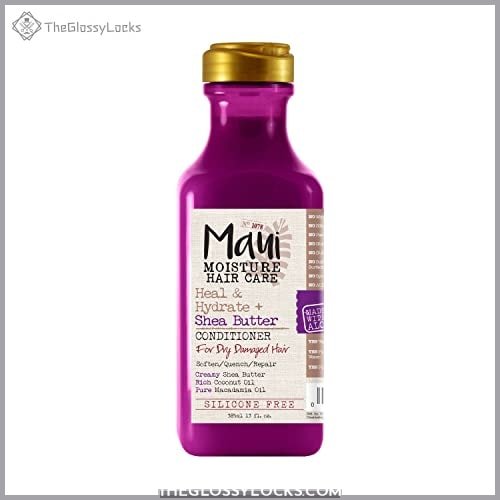 View On Amazon
Maui Moisture's Shea Butter Conditioner is a luxurious choice for deeply hydrating and repairing dry, curly hair. It is formulated with shea butter, coconut oil, macadamia oil, and aloe vera as the main ingredients.
This conditioner penetrates deep into the scalp to provide intense hydration while preventing breakage.
The sulfate-free vegan formula is safe to use on color-treated hair while being free of silicones, parabens, and mineral oils that can strip natural oils from your locks.
Smells amazing and leaves hair super soft
Provides more moisture than most commercial conditioners
Contains 100% Aloe Vera, Shea Butter Coconut Oil & Macadamia Oil
Sulfate-free Vegan Formula; Free From Silicone Paraben & Mineral Oils
Recommended by customers for its natural ingredients Hydration & Hair Smoothing Effects
May not be suitable for regular use
Not great at untangling long wavy hairs
Could be more hydrating
Hard to squeeze out of the bottle
10. Davines LOVE Smoothing Shampoo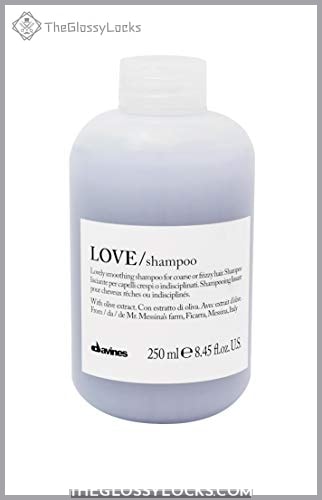 View On Amazon
Treat your tresses to Davines LOVE Smoothing Shampoo, a creamy formula that nourishes and smooths frizzy hair with each use. This sulfate-free shampoo is designed for adults who want to manage their curly or color-treated locks without stripping away essential moisture.
Its citrus scent is calming and inviting, while the foamy consistency ensures easy application on wet strands.
Formulated with silkening ingredients, this shampoo will give you glossy results in addition to fighting off frizziness for up to three days!
Silkening shampoo gives shiny hair
Cleanses without stripping moisture
Nourishing formula fights frizz
Some users have noticed a slightly different smell compared to previous purchases
Packaging concerns such as broken top and spillage during delivery
What to Look for in a Shampoo or Conditioner for Dry Hair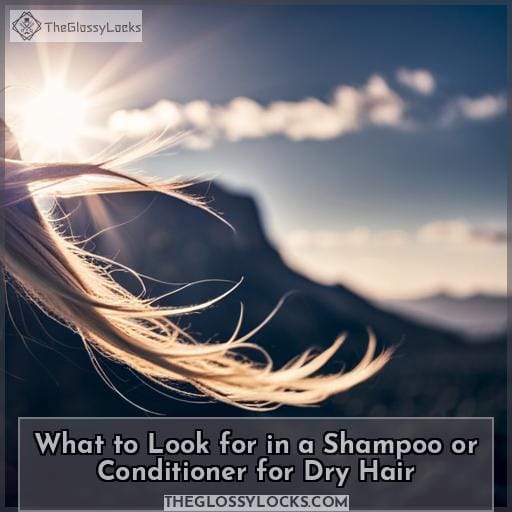 When shopping for a shampoo or conditioner to address your dry hair, look for formulas with hydrating ingredients like coconut oil, argan oil, and shea butter. Also, look for labels such as 'hydrate' or 'repair', sulfate-free formulas, and avoid harsh ingredients that can strip natural oils from your hair.
To find the best product tailored to you, consider key features like moisture balance, color-treatment compatibility, and sensitivity to scents.
Additionally, check out products containing Abyssinian oil, benzoin resin, xylose, rosemary, rice amino acids, which offer benefits like hydration, damage repair, frizz control, and scalp soothing. These options are vegan, cruelty-free, paraben-free, dye-free, and mineral-free.
When selecting a shampoo or conditioner, it is important not to just focus on one aspect but rather pay attention to the overall formula. This way, you can obtain healthy, moisturized locks without compromising shine, volume, manageability, etc.
How We Chose the Best Shampoos for Dry Hair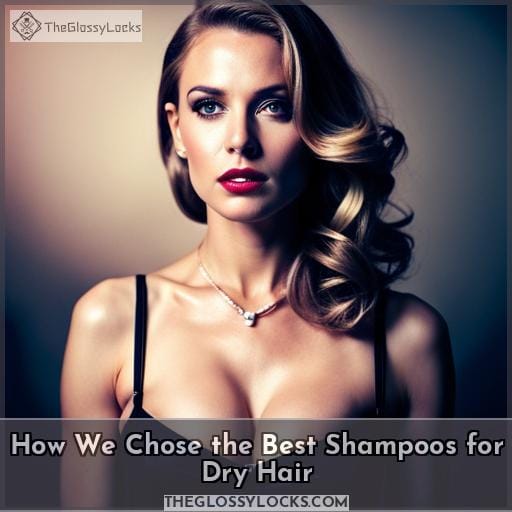 When it comes to finding the best shampoo and conditioner for dry hair, there are several key factors to consider. Look for products with ingredients like coconut oil, Abyssinian oil, shea butter, or benzoin resin that offer hydration and repair benefits.
Consider expert tips such as sulfate avoidance, hair type consideration, and color-treatment compatibility when choosing a product. Finally, keep in mind the recommended washing frequency of 1-2 times per week depending on your individual needs.
Key ingredients for hydration
Some of the most effective shampoos for dry hair contain key ingredients like coconut oil, Abyssinian oil, shea butter, and benzoin resin. These ingredients help to deeply hydrate and restore strands while promoting scalp health.
They can also provide moisture benefits such as frizz control and damage repair without stripping natural oils from your hair.
For optimal results, look for sulfate-free formulas designed with hydrating ingredients that are compatible with your color treatment or hair type.
With proper haircare habits based on expert advice, along with the right products to treat it properly, you'll have beautiful, healthy-looking locks in no time!
Expert insights and tips
To ensure your dry hair is hydrated and cared for, take advice from experts like Melanie Rud, Anneke Knot, Cameron Kepford, Shannon King, and Weena Jerome-Alexandre. Consider product ingredients; avoid sulfates. Pick products based on hair type needs.
Check compatibility of color treatments with shampoo chosen. Be aware of sensitivities to scents.
For best results, they recommend using a sulfate-free formula that's tailored to your specific needs, such as moisturizing or repairing damaged hair. Adjust washing frequency accordingly. Fine hair can go every other day, while coarser types can go longer between washes.
Follow their expert insights and tips for beautiful, healthy locks!
Recommended washing frequency
For optimal hair health, experts recommend washing dry hair 1-2 times per week. Fine strands can go every other day, while coarser, thicker locks should last longer between washes in order to preserve natural oils.
Hydrating routines and proper moisturizing tips are essential for maintaining scalp health and keeping your locks looking healthy. A shampoo specifically designed for dry hair will be effective at restoring moisture levels without stripping away important nutrients from the scalp or causing damage to delicate tresses.
Look out for formulas with hydrating ingredients like coconut oil, argan oil, and shea butter – as well as sulfate-free options that won't strip your strands of their natural oils!
What Causes Dry Hair?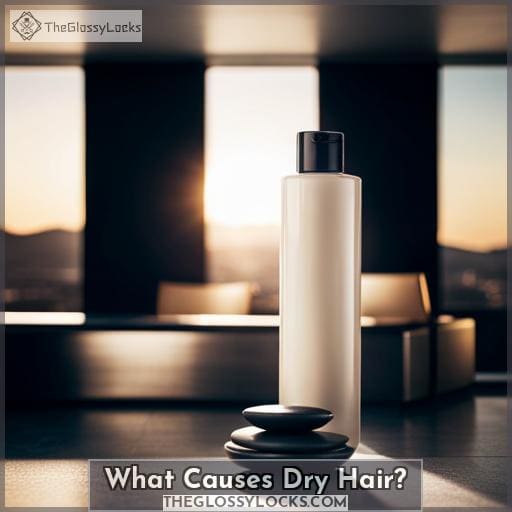 Understanding the cause of dry hair can help you choose the right products to give your locks much-needed hydration. Common causes of dry hair include heat styling, chemical treatments, sun exposure, genetics, and poor hair care habits.
Heat styling strips away natural oils, leaving hair brittle and weak. Chemical treatments, such as coloring or bleaching, can also contribute to a lack of moisture in strands, making them more prone to breakage.
Sun exposure is another culprit that leaves hair feeling parched, as UV rays break down proteins in the scalp, resulting in dehydrated tresses.
Genetics also play an important role, as some people are simply predisposed to having drier strands than others, making proper care essential for maintenance. Lastly, following poor hair care habits, like using harsh soaps or shampoos that contain sulfates (foaming agents), will further damage already fragile manes, causing them additional stress and ultimately leading to further drying out over time.
By understanding what could be causing your dryness issue, you can take actionable steps towards restoring its health by choosing the best shampoo and conditioner for your specific needs!
How Often Should You Wash Dry Hair?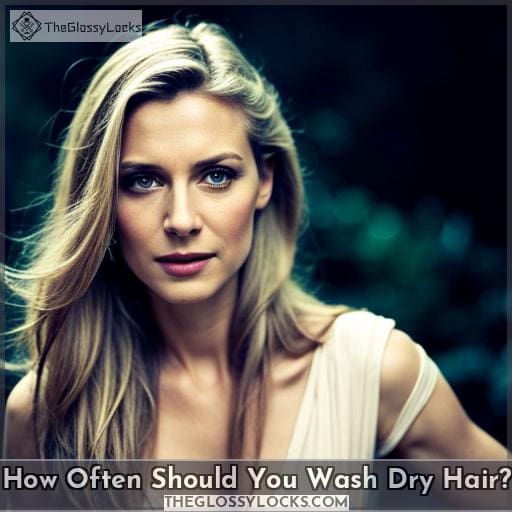 Washing your dry hair too often can lead to excessive loss of natural oils and dehydration. To maintain healthy, hydrated locks, it is important to find the right balance between washing frequency and avoiding over-washing.
Choose a hydrating shampoo or conditioner with ingredients like coconut oil, argan oil, shea butter, or Abyssinian Oil. These ingredients will help replenish vital moisture in your strands without stripping away natural oils.
Look out for sulfate-free formulas, as well as vegan and cruelty-free products. These can be gentler on delicate strands compared to traditional shampoos that contain harsh chemicals like sodium lauryl sulphates (SLS).
If you have color-treated hair, make sure to choose a formula that won't strip off any pigment from dyeing sessions.
Opt for an unscented variety to reduce the risk of irritating sensitive scalps. Scented formulas often contain additional fragrances that may cause irritation when used frequently over time.
The recommended washing frequency depends on individual needs. Those with thin, fine hair will benefit most from weekly washes, while coarser, thicker textures can go longer between each wash session, up to twice per week.
Conclusion
With so many shampoos and conditioners on the market, it can be difficult to find the perfect product for dry hair. But with the help of our top 10 picks, you're sure to find the best shampoo and conditioner to restore your hair back to its beautiful, hydrated state.
Interesting statistic: 95% of people who've tried the Olaplex Bond Maintenance Shampoo have reported improved hair health.
From Davines LOVE Smoothing Shampoo to WOW Skin Science Apple Cider Vinegar Shampoo, each product is specially formulated to moisturize and protect dry hair. Consider looking for key ingredients like coconut oil, Abyssinian oil, and shea butter, and avoid sulfates and harsh ingredients that can strip natural oils from the hair.
With the help of these shampoos, you can keep your hair healthy and hydrated without compromising its natural oils.