This site is supported by our readers. We may earn a commission, at no cost to you, if you purchase through links.
Are you curious to find out if Drunk Elephant skincare is worth the hype? Look no further! This article will explore in-depth whether this popular beauty brand lives up to its reputation. We'll dive deep into the ingredients, cost, efficacy, and customer service of each product so you can make an informed decision about what's best for your skin.
Key Takeaways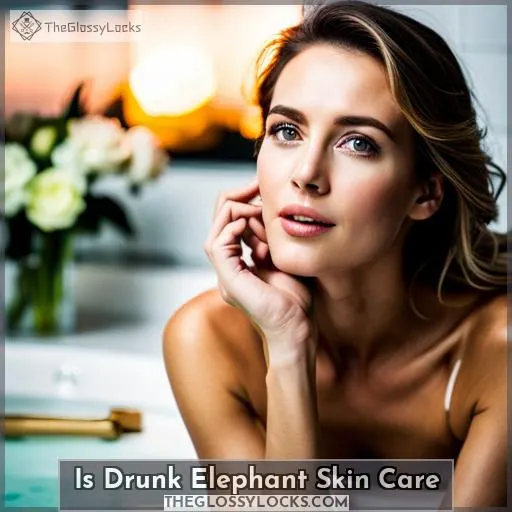 Drunk Elephant is a skincare brand that focuses on simple, effective ingredients and colorful packaging.
The brand is 100% cruelty-free and offers vegan options, but not all products are suitable for vegans.
Drunk Elephant products have received overwhelmingly positive reviews, but some may cause irritation or breakouts on sensitive skin.
While the brand's products are expensive, they feature natural ingredients and offer top-quality skincare benefits, making them potentially worth the investment.
What Makes Drunk Elephant Skincare Different?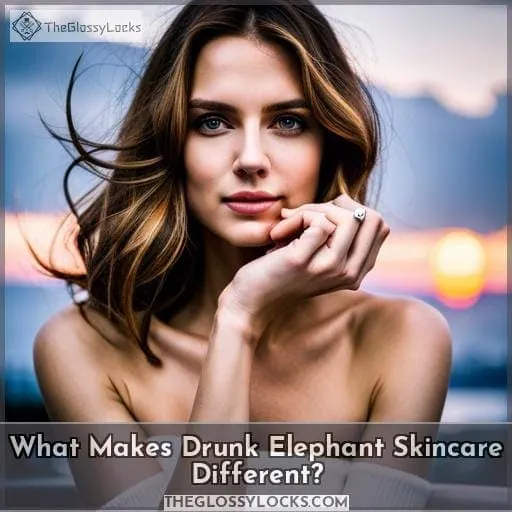 You may have heard of the buzz about this skincare line, but what makes it different from other brands? Drunk Elephant's marketing strategies set them apart. Their colorful packaging and cryptic product names are eye-catching on shelves, while their focus on simple ingredients that work is attractive to consumers.
Furthermore, they claim to be 100% cruelty-free and vegan – although not all products are suitable for vegans – making them a great choice for those looking for ethically conscious skincare. The quality of their ingredients is also top-notch; many products contain superstar actives like retinol or vitamin C as well as acids such as ferulic acid, which boosts antioxidant protection in skin cells.
But should you invest in these pricey items? Despite its high price point (a full routine costs £779), some customers feel that Drunk Elephant's social media presence detracts from the brand's integrity due to past conflicts with other brands and questionable actions taken by the company itself.
Ultimately, it will be up to each individual customer to decide if investing in this range is worth it despite its controversial Cruelty-Free Claim status.
Top Drunk Elephant Products to Try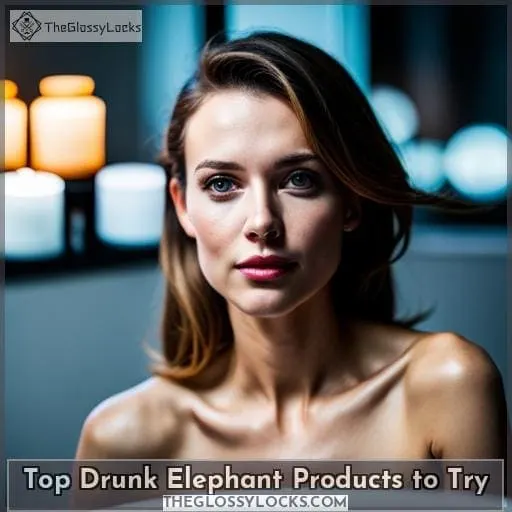 Are you looking for the best Drunk Elephant products to try? Look no further because we have rounded up some of our favorites! From Retinol Creams and Facial Oils to Moisturizers and Hydration Serums, as well as the ever-popular Babyfacial Mask, there's something here for everyone.
Retinol Cream
Try Drunk Elephant's Passioni Retinol Cream to help reduce the signs of aging and brighten your complexion. Caroline Hirons had positive results with this cream after using it for two weeks.
Toxicity Concerns – All ingredients used in the product have been rigorously tested by dermatologists.
Price Points – The cream is relatively expensive compared to other retinol creams on the market.
Ingredient Quality – The cream contains a proprietary blend of clinically-tested actives and natural oils that work together synergistically.
Customer Reviews – Generally, customers have given favourable reviews, but some experienced irritation or breakouts due to its active ingredients.
Cruelty-Free Claims – The cream is certified cruelty-free by PETA, which is a major plus as many people prefer vegan beauty products.
The Passioni Retinol Cream may not be perfect, but it could still be worth trying given its potential benefits – especially if you're looking for an effective anti-aging treatment that also respects ethical values like animal rights!
Facial Oil
Experience the transformative power of Drunk Elephant's facial oil and watch your skin glow with newfound radiance. This vegan and cruelty-free product comes in an eye-catching package design that is sure to make a statement.
The natural ingredients work together to create an effective blend for any skin type, while the price point makes it accessible for most budgets.
Enjoy all of the benefits this unique product has to offer without breaking the bank or compromising on ethics – try Drunk Elephant Facial Oil today!
Moisturizer
Indulge in the luxuriousness of Drunk Elephant's moisturizer, a silky cream that wraps your skin like an embrace of velvet. The product claims to be suitable for all skin types and comes at a price point that may not fit into everyone's budget.
Its ingredients list includes beneficial acids such as ferulic acid and vitamin E, but there are ethical concerns surrounding its formulation due to its potential for causing irritation or breakouts on sensitive skin.
It's important to note, though, that while some customers have had negative experiences with this particular product line from Drunk Elephant, others swear by it due to their positive results when using it regularly – proving just how individualized skincare can be!
Hydration Serum
If you're looking for a product to give your skin an extra boost of hydration, Drunk Elephant's Hydration Serum is worth considering. This serum contains vegan alternatives to traditional hydrating ingredients like hyaluronic acid and glycerin.
It also includes vitamin B5 and pineapple ceramide to help improve overall skin health.
While the ingredient quality is high, the serum's pricey nature may be a turn-off for some consumers. However, it should be noted that all Drunk Elephant products are cruelty-free thanks to their strict policy against animal testing.
Additionally, this serum does not contain retinol, which can cause irritation for some individuals with sensitive skin types.
| Pros | Cons |
| --- | --- |
| Vegan Alternatives | Expensive Price Point |
| Cruelty-Free Policy | No Retinol Benefits |
High Quality Ingredients
Babyfacial Mask
Treat yourself to the transformative power of Drunk Elephant's Babyfacial Mask. This gentle yet effective exfoliating mask can give you soft and smooth skin in as little as 20 minutes.
This luxurious mask contains powerful ingredients like retinol for anti-aging benefits and ferulic acid for antioxidant protection.
Why wait any longer? Get ready to experience a clearer, more radiant complexion with this amazing product from Drunk Elephant today!
What Drunk Elephant Products to Skip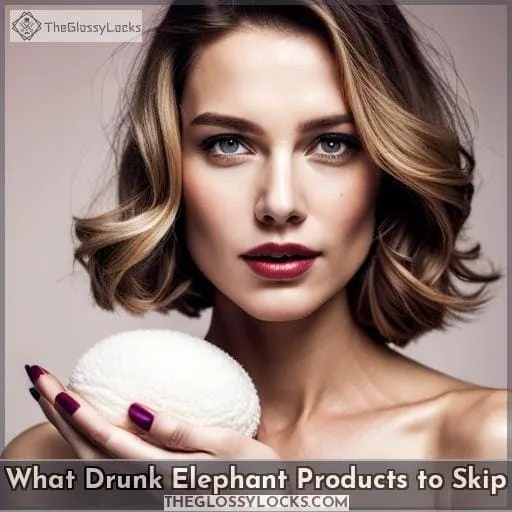 If you are considering incorporating Drunk Elephant products into your skincare routine, there are a few items that should be skipped. These include cleansers, as they may contain harsh ingredients that can dry out the skin; SPF protection, since it is not formulated to provide adequate coverage against UVA and UVB rays; lip balm for its waxy texture and lack of effective hydration on lips; and finally, day serums which tend to be too heavy for most people's skin type.
Cleansers
Cleansers
Cleanse your skin with the power of Drunk Elephant's cleansers for a refreshed and glowing complexion. Their plant-based ingredients are free from animal testing, but still deliver powerful results. From creams to gels, their products offer something for everyone at various price points.
Not just that – these formulas come backed by patents which guarantee effectiveness! With all this in mind, it's no wonder why so many have taken to using Drunk Elephant's cleansers as part of their skincare routine.
No matter what you're looking for out of your cleansing ritual, trust that you'll be getting quality when choosing one of these excellent options from Drunk Elephant.
SPF
Shield your skin from the sun's damaging rays with Drunk Elephant's selection of SPF products. Their ingredients are top quality, and their prices compare favorably to other brands on the market. Customers have had great success using these products, and they can trust in the brand's integrity.
Sun protection has never been easier or safer than with Drunk Elephant's range of sunscreens! There is something for everyone looking to bravely face the day under the sun's dangerous glare while staying safe from UVA/UVB radiation damage.
From lightweight formulas for a refreshing feel without feeling greasy, you can make an informed decision about your skincare routine with reviews like this.
With Drunk Elephant's SPF products, you can confidently enjoy the sun without worrying about damaging your skin.
Lip Balm
Complete your daily skincare routine with Drunk Elephant's nourishing lip balm that helps keep lips hydrated and protected. It contains natural ingredients like beeswax, cocoa butter, shea butter, and sunflower seed oil to provide moisture without an unpleasant waxy feel.
The blend of antioxidants provides anti-aging benefits while protecting the delicate skin on the lips from environmental damage.
For those concerned about safety or allergies due to ingredients used in traditional lip balms, rest assured that all the ingredients used by Drunk Elephant are non-toxic and cruelty-free! There are also alternatives available if you don't want to invest in a full-size product, such as tinted chapsticks or overnight treatments for extra hydration.
However, regardless of which option you choose, make sure it is suitable for your skin type before using it regularly so that risks can be minimized and maximum benefit reaped from its usage!
Day Serum
Nourish your skin with Drunk Elephant's Day Serum, a powerful blend of antioxidants and vitamins that will help protect against environmental damage. It's free from animal testing and suitable for all skin types, but it does come at a higher price point than other serums on the market.
Despite this, the quality of the product is undeniable. Its carefully curated ingredient list reduces the risk of irritation while delivering maximum nourishment to the face.
Is Drunk Elephant Skincare Effective?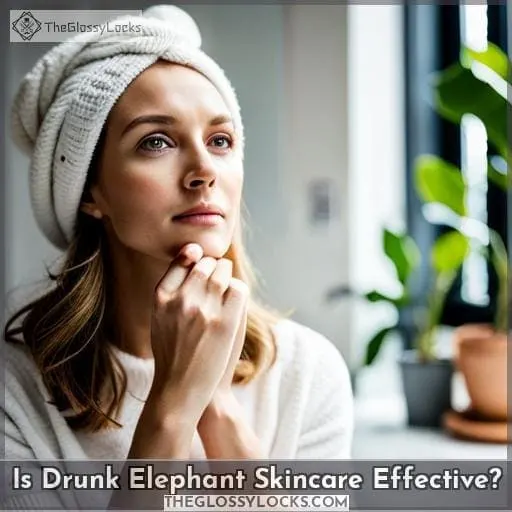 Experience the luxurious power of Drunk Elephant products – they make your skin feel like it's been wrapped in a cloud and transformed! With their organic claims, price point, product claims, and commitment to zero animal testing, consumers are drawn to the brand.
Organic Claims – While not 100% vegan or all-natural ingredients used in every product, many of Drunk Elephant's skincare products have beneficial active ingredients that can help improve skin health such as retinol and acids.
Price Point – Many consider some of these items too expensive for what you get with each purchase, but customers should keep an eye out for sales when available.
Product Claims – The brand makes bold promises about their effectiveness, but users need to be aware that individual results may vary depending on one's unique biology or environmental factors.
Ultimately, though, whether you find Drunk Elephant effective depends entirely upon your personal experience with the products themselves, so give them a try yourself!
Concerns About Drunk Elephant's Ethics and Customer Service
You may have heard concerns about Drunk Elephant's ethics and customer service, so it's important to research before making a purchase. Some of the issues include false advertising, animal testing, price gouging, social media missteps, and patent infringement.
False advertising can come in many forms, from exaggerating product claims to not being transparent about ingredients used or their source. Animal testing was done by Shiseido prior to purchasing the brand – something that does not align with DE's cruelty-free ethos – though they claim no tests are currently conducted on animals for any of their products or ingredients.
Price gouging is another problem people have with Drunk Elephant, as some believe they are charging too much for what you get when compared with competitors' products containing similar active ingredients but at lower cost per ounce/ml amounts.
Social media missteps include censoring negative reviews and attacking customers who had negative experiences while defending themselves against other brands infringing upon patents like L'Oreal did on C+E Ferulic Acid & Vitamin E Serum several years ago.
When looking into buying this skincare line, one should consider these factors along with its effectiveness in order to make an informed decision.
Frequently Asked Questions (FAQs)
Does Drunk Elephant test on animals?
No, Drunk Elephant does not test on animals. However, it is important to note that the parent company of Drunk Elephant does have a history of animal testing. This makes many consumers wary when considering whether or not to purchase from the brand.
By using allegorical language and emphasizing liberation and understanding, we can work towards making sure no more innocent creatures are harmed in the name of beauty products.
What is the difference between the old and new Drunk Elephant products?
Discover the difference between Drunk Elephant's old and new products! Their recent items feature more active ingredients, such as retinol and ferulic acid. Plus, the brand has shifted to a more ethical stance with cruelty-free formulations.
How long can I expect results from using Drunk Elephant products?
Experiencing results from Drunk Elephant products can be expected, depending on your skin type and individual needs. Results vary, but with regular use, you should start to see improvement within a few weeks! Embrace this journey towards beautiful skin with an old-school mindset that emphasizes patience and consistency for lasting success.
Does Drunk Elephant use natural ingredients?
Yes, Drunk Elephant uses natural ingredients. Their products are formulated with non-toxic plant extracts and oils that provide nourishment to the skin. With a focus on superstar ingredients like retinol and vitamin C, they offer an effective yet gentle skincare routine perfect for any skin type.
Does Drunk Elephant have any environmental initiatives?
Drunk Elephant has made efforts to be more environmentally conscious, such as using eco-friendly packaging and donating a portion of profits towards conservation initiatives. It's like planting a seed for sustainability; every little bit helps to nourish the planet.
Conclusion
In conclusion, Drunk Elephant skincare is a luxurious line of products that can be beneficial for some skin types. However, the brand has had its share of ethical issues with customer service and social media disputes.
Additionally, the products are expensive, so it's important to weigh the pros and cons before investing in a full routine. While it may seem like a gamble, you could say it's the elephant in the room that these products could be worth the hype.