This site is supported by our readers. We may earn a commission, at no cost to you, if you purchase through links.
Many people choose dreadlocks as their hairstyle, but they can be challenging to manage and keep up with. Locking gel is a crucial component of the care and maintenance of dreadlocks since it keeps the locks stable and in place.
Numerous locking gels are available, but it's crucial to pick one that contains natural elements to preserve and nourish the hair.
This blog post will cover the advantages of using locking gel for dreads, things to keep in mind when selecting a locking gel, and the best locking gels for dreads.
We'll also examine some locking gels' benefits and drawbacks and the natural components you should look for when selecting a locking gel.
By the end of this article, you will have all the knowledge necessary to choose the best locking gel for your dreads.
How to Choose the Best Dread Locking Gel?
Getting the best products for starter locs can become slightly problematic as it is now difficult to find hair products that focus solely on getting dreadlocks.
That's why we have some guiding principles here, which can lead you to buy the right product you deserve!
Natural Ingredients to Look For
It's crucial to look for natural elements that will hydrate and safeguard the hair when selecting a locking gel for dreads. When selecting a locking gel, these are some of the best natural substances to look for:
Wild Bee Honey: A natural humectant, wild bee honey helps the hair retain moisture, preventing breakage and dryness. Also, it aids in maintaining a healthy, irritation-free scalp.
Hydrolyzed Wheat Protein: This ingredient, which is high in amino acids, supports healthy hair growth by strengthening and nourishing the hair shafts.
Argan Oil: This oil, which is high in fatty acids, reduces frizz and flyaways while also nourishing and protecting the hair.
Shea Butter: This nutritious butter is packed with fatty acids and nourishing vitamins that support the hydration and health of the hair. Moreover, it aids in defending the hair against environmental harm.
Aloe vera: Aloe vera is a natural moisturizer and aids in maintaining the hydration of the scalp and hair. Additionally, it helps to lessen dandruff and calm an itchy scalp.
Coconut Oil: The vitamins and fatty acids found in the coconut oil help nourish and protect the hair. Moreover, it keeps the hair moisturized and lessens split ends.
You can choose a locking gel that will nurture and protect your dreads while keeping them safe and in place by checking for these natural elements.
Holding power
While we do care about the health outlook, the main reason you might want to use the gel loc lock in the first place is because of it. The locking gels ensure that your dreadlocks stay in place. So if you're going to design and keep your hair the way you want, you must have strong gel.
Try to make sure that the gel loc lock you buy is not something soft or limp and it is solid and durable in terms of hold. It will offer edge management and keep unruly hair in one spot.
Easy to wash out
Many hair products leave residue or a product buildup in your head. This is especially true for dreadlocks products.
If there is product residue on your head, your hair follicles will become blocked and cause rashes and irritation on your scalp.
Therefore, looking for a product that is easy to wash is essential.
Avoid Chemicals
Avoid destructive scalp chemicals such as parabens, sulfates, petroleum, and mineral oils. Having them in the formulation can be detrimental to your hair. That is why you need to make sure that your gel loc lock is free from these chemicals.
The Best Locking Gel for Dreads of 2023
Our guide includes ten good locking gels for dreads that you can count as options. We'll go over the pros and cons of each product so that you can choose one based on your preferences.
1. Jamaican Mango and Lime Locking Hair Gel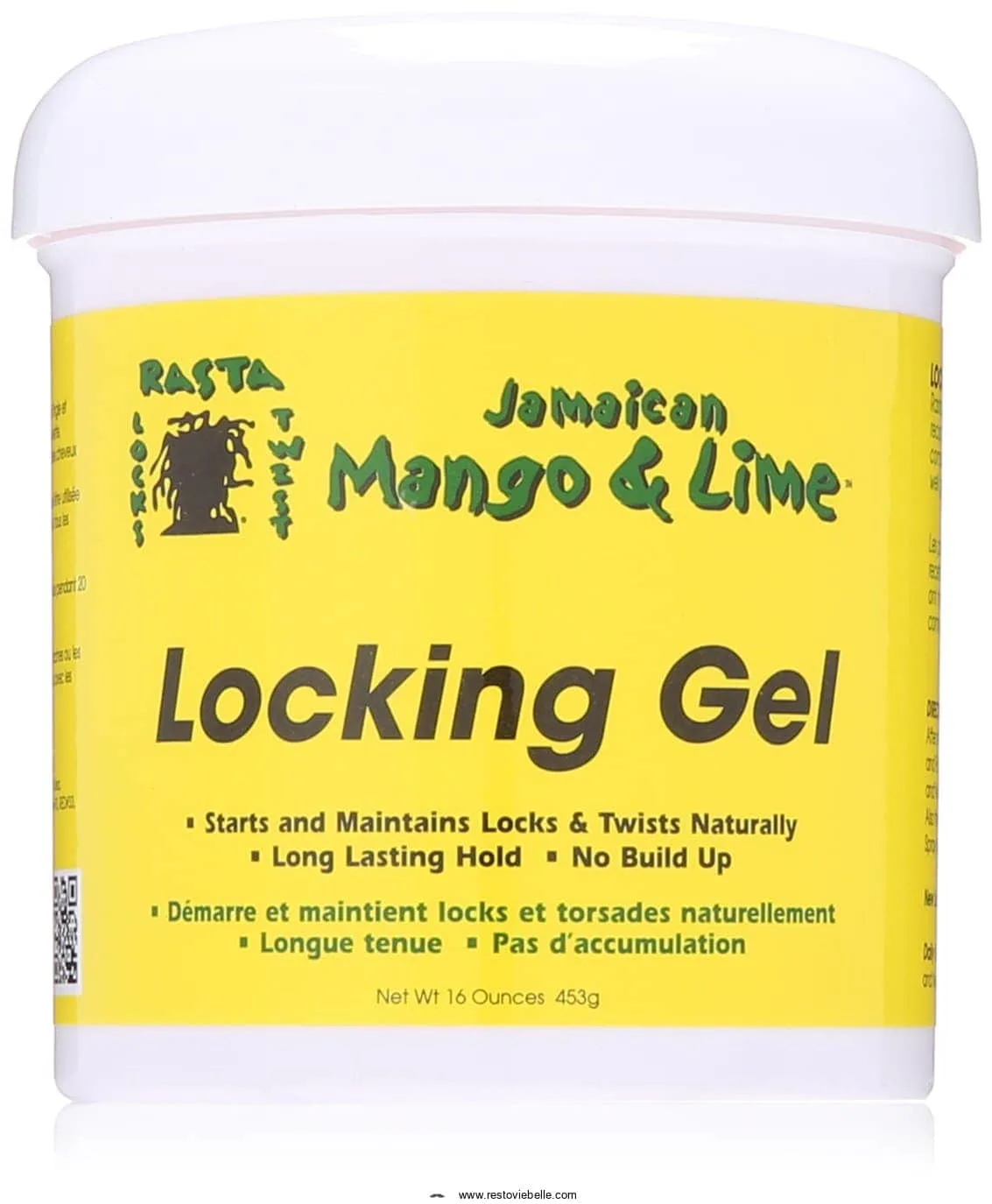 View On Amazon
The first on our list is the Jamaican Mango and lime locking gel for dreads. If you were looking for the best gel for dreadlocks, this specially designed item is something that you can consider as one of your first choices. It has a natural hold and twist that gives you the manageability you want in your dread.
Sometimes the use of hair products such as locking gels, oils, or hair wax can lead to heavy build-up, causing severe hair damage to the health of your scalp. But with this particular loc gel for dreads, you get the hold without the pesky residue, leaving your locs clean and clear in place.
Another advantage is the flake-free formula. You get the hold you want without the irritating flakes and expect this loc gel for dreads to work on your hair for quite some time.
Despite the positives, it can sometimes develop small leftovers for some.

Dreadlock Specialized Gel
Leaves no residue
Flacquer-free formula
Long-lasting
Some can use
Leftovers. to experience
2. Lion Locs Gel Cream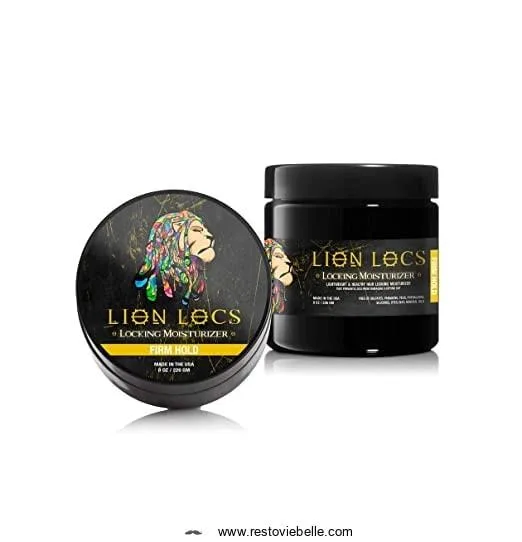 View On Amazon
Lion Locs contains several natural ingredients such as aloe vera leaf to strengthen your hair and prevent an itchy scalp, ylang-ylang oil from stimulating sebum production, and argan oil to moisturize your hair. Such a diverse range of great stuff.
It's for all stages of loco formation, whether you're looking to re-twist your dreads or start your locs journey.
Plus, Lion Locs is for all hair types, even if you have extra curly or straight hair. So if you've heard that some hair textures don't create dreadlocks, you now know that anyone can grow locks.
This locking gel for dreads leaves no residue, a problem most queens & kings with dreadlocks experience when using locking gels.

No buildup
Silicone and sulfate-free
Contains natural oils
Lightweight cream
Firm fixation without a stray hair
Pricey for such a small amount
3. Soft Sheen Carson Let's Jam! Condition & Shine Gel Loc Lock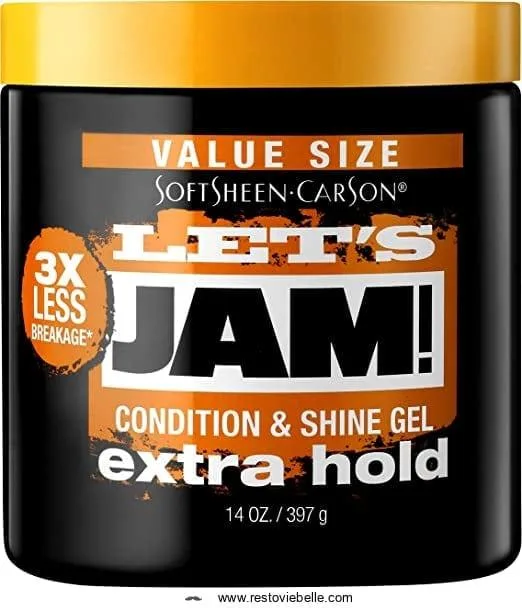 View On Amazon
The Let's Jam! Condition & Shine gel loc lock by Soft Sheen Carson uses micro-emulsion technology that conditions your hair and adds shine. It reduces hair breakage and leaves no residue because it contains no wax or alcohol. The hair gel's extra hold formula is perfect for braiding, styling, re-twisting, smoothing edges, and taming frizz and hot flashes. Unlike regular hair creams or hair wax, this loc gel for dreads does not cause flaking.
Smells good
Lightweight
Unisex
Provides good grip
Long lasting
Sticky
Can melt in the sun.
4. Ors Lock and Twist Gel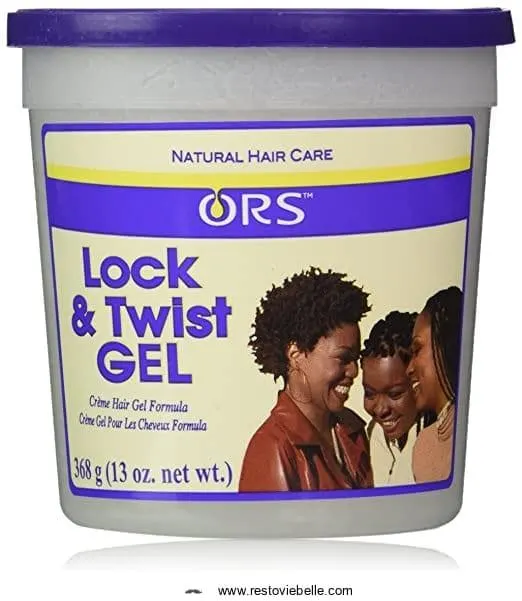 View On Amazon
The ORS lock and twist gel is an excellent product for beginners looking forward to locking or re-twisting their hair.
It has a white jelly-like consistency and a very mild fragrance. The locking gel for dreads quickly absorbs into your hair for a good result. What I like the most is that it is non-sticky.
So you don't have to worry about your hair looking greasy. You don't have to worry about this product left behind and building up or flaking.
A little goes a long way for this locking gel for dreads, so you only need to take a minimal amount of product while applying it to your hair.
This gel loc lock is also very suitable for people who want to transfer their haircut or people with short, natural hair. This is also a readily available and very affordable product.

Suitable for beginners 9TP3Fragrance-free
Absorbs well
A little goes a long way
Affordable
Contains natural ingredients 9TP3Reduces flakes
5. Bronner Brothers Tropical Roots Firm Locking Gel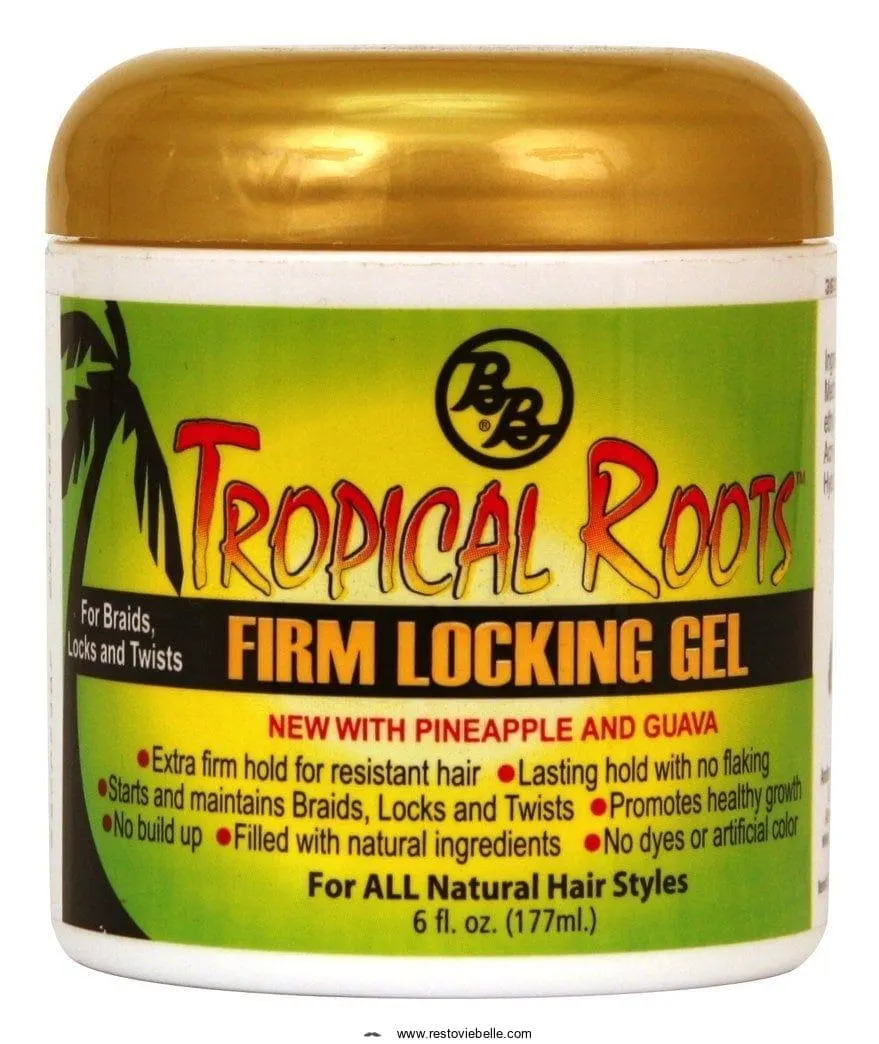 View On Amazon
In 4th place, we talk about the Tropical roots firm locking gel for dreads from Bronner Brothers. Let's see how this formula can help you get the locs you want.
If you want locs, you need sturdy items that hold things in place, and this is exactly what this gel offers you. It gives you a firm hold so that your hair is where you want it.
Xanthan gum and also sucrose are utilized to maintain the hair in position, while hemp seed, vitamin E, and also lime oils, peach oils are made use of to maintain the hair nurtured and hydrated.
Unlike many locking gels, it gives you hold for a more extended period. So you can quickly get some before going on a special occasion.
It also doesn't come with issues like flaking or high levels of build-up. Despite its positives, it can lose its performance in some hair types.

Holds your hair in place
Long-lasting
No flaking
No build-up
It May does not work on some hair types
6. Cantu Shea Butter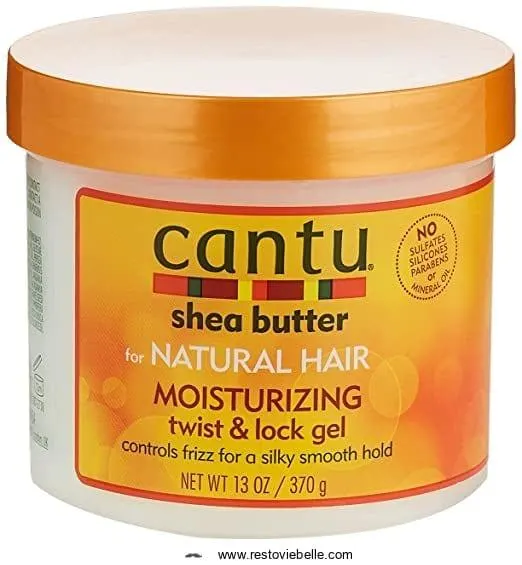 View On Amazon
Cantu Shea Butter stands out for its moisturizing properties. If you read the list of ingredients, you will come across coconut extract, soybean oil, coconut oil, almond oil, olive oil, peach oils, among so many other nourishing oils.
Therefore, because it holds your hair together, the hair strands start to form, promoting hair growth.
Cantu- gel has a budget-friendly price and is a reputable brand.
Cantu Shea Butter gives your hair a manageable hold. It is the best product for securing hair when starting your locks as it makes the twists firm.
Silky hold
Prevents frizz
Lots of moisturizing ingredients
It can leave product residue
7. African Pride Black Castor Miracle Extra Hold Braid, Loc & Twist Gel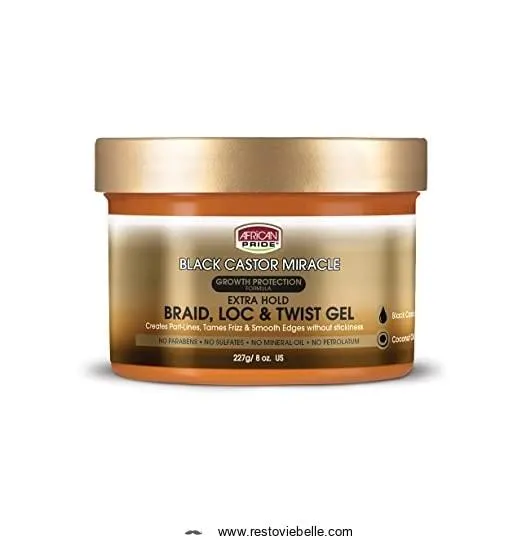 View On Amazon
This dreadlock gel keeps your hair neat and manageable – smoothing out hot flashes and adding shine. It is infused with potent black castor oil and coconut oil. Black castor oil, olive oil lock in moisture in your locks to prevent hair breakage and promote hair growth. Coconut oil moisturizes and repairs damaged hair. The extra hold hair gel can be used on dry and wet hair.
Paraben-free
Silicone-free
Sulfate-free
Petroleum-free
Mineral oil-free
Smells great
8. Style Factor Lock Booster Twist and Grip High Shine Conditioning Pomade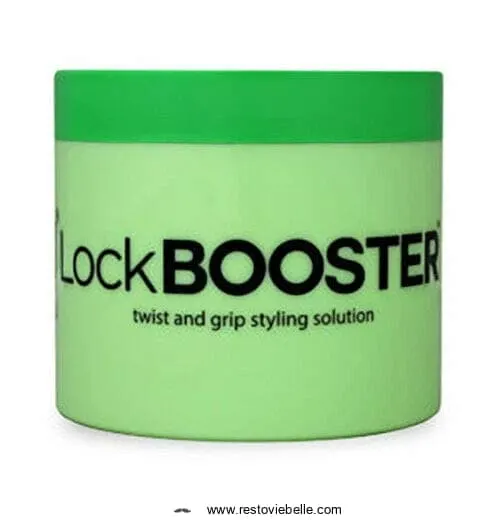 View On Amazon
Now my 4c hair tends to get dehydrated. And in this case, any regular dreadlock locking gel for dreads tends to leave a white residue.
So I was more than happy to find this Lock Booster Pomade from Style Factor. It's super moisturizing.
My 4c hair drinks it all up, but if you have slightly oily hair or even normal hair and scalp, that much moisture loss can get overwhelming.
It tends to make hair oily if it's a three or 4a type texture is. So be careful.
I also found this pomade for dreadlocks a bit pricey.
But if you have dried out 4c hair like mine and want a high shine effect on your dreadlocks, try this product.

Gives a high-gloss look
Prevents frizzy hair
Good for dreadlocks, twists, and even edge control
No white build-up
Very nourishing
Very expensive
Can make hair greasy
9. Dollylocks Coconut, Aloe, and lime locking gel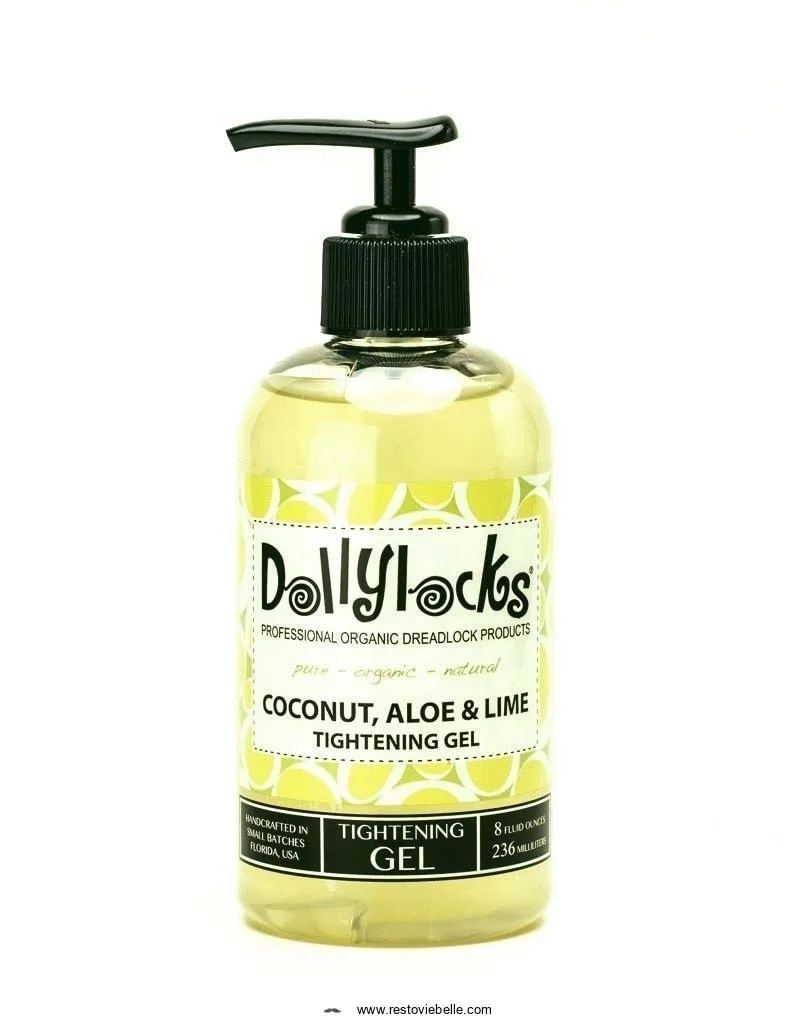 View On Amazon
The Dollylocks Coconut, Aloe, And Lime Tightening Gel have been specially developed for dreadlocks. It is infused with a blend of coconut extract, aloe vera extract, lime oils, avocado oil, vitamin e, oat protein, moringa seed oil, olive oil, manuka honey, and grapefruit extract. The natural essential oils and herbal extracts, amino acids help nourish and tighten dreadlocks.
The aloe and coconut extracts strengthen the hair shafts and promote healthy hair growth. This dreadlock gel also helps improve hair elasticity and repair hair damage caused by chemicals and heat. The unique formula tames frizz and eliminates hot flashes, leaving you with a clean and neat-looking haircut.

Contains organic ingredients
Smells good
Water soluble
Lightweight
10. Taliah Waajid Tight Hold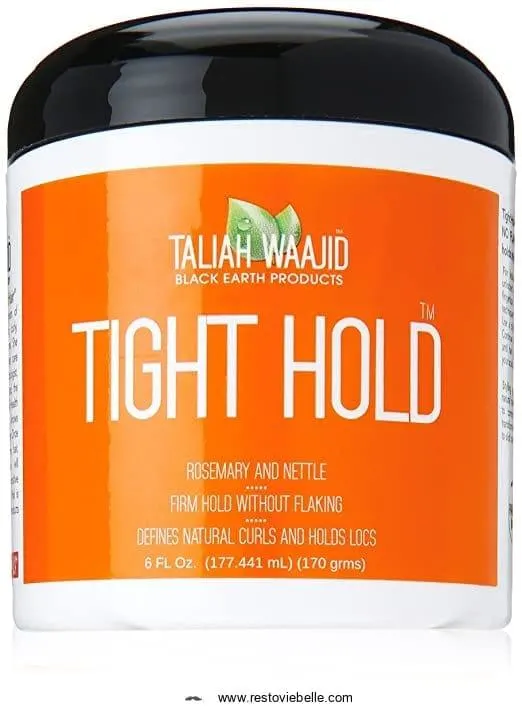 View On Amazon
As your dreadlocks grow, you need to maintain them regularly. Using Taliah Waajid Black Earth Products Tight Hold lock gel for dreads nourishes your locks with natural ingredients as the combination is so rich that even the scent comes from a natural herb.
The maintenance process can be expensive as you will need a variety of other products in addition to lock gel for dreads. By using this budget-friendly gel, you save money on locs shampoo, and conditioner, among other things.
If you get dreadlocks after chemical treatment of your hair, then this lock gel for dreads is suitable for you. It prevents breakage and improves hair growth.
It has a rosemary scent; its scent is not overpowering. Plus, it's not greasy, and you don't need to use a lot of it to get a firm hold.

Suitable for holding hair
It contains no alcohol
It has a variety of natural ingredients
It can cause flakes and residue.
Benefits of Using Locking Gel for Dreads
An essential step in the care and maintenance of dreadlocks is the use of locking gel. In addition to giving the hair nourishment and protection, it aids in locking in the dreads, so they stay intact. Using locking gel for dreads has a variety of advantages, including increased hair growth, strengthened hair shafts, and decreased hair breakage.
Locking gel helps to promote healthy hair growth by nourishing the scalp and locking in moisture, which helps to increase hair growth. Moreover, it assists in fortifying the hair shafts, which can help stop split ends and breakage. By creating a layer of protection around the hair strands and retaining moisture, locking gel also aids in reducing hair breakage.
Dreadlocks benefit greatly from locking gel because it keeps the locks in place and keeps them from coming undone or becoming loose. Also, it helps to smooth out frizz and add gloss to the hair, giving them a more polished and natural appearance. Additionally, locking gel can aid in sealing and shielding the hair from external factors like the sun's UV rays.
Overall, there are several advantages to utilizing locking gel for dreads, including improved hair development, reinforced hair shafts, and decreased hair breakage. To get the best results, selecting a locking gel made from natural ingredients is critical.
Disadvantages of Some Locking Gels
It is crucial to choose a locking gel that is created with natural materials and devoid of dangerous toxins. Unfortunately, some locking gels contain chemicals in their manufacturing that may harm the hair and scalp.
These substances can deplete the natural oils in the hair, causing dryness, breakage, and split ends. Moreover, some of these chemicals have a white residue that can be challenging to remove from the hair. The beneficial components of the locking gel may not be properly absorbed by the hair as a result of this residue.
Finally, a locking gel containing harsh chemicals might harm the hair follicles and cause thinning and hair loss.
When applying a locking gel, examining the ingredients is crucial because picking one with natural elements is the secret to having healthy, robust dreadlocks.
FAQs About Locs Gel
Is Locking Gel Better Than hair wax?
It depends on individual personal preferences and, of course, the reaction of individual hair. The wax can hold the locs together and hold them firmly, but it is a heavier product. lock gel products may leave the locs lighter but not have them as firmly.
What is the Best Locking Gel?
The best locking gel for dreads depends on the particular characteristics of the One, he should have a stronghold. Second, it should have natural and healthy scalp health benefits. And third, it should be easy to wash.
Should I Use Locking Gel on New Dreads?
If you are looking for tighter and firmer dreads, then yes, but it again comes down to personal opinion and hair type. Try experimenting with different locking gels to see what works for you.
How Often Do You Have to Apply Gel for Dreadlocks?
It's best to twist your locs every four weeks, as doing more makes your hair thin and weak. Plus, you can stay four to six weeks before washing your starter locs.
Based on these two conditions, we can say that you reapply lock gel in about a month, only on clean locs. If you reapply it on dirty locs, you will have a product buildup that will be difficult to remove later.
Plus, you will weaken yours locs as the moisturizing ingredients will not penetrate the previous lock gel layer.
Conclusion
Dreadlocks are a beautiful hairstyle choice, but they require regular maintenance and care. Locking gel is an important part of the maintenance process, as it helps to keep the dreads secure and in place. When choosing a locking gel, it is important to find one that is made with natural ingredients that will nourish and protect the hair.
There are many different types of locking gels available, and the best one for you will depend on your hair type, texture, and damage.
Jamaican Mango and Lime Locking Gel, AllDay Locks Braid Gel, and ORS Lock and Twist Gel are all great choices for people with dreadlocks. We hope this blog post has given you the information you need to make an informed decision about the best locking gel for your dreads.
References
stylecraze.com
dapperlyclub.com
theidlemen.com
haireveryday.com