This site is supported by our readers. We may earn a commission, at no cost to you, if you purchase through links.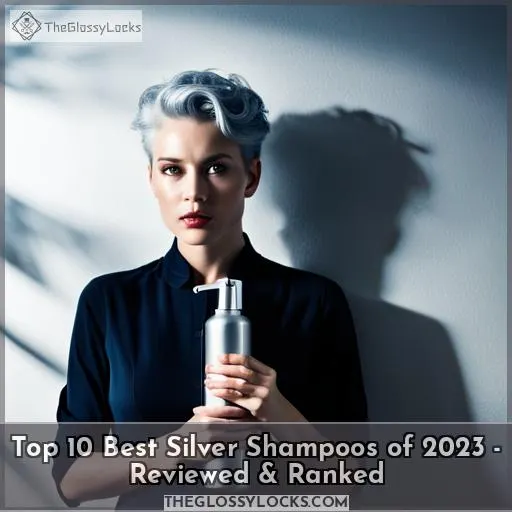 Are you ready to embrace your silver-streaked future? Searching for the best shampoos to make going gray a total breeze? Look no further! Our top 10 list of the 2023's best silver shampoos has everything you need.
From Matrix So Silver, R+Co Bleu De Luxe, and Clairol Shimmer Lights, down through Iles Formula Shampoo and Pureology Strength Cure – our team of experts has reviewed them all so that you can find the perfect product for your needs.
We'll also take a look at what causes brassy hair, how silver shampoo works to combat it, plus we'll explain why this is different from purple shampoo too.
Ready? Let's dive in!
Key Takeaways
Silver shampoos contain violet pigment to neutralize brassiness and restore color-treated hair.
They enhance color and restore faded highlights in blonde, gray, and white hair.
Silver shampoos reduce brassiness and yellowing while adding volume and shine to the hair.
They are specifically formulated for blonde, gray, and white hair and are effective at reducing brassiness.
Top 10 Best Silver Shampoos
If you're looking for the best silver shampoos, you'll want to check out Matrix So Silver, R+Co Bleu De Luxe, Clairol Shimmer Lights, and more. From nourishing ingredients that provide strength and shine to repairing color-treated hair without weighing it down, these top 10 silver shampoos offer something special for blonde, platinum, grey, or white hair.
Matrix So Silver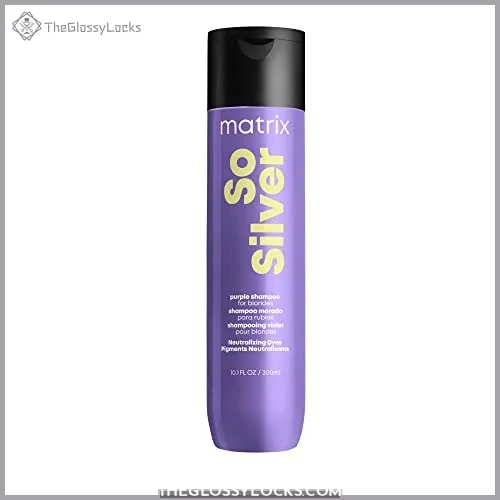 View On Amazon
You'll love Matrix So Silver's hydrating formula and violet pigment that will illuminate your highlights, restore color-treated hair, and neutralize brassiness with its cool tones. This sulfate-free shampoo is designed to brighten blonde hair while removing dull yellow tones from highlighted silver locks.
It comes in a 9.6 oz bottle that has a leafy green/moss/floral scent, which won't strip away the moisture or color of treated tresses either! Plus, it doesn't dry out your hair like other purple shampoos, so you can use it as often as needed without worrying about damaging effects.
With regular use of this product over time, brassy shades are transformed into beautiful silvery hues – plus there's no need for expensive Japanese purple shampoos anymore! Not only does Matrix So Silver leave gray strands looking soft and shiny, but it also helps maintain white locks too by reducing yellowing without any dyes required either!
Hydrating formula & violet pigment illuminates highlights & restores colored hair
Neutralizes brassiness with cool tones
Doesn't strip away moisture or color from treated tresses
Keeps gray strands looking soft & shiny
Reduces yellowing on white hairs without needing dye
Can be drying if used too frequently
Bottle is flimsy; may leak if dropped
Dries out some types of hair requiring extra moisturizing
R+Co Bleu De Luxe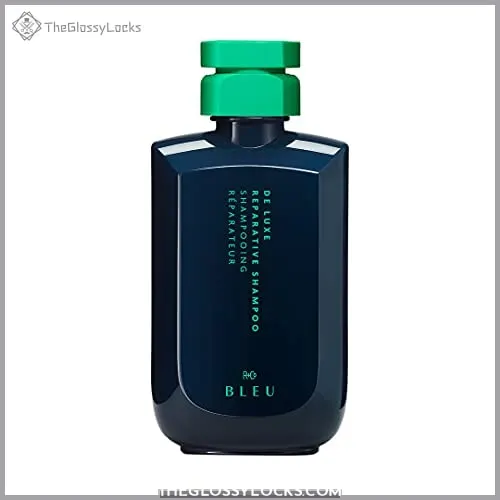 View On Amazon
R+Co Bleu De Luxe provides strength and shine to your hair with its BLEU Molecule Complex. It nourishes your hair with oils like Tananu and Maracuja, which seal cuticles. The shampoo also contains Blood Orange and Primrose Extracts that protect and soften the strands.
Additionally, Argan Oil infuses moisture while repairing damage, giving your hair a lasting shimmering look.
This vegan-friendly shampoo is free of sulfates, parabens, silicones, and phthalates. It is also allergen-free and has a White Tea Flower perfume that won't irritate or dry out your scalp.
One of the benefits of this shampoo is that it helps reduce brassiness in blonde tones without weighing down your hair.
The scent of this shampoo is wonderfully subtle yet uplifting, leaving you feeling refreshed after every wash.
Nourishing formula with essential oils to strengthen and protect colored/chemically treated hair
Sulfate-, paraben-, silicone-, and phthalate-free
Vegan friendly
Allergen-free White Tea Flower perfume
Expensive relative to other silver shampoos on the market
Might not be strong enough for very brassy shades
Clairol Shimmer Lights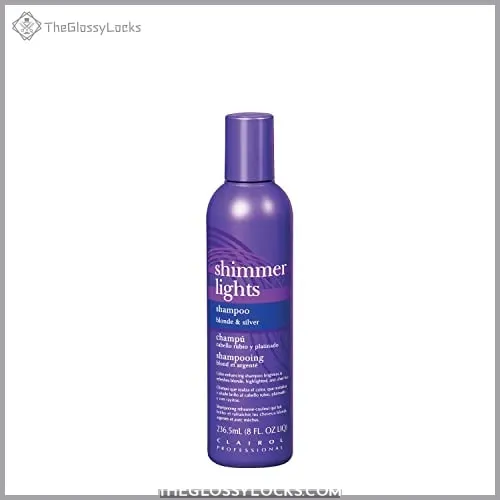 View On Amazon
Transform your blonde, highlighted, or silver hair with Clairol's Shimmer Lights shampoo to get shiny and vibrant locks. This color-enhancing formula is free from residue that may weigh down the hair. It also restores faded highlights for a more natural appearance.
For best results, use as often as desired without damaging your precious mane thanks to being sulfate-free.
Color enhancing
No residue left behind
Restores faded highlights
Brightens dull yellow tones
Sulfate-free for gentle cleansing
May not be suitable for all types of hair
Unlisted scent
Iles Formula Shampoo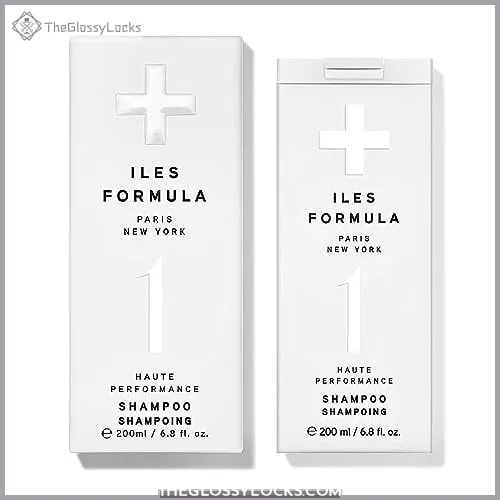 View On Amazon
ILES FORMULA PARIS NEW YORK Shampoo deeply cleanses your hair without stripping color or drying it out. Its antioxidant-rich ingredients, like Vitamin B5, detangle and add root volume. It's also sulfate-, silicone-, paraben-, and phthalate-free to be gentle on all types of hair.
Not only that, but the White Tea Flower fragrance is hypoallergenic for extra safe use.
This luxurious shampoo repairs damage caused by coloring treatments and leaves you with soft, shiny locks that look full of life! Best of all, it's vegan and cruelty-free, so you can have peace of mind when using this product.
Deeply cleanses without stripping color or drying out hair
Detangles & adds root volume with antioxidant-rich ingredients
Hypoallergenic White Tea Flower fragrance
Vegan & cruelty-free
Expensive compared to other brands
May need multiple applications for desired results
Pureology Strength Cure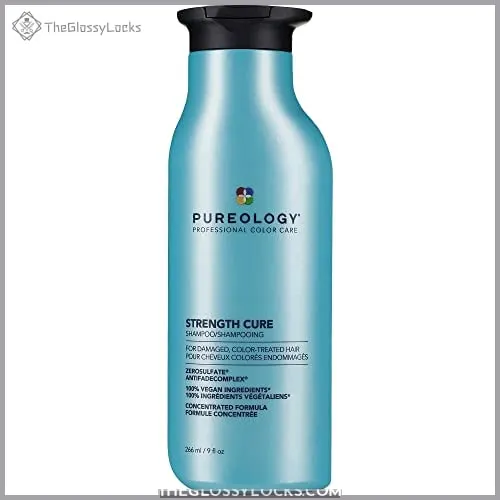 View On Amazon
You'll love the way Pureology Strength Cure Strengthening Shampoo repairs and strengthens your hair while protecting its color.
It contains Keravis (a plant protein) and Astaxanthin (an antioxidant), which reduce 97% of damage to all types of hair, including color-treated locks.
You will also notice an improvement in texture as this product cleanses without stripping away moisture or color–leaving behind only freshness and protection from future breakage or fading due to sun exposure.
Smells amazing
Amazing results for damaged/color-treated hair
Sulfate-free formula leaves hair shiny & clean
May not produce desired volume & lift
Can cause flat results & may lead to some amount of temporary shedding
Not suitable if looking specifically for more moisturizing shampoos
Better Not Younger
View On Amazon
Better Not Younger's purple shampoo helps reduce brassiness and yellowing, while adding volume to your hair for a brighter look that will make heads turn. This sulfate-free product is designed for blonde, platinum, silver, or gray tones.
It contains an all-natural proprietary blend along with vitamins, minerals, and antioxidants to protect the hair from damage and strengthen it.
Apply this shampoo onto wet hair, then massage into the scalp before rinsing well – use 2-3 times per week for best results.
Reduces brassiness & yellowing
Adds lift & volume
All-natural ingredients
Faulty pumps reported by some users
Small amount of product in the bottle
Possible risk of damage/hair loss
Olaplex No. 4
Olaplex No. 4 Bond Maintenance Shampoo is perfect for bringing out natural highlights and restoring hair's strength, leaving it feeling soft and super shiny. It repairs damage from heat styling or chemical treatments with its bond-building chemistry, while also neutralizing yellow tones in gray or silver hair.
This sulfate-free purple shampoo contains Keravis & Astaxanthin to reduce breakage by 97%.
Plus, Harper's Bazaar editor recommends L'Anza Healing ColorCare for nourishing results that add lustre to any color! So why wait? Try Olaplex now to experience the best care possible for your gray/silver locks!
L'Oreal EverPure

View On Amazon
Try L'Oreal EverPure Brass Toning Purple Shampoo to neutralize brassy tones and leave your hair feeling soft and refreshed. This vegan, sulfate-free formula is specially formulated for blonde, platinum, gray, or white hair.
It is infused with hibiscus extract and a purple dye pigment, which cleanses without stripping moisture or color. The shampoo provides a satisfying lather that leaves hair looking clean, shiny, and refreshed.
A little goes a long way, so you can get rid of yellowing by using just the right amount.
You'll love how this shampoo helps remove brassiness better than other brands without drying out your strands. Reviews are overwhelmingly positive, as it makes colored locks feel softer. Although its scent isn't everyone's favorite, there are people who appreciate how effective it is in toning down warm hues.
This is thanks to its hydrating properties derived from natural ingredients such as argan oil, which adds an extra dose of shine.
Moisturizing & hydrating
Neutralizes brassy tones
Vegan & sulfate-free
Scent not favorable for all users
May need follow up with conditioner
Works best if left on hair for an hour
UNITE Hair Blonda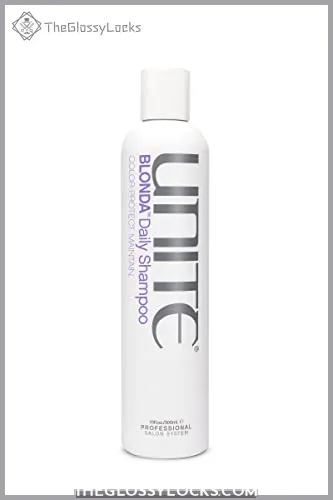 View On Amazon
For cool blonde, platinum, silver, and gray tones, UNITE Hair's Blonda is a great way to brighten and volumize aging hair while reducing brassiness. This sulfate-free purple shampoo contains a proprietary blend of vitamins, minerals, and antioxidants for stronger hair.
It works by canceling out the brassy yellow tones with its violet pigment formula that also adds volume without weighing down locks.
With just one use, you can get healthy-looking results as this vegan product penetrates deep into the scalp to nourish from within. The 12 oz bottle has a clear shampoo with an allergen-free White Tea Flower Perfume scent, which may not be as strong as the original but still offers noticeable benefits over other brands like Joico.
Brightens & Volumizes Aging Hair
Contains Vitamins & Minerals
Reduces Brassiness
Vegan Product
Grape Scent Not As Strong
Clear Shampoo Rather Than Purple
Bottle May Have Been Opened/Used
Klorane Shampoo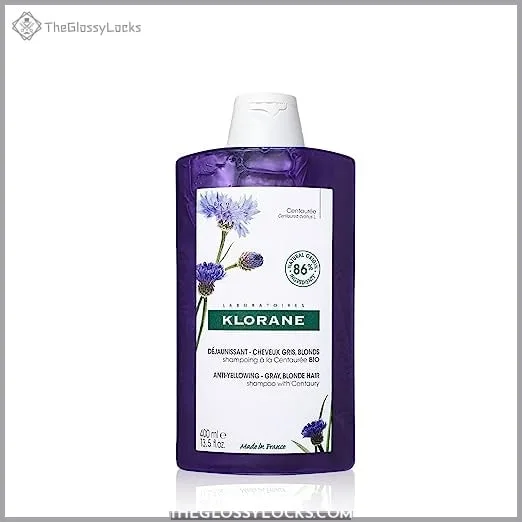 View On Amazon
Klorane Shampoo is a great option if you're looking to reduce yellow tones in white or gray hair without using dyes – why not give it a go? This liquid form shampoo comes in a 3.
Neutralizes brassiness & yellow tones
Restores brightness & vibrancy
Enhances silver highlights
Not as good of a scent compared to the old formula
May need conditioner if you have sensitive skin
What Causes Brassy Hair?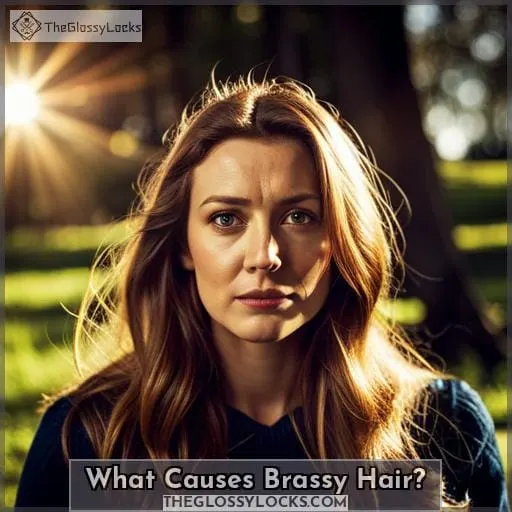 You might have noticed that your hair color is not as vibrant and looks brassy, especially if it has been colored. This can be attributed to a number of factors, including oxidation caused by exposure to air or water, sun damage from UV rays, mineral buildup from hard water sources in swimming pools or showers, overusing heat styling tools such as curling irons and flat irons, which break down the bonds in your hair shafts leading to discoloration.
Additionally, improper application of dye products on pre-lightened/bleached hair may result in an undesired orange hue.
Effects of Oxidation on Hair Color
Oxidation can cause hair to take on a brassy hue, which is why it's important to consider the effects of oxidation when selecting silver shampoos. Depositing purple pigment helps counteract these warm tones and make grey or blonde hair look brighter.
An effective silver shampoo should contain violet pigments that provide intense coverage for grey and white strands, while also being gentle enough not to damage delicate tresses. For those with blonde hair, an intense toning formula can help remove brassiness without drying out locks.
A milder version may be better for gray-colored manes as they require less maintenance than other shades of color-treated hair.
Exposure to Sunlight and UV Rays
Exposure to too much sunlight and UV rays can cause your hair color to become brassy. To counteract this, consider using the best silver shampoos designed specifically for that purpose. These shampoos deposit purple pigments, which neutralize warm tones on the color wheel.
Silver shampoos contain violet pigment, hydrating ingredients like maracuja oil and argan oil, as well as strengthening ingredients such as Keravis and Astaxanthin. They help remove dull yellow tones while protecting colored or chemically-treated hair without weighing it down.
For added shine, try a nourishing treatment with tananu oils. These oils will seal cuticles while also repairing damage from styling tools or environmental aggressors!
Mineral Buildup From Hard Water
Hard water can give your hair a brassy hue by leaving mineral deposits that interfere with the natural color, so you may want to consider using a shampoo designed specifically for this issue, such as Klorane Shampoo.
For example, one case study found that when hard water was used on highlighted blonde hair, it caused discoloration and dullness until the person switched to Klorane Shampoo. This purple-infused formula helps fight off yellow tones in lighter locks while preserving icy-white hair or even bringing out highlights from L'anza Healing Colorcare range of products.
Its special formulation removes minerals without damaging the scalp or causing dryness, which is important for keeping healthy-looking tresses no matter what type of water you're using!
Overuse of Heat Styling Tools
Overusing heat styling tools can cause hair to become brassy, so be sure to use them sparingly. Heat damage from too much curling or straightening weakens your hair's cuticle and leaves it vulnerable to mineral buildup.
You should also avoid leaving hot tools sitting in a pump bottle, which keeps the temperature high for too long and damages your strands even more! To protect against brassiness while still achieving the desired look, try using products like L'Anza Healing ColorCare that offer both a luxurious feeling and cool tones on damaged hair.
This will help you keep your locks healthy while maintaining their vibrant color without overuse of heat styling tools!
Improper Hair Dye Application
Applying hair dye incorrectly can lead to brassy tones appearing in your hair. To avoid this, use the best products and techniques for different types of hair. For example, color change requires weak perceived color intensity with good luster; opt for a shampoo that helps achieve these goals.
If you're looking to maintain lighter colored locks, using silver shampoos is great as they help cancel out brassiness and add brightness and shine while strengthening and protecting your strands! Lastly, always be sure to follow directions when applying any type of dye or product so that you don't end up with unwanted results.
How Does Silver Shampoo Work?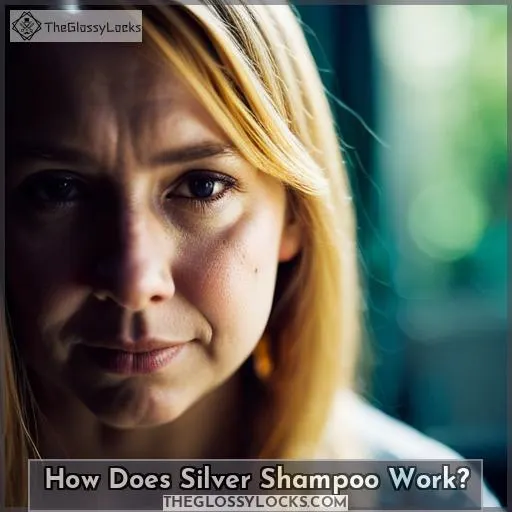 You may have heard of silver shampoo before, but what does it actually do? Silver shampoos work by neutralizing yellow and brassy tones with purple pigments that deposit onto hair strands. This helps to counteract the warmth in your hair color and adds coolness to the tone while restoring brightness and vibrancy to blonde, gray, or white shades.
So if you're looking for ways to maintain lighter colored hair without using harsh chemicals or bleaches, then silver shampoo might be worth considering.
Purple Pigments Neutralize Yellow and Brassy Tones
Purple pigments in silver shampoos neutralize yellow and brassy tones, allowing you to maintain a bright and vibrant hair color. In a short time, your hair can be restored back to its natural shade with the help of purple pigment technology found in silver shampoo.
These pigments counteract any warm or yellow undertones that may have been caused by oxidation or environmental influences like sun exposure.
Purple pigments also give extra shine while nourishing the scalp, so you can achieve beautiful results every time when using silver shampoo for brassy hair.
Deposits Violet Pigment Onto Hair Strands
When you shampoo your hair, silver shampoos deposit violet pigment onto strands to cancel out brassiness and give your hair a cool new look. The price tag can be hefty, but it's worth the significant changes in tone that come with its use.
It has an unusual consistency compared to other shampoos, which is a positive aspect as it helps spread the violet pigment across all of the strands evenly.
Counteracts Warmth and Adds Coolness to the Hair Color
Silver shampoo works by counteracting warm tones and adding a coolness to your hair color with its violet pigments. You'll find a great selection of products that will help you achieve this look, from daily formulas to intense treatments.
Most silver shampoos create a good lather and leave behind no residue, so it's easy to use for those looking for cooler color in their hair. Silver shampoo won't bleach or damage the strands like other dyes do. Instead, it deposits pigment when applied during washing, which helps keep the color fresh over time.
Make sure you choose one best suited for your needs – moisturizing, strengthening, or volumizing – then enjoy the results!
Restores Brightness and Vibrancy to Blonde, Grey, and White Hair
By using a silver shampoo, you can restore the vibrancy and shine to your blonde, grey, or white hair, allowing it to shimmer like freshly fallen snow. Look for good shampoos with objective opinions backed up by test results. Choose ones that come in luxury packaging and provide cool-toned hair color.
A silver shampoo helps reduce brassiness while adding moisture back into strands without drying out locks.
What is the Difference Between Silver Shampoo and Purple Shampoo?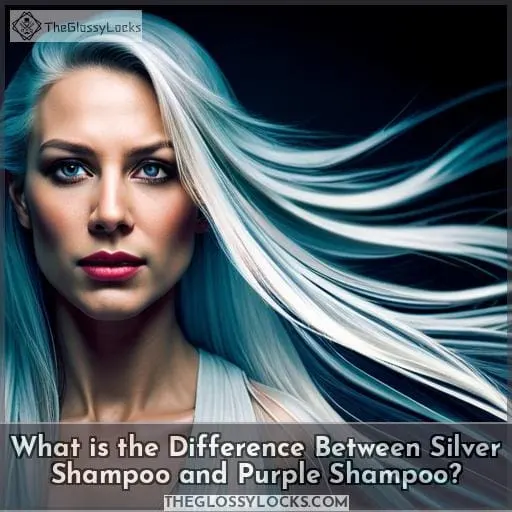 You may have heard of silver shampoo and purple shampoo, but do you know the difference between them? Silver shampoo is specifically designed for blonde, gray or white hair and contains higher concentrations of violet pigments to counteract brassiness.
On the other hand, purple shampoos are more general in their formulation and can be used on various hair colors. They are milder than silver shampoos and effective at maintaining cool tones in colored hair.
Silver Shampoo is Specifically Formulated for Blonde, Grey, and White Hair
You can use silver shampoo to enhance existing color and counteract brassiness in blonde, grey, or white hair. Normal shampoos will not be enough as they lack the strong color neutralization effect of Silver Shampoo.
The best silver shampoos on the market are L'Anza Healing ColorCare with its nourishing and softening effects; Fanola No Yellow, which produces intense pigment but must watch leave-in time; Matrix Total Results for volumizing and clean feeling slightly drying results; Davines Alchemic, better only for very blonde hair; Kérastase Blond Absolu using indigo hue plus hyaluronic acid components; Olaplex No 4, strengthening while reducing frizz making color last long; René Furterer Okara Silver, repairing damaged parts with amino acids while toning brassy hues.
Silver Shampoo works by a biological process depositing pigments into each strand when shampooed, creating an icy white look that is beautiful!
Purple Shampoo is More General and Can Be Used on Various Hair Colors
Unlike silver shampoo, purple shampoo can be used on a variety of hair colors to bring out their natural beauty. For instance, those with brunette locks can use it to add subtle highlights or lowlights.
Purple shampoos feature gentle ingredients that won't strip color-treated hair. Editors have tested them and highlighted the all-round fantastic products like L'Oreal's EverPure Brass Toning Purple Shampoo as an honest recommendation.
Silver locks too will benefit from color-perfecting silver shampoos such as Matrix So Silver or Clairol's Shimmer Lights, which are designed specifically for grey/white/blonde tones.
Silver Shampoo Has Higher Concentrations of Violet Pigments
Silver shampoos contain higher concentrations of violet pigments, making them more effective at counteracting brassy tones and yellowing in blonde, grey, or white hair. For lightened hair looking to achieve a nice lustre reminiscent of the silver-fox era, deeper pigments of purple are needed instead as they'll be better equipped to fight against natural warm undertones.
Silver shampoo's ability to restore vibrancy and shine without over-drying is unmatched when it comes down to treating discolored strands.
Purple Shampoo is Milder and Suitable for Maintaining Cool Tones in Colored Hair
Purple shampoo is much milder and can be used to maintain cool tones in colored hair, while silver shampoos have a more intense pigment that can dramatically transform your look with just one wash. Purple pigments are based on color theory – they help cancel out the yellow-orange hues found in many hair follicles when using warm shades of blonde, gray or white.
Silver shampoos provide luster to already lightened locks by depositing their own blue-violet hue, which refreshes previously faded highlights without leaving behind any residue.
Frequently Asked Questions (FAQs)
Are Silver Shampoos Safe to Use on Color-Treated Hair?
Yes, silver shampoos are safe to use on color-treated hair. They deposit pigment without bleaching and help maintain lighter colors while nourishing and strengthening strands.
Are Silver Shampoos Suitable for All Hair Types?
Yes, silver shampoos are suitable for all hair types. The specialized formulas combat brassy and yellow tones while adding moisture to dry or damaged hair. They work by depositing pigment when shampooed, so choose one with a purple or blue hue to counter brassiness.
How Long Should Silver Shampoo Be Left in the Hair?
Silver shampoo should be left in the hair for 3-15 minutes, depending on the desired results. For intense toning of yellow and brassy tones, leave it for up to 15 minutes. Otherwise, stick with a shorter duration and follow with conditioner to keep the hair hydrated.
Is Silver Shampoo Better Than Purple Shampoo?
Silver shampoo and purple shampoo are both effective at toning brassiness in blonde, platinum, grey, or white hair. However, silver shampoos can also enhance existing color while purples only cancel out brassiness.
Is Silver Shampoo Better for Gray or White Hair?
Silver shampoo can help bring out the brightness and shine of gray or white hair, and it's also a great way to embrace natural tones without constant dyeing. Its special formula contains purple pigments to counteract brassiness while nourishing locks for an icy white look.
Conclusion
To wrap it up, silver shampoos are a great way to add vibrancy and life to your hair if you're looking to get rid of yellow and brassy tones. Taking the time to find the best silver shampoo for your hair type can be a daunting task, but with our list of the top 10 best silver shampoos of 2023, you'll be able to cut to the chase and find the perfect one for you.
Whether you're looking to restore brightness to blonde, grey, or white hair, or simply maintain cool tones in color-treated hair, there's a silver shampoo for you. Don't let brassy hair drag you down, get the silver shampoo you deserve to help you shine like a diamond.