This site is supported by our readers. We may earn a commission, at no cost to you, if you purchase through links.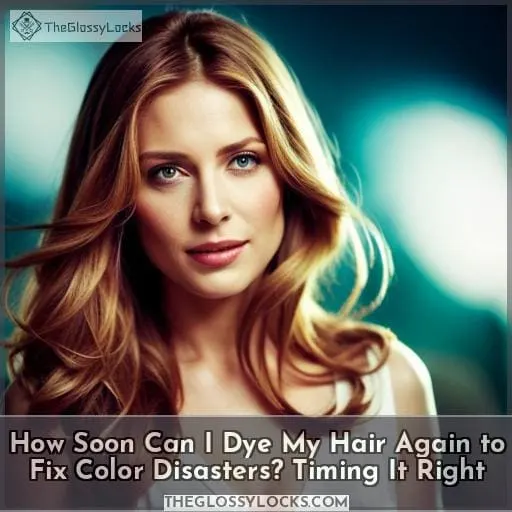 You've had a hair color mishap. Before grabbing the box dye for a do-over, pause.
Most experts advise waiting 2 weeks between dye jobs, though it depends on your hair and the products used.
But don't fret–a clarifying shampoo or gloss can help in the interim.
With some patience and TLC, you can get your hair back on track.
How Soon Can I Redye My Hair?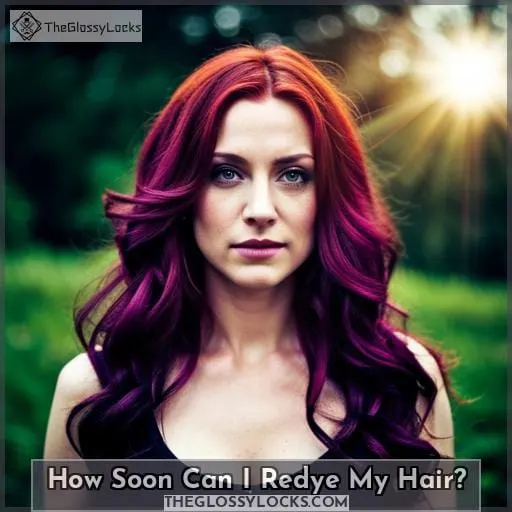 If you want to fix an undesirable hair color, timing is critical for redyeing.
Experts recommend waiting 2-4 weeks before coloring damaged hair again, to allow it to heal.
The wait time depends on factors like:
Your original hair health
The type of dye used
Your desired results
If Your Color is Too Brassy
After inadvertently ending up with brassy hair from a botched dye job, you can touch it up in 1-2 weeks to cancel out the brassiness.
To fix this issue, consider using toning solutions or DIY methods like purple shampoo or vinegar rinses.
Prevent brassiness by choosing the right shade of dye and maintaining your hair color with proper care and maintenance techniques.
If Your Box Dye Failed
If your box dye didn't turn out as expected, you may be wondering how soon you can redye your hair to fix the color.
Typically, wait 1-2 weeks before attempting to fix box dye fails. This allows the hair to recover. Rushing into coloring again risks more damage from overlapping chemical processes.
Consult a professional hair colorist for guidance on less damaging color correction techniques.
Timing it right helps get your hair color back on track.
If You Dyed It Too Dark
You dyed your hair too dark and want to re-dye it sooner to lighten it up, but timing it right is crucial to avoid further damage.
Using clarifying shampoo and a lighter semi-permanent dye after several weeks can help lift the color without compromising your hair's health.
Clarifying shampoo helps remove artificial color and lighten by 1-2 shades
Wait at least 4 weeks before attempting to lighten overly dark hair
Use a semi-permanent or demi-permanent dye in a lighter shade
Deep condition hair before and after to prevent damage
Getting a consultation with a stylist helps select the right color
To Strip Out Color
You've got some strategies to lighten overly dark hair, but you'll likely still be wondering how soon you can safely redye your hair to strip out the botched color and try again.
Hair stripping techniques like vitamin C or baking soda help remove permanent dye, but can be damaging, so wait 1-2 weeks before re-dyeing.
Consulting a stylist for color correction is ideal to assess damage level and time needed before attempting to redye, avoiding more hair breakage.
Using a semi-permanent dye over permanent may aid removal without severely damaging hair.
Why Wait Between Dye Jobs?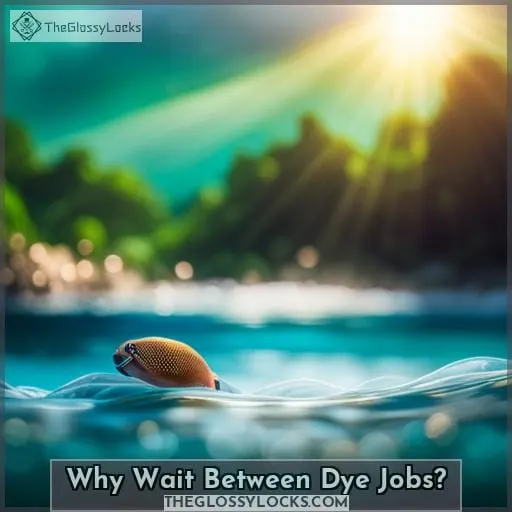 After redyeing your hair, you need to wait a while before coloring it again. This allows the hair cuticle to close and recover from the chemical process to minimize damage. Waiting between dye jobs is crucial for maintaining healthy hair and avoiding further damage.
Here are three reasons why waiting is essential:
Avoiding Damage: Coloring your hair too frequently can lead to overprocessed hair, which becomes weak, brittle, and prone to breakage.
Post Dye Care: After coloring your hair, it's important to take care of it properly by using color-safe products that nourish and hydrate the strands. Waiting between dye jobs allows you time for post-dye care routines like deep conditioning treatments or protein masks.
Color Compatibility: If you're planning on changing your current color drastically or correcting a previous color disaster, consulting with a professional hairstylist is recommended. They can help determine if there are any compatibility issues with certain dyes or advise on how long you should wait before re-dyeing.
Waiting between dye jobs not only protects the health of your locks but also ensures better results in achieving desired colors without causing unnecessary damage.
Suggested Wait Times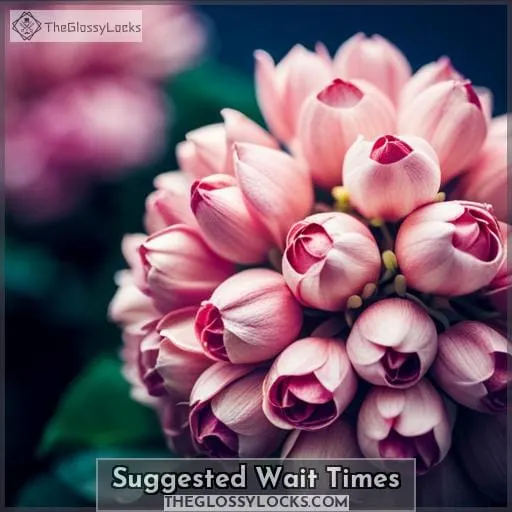 Hair experts recommend waiting at least 2 weeks (15 days) before coloring damaged hair again.
However, the necessary wait time varies based on your unique hair health and the severity of any post-dye damage.
For hair that was already compromised or in poor condition pre-dyeing, waiting 4 to 6 weeks enables deeper rejuvenation and lessens risks of breakage or loss when re-coloring.
Listen to your hair's needs.
Book a consultation with a hair color professional, who can assess your specific hair health and growth rate. With their expertise, they can provide personalized advice on ideal wait times between color appointments and recommend the most nourishing masks or protective styles in the interim.
By giving your strands adequate time to recuperate and implementing a customized hair care plan, you help ensure that your next dye job glows with the vibrancy you want while preventing further damage.
Dyeing Too Soon – the Risks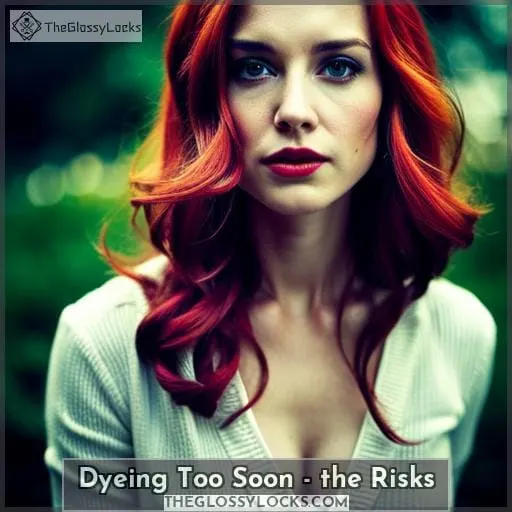 Deciding when it's safe to re-dye your hair requires careful consideration. Dyeing too soon poses serious risks that can further damage your hair and lead to permanent changes in texture or increased breakage.
You should avoid redyeing for at least two weeks, even longer if your hair was in poor shape before coloring. Yet the temptation to quickly fix a hair color disaster may seem hard to resist.
Redyeing too soon can have lasting consequences:
It can worsen existing damage and dryness from the previous dye job, causing brittleness and breakage.
The damaged hair cuticles may not hold the new color properly, leading to fading, splotchiness or an undesired hue.
Chemical interactions between the two dye jobs can create unpredictable color results that may worsen the issue you're trying to fix.
Be patient and get a professional consultation. The risks of redyeing too soon outweigh the desire for an instant color correction. Invest in rebuilding hair health first, then achieve your desired look. With the guidance of industry experts like those at cosmetology schools, you can avoid damage and get stunning color that enhances your beauty.
Quick Fixes for Dye Disasters

If your recent dye job turned out too dark, try using a clarifying shampoo a few times to gently lighten your hair by at least one shade.
For hair that's too light, you can darken it without damage by using a henna gloss blend in a brown tone that complements your current color.
Consulting a professional can provide guidance on selecting the right semi-permanent dye or gloss to fix your color quickly without further damage.
Clarifying Shampoo
If you're unhappy with overly dark hair, you'll be glad to know you can use a clarifying shampoo to lighten it. This quick fix will strip the hair cuticle to remove artificial pigment and lift your color by at least one shade.
It's important to follow the suggested waiting time before re-dyeing to avoid further damage to your strands. By using gentle chelation, the clarifying shampoo can achieve this without causing harm. As you wait for a professional dye job, the clarifying shampoo will reveal a more suitable tone.
Here are some popular clarifying shampoo brands and their key benefits:
Redken: Removes buildup and lifts color
Paul Mitchell: Brightens highlights
Pureology: Revives color vibrancy
Aveda: Cleanses and lightens gently
Kérastase: Refreshes faded color
Using a clarifying shampoo can lift overly dark dyed hair a shade without damage when done properly. This allows you to buy time before getting it colored again professionally. With the expertise of a salon, you can achieve beautiful platinum blonde or bright red hues safely.
Henna Gloss
By applying a henna gloss, you can quickly fix dye disasters and achieve a natural-looking color.
Henna gloss has several benefits, including its ability to add shine and conditioning properties to the hair.
The application process is simple:
Mix henna powder with water or conditioner.
Apply it evenly through your hair.
Leave it on for 1-2 hours.
Then rinse thoroughly.
Henna gloss comes in various color options such as reds, browns, and blacks that can complement your current hair color.
Unlike traditional dyes that contain harsh chemicals like ammonia and peroxide which damage the hair over time, henna gloss maintains hair health by nourishing the strands while imparting rich pigmentation.
Source: Aveda Institute
To Semi-Permanent From Permanent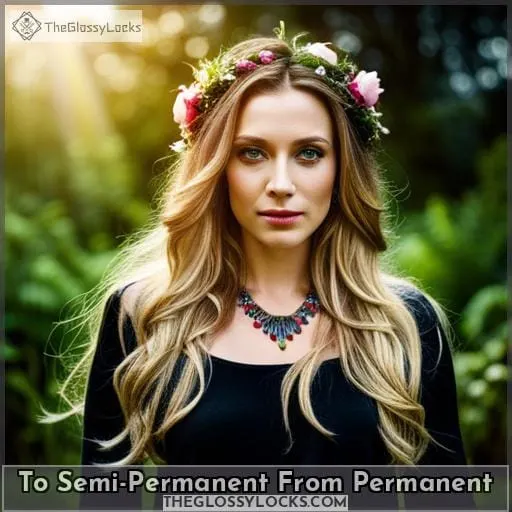 You can switch from permanent to semi-permanent dye to help repair and condition your hair after a coloring mishap. Semi-permanent dyes coat and seal the hair cuticle without altering the inner hair structure.
This makes it an ideal option for covering up botched permanent dye jobs while nourishing damaged strands.
When transitioning hair colors, ensure the permanent and semi-permanent shades are compatible to achieve your desired results. Carefully follow the application instructions to evenly glide the semi-permanent color over previously dyed sections.
| Dye Type | Application Tips | Upkeep Recommendations |
| --- | --- | --- |
| Semi-Permanent | Use applicator brush to thoroughly coat strands | Use sulfate-free shampoo and conditioner for optimal color retention |
| Demi-Permanent | Section hair properly for even coverage | Limit heat styling to preserve vibrancy |
| Temporary Color | Wear gloves to avoid staining hands | Avoid prolonged water exposure |
With proper application and maintenance, semi-permanent dyes can refresh your look while giving your hair some much needed TLC. Consult a colorist to ensure a smooth transition between permanent and semi-permanent hair dyes.
Never Dye Twice in One Day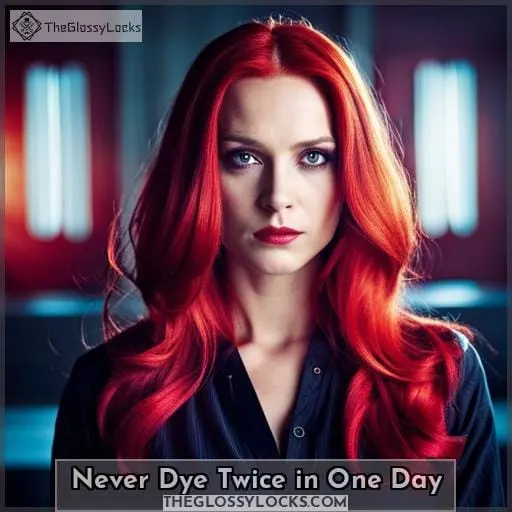 Don't risk your hair's health and integrity by dyeing it twice in one day.
Brittle, damaged strands prone to breakage
Drastic change in texture, becoming coarse or frizzy
Severe dryness and increased porosity
Loss of shine, vibrancy, and color fastness
Increased irritation, itching, and scalp sensitivity
Dyeing your hair twice consecutively can lead to irreparable damage. The harsh chemicals require time between applications, so refrain from double dyeing and allow weeks between touch-ups. Consult a trusted stylist first if aiming to quickly fix color mishaps or experiment with dramatic changes.
With professional guidance, you can find gentle, lower-risk methods suitable for your hair's needs.
Consulting With Professionals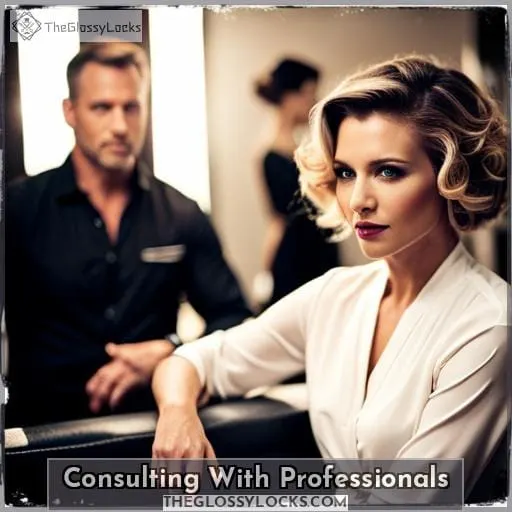 After discussing the risks of dyeing your hair twice in one day, it's crucial to get guidance from the experts before attempting to fix a hair color mishap.
Consulting a professional colorist can help you determine the right wait time and process for safely re-coloring overly damaged strands.
During a consultation at a salon like Aveda Institute, a colorist will thoroughly assess the current state of your hair and scalp. With their trained eye and experience, they can provide personalized recommendations based on factors like your natural hair color, rate of growth, and lifestyle habits.
Their expert input will help you select the ideal semi-permanent or demi-permanent dye for your goals. A colorist can also advise you on proper aftercare to nurse your hair back to health before reapplication.
At Aveda Institute, you'll have access to botanically-based products and technical services performed under the supervision of instructors.
Don't attempt to fix botched box dye jobs alone – schedule a consultation to get professional guidance.
With their help, you can refresh your color safely.
Conclusion
Nearly 40% of women have experienced a dye disaster. You're not alone in hair color mishaps.
The good news is, you can get your hair back on track with some patience and TLC.
Avoid re-dyeing for 1-2 weeks. Use clarifying shampoos to fade color. Treat your hair gently.
Consulting a professional can ensure proper timing and technique when you do re-dye your hair again.
With smart steps, you can fix the color and maintain healthy hair.