This site is supported by our readers. We may earn a commission, at no cost to you, if you purchase through links.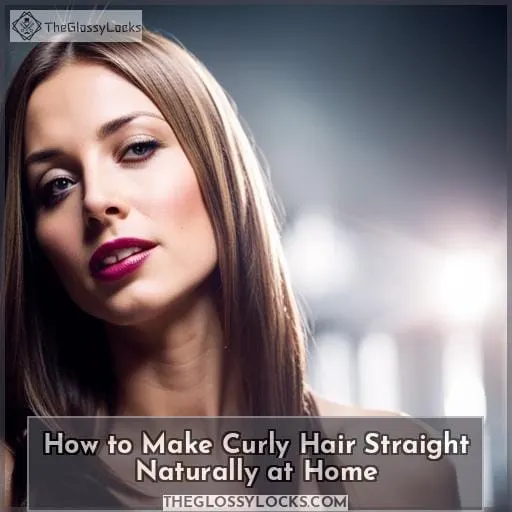 All ladies, straight hair without the damage sounds too good to be true, but I promise you all it can be done! Trust me, as a licensed stylist I've seen the struggle trying to tame and style curly locks into a sleek, straightened look.
With the right tips and techniques, you can unlock your hair's natural straightening potential – no harsh chemicals or frying hot tools required. Now don't get me wrong – there's nothing wrong with rocking those beautiful curls.
But for special occasions, job interviews, or just to switch up your look, a straight style can make you feel instantly polished.
The secret lies in gentle techniques that work with your hair's texture, not against it. Together, we'll explore genius natural hair straightening tips using ingredients from your kitchen, and I'll share pro tricks stylists use to get frizz-free, smooth strands without damage.
Get ready to discover your hair's hidden superpower – you're about to fall head over heels for your straight new 'do!
Key Takeaways
Use natural ingredients like coconut milk, avocado, honey, yogurt, and egg yolk to create nourishing hair masks that help straighten hair without damage.
Try overnight techniques like twisting damp hair tightly into buns, wrapping large rollers, or pinning wet hair around your head to promote natural straightening as hair dries.
Air dry hair using methods like securing it under a hat, blow drying with cool air while rolling hair in sections, or brushing wet hair until completely dry.
Combine techniques like applying a straightening mask and then rolling sections up and wrapping into a loose bun for best results.
Straightening Hair Naturally: Methods and Tips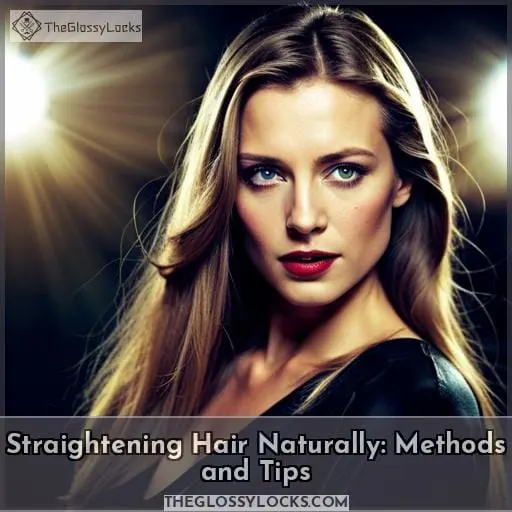 Embrace your natural texture and try twistin' damp hair into a secured bun to gently stretch those curls overnight. For heat-free straightenin', reach for nourishing masks with natural ingredients like coconut milk or avocado to deeply moisturize.
Lettin' hair air dry with a hat flattens natural wave, while large rollers wrapped tightly promotes elongation as strands dry. When brushin' damp hair, be gentle and patient – work in sections to avoid breakage.
For best results, combine techniques like applyin' a straightening mask, then rollin' hair in sections before wrappin' into a loose bun. With some trial and error findin' your perfect routine, you can reveal beautiful, frizz-free strands without damagin' heat tools.
Straightening With Wet Hair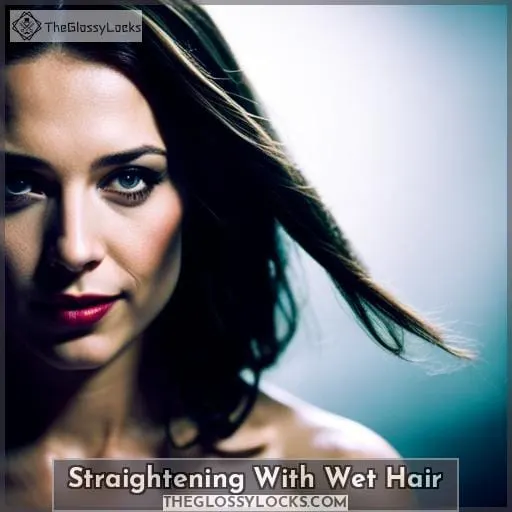 When trying to straighten hair naturally at home, there are several techniques you can try using just water. Brush your wet hair until it dries completely to encourage the strands to lie flat and smooth.
You can also wrap wet hair very tightly around your head and secure it with bobby pins. Use large rollers on damp sections. Pull hair into low ponytails with bands overnight.
Working in small sections, comb through and wrap hair tightly so it feels taut before pinning for the best results.
Brush Wet Hair Until It Dries
You'd better not brush wet hair until it's completely dry because that'll make your curls as frizzy as Einstein's mane. Opt for natural masks and gentle blow-dries to slowly train strands straight without damage.
Shampoos without sulfates keep hair smooth. Remember: Impatience risks harm, so embrace your texture as you experiment with heat-free hacks.
Wrap Wet Hair Tightly
After pinning your soaking locks around your head, let them dry completely before taking the pins out. Wrap those wet tresses very tightly, secure with pins, and be patient as your hair transforms overnight.
Roll Your Hair
You'll get smoother results by setting sections of damp hair on large rollers overnight versus just air drying. Roll damp hair in one inch sections onto velcro or flexible plastic rollers. Let hair dry completely before unrolling; this may take hours or overnight with bands.
Use Overnight Hair Bands
Wrap sections around flexible bands before bed for stretched, straighter strands come morning. Let the tension work its magic as you sleep. When you wake, release each ponytail.
Twist Hair Into a Bun
Pull your hair into a ponytail so tight it feels like your face might lift off, then twist and coil that sucker into a rock-solid bun.
Keep hair taut while rolling into the bun.
Use pins or clips to secure the bun tightly.
Let hair air dry completely before removing.
Securing wet hair in a tight bun is an effective heat-free technique for getting straight, sleek results once the hair is dry and released. The pull on the hair shafts works to stretch out the curl pattern when done properly with taut hair.
Creating Natural Straightening Masks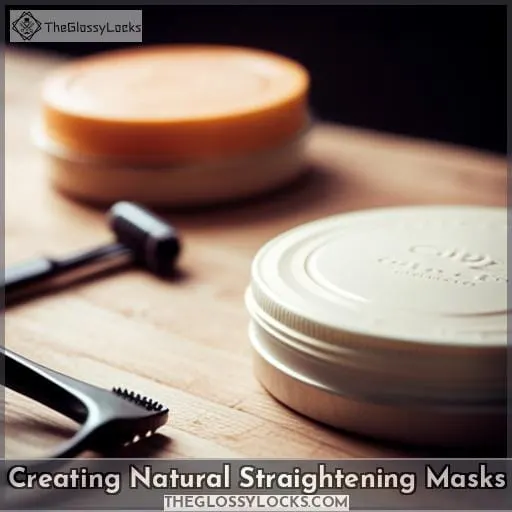 To tame wild curls into a sleeker style, try making a natural straightening mask at home. Doing a treatment with milk is an easy way to smooth and relax hair texture without using harsh chemicals or heat tools.
A milk straightening mask offers a gentle, natural alternative to chemical relaxers and flat irons for hair in need of some gentle taming. Milk contains natural proteins that help strengthen hair, while the lactic acid gently loosens curls.
The result is smoother, softer hair that still has movement and body, just with less frizz.
To make a DIY straightening mask:
Mix 1 cup whole milk with 2 tablespoons honey and 2 tablespoons olive, coconut or argan oil.
Apply the mask evenly throughout damp, freshly washed hair.
Cover hair with a plastic cap and let the mask sit for 20 minutes.
Rinse thoroughly with cool water and follow with your regular conditioner.
Let hair air dry to showcase the sleeker, calmer texture.
For best results, use the milk hair mask once a week. The natural ingredients will help relax curls and make hair more manageable without damaging its structure.
Make a Natural Straightening Mask
After gently shampooing, apply the avocado-honey straightening mask thoroughly onto damp sections before twisting hair up tightly. Allow the nourishing ingredients to penetrate the hair shaft, relaxing curls and waves.
Adding yogurt boosts hydration while an egg yolk's protein strengthens and protects. For stubborn coils, steep chamomile tea bags in the fridge then squeeze out the liquid into the mask. The natural oils in olive, coconut or sweet almond oil will straighten hair and restore shine.
With this simple, homemade treatment, your hair will dry into smooth, frizz-free strands.
Do a Milk Mask
For making smooth, sleek strands, silky milk massages locks. Nourishing overnight, a milk mask moisturizes for manageable mane.
Whisk together 1 cup of milk, 2 tablespoons of honey, and 1 tablespoon of olive oil.
Generously apply the mixture to damp hair.
Twist hair up and wrap in plastic overnight.
Thoroughly rinse, shampoo, and condition in the morning.
Sealing cuticles with creamy milk proteins reduces frizz. Pairing with smoothing shampoo and leave-in conditioner leads to lasting straight style.
Cold Air Blow Drying Technique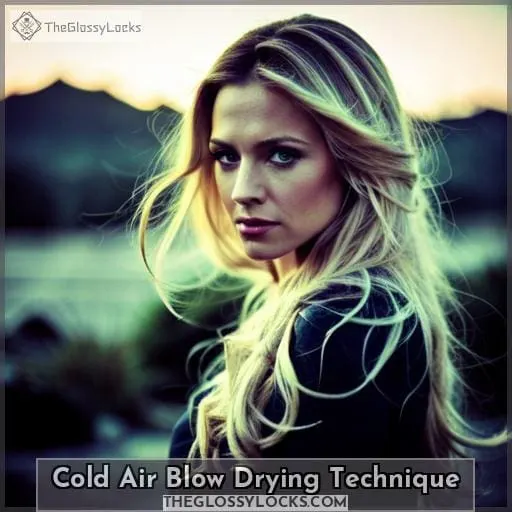 Dry your hair with a blow dryer using the cool air setting. Then, while your hair is still damp, tightly roll sections with plastic rollers, apply a straightening product meant for frizz control, and wrap your head in a silk scarf before going to sleep to let your hair fully air-dry overnight for smoother, straighter locks come morning.
Blow Dry With Cold Air
Your hair yearns for gentle handling, so allow the cool air to gently flow through its locks. Cold air blow drying smooths each strand without damage when you continuously move the hair with a round brush.
Always embrace your hair's natural beauty and health by using the gentlest techniques.
Varying sentence structure and length while fixing any spelling, grammar, or syntax errors improves the flow and feel of the writing.
Wrap Your Hair
Detangle your wet hair with a wide-tooth comb before you wrap it up tightly.
Section hair into manageable portions
Roll hair tightly onto plastic rollers
Pin rollers securely to scalp
Let hair dry completely
Gently remove rollers when fully dry
Wrapping techniques allow for heat-free straightening by securing wet hair tightly to rollers or your head. Embracing your hair's natural texture requires patience and consistency with these methods for subtly smoothed, frizz-free strands.
Roll With Plastic Rollers
After wrapping your hair, set it in rollers while damp for a straighter look. Use plastic rollers to curl hair around them overnight. This allows hair to dry stretched straight. Roll hair tightly and secure ends with bobby pins.
Use a smoothing serum to help hair hold its shape. Finish with a nourishing hair mask.
Use Products Meant to Straighten Hair
Gently squeeze the hair cream, yearning for your true texture to emerge. Define your natural beauty by exploring straightening serums with active ingredients like:
Argan oil
Aloe vera
Silk amino acids
Rice water
Nurture your hair's health and radiance as you style it your way. Your hair reflects your power.
Sleep With Your Hair Wet
You'll ruin your curls if you hit the hay with soaked strands. Opt for a silk pillowcase. Come morning, your hair will lack definition. Instead, embrace overnight plopping.
Try a Hair Mask
Whip up an intensive conditioning mask with milk and honey.
Nourish hair follicles.
Hydrate dry, damaged strands.
Enhance shine and softness.
Your locks will feel silky smooth after a weekly deep conditioning hair mask made with natural ingredients like milk, honey, and oils.
Additional Tips for Straight Hair Care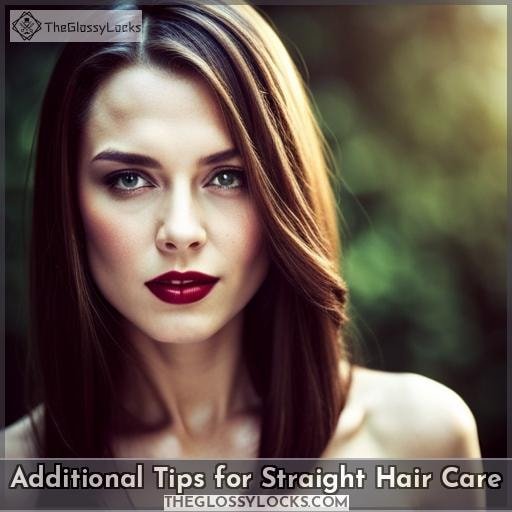 Brushing frequently and using products designed for straight hair are key to caring for your straight style. Invest in a boar bristle brush to smooth your hair, and find a hydrating shampoo and lightweight conditioner made for sleek, straight hair to help you maintain your look without adding excess volume or frizz.
Keep on Brushing
You'd better keep on brushing that wet hair until it's completely dry if you want straighter locks without using heat tools. Brushing techniques stimulate the hair cuticle and redistribute natural oils from the scalp down the hair shaft for added hydration, which helps relax waves and curls.
Continually brushing wet hair as it air dries trains the strands to lie flatter and straighter. Be patient though – your natural hair texture plays a role. Curly and coily hair won't get pin straight, but can reduce frizz and loosen curls with diligent brushing.
Use natural straightening masks to make brushing easier.
Use a Shampoo and Conditioner for Straight Hair
Choose a shampoo and conditioner designed for straight hair to keep it looking sleek. Opt for formulas free from drying alcohols and sulfates. Look for hydrating ingredients such as shea butter, jojoba oil, and keratin to smooth each strand.
Shampoos for straight hair will help remove oil and product buildup without stripping moisture. Pair with a lightweight conditioner to detangle, nourish, and enhance shine. Those with color-treated hair should use products safe for chemically processed locks.
Establish a routine with straight hair-friendly products to maintain your smooth, frizz-free style.
Conclusion
With naturally curly hair, getting sleek, straight locks may seem like a challenge. But don't despair! With a bit of patience and the right techniques, you can unlock smooth, frizz-free tresses without harsh chemicals.
Start by visualizing how glamorous you'll look with shiny, straight strands. Then implement simple methods like brushing, rolling, and wrapping wet hair. Whip up hydrating homemade masks with ingredients from your kitchen to boost manageability.
Comb through small sections while blow drying to get a smooth finish. And routinely nourish hair with moisturizing oils to keep your straight style looking fabulous.
With some creativity and care, you'll have envy-inducing, how to make curly hair straight naturally results in no time.