This site is supported by our readers. We may earn a commission, at no cost to you, if you purchase through links.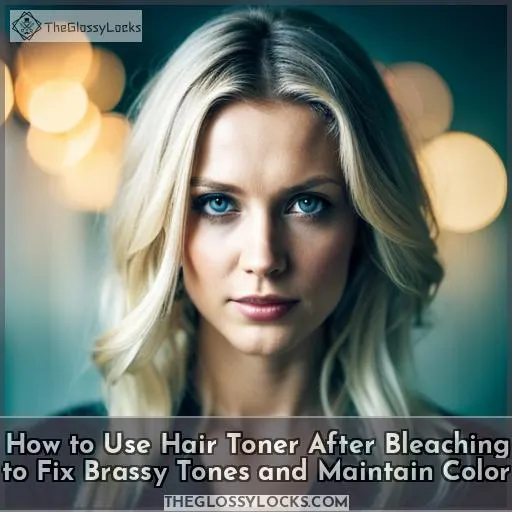 Bust out those plastic gloves and get ready to turn brassy locks into blonde bombshell hair. I know you've just spent hours getting that perfect bleach job but you're not done yet, honey. Now it's time to grab that toner and cancel out any unwanted brassiness for healthy, head-turning hair.
Don't let the toner intimidate you – with a few simple tips, you'll have salon-worthy hair in no time.
First, tailor your toner to target whatever brassiness you've got going on. Purple cancels yellow while blue fights the orange. With the right pigment selection, you'll have cool, bright strands in a flash. After applying, let that toner penetrate for the recommended time then rinse, rinse, rinse.
With the proper toner and processing, you'll have people asking for your stylist's number when you're done.
Let's get toning!
Key Takeaways
Choose toner pigment (purple for yellow, blue for orange) based on hair undertones.
Mix toner with developer at the proper strength for the desired shade and hair condition.
Apply toner evenly and process for the recommended time before rinsing.
Maintain toning with an aftercare regimen (moisturizing masks, purple shampoo) and re-tone every 4-6 weeks.
Why Use Toner After Bleaching?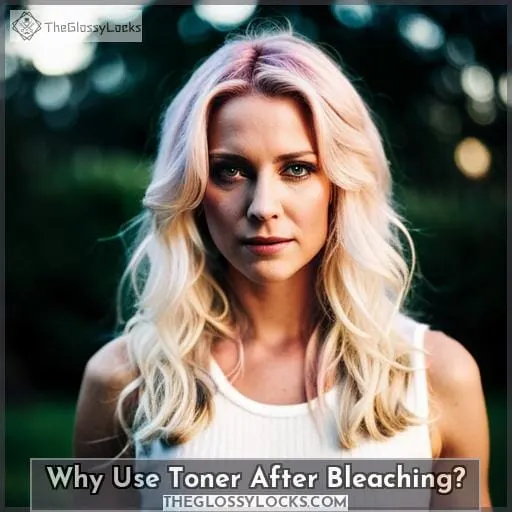 After turning those brassy locks into a beacon of blonde, smother 'em in toner to keep the brass away. We've gotta balance out the new yellows and oranges bleaching brings. Toner to the rescue! It penetrates each delicate pore, neutralizing brass and boosting vibrancy.
Grab your bottle of blue or purple toner, stat. Let it soak in and restore the cool, ashy tones your heart desires.
Keep listening to the pros for the latest techniques and products. They know best for getting the shade you crave. Toner's the essential finishing touch to prevent that unwanted warmth from creeping in.
Choosing the Right Toner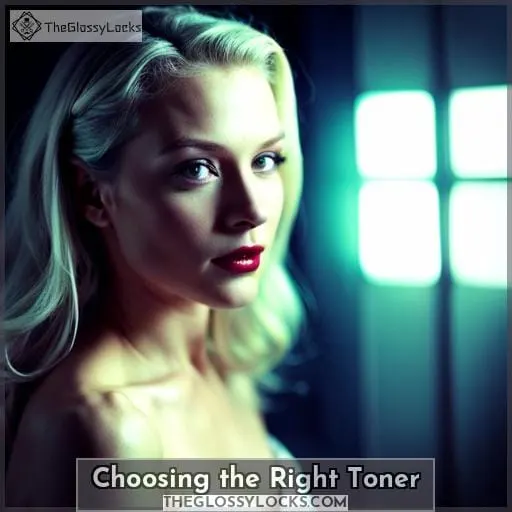 Choosing the right toner after bleaching is crucial for achieving your ideal blonde. Carefully select toner pigments based on your original and desired shades, combine with the optimal developer volume, and maintain that perfect tone with a customized aftercare routine.
Pigment Selection
You'll nail the shade by choosing toners with the perfect pigments. After bleaching, assess your hair's undertones and use the color wheel to pick a toner shade. Blue combats orange hues, while purple offsets yellow brassiness. Match lighter toners like T18 with higher volume developers, around 20 or 30 volume.
Adhere to twice monthly toning at most to maintain hair integrity. Dyes permanently alter hair color, unlike temporary toners.
– Developer Volume Ratio
Can't you smell your hair breaking as you reach for that 40 volume developer to mix with the ashy toner for your platinum blonde hair?
Instead:
Stick with 10 or 20 volume developer for toning. Higher volumes damage hair.
Mix 1 part toner to 2 parts 10 or 20 volume developer.
Apply to damp, towel-dried hair.
Process for 25-45 minutes depending on toner brand.
Rinse, condition, and avoid overlapping toner applications to maintain healthy, vibrant color.
– Aftercare Regimen
Let the moisturizing mask soak into your tresses, sealing in softness and shine. Post-toning, avoid daily washing to let your tones intensify. Weekly, swap sulfate shampoo for nourishing purple shampoo to neutralize brassiness.
And once monthly, treat hair to an overnight mask for hydration. Resist restyling for 48 hours after toning. Then rely on heat protectant and oils for styling. This regimen yields maximum vibrancy between toning appointments every 4-6 weeks.
Mixing the Toner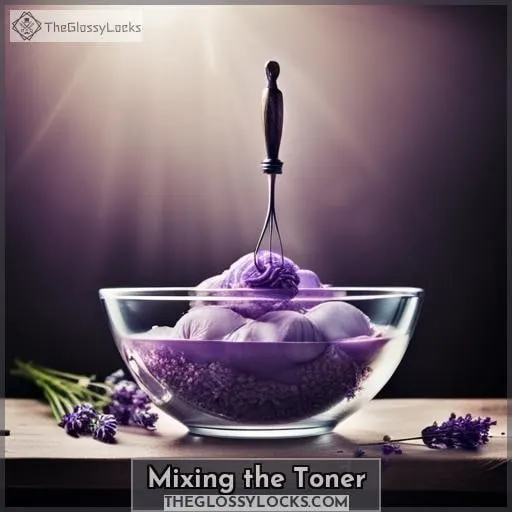 After lifting your hair to the desired level, grab the Wella toner matching your target shade and a developer with the right volume – lower for darker toners, higher for lighter ones. For a custom color correcting toner mix, blend 2 parts toner with 1 part developer in a non-metallic bowl.
Use 10 or 20 volume based on how pale your highlights are. The ratios really matter to get your hair the perfect tone without overprocessing. With all Wella products you gotta carefully follow the instructions. If you need help selecting the right purple, blue, or green toner for your goals, ask your colorist.
They know how to mix up a custom toner cocktail that'll have your hair looking snatched and vibrant as heck! Be patient through the toner process too – leave it on for at least 20 minutes to fully correct brassiness and get that icy tone.
Applying Toner to Hair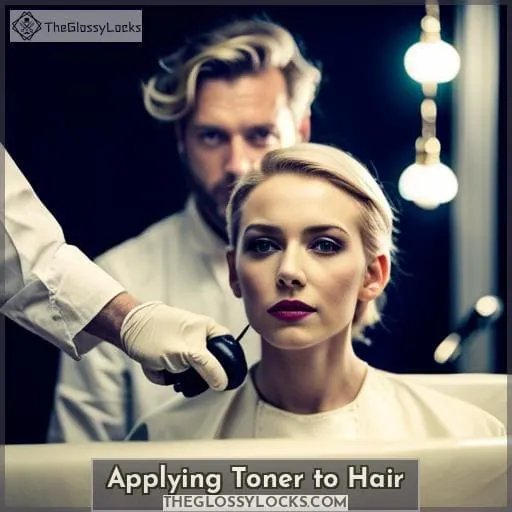 Transform your color with this must-know move. Slather that toner on wet locks from roots to ends, ensuring you've saturated every strand. Leave no brassy patch behind! Use a tinting brush for precise application. Work in sections for thorough coverage.
Err on the side of using too much product rather than too little for maximum toning. Process with heat for quicker results. Rinse once your shade transforms from funky to fabulous; timing is key to prevent overdoing it.
Let those demi-permanent toners enhance your base. Voilà, you've effortlessly erased brass and boosted vibrancy with this simple, transformative technique.
Processing Time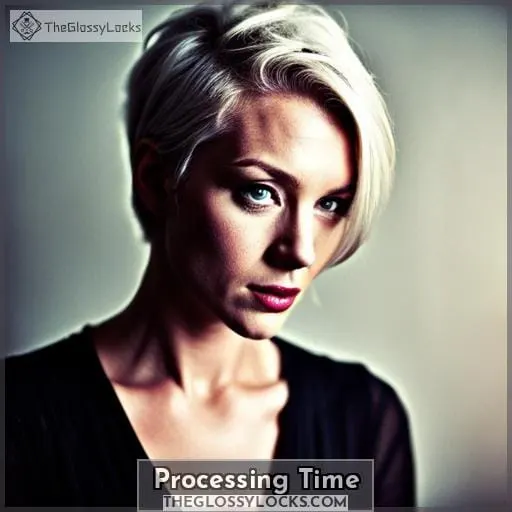 You'd get noticeable irritation leaving the toner on bleached hair any longer than 20 minutes. I recall my sister tearfully rinsing her hair for almost an hour after leaving toner on too long as a teenager.
Work in sections when applying toner.
Use a timer to ensure the right processing time.
Check for irritation every 5 minutes.
Rinse thoroughly with cool water when time is up.
Apply conditioner immediately after rinsing.
Toner works best when left on for the recommended processing time. For instance, 20 minutes is ideal for Wella toners to neutralize brassiness. Any longer risks dryness and damage. Under-timing won't tone as effectively. Stay diligent with your timer for beautiful, healthy platinum or ash blonde locks.
Rinsing Out Toner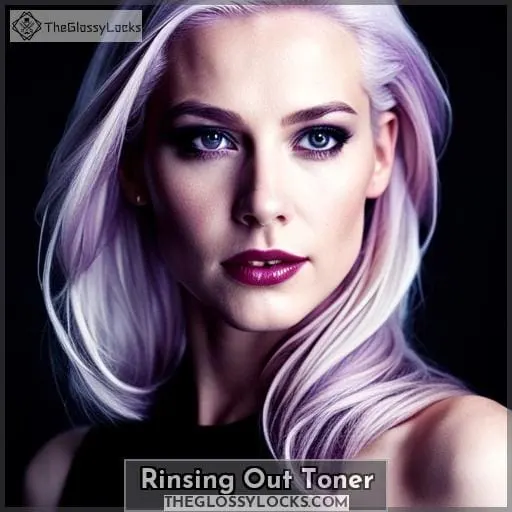 Scrub the toner out with warm water once the processing time's up. Use a wide-tooth comb to gently work the product through, ensuring you rinse it all away. Stick with warm water rather than hot to avoid drying out your freshly bleached strands.
You can finish with a cool water rinse to seal the cuticle and lock in the tone. For an added boost, do an apple cider vinegar rinse – dilute ACV in water and pour it over your hair after shampooing out the toner.
It'll help neutralize residue and bring out shine. Always follow up with Bond Protect Conditioner or a weekly deep conditioning mask. Proper rinsing and aftercare keeps your freshly toned tone looking salon-perfect between sessions.
Maintaining Toned Hair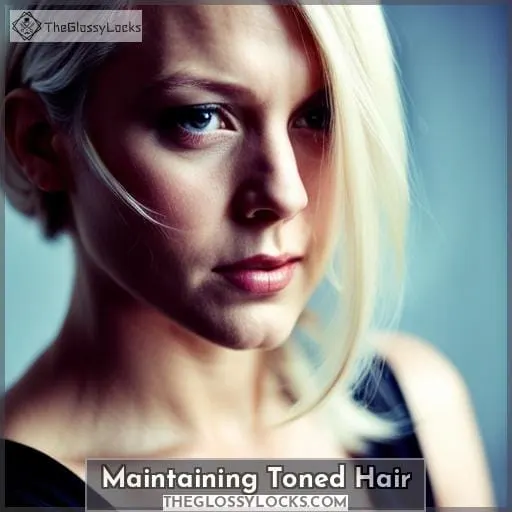 You've got that fresh, flawless toner on your hair – amazing! Now it's time to make it last. Use a sulfate-free shampoo and deep conditioner to lock in moisture and shine. Blue shampoo is your new bff to keep brassiness at bay between sessions.
If brass creeps back in after 4-6 weeks, do a quick toner refresh. And protect your hair! Always use heat protectant and limit hot tool use to maintain vibrancy.
Using the right products to nourish hair and occasionally re-toning keeps color true.
When to Re-Tone Hair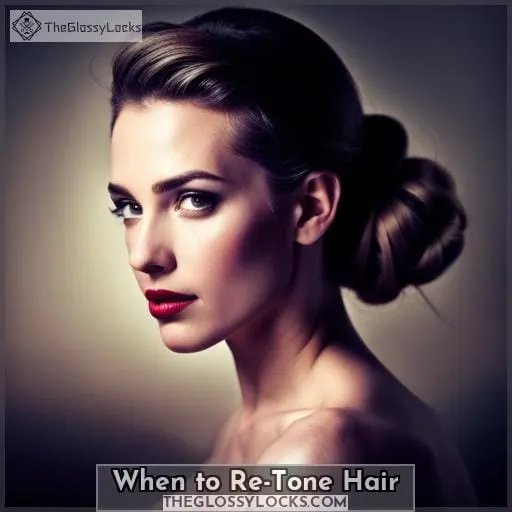 Re-tone your locks when brassiness creeps in, unless you desire the hue of medieval armor over fey tresses. Reapply that elixir every 4-6 weeks to banish brass. Doing so refreshes your color, neutralizes warmth, and ensures you glow like the moon, not molten gold.
Time applications before tone turns tarnished. Your tresses will whisper when a toner touch-up is needed. Heed their call, but avoid over-toning. Too many treatments lead to damage. With routine revitalizing, your locks will maintain their ethereal splendor.
Toner Vs. Dye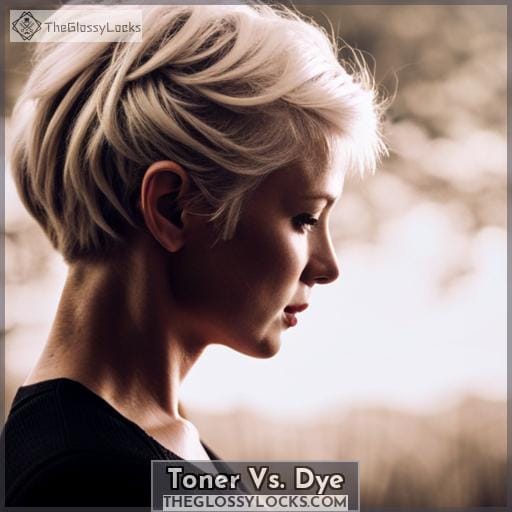 Toner coats while dye penetrates into the hair's cortex. Toner adds shine and neutralizes brassy tones without permanently altering your natural shade. Dye contains higher levels of ammonia and peroxide to open the cuticle and deposit or remove color.
Toner is semi-permanent and washes out over 4-6 weeks. Dye penetrates the cortex for permanent results requiring grow-out.
Using toner can refresh your look between coloring services. It's great for toning down brassiness post-bleaching or creating subtle highlights on unprocessed hair. Seek professional help determining the right toner and application method for your hair goals.
Fixing Brassy Tones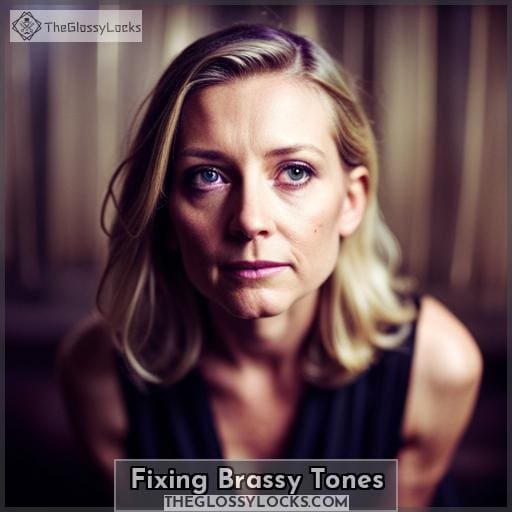 After lightening your locks, brassiness and unwanted warm tones may creep in. To fix brassy hair, use a purple shampoo to gently tone and a blue toner to neutralize more stubborn orange and red undertones for an ashy, cool blonde.
A toner can help cancel out orange and red tones, resulting in a cool, ashy blonde. Using a purple shampoo is great for maintaining your blonde and keeping brassiness at bay between appointments. Alternate with your regular shampoo a few times a week to prevent brassiness before it starts.
Use Purple Shampoo
Life is going swell keeping those locks fresh and luscious with purple shampoo weekly. Use purple shampoo once or twice a week after shampooing to neutralize yellow and enhance blonde tones. I still recommend toning monthly for extra brass busting – just separate the sessions by two weeks.
Purple shampoo is great for color upkeep between salon visits when used properly. It keeps hair vibrant and helps correct brassiness over time when paired with toners and occasional deep conditioning.
Use Blue Toner
You can combat unwanted orange tones by applying a blue-pigmented toner for around 20 minutes. Get your reliable Wella Color Charm toner in the T18 shade to correct orange brassiness. Mix one part toner with two parts 20 volume developer until creamy. Apply the mixture thoroughly from roots to ends, letting it saturate for 20 minutes before rinsing.
This toner uses blue-violet pigments to neutralize orange in bleached hair. The more time you let it process, the more it will cool down warmth for an ashy finish.
You can counteract the orange hue in bleached hair by applying a blue-based toner for around 10-20 minutes. Studies show over 35% of women weren't satisfied with the results after bleaching their hair initially.
To effectively neutralize brassiness, use a toner like Wella Color Charm with blue pigments. Saturate hair thoroughly and leave it on the full recommended time. Rinse with cool water and deep condition.
For toner aftercare, wait 1-2 weeks before repeating. Use a color-safe shampoo and glossing treatments for blonde maintenance between appointments.
With the right toners and proper application, you can easily transform brassy bleached hair into gorgeous, vibrant blonde locks. Solutions for brassiness exist in every salon – you just need to know how to use them.
Conclusion
Brassy hair got you down? While bleaching lifts color, it leaves behind orange and yellow tones. However, there's an easy fix – hair toner! After lightening, apply the right toner and developer combination to neutralize brassiness.
Use a purple toner if you see yellow, or try blue for orange hues. Follow our toner tips, and you'll have gorgeous, glossy locks in no time. With the proper toner selection and application, you can banish brassiness and achieve your dream shade.