This site is supported by our readers. We may earn a commission, at no cost to you, if you purchase through links.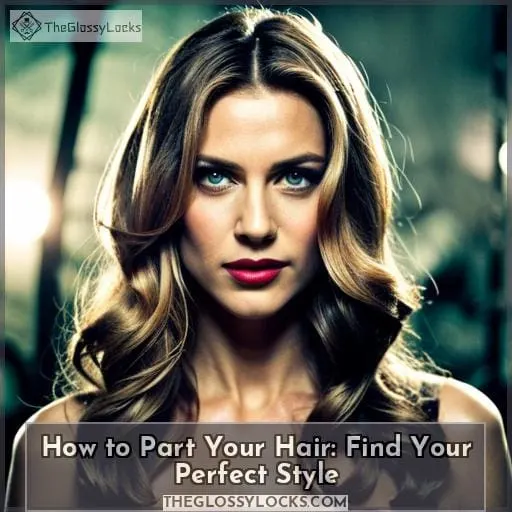 Picture this: You're standing in front of the mirror, comb in hand, ready to part your hair. But how do you decide which way will work best? With so many options for parting your locks – from a classic side part to a daring middle path – it can be hard to know where exactly you should start.
Key Takeaways
Oval and diamond faces suit middle or side parts.
Round and heart faces look good with deep side or center parts.
Square and pear faces benefit from off-center or diagonal parts.
Experiment with different parting options to find the perfect hair part for your face shape.
Choosing the Right Hair Part for Your Face Shape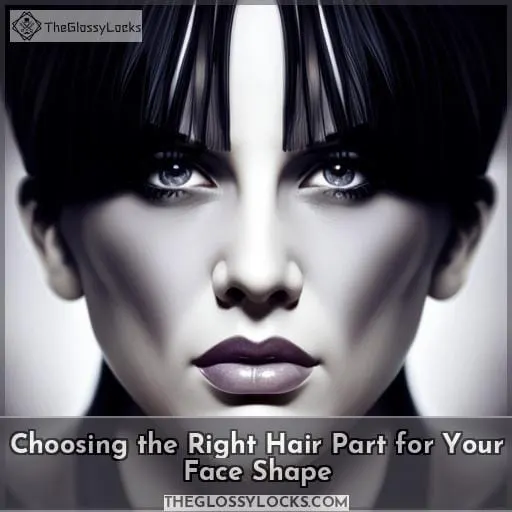 Choosing the right hair part for your face shape can be tricky, but it doesn't have to be. Oval and diamond-shaped faces usually look best with a middle or side part, while round and heart-shaped faces suit deep side parts better.
Square and pear-shaped faces often benefit from zigzag or diagonal parts that add interest to an otherwise angular shape.
Oval and Diamond Shaped Face
If you have an oval or diamond-shaped face, a deep side part is the perfect way to show off your strong features and add some old Hollywood glamour! From basic side parts 0.5-2 inches from the middle to diagonal parts for a polished look, there are many styling tips for achieving this classic hairstyle.
Messy hair with hidden or zigzag parts offers unique touches while center and middle parting can elongate shorter faces.
Round and Heart Shaped Face
For round and heart-shaped faces, try a deep side part or center part for a polished look. Hair texture and volume will dictate the best hairstyle choice to flatter your face shape. Bang styles can be tailored to specific facial structures, while trendy choices like middle parts offer an effortless style with added length.
Square and Pear Shaped Face
Square and pear-shaped faces need a hair part that balances angles to soften features; an off-center or diagonal part can work well. Hairstyle options, makeup techniques, eyewear styles, hairstyling tools, and hair care routines are important considerations for this face shape.
Consider the length of your hair as shorter looks better with square faces while longer works best with pears. Texture also plays a role in creating the perfect look; straight lines complement squares while curls flatter pears.
How to Find Your Natural Hair Part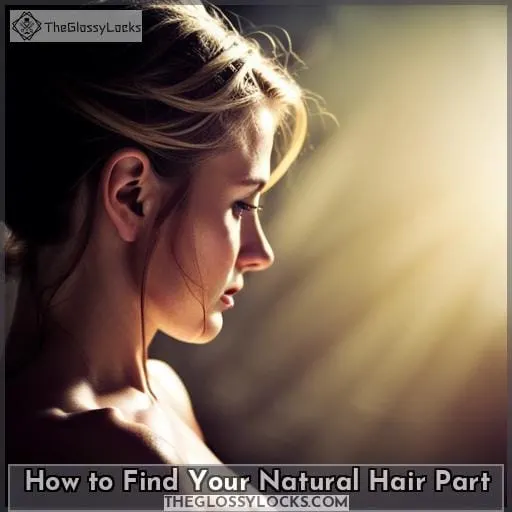 Finding your natural hair part is as easy as tracing the direction of your roots. Start by using a wide-toothed comb to section off small sections at the crown of your head. Then gently follow each strand downward until you find where it naturally parts.
This parting gives you an insight into styling techniques that best flatter and suit your face shape, texture, thickness, and length. Natural parting benefits include adding volume to flat or thinning hair, while also reducing scalp irritation from tight combs or brushes when detangling strands.
Consider factors such as face shape for selecting side parts versus center parts. Round faces are typically suited for middle parts, whereas angular-shaped faces can benefit from side partings with shorter bangs styles if desired.
Adding diagonal zigzag patterns creates a polished look, while deep side-parted styles add old Hollywood glamour.
Creating a Middle Part: Step-by-Step Guide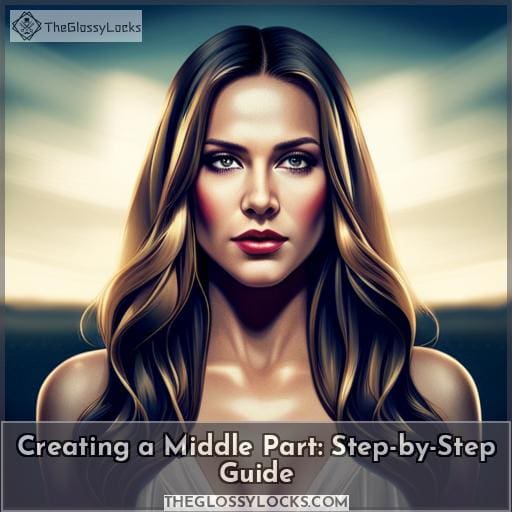 Creating a middle part can give you an instantly polished look, so let's show you how to get it right!
Start by using a rat-tail comb or your fingers to divide the hair into two sections. Make sure that each section is even in length and size for symmetry. To ensure accuracy, start at the back of your head and work forward towards the front.
You may need to adjust as needed depending on face shape. Round faces should opt for deeper parts while heart-shaped ones benefit from center parts.
Once parted, add some texture with light layers around your face for framing or bangs if desired.
Lastly, use hairspray or gel lightly along the parting line to set it in place without losing its natural movement throughout the styling process.
Middle part styling offers benefits like versatility and structure, which makes this timeless technique worth trying out today!
Creating a Side Part: Step-by-Step Guide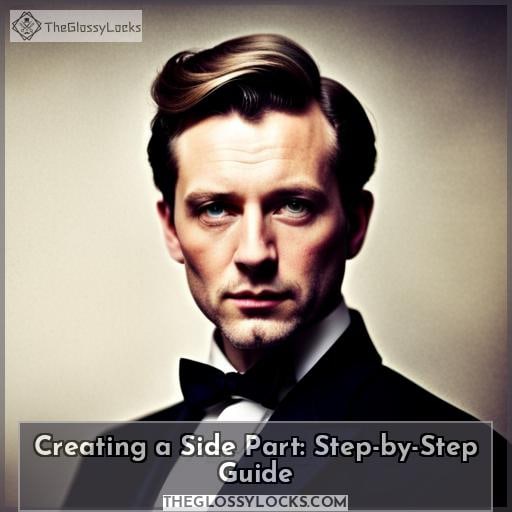 To flatter your face shape, a side part can help you achieve an elegant look. Start by using a wide-tooth comb to create the desired separation and use the pointed end for precision parting. Choose either left or right depending on preference or symmetry of features, but keep in mind that deep side parts are often more flattering than basic ones.
The benefits of this style go beyond aesthetics; it also helps with maintenance as shorter hair is easier to manage and tuck behind ears if necessary. Hair extensions may be used to add volume for those seeking extra fullness while styling products like hairspray can secure split ends without sacrificing movement.
Gen Z has embraced 70s inspired hairstyles such as bangs and shags while millennials have welcomed curly hair into their culture – both styles benefit from proper partitioning techniques when executed properly! Side Part Styling is not just about looks, it's also practical: keeping sweat away from eyes during workouts or making room for headbands when dressing up!
With regular upkeep consisting of brushing out clumps before bedtime, you'll stay fresh all day long no matter what life throws at you – liberation starts here with mastering your own hairdo destiny!
Styling Tips for Different Hair Parts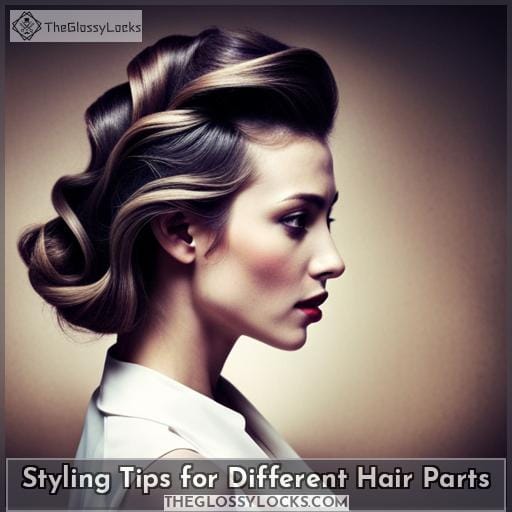 Ready to switch up your hairstyle? Adding volume with a flip and experimenting with diagonal and zigzag parts is a great way to give any look an extra boost. Whether you're looking for an effortless, carefree style or something more polished, shaping your hair into different parts can help bring out the best in your features.
Adding Volume With a Flip
Adding instant body and texture to your hairstyle, try flipping the part for a voluminous look.
Use a rattail comb for precision.
Start with dry hair that's been brushed out.
Separate the parting horizontally with the tail end of your comb.
Flip one side over from front to back.
Volume techniques like this can give you added confidence and style when choosing different parts.
Hair parting tips such as these will ensure that any voluminous flip looks effortless yet polished.
Experimenting With Diagonal and Zigzag Parts
Experiment with diagonal and zigzag parts to give your hairstyle a creative twist, like painting an abstract work of art on your scalp! Diagonal parts create a polished look, while zigzag partings add unique touches.
They flatter different face shapes and can be adjusted according to hair texture or volume. Consider switching up the parting for added trendiness; get creative with styling techniques for more impactful results.
Achieving a Polished Look With a Deep Side Part
For a polished look, try adding a deep side part to your hairstyle. Create volume and elegance with styling techniques like backcombing and teasing. Deep parts are 2-3 inches from the middle; consider face shape when choosing one for an optimal result.
Benefits include framing your features, creating balance in asymmetrical faces, and taming thick hair without losing its natural body.
How to Part Hair for Different Hairstyles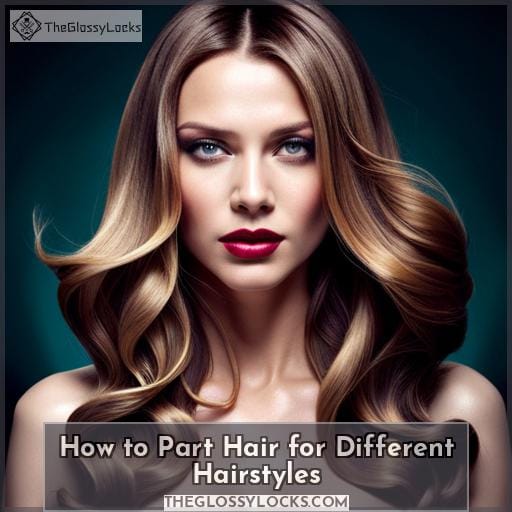 Parting your hair can be a great way to express yourself and create different hairstyles. Messy parts are an easy, carefree style that is perfect for those looking for a casual look. This guide will provide tips on how to achieve this look as well as considerations when choosing the right part for your face shape and hair type.
Messy Parts for a Carefree and Casual Look
You can achieve a carefree and casual look with messy parts! Take some time to part your hair using your fingers, creating an effortless charm. A playful parting technique will give you plenty of volume and texture for fun hairdos.
For an extra dose of carefree vibes, use hairspray or mousse to create a tousled effect that won't budge throughout the day.
Hidden Parts for a Subtle Effect
Try out a hidden part for an understated yet stylish look. Part your hair in unexpected places to add intrigue and depth to any hairstyle, while still keeping it subtle. Use thinning shears or a wide-toothed comb to create small parts that are carefully placed throughout the head at different angles.
Make sure each section is no more than two inches thick and always start from the crown of your head down towards the nape of the neck for balance.
Off-Center Parts for a Modern Twist
Experiment with an off-center part for a modern, asymmetrical look that will make heads turn. Off-center parts create trendy hairstyles and are perfect for those looking to shake up their usual style. This versatile hair parting can be used on any face shape or hair texture to add dimension and contrast.
Choose the depth of your part depending on the desired effect – slightly askew adds subtle flair while deep off-center parts provide dramatic appeal.
Tips for Precise Parting and Sectioning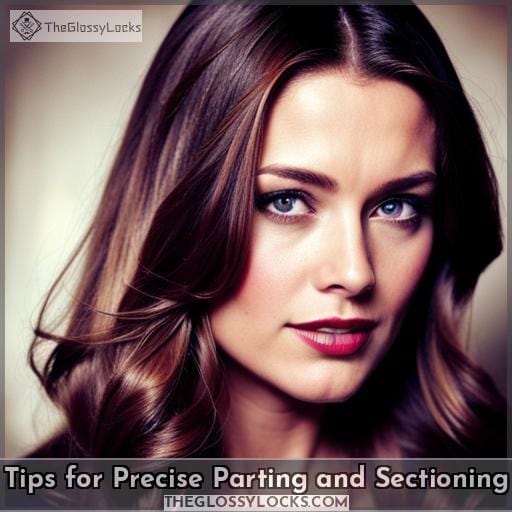 For precise parting and sectioning, a rattail comb is your best bet; measure twice, cut once after all! When it comes to creating clean parts that look stylish and well-defined, there are a few techniques you can use.
To achieve the perfect part or sleek sectioned hair:
Use the pointed end of your comb for precision when parting or making sections in the hair.
Keep sections neat by using clips to separate them as you work from one area to another if needed.
Make sure each side is even before moving on so that everything looks balanced throughout the styling process.
Mist with a water spray if necessary for extra control while styling.
Take small sections at a time when working through tough tangles; this will help prevent breakage during brushing or combing out knots.
With these tips and tricks in mind, combined with proper tools like rattail combs, attaining sharp lines and elegant styles becomes easier than ever!
Embracing Your Personal Style and Confidence in Hair Parting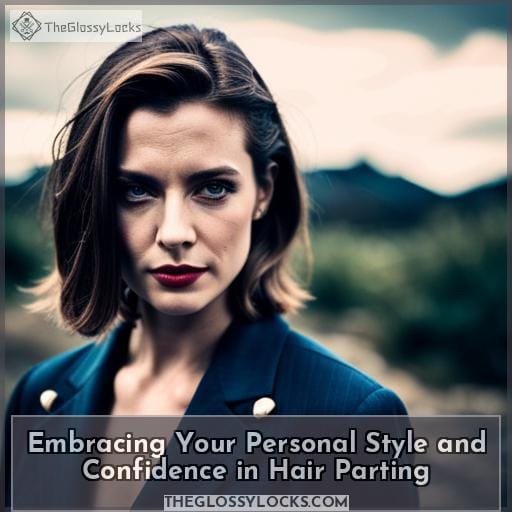 When it comes to hair parting, personalizing your style and embracing your confidence is key! You can boost self-confidence by choosing a part that flatters the shape of your face or expresses who you are.
A deep side part adds an old-Hollywood glamour, while diagonal parts create a polished sophisticated look. Messy parts provide carefree vibes for casual days, while zigzag parts add unique flair.
To achieve delicate precision when creating different styles, use tools such as rattail combs.
Experimenting with parting also provides endless styling options. You can try center, off-center, hidden, and side parted hairstyles.
So make sure you take time out for yourself. Enjoy playing around with different haircuts until something feels right – then rock it proudly as an expression of your inner beauty!
Conclusion
Finding the perfect hair part for your face shape doesn't have to be daunting. By understanding your face shape and using the right tools, you can create a stylish and flattering look. With the right techniques and styling products, you can customize your part to suit you perfectly.
Whether you prefer a classic side part, a deep center part, or a fun zigzag, parting your hair is an easy way to update your style and enhance your face shape. Follow these simple steps to find your perfect hair part and showcase your unique style.