This site is supported by our readers. We may earn a commission, at no cost to you, if you purchase through links.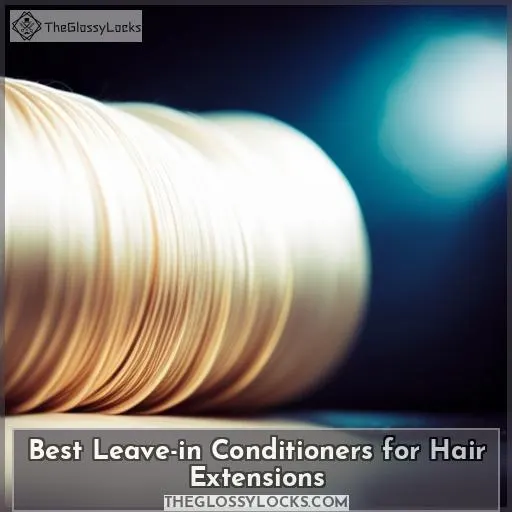 Are you looking for the perfect leave-in conditioner to revive and protect your hair extensions? Let us be your guide. With a myriad of brands out there, finding the right product can seem daunting. We'll help make it easy by introducing five of our favorite leave-in conditioners that are specifically designed for hair extensions.
From Redken One United Leave-In to RemySoft BlueMax Leave-in Conditioner, we've got all bases covered! Not only will we provide information about these products, but also tips on selecting high-quality extensions and caring properly for them with a good conditioning routine.
So keep reading – together let's find the best leave-in conditioner for your needs!
Key Takeaways
Redken One United Leave-In Conditioner offers 25 benefits for all hair types.
Matrix Length Goals Heat Protectant reduces detangling time and protects hair up to 450°F.
HairUWear Restore Conditioner Styler Protector is a dual-purpose product for synthetic and human hair.
Synthetic Wig Leave-in Conditioner keeps synthetic wigs soft and tangle-free.
5 Best Leave-in Conditioners for Hair Extensions
Keeping your hair extensions healthy and looking great requires the right leave-in conditioner. With five options to choose from, you can find the perfect product for your particular needs. Redken One United Leave-In, Matrix Length Goals Heat Protectant, HairUWear Restore Conditioner Styler Protector, Synthetic Wig Leave-in Conditioner, and RemySoft BlueMax Leave-in Conditioner are all excellent choices that will protect and nourish both synthetic and human hair extensions.
1. Redken One United LeaveIn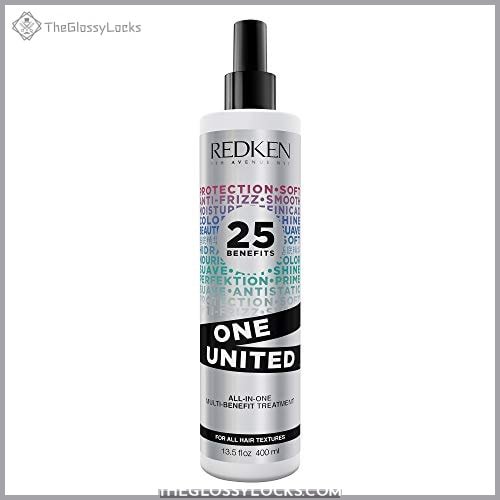 View On Amazon
Redken One United Leave-In is a multi-purpose conditioner that offers 25 benefits with its coconut oil formulation. This means you can enjoy smoothness, shine, and frizz control without the heavy product build-up.
It is suitable for all hair types and textures. Additionally, this formula is paraben-, sulfate-, and wax-free, helping to improve manageability while protecting your hair from damage caused by heat styling tools.
It is also safe for color-treated strands. Plus, it adds silky softness without weighing down your locks or leaving them feeling greasy. The subtle scent of this product will leave you wanting more after each application.
This product has received high ratings from users due to its effectiveness in taming frizz, detangling wet or dry hair, and making styling much easier. It doesn't matter if you're looking to create an updo or some other style entirely, Redken One United Leave-In can help.
Long-term users love how long the bottle lasts since only a small amount of this leave-in is needed when used sparingly on dampened strands prior to blow-drying. It can also be used again before using heated tools. In short, Redken One United Leave-In offers great value for money while delivering amazing results every time.
Offers 25 benefits including improvement in manageability and protection from damage caused by heat styling tools
Sulfate-, paraben-, and wax-free; safe for color-treated strands
Subtle scent and lasting effects make it worth investing in
Can be a bit oily if too much is used
2. Matrix Length Goals Heat Protectant
View On Amazon
Matrix Length Goals Heat Protectant is a revolutionary spray designed to reduce detangling time and protect hair up to 450° for long-lasting, smooth results. This product softens extensions while protecting them from the damaging effects of heat styling tools.
It contains no harmful chemicals and is suitable for bleach or color-treated hair as well.
The unique formula reduces breakage by half, helping with knots and minimal damage caused by brushing or combing through wet tresses.
Reduces detangling and styling time by half
Protects against heat up to 450°
Softens extensions and helps with knots
Suitable for bleached or dyed hair
Pleasant scent that doesn't weigh down locks
Not the best scent
Can make some types of hair greasy if overused
Leaves a heavy feeling
3. HairUWear Restore Conditioner Styler Protector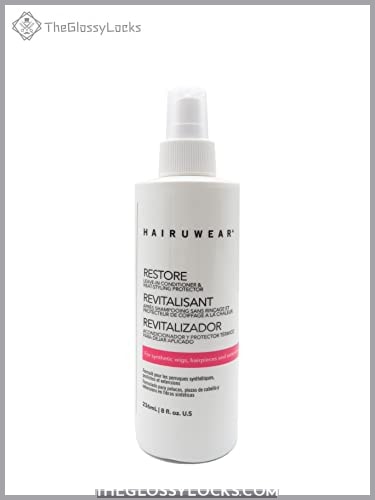 View On Amazon
HairUWear's Restore Conditioner Styler Protector offers a dual-purpose formula to nourish and protect synthetic and human hair, so you can enjoy all-day softness with the added protection of heat styling.
This product is specially formulated to be gentle on the environment while providing maximum conditioning for your hair extensions. It contains no harmful chemicals or animal products, making it suitable even for those with sensitive skin.
HairUWear's conditioner styler protector works great as both a detangler and protectant from heat damage up to 450 degrees Fahrenheit.
Dual-purpose formula (detangling protecting)
No harsh chemicals or animal testing/products
Protects from heat up to 450ºF
Softens & adds shine without weighing down hair
Not effective against curling on 'heat defiant' wigs
Limited success in eliminating frizz on Remy tape in Human Extensions
Mixed results reported by users
4. Synthetic Wig Leave-in Conditioner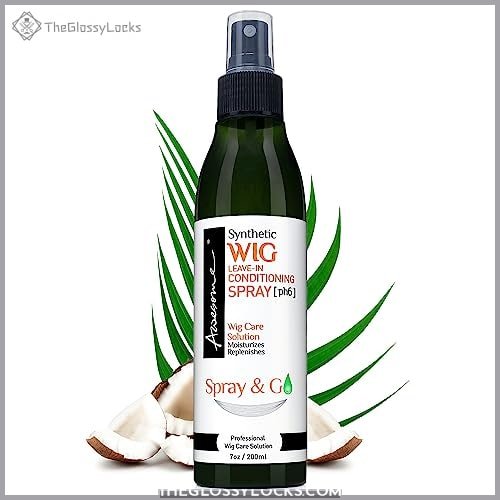 View On Amazon
If you're looking for a leave-in conditioner to keep your synthetic wig soft, tangle-free, and with long-lasting protection, Synthetic Wig Leave-In Conditioner is an excellent choice. This premium spray from AGA Product Inc. in the USA is designed specifically for wigs and hairpieces of both human hair or synthetic origin.
It not only provides hold without leaving any residue but also helps to moisturize and detangle so that wigs remain soft and manageable at all times.
Customers have given positive feedback about its effectiveness as well as its pleasant scent, which adds another layer of quality control assurance when using this product on their expensive extensions or even everyday wear items like weaves or braids.
Premium wig spray suitable for both synthetic & human hair wigs/extensions/hairpieces
Keeps wigs smooth, soft & tangle-free
Provides long-lasting hold & protection
Reduces frizz & static; promotes silkiness shine
Moisturizes effectively; easy use with no residue
Initial smell perceived by some users can be strong temporarily until it dissipates away
Some complaints about the scent resembling dog shampoo
Mixed opinions on detangling effectiveness
5. RemySoft BlueMax Leave-in Conditioner


View On Amazon
RemySoft blueMax Leave-in Conditioner is a light silicone spray designed to protect your hair from sun damage while locking in moisture and eliminating tangles. It's suitable for all types of hair, including natural, wigs, weaves, extensions, and systems.
Formulated with UV protection to block the damaging effects of the sun's rays, RemySoft blueMax leaves your locks feeling soft and hydrated without heavy product build-up.
The intoxicating scent adds an extra touch of luxury that customers have praised highly! Its effectiveness at prolonging life and improving condition has been noted by many users who use it on their expensive extensions or wigs for a more natural look that lasts longer than ever before!
Lightweight formula protects against sunlight damage without weighing down hair.
Intoxicating scent creates a luxurious experience when used on high-quality extensions/wigs.
Prolongs life & improves the condition of luxury hair extensions/wigs significantly after use.
Smells like cheap car air fresheners upon initial application but fades away quickly over time.
What Makes Hair Extensions Good Quality?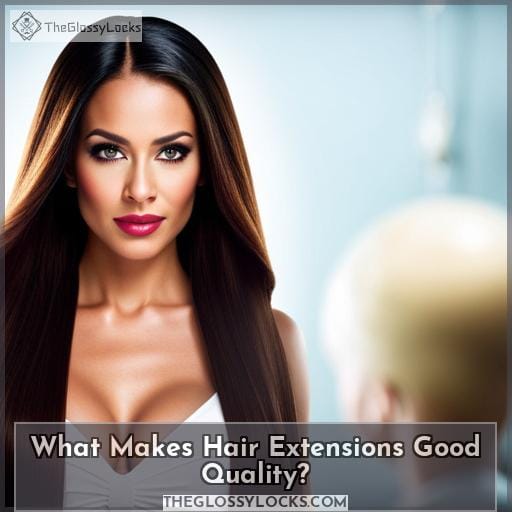 When shopping for hair extensions, it's important to look for quality products that will provide the best results. Quality hair extension attachments and texture are key to ensuring longevity from your extensions.
High-quality human hair is naturally soft and full of body, while synthetic extensions offer a natural shine with easy maintenance.
Choose an attachment method that fits your lifestyle. Opt for tape-in or clip-on extensions depending on how long you plan to wear them and if they need frequent removal or repositioning throughout the day.
Moisturizing conditioners can help keep both synthetic and human locks healthy by locking in moisture without weighing down strands. Choose one formulated specifically for use with extensions like HairUWear Restore Leave In Conditioner & Heat Styler Protector, Awesome Synthetic Wig Leave-In Conditioning Spray, Beautimark Leave In Conditioner, or Mitch Stone Essentials X Tender RemySoft blueMax Daily Refresher.
These products provide great protection against environmental damage, such as heat exposure, while adding much-needed hydration back into dry tresses.
How to Select the Best Leave-in Conditioners for Hair Extensions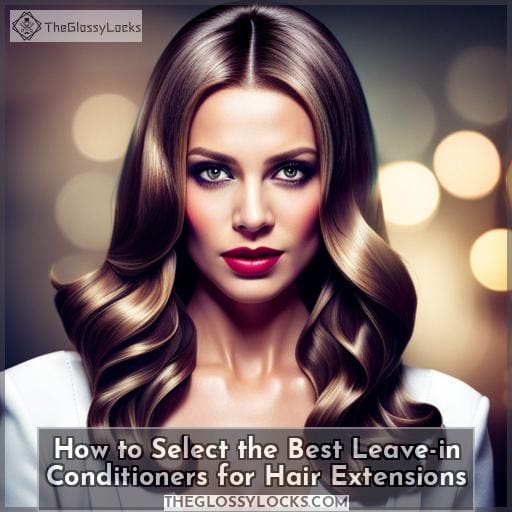 When selecting leave-in conditioners for hair extensions, it is important to look for natural ingredients that are lightweight and have a pH level matched to the hair's natural pH.
Natural ingredients for extensions.
When selecting a leave-in conditioner for your extensions, it is crucial to consider the natural ingredients included in the formula. Coconut oil is an especially beneficial addition as it contains up to 90% fatty acids that provide deep hydration and nourishment.
Argan or jojoba oils can also be utilized to keep hair soft and shiny without weighing down synthetic strands.
that will help protect against heat damage while keeping extensions moisturized, but make sure to read customer reviews before making a purchase!
Lightweight formulas for extensions.
When looking for a conditioner to use on extensions, opt for lightweight formulas that won't weigh them down. Choose products with natural ingredients like argan oil and shea butter to help balance moisture levels without causing buildup or damage. Consider the pH level of the product so it matches your hair's natural pH (around 4.5-5.
5..
Check customer reviews and look out for styling tips as well as product recommendations that will boost extension longevity and keep them healthy over time! When brushing through extensions, be sure to use a wide-tooth comb or detangling brush specifically designed for extended hair in order to protect against tangles, breakage, split ends, and other damage caused by regular brushes or combs.
pH level for extensions
Check the pH level of your product to make sure it matches your hair's natural balance – generally between 4.
Finding a leave-in conditioner that's specifically formulated for extensions is key.
Look out for ingredients like argan oil, shea butter, panthenol, and keratin. These ingredients can help provide moisture while protecting from heat damage without weighing down the extension follicles.
Avoid harsh chemicals by selecting chemical-free conditioners with natural ingredients whenever possible. This will ensure optimal results without risking any damage to the delicate strands over time.
Balancing pH levels also helps protect against breakage and dryness. So be sure to check this before using any new product on extended locks!
How to Care for Hair With Extensions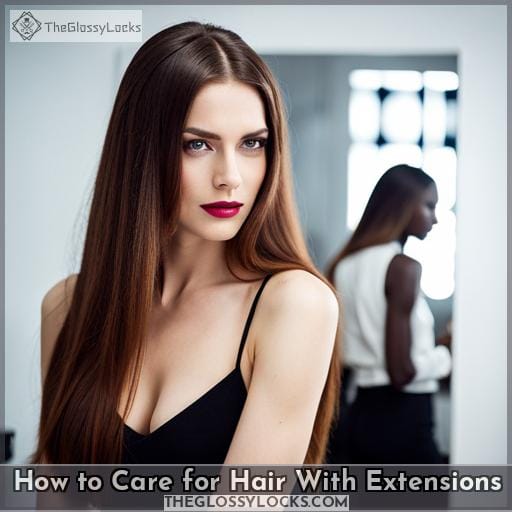 To maintain healthy, beautiful hair extensions, it's important to take the right steps for optimal care.
Understand the different types of extensions available so you can choose ones that will best suit your lifestyle.
Incorporate proper detangling techniques into your routine—use a wide-tooth comb or brush designed specifically for extension use!
Invest in quality leave-in conditioner that is formulated with natural ingredients like argan oil or shea butter to keep your hair hydrated and protected from environmental damage.
When styling with heat tools, always use a thermal protectant spray on both natural and synthetic extensions before applying any heat.
When removing tape in attachments, be sure to have an adhesive remover handy as well as professional removal tools if needed.
It's also beneficial to invest in high-quality dry shampoo because this product may help extend the life of your extension set while adding volume at the same time!
Be mindful when sleeping too; try wearing braids at night instead of leaving loose strands tangled together overnight, which could lead to more breakage and the need for replacement sooner than later due to taking good care of them.
Lastly, but not least, make sure you're using sulfate-free shampoo regularly to wash away oils and dirt buildup to get the most out of your investment!
Conclusion
The selection of the best leave-in conditioner for hair extensions can be a daunting task, but it doesn't have to be. By looking for natural ingredients, lightweight formulas, and the right pH level, you can ensure that your extensions look their best for a long time.
With these five top-rated products, you can rest assured that your extensions will be nourished and protected. From Redken's One United to RemySoft's BlueMax conditioner, you have many options to choose from.
Taking the time to properly care for your extensions will ensure they stay beautiful for years to come, just like a beautiful bloom in an eternal spring.