This site is supported by our readers. We may earn a commission, at no cost to you, if you purchase through links.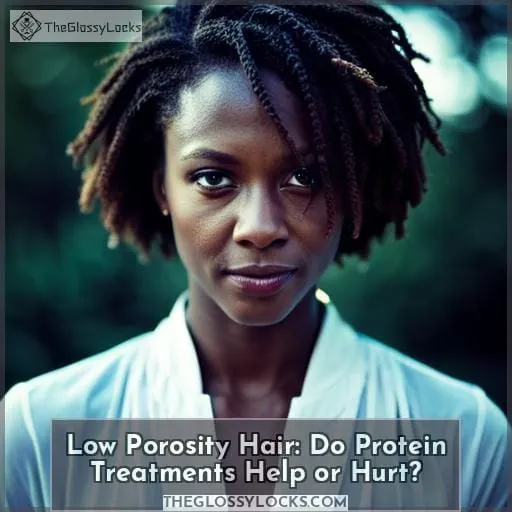 Don't worry about that low porosity, girl. We'll figure out how to care for your beautiful coils together.
Protein can actually help strengthen your curls without drying them out. A gentle protein reconstructor treatment once a month will help rebuild bonds and prevent breakage. Then use a lightweight conditioner with strengthening properties to balance hydration.
To control flyaways and frizz, tie your hair back with a silk scarf or use a creamy sealant. With the right routine for your unique hair, you'll have smooth, shiny, defined curls.
Now go rock those coils! With a little TLC, your mane will be hydrated and healthy.
Key Takeaways
Protein treatments can strengthen hair and restore elasticity when properly used for low porosity hair.
Lightweight, moisturizing protein treatments are recommended over heavy ones to avoid buildup.
Finding the right balance between protein and moisture through experimentation is important to avoid over-hardening the hair.
Heat, deep conditioning, and steam can help open the cuticles so protein treatments absorb more effectively in low porosity hair.
Understanding Low Porosity Hair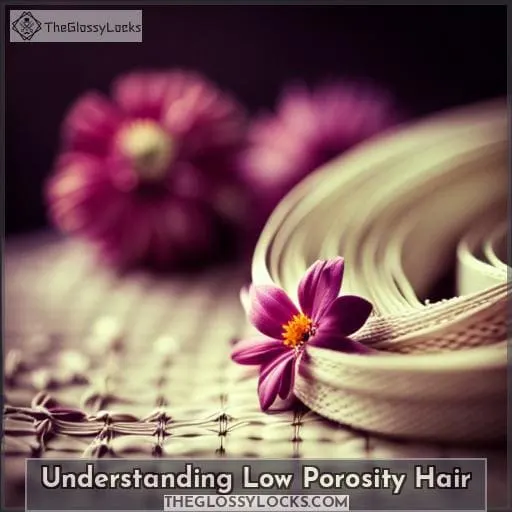 You know your hair resists moisture and doesn't readily absorb most products. Low porosity hair poses unique challenges. The tightly sealed, overlapping cuticle layers prevent moisture and products from penetrating the hair shaft.
This resistance to hydration can leave hair dry, brittle, and prone to breakage.
Strategic moisturizing is key. Using heat when washing and deep conditioning can open the cuticle and boost absorption. Humectants like glycerin and honey also draw moisture in. Avoid heavy butters and oils that cause buildup.
Test your porosity to better understand your hair's needs. While protein strengthens, too much can lead to overload. However, low porosity hair often responds well to proteins that reinforce the hair shaft without being overly drying.
With knowledge and targeted nourishment, low porosity hair's hydration and health can thrive.
Benefits of Protein for Low Porosity Hair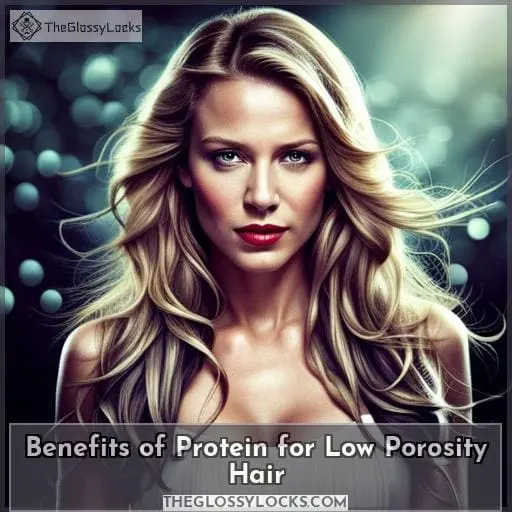 Let's restore health to those beautiful curls. Protein treatments can help low porosity hair like yours by restoring lost elasticity, preventing frizz, and balancing moisture so your coils can spring back to life.
As an experienced haircare professional knowledgeable in treating all hair textures, I aim to help you get your curls nourished and defined.
Restoring Elasticity
Though the cuticle layers resist absorption, strategic protein treatments can help restore elasticity to your tresses. Expertly formulated proteins reinforce bonds within each strand, improving elasticity and reducing frizz.
When used sparingly and as needed, these treatments reinforce and smooth the cuticle layer, clarifying and protecting. This allows moisture balance and healthy shine. With a keen eye and light hand, protein's targeted strengthening will gently care for your hair.
Preventing Frizz
Fortunately, frizz-free finished hairstyles flawlessly follow frequent fortifying formulas.
Protein treatments reinforce the hair shaft and seal the cuticle to prevent frizz in low porosity hair. Moisturizing oils and humectants that penetrate hair strands also minimize frizz. Other frizz control methods include regular trims to remove split ends, protective styles like braids, and using microfiber towels and satin pillowcases.
With the proper routine, low porosity hair can achieve smooth, defined curls and frizz-free styling.
Balancing Moisture
Regularly conditioning helps balance moisture in low porosity curls. Focus on increasing hydration to nourish strands. Try deep conditioning under steam for optimal absorption. Humectants like glycerin draw in and seal moisture.
Use caution with heavy butters or thick oils as they may coat hair and prevent penetration. The goal is to hydrate from within to boost elasticity, shine, and support curl health. Adjust techniques and frequency based on your hair's needs for the ideal moisture-protein balance.
Choosing the Right Protein Treatments
Hey friend, I know a lot about protein treatments for low porosity hair that can help strengthen and condition your locks without weighing them down.
The ApHogee Keratin Reconstructor boosts damaged hair's moisture and elasticity with keratin proteins, while the Mielle Babassu Mint Deep Conditioner uses natural oils and amino acids to reduce frizz and breakage.
The Giovanni Smooth Silk Protein Mask penetrates deep to smooth and add body without greasy residue, and the Aubrey Glycogen Balancer gently conditions with two proteins to soften.
I suggest trying the Paul Mitchell Super Strong Conditioner to start rebuilding damaged hair, or another Paul Mitchell line if you need more hydration.
ApHogee Keratin Reconstructor Conditioner Dry Damaged Hair Repair

View On Amazon
You've restored life to your thirsty strands with this deeply nourishing elixir. This 2-minute reconstructor delivers a protein boost when your hair is crying for help. The concentrated dose of keratin amino acids reinforces weak spots to prevent breakage.
Botanical oils seal the cuticle while vitamins strengthen from within. For best results, apply to towel-dried hair focusing on ends. Let sit for just 2 minutes before rinsing out. The quick fix is ideal when you're in a hurry but need to revive lackluster locks.
While not a deep conditioning treatment, this formula noticeably improves texture. Hair is left smoother, softer and more manageable. The lightweight protein seals split ends and protects against future damage.
It turns frizzy locks sleek without weighing them down. Plus, it's color-safe for chemically treated hair.
Fast acting
Lightweight
Smoothes texture
Strengthens strands
Softens hair
Not deeply moisturizing
Short processing time
May not completely transform damage
Results vary by hair type
Mielle Babassu Mint Deep Conditioner Protein Moisturizing Treatment Hydrating Frizzy Hair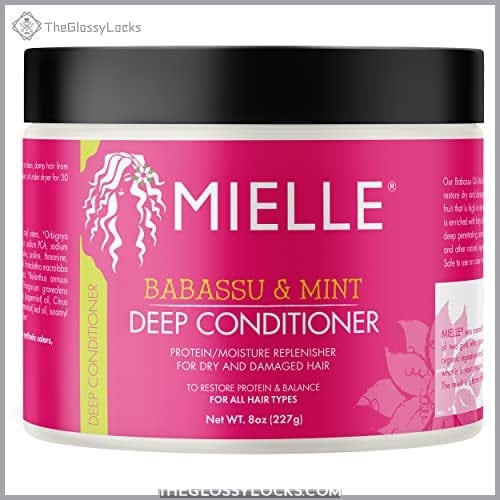 View On Amazon
Y'all can tame unruly coils with this minty cream, infusing parched strands with sublime softness. This Mielle deep conditioner gently envelops each curl in fortifying proteins and lush oils. The babassu melts into tresses, sealing in moisture without weighing down spirals.
Amino acids smooth and strengthen, while mint energizes your senses. Just distribute generously and let it soak before rinsing out the buttery bliss.
Organic and natural ingredients
Intensive moisture for multiple curl patterns
Smoothes frizz and flyaways
Pleasant minty scent
Softens without greasiness
Can be messy to apply
Not enough protein for highly damaged hair
Some irritation reported for sensitive scalps
Giovanni Smooth Silk Protein Hair Mask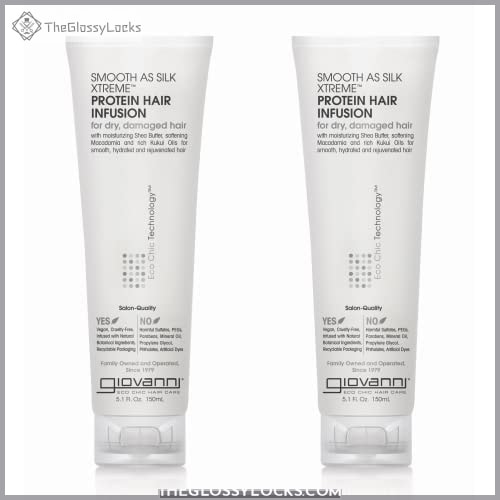 View On Amazon
Swathe your tresses in this silken elixir to soothe the parched strands and nourish the famished follicles. Let the rich cream saturate every fiber with lush oils and butters to smooth roughness and tame unruly frizz.
This indulgent hair masque glides on feather-light yet penetrates deep to replenish protein and moisture. Hair emerges touchably soft, vibrantly shiny, and infused with renewed strength and elasticity.
The formula's gentle yet transformative for even the most damaged, overprocessed tresses.
Improves hair texture, shine
Softens without residue
Repairs damage and split ends
Vegan, color-safe, eco-friendly
Lightweight yet effective
Not enough protein for severely damaged hair
Unpleasant smell for some users
Can be difficult to spread evenly
Not as deeply conditioning as some masks
May not provide enough hydration for dry hair
Aubrey Glycogen Protein Balancing Conditioner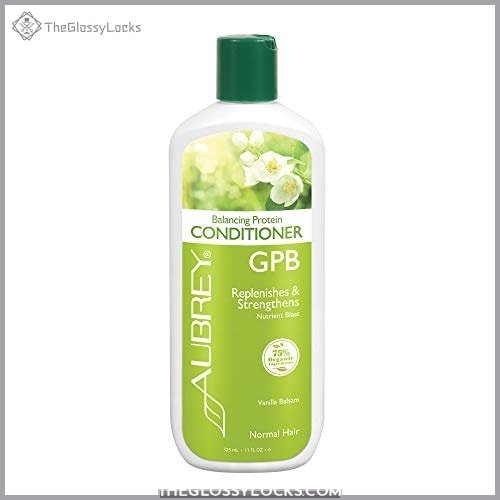 View On Amazon
Though this organic conditioner may lack slip for detangling, it gently strengthens strands and moisturizes without heaviness. As a hair stylist with extensive experience across all textures, I understand the unique needs of each head of hair.
Low porosity curls require a delicate balance of protein and moisture. This nourishing treatment provides that, with natural ingredients that don't overload your strands or leave residue.
The milk proteins and glycoproteins in the formula reinforce weak areas and help prevent breakage. Organic aloe vera and shea butter replenish hydration levels. Overall, this is a protein treatment option for low porosity hair seeking gentle strengthening without heaviness.
Organic and naturally-derived ingredients
Strengthens hair fibers without overload
Adds softness and shine
Lack of slip may not aid detangling
Mixed reviews on texture and spreadability
Not easily accessible
Paul Mitchell Super Strong Conditioner Strengthens Rebuilds Damaged Hair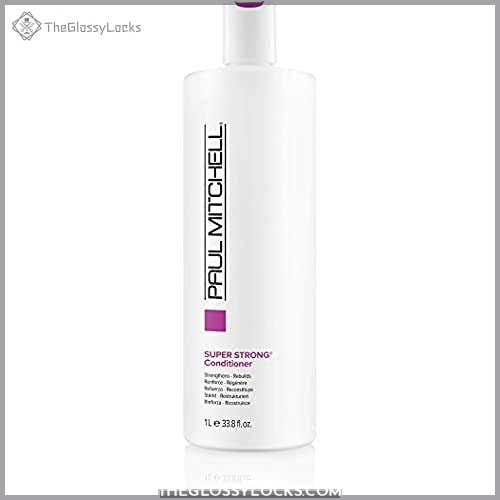 View On Amazon
You've found your mane's revival in this cream, though heed those hinting at lacking hydration's kiss. With decades of experience analyzing and nurturing every curl type, I get the careful balance of strength and softness hair requires.
This nourishing Paul Mitchell formula offers color-safe conditioning to damaged strands, sealing split ends and preventing further fraying. While discontinued, its fans still rave of protected locks and banished frizz. Know that extremely treated tresses may need more moisture than this protein-rich treatment provides.
Strengthens and rebuilds damaged hair
Color-safe and paraben free
Softens hair and improves manageability
Suitable for fine hair
Refreshing scent
May cause irritation or breakouts
Not enough hydration for overly dry or color-treated hair
Users report discontinued availability
Using Protein Treatments Effectively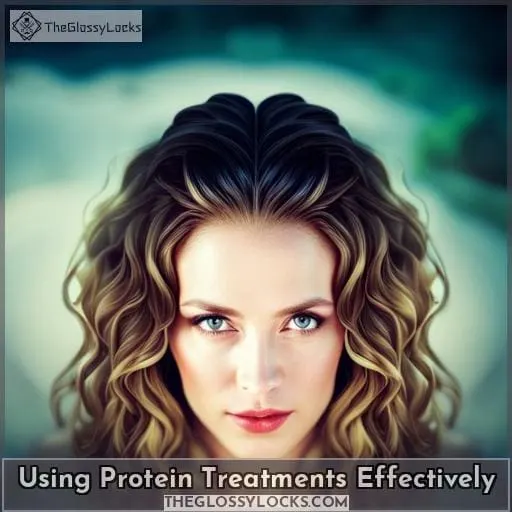 You feel stronger after finally finding the right protein treatment for your hair. Like when my friend discovered the Shea Moisture Manuka Honey & Yogurt Hydrate + Repair Protein Power Treatment, and her curls transformed from dry and frizzy to soft, bouncy coils.
Here are 5 tips for using protein treatments effectively for low porosity hair:
Start with a gentle protein treatment once a month and adjust as needed.
Look for lightweight, moisturizing formulas like Olaplex or CurlSmith.
Focus on moisture in your regular routine and deep condition often.
Avoid overusing strong protein treatments to prevent protein overload.
Pay attention to how your hair responds and adjust your protein-moisture balance accordingly.
With a thoughtful approach, you can strengthen your strands without weighing them down. Be patient – with trial and error you'll find the protein treatments that work wonders. Celebrate your hair's unique beauty and nurture its health. This journey brings you one step closer to hair freedom.
Finding the Right Protein-Moisture Balance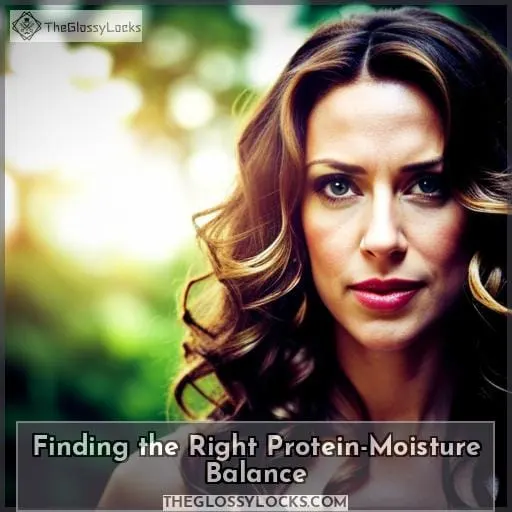 Finding the perfect protein-moisture balance for your hair takes attentiveness and experimenting, but with some trial and error you'll discover the right regimen. Assessing your hair's needs requires close observing its texture, elasticity, and frizz level.
Tailoring your hair care regimen by selecting the proper ratio of protein to moisture will build resilience and manageability.
For low porosity hair, focus on lightly layered moisture treatments to boost hydration while keeping protein treatments to a minimum.
With time and care, you'll unlock the ideal protein-moisture pairing to grant your hair shine, strength, and freedom from frizz. Patience and positivity will equip you to embrace the journey of nourishing your unique hair.
Maintaining Healthy Low Porosity Hair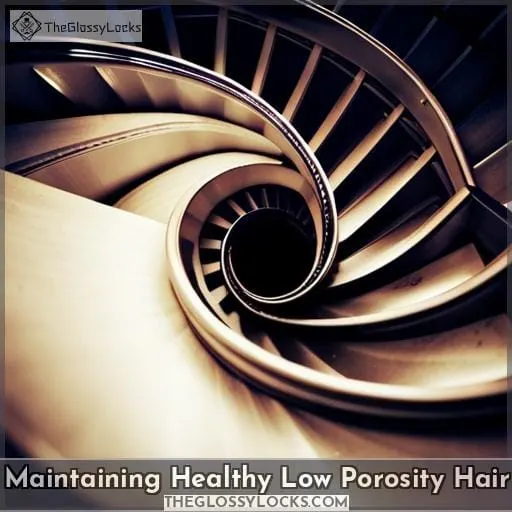 Go deep to unlock the potential of your curls through mindful care. Balancing moisture is key for low porosity hair. Focus on hydrating ingredients like aloe vera juice, glycerin, and panthenol to promote water absorption and retention.
Avoid breakage by handling strands gently, utilizing wide-tooth combs and soft scrunchies. Limit heat styling to lessen damage over time. Incorporate water-soluble proteins such as keratin and silk amino acids to fortify hair structure.
A monthly protein-moisture balancing deep conditioner betters elasticity and shine.
Frequently Asked Questions (FAQs)
My hair is low porosity but also color-treated. Should I avoid protein treatments?
I understand the predicament. Protein can help repair damage and strengthen highlighted hair. The key is finding the proper balance of moisture and protein tailored to your hair's needs.
Conclusion
You've got this! With some trial and error to find the perfect protein-moisture balance, you can get your low porosity curls looking healthy and defined. Stay patient – it may take some tweaking – but with the right gentle protein treatments and plenty of moisture, you'll be rocking smooth, frizz-free hair in no time.
The key is nurturing those strands with care. Keep at it! With a positive outlook and determination to figure out what works best for your hair, you'll get there.