This site is supported by our readers. We may earn a commission, at no cost to you, if you purchase through links.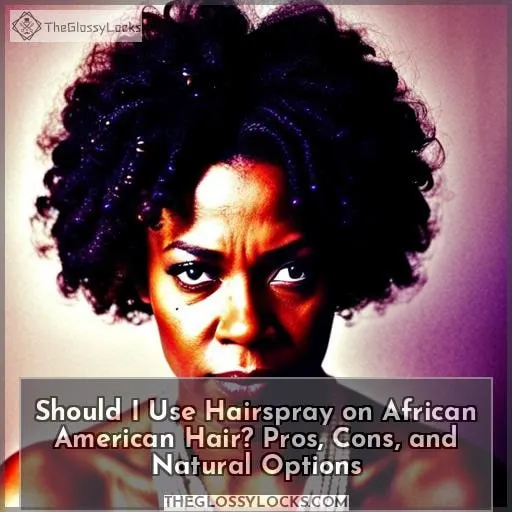 As a fellow naturalista, I understand you're wondering if hairspray is right for our curls and coils. I've been there – seeking the perfect products to define my texture without damaging my crown. The struggle is real when trying to embrace our beautiful coils while keeping frizz at bay.
However, while some may swear by hairspray, we've got to consider how it can potentially dry out our locks. Lucky for us, there are more natural options to get definition without compromising moisture! We can make our own nourishing sprays with ingredients like aloe or castor oil.
And there are store-bought sprays made specifically for our curl patterns too. With some trial and error, we'll find what works best to accentuate our natural beauty.
This journey isn't easy, but we've got this! Our hair is worth the effort to find what helps it thrive.
Key Takeaways
Avoid alcohol-heavy hairspray formulas that can lead to dryness or buildup. Opt for natural ingredients instead.
Match the hairspray's formula and hold level to your specific hair type and desired look.
Test different hairspray products beforehand to see how your hair reacts before fully committing to using them.
For a natural alternative, make homemade hairspray with ingredients such as coconut oil, aloe vera, and essential oils.
Pros and Cons of Using Hairspray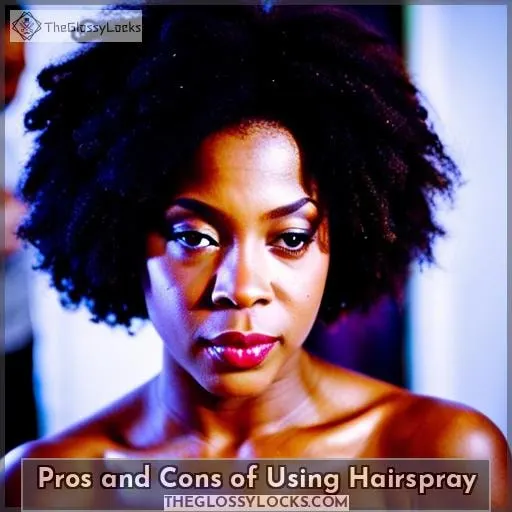 You're right to consider the pros and cons, as hairspray can provide hold but also dry out your delicate curls. Interestingly, over 80% of black women report using some kind of hairspray or styling product daily.
The pros are that hairspray can provide flexible hold for achieving different styles.
The cons are that overuse can make hair dry and brittle over time. It's best to avoid alcohol-heavy formulas.
Ultimately, embrace finding what works for your hair's health and desired styling.
Choosing the Right Hairspray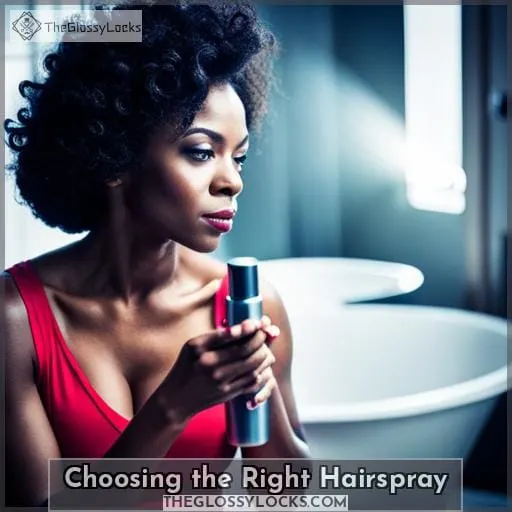 Hello friend! When choosing the right hairspray for your beautiful, natural hair, consider your specific hair type and styling goals. A lighter hold hairspray may give you the flexible hold you need without excessive drying or flaking, letting your natural texture and movement shine through.
Lighter hold hairsprays allow your curls to remain touchable and movable while also providing shape. Stronger hold options are great for more sleek styles that need to withstand humidity and activity.
Play around to see which level of hold keeps your style intact while maintaining manageable, non-crunchy strands. Also pay attention to ingredients, avoiding alcohols which can dry out hair. Seek out nourishing ingredients like oils and conditioners.
With some experimenting, you'll find the perfect hairspray to enhance your natural locks.
Ingredients to Avoid
Alcohol can severely dry out your hair and scalp, so check the label carefully before buying. Many mainstream hairsprays contain alcohol and other harsh chemicals; these ingredients can damage your strands, irritate your scalp, and lead to breakage.
When selecting a hairspray, look for natural formulas without drying alcohols. Botanical ingredients like aloe vera and essential oils can provide hold without compromising your hair's health.
Matching Hair Type
Whether your curls are tight or loose, look for a hairspray that provides hold without stiffness. Seek lightweight formulas that won't leave hair crunchy. For thick, textured hair, try sprays with conditioning agents to control frizz while maintaining softness.
Match your hairstyle goals with products made for your unique texture and volume. Embrace your beautiful hair; with the right spray, you can style it with health and confidence.
Homemade Options
While considering organic recipes, you'd whip up frugal solutions with essential oils rather than rely on chemicals for your locks.
Coconut oil adds moisture and shine.
Lemon juice boosts volume with its citric acid.
Castor oil smoothes down frizz.
Rosemary strengthens strands and stimulates growth.
Lavender soothes irritation and smells lovely.
Homemade options let you customize hairspray to nourish curls, avoiding harsh ingredients.
Benefits of Hairspray for Natural Hair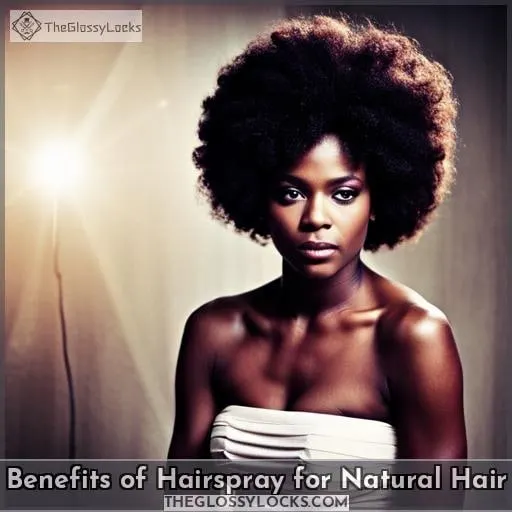 Using hairspray on African American hair has its pros and cons. While hairspray can help set your style, overuse can lead to dryness or buildup. Ultimately, choosing the right product and using it in moderation allows you to reap the benefits without drawbacks.
Varying your use prevents the hair from appearing stiff or crispy. Seek lightweight sprays that provide hold without being overly drying. Focus application on the finished style rather than spraying all over. And don't forget to moisturize regularly to counteract any potential drying effects.
With the right balance, hairspray can be a useful styling tool for natural black hair.
Pros and Cons
You'll need to strike a delicate balance when using hairspray on your natural locks. Too much can leave hair sticky and weighed down, while too little won't hold the style. Hairspray can provide flexible hold for curls without the crunch of gel. But alcohol content can dry out highly textured hair over time.
Focus on hydrating shampoos and natural styling options. With the right hairspray and styling technique, you can achieve beautiful definition and movement.
– Ingredient Considerations
Like a detective searching for clues, you scrutinize the ingredient lists to uncover any harmful chemicals that could damage your locks:
Alcohol content
Chemical preservatives
Artificial fragrances
Synthetic emulsifiers
You want to embrace the beauty of your natural hair without compromising its health. Seek out products with plant-derived oils and extracts to nourish your strands while taming frizz.
– Hair Type Compatibility
Knowing your hair texture plays a part in nailing down the proper hairspray. Test products to see how they react. Does your hair feel sticky or stiff? Opt for sprays with natural oils if your strands are dry.
Seek lightweight formulas if your curls fall flat. Read labels to avoid harsh alcohols. With thoughtful selection, you can find a product to complement your beautiful locks.
Making Homemade Natural Hairspray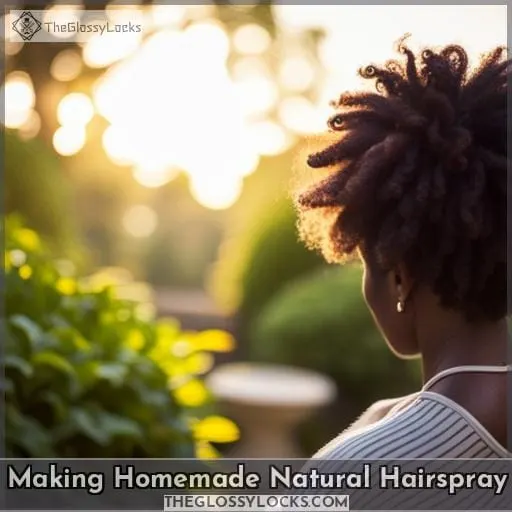 Welcome to homemade hairspray recipes for natural hair! First, whip up sugar hairspray with lemon juice for flexible hold. Then try mixing aloe vera gel with essential oils to moisturize while setting your style.
Sugar Hair Spray
With the right amount of sugar, you can create a flexible hold that won't leave your natural locks crunchy. A DIY sugar hair spray offers natural style with hair health in mind. The sugar provides light hold without stiffness.
Adjust the amount for your desired effect. Embrace natural alternatives that nourish while gently styling. Remember, healthy hair begins from within. Care for those beautiful curls with pride. Varying sentence structure improves flow. Short and long sentences spice up the prose.
Repetition dulls the text. Active voice energizes. Focus on the essence of each sentence.
Aloe Hair Spray
Slather some aloe hairspray on your locks for soft hold and shine. Aloe's benefits for hair include:
Hydrating
Moisturizing
Soothing
Anti-inflammatory
Promoting hair growth
The aloe vera gel adds moisture and conditioning while providing light, flexible hold for your curls or blown-out hair.
Castor Oil Hairspray
Use our castor oil hairspray for a natural hold that nourishes your locks without chemicals. While some worry it'll leave hair greasy, the lightweight formula absorbs beautifully.
| Benefits of castor oil | Application tips | Alternatives to castor oil |
| --- | --- | --- |
| Moisturizes hair | Shake well before use | Argan oil |
| Prevents breakage | Spray evenly on damp hair | Coconut oil |
| Adds shine | Focus on ends | Olive oil |
| Promotes growth | Let hair dry naturally | Jojoba oil |
Castor oil hairspray lets your curls shine while keeping frizz at bay. Embrace the freedom of healthy locks with this natural, homemade styling spray.
Avoiding Damage to Natural Hair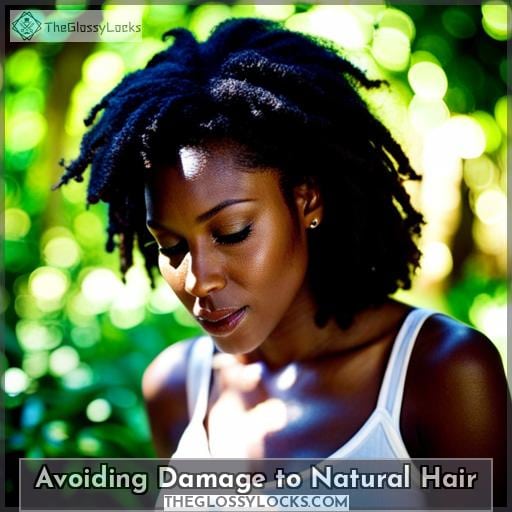 You're worth treasuring those beautiful coils and curls without harsh chemicals drying out your tresses, girl. Focus on hair health with a routine that promotes moisture balance and prevents breakage. Protective styling allows your hair to rest between straightening sessions or over-manipulation.
Use gels and hairsprays sparingly since buildup can dry out strands. Clarify regularly to remove product residue. Getting a trim helps maintain ends. Avoid dyes and bleaches, which strip natural oils.
Know that you've got this! With a thoughtful regimen recommended by medical professionals, your fabulous natural hair will thrive.
Understanding African American Hair Structure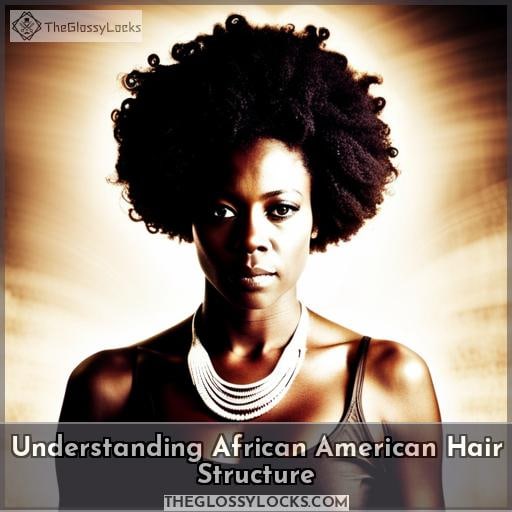 When caring for your unique African American hair, it's crucial to understand its unique structure. The cuticle is the protective outer layer, shielding your strands from damage. Underneath lies the cortex, comprising the bulk of your hair's mass.
Within the cortex are hydrophobic lipids that repel water and give hair its strength. However, overuse of chemicals, heat styling, and environmental factors like sun and pollution can degrade these lipids over time.
While an occasional blowout or relaxer won't ruin your hair, chronic overprocessing does take a toll. Be gentle with your coils, opt for protective styles, and nourish your hair from within.
The Role of Shampoos and Conditioners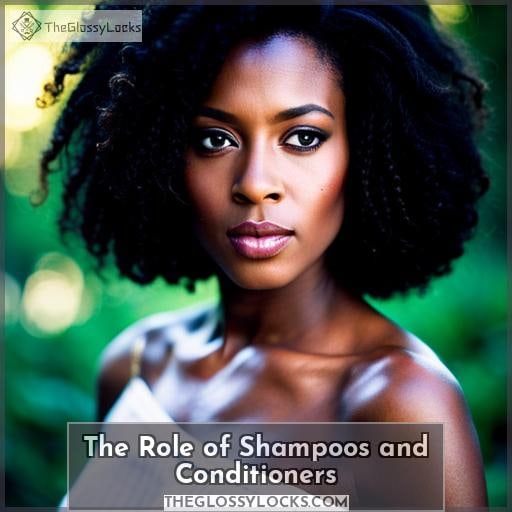 Conditioners reduce friction and improve combability, so you'll want to choose ones that nourish your hair. Look for conditioners with natural oils and proteins to replenish moisture and strengthen hair.
Avoid harsh detergents, which can strip your hair. Focus on scalp health too by massaging as you shampoo to stimulate blood flow. Rotate between moisturizing, clarifying, and protein conditioners to meet your hair's changing needs.
Surfactants like sulfates help shampoos lather but can be drying, so alternate with options like cocamidopropyl betaine, which clean gently. Your hair will reflect your care, so take the time to discover products that enhance its natural beauty.
With the right regimen tailored to you, your hair will thrive in fullness and sheen.
Expert Advice for Embracing Your Hair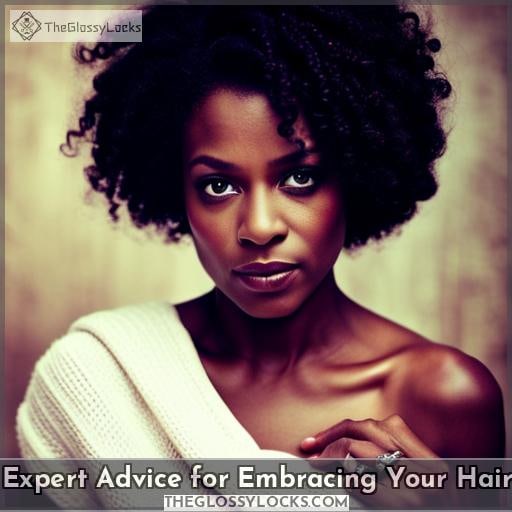 Embrace your unique hair with confidence and pride, as the author encourages. She speaks from experience, aiming to help you care for your natural tresses.
Focus less on chasing trends and more on enhancing your natural beauty. Your hair is glorious as is. Don't let societal pressure dictate your style choices. Wear protective styles if you wish, but know they aren't required for beauty.
Follow the expert hair care guidance herein when you need extra styling or treatment. But above all, recognize and show off the splendor of your natural hair. Its uniquely textured beauty represents your heritage.
Conclusion
You've got this, girl! Your hair is uniquely you. Don't be afraid to express yourself through your hairstyles. Hairspray can help tame flyaways and frizz without being too drying or damaging, when you choose the right products.
But you've also got great natural options, like sugar-based spritzes and aloe gels. Keep embracing those natural curls and coils! Should I use hairspray on African American hair? Yes, you can – just be empowered to find what works best for you and your hair goals.