This site is supported by our readers. We may earn a commission, at no cost to you, if you purchase through links.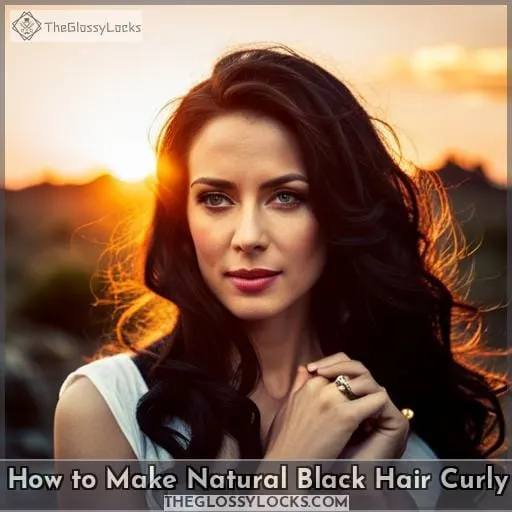 Ready to unleash your inner goddess? Let's start with making natural black hair curly! With a few simple steps, you can transform those kinky coils into lush locks that are full of life.
First things first – begin by analyzing your hair's natural texture and decide which type of curls will suit it best. Then, pick up some quality shampoo and conditioner that is specially formulated for black hair textures.
After washing and conditioning properly, use a wide-toothed comb to gently detangle any knots or tangles in the strands before moving on to styling.
So what are you waiting for? Start curling today!
Key Takeaways
Analyze your hair's natural texture for suitable curl techniques.
Use quality products and techniques to maintain moisture and shine.
Embrace your natural curls with confidence.
Try different styling methods and techniques to achieve curly hair.
Analyze Your Hair's Natural Texture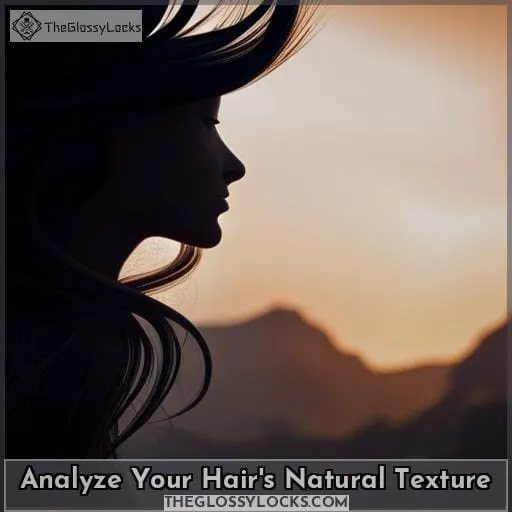 Take a moment to examine the texture of your hair and determine which techniques will work best for creating beautiful, bouncy curls. Analyze your natural curl pattern to style black hair effectively. Consider the coarseness, porosity level, and thickness of your hair as these features can influence your styling options.
Note how easily or difficultly strands form into curls to choose suitable products. If necessary, use clips or elastic bands to break down each section and focus on one area at a time. Assess the overall look and feel of all sections combined to determine possible hairstyles for natural afro hair textures.
Shampoo and Condition Properly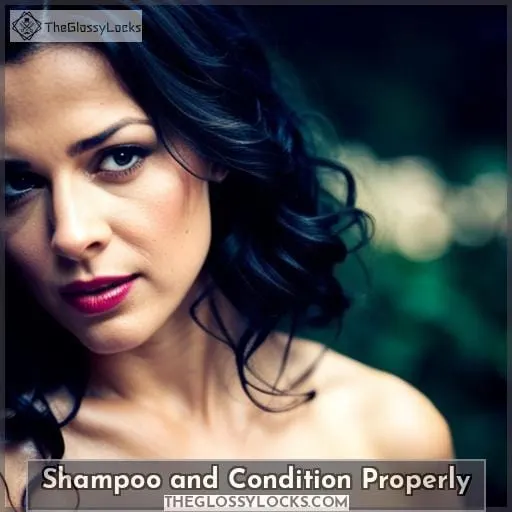 Give your 4C Afro hair the nourishment it needs by washing and conditioning with moisturizing products. To keep your curls healthy, look for curl-friendly shampoos and conditioners that are designed to balance moisture levels while avoiding sulfates.
Also, use a leave-in conditioner to hydrate and protect strands from heat damage.
When washing, take into account your hair's porosity level. If it is low, use lukewarm water instead of hot or cold. For high porosity hair, deep conditioning treatments should be done more frequently than normal.
Here are some tips on how to shampoo and condition properly:
Stick with an all-natural formula that is free of harsh chemicals like sulfates or parabens.
Focus on scalp health first, as this will help encourage stronger roots for better curly definition.
Use a mild cleansing agent when needed, so you don't strip away too much natural oil from the scalp.
Always follow up shampooing with additional moisture in the form of a lightweight leave-in treatment.
By following these simple steps, you can ensure healthier curls while keeping them looking bouncy and full!
Detangle Gently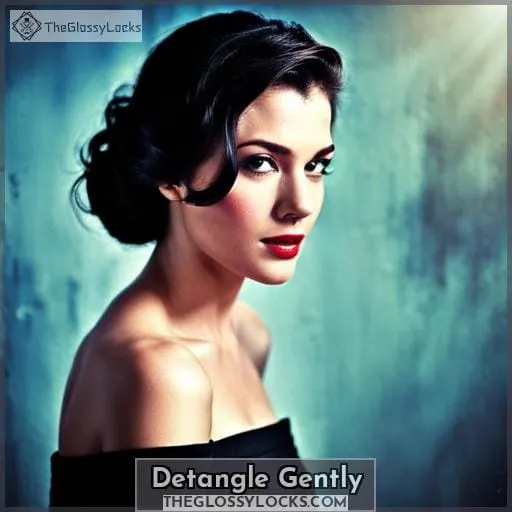 Gently detangle your curls to unlock their true potential! Detangling natural black hair gently and without causing breakage or damage is essential for achieving the best-styled looks.
Start at the ends, using a wide-tooth comb that will glide through knots without pulling on any strands of hair. Use knot-free methods such as finger detangling and tangle-taming shampoos to help minimize distressful tangled locks.
To keep your curls smooth, use a strand care treatment that helps reduce friction when brushing out those pesky tangles while adding shine to each curl pattern with every stroke of the brush.
Stress-free combing should be done in sections, bit by bit; never force it! With gentle finger motions, untwist those kinks until all snarls have been removed from the roots down to tips—for healthy, moisturized curls each time you style them up!
Style With Defined Curl Techniques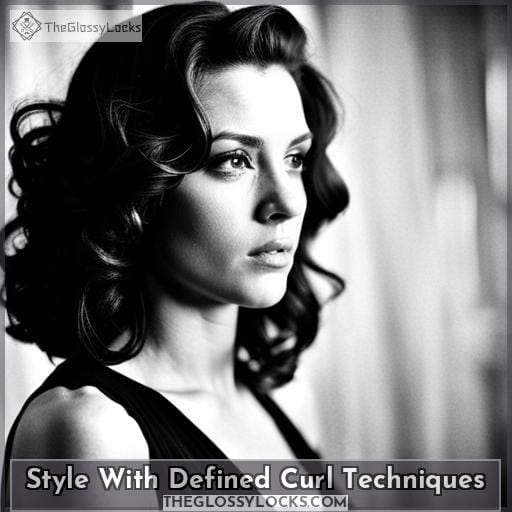 Are you looking for a way to make your natural 4C Afro hair curly? Bantu knots and twist-outs are two of the most popular curl techniques that can help give your curls definition and bounce.
Bantu Knots
Create a unique look with Bantu knots, twisting your curls into coils and pinning them in place for an eye-catching style!
For this protective style, start by dividing damp hair into sections. Apply leave-in conditioner and oil to each strand before gently detangling.
Then take small pieces of the sectioned off hair and twist them together until they form a coil that you can then secure with bobby pins or clips.
Leave overnight for defined waves or unravel right away if you prefer looser curls instead!
Try it on short haircuts as well; just be sure to use smaller portions of hair when twirling around your fingertips!
Discover how Bantu knots compare to other curling techniques like the Shingling Method or Twist Outs on kids' natural locks too.
Twist Outs
Twist each section of your hair into coils and pin them in place for beautiful, bouncy curls. Moisturizing products will help define the twist-out styles and protect from frizz. For nighttime care, wrap a scarf around your head before bed to further define the curls when you wake up.
Braid Outs
Unlock bouncy, voluminous curls with the Braid Out technique! This natural hair styling method offers many benefits, such as texture variation, curl preservation, and fashion inspiration.
To get started, use extra virgin olive oil to moisturize the scalp and hair before sectioning it into four parts. After each part is braided, apply a light layer of custard or gel for hold. Then, leave it overnight.
In the morning, unravel your masterpieces for an effortless look that will last for days! Enjoy all these great braid out benefits while experimenting with different styles according to your preferences.
Define Curls With Rods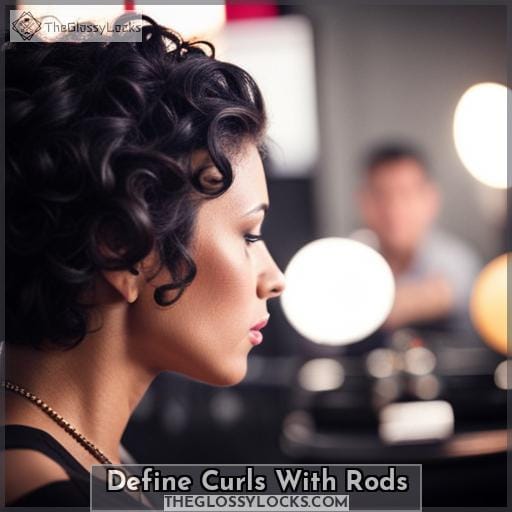 Ready to create beautiful curls and waves with your natural 4C Afro hair? Flexi Rods and Perm Rods are excellent styling tools for achieving definition without the use of heat. With these two rods, you can easily achieve lovely curls that will last for days.
Flexi Rods
Give your curls a boost with Flexi rods—a great way to define and add volume to your natural 4C Afro hair! Flexi rods are curl activators that help form tight, bouncy coils without the use of heat.
Curl maintenance can be easy when you overnight flexi rod sets for beautiful locks in the morning. Start with freshly detangled and moisturized hair. Then, wrap it around the flexible curling rods before bedtime.
To make styling easier, apply leave-in conditioner or a curl cream beforehand. Finish off by placing satin pillowcases over them for extra hydration while you sleep.
Perm Rods
Try using perm rods to get defined curls and enhance your natural 4C Afro hair. Perm rod sizes come in various lengths, making it easy to customize your styling options. To achieve the best results with wet sets, use a styler gel before wrapping strands around the hair curling rod.
Coil Strands for Bouncy Curls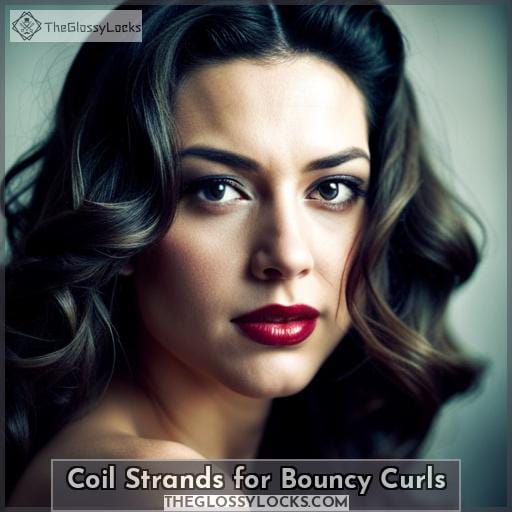 Getting bouncy curls is a great way to jazz up your look. To achieve this style, you'll need some styling products and accessories like curlformers or pin curls.
Start by applying leave-in conditioner, then divide the hair into sections before adding any product. For extra definition, twist each section of hair in a curling sponge or coil it around your finger for a medium springy curl pattern with volume at the root area.
Create as many coils as desired until all sections are complete and secure them with pins if necessary.
Finally, finish off the look by misting each strand with oil-based hairspray for shine and bounce! You can also create beautiful styles overnight using Bantu knots.
Set Pin Curls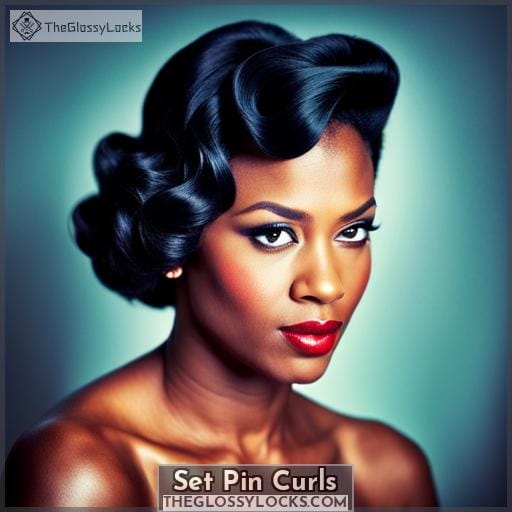 Create beautiful, voluminous curls with pin curls – a fail-proof way to get long-lasting locks! For those looking for an effortless curl pattern without the use of heat, setting your hair in pin curls is the perfect solution.
To achieve this look, first make sure that you've prepped and moisturized your hair appropriately with products designed specifically for black textures. Then, section off small parts of dampened strands and begin twirling them around two fingers or curling wands into small circles.
Once all sections are complete, wrap a silk scarf over them overnight or sit under a hooded dryer if you're short on time. In the morning, gently release pinned coils one by one until desired volume appears.
Then, fluff out using just fingertips as needed before locking it in place with hairspray if desired.
Pin Curls offer endless styling variations, so don't be afraid to experiment! With proper maintenance tips and product recommendations, they can keep their shape for days at a time, allowing you more opportunities than ever to play up this classic look any given night!
Use Curling Wands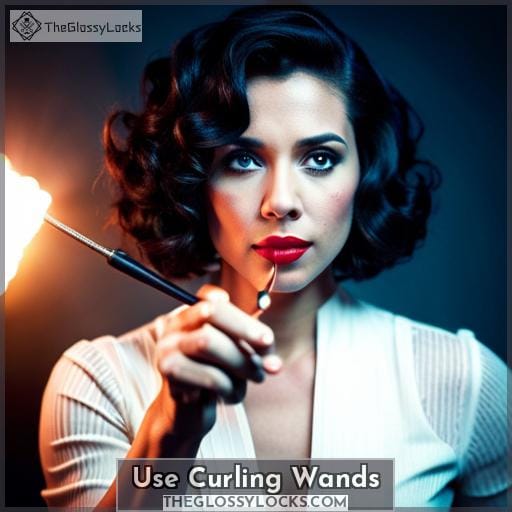 You can achieve effortless curls with a curling wand! Using the right curling wand techniques, you can create beautiful heat-free curls that last all day. It's important to practice safety when using any heated styling tool and to keep your hair moisturized before and after use.
Curl each section of hair for 10-15 seconds at a time, depending on the thickness of your strands. You may also choose to add extra protection by spraying each strand with a thermal protectant spray prior to curling or wrapping it around the barrel of your device.
For more definition, try finger coils, Bantu knot outs, or wash and go methods combined with Creme Of Nature Argan Buttermilk Leave-In Milk.
Try Heatless Overnight Styles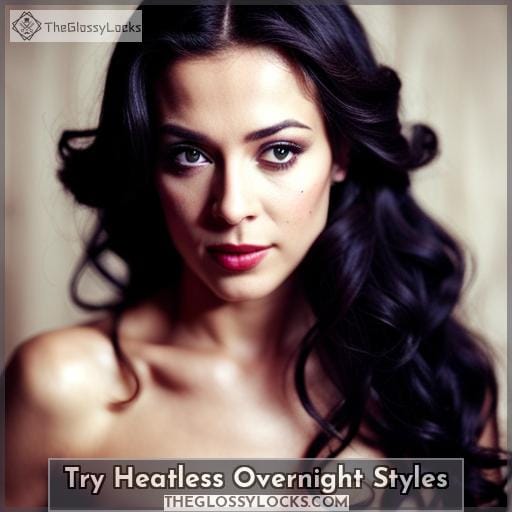 Try experimenting with heatless overnight styles for your natural 4C afro hair, such as braids or bantu knots, to achieve beautiful curly looks without any damage.
For instance, Lovely Bryana's Braid and Curl method gives her long locks gorgeous definition and volume that last all week! To get the best results from this technique, use water spritzers to dampen sections of your hair before applying curl-enhancing styling gels.
Then wrap around Flexi rods in different directions for a twisty look. When completely dry, remove the rods and fluff out curls with your fingers for maximum volume.
Use satin pillowcases so you don't disturb these soft shapes while sleeping; they help keep moisture locked into each kink, giving added shine too! Protective wrapping is also ideal if you want extra hold throughout the night.
Tuck away those precious twists or flat wraps using head scarves or bonnets until morning time arrives when it's time to take off those layers like magic, revealing lusciously curled manes ready to be enjoyed all day long.
Maintain Moisture and Shine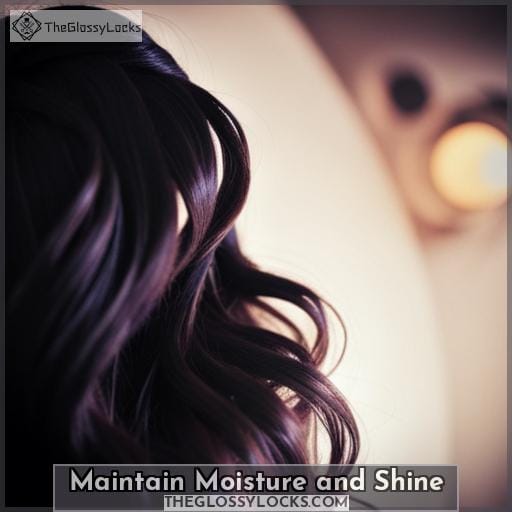 Making sure your natural 4C Afro curly hair is healthy and well-moisturized is essential for achieving glossy, lustrous locks. Start by investing in high-quality products that are specifically designed to keep hair hydrated.
For best results, use a leave-in conditioner or moisturizer before styling and reapply throughout the day as needed.
Also, consider using an oil on wet or dry strands to seal moisture into the curls for long-lasting effects. Additionally, avoid over manipulating your hair when styling so you don't cause any damage.
Finally, use heatless overnight methods such as braids and coils with creams/custards for luscious curls that will stay put through thick and thin. Then finish off with generous amounts of pomade or gel to give definition and shine without sacrificing precious curl pattern integrity.
Conclusion
Having natural black hair can be a blessing and a curse. You can achieve any look you want, but it does require a bit of extra effort. To make your natural black hair curly, start by analyzing your hair's natural texture.
Then, shampoo and condition properly and detangle gently. With the right care and techniques, you can achieve gorgeous, shiny, and moisturized curls.