This site is supported by our readers. We may earn a commission, at no cost to you, if you purchase through links.
The best castor oil may just be the solution you're looking for to complete your beauty routine. Castor oil is rich in Omega-9, Omega-6, and Vitamin E, which can help moisturize and nourish your skin and hair.
In addition, castor oil has antibacterial and anti-inflammatory properties that can help acne-prone skin, reduce inflammation, and soothe redness.
This miraculous oil has been known as beneficial for generations, is one of the most calming scalp oils in the world.
But there is more – much more – castor oil than the benefits of keeping a man or girl regularly, like, for example, castor oil for hair growth, which we cover in this post.
Before you commit to castor oil, it's important to point out that there are two different opinions about the properties of hair growth, with experts noting that there is no scientific evidence to support the claims of hair growth.
However, there are other dermatological experts who believe that castor oil can help with hair growth because of its benefits for hair and scalp. That means it may not cause instant hair growth, but for some people, it can help promote healthier, faster-growing hair.
If you want to pick one right away, we've got you covered. In this article, we've compiled a list of the ten best castor oils available on the market.
Things to Consider When Buying Best Castor Oil
There are a few things to keep in mind now that you have decided to try castor oil for hair growth. Choosing the right oil can mean the difference between no result and a fuller, healthier head of hair.
1. Type of castor oil
While all castor oil products come from the same primary plant, there are actually three main types of castor oil that can have different effects or results on your hair.
The different types are the result of different extraction processes of castor oil that subtly change the chemical composition of the resulting oil.
1. Organic Cold Pressed Castor Oil
When examining castor oil, you will often see and hear the expression cold-pressed. What it refers to is the extraction process of the oil; The cold-pressed process extracts the oil directly from the castor seed without heat.
While hot pressing is common, it can break down the nutrients in the seed. Cold pressing ensures that all nutrients remain behind during the extraction. Cold-pressed castor oil is light yellow.
2. Jamaican Black Castor Oil
This is one of the best-known types of castor oil, and you can mix it as other oil in the hair care products as a carrier oil or as an auxiliary ingredient.
This type of oil is made by roasting the seeds of the Ricinus communis plant.
After burning, the manufacturers will press the seeds to extract the oil under various machines or tools.
The ash produced during the burning process is mixed with the oil extracted from the remains of the seeds.
This is why this castor oil has a distinct black color.
It has a higher alkalinity value than other types of castor oil but has the same nutritional value as other castor oils.
This type of castor oil is anecdotally slightly better at delivering excellent results for thick or dry hair, although our testers did not see these results compared to other castor oils.
3. Hydrogenated Castor Oil
Hydrogenated castor oil comes from hydrogenating pure castor oil with a nickel catalyst. Also known as castor wax, hydrogenated castor oil is odorless, brittle, and insoluble in water.
Note: Many cosmetics, varnishes, and polishes contain hydrogenated castor oil.
2. Purity
Pure castor oil is free from artificial ingredients, chemical compounds, and harmful toxins. It should not contain any artificial ingredients, such as fragrances, alcohol, or other flavors, as these ingredients can dry or irritate your skin.
3. Grade
Generally, castor oil comes in two types:
AA standard (or (blanched)) which comes from the first pressing of the seed and what many people call virgin oil. This oil can be thin and thin, so make sure it is cold-pressed for the highest quality.
Industrial (or (imported)) refers to the process of mixing the first pressing with the next batch of seeds. This process is repeated several times.
4. Certified Label
Look for products with the USDA Certified Organic label. Organic castor oil uses natural ingredients and does not contain any synthetic ingredients. Organic castor oil comes from seeds grown in a natural environment without the use of pesticides, fertilizers, or growth enhancers.
5. Hexane-Free
You also want to check for hexane in the castor oil product of your choice.
It is a chemical solvent that many castor oil manufacturers use to extract oil from the plant seeds.
This solvent makes the castor oil extraction process a lot easier for the manufacturer.
But it can also cause impurities or chemicals to remain in the oil after it is bottled.
It can also improve the overall deterioration quality of the oil by changing its chemical composition and stability.
Oil with compromised integrity will undoubtedly be less effective for your hair and less healthy for your scalp.
We always recommend looking for hexane-free castor oil if you can afford it.
10 Best Castor Oils Of 2023
1. Pura Dor Castor Oil 100% Natural Usda Carrier Oil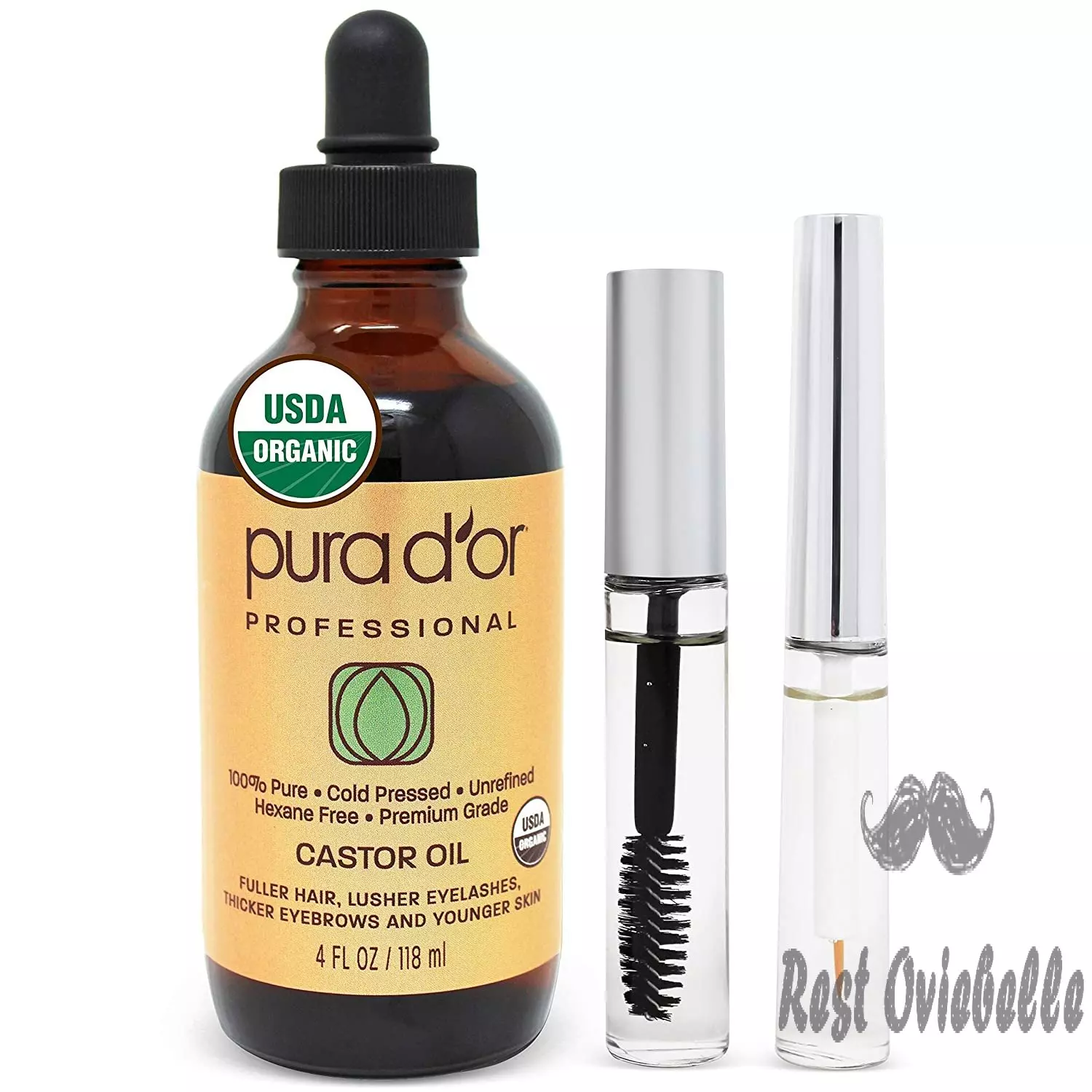 View On AmazonThere are many reasons why Pura D'Or's Castor is at the top of our list of the best castor oils: from the many benefits for hair to the list of natural ingredients that treat hair without harming it.
And it works, as many users confirm, to stimulate hair growth as it thickens, and it benefits men with anal women who want to create thicker, fuller brows and lashes.
But it also has USDA certification, which means the ingredients list doesn't contain any harmful chemicals, synthetic fragrances, artificial dyes, and more.
In addition, it comes with an Ecocert seal because it meets (the stricter) guidelines for organic certification in Europe.
Again, it comes as no surprise when you consider that Pura D'Or is committed to providing sustainable and environmentally friendly products that are produced with renewable energy and packaged in recyclable packaging.
Castor oil is, of course, the main ingredient in Pura D'Or's hair growth product, but other ingredients include argan oil, rosehip oil, vitamin C serum while being rich in vitamin E and omega-6 and many beneficial contain fatty acids.
Pura D'Or produces its castor oil using a state-of-the-art cold-press method that helps preserve all of its beneficial compounds during the extraction process. You get more of the best ingredients than other extraction methods.
The Pura D'Or oil also has a natural, mild fragrance that is soothing and not overpowering.

Excellent blend of natural ingredients
Good for your hair and skin
Meets all certification standards both in the United States and abroad
A bit heavier than some users like
2. Sky Organics Organic Castor Oil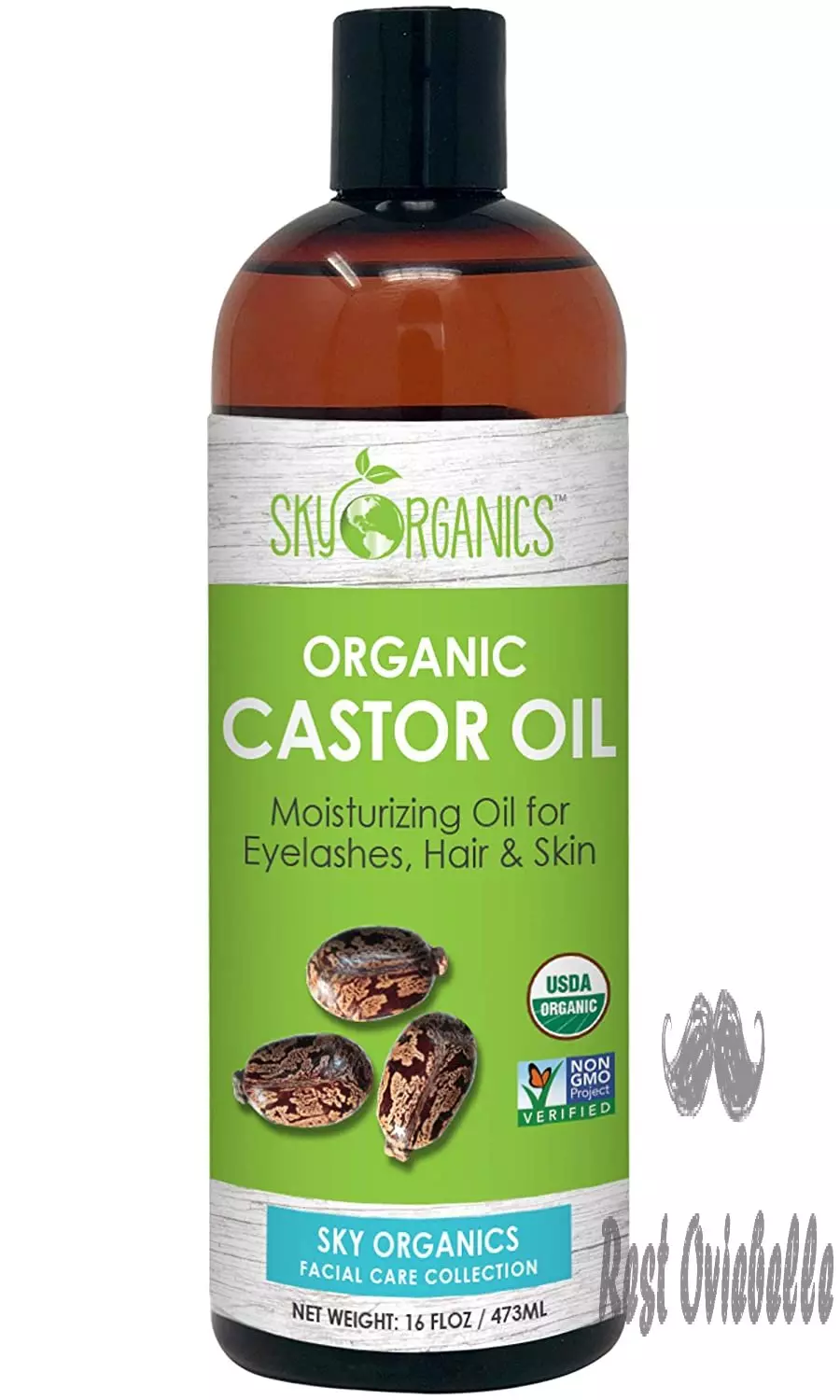 View On AmazonThis organic castor oil is cold-pressed from organically grown castor seeds from Kerala, India.
It is packed with anti-inflammatory properties and fatty acids that nourish and treat the scalp to promote growth and strengthen the hair at the roots, making it stronger and healthier.
It can also be used to naturally lengthen and thicken eyelashes and eyebrows.
This oil contains ricinoleic acid, which promotes hair growth and balances the pH of the scalp for thicker and stronger hair. It also contains Vitamin E, which moisturizes and softens the hair and keeps it hydrated and healthy.

Completely free of charge of damaging chemical substances
Adds physique to thinning hair
Appropriate for sensitive scalp
Versatile item
Improves overall scalp and hair health
No easy-applicator gadget
3. Namskara Organic Castor Oil
View On AmazonThis high-quality castor oil is cold-pressed, 100% pure, and lacks the synthetic chemical hexane.
It is a wonderful example of castor oil and can provide all the amazing benefits the solution is known for.
This bottle also comes with an easy-to-apply dropper, plus two tools: one for your eyebrows and one for your lashes.
This oil is active enough to be easy to use on other parts of your body.
Try smearing it on your nails or cuticles to reduce irritation and inflammation there.
Since it is all organic, there is little to no chance of skin irritation or rashes.
The biggest drawback, however, is the low amount of oil you get for purchase.
Since it has about the same cost as most bottles with more than 1 ounce included, it means the asking price is a little high too.
Still, it is a high-quality oil product, and we recommend it for men who only take it occasionally or in minimal amounts.
The included tools certainly help make it easy to apply a few drops at a time.

Extremely fantastic for skin nails and hair
Comes with applicator equipment
Oil is a vegan and big quality
Tiny quantity with acquiring
4. Kate Blanc Cosmetics Certified Organic Castor Oil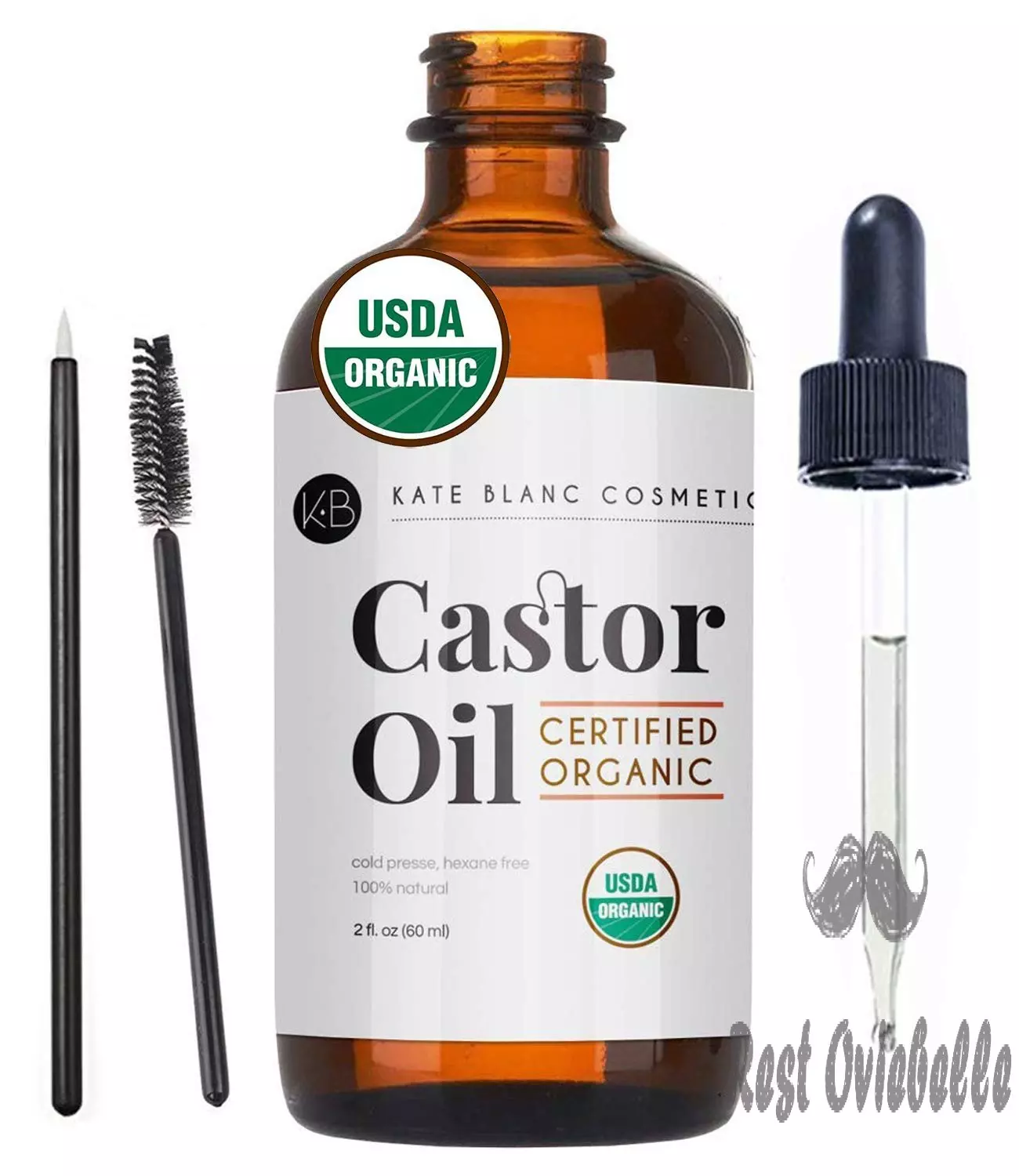 View On AmazonCastor oil has a long list of benefits, and Kate Blanc's certified organic castor oil is enough evidence. It not only stimulates hair growth but is also excellent for use on eyelashes and eyebrows.
Founded by an entrepreneur who has turned her interest in organic oils into a thriving cosmetics business, Kate Blanc uses 100% USDA certified organic oils, including castor oil.
Their castor oil, like the other oils in our reviews, helps stimulate hair growth and reduce hair loss. It also treats dry, brittle hair, a dry scalp, and dandruff.
What many users like about Kate Blanc's Organic Castor Oil is the magic that it works on their lashes and brows. It comes with an eyelash and eyebrow kit that makes application easy and measures exactly the amount of oil needed for growth.
The oil easily absorbs into your lashes and eyebrows without making a mess, and all you need to do is apply a small amount before bed.
Kate Blanc's Organic Castor Oil is also effective for treating dry skin, as well as breakouts, acne, fine lines, and scars. It helps your skin retain moisture all day long.

All of Kate Blanc's products are cruelty-free of charge and never examined on animals.
It comes in an amber glass bottle that protects it from UV rays.
Stimulates hair development and also provides an exceptional remedy to the skin
It could contemplate some time prior to you see the final results.
5. Mary Tylor Naturals Organic Castor Oil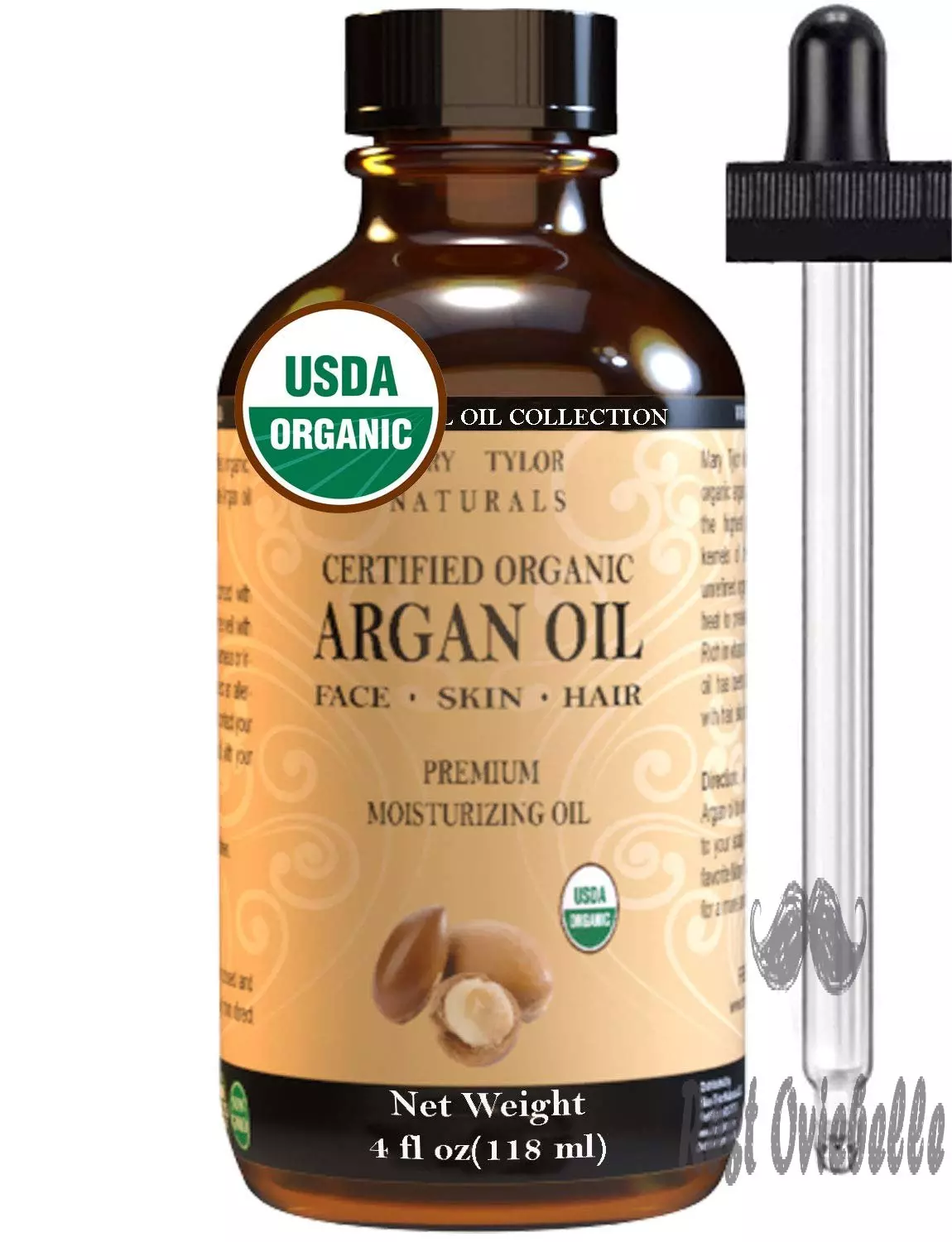 View On AmazonThis organic castor oil is another top choice for men who need a lot of oil for frequent use.
This purchase comes with 16 grams straight out of the box, so there is enough for daily use for several weeks or months in the future.
You can also buy this bottle for a very affordable asking price.
So this oil doubles as a great budget option.
The oil it contains is excellent for moisturizing the skin and stimulating hair growth by removing irritation all over your scalp.
It is made from organic ingredients and is cold-pressed.
It is one of the best all-round hair growth castor oils we've only seen in terms of oil quality.
The texture, in particular, is smooth rather than sticky, making it a pleasure to apply and easier to rinse off if you (.)
Be warned that this oil has a particularly heavy scent, however.
It's a bit much for our taste, but if you have a stronger odor resistance, it shouldn't give you too much.

Tons in the bottle
Feels superb in terms of texture
Extremely cost-effective
Nevertheless big large-quality oil
6. Artnaturals Castor Oil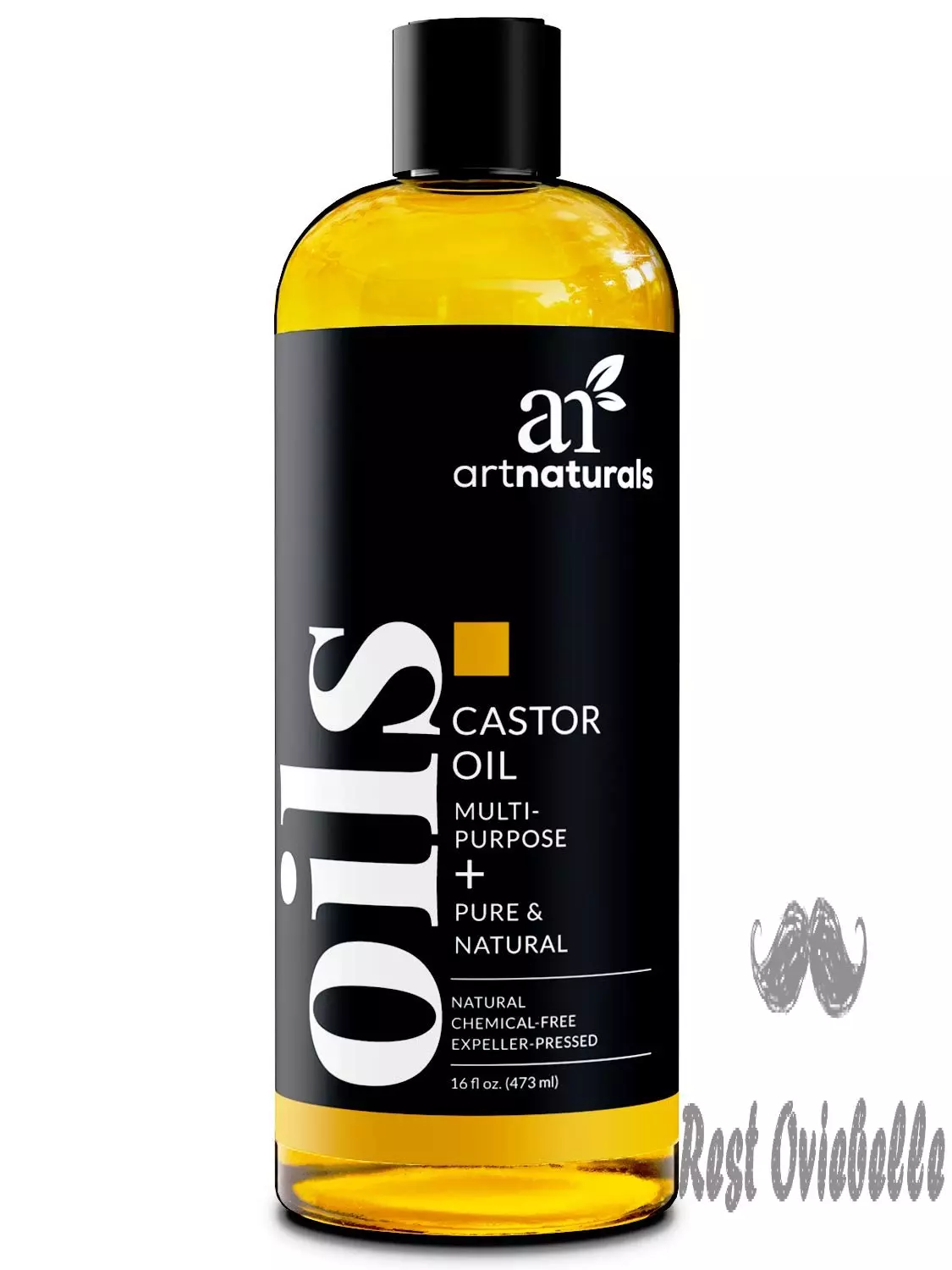 View On AmazonArtNaturals cold-pressed castor oil is packed with natural emollients, making it an excellent moisturizer. It contains ricinoleic acid, which slows the growth of bacteria. It can be used for hair and skin.
It claims to stimulate hair growth and strength. It also has anti-inflammatory properties, which can help reduce dandruff, psoriasis, and other scalp infections and promote healthy and thick hair. It cleanses, softens, deeply moisturizes the skin and helps unclog pores.
Massage warm castor oil into your hair and scalp to improve blood circulation, reduce split ends and moisturize dry and damaged hair.

Free of charge of toxic elements
Light and non-greasy formula
Keeps your scalp hydrated
Perfect for dry and brittle strands
Premium higher quality oil
The bottle is susceptible to leakage.
7. Shiny Leaf Cold Pressed Pure Castor Oil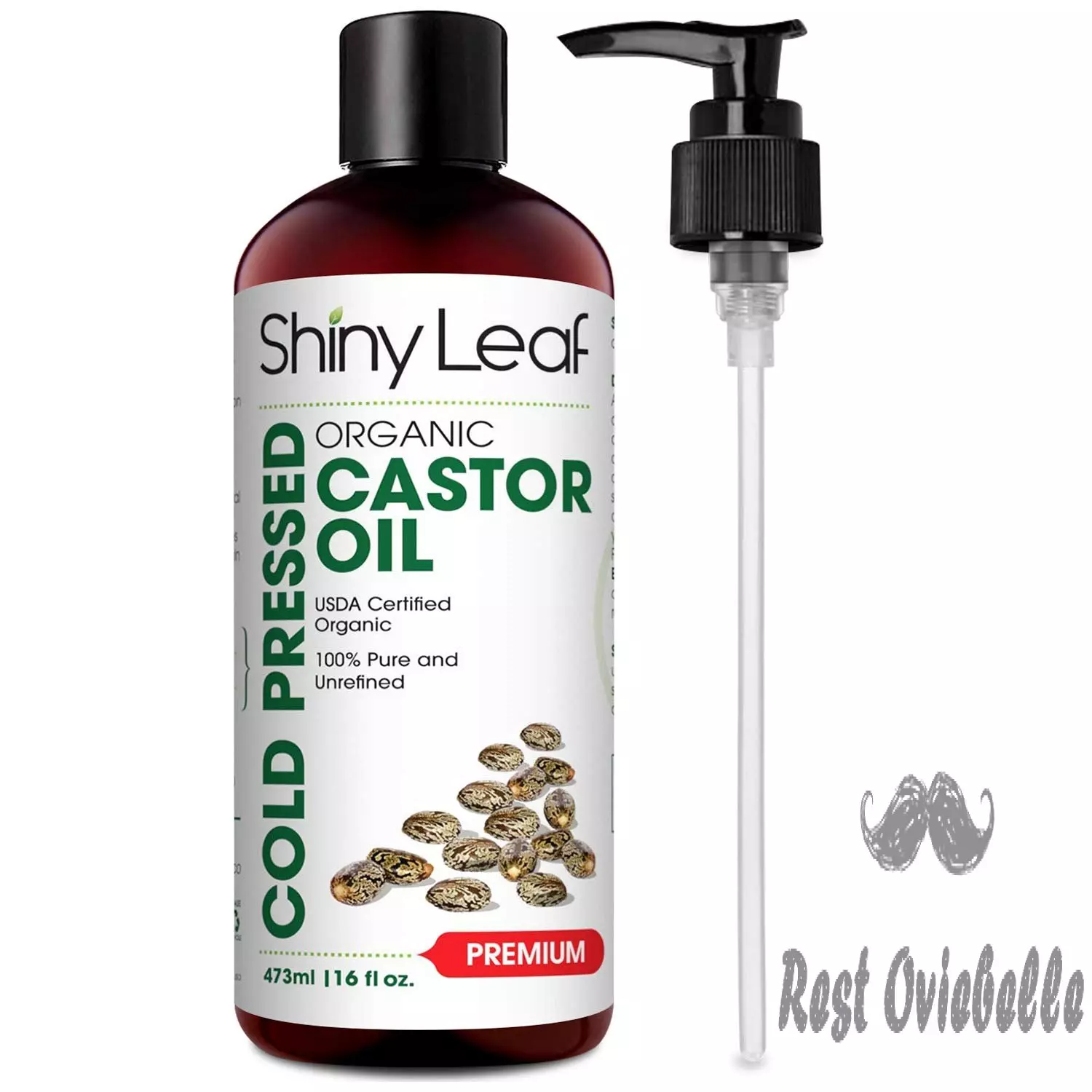 View On AmazonShiny Leaf makes it possible to make your hair bloom and look its best with its cold-pressed pure castor oil.
More good news: You can get more of it nowadays.
The folks at Shiny Leaf now sell their pure castor oil in a 16-ounce bottle that lasts with normal use. And by (normally) also for use on your hair, eyelashes, eyebrows, face and other parts of the skin.
To say it's an effective all-round product is an understatement, and when it comes to hair treatment, it's one of the best. Not only does it promote natural hair growth, but it moisturizes the hair and scalp and relieves dandruff and split ends.
The nutrients of castor oil penetrate deep into the hair follicles and nourish and strengthen them.
You can use Shiny Leaf's Castor Oil on your hair daily to restore it from a dull, lifeless look to smooth and shiny.
As said, this castor oil is also great for lashes and eyebrows and is easy to apply thanks to a free mascara bar.
Meanwhile, it cleanses the skin and works wonders on the face to remove fine lines, wrinkles, and other subtle and not so subtle signs of aging.
Shiny Leaf produces cold-pressed castor oil that is free from alcohol and hexane. It contains no additives or fillers.

It absorbs swiftly without leaving a residue.
It is good for many utilizes
It does not have harmful chemical substances.
It is a small thick for some.
8. Rejuvenaturals Organic Castor Oil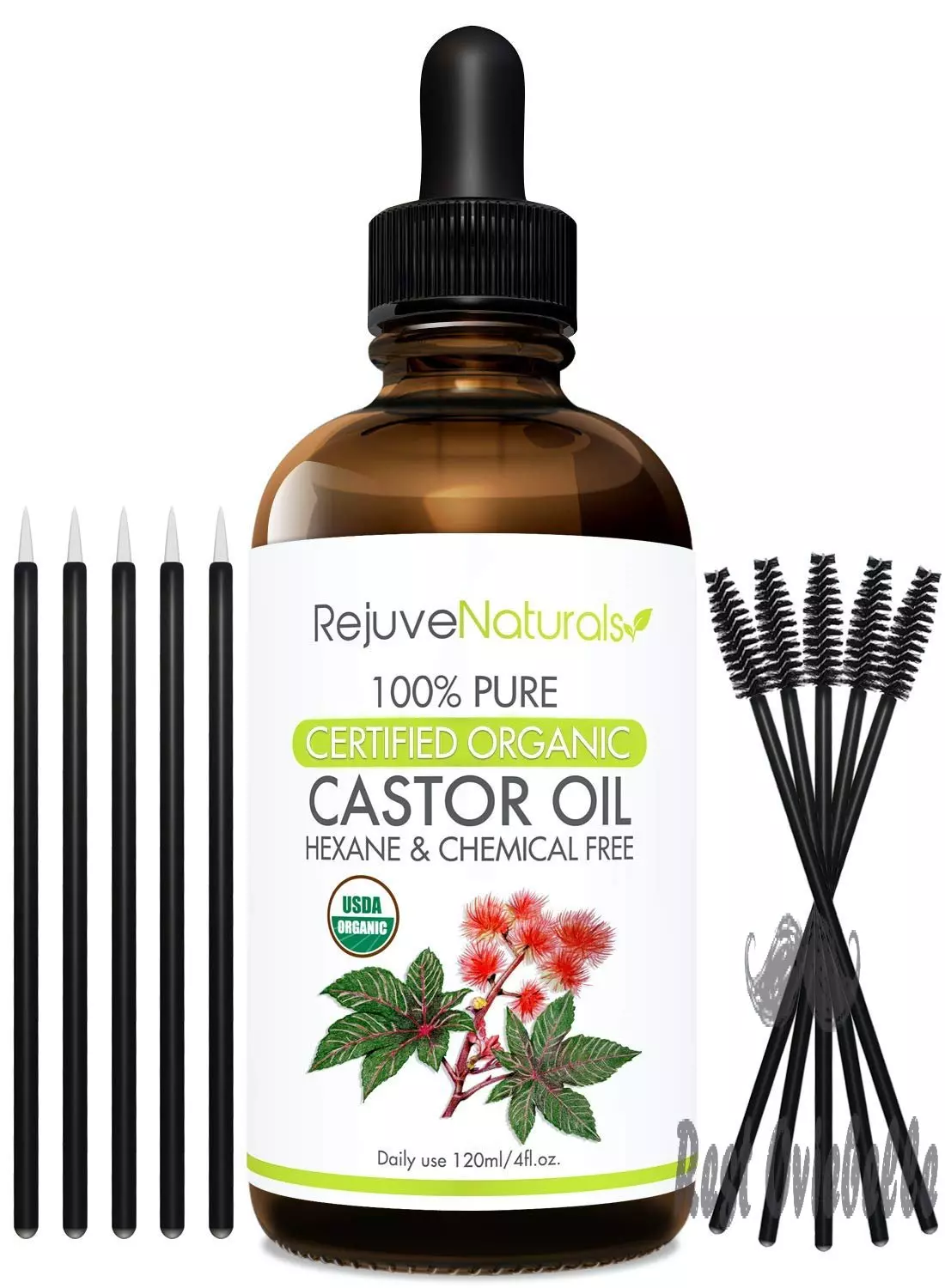 View On AmazonWhile this oil doesn't contain as much oil as our last two choices, this oil still has enough for frequent or economic use.
It comes with a dropper and five mascara or eyeliner style brushes to apply the oil on your lashes or eyebrows.
While many guys won't be using these tools, we think they are a great bonus for the bottle as a whole.
The dropper is of high quality and works well to deposit only a few drops at a time in your hair.
The oil is very moisturizing and feels great on the scalp.
It is one of the better anti-inflammatory castor oils we've discovered.
Perhaps best of all, the castor oil scent is not too heavy for our taste.
It is undoubtedly still noticeable, but it won't overwhelm your senses or make you wish you chose a different product.
Overall, this is a great all-round castor oil choice.
It's enough for men who don't need much time or enough for some experiments with application amounts.

Has a great sum in the bottle
Comes with lots of extra applicators
Feels excellent on the scalp
The dropper is greater high quality
Most guys will not use the more tools, which drive up the worth
9. Aria Starr 100% Pure Cold Pressed Castor Oil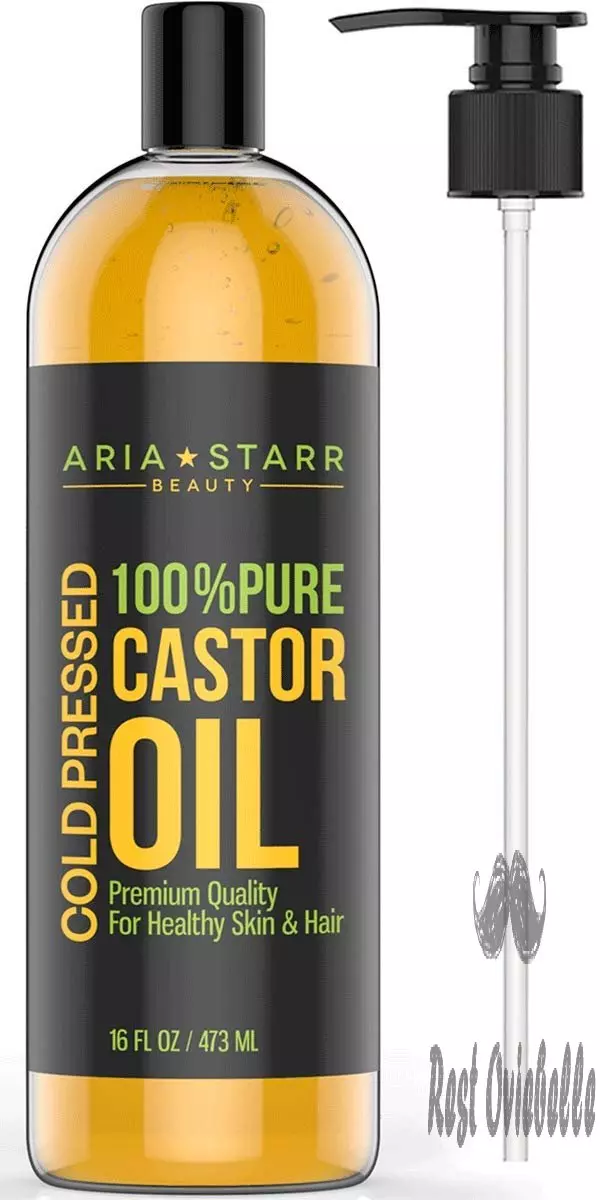 View On AmazonAria Starr is composed of hand-picked castor seeds and is cold-pressed to preserve the plant-based ingredients. It is three-way refined for the highest quality.
This oil can help you say goodbye to hair loss, tangled, dry and brittle ends, split ends, thinning hair, dry scalp, and dandruff. In addition, it also promotes thicker eyebrows and eyelashes. This oil also helps you with skin problems such as dry and flaky skin, wrinkles, fine lines, and hyperpigmentation.

Absorbed rapidly
Stimulates speedy hair growth
Delivers fast outcomes
Light and non-greasy
Best for dry and frizzy hair
Reasonably priced
10. Hair Thickness Maximizer 100% Cold-Pressed Jamaican Black Castor Oil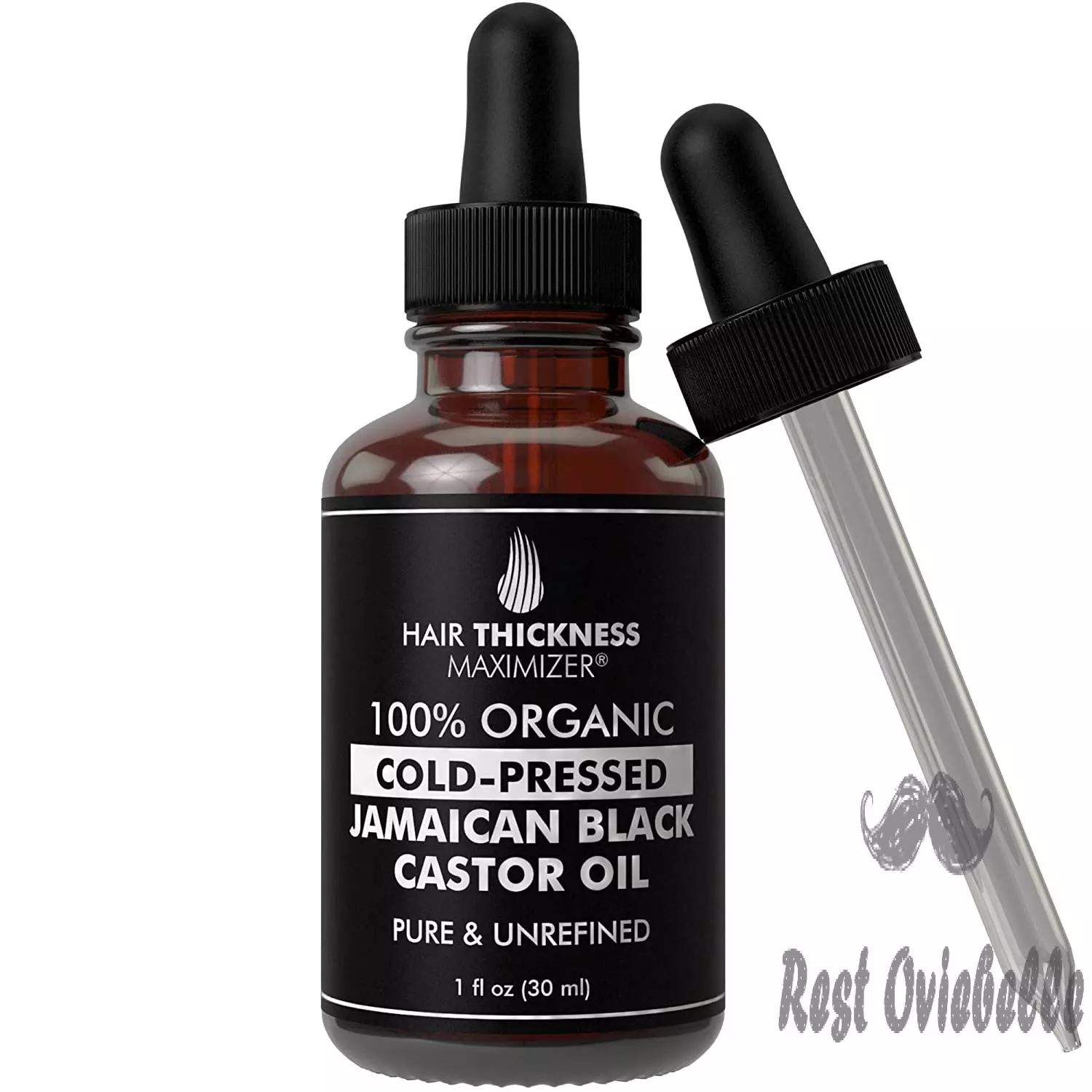 View On AmazonIn terms of quality, there is not much better than this castor oil.
It is of the thick, black colored Jamaican variety, and it is also cold-pressed to preserve as many nutrients and health benefits as possible.
This type of oil gets absorbed into the hair very quickly and easily, which means it will flow less through your neck than other types of castor oil.
It is phenomenal to thicken your hair and soothe your scalp.
The organic quality also helps rid your scalp of bacteria or fungi that can cause dandruff or sensitivity issues.
It comes in a stylish dark bottle and one of the better drop caps we saw in our quest for the best.
The downside is that you only get one ounce of oil for your purchase, which makes the asking price a bit high.
Yet this oil is clearly designed as a high-intensity surgical product for economical use.
We recommend it for men who only need a little bit of high-quality castor oil or for men trying this type of treatment for the first time.
While it is not much, there is certainly a blow.

Incredibly greater higher high quality
Comes with an outstanding dropper applicator
Feels outstanding on the scalp
Not as well runny
Only one ounce inside the bottle
How To Apply Castor Oil For Hair Growth:
There are a few things to look out for before applying pure castor oil to your hair.
First, because it is an oil, you only want to apply a few drops. Applying too much makes it difficult to wash out, leaving your hair looking greasy rather than shiny and healthy. After massaging the oil on your scalp and the entire length of your hair, you can wash it off after 20 minutes or leave it overnight.
Second, as with any ingredient, there is the potential for irritation. To make sure you're not allergic to castor oil, before applying it completely, try a smaller test patch on the inside of your elbow to make sure you don't get any itching or redness.
If castor oil seems too risky on its own, you can also find it in hair masks and shampoos. Trying a product with castor oil in it is a great way to dip your toes in the oil as it eliminates the DIY aspect, so there's less chance of potential mistakes.
Later, according to Amazon reviewers, you will find four of the best hair growth castor oils, which will at least give you healthier, more hydrated hair.
Essential Oil Vs. Castor oil
You will often hear about essential oils and how they can improve your hair growth and thickness.
While this is true, we've created a guide to the best essential oils for hair growth and thickness, and castor oil is by no means an essential oil.
Essential oils are derived from the non-greasy parts of plants, such as the bark, stems, roots, or leaves.
These oils have a strong odor and are usually prepared in concentrated form.
Concentrated essential oils can be very effective, but can also lead to severe skin irritation and inflammation.
That's why you will find many essential oils mixed with carrier oils.
Carrier oils are much thinner and weaker counterparts derived from the fattier parts of plants, such as the seeds.
Castor oil naturally belongs to the latter group.
But just because castor oil is not an essential oil does not mean that it cannot be excellent for the family, your scalp and hair.
FAQs About Castor Oils
Now that you've reviewed our castor oil hair growth reviews let's go over your final questions before sending you on your way.
How Often Should I Use Castor Oil For Hair Growth?
If your goal is to limit hair loss and stimulate hair growth, apply castor oil to your hair at least twice a week and even three to four times a week.
Can I use castor oil for colored hair?
Yes, it is completely safe to use castor oil on colored hair.
Can castor oil have side effects?
Most men and women can use castor oil and enjoy the beneficial effects without worrying about any drawbacks.
But for a small portion of the population, castor oil's triglyceride ingredient can cause itching or a rash.
An even smaller proportion of the population may experience more serious side effects, such as dizziness or difficulty breathing.
We recommend testing your castor oil on the inside of your arm at the elbow before applying many of the applied things to your head.
Such an application spreads the oil elements quickly and lets you determine if you are one of the few unlucky ones for whom castor oil is not effective.
Is castor oil safe for all hair types?
Yes, castor oil is safe to apply to all hair types because it is prepared naturally without harmful chemicals.
Conclusion
Have you used castor oil for hair growth? If so, what product and what were your results? We welcome your feedback and suggestions, and I look forward to hearing from you!
References
baldingbeards.com
stylecraze.com
primandprep.com