This site is supported by our readers. We may earn a commission, at no cost to you, if you purchase through links.
There are special anti-aging creams specially made for men or for men and women that can help you reduce the effects and signs of aging and regain your youth.
We are all victims of aging; it comes with time. However, there are many ways to prevent or stop this process in its tracks.
From air pollution to the natural aging process, we can all use some help in the skincare department.
The good news is that modern technology and science allow us to treat the symptoms of aging and generally give us a younger appearance.
You might think the problem comes from choosing the best anti-aging cream for men from all the options on the market, but you're wrong!
You need to understand your skin type, ingredients, and all kinds of other details that you may not have thought of.
In this post, we'll talk about the best anti-aging creams for men, including what to look for when buying an anti-aging cream, how to use it.
Let's get started!
Things To Consider When Buying The Best Anti-Aging Cream For Men
But before we jump straight to our rating of the best anti-aging creams for men, let's explain exactly what our testers were looking for in the best products.
Understanding all these aspects will help you find the perfect product for your needs in our reviews below.
1. Skin Type
There are a few different skin types, and you must know yours before shopping for an anti-aging cream.
Oily skin: Oily skin looks and feels greasy and has larger pores than other skin types. It means that you are more prone to acne, blackheads, and whiteheads. Buy lighter creams that are oil-free.
Dry skin: You know if you have dry skin because it often itches and feels tight. You should look for a cream with moisturizing ingredients like aloe. You don't need heavy, greasy cream.
Sensitive Skin: If you have sensitive skin, be careful about the type of skincare product you buy. Don't buy anything with dyes, fragrances, or anything else that can irritate the skin. Most skincare products indicate whether they are suitable for sensitive skin.
Normal Skin: If you have normal skin, you can use any skincare product.
Combination skin: This is a combination of oily and dry skin. Do not use aggressive abrasives.
2. Ingredients
Take the time to read a product's ingredient list. Ingredients, such as skin type, are extremely important when choosing a skincare product.
We love products with natural ingredients, but we also understand that many of those products that are not completely natural work exceptionally well. Here are some key ingredients in anti-aging creams:
Retinol: Retinol (Vitamin A) is an important ingredient in most anti-aging creams. Retinol can remove wrinkles, but it can also dry out your skin if you're not careful. That said, aloe vera, which contains retinol, is a gentler source of Vitamin A.
Hyaluronic Acid: Hyaluronic Acid has superior moisturizing properties, and as we age, our hyaluronic acid levels decrease. Hydrating the skin with a moisturizer such as hyaluronic acid reduces wrinkle lines.
DMAE: OK, let's get rid of the big scientific name first: Dimethylethanolamine. It naturally sounds like an ominous synthetic chemical that should be bad for people, but it is a natural ingredient that prevents the loss of elasticity in the skin. DMAE makes the skin look smoother, firmer, and has fewer wrinkles.
MSM: Big Chemical Name Alert, Part 2: Methylsulfonylmethane. MSM is naturally found in foods such as spinach and kale and helps absorb skin cells better while creating more elasticity. MSM also helps reduce age spots and other skin pigmentation issues.
Antioxidants: Products that contain antioxidants are beneficial because they absorb free radicals that can damage your skin. Common antioxidants to look for are Vitamin C, Vitamin B3, and Vitamin E. Each of these three vitamins is easily absorbed through the skin.
Coenzyme Q10: Coenzyme Q10 reduces wrinkles around the eyes and protects the skin from sun damage.
Glycolic Acid: Glycolic Acid is a natural ingredient that acts as an exfoliating agent to remove dead skin cells.
There are other types of ingredients to look for, including tea extracts, acai oil, peptides, and caffeine (which contains antioxidants to tame free radicals in the skin). Read the product label again carefully before making your purchase.
3. Fragrance
Many anti-aging creams have an extra fragrance, although this is usually not the case.
The scents used by anti-aging creams don't always matter as many creams are designed to be used only at night, so they don't interfere with the scent of your natural scent during your daily activities anyway.
But if you are getting an anti-aging cream and want to use it during the day, make sure that the included fragrance (if there is one) fits well with the cologne and that you plan to wear it.

10 Best Anti-Aging Creams For Men Of 2023
After discussing what we are looking for when choosing anti-aging creams, we will look at the best anti-aging products for men in 2023.
1. Brickell Men's Revitalizing Anti Aging Cream For Men
View On AmazonBrickell puts a huge emphasis on natural ingredients in men's grooming products, and their revitalizing anti-aging cream is no exception.
Not that natural ingredients are the key to developing a high-quality anti-aging cream, but it doesn't hurt.
And Brickell's Revitalizing Anti-Aging Cream comes with a list of ingredients that include DMAE, MSM, Hyaluronic Acid and Green Tea: an excellent antioxidant that counteracts signs of aging while helping protect against sun damage.
The real story, however, is that this cream works.
It is the best wrinkle cream for men and provides great results for people just starting to show signs of aging. While it can't stop the aging process, nothing can: it slows down, making your skin look and look younger.
It removes the deepest wrinkles and lines: two obvious signs of aging.
It is also good for men of all skin types but works especially well for dry and sensitive skin that does not always respond favorably to other products.
The folks at Brickell recommend that you use their Revitalizing Anti-Aging Cream twice a day (morning and evening) after cleaning your skin with a high-quality face wash.
You will love the thick texture of this cream and how it feels on your skin. You don't have to use a lot of it: no more than a small amount: 2 oz. The jar will sit for a while.
In addition to green tea, Revitalizing Anti-Aging Cream's ingredient list includes peppermint, eucalyptus, and lemongrass oil: all of which contribute to the cream's refreshing, revitalizing scent.
Brickell is a newer company that has made great strides in the world of men's grooming in a short space of time, thanks in part to their commitment to using ingredients that do not contain harsh chemicals and other toxins.

100 all-natural ingredients
Reduces and eliminates lines and wrinkles
Refreshing natural fragrance
A little goes a long way
Little or none. More expensive than some other creams (but worth the price)
2. Baxter Of California Super Shape Skin Recharge Cream For Men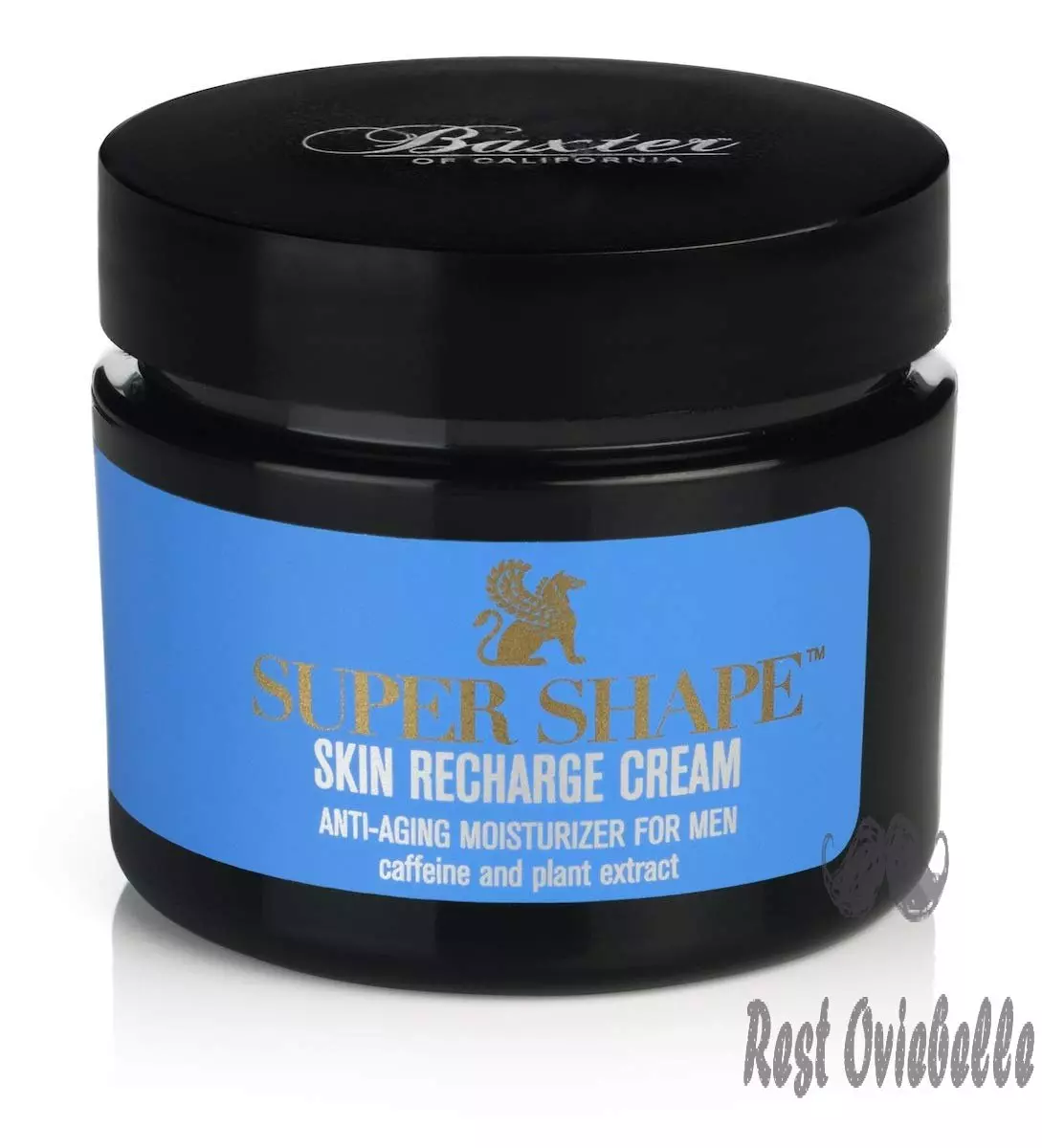 View On AmazonThis anti-aging cream comes in a small can but offers good value for money thanks to its unique formula.
It uses every fighting plant and various ingredients derived from the latest skin sciences to moisturize and refresh the skin at the same time.
Both effects combined to reduce the signs of aging and prevent your skin from aging will be drastic in the future.
Alcohol greatly helps to exfoliate and remove dead skin cells, while aloe helps to moisturize and hydrate the skin.
This gel-cream texture is unique to apply, but once you get used to the feeling, you will find it as pleasant and rejuvenating as a thinner cream.
Our experts quickly got used to it.
The upside is that this gel texture makes it easier to rub into dry or cracked skin, especially one that looks much older than it actually is.
The fact that it is so gel-like also means you don't have to suffer from greasy residue or oily after effect after application.
It is non-comedogenic, so don't be put off by the gel texture; it does not cause acne.
You can use this cream in the morning as well as in the evening, and for maximum effect, we definitely recommend applying it both times.
It's tough enough that it doesn't detract from your daily routine or whatever work you do, but the primary work will be done with your face resting while you sleep.
The morning application is mainly there to ensure that the effects are introduced by the stress of the day.
It's definitely a bit pricey, especially considering you only get 1.7 grams for the purchase, but it's one of the best anti-aging creams out there if you have super dry skin that does not respond well to thinner or greasy or anti-aging products.

The thick gel-like texture
Operates well for cracked skin
No fragrance
Can be employed morning or evening
Expensive
The tiny sum of cream in buy
3. Instanatural Retinol Moisturizer Anti Aging Night Face Cream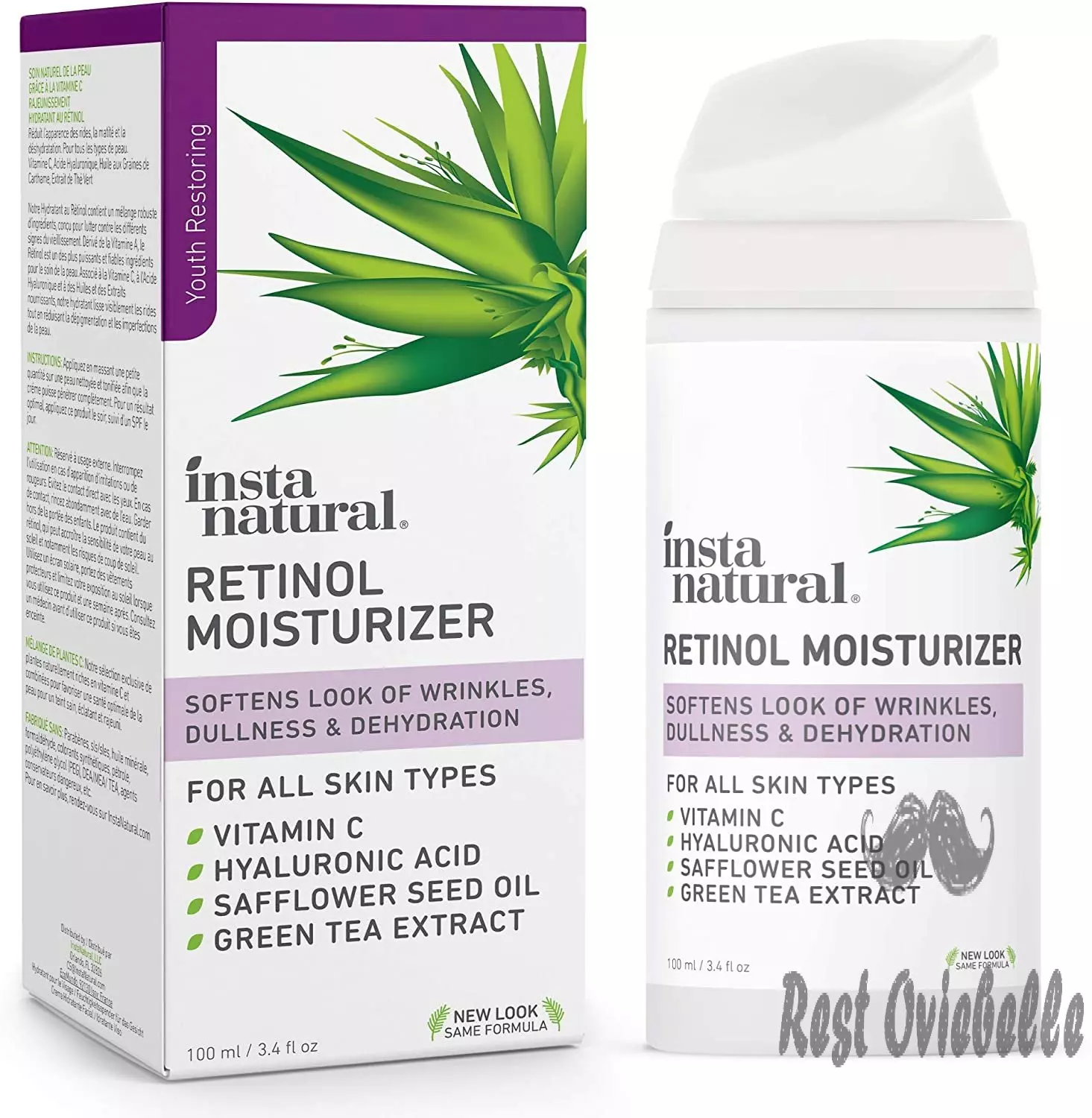 View On AmazonIf you're looking for a bit more bang for your buck, this Instanatural Retinol Moisturizer is definitely worth a try. With such products, it is difficult to know whether to really trust them or not. But with almost 2000 Amazon reviews (90% positive), you can bet your money on this. It's cheaper than the two products we've already looked at, and you get more in the bottle, so your money continues. That's why we chose it as our Best Value product. It is not the cheapest retinol cream for men, but it is still really affordable, and you get more for your money.
The reason it works is that it contains important ingredients like retinol, hyaluronic acid, green tea extract, and safflower seed oil that work together to reduce wrinkles, tighten and moisturize the skin. It is suitable for all skin types and is applied at bedtime for maximum effect. Make sure to exfoliate your face with an exfoliator for the best results.

Excellent for moisturizing and reducing aging signs
Attacks dark circles
Great citrus scent
Organic vitamins and elements
Only use at night
The citrus scent might be distracting while falling asleep if you do not like citrus
4. Oznaturals Anti Aging Retinol Serum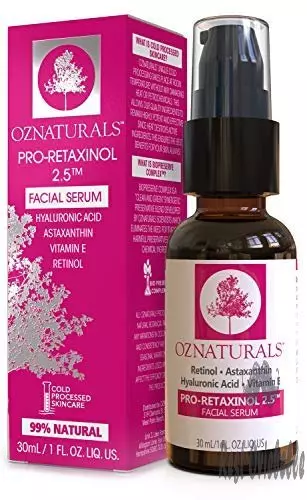 View On AmazonMany dermatologists say that retinol is the most powerful weapon in the battle to keep skin looking young and wrinkle-free.
Why is it so effective? Well, it is a vitamin A derivative that works to stimulate collagen (and reduce fine lines on the skin), it clogs the skin pores and accelerates cell renewal to eliminate discoloration and smooth the skin.
Not that retinol for use in skincare products is anything new: It received FDA approval as a prescription treatment for acne nearly 40 years ago.
However, dermatologists soon discovered that retinol not only resolved acne and other skin blemishes but also softened the skin and less likely to develop lines and wrinkles.
Which brings us to the following product on our list: OZNaturals Anti-Aging Retinol Serum, which is packed with as much retinol as in an over-the-counter anti-aging product.
While excessive retinol can dry out the skin, this serum also offers a little moisturizing power, meaning that even men with dry or sensitive skin can use it without irritating their skin.
In addition, the OZNaturals Anti-Aging Retinol Serum A contains astaxanthin, a powerful antioxidant, as well as hyaluronic acid and vitamin E. And there is more:
OZNaturals uses cold processing when mixing the ingredients. They believe that other types of processing, where rotating blades heat up ingredients, reduce and minimize the impact of natural ingredients. Cold-processed skincare, they say, produces purer, cleaner products for the skin. OZNaturals does all its processing at room temperature.
OZNaturals also uses a proprietary Biopreserve complex that eliminates the use of harmful preservatives such as sodium benzoate and phenoxyethanol.
The Anti-Aging Retinol Serum comes in a handy pump dispenser that delivers just the right amount of product for each use.
The serum is gel-like and not as greasy as other products that use a generous amount of retinol. Plus, it comes with a 30-day money-back guarantee.
Note: Always use a sunscreen with a sun protection factor (SPF) of at least 30 when using retinol products. Retinol and other vitamin A derivatives break down quickly when exposed to excessive sun.

Really concentrated with retinol
Easy to use pump container
Created by cold processing
A couple of reviewers say outcomes are not apparent at very first
5. Anti Aging Retinol Moisturizer Cream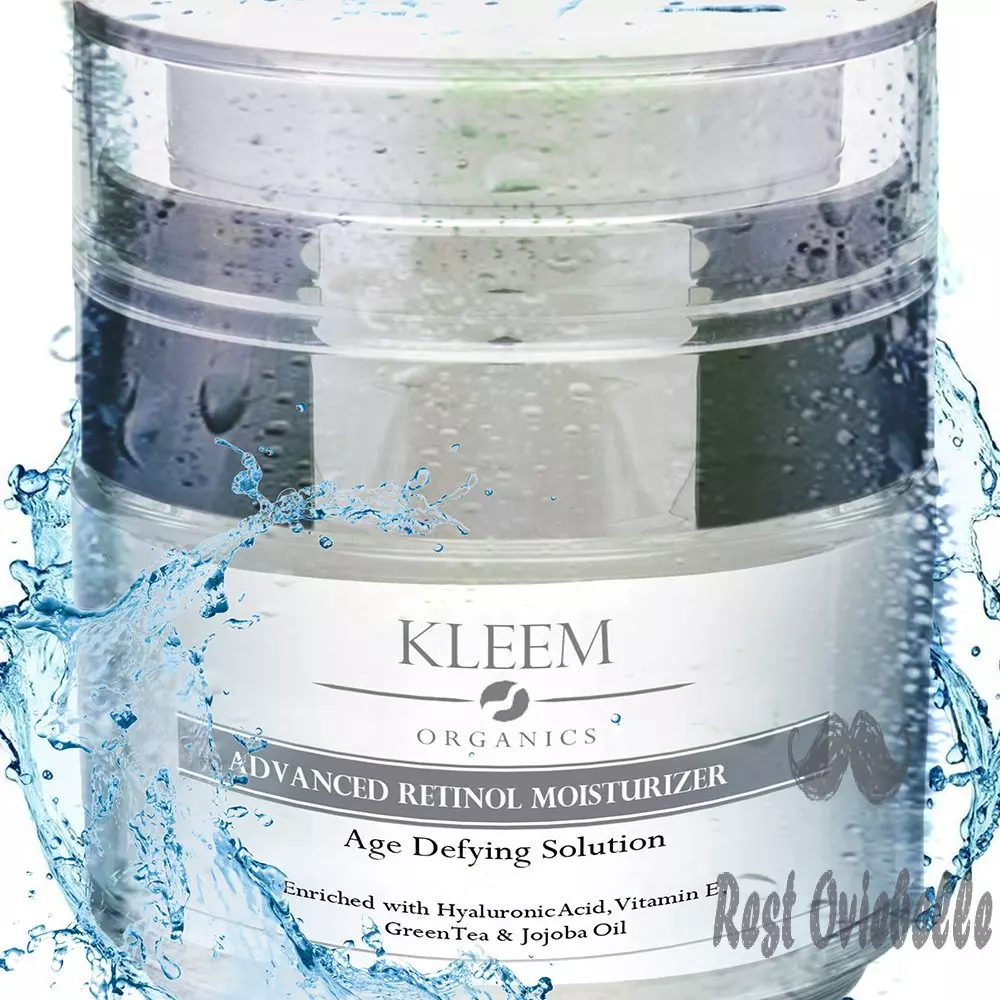 View On AmazonIf you're really looking for the best anti-aging creams you can get, you have to let go of all the prejudices about feminine products first.
The truth is that there are tons of creams and anti-aging solutions that are mainly marketed for women, but in reality are just as useful for men.
This is one of those products, so don't be fooled by the packaging art as this is one of the best anti-aging products you can see that it works with sensitive skin too.
It works well to retain moisture and therefore works as a great facial cream along with removing wrinkles and fine lines on your face.
Hyaluronic Acid acts as an effective moisturizer to remove wrinkled lines.
Your skin will look more radiant and much younger thanks to natural ingredients in the formula that uses 2.5% retinol.
Retinol is a great anti-aging ingredient and is used by many of the best brands as it instantly eliminates the drying of the skin that often occurs with the aging process.
Adding retinol also makes the texture of your skin much softer, just like when you were younger.
It does not clog your pores and does not contribute to oil or acne breakouts.
This means it is non-comedogenic, so use this if acne is a primary concern.
Although it starts with a relatively sweet fragrance, you will find that it disappears on its own after application and absorption into your skin, so you don't have to worry about smelling a woman during your daily activities.
It's great for sensitive skin because of its natural ingredients and because it is formulated primarily for women who naturally have more sensitive skin than men.
So, if you do the fair sex packaging and art marketing, you can take advantage of their excellent product and apply it on your own face if you have sensitive skin or severe acne problems.

Outstanding for sensitive skin
Utilizes organic ingredients
The scent fades as quickly as utilized
Make skin smoother
Feminine packaging
Preliminary Feminine smell
6. RUGGED DAPPER Anti-Aging Cream For Men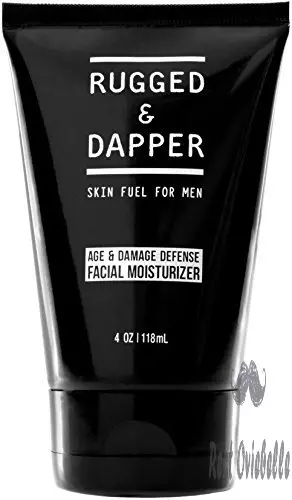 View On AmazonThe Rugged and Dapper Face Moisturizer is another all-rounder product. It has anti-aging properties, but it also acts as a skin moisturizer that fights dryness, impurities, and other impurities. This is specifically aimed at men, and this is evident from their branding.
It's fragrance-free and also works as an aftershave, meaning you don't have to hide your bathroom shelves with many different facial care products. In addition, it is suitable for all skin types. It's not the best anti-aging face cream for men, but if you're looking for a daily moisturizer that can help with aging, dryness, and breakouts, it's worth a try. First, use one of the best facial cleansers from our list to prepare your face for this moisturizer.

It's an all in one moisturizer that also serves as an aftershave
Organic, nontoxic components
Leaves a smooth gloss free of charge finish
Doesn't contain sun protection like some anti-aging lotions
7. Neutrogena Healthy Skin Anti-Wrinkle Retinol Night Cream Treatment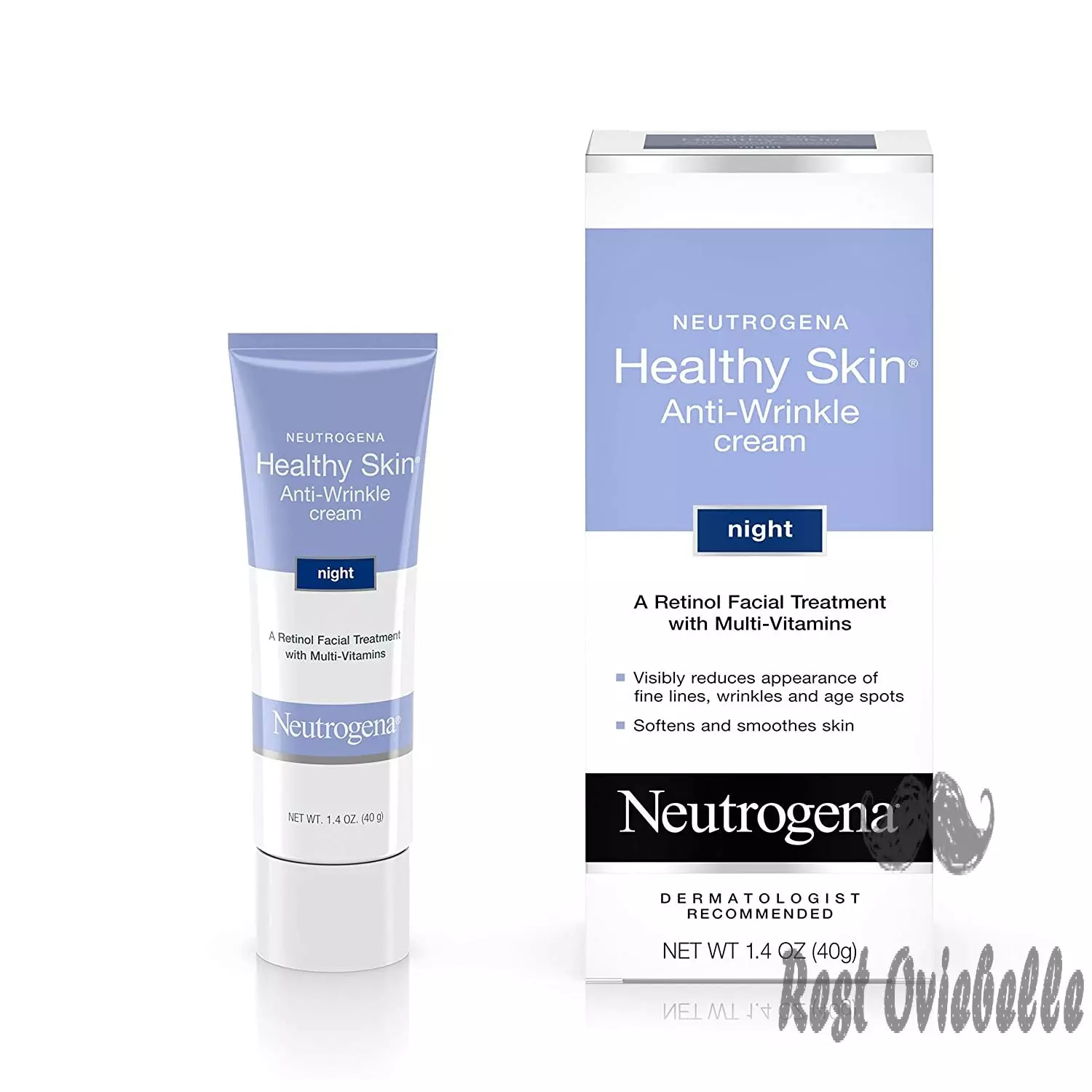 View On AmazonWomen rave about the benefits of applying a facial cream at night for years, and the benefits are many, including that creams continue to moisturize your face while you sleep. Remember: Good hydration is the name of the game when it comes to skincare products.
While Neutrogena's Healthy Skin Anti-Wrinkle Retinol Night Cream Treatment is suitable for morning use, it is recommended to use it at night to give your skin superior hydration at night.
Another thing Neutrogena has for her is that it is a very recognizable, popular brand name that sells its products in more than 70 countries.
Not that big brands always produce high-quality products, but Neutrogena is a trusted name that gets a lot of thumbs from dermatologists.

It is the biggest anti-aging evening cream
Excellent for guys and females
Unclogs pores
Maybe not as appropriate for guys with sensitive skin as other anti-aging products
8. Truskin Vitamin C Moisturizer Cream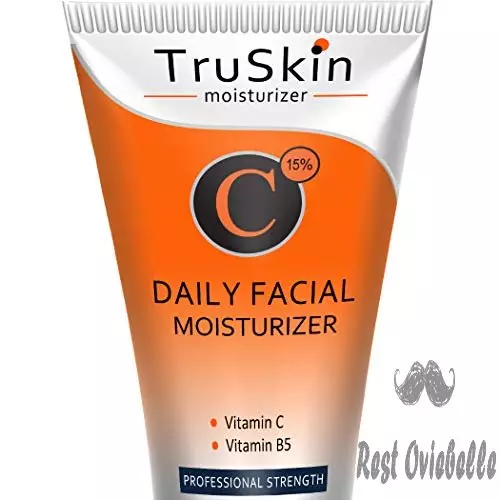 View On AmazonWe've previously rated this product as one of our best men's moisturizers, which you can check out here for more great options, but we'll discuss it again, it's a great product that can also combat the effects of aging.
This formula uses a lot of natural ingredients and vitamins that are combined with powerful antioxidants to create a day and night formula.
Use it after some of our best aftershaves for maximum effect!
This formula moisturizes your skin and reduces the effects of aging, just like the previous cream we looked at.
This can brighten your overall skin tone and remove signs of sun damage, such as dark spots or sunspots.
This makes it an excellent choice for men who are usually outside or when their work requires them to be in the sun all the time.
The antioxidants and MSM both exfoliate and repair dead skin cells, leading to healthier looks and tone over time.
You can use this cream around your head and eyes because it is sensitive enough to use with the eyes.
You can also apply it to your neck or collarbone, both of which are common locations for minor sun damage.
This is one of the best wrinkle creams we've found.
This is largely due to the excellent formula that is suitable for all skin types, so whether you have skin with tons of wrinkles or sensitive skin with just a few, you can still take advantage of this cream.
It is non-comedogenic, and it is very useful in reducing acne, so use this with confidence if acne is your curse!
We only wish there was a little more product before purchase since you only have 2 grams per bottle.
In general, however, this is not enough to give a discount, it is quite good value for money.

Moisturizes and minimizes aging
Outstanding for delicate skin
Reduces sun damage sunspots
Use for encounter or collarbone
Only a bit of item with the purchase
Mostly a moisturizer
9. Chamuel Men Anti Aging Face Cream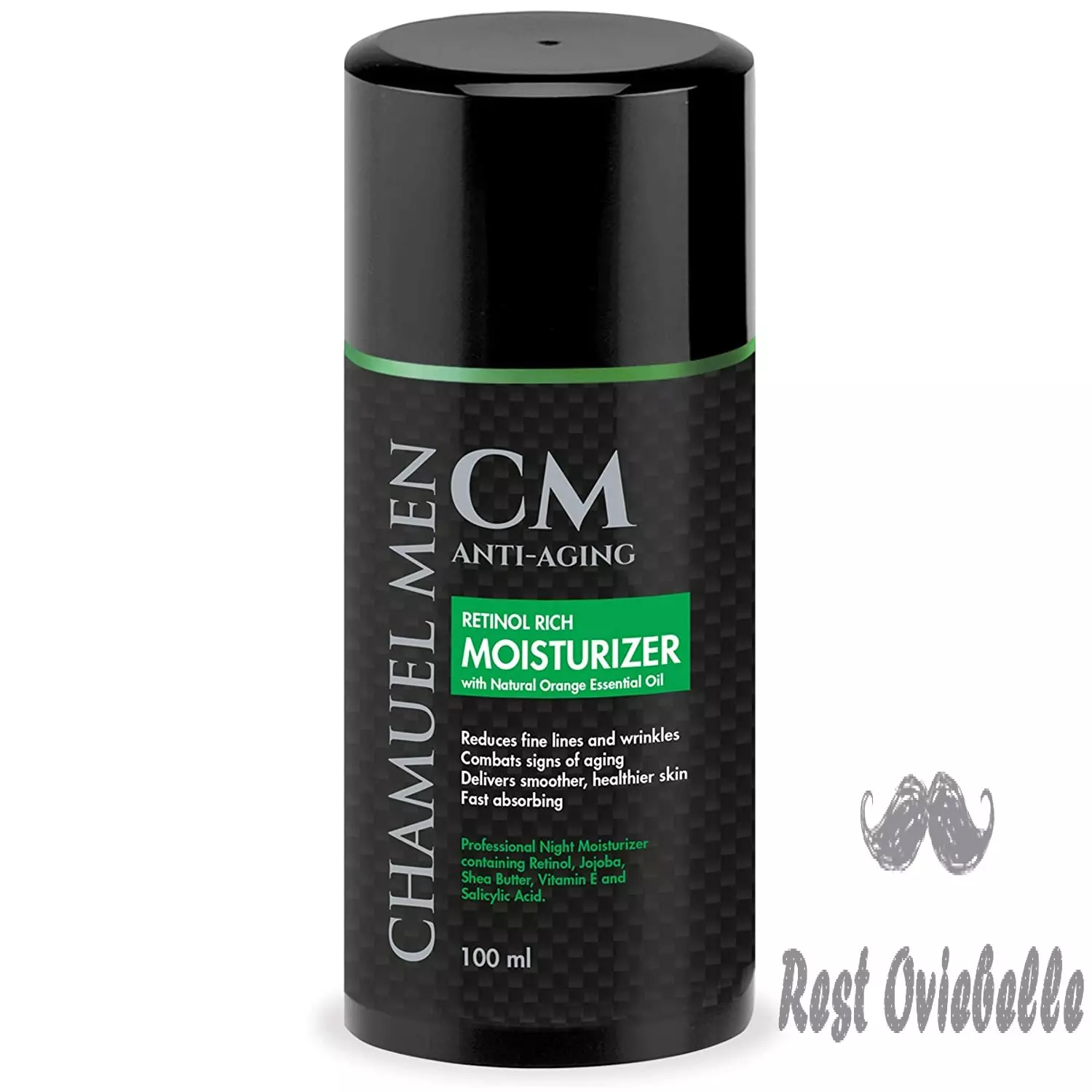 View On AmazonThis is another great anti-aging cream for men that contains 2.5% retinol.
As before, and the anti-aging product with retinol gets high marks in our eyes for its exceptional effects.
While this removes wrinkles and softens your skin over time to look younger, it also improves your overall complexion and can moisturize your skin in just a few hours to improve the overall appearance.
You see immediate results as soon as you wake up after your first night with the product.
While it should only be used at night, it's always the time it takes to make the powerful changes to your entire face.
This is partly due to its effect on your skin's pH balance, which is often ignored by many other anti-aging products.
It uses a generally safe and gentle formula that can be used with almost any skin type, even sensitive or acne-prone skin.
Antioxidants help retain moisture without overacting and damaging the skin. The pH balance of your skin.
It helps clear your pores and rid them of dirt or other impurities while stimulating collagen at the same time.
By stimulating collagen, your skin will look younger, and you will be less likely to have more wrinkles or acne in the future.
It is also non-comedogenic, so feel free to use this as a solution to your acne problems.
The formula also uses no additives or artificial fragrances or dyes.
To make it even better, it is quite affordable, and you get a decent amount of anti-aging cream for your purchase.
It has a natural light citrus scent, which can be both beneficial and annoying, depending on your preference.
We have also found that the texture of the cream is slightly smoother than some competitors, although we don't want to go that far to say that it is oily.
Overall, it is still an excellent product and an excellent choice for many men.

Repairs and moisturizes as well as remove final results of the aging
Excellent amount of item for obtaining
Improves skin pH stability
Removes filth from pores
A bit slippery
Citrus scent often existing
10. Lilyana Naturals Retinol Cream Moisturizer
View On AmazonLilyAna Naturals Moisturizer is a retinol cream for men and women. The packaging immediately shows that this is a natural product that has not been tested on animals and contains natural, organic ingredients. It just has that atmosphere. But it also manages to gain prescription strength without drying out your skin or causing side effects.
Not only is it designed to combat aging, but there is also a whole list of conditions it can help you with, including acne, sun damage, pimples, and stretch marks. Think of it as a one-stop to improve your skin. It has no artificial fragrances and leaves no oily residue on your skin, making it perfect as a day cream. It is even suitable for sensitive skin, but you may need to use it for a few weeks before your skin adjusts. If you can wait, you can expect great results. Our guide to the best face masks offers more great products to help you take care of your skin.

One7 ounces 48g
Prescription energy
Proper for sensitive skin
Gluten and cruelty-free of charge
FAQs About Anti-Aging Creams For Men
What is an anti-aging cream?
Skincare products based on a moisturizing cream that reduce, prevent, or mask signs of aging. They contain some essential ingredients that make the skin healthier and look younger.
Can I combine anti-aging cream with other products?
You can, but read the ingredients carefully to make sure that mixing certain ingredients does not cause any side effects.
Make sure to check out our reviews of the best body lotions for men to make sure you combine correctly.
Do not combine anti-aging products, because you can overwhelm your skin.
When should you start using anti-aging cream?
To get the most out of these products, you should start using them around the age of 25-30 years. However, they still need to take effect when you're older.
Do I have to apply it when I am young to get a head start?
No!
In your 20s and 30s, there is no reason to use anti-aging products.
Some lines or signs of aging are entirely natural, and you should lean towards these looks as you age.
Only use anti-aging products when the lines, wrinkles, and age spots start to overwhelm the other facial features.
You can also use this when you reach middle age to prolong your youthful appearance.
But in general, avoid using these products while you are too young to let your skin perform its functions as naturally as possible.
How can I prevent my skin from aging naturally?
Unfortunately, all the annoying things. Eat healthy, exercise, don't smoke, don't drink, and protect it from the sun. You should also avoid repetitive facial expressions, so don't smile.
Conclusion
That excludes another product review, gentlemen, and your feedback is welcome, as always. What is your experience with anti-aging creams? Have you tried any of the creams listed here? We would like to hear from you.
References
baldingbeards.com
primandprep.com
gearhungry.com