This site is supported by our readers. We may earn a commission, at no cost to you, if you purchase through links.
The best body lotion for men retains your youthful glow and maintains vital nutrients to your skin's health.
Like your favorite shaving cream, beard oil, hand lotion, or shampoo, one of the most important aspects of your grooming routine is making sure that you take good care of your skin.
Skin is the largest organ on our body, yet, as men, we tend to ignore it. Women? They know what the hell they're doing when it comes to taking care of their skin.
Healthy looking skin and presentable attire help to increase the confidence and self-esteem of any individual.
The best body lotion for men will rehydrate or prevent dry skin, soften rough patches like elbows and generally promote healthy, regenerative skin. And if you're into scents, which can really help distinguish a men's body lotion, you'll smell nice too.
But since men's skincare products are never over-commercialized and dominated by the feminine products on the market, we understand why finding the best body lotion can be so difficult for men.
We'll discuss 10 best body lotions for men we've included options with different ingredients, scents and price points to suit your needs.
Things To Consider When Choosing Best Body Lotion For Men
Everyone's skin is slightly different at some level, so the lotion that suits your partner so well may not be right for you.
For example, if you have sensitive skin, many doctors recommend milder moisturizers composed of simple, natural ingredients that may contain types of butter, such as cocoa butter, shea butter, and fragrance-free to avoid unnecessary irritation and discomfort.
Here's the deal, men with different skin types generally talk a little trickier about recommending a lotion to suit everyone.
Choose skincare products that suit your skin type perfectly to get the best out of your lotions.
If you know what you need, you can easily buy the desired product in minutes.
Here is a list of things to look out for when shopping for the perfect body lotion:
1. Ingredients
Here are some of the ingredients that are important for making a quality lotion:
Ceramides: We'll get to ceramides later, but they're an ingredient you should embrace.
Alpha Hydroxy Acids: While the name Alpha Hydroxy Acids may sound chemically daunting, it refers to acids naturally found in fruits. AHAs are good for the skin because they are an exfoliant to remove dead skin cells and smooth the skin.
Antioxidants: (Antioxidant) is a buzzword often associated with food and healthy nutrition, but it is also suitable for skin health,pomegranate and grape seed oil: purify the skin of harmful free radicals.
Emollients: Emollients such as jojoba oil and glyceryl stearate help smooth the skin.
Moisturizers: Moisturizers provide hydration to the skin. Examples of wetting agents are glycerine, hyaluronic acid and panthenol.
Occlusives: Compounds like lanolin, petrolatum, mineral oil and wax form a barrier that retains moisture in the skin.
Sunscreen: Many-body lotions contain sunscreen, which is a good thing. Extra protection against the sun's harmful UV rays is always nice.
2. Skin Type
Ideally, you want to choose the lotion that best suits your skin type, you need to look at the type of formulation, the ingredients of the lotion.
Thick Skin: For men with thicker skin, oil-based creams with more occlusive emollients are the best choice.
Dry Skin: If you have very dry skin, don't worry either! There is a lotion for everyone. Petroleum-based ingredients are best for severely dry skin types.
Normal Skin: If your skin is in the middle of the spectrum and on the normal side, lotions with lighter oils are helpful. Oils such as jojoba, cetyl alcohol and aloe give the best results.
Oily Skin: For oily skin, look for a lotion that gives you unblocked and lightweight pores, an oil-free body cream. Remember that the best face cream for men doesn't clog your pores!
Sensitive Skin: Me Sensitive skins should look for lotions that contain emollients like allantoin or even chamomile.
3. Fragrance
Fragrant or unscented? Most body lotions offer a little protection against sweat and body odor as the day progresses, giving you a boost for your deodorant and cologne.
There are unscented versions, but they are less available.

10 Best Body Lotions For Men Of 2023
Using body lotions has many advantages! from hydration to softer and smoother skin, good body lotion can relax your skin after a hard day of work.
Below is a carefully selected list of the top 10 best lotions for men to keep your skin soft, healthy and in top condition.
1. Brickell Men's Deep Moisture Body Lotion For Men
View On AmazonUpstart Brickell is making waves in the world of men's grooming.
By supplying premium products that we recognized in our best shampoo and best conditioner for men, they make products that men love time and time again.
What makes Brickell Men's Deep Moisture Body Lotion so special that it should be added to this list?
To begin with, this solution contains 99% natural ingredients. Of the 99% that is natural, 80% is certified organic.
Both the aloe vera and the jojoba in the bottle will effectively moisturize your skin to help eliminate easiness or general surface dryness.
In addition to these two keystone ingredients, vitamin E and green tea will work together to block free radicals and further heal your skin.
If you want to maintain your youthful appearance and keep fine lines and wrinkles at bay, this should be an effective solution.
Don't just think because it's natural that it won't work, and this body lotion will be effective for men who have the incredibly hard, dry winter months in the Northeastern Desert, in dry conditions in the Southwest.
For extra safety, this is the top-rated body lotion on this list.

Effective in moisturizing and calming the skin
Subtle masculine fragrance
Luxuriously absorbent never greasy or sticky
Made with high quality natural and certified organic ingredients
Pricey (but worth it)
May irritate allergic skin
2. Lubriderm Men's 3-In-1 Body Lotion With Light Fragrance
View On AmazonHow good is Lubriderm's 3-in-1 body lotion for men? So good that some reviewers say it's even better than their wife's lotion. That says a lot, given the name Lubriderm and the reputation for providing quality products for women: and now for men.
Their 3-in-1 body lotion (with light fragrance) for men has their triple action formula that moisturizes, soothes and improves dry, damaged skin. It is a lightweight formula that absorbs quickly into the skin.
Better yet, you can also use it as a face cream after you finish your morning shave. It is not greasy, so your face will not look extra shiny. And last but not least, the Lubriderm 3-in-1 body lotion has a formula specially designed for men's skin.
The main ingredients in Lubriderm's 3-in-1 lotion are aloe, mineral oil, glycerine, and vitamin E. It is good for all skin types, but especially effective for men with normal to oily skin. The only ingredient it doesn't have is sunscreen, which is important, of course, but you can easily use it with your favorite sunscreen.
We also like the fragrance of the 3-in-1 lotion, which is musky and is described as (black pepper and sandalwood.) It is definitely a man's fragrance. It's another reason we think it's one of the best men's body lotions for 2023. We think this is also the best-scented body lotion for men.

Hydrates soothe and soften the skin
Effective as a face cream
Lightweight not heavy
Does not contain sun protection
3. Cerave Moisturizing Body Lotion For Men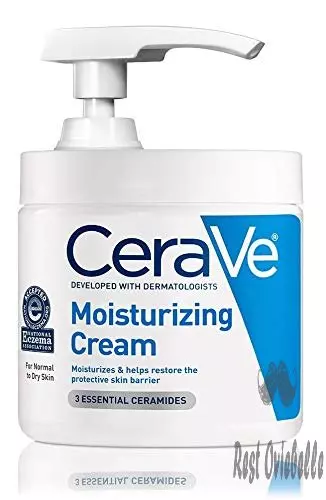 View On AmazonL'Oreal's CeraVe body lotion for men is one of the better creams out there.
Since the parent company is such a renowned brand, you can be sure that the product you get will be top quality.
CeraVe itself is also a trusted and recognized brand when it comes to body lotions.
You can feel safe knowing that the product you are using has a good reputation.
The CeraVe moisturizing body lotion for men contains three types of ceramides.
Ceramide 1,3 and 6 that help skin retain and attract moisture.
It also keeps skin hydrated for longer compared to other lotions out there.
The packaging it comes in is quite stylish and also has a pump that allows you to quickly take the lotion out of the bottle.
But the pump becomes quite useless after a certain amount of use.
But that's not all, given the price of the deeply moisturizing body lotion and the amount you get, we still think it's good value for money.

Great price to volume ratio
Advised by dermatologist
Operates best for dry skin
Pump prone to failure right after an even though of use.
4. Bath Body Works Signature Collection Body Lotion For Men
View On AmazonIt would be foolish to ignore a Bath and Body Works product. Sure, your mom may have shopped here before, and they certainly make scents that smell incredibly feminine but guess what:
They also make some great products for men.
While we raved about their mahogany hand cream in our best male hand creams, they also take the cake for a body lotion for men.
One of the best-rated lotions for men on the market today, this remarkably affordable lotion should do an excellent job of restoring the skin surface.
Relying on a rich blend of both shea butter and Vitamin E, you should immediately see the effects of this deep moisturizer that will help your skin tremendously.
Not a fan of smooth lotions?
We neither!
This lotion is specially formulated to absorb quickly as soon as it comes in contact with your skin and leaves virtually no greasy residue in its path.
Like Bath and Body Works mentions, this product evokes a scent of bergamot herbs, blue sage, and leathery wood that makes you smell like a man!

Scent Is Extremely Good And Lengthy Lasting
Fortified With Nutritional vitamins E And B5
Made With Natural Recognizable Parts
Formula Is Not Greasy Or Slimy
Scent Could Be Also Robust For Some Tastes
Moisturizing Component Leaves A Bit To Be Wanted
Bottle Is Tiny For A Physique Lotion
5. Alpha Skin Care Body Lotion For Men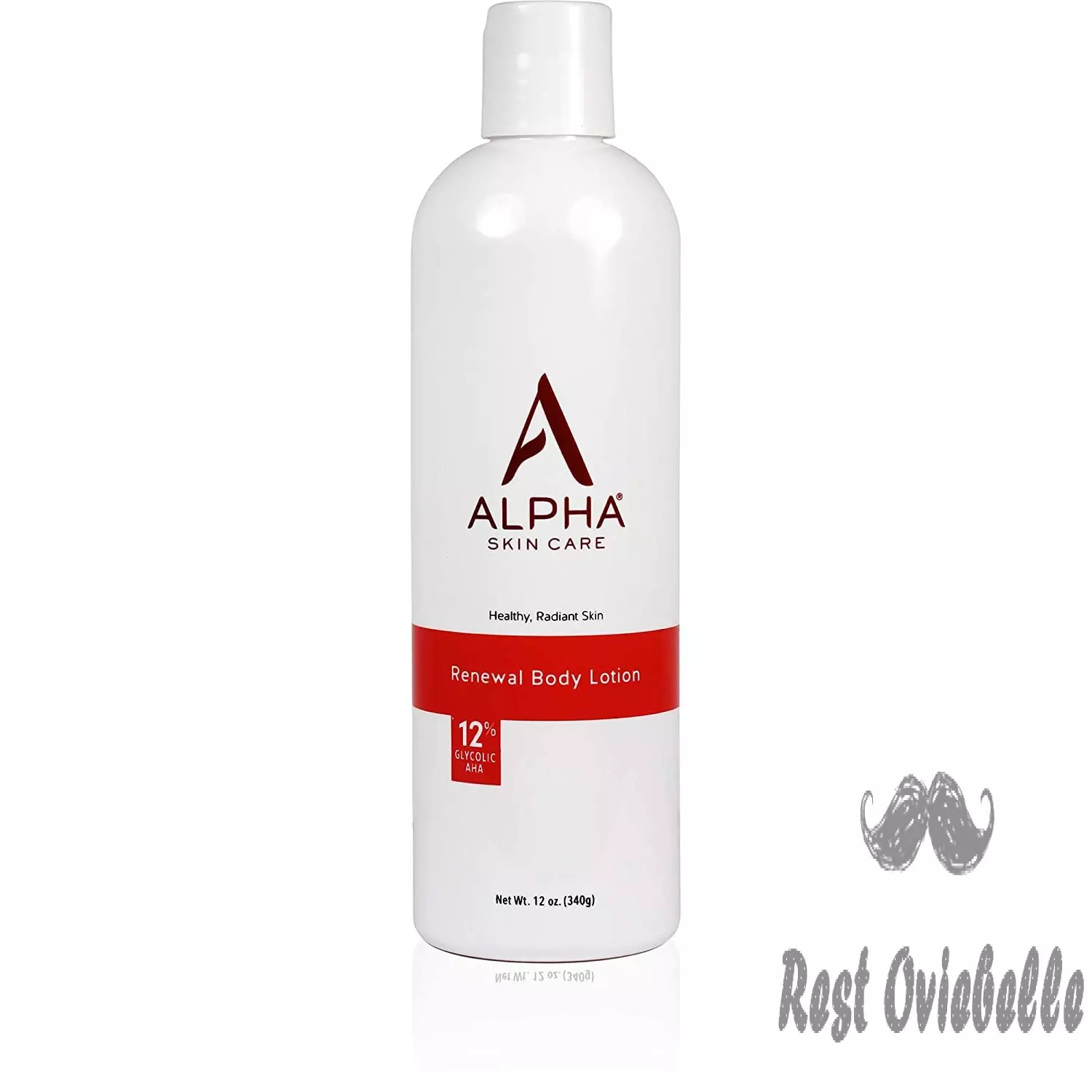 View On AmazonAlpha Skin Care takes the gold medal from top to bottom on this laundry list of excellent products. 10% Active Glycolic Acid AHA works tirelessly to support healthy collagen retention, while the blend of ingredients helps relieve dry, irritated skin.
This product takes some time to sit in, so if you plan on using it before bed, give it some time before sliding it under the covers. The packaging of this product is quite weak, leaves a lot of mess near the cap, and gives an ultra-thin feel when you grab the bottle.
However, you pay an excellent low price, giving you a wonderful volume-to-value ratio. Recharge your youthful appearance and stop the signs of aging death in their tracks for as long as possible. As an Amazon's Choice product, hundreds have already experienced the excellence of Alpha, especially with the subscription-based option, which can save you a lot of the change if it eventually becomes your favorite lotion.
Twelve AHAs helps with wrinkly skin
Outstanding cost to volume ratio
Non-abrasive
Consider a handful of minutes to get absorbed in the skin
6. Vaseline Men Fast Absorbing Body Face Lotion

View On AmazonThe Vaseline name is synonymous with skincare and is hardly a newcomer to major brand names. Founded in 1859 by British chemist Robert Cheesebrough, Vaseline can easily be one of the original skin experts.
Cheesbrough developed petroleum jelly after seeing how Pennsylvania oilmen used the by-product of the oil drilling process to heal skin wounds and burns, and that began his search for effective solutions for America's dry skin.
One such modern solution is Vaseline's fast-absorbing body and face lotion for men. It is good for all skin types and consists of a non-greasy moisturizer that lightens dry skin in just 15 seconds. Not only does it work quickly, but it also claims that dry skin stays cured for three weeks.
Vaseline takes skincare very seriously and reminds her customers that the skin is the body's first line of defense. If your skin is strong and healthy, you are strong and healthy. Their body and facial lotion strengthen and resilient your skin.
It's also a good bargain as it comes in a huge 20.3 fluid ounce container that will last you a good long time even if you bathe in the stuff daily. Rest assured, you don't have to use a full tub to get the skincare you need.

Actuality acting
Heals and strengthens skin
Proven brand title
The scent is as nicely strong for some
7. Nivea Men Maximum Hydration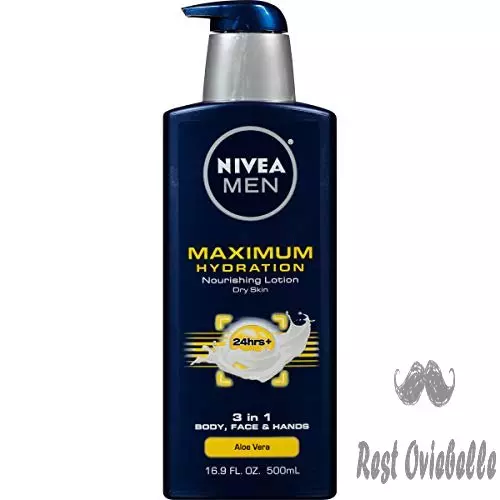 View On AmazonNivea Men's Lotion has long been one of the favorite lotion brands available on the market.
They have built a loyal customer base and strong brand image with their quality products that work and, most importantly, are safe.
The Nivea Men Maximum Hydration is best for those who live fast or are always on the go or have dry skin.
Thanks to the fast-absorbing technology, you don't have to wait and waste time absorbing into your skin.
The lotion helps to strengthen and make your skin healthier.
Their maximum moisturizing lotion is also just as popular and a great option too.
The price remains very reasonable without sacrificing quality. The lotion is also a bit thick, so a modest amount does the job quite well.
The packaging is fairly clean and comes in a blue pump bottle.
The lotion contains sea minerals that give it a distinct aroma and can also be used to protect your face.
The fragrance may not be everyone's cup of tea, but this really is an all-rounder of a body lotion

Cost-effective price
Strengthens skin
Recognized brand identify
The scent might effectively be a flip off for some
8. Gold Bond Men's Everyday Essentials Lotion
View On AmazonFor years, Gold Bond has been supplying high-quality care products that can be found in the corner drugstore or the large box store.
For the frugal man who wants to save a few bucks, this Gold Bond option is a 3-in-1 solution that should help your skin on all parts of your body.
Formulated to work on your body, hands, and feet, it will achieve that healthy look for your skin without drying out.
Men who want a light lotion will love the non-greasy formula and light fragrance. Only a few pumps of this stuff would last for about 24 hours.
Gold Bond stands out for its range of affordable grooming products for men. This body lotion is our budget-friendly choice for dry skin.
Consists of Aloe Silk Amino Acids And Other Verified Moisturizing Agents
Can Be Utilized On Encounter And Whole entire body
Inexpensive Without Sacrificing High quality
Robust Fragrance May well Not Suit Every person
Could Not Be Ideal For Oily Skin
May Require To Reapply Throughout The Day
9. Jack Black Moisture Body Lotion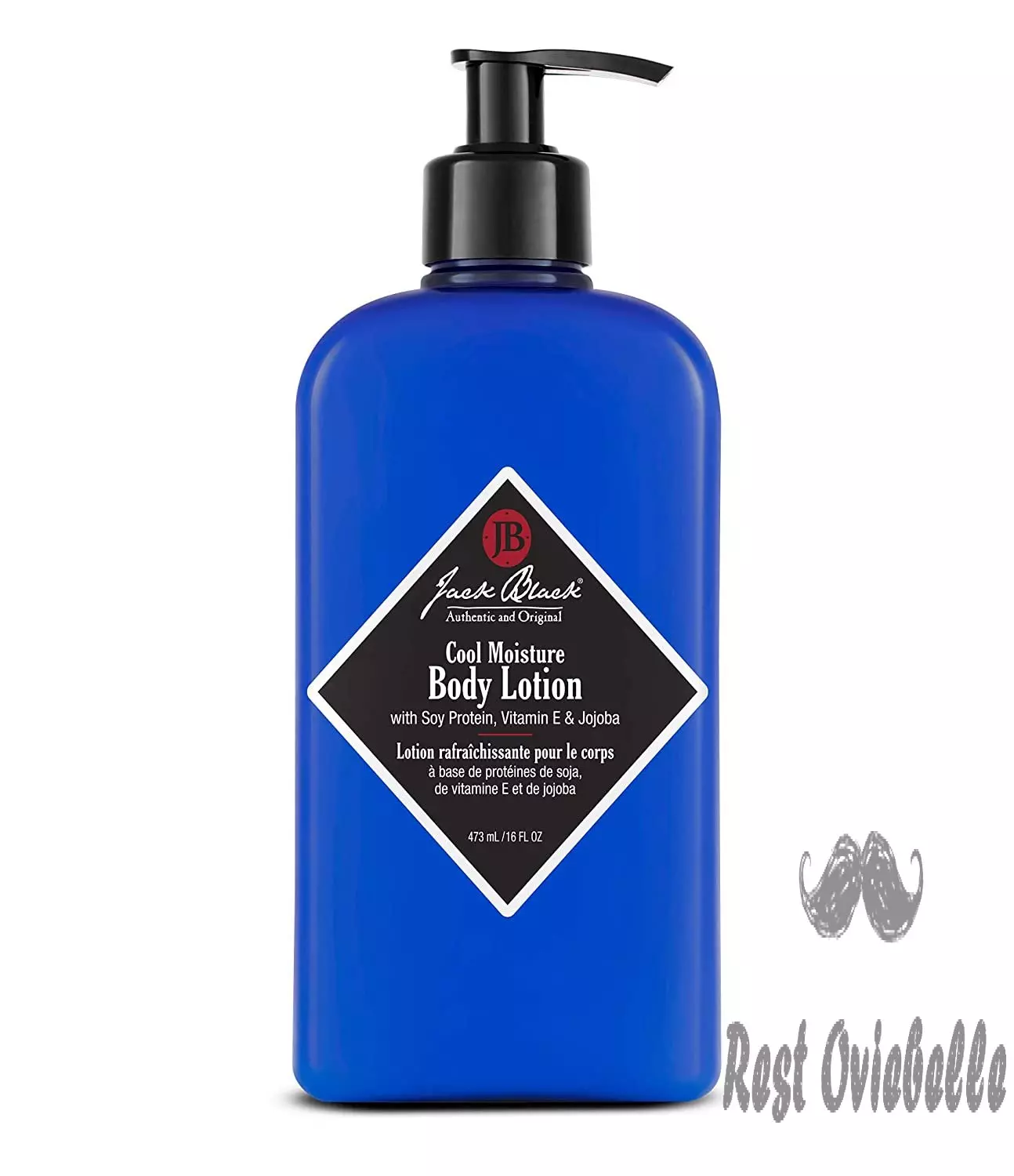 View On AmazonWe still think of the actor first, but hey, old habits die hard. Jack Black brings you a fast-acting, non-greasy, moisturizing body lotion.
It absorbs quickly into your skin, so you can apply it, let it dry on time and hit hay whenever you want without having to wait.
Certain ingredients provide a cooling element, saturating irritated or itchy skin, eliminating the temptation to scratch and damage or inflame your skin. Given the luxury nature of the product, you pay more than the average ticket for a slightly less product. You get 16oz in the bottle, and as a warning, it's not for everyone with a soy allergy.
It has a heavy soy protein component, which can cause hives if you're not careful. If you like a little pampering before going to bed at night and enjoy a light fragrance that compliments your natural musk, Jack Black is waiting for you.
Sets in extremely quickly
Cooling elements calm down irritation stopping you from fulfilling the urge to scratch
The large expense to amount ratio
Will irritate those with a soy allergy
10. Hempz Original Herbal Body Moisturizer
View On AmazonLet's get something straight from the start: Hempz's original Herbal Body Moisturizer doesn't contain THC (the chemical that causes the buzz). Sorry guys: that is if you're interested in that kind of recreation.
Seriously, the Original Herbal Body Moisturizer has everything a lot of men want (natural, cruelty-free ingredients) in a care product without what many men don't want (parabens, gluten, and, yes, THC)).
A key ingredient in Hempz body moisturizer is hemp seed oil, a perfectly balanced oil that contains all 21 known amino acids, as well as essential fatty acids that are crucial for healthy skin. It is also rich in super polyunsaturated fatty acids, which help relieve dermatitis and other skin conditions.
On the other hand, all Hempz products contain hemp seed oil: since its inception in 1998.
But there is more, including shea butter and ginseng that help soothe and calm the skin, as well as Vitamin A, C, and E that protect the skin from natural and environmental pollutants. Shea butter is the ingredient that provides a light barrier to keep moisture in the skin and gives a light conditioning coat. However, it does not leave a greasy film on your skin.
You will quickly notice the fragrance of the Hempz Original Body Moisturizer, which is compared to banana or passion fruit but is not overly sweet.

Created with a good selection of natural elements
Actually affordable
Successful for all skin varieties including sensitive skin
The scent is too robust for some people
How Should You Use Body Lotion?
It would surprise you to know how many people use body lotion but not get the most out of it.
While applying body lotion is not exactly rocket science, there is a better way to apply it than smearing it aimlessly on your skin.
Step 1: Put a quarter body lotion in the palm of your hand.
Step 2: Work the lotion between your hands to warm it up and thin it out.
Step 3: Apply body lotion to small areas of the skin at a time. Massage the lotion onto the skin with both hands in gentle, circular motions. Pay close attention to thick areas of the skin, such as your elbows and knees.
Step 4: Repeat step # 3 until your entire body is fully hydrated. While applying body lotion after showering is the best time to moisturize, it is also important to lather up if the skin is prone to drying out. This includes: before exercise, at bedtime, and for air travel.
You can also take a warm shower before applying lotion to remove the dirt and grime that has accumulated on your skin.
However, do not shower quickly after applying body lotion; this simply rinses off the body lotion.
FAQs About Body Lotions For Men
What are moisturization and hydration?
Moisturizing refers to making your skin less dry than while hydration refers to going a little deeper and binding the skin molecules, which helps to retain the moisture itself longer.
Well, moisturization and hydrated skin will not help you enough when your body aura is active. You need a good deodorant to cover them up.
Why is it important to use body lotion?
Your skin diminishes with age. We have not been able to prevent collagen and T cells in our body that can prevent the damage associated with the passage of time. The body lotion is your first line of defense to maintain the integrity of your skin.
Depending on the ingredients, it can also serve as protection against harmful UV rays. There is a constantly growing list of negative effects on our skin, thanks to pollution and the ever-changing world climate. Having good quality skin lotion reduces the absorption of harmful pollutants, which are absorbed by your skin and affect your health.
How often should I use body lotion?
There is no hard and fast rule for this question, and you can use a body moisturizer if you think you need it or if your skin feels dry, and after every shower and bath.
Some use it once in the morning and again just before going to bed.
How does body lotion work?
Body lotion binds molecules in your skin. It's like pulling a thread through countless cells and bringing them together to form a shield. This keeps moisture within the walls of these cells, which counteracts irritants and temperature differences. It also promotes the longevity of collagen, a component in your skin that adds elasticity, making you look young and vibrant. Consistency is required; you not only reap the benefits after a single-use. It's all about long-term skincare.
Conclusion
Thanks for checking out my list of best body lotions for men. If you found this article helpful, check out my list of the best smelling body washes for men.
As always, we welcome your feedback. Is there a body lotion that you prefer? Have you used a lotion on this list? What is your opinion? Is there a product we've overlooked? Let us know!
References
toolsofmen.com
gearhungry.com
baldingbeards.com