This site is supported by our readers. We may earn a commission, at no cost to you, if you purchase through links.
Do you want to keep your natural hair healthy and free from the effects of humidity? If so, then an anti-humidity spray is just what you need!
As the saying goes, An ounce of prevention is worth a pound of cure – and this statement couldn't be more true when it comes to using an anti-humidity product.
Not only will it help protect your hair from damage caused by humid weather conditions, but it can also add shine and volume for beautiful locks that are sure to turn heads.
So let's dive deeper into why using a quality anti-humidity spray can benefit your natural hair.
Key Takeaways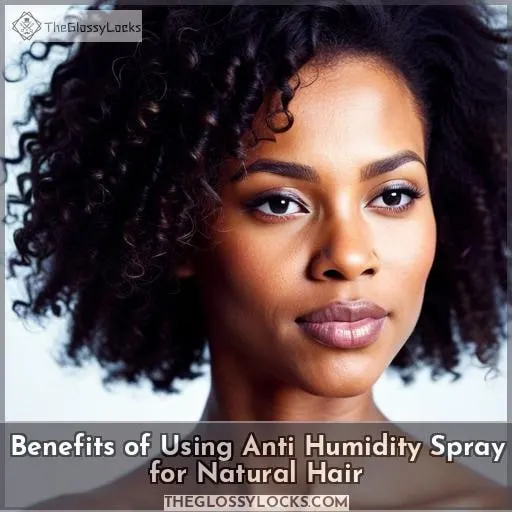 Anti-humidity spray creates a protective barrier against humidity, reducing dryness, frizziness, static electricity, and flyaways while also protecting against heat damage.
It seals cuticles to prevent breakage, adds shine and sheen, and contains ingredients that repair damage and preserve moisture, tailored for different hair types.
Anti-humidity spray maintains volume without leaving residue or greasiness and protects color from fading, without altering natural texture.
However, it should be used daily and not too often to avoid buildup, and carefully chosen and applied to avoid reactions on sensitive skin or scalp. Investing in a good quality spray can lead to better results for healthy-looking natural hair in any climate.
How Does Humidity Affect Natural Hair?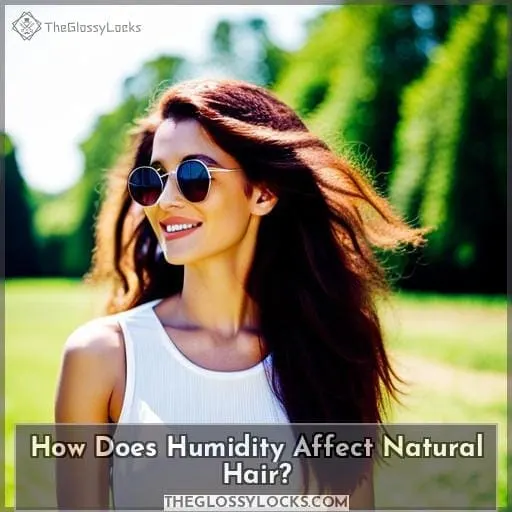 You might be surprised to find out how humidity can affect natural hair. High levels of humidity can weaken the hydrogen bonds in the hair shaft, which causes raised cuticles and dryness. This leads to frizziness that no amount of styling methods would be able to fix.
That's why using an anti-humidity hairspray is key for protecting your locks from humid conditions while still maintaining their health and integrity. It works by creating a protective barrier around each strand, locking moisture in without weighing down your style or causing product buildup.
Anti-humidity sprays can also protect against heat damage caused by styling appliances such as blow dryers or flat irons, so you don't have to worry about any breakage or damage occurring during use either! Investing in a good quality spray will ensure that you are always keeping your locks hydrated, even on those hot summer days where tackling frizz seems impossible!
Seals the Cuticles on the Hair Shaft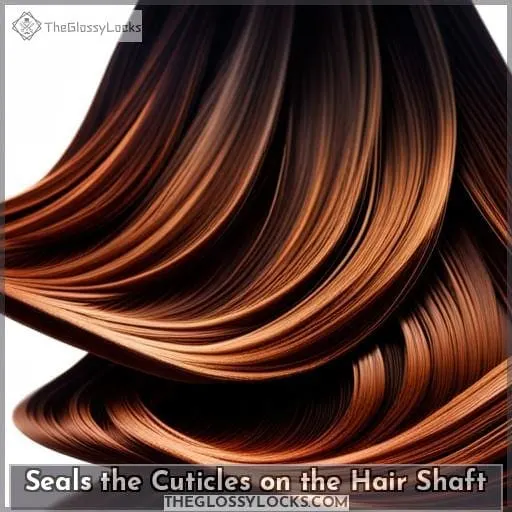 By applying an anti-humidity spray, you can dramatically seal the cuticles on your hair shaft and keep it super hydrated for days! This is especially beneficial for those with natural hair because humidity weakens the bonds in this type of hair.
Sealing these cuticles helps prevent moisture loss, dryness, frizziness, and breakage that comes from humid conditions.
Here are some of the benefits:
Lock in Moisture – An anti-humidity hairspray acts as a protective barrier to help lock moisture into each strand so your hairstyle won't look dull or limp after exposure to humidity.
Frizz Control – Anti-frizz sprays provide shine while controlling flyaways caused by high levels of humidity.
Hair Protection – The ingredients used in good quality anti-humidity sprays protect against heat damage from styling appliances like blow dryers and flat irons, so you don't have to worry about damaging your locks even further when using them daily!
Hair mists are also great for hydrating natural textures without weighing them down or causing product buildup. That's why Leah loves recommending them as part of a regular hair care routine for those living in humid climates.
Investing time into finding a good quality spray will ensure better results over cheaper alternatives that may not do much at all besides adding scent to strands (which only lasts until shampooing).
Locks Moisture in the Hair Strand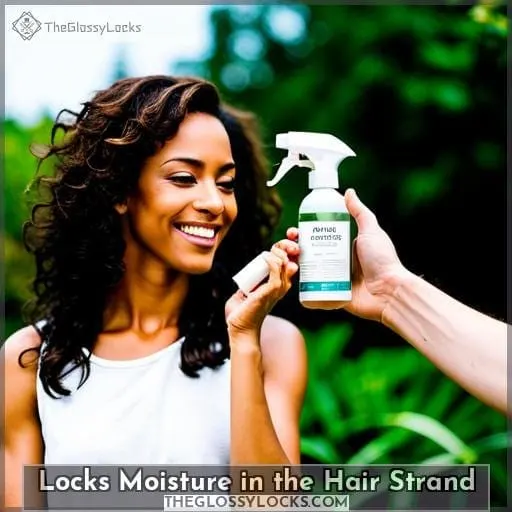 Using an anti-humidity spray helps lock moisture into your hair strands, creating a protective barrier to keep it healthy. This is one of the many benefits of using an anti-humidity spray for natural hair and can be extremely beneficial in humid climates.
The product creates a seal around each individual strand that prevents loss of moisture while also providing heat protection from styling appliances.
Not only does this help maintain your voluminous look, but it also reduces static and flyaways caused by humidity without causing any buildup on the hair strands themselves. With regular use, you'll notice that your locks are more manageable with less frizziness than ever before! The other benefit is that this type of product gives long-lasting effects, with some people noticing up to two or three shampoos worth of their style when they apply their anti-humidity hairspray correctly.
It's important to invest in good quality products as these will provide better results overall.
Can Add to Hair Shine and Sheen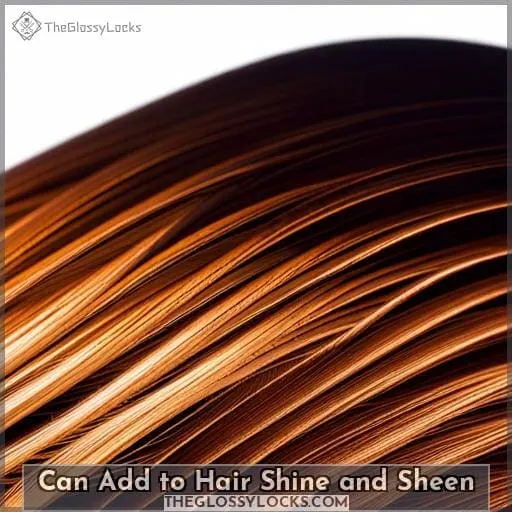 Anti-humidity sprays can help you achieve a glossy, shiny look. Don't you want to show off your beautiful hair? With the right anti-humidity spray, adding shine is easy and achievable. Not only does this superior quality product reduce frizz and flyaways caused by humidity, but it also protects your hair from damage while sealing the cuticles on each strand.
Moreover, its long-lasting effect allows for a styled hairstyle that will last through any weather condition without losing its luster or glossiness over time.
The benefits of using an anti-humidity spray are vast:
Reducing Frizz & Flyaways
Protecting Hair from Damage
Sealing Cuticles on Each Strand
Adding Shine & Sheen to Hair
These results can be achieved much faster when compared to other products due to their unique formulation designed specifically for natural hair care needs.
Reduces Hair Static and Flyaways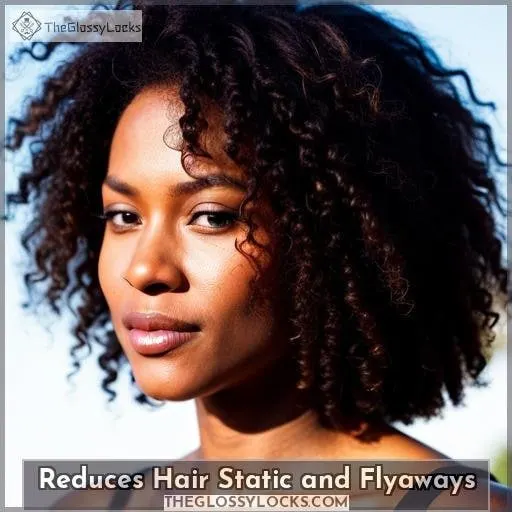 You can protect your hair from static and flyaways with an anti-humidity spray, locking in moisture and preventing frizz. Anti-humidity sprays reduce the amount of humidity that affects natural hair by sealing cuticles on each strand to help them retain their shape.
These products can also be used to rehydrate strands while avoiding damage due to heat styling or environmental conditions like high humidity levels.
By using a good anti-humidity hairspray, you're actively protecting your locks from drying out while reducing frizziness at the same time.
If you want healthy-looking hair even in humid climates, then investing in an excellent quality anti-frizz product should be a top priority on your list of haircare essentials.
Provides Long-lasting Effects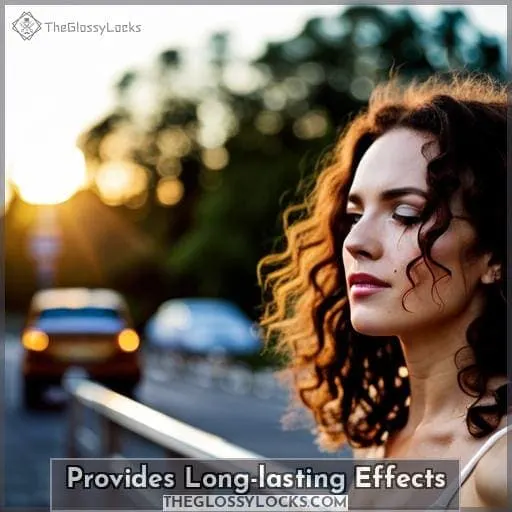 With this product, you can enjoy long-lasting effects that protect your hair from humidity and the damage it causes. Anti-humidity sprays provide an alternative to traditional styling products, allowing you to take control of frizzy hair in humid climates.
Not only do they offer protection against humid moisture, but they also provide moisturizing benefits that are great for all types of natural hair. These sprays lock in moisture and help keep your strands healthy while providing strong hold without weighing down the locks or looking greasy.
The spray creates a protective layer over each strand, helping resist flyaways caused by static electricity and aiding in controlling frizziness caused by humidity levels outside as well as inside heated buildings during winter months! With regular use, anti-humidity hairspray helps maintain volume but doesn't leave behind any residue on fabrics or other surfaces like many other hairstyling products might do, leaving them feeling clean after application.
Whether it's fine wavy curls needing definition or coarse coils needing extra nourishment, using a good quality anti-humidity spray tailored specifically for different types of natural hair care will ensure maximum effectiveness when used according to instructions provided with the product!
Protects the Hair From Heat Damage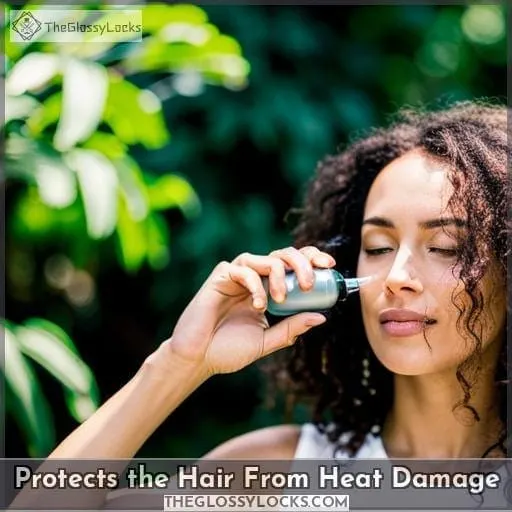 Using a good anti-humidity hair spray can add an extra layer of protection to your locks, ensuring they don't suffer heat damage from styling appliances! It helps keep your natural curls and textures looking healthy and adds volume to straight hair.
The ingredients in these sprays have deep conditioning properties that nourish and protect different curly styles while providing much-needed heat protection. Anti-humidity sprays are designed specifically for those with textured hair types, so chemical treatments and environmental stressors like humidity won't be able to take away that beautiful shine.
MIZANI Artist Al Alexander agrees that using an anti-humidity spray will give ample coverage against possible heat damage caused by hot tools used at home or salon visits, whether you have loose waves or tight coils.
Helps Increase Hair Volume

Applying an anti-frizz product can give your natural hair volume and bounce without weighing it down. The right spray selection, when applied correctly, will help you achieve the desired look with minimal effort.
Product application is key – make sure to evenly distribute the products throughout your hair for maximum coverage and protection against humidity.
Usage frequency depends on how often you style or maintain your tresses. However, Leah's Hair Website chief editor recommends using a good anti-humidity spray every time before styling for best results! When it comes to styling natural hair in humid conditions, Anti-Humidity Spray plays a major role in elevating your overall 'hair game'.
Not only does Anti-Humidity Spray help increase volume, but it also helps protect color from fading, making it even more worth investing in one that suits all textures and curl types.
Follow these tips by Al Alexander, MIZANI Artist @al_alexander, if you want lusciously voluminous curls despite high humidity levels outside.
Can Prevent Fading of Hair Color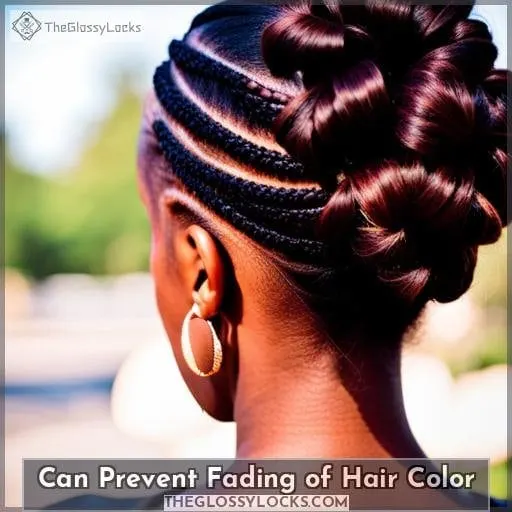 Slathering on your favorite anti-humidity spray can help preserve that gorgeous hair color you worked so hard for! Prolonging the vibrancy of your locks is easier than ever with a product specifically designed to fight against unwanted frizziness.
Not only does an anti-humidity spray protect from moisture loss, but it also helps prevent dryness and flyaways caused by styling appliances. Key ingredients found in many products, such as benzyl salicylate, benzyl benzoate, and hexyl cinnamal, act as a barrier against humidity while locking the essential oils within each strand of hair.
Curly haired beauties will love how their curls remain bouncy all day when they use an anti-frizz formula infused with vitamins like panthenol and tocopherol acetate, which help nourish every single curl without causing buildup along strands over time.
Best Anti Humidity Sprays for Natural Hair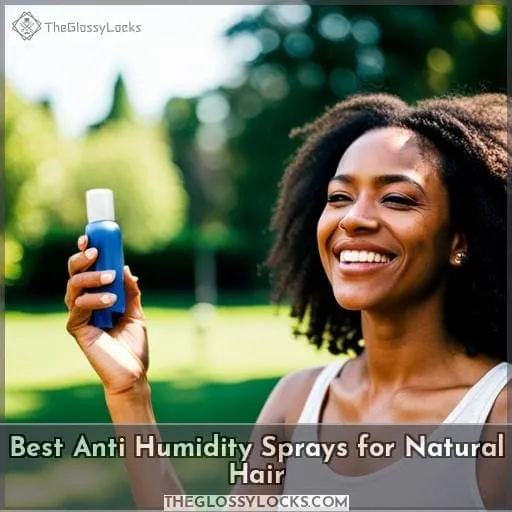 Choosing the right anti-humidity spray for your natural hair can help keep it looking and feeling healthy in humid conditions.
Anti-humidity sprays are designed to maintain moisture within the hair strand while shielding it against any damage caused by excessively humid weather. There's an array of products available that promise long-lasting results and protection from heat damage, from Garnier Fructis Extreme Control to Dashu Premium Mega Hold Spray.
The best part is that these products don't cause buildup or weigh down curls like other styling agents would. They work wonders on all curl types without compromising on volume or shine! Additionally, some of them even feature ingredients such as ethylhexyl salicylate, which helps protect color-treated strands from fading away over time.
So make sure you invest in a hydrating mist as part of your regular hair care routine if you want to say goodbye forever to bad hair days!
Frequently Asked Questions (FAQs)
Is anti-humidity spray safe for colored hair?
Yes, anti-humidity spray is safe for colored hair. It provides protection from heat and humidity that can cause fading or damage. Its sealant properties lock in moisture to keep color vibrant and delay fading, while adding volume without weighing down the hair.
How often should I use anti-humidity spray?
Use anti-humidity spray every day to keep your natural hair healthy and frizz-free! It's an amazing way to add volume, shine, and protection from humidity. Plus, it will keep you looking fabulously flyaway-free – no exaggeration! Make sure you pick the right product for your curls; it could be a game-changer.
Does anti-humidity spray affect the hair's natural texture?
Anti-humidity spray can help tame frizz and protect hair from humid conditions, but it won't alter your natural texture.
Does anti-humidity spray work on all hair types?
Yes, anti-humidity sprays work on all hair types. They protect against moisture loss and reduce frizz, helping to keep your locks healthy and manageable in humid climates.
Are there any potential side effects of using anti-humidity spray?
Using anti-humidity spray can lead to product buildup if it is used too often. Additionally, some ingredients in the sprays may cause a reaction on sensitive skin or scalp.
Conclusion
If you're looking for an easy way to keep your natural hair healthy and manageable, anti-humidity sprays are the way to go. They help lock moisture into the hair strands and guard against the damaging effects of humidity.
They can also help to add volume and shine, reduce static and flyaways, and protect hair from heat damage. With the right product, you can keep your natural hair looking its best in any climate. So, don't let humidity ruin your style! Invest in a good anti-humidity spray and keep your hair looking its best, no matter the weather.