This site is supported by our readers. We may earn a commission, at no cost to you, if you purchase through links.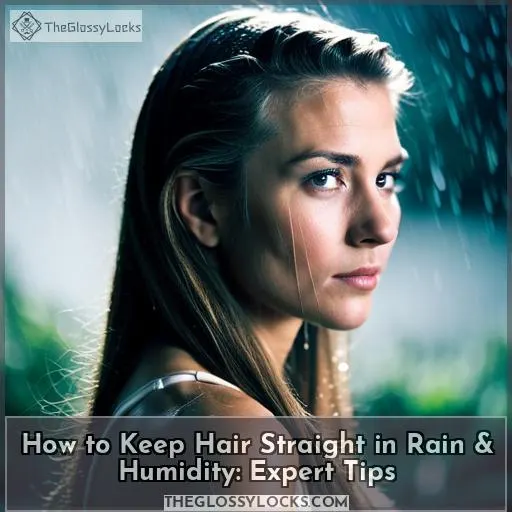 Are you fed up with your perfectly straight hair turning into a wild, frizzy mess the minute it rains or humidity levels rise? You're not alone.
But if you want to keep your hair sleek and manageable in humid climates, there are some tips and tricks that will help get you there.
Key Takeaways
Use anti-humidity hairspray, serums, and creams before styling to control frizz and seal cuticles flat.
Use a round brush while blow-drying with low heat to minimize frizz and provide control.
Use heat protectants with negative ions to reduce frizz before using hot tools.
Embrace natural texture and limit washing to reduce stripping natural oils.
Why Does My Hair Curl in Humidity?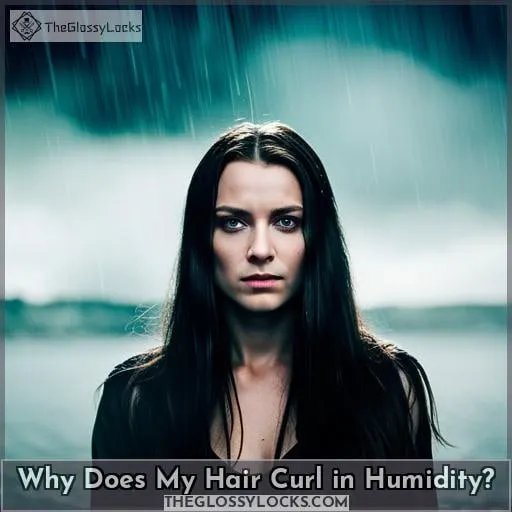 When it's humid, your hair can start to curl and frizz out of control, but with the right products and techniques, you'll be able to keep those locks looking sleek. Start by using a microfiber towel or squeezing your hair gently instead of rubbing when drying off after showering.
Apply an anti-humidity hairspray before styling for extra protection against moisture in the air. Also, apply a heat protectant spray prior to flat ironing or blow drying as this will help prevent damage from high temperatures while keeping curls away.
Coconut oil is great for locking in moisture and sealing cuticles closed; however, don't overdo it as too much can leave your hair greasy.
The Best Products for Straight Hair in Humidity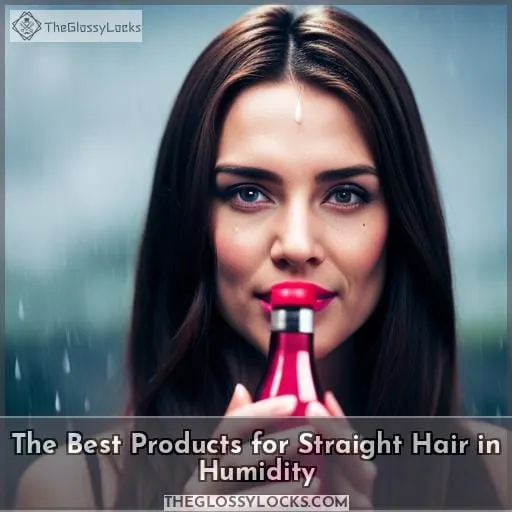 Searching for a way to keep your straight hair looking sleek and stylish in humid weather? Look no further! Hydrating shampoo and conditioner, serum application, drying with a round brush, using heat-protectant spray before styling tools, choosing the right hair straightener, and locking in style with hairspray are all essential steps for keeping your locks smooth.
With these tips, you'll be sure to stay on trend even when it's raining or really hot outside.
Hydrating Shampoo and Conditioner
Smooth your hair with a hydrating shampoo and conditioner like butter melting on warm toast for straight tresses in the rain and humidity. Kérastase Mini Elixir Ultime Hydrating Hair Oil Serum is ideal to fight frizz, while Pureology Hydrate Shampoo will keep your locks hydrated from root to tip.
Argan oil is great for moisturizing, while coconut oil helps protect hair from the elements.
Remember not to overdo it when using oils – too much can lead to a weighed-down look that's difficult to manage. For added protection against frizziness due to humidity, be sure to also invest in quality heat tools with temperature control.
Serum Application
Applying anti-frizz serum or cream to wet hair can give you smooth, frizz-free results.
Heat protection spray before heat styling, protecting from humidity levels and damage.
Anti-humidity sprays for added hold and long-lasting style in the rain.
Quality hair products formulated with natural oils to help seal the cuticle against moisture while controlling frizz. These will also add shine and nourish damaged strands!
To get optimal use out of your products, be sure to apply them evenly throughout damp hair prior to blow-drying or heat styling, avoiding overuse which may lead to a greasy look.
Drying Hair With a Round Brush
Using a round brush while drying your hair can help create a casual style and provide more control with better results. Low heat is key to minimize damage. Finish the look with an anti-frizz spray for added protection, then use the right products that are designed to work hard against humidity.
Heat-Protectant Spray
Before styling, make sure your hair is adequately protected from heat damage with a quality heat-protectant spray. Choose one that contains negative ions, which help seal the cuticle and reduce frizz.
To get optimal results, use products specifically designed to protect against high temperatures when using hot tools.
Heat Protectant Product
Natural Heat Protectant
Temperature Control Straighteners or Dryers
For added protection, use lightweight oils or silicone-free serums before applying the product to lock in moisture and keep your hair straight for longer. When styling with heated tools, choose those equipped with temperature control settings for the best results.
This will help you prevent over-drying, which can lead to further damage and split ends.
Lastly, finish off by misting a strong hold hairspray on any areas prone to frizz for maximum effect.
Choosing the Right Hair Straightener
Invest in a quality hair straightener with ceramic plates and temperature control for long-lasting, frizz-free results. Low porosity hair will benefit from using an anti-humidity spray to help protect locks against the elements.
These products can also act as natural moisturizers that keep your strands hydrated all day long.
A heat protector is a must when it comes to preventing damage caused by flat irons and standard styling tools.
For those with thick texture, look out for models that feature wider plates – they'll get through tougher areas quickly and easily. But whatever you choose, make sure it's got adjustable temperatures so you don't overdo it on the heat settings.
Locking in the Style With Hair Spray
To lock in your style and protect against humidity, try using a professional hairspray like TRESemmé. It provides flexible hold with strong anti-humidity protection to control frizz while giving you a vibrant look.
For extra hold throughout the day, opt for lightweight sprays such as Agave Healing Oil or Pantene ProV. These sprays are specifically designed to tame frizzy hair without weighing it down.
A good quality hairspray like BaBylissPRO Nano Titanium can also give long-lasting results and prevent damage from flat irons with its heat protection formula.
Get creative and experiment with different products until you find one that works best for your individual needs! With some trial and error, you'll be able to keep your hairstyle looking sleek even in high levels of humidity – no matter what type of hair texture or length you have!
How to Shower to Maintain Straight Hair in Humidity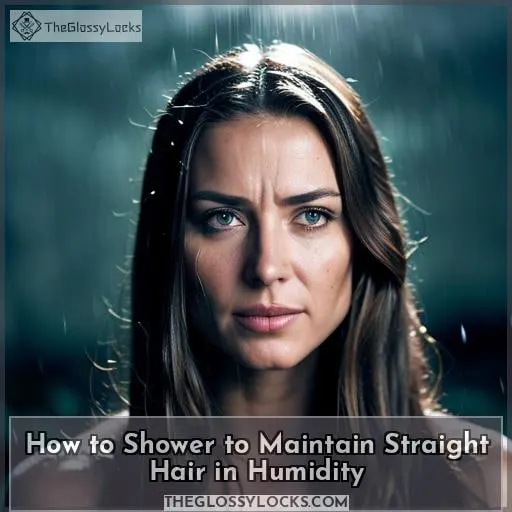 Taking a shower with the right products tailored to your hair type and texture can help you maintain straight, frizz-free locks in humid weather.
Condition Hair: Apply conditioner after shampooing to keep cuticles smooth and reduce static buildup due to humidity.
Use Heat Protectant Spray: Before using heat styling tools, make sure to protect your hair from damage caused by hot temperatures by applying an effective heat protectant spray.
Don't Overwash: Washing too frequently will strip away natural oils that nourish the hair shafts, making them vulnerable in humid conditions. So, limit washing to every other day or every third day, depending on how oily your scalp is naturally.
Finally, drying off properly is essential! Gently squeeze excess water out of the ends before towel drying, as rubbing can cause more flyaways.
Ensuring Your Hair is Completely Dry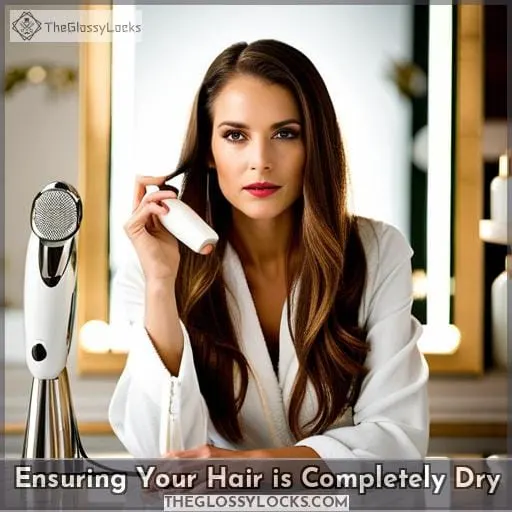 After showering, to maintain your straight hair in humidity, the next step is ensuring it's completely dry.
To start off right, take an old T-shirt and use it instead of a towel when drying your hair. This will reduce friction on the cuticle layer that causes excess moisture, which leads to frizz.
You may also find useful products like leave-in conditioners or heat protectants helpful for keeping things under control during styling sessions with hot tools, such as flat irons and curling wands.
When you're done blow-drying or using any other heated styling tool on your hair, give yourself one last pass with the cold air setting if possible.
With all these tips in mind, you'll have beautiful-looking locks even on the most humid days – no matter what kind of hairstyle you choose to rock that day.
Cooling Down Your Hair After Using Hot Tools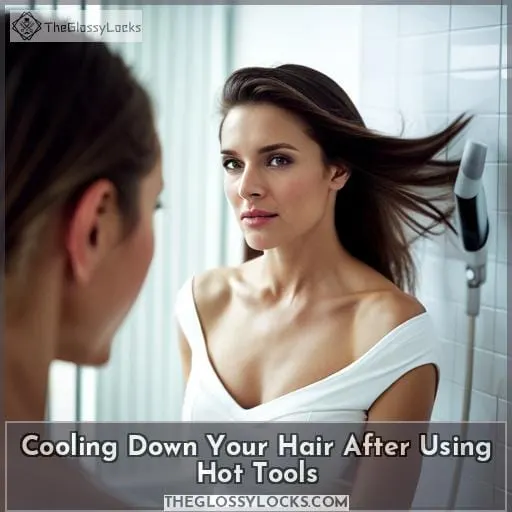 Let your hair cool off after using hot tools to help set the style and ensure longevity. Dampen it slightly by spraying with water or a cup of aloe vera juice; this helps prevent humidity-induced curling as well.
If you have time, let your hair air dry naturally until it's damp before styling with heat tools again. This will give you better results in controlling frizz and lasting longer throughout humid weather conditions.
Finally, be sure not to overuse heated products on already straightened locks – they can become brittle when exposed repeatedly at high temperatures, so keep them away from direct contact if possible for optimal smoothness come rain (or shine)!
Strategies for Keeping Your Hair Straight in Humidity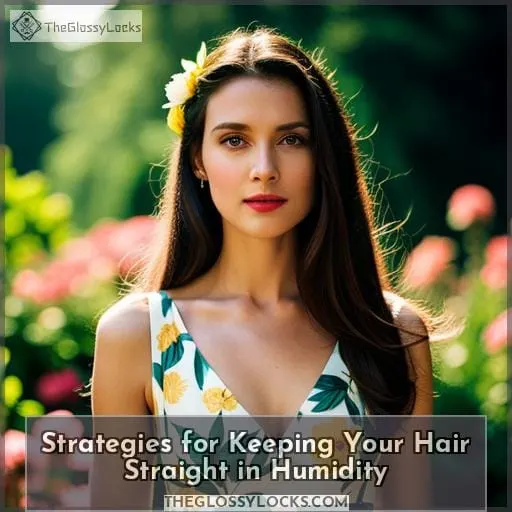 To beat the humidity, try using a combination of heat protectants and frizz-fighting products to keep your hair looking stylishly straight! Here are 3 essential tips:
Choose the right product for your hair type – silicone-free serums can seal cuticles flat and prevent frizz in fine or wavy hair, while oils such as shea butter help tame thick coarse locks.
Protect from heat damage with a lightweight oil or serum before styling – this helps seal out moisture, which is an enemy of straightening in humid climates.
Invest in quality smoothing shampoos and conditioners that hydrate without weighing down strands – look for ones specifically designed to fight against humidity for best results!
With these steps, you'll be ready to take on anything summer throws at you with confidence, knowing that your hairstyle will stay put all day long regardless of how hot it gets outside!
Using High-Quality Hair Spray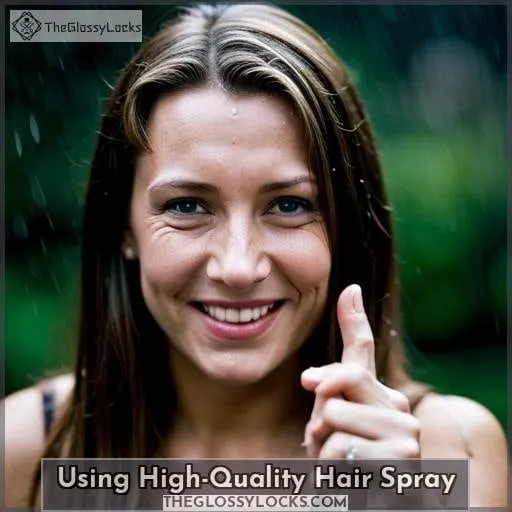 Try using a professional-grade hairspray like TRESemmé Hair Spray for climate control and touchable, vibrant style that fights frizz.
Humid days can be tough on your hair, but this type of hairspray will provide the protection you need to keep it soft and free from frizz.
Anti-humidity spray helps seal in moisture so your strands don't swell up during humid weather conditions. It also contains ingredients such as argan oil, which nourishes dry or damaged hair while locking in hydration.
And unlike other types of styling products, it won't leave residue behind or weigh down your locks with unnecessary oils or creams either!
So if you're looking for an easy way to keep frizzy hair at bay on hot summer days, try using an anti-humidity spray like TRESemmé Hair Spray today!
With its lightweight formula and long-lasting hold capabilities, it's sure to become one of your go-to styling tools whenever humidity strikes outside.
Tips for Being Gentle to Your Hair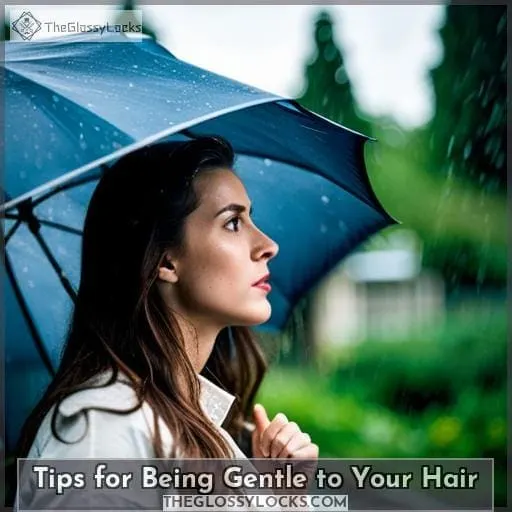 Gently brush your hair with a paddle or round brush to style it according to your desired look and minimize damage.
To protect against heat damage, use an anti-humidity spray before styling.
Jojoba oil is great for nourishing the scalp and ends while keeping frizz at bay.
A few drops of peppermint essential oil can enhance shine when added to one cup of distilled water in a spray bottle – spritz over styled hair for extra hold without weighing down strands.
For those with naturally curly or wavy hair, embrace its texture by using lightweight products such as oils, serums, gels, and shea butter that will help keep humidity out while giving you control over your look!
Finally, invest in quality tools like ceramic flat irons that have temperature controls so you can achieve salon-worthy styles without damaging your locks.
Frequently Asked Questions (FAQs)
What is the best way to prevent frizz in humid weather?
Embrace your natural texture and combat humidity with high-quality hair tools, oils, shea butter, and a silicone-free serum for optimal frizz control.
What techniques can I use to help my hair stay straight in the rain?
To keep your hair straight in the rain, use TRESemmé Hair Spray for a touchable, vibrant look. Pantene Pro-V shampoo and conditioner with argan oil provide weightless body and control frizz. Agave Healing Oil is lightweight to tame frizz while adding moisture. Spornette Ion Fusion round brush for volume and shine without static or damage.
How can I protect my hair from humidity-induced damage?
Protect your hair from humidity-induced damage with anti-frizz serum and cream for wet hair, heat protectants before styling, leave-in conditioner or oil to seal the cuticle. Style it up with braids, buns, and ponytails; use gels, oils, and shea butter to fight frizz; don't overwash your locks! Keep it sleek by investing in quality tools and products – you'll be ready for any weather.
What are the benefits of using a microfiber towel when drying my hair?
Microfiber towels are a game-changer for drying hair. They are up to 70% more absorbent than traditional terry cloth, reducing frizz and minimizing damage. You can enjoy softer strands with less breakage and fewer split ends. Additionally, the gentle fabric is ideal for all hair textures.
What hairstyles are best for high humidity?
Embrace your natural texture and volume. Choose a hairstyle that matches it, such as braids, buns, or ponytails. Use quality hair products to fight humidity and frizz; oils, shea butter, and silicone-free serums can help tame thick or coarse hair.
Conclusion
Overall, to keep your hair straight in rain and humidity, you should invest in a quality hair straightener, use heat-protectant spray, and invest in high-quality hair products like hydrating shampoo and conditioner, serums, and hairsprays.
When showering, use lukewarm water and avoid rubbing your hair with a towel when drying. Let your hair cool down completely before styling, and use a round brush to create volume.
Additionally, use a light oil or cream to seal in moisture, as well as a hairspray to lock in the style and fight humidity. With these tips, you can keep your hair straight and stylish, despite the rain and humidity.