This site is supported by our readers. We may earn a commission, at no cost to you, if you purchase through links.
If you're looking for the best beard dye, you've come to the right place! We've rounded up the top 10 picks that are safe and work well.
There are many beard dyes to choose from, but we have chosen what we think is the very best available.
Whether you're looking for a permanent, semi-permanent, or natural solution, we've got you covered.
We'll also provide a buyer's guide to help you choose the right product for your needs.
In the end, we hope that you find a color that best suits you and gives you the confidence to approach the world.
How to Choose the Best Beard Dye for Men
Before we go to our best beard dyes, we will emphasize in this first section the features and some things that you should take into account when reading our reviews and selecting your product.
Buying the best beard dye for you does not have to be complicated, but it is a process that you need to handle with some care.
So when buying a beard dye, consider the following factors, and you will rock a beautiful beard, and they will help you find the right product that meets your needs, as each design function is more or less important depending on what you search for the color that suits you best.
1. The color of beard dye
The first consideration, and probably the most important one, is choosing the hair dye color for your beard.
It will be no surprise that choosing the right color is the most critical factor when buying men's beard dye. But choosing the best beard dye is not as easy as it sounds, and a reduced color match is often unpleasant.
The standard men's beard dye colors are black, brown, blonde, and red, but many shades and shades are part of those primary colors, and which color you choose also depends on your intention: do you want a little gray hair or are you aiming for a completely different color?
2. Ingredients of beard dye
The problem with many beard dyes is that they include ingredients that sound toxic and poisonous in some cases. That's why we always prefer natural ingredients, and there is a variety of best natural beard dyes and organic ingredients.
There are beard dyes out there to suit everyone.
2. Time length of your beard dye
a significant consideration for beginning dyers, many of whom assume that beard dye is a long-term solution.
You have to decide how long your beard dye stays on your beard.
Check the package of a beard dye to see if it is permanent or non-permanent. 'Permanent' dyes last a few weeks or even months, which is not a good thing if the color does not fit well with your beard.
Other colorants are semi-permanent beard dye – they last a few weeks – while others are best for updating and easy to wash out with beard wash.
The last level is more of a temporary cover-up style of beard dye. They often have a lifespan of around 12 hours and can easily be washed out.
But when you learn to use dye for the first time and choose the color that suits you best, it may be better to try products with a shorter lifespan if you make mistakes.
10 Best Beard Dyes of 2023
There is a vast selection of beard dyes on the market, making it difficult to choose the right one for your style, aesthetics, and lifestyle preferences.
Until recently, Just For Men was one of the most popular beard dyes for facial hair. Several men with complaints are growing every day.
Men claim that this dye caused them severe allergic reactions, while there were also some cases where people were admitted to the hospital because the response was extremely harsh.
One of the possible reasons for this is the Phenylenediamine ingredient found in this product.
PPD is an allergen that can cause mild dermatitis, itching, swelling, chemical burns, and even anaphylaxis.
With this in mind, here is an analysis of the top 10 best beard dyes to meet the needs and preferences of men of any age who have proven safe until now because there were no complaints:
1. Godefroy Color Tint Kit Medium (Brown) – Best Beard Dye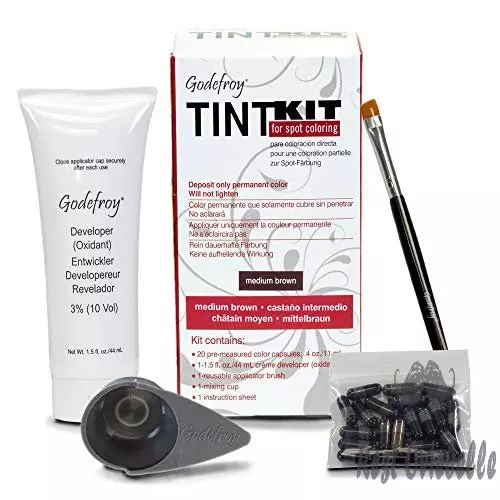 View On Amazon
It is easy to keep a beard dye that is good to update (if you want to remove a few natural hair color gray beard hairs) and to cover your whole beard if you want.
That's why we love Godefroy's Color Tint beard dye kit so much; it is versatile enough to accept every beard dye and give you a natural look.
We also like it for many other reasons.
First, it contains many natural ingredients and contains no ammonia, which can damage the natural hair color and cause skin irritation if used too long.
It can be stored for a long time and is considered a permanent beard dye with one application, making it easy to keep for several weeks.
Hey, you can even use it on your sideburns or shorter beards, like a goatee.
Considering that a Godefroy hue has 20 different uses, it is a bargain for any price or an excellent long-term investment.
We also like that you can adjust the natural brown color of the set by merely indicating how long you spent it. The longer the duration, the darker it is on your beard. It even works on the most color-resistant beards and applies evenly and non-smudgy.
Your color tone beard dye kit comes with both color capsules and developers.
You mix the capsule powder and develop it and let it rest for a few minutes before applying it to your beard.
Ammonia-free and Natural
Each beard dye kit Comes With 20 Applications
Good For Fake Covers Or To Dye Your Whole Beard
The formula Feels A Bit Thin And Can Drip.
2. The Henna Guys Hair – Best Beard Dye For Sensitive Skin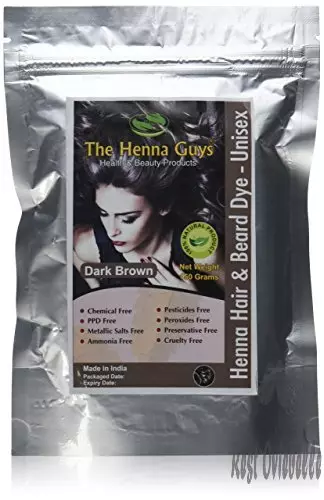 View On Amazon
Most facial hair dyes on the market contain harsh chemical ingredients, but that is not the case with The Henna Guys Dye.
The Henna guys hair product is full of natural ingredients to protect your beard from damage.
The manufacturer declares that the quality of the product is high because none of the powders from which it is made is older than 18 months.
The henna guys product is packaged in aluminum foil bags to ensure longer shelf life. Given the quality of this facial hair color, the price is an advantageous deal.
Does Not Cause Skin Irritation And Is Non-toxic. best beard color for men
Natural Ingredients, Cruelty-free, And Vegan-friendly
The Color Does Not Flower And Lasts For A Long Time
Very Affordable Price
The Smell Is A Bit Strong
Not So Easy To Apply
3. Grizzly Mountain Organic Natural Dark Brown Beard Dye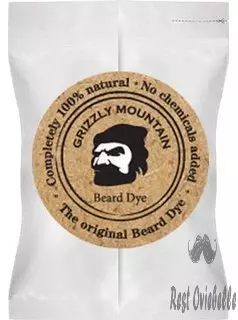 View On Amazon
This is a natural beard dye made from 100% organic and natural ingredients perfect for all beards, from short to thick hair.
This grizzly mountain beard dye is the best organic beard dye for a thick and coarse beard that lasts for your next shave or beard and mustache.
It is one of the best beard dyes for a short and thick beard because it contains no harmful chemicals and also helps to retain the color longer.
This grizzly mountain beard dye is available in all colors. It is easy to apply by mixing it only with hot water, using it to the beard as a paste, and rinsing or washing it with warm water.
It takes about 10 to 30 minutes to dry based on the thickness of your beard. Read the instructions for installation and follow the safety instructions of this product.
Organic Beard Dye
100% Chemical Free
Slight Irritation
It Took Longer Before It Was Dry.
4. Refectocil Cream Hair Dye (Natural Brown)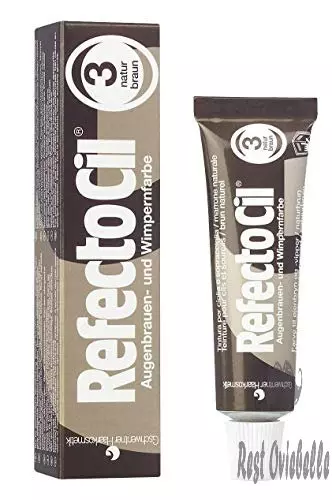 View On Amazon
RefectoCil is a versatile dye that works well on eyelashes, eyebrows, and beard hair. It is also less irritating than most other beard dyes, so this is a good choice if your skin tends to be sensitive. But you still need to do a patch test with RefectoCil to make sure you do not get an allergic reaction.
Another essential thing to know about RefectoCil is a more cream formula
For this review, we are talking specifically about RefectoCil's natural brown dye No. 3. It is a versatile brown color that is good for most natural dark brown hair colors.
RefectoCil recommends that the dye works for 10 minutes before jumping in the shower. That's a bit longer waiting than with some beard dyes, but it's worth it for the kind of natural brown look that it gives your beard. And again, an application takes a few weeks, if not more.
Another point about RefectoCil: you have to purchase the dye and the developer separately because they are not in the same package. men beard dye
Long-term
Easy To Apply.
Causes Less Irritation Than Other Beard Dyes
The Tube Is Quite Small (But You Only Have The Dye Every Few Weeks Necessary) To Take With You)
It Took Longer Before It Was Dry.
5. Clairol Natural Instincts Semi-permanent Hair Color Kit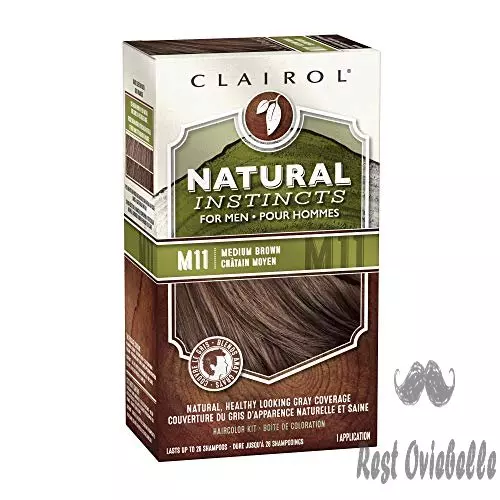 View On Amazon
Because the application process lasts only 10 minutes, Clairol Natural Instincts is very easy to use and works between 4 and 6 weeks.
This means you can wash your beard up to 28 times, and the color disappears without hard root lines.
Unlike most other dyers, it does not contain ammonia at all. Instead, it is infused with antioxidants and conditioning aloe, which gives a long-lasting and natural color.
You can even vary the color by leaving a dye a little longer if you want your beard to be darker. Make sure to apply it carefully as this may cause stains on the skin around your beard.
Men with sensitive skin may want to look elsewhere because these are different cases where this product caused itching and irritation.
Very Easy To Use
It Only Takes 10 Minutes To Apply
Long-term
Contains No Ammonia
Causes Irritation Of Sensitive Skin
Duration
6. Black Beard Dye For Men – Best Beard Dye For Black Men
View On Amazon
If you choose the product as a beard dye, it is perfect because it is patented, so there are no duplicates that are a good selection for your beard. This product quickly changes beard hairs such as beard, mustache, whiskers, and eyebrows in response to gray.
Only applying the hair color with the brush over the desired facial hair and drying in seconds gives you a natural appearance of your hair, which is why it is considered the best beard dye for black men.
It's a laboratory-tested product for safety and is best for men who are sensitive to skin and skin allergies.
To get a better result, you must apply the mustache and beard that are completely dry and cover all areas of the hair that stay in place all day.
Before applying this beard to the beard, read the instruction, pay attention and obtain better results.
Water-resistant beard dye
No-Fuss
Free From Harsh Chemicals
Hypoallergenic beard dye
Dry Fast
Fast Blurring.
Skin Irritation Is Rare
7. Surya Henna Beard Dye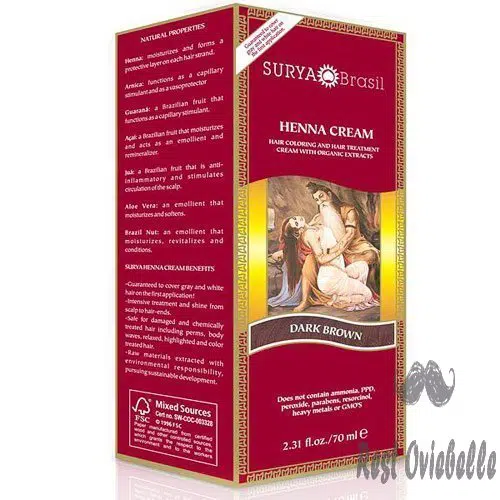 View On Amazon
Surya henna beard dye is plant-based and has been used safely for centuries without ingredients. The henna beard dye will help you in other ways, such as softening and thickening your facial hair.
It should take 4-8 weeks to rinse with water to increase the color.
Take care not to wash your beard for at least 48 hours after application. During that time, the color will shine brightly.
If men complain that the product is fading too quickly, the usual reason for this is that they have washed their facial hair too quickly, so make sure you do not repeat their mistake.
Non-chemical, Vegan, And Non-GMO Certified
Multiple Applications Per Bag.
Makes A Beard Softer And Thicker
Long-term And Easy To Apply
Powders Can Generally Be Sloppy To Mix
Some May Find It Expensive
8. Zenia Indigo Powder Beard Dye
View On Amazon
It sounds like a zen weekend retreat name, but it's one of the unique products we've ever come into contact with.
If you're like us, you initially assumed indigo was just a color, but it's the 100% active ingredient in Zenia's unique formula. Stave off the harsh chemicals, and take an all-natural approach.
You get a little over three ounces, and Zenia Indigo Powder Beard Dye is one of the few products that we put on the list that can be used for your hair and your beard. We have a pretty tough outlook on hybrid products, but Zenia just knew how to do it right.
No matter what type of facial hair you have, you'll see a depth added to your black hair and a bit of bounce in how it moves—a great addition to our best beard dye guide. You may also like to check our mustache waxes guide for more great products like this.
Natural hair color
Safe to use
All hair types
100 grams
9. Just For Men Beard Dye Brush-In Color Gel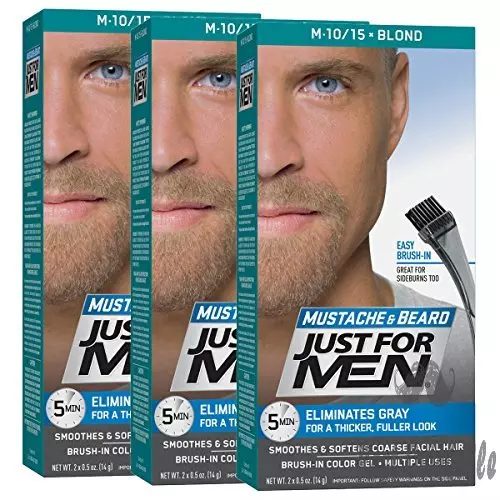 View On Amazon
Then we have a fantastic instant beard dye product from a company that needs a minimal introduction, Just For Men.
They are one of the most famous male hair dye producers out there, so what's this product from this very trusted brand that comes on the table?
For us, the fantastic eye-catching feature with Just for beard dye is the same as always: the ease of use.
We always expect products to be easily applied, and we are happy to say that this is the case here.
First, the colorant is premixed as a thick gel.
This prevents drops (protects the work surfaces in the bathroom) and fits it nicely and efficiently on your beard.
Throw the very well-designed application brush in the package, and you have one of the most comfortable products we have ever come across.
It features a highly effective, semi-permanent beard dye level dye that works well in shades of gray and is an ammonia-free bonus.
It is also available in 11 different colors, so a dye must match your specific hair color.
Throw in the fact that you can get multiple applications in one box and have a product with an excellent price-quality ratio.
It may not be ideal for huge beards as a brush product because the application time increases as the amount of beards increases. But for beards with a shorter to medium length, this is a simple, easy-to-use but very effective way to hide those gray beard hairs.

10. Just For Men Touch Of Gray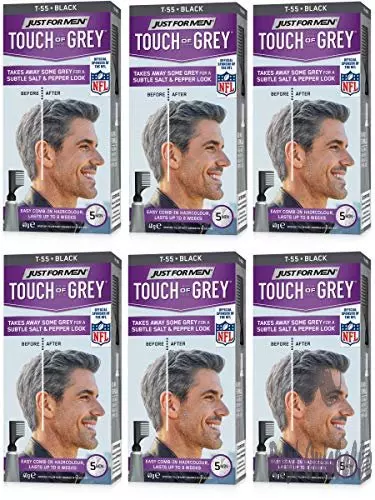 View On Amazon
This product is specially designed to add enough fine black hair to your gray beard. When you combine this with the fact that the product stays on until the gray hair grows back, you are looking for a great product that will improve your overall confidence and appearance.
Works in five minutes and is a simple application
Have you dyed your hair before? If so, you know the process is messy and lengthy.
This is not to mention the effort it takes. Fortunately, you don't have to deal with this if you invest in the Just For Men Touch Of Gray.
This product affects already after five minutes after application.
The included Easy Brush applicator makes the process so much easier. Apply the gel to facial hair, and before you know it, you have completely transformed your look.
Gentle formula without ammonia
Unfortunately, some men suffer from mild skin or skin irritations. This can make giving birth to the beard even more difficult.
This is especially true when some products contain harmful and hazardous chemicals, such as ammonia. This is why Just For Men Touch Of Gray has been specially formulated without ammonia and other harmful chemicals.
How to Apply the Dye
Each product for beard dye contains tailor-made application instructions. That is why, as always, we recommend that you read all the literature that comes with your product.
That said, there are undoubtedly many common themes for all products when applying the dye.
There are also some useful hints and tips, and we will pass on some in your next chapter.
1. Perform a sensitivity check
Before you break rubber gloves or brushes, the first phase is a sensitivity check.
We strongly recommend doing this every time you apply a company hair colorant.
Apply a tiny part of the product to a piece of skin out of the way. The inside of your forearm under your elbow is perfect for this.
Leave the colorant for 24 hours and check for any reactions or other problems with skin sensitivity.
2. Collect the right tools
While doing this, you can collect your toolbox.
Depending on the type of dye you have used, you may need a mixing bowl, rubber gloves, and paper towels.
If your product does not come with an applicator, an old (or new and inexpensive) toothbrush can be helpful.
No, do not use your current toothbrush to apply beard dye.
3. Prepare your beard
If you have passed the sensitivity test and have collected all your things, the next stage is to prepare your cloth.
There are different trends and a considerable debate about how clean your beard should be before applying the dye.
For us, it makes sense that your beard is as clean as possible before you continue.
A clean beard is stripped of dirt and oils that can affect the attachment of the dye, so give it a good scrub in the shower before proceeding to the drying phase.
4. Apply Vaseline
This is our secret tip if you wonder how to color your beard without damaging your skin.
Vaseline!
Apply a little to the skin around your beard to prevent you from getting a product on your skin and coloring it.
Ingenius!
It is also a good idea to put on an old T-shirt now to prevent product drops from staining your chest or shoulders.
5. Prepare the beard dye
The next step is to prepare the color yourself.
The type of dye you have purchased significantly impacts this component.
For example, if you have purchased a powdered dye, you must now mix it with water to form a paste.
Some other beard dyes are supplied as two tubes, one is the primary color, and the other is the color developer.
The color developer is there to make the dye thicker and make it easier to apply to your whiskers.
Remix the two products in a bowl until they are ready to be used.
Every product that needs to be mixed is always given extensive instructions to achieve this so that you can read it before you get the proper proportions.
6. Apply the beard dye
It is now time to start beard dye!
Grab your applicator brush (or your toothbrush) and immerse it in the beard dye.
Use the brush and work the product with a beard up and down in your beard.
If all the gray is covered, set a stopwatch when the product indicates this is necessary to do its job.
7. Test the color
If you have waited the recommended time, test the color.
Take a kitchen paper and wipe the dye off a trim beard.
If you are satisfied, check the color of the remaining hair. Go to step 8.
If not, apply a little more hair dye and give it more time.
Repeat this step until you are satisfied with the color.
8. Wash it out
Jump in the shower and rinse the hair dye.
Continue rinsing until the water is clear.
Congratulations – you should now have a gray-free beard!
Proper Maintenance With Beard Shampoos
After you have dyed your beard, you do not want the color to fade quickly, or other problems such as beard dandruff or skin rash are ruining the look you have worked so hard for.
Having one of the best beard shampoos is essential for proper maintenance and care of your beard. This always applies, especially after dyeing your beard.
There is a massive selection of beard shampoo, from the best all-natural shampoo to beard dandruff shampoo.
Men with full and long beards often like beard softeners to prevent the hair from becoming too tight or scratchy.
Why Would You Want To Dye Your Facial Hair
Maybe not, and that's fine. However, some other men want to dye their beards for one or more reasons.
There are no two men, and it is up to you to decide whether you want to remove this.
Although it may sound impossible for some, some men want to change their beard color.
The possible reasons are different, and these are some of the most common:
Beyond your age
No one can prevent or stop the aging process. Some men are so cool and see the first grays in their facial hair as early signs of wisdom.
Others will think it's too early to look old. One of the ways they can treat this sign of aging is to dye facial hair.
Even though the beard staining does not cause gray hairs in your beard over time, it certainly lengthens the time needed to return.
Dye your beard because of the job
This reason is closely related to the previous one. Employers are often more likely to give a job to a younger man.
Although this sounds like discrimination, you probably had this situation in your area, or you were the one who experienced it on your skin.
Anyway, you are not willing to lose your job because of a few gray hairs in your facial hair.
Therefore, some men decide to dye their beards and keep their youthful appearance as long as possible.
Changing your performance
Perhaps you are not one of them, but there are a few guys who want to change and see now and then.
After experimenting with different clothes and such, you feel that it's time to change the color of your beard.
This does not necessarily mean that you have gray hairs in your beard.
Your beard can have completely ginger, black, or any other natural color, but you want it to be pink, green, blue, or any different color.
If you think and feel that this is the right thing to do and looks good, you should dye your facial hair. You do not need permission.
Giving your beard some love and care
It is only natural that you love and care for your beard. Any serious man with a beard will never take his beard for granted and develop beard care.
Beard finally asks for some time and patience, and commitment on your part.
In addition to beard oil, regular brushing your beard, and combing your facial hair with a beard comb, you can add beard dyes to the list.
It's not something you should do, but it does show that you're willing to invest more time in keeping your beard tidy and tidy.
The good news is that beard dyeing does not take much time, especially if you decide to go with a permanent beard dye type.
Can I remove the beard Dye?
If you are not satisfied with your chosen color, you can permanently remove it directly from your beard. We have a step-by-step way to do this and a few product suggestions to speed up the process. First, your color is not entirely permanent (discussed further in the guide), so as time passes, it will fade until it disappears. If that is not good enough for you, you can do the following.
Add Remover
We are fans of Roux and their epic color remover because it is formulated to help with beard dye (among other things). This comes out like a light spray foam and allows you to apply it quickly and easily. You foam it in your beard as if it is shaving cream and let it sit for a few minutes.
Pump the heat
You need a hot shower. And we warn you, and you must give your beard some love afterward. Beard removers also remove some essential oils in your beard hair, making it difficult for your beard to repair itself. Nevertheless, use hot water, rinse all that remover and dry yourself.
Never mind
Don't use a hairdryer; don't even think about it. That little bit of moisture in your beard from the shower goes in and could help bring the beard color to the surface. Pat, dry with your towel in about twenty minutes, and you are ready to go.
FAQs About Natural Beard Dye
Can I Still Use Beard Balms And Oils After Dye Beard?
You can not only use beard balms and beard oil – it is also recommended!
Look, we've talked about this before, and we're sure you've heard it a thousand times – but balms and oils are the best friends of your beard.
They help keep it healthy and help it look great.
That doesn't only change because you have applied some hair dye to your beard.
So yes, continue with your regular beard maintenance regime after dyeing your beard.
Can you use hair dye to dye your beard?
Your scalp is much less sensitive than your face. When you apply head hair dye to your face, you feel a very unpleasant burning sensation.
We have pores on our face, but they are slightly different on our scalp. They are less sensitive and were previously wholly covered with hair. The formulas are based differently, so we do not recommend using hair dye on your beard.
Moreover, you will not be very successful. Your beard is much coarse and rough than the hair on your head. That colorant is meant to sink into thinner hair. You change the keratin in your hair, burn right through the top layer of hair, and color it again.
If you've dyed your hair before, you know how quickly it can be set very well. These effects do not only happen to your beard.
Conclusion
we've included a lot of factors in determining the best beard dyes for – factors such as ease of use, ingredients, how long they stay, and reviews from others, especially the reviews of users standing boldly opposite the bathroom mirror every morning.
Beard Dye is, in many ways, inexact science that requires a bit of finesse and a right eye for color. But the beard dyes that we present here should make your work easier.
And as always, we welcome your feedback and suggestions. Do you use Beard Dye, and which product do you prefer? Have you tried all those things that we list here? Let us know!
2023