This site is supported by our readers. We may earn a commission, at no cost to you, if you purchase through links.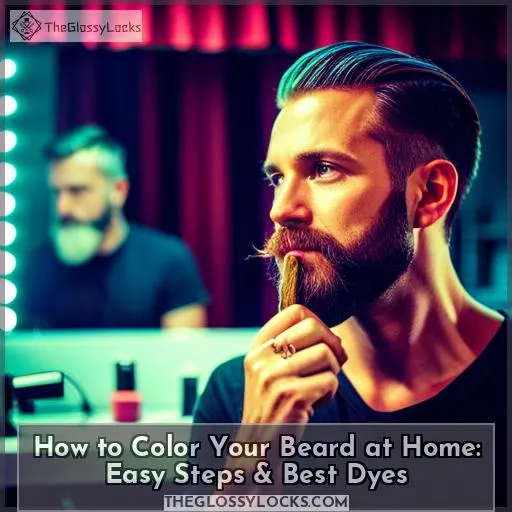 Are you longing to take matters into your own hands and give yourself a fresh new look? Coloring your beard at home can be the perfect way to achieve that. Whether you want to cover up some pesky grey hairs or just change things up for a while, dyeing your facial hair is an easy task if done right.
So jump on board as we guide you through the process of coloring your beard at home! From choosing the right dye and prepping it correctly, all the way through aftercare maintenance – we'll show you how in six simple steps.
We'll also discuss why this could be beneficial for anti-aging purposes. Additionally, we'll cover what safety precautions should always be taken when applying dyes. Plus, we'll explore alternatives which may suit those with allergies better, such as henna and natural pigments.
With these tips by your side, there's no reason not to turn back time on age-related graying without ever leaving home!
Key Takeaways
Dyeing your beard at home offers a quick way to cover gray hairs and change your appearance.
Choose a shade close to your natural color for a seamless look.
Opt for ammonia-free dyes to avoid harsh chemicals.
Use sulfate-free shampoo and conditioner to maintain the color and lock in moisture.
Top 6 Beard Dyes for Coloring at Home
Are you looking to add color to your beard at home? There are a variety of dyes available for use, such as True Sons Hair Dye for Men, Just for Men Beard Dye in Dark Brown, Henna Guys Indigo Powder Dye, SoftSheenCarson Jet Black, Volt Grooming Beard Color in Burnt Umber, and Cremo Hair Beard Color in Medium Brown.
Each one offers unique benefits depending on the desired look and maintenance required.
1. True Sons Hair Dye Men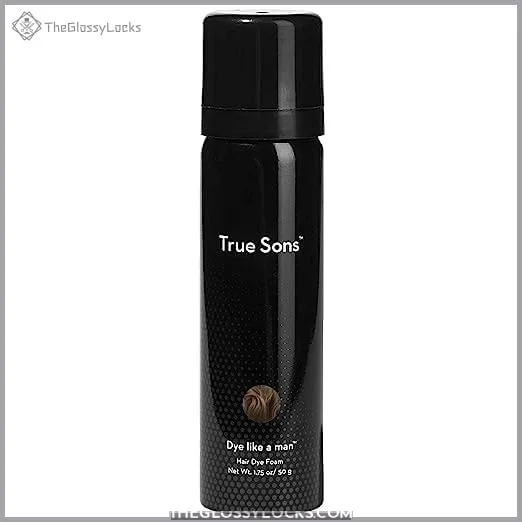 View On Amazon
If you're looking for an ammonia-free, no harsh chemicals hair dye that offers natural-looking results without the chemical burns associated with other brands, True Sons Hair Dye Men could be your best option.
The package includes a 1.75 oz bottle of foam hair dye, a booster to darken grey hair if needed, and gloves, wipes, plus a quick start guide.
With this product, you can achieve a subtle salt and pepper look or darker shades depending on how long it is left in the beard. The adjustable time period of 15 – 25 minutes allows for a custom coloring process.
However, some users have reported mild itching and skin irritation as side effects from using this product due to its messier application than readily available brands found in stores.
Results are natural-looking but not fake, with color lasting up to 6 weeks before needing touch-ups or reapplication every few days for best results when used alone or combined together as a two-step process involving henna/indigo powder dyes specifically designed for dark-haired individuals who need complete gray coverage.
Although caution must still be taken due to allergies that may occur even after performing an allergy patch test prior to the use of any kind of dyeing method, especially for younger individuals suffering from more sensitivity issues than adults.
Their delicate skins require special attention throughout the whole procedure, including thorough cleansing and drying beforehand, followed by careful application while avoiding contact between the skin and foam mixture to further prevent staining during the post-rinse-off phase.
Once the desired shade is achieved, all necessary precautions should also apply when selecting the right type of shampoo and conditioner afterwards. Make sure these specially formulated products contain protecting agents capable of sustaining consistent vibrant color over the course of the next six weeks until maintenance touch-ups become necessary again.
Enhancing or altering facial hair appearance
Addressing the aging effect on beards
Concealing graying hairs, giving a youthful look
Offering a range of 12 colors and mixable combinations
Chemical reactions causing allergic reactions
Increasing the risk of sensitivities in delicate skins
Messy mixing applications requiring patience
2. Just for Men Beard Dye Dark Brown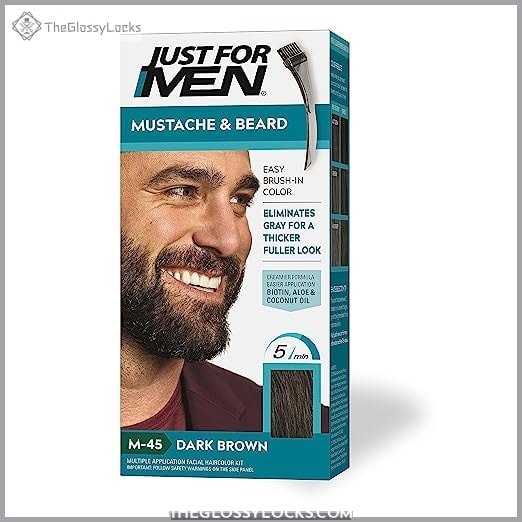 View On Amazon
Try Just for Men's Beard Dye Dark Brown to help restore your natural facial hair color and give it a fuller look. This ammonia-free formula is designed to eliminate gray facial hair, nourish and condition the hairs while coloring, providing up to 3 applications per box.
With a 5-minute application process, you can achieve the perfect look with this dye in one of 12 shades from Blond to Jet Black. The package includes color base, developer, and brush – just mix together before applying using gloves provided as part of their allergy test kit.
The results are natural-looking without any chemical burns associated with other brands.
Enhances Facial Hair Appearance
Nourishes & Conditions While Coloring
Ammonia-Free Formula Causes No Damage To Hair
May Cause Allergic Reactions In Some Individuals
Can Stain Skin Or Clothing After Shampooing
3. Henna Guys Indigo Powder Dye
View On Amazon
For a natural, cruelty-free alternative to chemical hair dyes, check out Henna Guys Indigo Powder Dye. It offers vibrant color and excellent coverage of gray hairs. This 100% organic product is free from pesticides and chemicals, making it perfect for those who are sensitive to harsh ingredients.
It's suitable for dark hair colors but won't lighten them either. Instead, you'll get a deep red shade that will last several days before needing reapplication.
With an easy application process that doesn't require gloves or mixing bowls like traditional dyes do, this dye is also mess-free! While the results can be slightly darker than expected due to its natural clay additive (which provides shine), overall users have reported soft and healthy feeling locks with no signs of damage from using this product.
Natural Hair Coloring
Suitable for Dark Hair Color
Does Not Contain Harmful Chemicals or Metallic Salts
Vegan & Cruelty Free
Application Can Be Messy & Time Consuming
Color May Bleed When Wet But Washes Out Easily
Slightly Darker Than Expected Colors
Requires Reapplication Every Few Days For Best Results
4. SoftSheenCarson JetBlack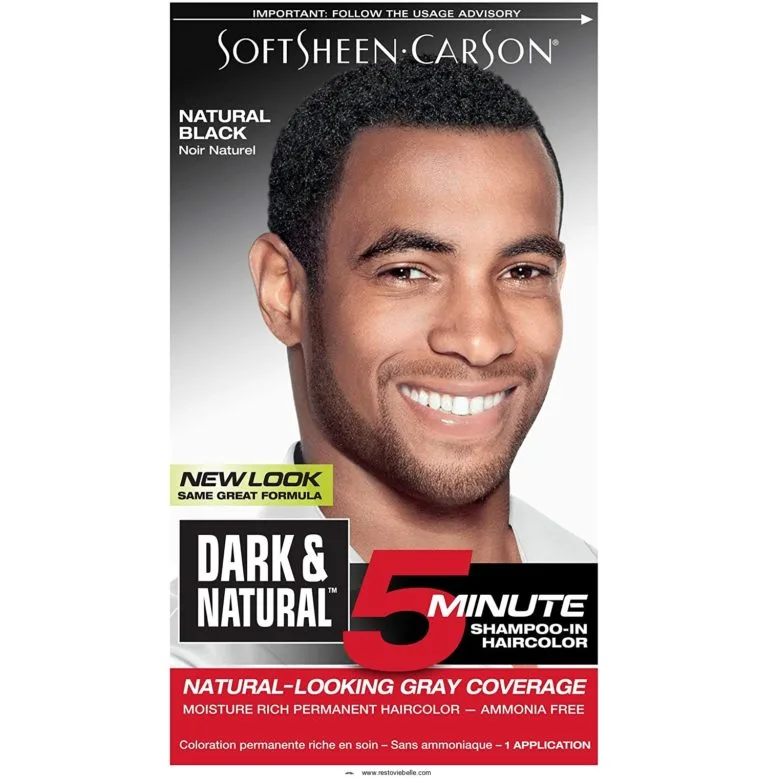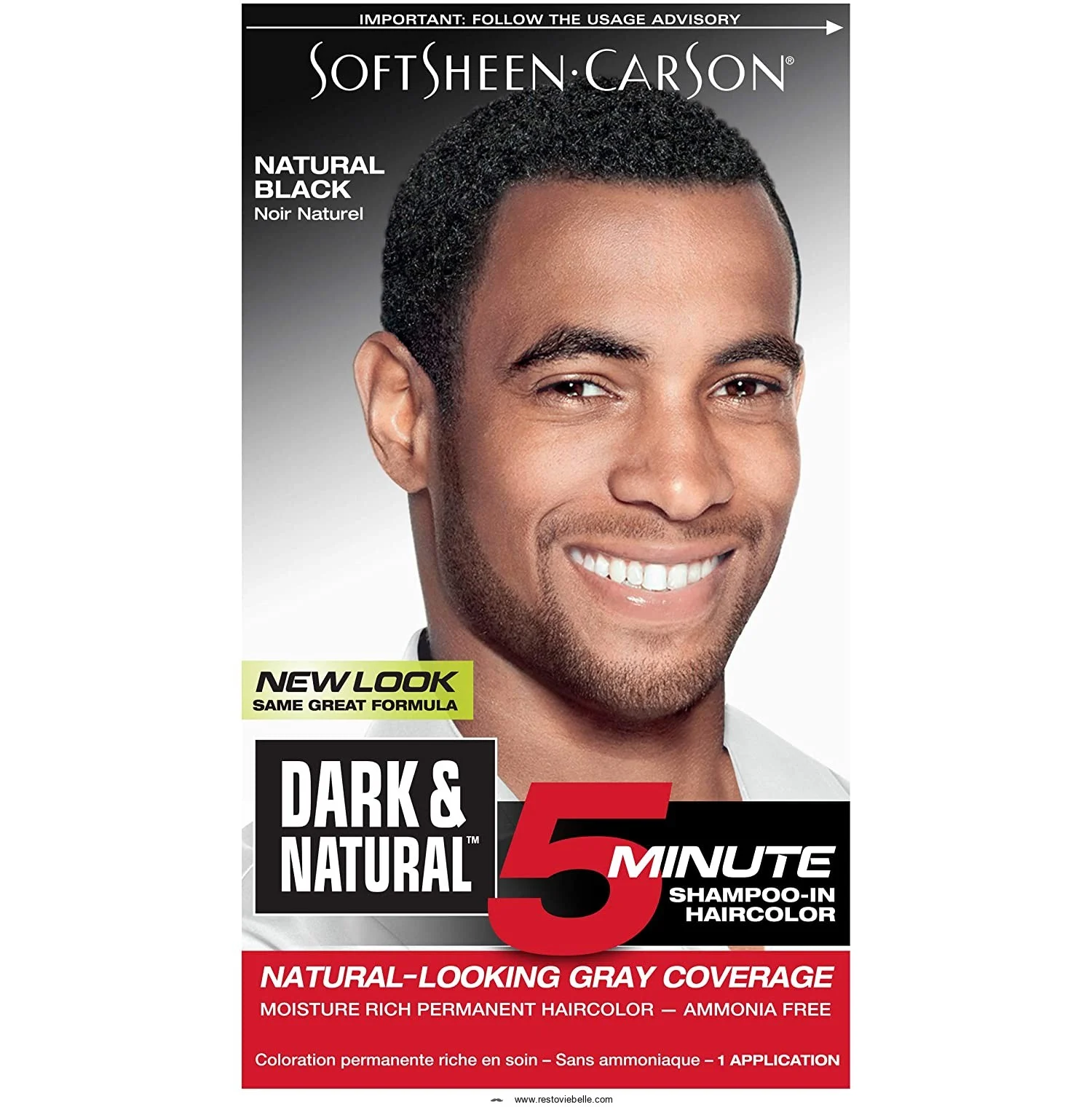 View On Amazon
SoftSheenCarson JetBlack is the perfect 5-minute conditioning permanent hair color for guys of color looking to restore natural color and get rid of those pesky grays. This ammonia-free, cream-gel product offers a moisture-rich formula with aloe vera and honey that lasts up to 6 weeks while covering gray hairs.
The application process is simple: just protect clothing with an old towel or shirt, use protective gloves provided in the package, wait 2 weeks after relaxing hair if needed, apply it on dry hair avoiding shampooing before coloring – then you're good! Its easy usage, coupled with its natural look, makes this dye ideal for men who want a hassle-free transformation without damaging their facial locks.
With three shades available from black to medium brown, there's something suitable for everyone seeking change!
Easy to use and quick application
Provides natural-looking color
Blends well with existing color
Not sure if designed specifically for African American (AA) hair
Some stiffness in texture may occur upon dyeing
Zero result achieved by some users
5. Volt Grooming Beard Color Burnt Umber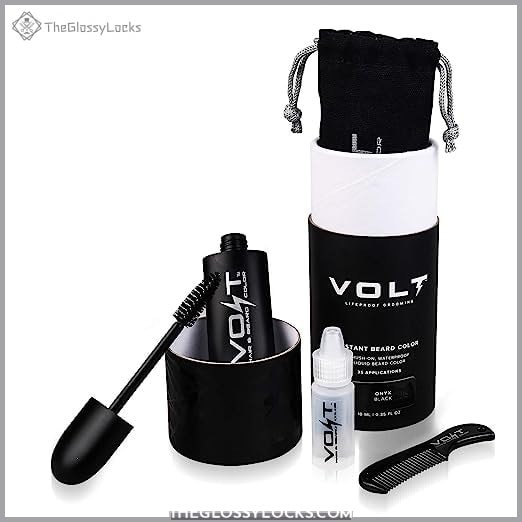 View On Amazon
If you're looking for a dye-free, hypoallergenic beard color, Volt Grooming's Burnt Umber is an easy and mess-free way to instantly dry with smudge and water resistance. This product comes with an applicator brush, beard comb, VOLT Prep+ Cleaning solution, carrying pouch, and instructions.
It is made in the USA cruelty-free with no ammonia or PPDs included, offering up to 35 applications per tube of natural long-lasting look. The formula has been enriched by Argan Oil + Vitamin E that nourishes + conditions your facial hair while coloring it.
Though this product may have a higher price tag than some others on the market today, its quality makes up for any extra cost one might experience when purchasing this item.
Hypoallergenic formula enriched with Argan Oil & Vitamin E
Smudge & water-resistant daily touchup
Cruelty-free / Made in USA / No ammonia or PPDs
Lasting results – up until shampooed away
Fast-drying time – less waiting around
Higher priced tag but more efficient use due to its design
Initial learning curve similar to using mascara-type application process
Mild chemical smell which doesn't linger
6. Cremo Hair Beard Color Medium Brown
View On Amazon
Cremo Hair Beard Color Medium Brown is a premium, barber-grade solution for restoring natural color to your facial hair with up to 6 weeks of coverage. It's ready-to-use in an easy and mess-free lightweight foam formula that requires no mixing or gloves.
All you have to do is click together, shake, and press the button before combing it into your beard using the attached detailing tool.
And because it contains no ammonia, PPD, or harsh chemicals, you can use this product as often as needed without worrying about skin irritation or burning sensations like some other brands on the market today.
Very easy to apply
Can be reused
Lasts up to 6 weeks
Can darken quickly; be cautious with time
May cause allergic reactions in some individuals (contains PPD)
Some users experienced skin burns and sores
Should You Dye Your Beard?

Considering the risks and rewards of beard dyeing, you may be wondering if it's worth it to color your facial hair at home. A recent study found that 73% of participants perceived men with dyed beards as looking more masculine than those without.
When considering whether or not to dye your beard, there are many pros and cons you should consider. For example, enhancing or altering the facial hair appearance while addressing aging effects can be a benefit.
However, there can also be an increase in allergic reactions for younger individuals, so skin sensitivity must always be taken into account when selecting a color shade close to natural hair coloring for optimal absorption.
Maintenance tips, such as regularly touching up roots with lighter shades, can help achieve a mature look. It is important to avoid metal contact during application to prevent damage caused by dyes containing chemicals, which could lead to irritation and burning sensations on delicate skin areas near the eyes and mouth area.
Necessary items needed should include gloves, shampoo/conditioner/beard oil, old shirt towels, etc.
Ultimately, deciding whether or not you want to add some flair through colored tresses is completely up to you.
How to Dye Your Beard in Six Simple Steps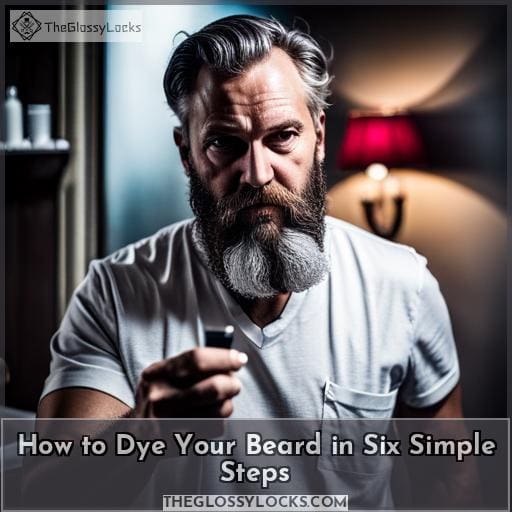 Dyeing your beard at home can be achieved in six easy steps. First, preparation is key to a successful dye application. Optimal beard growth for absorbing the dye and choosing a shade close to your natural hair color are essential considerations prior to starting the process.
An allergy patch test should also be performed before applying any product. Thoroughly cleanse and dry your facial hair before mixing or applying an at-home kit solution or cream-gel formula. Some popular options include Just For Men Beard Dye Dark Brown, SoftSheenCarson JetBlack, or Volt Grooming's Burnt Umber coloring option.
If you prefer natural alternatives, Henna Guys Indigo Powder Dye offers softer and healthier results. However, it requires regular reapplications every few days for the best coverage of gray hairs that may have started appearing over time.
After mixing and applying the dye, make sure to wear protective gloves and apply Vaseline around the skin area if desired. Let the dye set until you achieve your ideal hue, then gently rinse off any excess coloration.
Use special shampoos and conditioners designed specifically for dyed locks to help preserve the vibrant new look, even during light showers.
Touch-ups are recommended every 3-6 weeks, depending on your individual needs and preferences. Factors such as exercise habits, sun exposure, and lifestyle choices play a role in determining the best maintenance routine for your colored beard.
By following these steps, you can achieve a lusciously colored beard that looks its very finest!
Turning Back Time on Your Face: the Anti-Aging Benefits of Beard Dyeing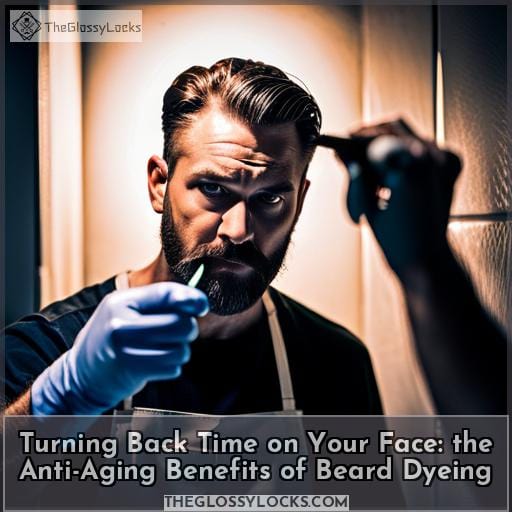 Want to turn back time on your face? Dyeing your beard is a great way to not only enhance or alter its appearance but also address the aging effect brought about by beards. To get started, you'll need to consider color-matching techniques and safety precautions such as patch tests and chemical sensitivities.
The Anti-Aging Effects:
By dyeing your beard, you can turn back the clock and achieve a more youthful look! When selecting a product to color your facial hair, it's important to ensure safety first. Look for formulations that are free of harsh chemicals like ammonia and PPD, which can cause allergic reactions or skin damage.
Additionally, consider beard pigmentation when choosing the right shade – opting for something close to natural hair color will prevent aging effects from appearing too dramatic.
Color Matching Techniques:
Finding the perfect color for your facial hair can be daunting, but with a few helpful tips, you'll be able to get the youthful look you're after. When choosing a shade, opt for one that matches or is slightly lighter than your natural hue.
Consider undertones and avoid colors that are too vibrant as they can appear artificial. You can also blend two shades together if needed to create an even more subtle effect.
If dyeing at home, always perform an allergy patch test first before applying any product.
Safety Precautions to Consider
Before embarking on your beard-dyeing journey, take the time to consider safety precautions and potential risks associated with chemical reactions. To reduce sensitivity, always perform an allergy patch test prior to use. For those with delicate skin, avoid contact between dye and face as much as possible.
Use a color protectant shampoo or conditioner after applying dye for extra protection against allergic reactions and fading of color over time.
Grow Your Beard Out: Preparing for Dye Application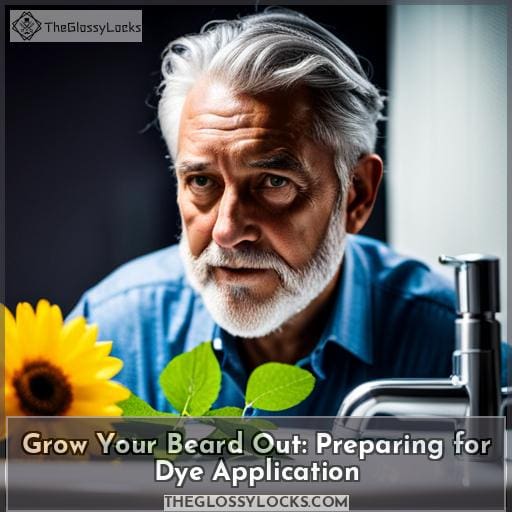 If you want to turn back the clock on your face, beard dyeing is a great option! But before you dive into this process, it's important to take the time to properly prepare for dye application.
The first step is selecting an appropriate shade of beard dye that matches your natural hair color. You should also be aware of any potential allergic reactions and do a patch test prior to full-scale use.
Next up is prepping your facial hair for optimal absorption. Make sure it's clean and dry and free from excess oils or product build-up as these can lead to uneven coloring results.
Once everything has been taken care of, apply vaseline around the edges of your skin in order to prevent staining during application.
When applying the actual product itself, make sure not to touch any skin surfaces. Aim only at facial hairs using an up-and-down motion until desired coverage has been achieved within recommended processing times given by manufacturers instructions.
Finally, rinse off with cool water after you're done, ensuring all excess pigment washes away completely.
Making the Dye: Mixing and Application Process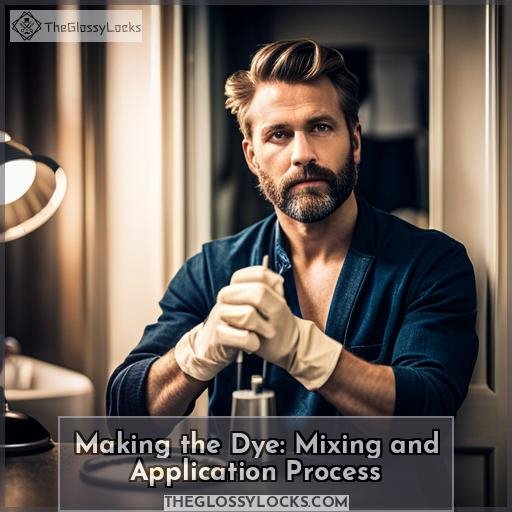 Now that you've chosen your dye, it's time to mix and apply it, ensuring a natural-looking color that lasts up to 6 weeks on average. Mixing techniques will vary depending on the product you've purchased. Typically, you'll need gloves, an applicator, and protective clothing, along with the dye itself.
To ensure a consistent color throughout your beard, use an even application with strokes running from top to bottom. Avoid using circular or side-to-side motions, as they can cause patches or streaks. If you're using products like True Sons Hair Dye Men, it's recommended to apply Vaseline around areas such as the ears to prevent staining when dying facial hair at home.
The duration of leaving the dye in will depend on how dark you want your look to be. However, most dyes should not be left in for longer than 10 minutes before rinsing thoroughly with cool water for the best results.
Leaving It On: Dyeing Process and Aftercare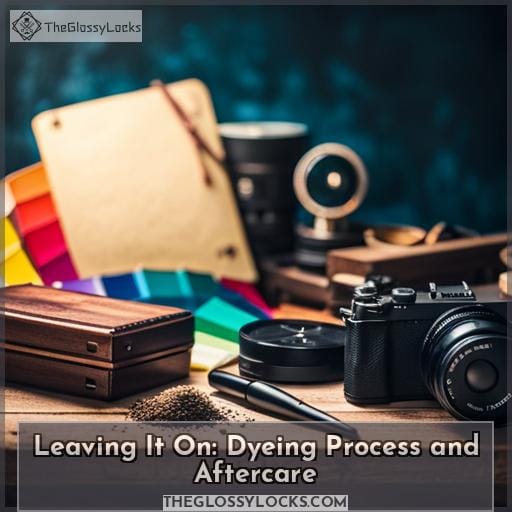 Leave the dye on your facial hair until you've achieved the desired intensity, then rinse off any excess with cool water. Monitoring the results is crucial for achieving depth in color and preserving it afterwards.
Post-dye care also plays a role in maintaining that look. Use light showers to limit potential fading, and make sure to use shampoos and conditioners to protect your facial hair from further damage over time.
If you're looking for more vibrant hues, you may need to adjust the color intensity through shampooing or reapplication. Regular touch-ups are necessary to sustain the color throughout the weeks. Seeking advice from a stylist can provide helpful guidance in this regard.
When dyeing your beard at home, it's important to take extra precautions when leaving the dye on.
Maintenance and Touch-Ups for Long-Lasting Color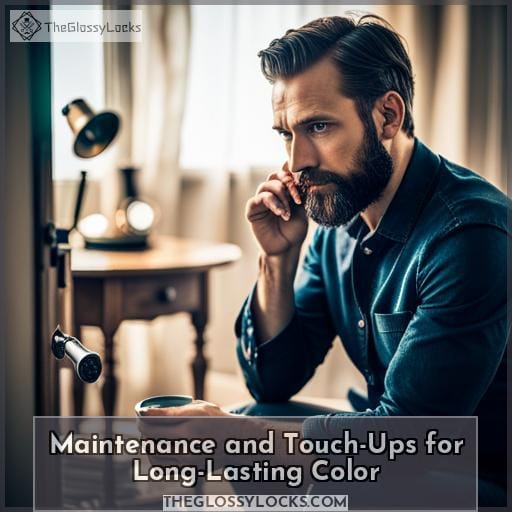 To keep your facial hair looking freshly-dyed, regular touch-ups and the right maintenance products are essential. Touch-up frequency depends on factors such as environmental conditions, lifestyle habits, and styling routines.
Typically, touch-ups range from every 2 weeks to 6 months for more permanent dyes.
To prevent beard dye from fading too quickly, it's important to understand how often you should do touch-ups and what type of products will best maintain your chosen color. Color maintenance tips include using sulfate-free shampoos that won't strip away the color molecules in beard dye.
Additionally, washing with lukewarm water prevents dryness, while conditioners lock in moisture and maintain vibrancy.
Applying heat protectant sprays before blow drying or styling provides further protection against fading agents like humidity or sunlight exposure. Beard dye aftercare is an integral part of the home beard dying process, so investing time into researching pro tips about prolonging vibrancy is crucial.
With proper care using men's grooming products specifically designed for colored facial hair, plus some patience, there's no reason why you can't achieve amazing results when coloring your mane at home!
Alternatives for Allergies: Henna and Natural Pigments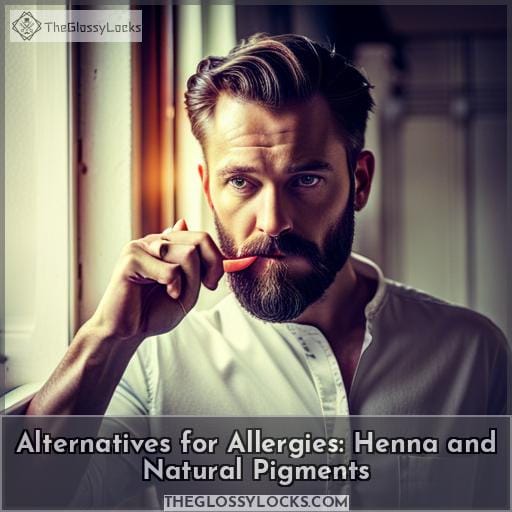 If you have allergies to traditional hair dye products, consider natural alternatives like henna and other plant-based pigments for a safer coloring experience.
Pros of Henna include conditioning the facial hair while providing vibrant color that lasts up to six weeks. Application techniques are easy and don't require gloves or messes, with results varying depending on your chosen color variation.
Natural pigment benefits also include avoiding allergic reactions due to harsh chemicals in men's hair dyes which can be found in store-bought brands such as Just For Men Beard Dye Dark Brown. Additionally, henna offers gray coverage without any additives or preservatives commonly used when coloring facial hair at home with traditional products like SoftSheenCarson JetBlack or Volt Grooming Beard Color Burnt Umber.
No matter what product you choose for beard dyeing at home, it is important to read the instructions thoroughly before application.
Conclusion
The art of beard coloring is a great way to turn back the clock and give your face a youthful look. With the right products, it's easy to find a color that matches your natural hair and create a look that's both stylish and age-appropriate.
Whether you choose a natural henna and indigo dye or a chemical dye like True Sons Hair Dye Men or Just For Men, it's important to take the necessary safety precautions. A thorough allergy patch test and careful mixing and application process are key to avoiding irritation and achieving the desired look.
With a little practice, you can easily color your beard at home and rock the look of a timeless gentleman.