This site is supported by our readers. We may earn a commission, at no cost to you, if you purchase through links.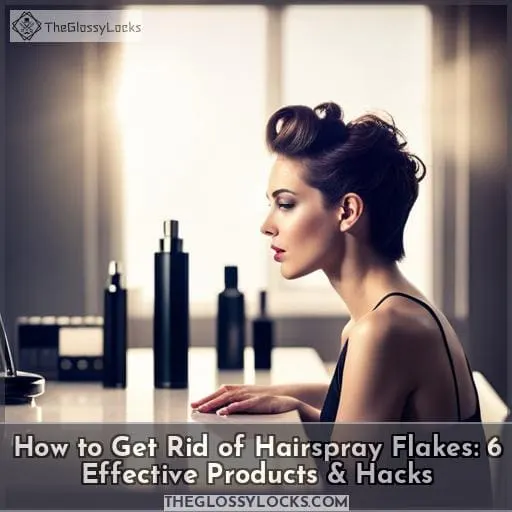 Feeling frustrated with those pesky hairspray flakes that keep appearing on your scalp? You're not alone. From the workplace to parties, it can be incredibly embarrassing when people notice the white flakes in your hair.
In this article, we'll explore six products and seven hacks for how to get rid of hairspray flakes quickly and effectively.
So let's dive right into it – here's everything you need to know about getting rid of pesky hairspray flakes!
Key Takeaways
Proper application techniques include spraying from 10-12 inches away and using a boar bristle brush for even distribution.
Choosing high-quality hair products that are free from alcohols, polymers, butane/propane can help prevent hairspray flakes.
Gentle cleansing options such as micellar water, apple cider vinegar rinse, and clarifying shampoo can effectively remove hairspray buildup.
Effective hacks for removing hairspray flakes include using baking soda, lemon juice, and a scalp scrub for exfoliation.
Top 6 Products to Get Rid of Hairspray Flakes
Are you experiencing hairspray flakes? If so, then look no further! There are a variety of products available to help get rid of this pesky problem. From Nature's Brands Organic Hair Spray and Aveda Rinseless Refresh to DpHUE Apple Cider Vinegar Hair Rinse, Denman Cushion Hair Brush, Herbal Essences Flexible Airspray, and COLOR WOW Volumizer – you'll be sure to find something that works for your hair type.
Natures Brands Organic Hair Spray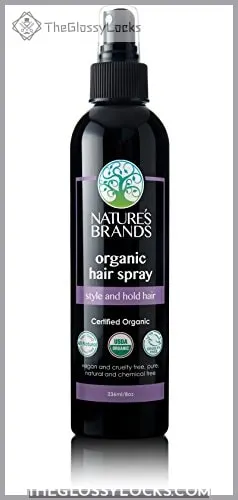 View On Amazon
For a chemical-free solution to hairspray flakes that won't let you down, try Nature's Brands Organic Hair Spray.
Certified organic and free of synthetic chemicals and dyes, it provides long-lasting hold with an exquisite finish to any hairstyle.
This spray is suitable for all hair types, including those with chemically sensitive scalps or color-treated manes, as well as henna users who need gentle yet effective styling products without harsh ingredients.
Enjoy a light refreshing herbal aroma without added fragrances when using Nature's Brands Organic Hair Spray!
Effective hold
Chemical-free & safe to use
Long-lasting & perfect finish
Slightly sticky due to natural ingredients
Takes time to dry due to natural ingredients
Mixed reviews on hold strength
Aveda Rinseless Refresh

View On Amazon
Try Aveda's Rinseless Refresh for a no-rinse micellar spray that instantly cleanses your scalp and revives second-day styles. This 97% naturally derived formula tames frizz for up to 72 hours, even in intense humidity, and is suitable for slightly wavy to very tight coily hair textures.
With positive user feedback regarding scalp refreshment and curl revival, this product is perfect for keeping your hair looking and feeling clean on the go. Enjoy the lightweight feel without any heavy build-up or residue; simply shake well before use then part your hair accordingly before spraying four to six inches away from the scalp area.
Massage it into each section of dampened locks until fully absorbed then air dry as desired – no rinsing required! The jasmine scent provides an extra pleasant touch while you're freshening up between washes with this handy refresher spray.
This refreshing rinse has multiple benefits: its natural ingredients soothe dryness while nourishing scalps with essential antioxidants like aloe vera extract; bamboo helps strengthen strands against breakage; argan oil contains fatty acids that protect against environmental damage plus vitamin E which adds shine back into dull locks – all in one easy application!
On top of strengthening curls, users have reported less flyaways due to improved moisture retention throughout their day (even when exposed to humid climates).
Refreshing effect instantaneously revitalizes tired hairstyles
Formulated with natural ingredients including Bamboo Extracts & Argan Oil for nourishment & protection from environmental damage
Lightweight & non-greasy texture does not leave behind any residue
Provides long-lasting hold even under humid conditions
No harsh chemicals included such as parabens or alcohol
May cause a greasy appearance if overused
Not suitable if you prefer stronger holds during styling
DpHUE Apple Cider Vinegar Hair Rinse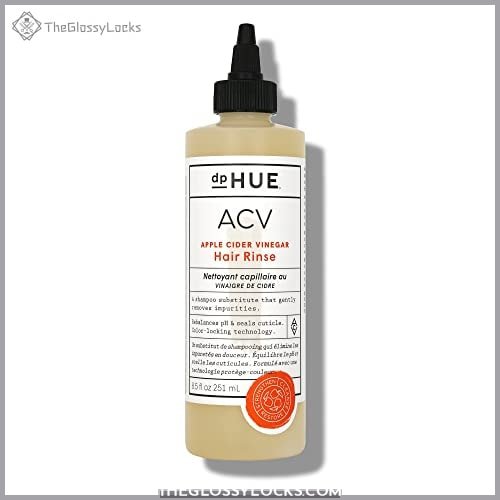 View On Amazon
Revive dull, second-day styles with Aveda's 97% naturally derived Rinseless Refresh! The formula tames frizz up to 72 hours and is suitable for slightly wavy to very tight coily hair types. With positive feedback from users regarding scalp refreshment and curl revival, this product offers a convenient solution when you're on the go.
Free of synthetic chemicals or dyes, it contains Lavender Extract and Aloe Vera for added softness, as well as Argan Oil high in vitamin E and fatty acids that can triple your hair strength.
Removes impurities without stripping natural oils from scalp/hair
Tames frizz up to 72 hours
Suitable for all curl types
Some experienced greasiness after use
Not effective on some hair types
May be overpriced compared with cheaper alternatives
Denman Cushion Hair Brush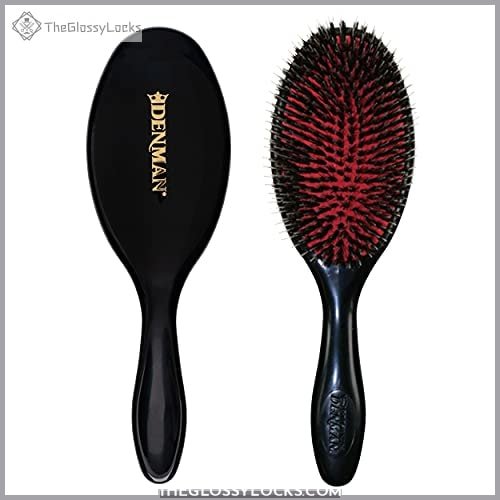 View On Amazon
Forgo the Conair vent brush and round brush and opt for Denman's Cushion Hair Brush to effortlessly detangle, shape, condition, and add shine to your hair. This lightweight brush is designed with a perfect balance of natural bristle quill mixed with a 'porcupine effect' nylon bristles that won't cause damage or breakage when brushing out barrel curls.
Plus, its air-cushioned pad ensures comfortable use all day long! It's suitable for wigs, extensions, 3A/3B curl types, as well as thin hair needing volume or sheen – plus it distributes natural oils too! With this high-quality old-fashioned design, you'll be able to form bouncy curls without any frizz or breakage in sight.
Designed specifically for 3B ringlet curls & soft fine hair
Combines natural bristle & nylon quill for effective shaping & conditioning
Suitable also for medium fineness blonde hair; adds volume & sheen
Safely compatible with wigs/hair extensions; strong enough even on coarse afro textures
Soft cushion base prevents discomfort during extended use
Not ideal if you have very thick curly locks
Some users may find it slightly too small
Herbal Essences Flexible Airspray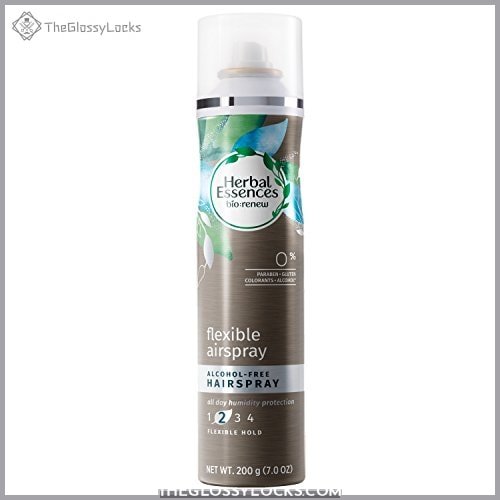 View On Amazon
Experience the rejuvenating power of Herbal Essences Flexible Airspray, a 0% paraben and alcohol-free hairspray with bio: renew ingredients that provide all-day humidity protection to keep your style in place.
Crafted with essential antioxidants, aloe, and bamboo for strength and softness—not to mention its pleasant herbal aroma—this product is suitable for all hair types. The flexible hold ensures you can move freely without compromising on volume or shape.
Herbal Essences Flexible Airspray helps repair dry or porous hair over time while protecting it against humidity damage. But don't expect miracles overnight; it may take multiple applications as well as brushing out excess spray every now and then for longer-lasting results.
Alcohol & Paraben Free Formula
Contains Bio Renew Ingredients
Suitable For All Hair Types
Provides Long Lasting Humidity Protection
Pleasant Aroma
Multiple Applications Needed
Packaging Issues Reported When Ordering Online
COLOR WOW Volumizer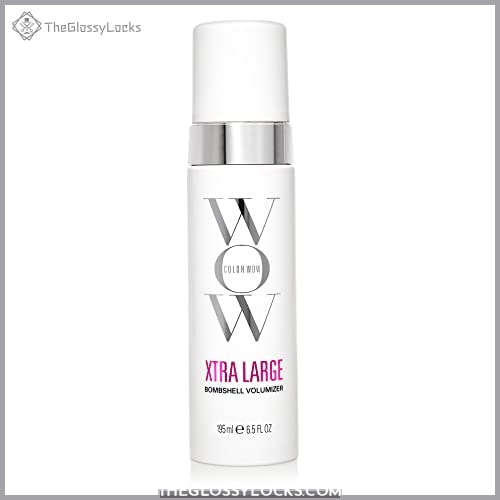 View On Amazon
Try COLOR WOW Volumizer to achieve bombshell volume without compromising your hair's health. This alcohol-free, salt-free formula enhances volume and body while maintaining a healthy scalp and strands.
Bamboo strengthens the hair fiber against damage from heat styling tools, leaving it with weightless frothiness for easy styling of any look you desire.
It is suitable for all types of tresses – thin or thick – giving them hold and body that lasts throughout the day without dulling or dehydrating locks.
On top of that, its heat protection properties offer extra peace of mind when using hot tools on already styled hair – something many people appreciate given how damaging these appliances can be if not used correctly.
Instant bombshell volume without dehydrating or dulling hair
Volume lasts until the next day
Contains strand-strengthening bamboo
Weightless formula perfect for fine/thin hairs
Provides great body & hold
Effective even on dry hairs
Offers excellent heat protection & volumizing properties
Price considered high (better results achievable from more affordable brands)
Some users found it slightly drying
Experienced oily hairs after use
Packaging issues reported, including leaks
Why Does Hairspray Buildup on the Scalp?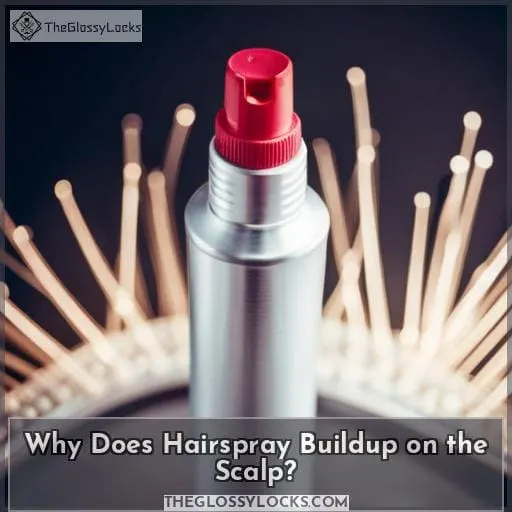 Hairspray buildup on the scalp is caused by improper application and product layering, leaving behind residues that can flake off. To avoid this, hair care tips include spraying from 10-12 inches away to prevent clumping.
Brush with a boar bristle brush for even distribution. Use clarifying shampoo weekly to remove stubborn polymer buildup. Additionally, use micellar water 1-2 times per week to lift oil-based residues or try an apple cider vinegar rinse for breaking down polymer bonds.
Hair product selection matters too. Opt for alcohol-free, no butane/propane hairsprays with hydrating ingredients. Make sure to choose appropriate strength ratings and nozzle mist type based on desired outcome.
Lastly, experiment with different strengths and finishes while avoiding excessive styling product layering.
Hack 1: Use a Clarifying Shampoo to Remove Hairspray Flakes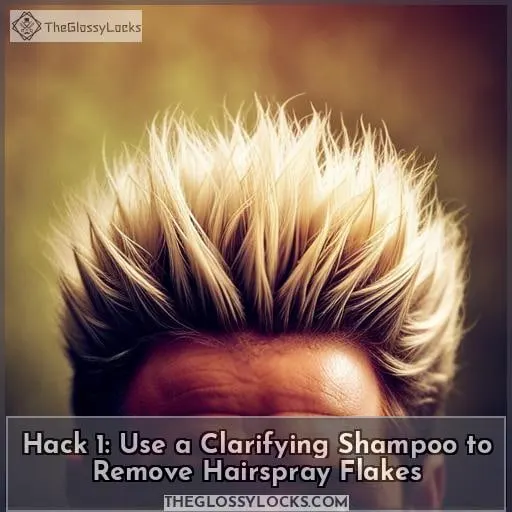 If you're looking to banish those stubborn hairspray flakes, a weekly clarifying shampoo is your best bet – over 70% of people find it helps them reduce scalp buildup. Clarifying shampoos are formulated with stronger surfactants that can break down the hardened polymers from hairsprays and rinse them out more effectively.
To get the most out of this haircare routine, follow up with conditioner to prevent dryness and leave hair feeling soft and nourished while avoiding flakiness in future styles.
Micellar water is also beneficial for removing oil-based residues such as those left by hair styling products like hairspray; its micelle particles lift away impurities without stripping natural oils or irritating sensitive scalps – just apply generously, massage into wet strands then rinse off thoroughly afterwards.
Apple Cider Vinegar (ACV) rinses are also effective at breaking down polymer buildup while restoring pH balance on the scalp. So mix ACV with warm water, spray onto damp tresses after shampooing, then leave on for 5 minutes before rinsing cleanly again.
Lemon juice can help too, thanks to citric acid which breaks apart polymer bonds. Simply mix lemon juice and warm water, spray onto mane, wait 10 minutes, then wash off.
Baking soda paste scrubs away residue gently, leaving behind softer locks. Combine baking soda powder and lukewarm water to form a thick paste, apply evenly throughout mane, let it sit for 15 minutes, then finish with shampoo followed by conditioner.
Perform this maximum once per week if necessary, else you risk drying strands excessively.
The last option available is using a boar bristled brush specifically designed to dislodge flaky remains. Sectioned hair brushing from roots to tips helps remove white dandruffy bits. There is some time and effort obviously involved, plus the need to repurchase every couple of months and resharpen sometimes required to maintain sharp prongs and loosen stuck particles.
Hack 2: Use the Baking Soda Method to Remove Flakes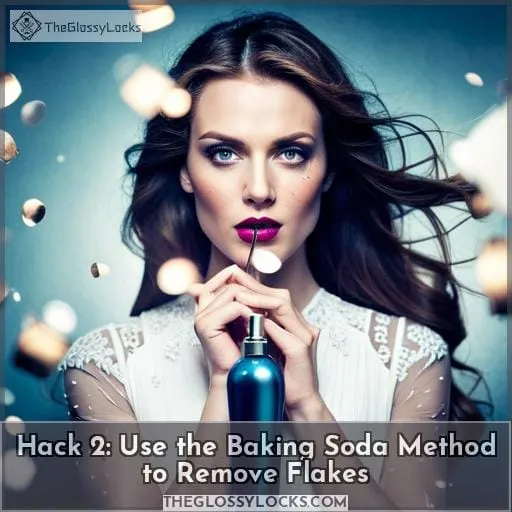 Eliminate those pesky flakes with a simple baking soda paste! Using Baking Soda as part of your haircare routine not only helps to remove hairspray flakes but also provides numerous scalp health benefits.
Replacing your regular shampoo and conditioner with a homemade DIY remedy can be an easy way to prevent flakiness from occurring in the first place. To create the baking soda paste, mix two tablespoons of baking soda into one cup of warm water until dissolved completely.
Then apply onto damp hair, massaging it into each section before rinsing thoroughly.
This method is especially helpful for preventing styling mistakes that often lead to flaky residue being left behind on hair strands and scalp alike.
So forget spending money on expensive store-bought products, give this natural alternative a try instead for deep cleansing results that will leave you feeling fresh and fabulous!
Hack 3: Try Using Micellar Water to Wash Away Hairspray Flakes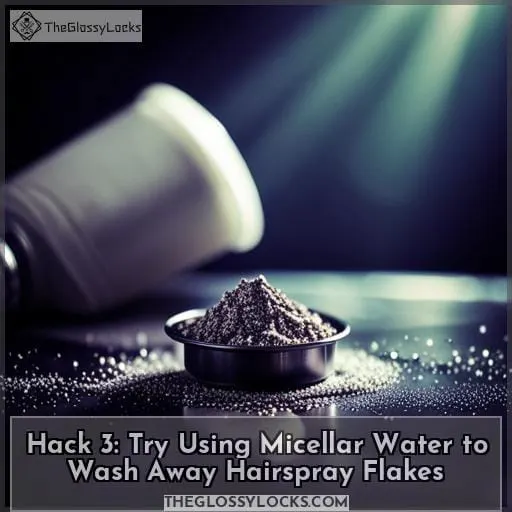 Try the Micellar Water method for a gentle and effective way to wash away those pesky hairspray flakes. This solution contains micelles that effectively lift oil-based residues, while being suitable for sensitive scalps.
To use it, simply apply generously onto damp hair and massage in before rinsing off. This can be repeated 1-2 times each week as part of your weekly flakiness prevention routine.
Not only does Micellar Water help keep you free from stubborn polymer buildup, but it also leaves your scalp feeling refreshed with its biodegradable properties! Plus, its vegan-friendly ingredients are sure to win over even the most conscious consumers looking for high-quality solutions without sacrificing health or sustainability concerns.
For greater effectiveness against tough residue build-up, try pairing with clarifying shampoo once a week followed by conditioner to avoid dryness after washing out any excess product left behind on strands or scalp surface area post-application session.
Hack 4: Use Apple Cider Vinegar as a Rinse to Remove Flakes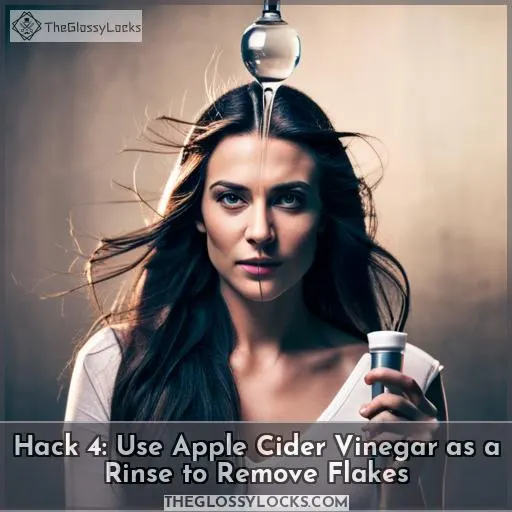 For a natural way to combat hairspray flakes, give Apple Cider Vinegar (ACV) rinse a go. ACV's citric acid is great for breaking down product buildup and restoring the scalp's pH balance. Mixing it with water creates an effective hair rinse that can be used weekly to prevent flakiness.
Spray generously onto damp hair, then massage it in before rinsing out for best results. You'll notice smoother locks right away! Plus, its antibacterial properties help protect against any bacteria on the scalp or strands from causing further damage and irritation.
Utilize this vinegar-based alternative as part of your regular haircare routine; you won't regret it! Not only will your tresses feel soft and clean, but they'll also look shinier than ever before thanks to ACV's benefits when used effectively as a natural remedy for removing product residue from hairsprays or other styling products.
Make sure not to skip out on conditioning afterwards – trust us when we say that nourishment after using vinegar is essential! So why wait? Get rid of those pesky flakes today by incorporating an apple cider vinegar rinse into your haircare regimen – let nature take over so you can enjoy beautiful locks without worrying about unwanted build-up ruining them again anytime soon.
Hack 5: Use Lemon Juice and Water to Remove Flakes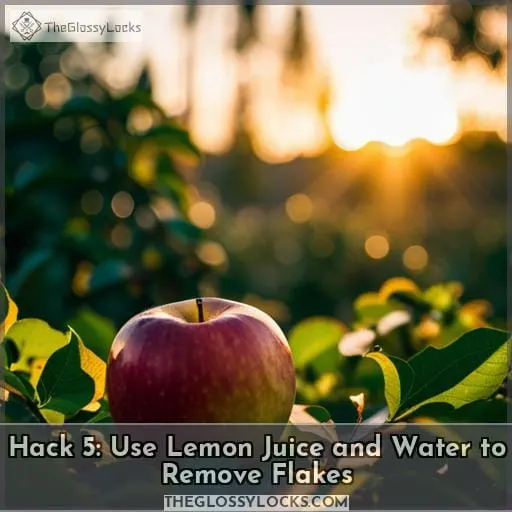 Spray a mixture of lemon juice and water onto your hair to dissolve stubborn hairspray flakes, leaving you with refreshed locks. Lemon juice has some great benefits for natural hair care due to the citric acid content it contains.
Citric acid helps remove dirt and bacteria from the scalp while balancing its pH levels.
Natural oils in lemon juice reduce itchiness caused by dryness or dandruff build up.
It stimulates cell regeneration on the scalp, promoting healthy growth for stronger strands that look healthier overall.
For best results, mix equal parts fresh lemon juice with warm water and apply directly onto clean damp hair using a spray bottle or applicator brush – taking special caution not to get any into eyes! Leave on for 10 minutes before rinsing off thoroughly; make sure all citrus is removed from follicles as acidic residue can cause further irritation if left behind too long!
Use this hack once a week at most as excessive use may lead to lightening over time due to sun exposure alone – but when used correctly it's an effective way of removing unsightly flaking without compromising hairdo hold strength itself!
Hack 6: Use a Gentle Scalp Scrub to Remove Hairspray Flakes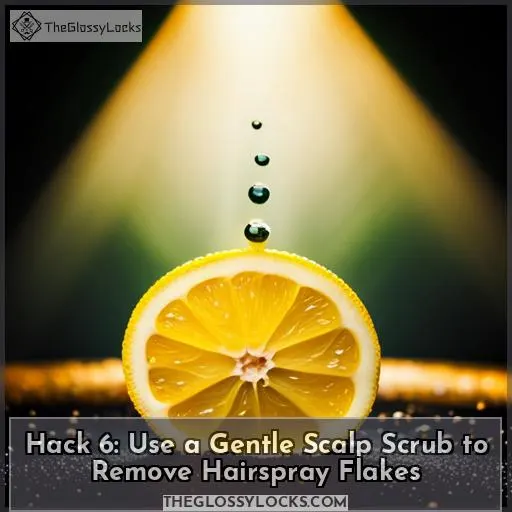 Gently exfoliate your scalp with a scrub to remove stubborn hairspray flakes and restore softness. Scalp exfoliation benefits include removing dirt, oil, and product buildup, balancing the pH of the hair, and stimulating blood circulation for healthy new growth.
To get maximum results from your scrub, use proper massage technique. Apply it to damp hair in sections, starting at the scalp and then moving down towards the ends. Choose ingredients suitable for your particular needs. If you have sensitive skin, avoid harsh scrubs such as sugar or salt-based ones that could cause irritation.
Consider DIY recipes with gentle yet effective components like oats or baking soda mixed into conditioner, or apple cider vinegar diluted in water, instead of using store-bought products tailored specifically for this purpose.
When selecting a regular shampoo, consider one formulated without sulfates, which are known to be stripping agents causing dryness and flakiness on top of already existing issues caused by hairspray residues.
Lastly, make sure not to forget about following up after every session with nourishing treatments like a deep conditioning mask once per week, so all efforts don't go to waste!
Hack 7: Use a Hairbrush to Dislodge Flakes on Your Scalp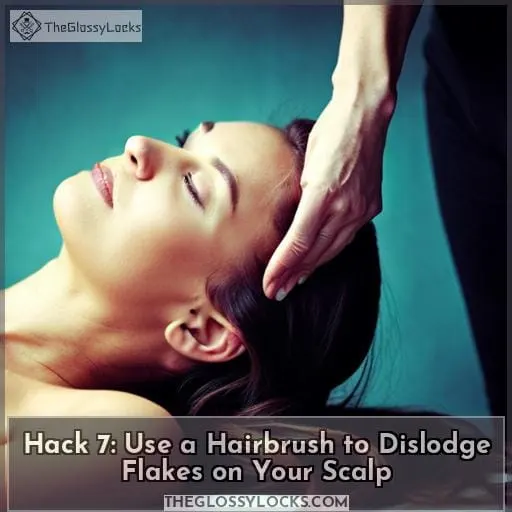 Brush your hair with a boar bristle brush to quickly and effectively dislodge hairspray flakes. Boar bristles are gentle on the scalp and provide an even distribution of product for natural-looking styling.
To use, section off clean, damp hair and carefully brush from roots to tips in small strokes. This will help break down particles that may have been built up over time due to improper application or buildup of products.
As you massage your scalp with the brush, it helps boost circulation while removing any dirt or debris. This allows for better absorption of nutrients when conditioning afterwards, as well as improved flakiness prevention during future styling sessions.
For best results, choose a quality bristled tool designed specifically for detangling purposes.
Remember: practice makes perfect! With regular brushing techniques using the right tools coupled with proper product usage habits, you'll be able to keep those pesky hairspray flakes at bay once and for all!
What Are the Best Hairsprays That Don't Leave White Flakes?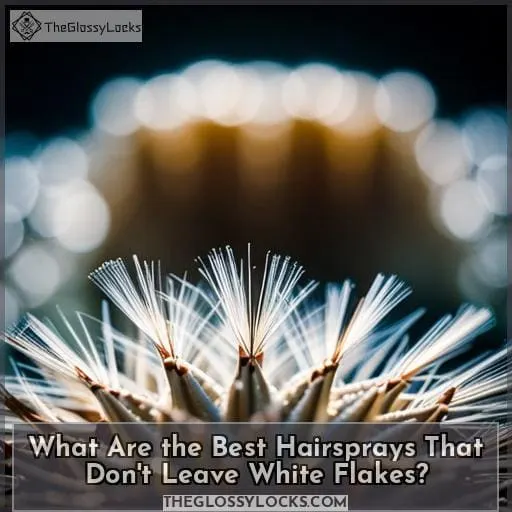 For a hairspray that won't leave you with white flakes, try Natures Brands Organic Hair Spray, Aveda Rinseless Refresh, dpHUE Apple Cider Vinegar Hair Rinse, or Herbal Essences Flexible Airspray.
Consider the ingredients when selecting products. Opt for hydrating solutions like Aloe Vera and Argan Oil, which help nourish the hair follicles while creating an even distribution of product across your strands.
Additionally, pay attention to styling techniques. Use a boar bristle brush to dislodge any buildup from previous applications. Also, spray the hairspray 6-8 inches away from your head for optimal coverage without clumping up in one area.
Finally, look out for labels indicating no butane/propane content. These chemicals can lead to dryness and excess buildup on your scalp over time, leading again to those pesky flakes! So choose wisely when it comes to natural haircare products and techniques combined with appropriate strength ratings.
Tips for Preventing Hairspray Flakes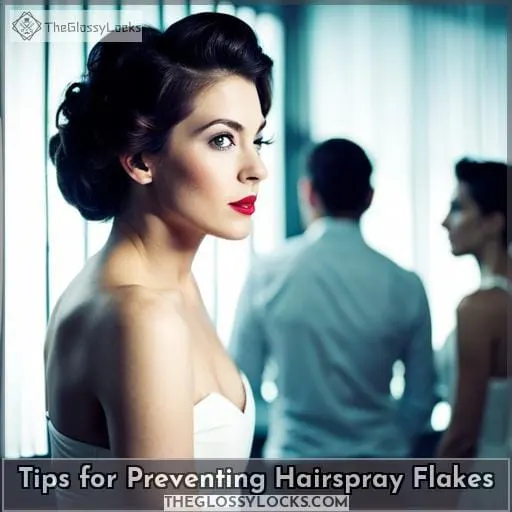 To prevent hairspray flakes, try investing in a quality product like Herbal Essences Bio:Renew Airspray and brushing your hair with a boar bristle brush for even distribution.
Common mistakes to avoid include applying too close to the scalp, over-styling hair with products, and excessive playing or tossing of hair.
Proper application techniques involve spraying from 10-12 inches away while using swift passes. Hair styling techniques such as tape's sticky side can be used to remove flakiness from clothing as well.
When it comes to selecting products for your hairstyle needs, consider alcohol-free formulas without butane or propane that provide hydration and soothing ingredients such as biotin, which nourishes the scalp healthily without stripping natural oils.
Additionally, opt for an appropriate strength rating when necessary; experimenting is encouraged!
With these tips, you can enjoy beautiful styled locks all day long, free of dreaded hairspray dandruff!
How to Remove Hairspray From Hair Without Washing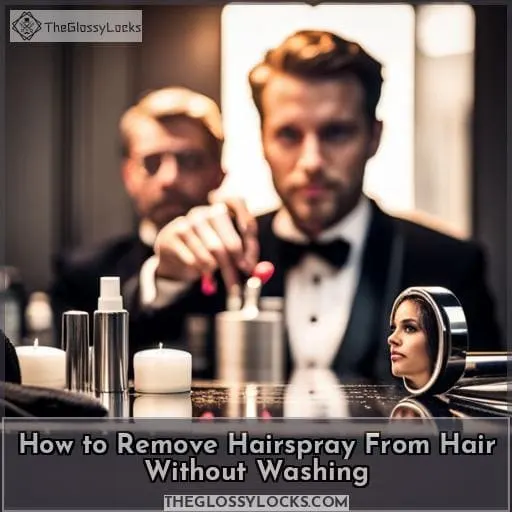 Without having to wash your hair, you can easily remove hairspray buildup with a clarifying shampoo or micellar water! Here are some other dry hair solutions and quick refresh techniques that will help you get rid of those pesky flakes:
Natures Brands Organic Hair Spray is perfect for all hair types and free from synthetic chemicals. It's vegan-friendly, cruelty-free, and contains biotin to nourish the scalp without stripping natural oils.
Aveda Rinseless Refresh is great for second-day styles as it tames frizz up to 72 hours, even in intense humidity. Formulated with 97% naturally derived ingredients, this product invigorates the scalp while restoring moisture balance.
dpHUE Apple Cider Vinegar Hair Rinse gently cleanses away impurities without drying out the strands, leaving them clean, moisturized, and shiny. Infused with Lavender Extract and Aloe Vera, this rinse helps restore pH levels of the scalp while promoting a healthy growth cycle.
Denman Cushion Hair Brush adds volume and sheen by distributing natural oils throughout, lightening the weight handle makes long styling sessions easier on hands and arms, making it an ideal choice over Conair vent brush or round brush.
Herbal Essences Flexible Airspray has a lightweight formula enriched with antioxidants, aloe vera, and bamboo extracts suitable for all hairstyles, providing strong hold results without stiffness or stickiness, thus preventing any flaking tendency.
COLOR WOW Volumizer provides a significantly voluminous look lasting up to 72 hours, but a few users have reported oily residue post-use, so it's best to consult your stylist before trying one!
Choose products according to the non-water cleansing technique like Micellar Water, which lifts oil-based residues quickly, adding extra shine to locks, making them more manageable these days!
How to Choose Quality Hair Products for Flake-Free Results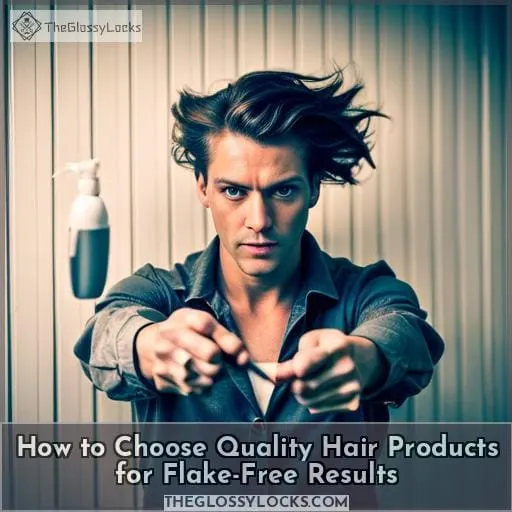 When it comes to maintaining healthy, flake-free hair, choosing the right products is key. Avoid polymers and harsh alcohols in hairspray for the best results; opt instead for gentle cleansing options like micellar water or an apple cider vinegar rinse.
Keep a few tips in mind, such as spraying from 10-12 inches away and brushing with a boar bristle brush, to ensure your hair remains smooth and soft without any unsightly flakes.
Ingredients to Avoid
When shopping for hair products, be sure to avoid those containing alcohol, polymers, and butane or propane, as these can cause flaking. Become ingredient aware by reading product labels carefully for common culprits such as parabens and sulfates that may contribute to harmful additives.
Look out for safer alternatives like natural oils, proteins, and amino acids instead of polymer residues. These residues can lead to hair product buildup, causing hairspray flakes or hairspray dandruff.
The best way to remove this buildup is through regular use of a clarifying shampoo.
Gentle Cleansing Options
Rejuvenate your hair and scalp with gentle, natural cleansing options to keep those pesky flakes away. Start by using alternative methods such as micellar water or an apple cider vinegar rinse weekly for sensitive scalps.
Natural ingredient remedies like lemon juice can also help balance pH levels, while clarifying shampoos break down stubborn buildup. Weekly maintenance is key: use a gentle scalp scrub 1-2 times per week to effectively exfoliate the head and remove residue without causing irritation or dryness.
Tips for Flake-Free Hair
By investing in quality hair products, you can achieve long-lasting hold without the dreaded flakes. Managing residue with clarifying shampoos and maintaining scalp health with ACV rinses are essential for preventing buildup.
Styling techniques like brushing from roots to tips also help dislodge particles. Product recommendations such as Herbal Essences Airspray or Color Wow Volumizer offer flake-free results and nourishment for all hair types, while using a boar bristle brush aids in styling without stiffness.
Conclusion
It's no secret that the wrong hairspray can lead to a flaky, dandruff-like mess. But with the right products and hacks, you can get rid of unsightly hairspray flakes and enjoy soft, manageable hair.
From Natures Brands Organic Hair Spray to COLOR WOW Volumizer, try these products to get rid of hairspray flakes. Or, use simple hacks like the baking soda method and apple cider vinegar rinse to effectively remove buildup.
Finally, arm yourself with the knowledge of what to look for in flake-free products to ensure you have soft, healthy hair without the mess.