This site is supported by our readers. We may earn a commission, at no cost to you, if you purchase through links.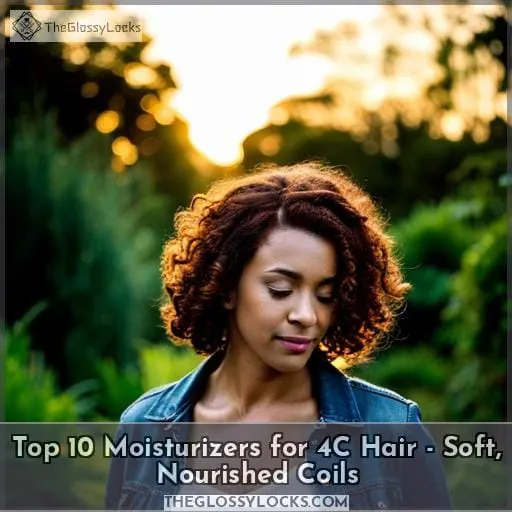 Caring for 4c hair can feel like a daunting task. Those tight coils require special attention to keep them soft, nourished, and tangle-free. That's why it's critical to find the right moisturizer that will give your curls what they need without weighing them down or leaving build-up over time.
To help you make an informed decision, we've compiled a list of the 10 best moisturizers for 4c hair. These products are specially formulated with 4c hair in mind, providing long-lasting moisture and shine without sacrificing definition.
So, if you're looking for something that'll give your naturally beautiful locks the care they deserve, look no further than this guide.
Here are our top picks of the best moisturizers for 4c hair.
Key Takeaways
Finding the right moisturizer is essential for caring for 4C hair.
Look for moisturizers with natural oils like shea butter, olive oil, and coconut oil.
Deep condition weekly and use leave-in conditioner every two days for optimal hydration.
Avoid drying alcohols and silicones in moisturizers for 4C hair.
Top 10 Best Moisturizers for 4C Hair
Finding the right moisturizer for your 4C hair can be tricky. To make it easier, here are 10 of the best options to consider: TGIN Butter Cream Moisturizer, Carol's Daughter Hair Milk, As I Am Double Butter Cream, Shea Moisture Curl Style Milk, Roots Naturelle Bouncy Curls Cream, Alikay Naturals Shea Yogurt Moisturizer, Oribe Moisture Control Masque, Design Essentials Conditioner Rosemary Mint, Taliah Waajid Curl Cream 16oz, and Cantu Shea Butter Leave-in Conditioner.
TGIN Butter Cream Moisturizer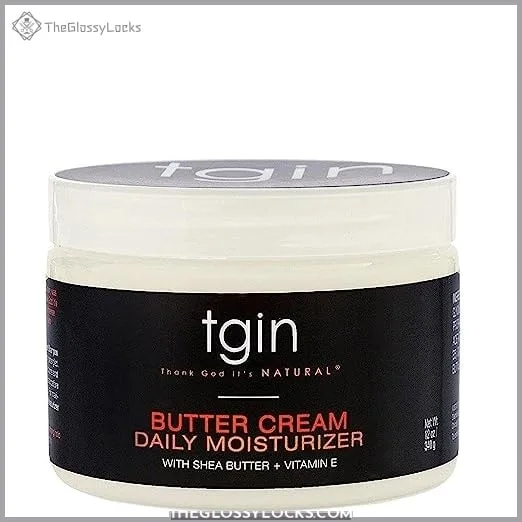 View On Amazon
TGIN Butter Cream Moisturizer is the perfect product to give your 4C hair maximum hydration and natural shine, leaving you feeling confident in your curls. Enriched with Shea butter, Vitamin E oil, and other natural oils, this thick consistency locks in moisture from root to tip while promoting hair growth.
It also reduces frizz and flyaways for a smoother cuticle that adds healthy-looking shine without being greasy or heavy.
What's more? This black women-owned company (96% women; 100% black-owned) will help you show off what makes you unique!
Locks in moisture from root to tip
Promotes hair growth with Vitamin E Oil
Reduces frizz & flyaways
Adds natural shine & softness
Thick consistency may be too much for some types of curly/coily hair
Carols Daughter Hair Milk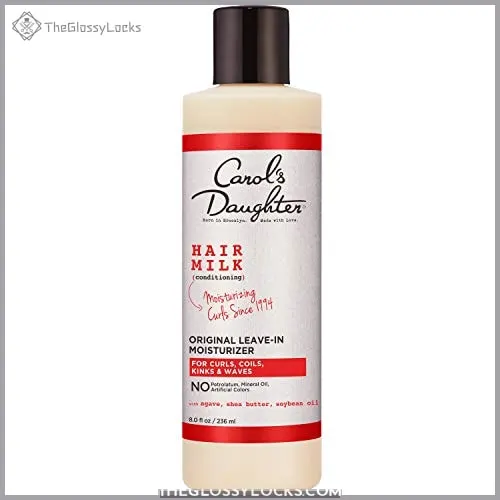 View On Amazon
Discover the nourishing power of Carol's Daughter Hair Milk, an ultra-rich cream specifically formulated to hydrate and condition all curl types. This luxurious product is packed with ingredients like Shea Butter, Soybean Oil, and Agave Nectar that absorb quickly into hair, leaving it glossy, nourished, and frizz-free.
It's perfect for naturally curly hair as it prevents frizz while defining curls without any crunch or residue.
Plus, DevaCurl offers a full line of curl care products, including custard gel, shampoo, conditioner, and oils, created with love and encouragement in a Brooklyn kitchen since 1993! Enjoy beautiful touchable curls with this amazing product today!
Prevents Frizz & Defines Curls
Rich Cream Absorbs Quickly Into Hair
Contains Natural Butters & Organic Oils
Suitable For All Curl Types (4c To 1c)
Only Available Online
Expensive Compared To Other Products
Not Cruelty-Free
As I Am Double Butter Cream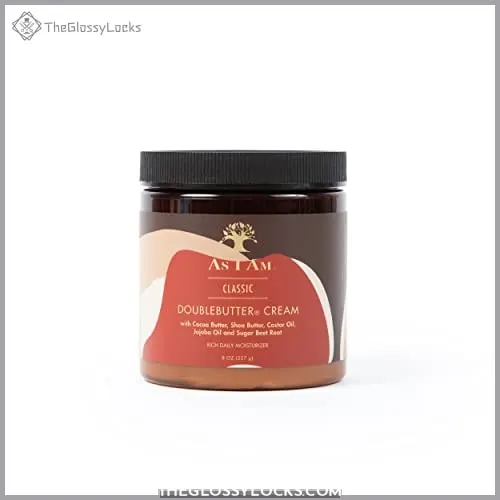 View On Amazon
As I Am Double Butter Cream is a luxurious hydrating cream, designed to nourish and protect your curls with pro-vitamin B5. It is enriched with Shea butter, Vitamin E oil, and other natural oils. This cream locks in moisture from root to tip while preventing split ends.
Its lightweight formula absorbs quickly into the hair, leaving behind glossy, frizz-free strands that are touchably soft.
Locks in moisture
Reduces split ends
Lightweight formula
Adds shine and manageability
May leave residue if too much is used
Not suitable for straight styles
Shea Moisture Curl Style Milk
View On Amazon
Try Shea Moisture Curl Style Milk for a luxurious 13.4 oz product that will leave your curls glossy, nourished, and frizz-free! This specially formulated curl cream tames the most unruly hair while providing softness and manageability.
It's perfect for curly or afro hair types as it helps to reduce the need for straighteners or curling irons.
Plus, with its natural butters and organic oils like Shea Butter, Soybean Oil, and Agave Nectar, it locks in moisture from root to tip without leaving behind any crunchy residue.
Tames frizz while adding shine and manageability
Absorbs quickly into hair without greasiness or heaviness
Infuses moisture into all curl types; suitable for African American and Caucasian Hair Types (black/brown/blonde)
More expensive than other similar products
Strong scent may be overpowering
Roots Naturelle Bouncy Curls Cream
View On Amazon
Explore Roots Naturelle Bouncy Curls Cream, an ultra-rich hydrating cream designed to give you long-lasting, soft, and touchable curls. Perfect for naturally curly hair, this curl enhancer helps prevent frizz and defines your curls while nourishing them with olive and grape seed oils.
It's popular among men, women, and children of all ages with afro or curly hair types (brown/black/blonde).
Get the bouncy, healthy look without compromising on moisture – this product is a must-have in any beauty collection!
Prevents frizz & defines curls
Nourishes with natural ingredients such as olive oil & grape seed oil
Suitable for African American & Caucasian (black/brown/blonde) hair types
Not suitable for those who are allergic to some of its ingredients
Alikay Naturals Shea Yogurt Moisturizer
View On Amazon
With Alikay Naturals Shea Yogurt Moisturizer, you can enjoy touchable curls that are nourished and hydrated without any greasiness or residue. The ultra-rich hydrating cream is made with pure natural ingredients such as Shea Butter, Argan Oil, Coconut Oil, Bay Essential Oil, and Olive oil to help lock in moisture from root to tip while providing softness and shine.
Suitable for all hair types (men and women), this cruelty-free product helps reduce split ends while promoting healthy hair growth.
Made with pure natural ingredients such as shea butter, argan oil & coconut oil
Reduces split ends & promotes healthy hair growth
Revives dull, dry hair & reduces frizz
Enhances elasticity & renews luster/shine
May have an overwhelming scent for some users
Texture may feel hard initially but turns more like an oil when warmed up in hands
Unclear instructions on how much should be used at once
Oribe Moisture Control Masque
View On Amazon
Experience the luxurious Oribe Moisture Control Masque and see your curls transform with just one use! This deep conditioning masque is specifically formulated to repair damage, fight frizz, detangle, and restore elasticity.
It is silicone-free and dermatologist tested, so you can be sure it's safe for color-treated hair too. The masque is intensely hydrating yet lightweight enough to leave no residue behind. It will soften and smooth each strand while locking in moisture from root to tip.
Seals the cuticle to repair damage and split ends
Prevents breakage
Deeply conditions to detangle and restore elasticity
Intense hydration smoothens and softens strands
Free of parabens, sulfates, and sodium chloride
Color/keratin treatment safe
Expensive price tag
Scent may vary depending on where purchased (salon vs Amazon)
Design Essentials Conditioner Rosemary Mint
View On Amazon
Rejuvenate dry, coarse hair with Design Essentials Stimulating & Hydrating Rosemary & Peppermint Herbal Complex 4X4 Replenishing Conditioner and its natural ingredients that guarantee healthy hair growth without any harsh chemicals.
Infused with rosemary to purify and restore locks while peppermint invigorates the scalp, this conditioner is ideal for frizzy hair. It helps detangle effectively and delivers moisture lost from everyday styling routines or environmental factors like weather changes.
Plus, it's free of alcohol, parabens, or sulfates—cruelty-free! With over 30 years of experience in developing haircare solutions for all textures under their belt, you can trust Design Essentials to deliver a quality product every time backed by their guarantee.
Delivers moisture and hydration to natural waves/coils
Promotes healthy hair growth
Free of alcohol, parabens, and sulfates; cruelty-free
Not suitable for extremely damaged or chemically treated hair
May be too heavy on finer strands
Taliah Waajid Curl Cream 16oz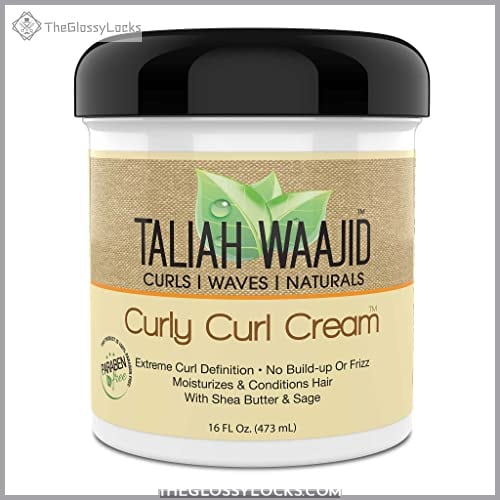 View On Amazon
Try Taliah Waajid Curl Cream 16oz for intensely hydrating and repairing your curls while eliminating frizz. This non-greasy cream helps define curls and nourish hair by providing moisture, shine, and strength.
With this daily hair treatment, you can look forward to reduced split ends and healthier-looking curls that last through the day without becoming oily or crunchy.
Non-greasy formula
Helps tame frizz and define curl pattern
Easily shampoos out with no build-up
Conditions & nourishes the hair
Pricey compared to other products on the market
Cantu Shea Butter Leave-in Conditioner
View On Amazon
Treat your curls to the ultimate hydration with Cantu Shea Butter Leave-In Conditioner and watch them transform into soft, smooth locks full of life. Infused with shea butter, natural oils, and no drying alcohol or silicones, this conditioner intensely hydrates while mending split ends to guard against future damage.
Achieve salon-worthy results any time you need a pick-me-up for your hair. Use it as a daily treatment on damaged areas, rinse out conditioner, or an absorbing leave-in treatment that will give you an instant boost from root to tip.
Best of all, this product is cruelty-free, so there's absolutely no testing on animals!
Intensely hydrates and repairs damaged hair
Formulated without parabens, sulfates, or sodium chloride
Cruelty-free – no animal testing!
Not suitable for chemically treated hair
What to Look for in a Good 4C Hair Moisturizer?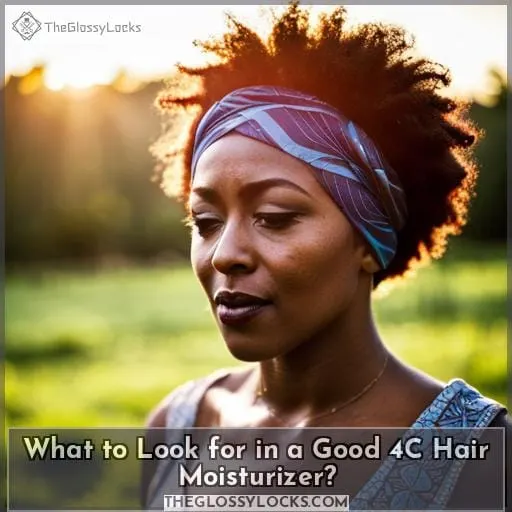 When shopping for a moisturizer for your 4C hair, there are some factors to consider. Hair type and porosity can play an important role in determining which product works best. Natural oils like shea butter, olive oil, and coconut oil have been proven effective at softening thick 4C curls while promoting shine and moisture retention.
Additionally, it's wise to follow basic tips such as spritzing water before styling or using a leave-in conditioner every two days.
For maximum curl definition with minimal damage potential, opt for products specifically designed with natural hair in mind such as Shea Moisture Curl & Style Milk Leave-In Conditioner or Design Essential Rosemary Mint Herbal Complex Replenishing Conditioners that provide ample protection against breakage without added alcohols or sulfates commonly found in other formulas on store shelves today.
How to Moisturize Your 4C Hair?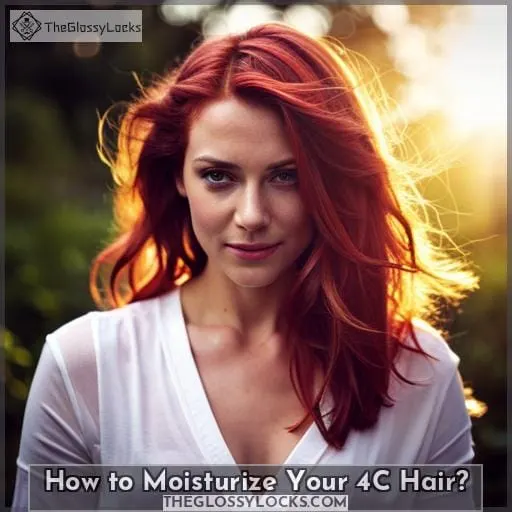 To keep your 4C hair looking its best, make sure to incorporate a regular moisturizing routine that includes spritzing water before styling and using a leave-in conditioner every two days.
Here are some tips for how you can effectively nourish 4C Hair:
Look for key ingredients like Shea Butter, Olive Oil, or Coconut oil when shopping for products designed specifically for this type of hair.
Consider factors such as your own hair porosity and texture when selecting the right formula from the shelf – daily vs weekly use is also important based on personal preference and needs of each individual's curls!
Apply a deep conditioning mask once per week after shampooing with warm water – paying special attention to ends since they tend to be more fragile than roots due to the lack of natural oils produced near the scalp area.
Use Select as an invaluable resource while searching through available products; trust their reviews which often include helpful information about specific ingredients used within each product line being reviewed (and trusted) by many shoppers around the world today!
Lastly, don't forget to hydrate yourself too – it helps ensure healthy locks all year round!.
What's the Difference Between Deep Conditioners and Leave-in Conditioners?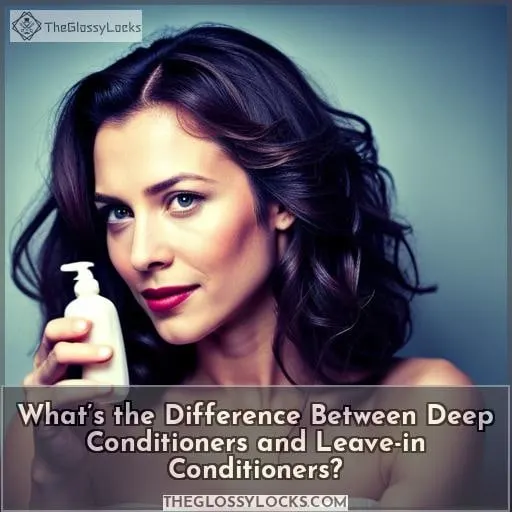 Transitioning from the previous subtopic, it's important to know the differences between deep conditioners and leave-in conditioners when you're looking for a good moisturizer for 4C hair. A weekly application of either type is essential to help keep your curls hydrated and healthy.
Both types of products are made with natural ingredients that provide nourishment and boost moisture levels in your hair, but they do have some significant differences as well.
Deep conditioners are thicker than regular conditioning masks or rinses, so they don't need to be left on very long—usually only 10 minutes or so—to get maximum effects. They can also be used more often than leave-in products since their main goal is simply conditioning rather than styling.
However, this means that there may still be frizziness after use if not paired with additional product usage such as oil lubricants or curl creams afterwards.
Leave-in conditioner differs from deep treatments in many ways: it doesn't require any rinsing out after application (though some people choose to rinse). It has a heavier consistency which makes it ideal for creating defined styles without stickiness while providing long-lasting protection against humidity throughout the day.
When deciding which moisturizing option is best suited for your unique needs, assess how much time you have available each week along with what kind of results you want based on porosity level and texture preference.
How Do You Use Leave-in Conditioners in 4C Hair?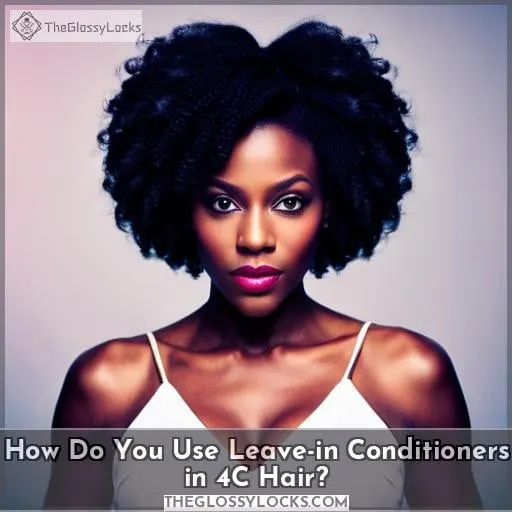 Applying a leave-in conditioner to 4C hair is essential for maintaining soft, hydrated curls.
Make sure your hair is clean before applying by washing with a sulfate-free shampoo or cleansing co-wash.
Use an oil or cream-based product with ingredients such as shea butter, olive oil, coconut oil, etc.
Work it through damp strands from root to tip using a wide-tooth comb for even coverage.
If needed, add more product throughout the day. This will ensure maximum protection against heat damage while promoting healthy hair growth too!
Leave-in conditioners are a great way to keep 4C curly locks looking their best all year round, so make sure you use them regularly for optimum results. Don't forget that different products work differently on different people, so be sure to find one tailored specifically towards type 3/4 natural coils.
How Often Should You Moisturize Your 4C Hair?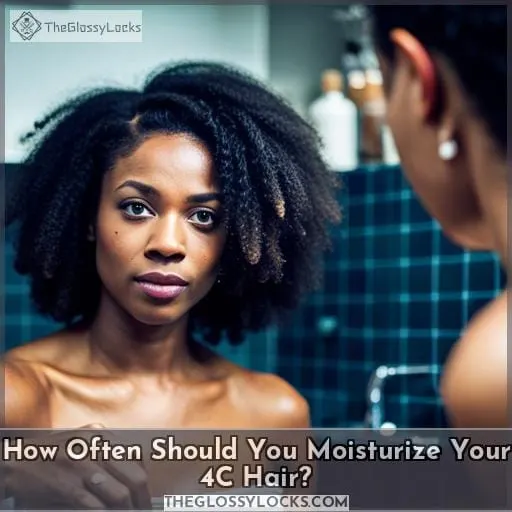 You should moisturize your 4C hair at least twice a week, as regular hydration is key to healthy curls.
Use a leave-in conditioner on clean, damp hair after shampooing and conditioning to lock in moisture.
Spritz water onto dry or lightly dampened hair before styling with natural oils like shea butter, olive oil, or coconut oil to prevent damage from heat treatments and add shine without weighing down the strands.
Deep condition weekly using an intensive mask made specifically for 4C textures—this will help maintain softness and manageability between wash days while preventing breakage due to dryness or split ends.
Try different products based on factors like porosity levels, ingredients used in formulas such as pro-vitamin B5, and absence of damaging chemicals that can strip away natural sebum production from scalp follicles, leading toward brittle locks.
Be mindful about daily versus weekly use depending upon individual needs; if you find yourself needing more frequent applications, then opt for lighter weight sprays than creams instead, which won't weigh your tresses down when applied over time consistently but still deliver necessary nutrients!
With these simple steps and trusty products, you'll be well on your way towards achieving beautiful curl definition while keeping frizz at bay all season long!
Is It OK to Use a Leave-in Conditioner Every Day?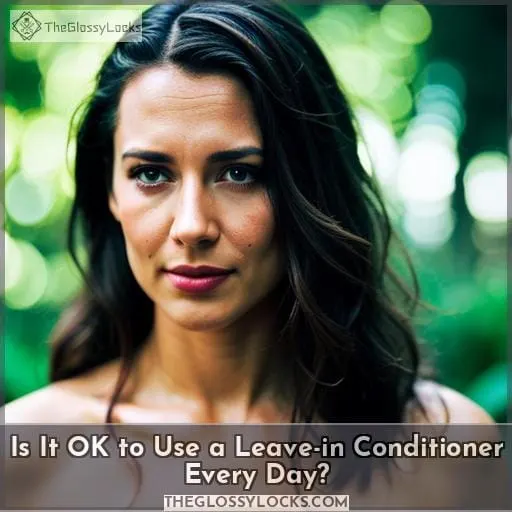 It's okay to use a leave-in conditioner every day if your 4C hair needs extra hydration, as long as you choose one with natural ingredients like shea butter and coconut oil that won't weigh down or damage your curls.
As part of an overall moisturizing routine for curly hair care, using a daily leave-in can help keep your locks nourished all day long. Look for products that contain natural oils such as jojoba, olive oil, or avocado oil, which are great at helping to retain moisture in the strands while also providing shine and softness without weighing them down.
Additionally, incorporate hydrating treatments into your regimen, such as weekly deep conditioning masks with honey or egg yolk mixed into them. These will provide intense hydration and help regulate the porosity levels of each strand so they don't become overly dry between washes, resulting in brittle ends.
For those who prefer something lighter on their tresses, there are lightweight yet effective options too, like Shea Moisture Jamaican Black Castor Oil Leave-In Conditioner & Design Essentials Almond & Avocado Daily Moisturizing Lotion.
Whether you have type 3A curls or type 4B coils, incorporating a daily leave-in product is key when it comes to maintaining healthy curl definition.
Frequently Asked Questions (FAQs)
What are the Benefits of Using a Moisturizer for 4C Hair?
Moisturizing your 4C hair offers many benefits, such as reducing frizz and flyaways, adding shine and softness to curls, preventing split ends, protecting from environmental damage, and keeping it hydrated.
What Ingredients Should I Avoid When Searching for a 4C Hair Moisturizer?
When searching for a 4C hair moisturizer, avoid ingredients like drying alcohols and silicones that can damage your curls. Look for natural oils, shea butter, or other nourishing ingredients to ensure your hair stays hydrated and healthy.
Are There Any Natural Alternatives to Commercial Moisturizers?
Absolutely! Natural alternatives to commercial moisturizers are a great option for 4C hair. From oils like coconut or olive oil to aloe vera gel and shea butter, there's something for everyone.
Are Moisturizers for 4C Hair Suitable for All Hair Types?
Moisturizers for 4C hair are suitable for all hair types, but they may be better suited to those with thicker curls or coarser textures. The incorporation of natural oils and ingredients brings nourishment and protection to any tresses, while the power of Shea butter ensures locks stay lusciously hydrated without feeling heavy.
What Additional Tips Can I Use to Keep My 4C Hair Healthy and Moisturized?
Keep your 4C hair healthy and moisturized by spritzing water before styling, using a leave-in conditioner every two days, applying a deep conditioning mask once weekly. Exfoliate the scalp for an optimal routine, and avoid heat treatments. Also, wear protective hairstyles to prevent damage.
Conclusion
So, when it comes to finding the best moisturizer for 4C hair, it's important to go beyond the surface and consider factors like hair type, porosity, ingredients, and formula.
With so many products on the market, it can be overwhelming to find the right one. To make life easier, we've put together a list of the top 10 moisturizers for 4C hair that will help you get the soft, nourished coils you've been looking for.
From Shea Moisture Curl Style Milk to Design Essentials Conditioner Rosemary Mint, each of these products can help you achieve the perfect balance of hydration and manageability.
So, don't be afraid to take the plunge and try something new. With the right product, you can finally say goodbye to dry, frizzy hair and hello to beautiful, healthy curls!