This site is supported by our readers. We may earn a commission, at no cost to you, if you purchase through links.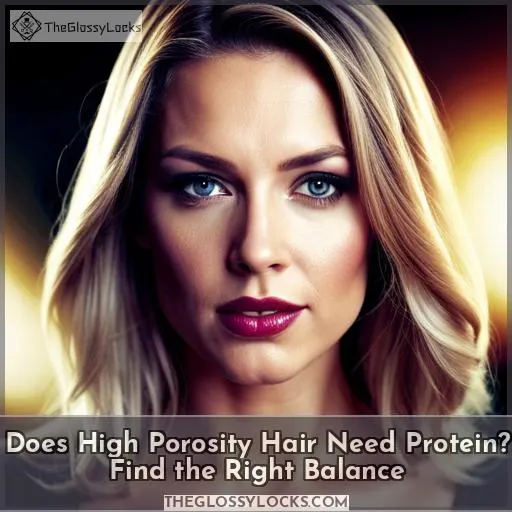 Do you have high porosity hair? If so, it's important to know the role of protein treatments in order to maintain healthy locks. Many people with curly and kinky hair struggle with this challenge due to its unique needs.
Does high porosity hair need protein? Understanding the importance of proteins for different types of porosities can help you find a balance that will keep your mane looking and feeling beautiful.
Knowing how much moisture versus protein is needed for individual strands, as well as tips on caring for your mane, are all essential parts in getting gorgeous tresses.
In this article, we'll explore why proteins are beneficial specifically for those with high porosity hair and discuss ways on how best to incorporate them into your haircare routine.
Key Takeaways
High porosity hair requires a balance of protein and moisture.
Hydrolyzed keratin is suitable for high porosity hair.
Protein treatments help fill gaps and reduce frizz.
Experiment with dosage and types of products.
Does High Porosity Hair Need Protein?
Are you searching for the perfect protein treatment to address your high porosity hair? With ApHogee Intensive Keratin Reconstructor, Mielle Organics Babassu Mint Conditioner, Giovanni Smooth Silk Protein Hair Mask, Aubrey GPB Conditioner, and Paul Mitchell SuperStrong Conditioner at your fingertips, there is a product suitable to help restore strength and shine while maintaining healthy moisture levels.
Let's delve into these products in more depth so that you can determine which one is best suited for your needs.
ApHogee Intensive Keratin Reconstructor


View On Amazon
For damaged and colored hair, Aphogee Intensive Keratin Reconstructor can help strengthen strands while protecting them from breakage and split ends. It is formulated with green tea extract for antioxidant protection. This protein treatment doubles as a sculpting gel to add body for easier styling.
Suitable for all hair types from 3A to 4C curls, it is vegan-friendly and cruelty-free with no parabens or phthalates added. Reviews indicate that users often experience thicker and healthier hair after using the product.
However, some have reported variations in product scent or packaging seal due to changes in the formula over time.
This conditioner works well before relaxing treatments as an extra nourishing protective layer against damage.
Prevents breakage and split ends
Adds body and easier styling
Vegan friendly and cruelty free
Changes in product scent/seal due to formula updates
Not suitable if you're sensitive towards scented products
Mielle Organics Babassu Mint Conditioner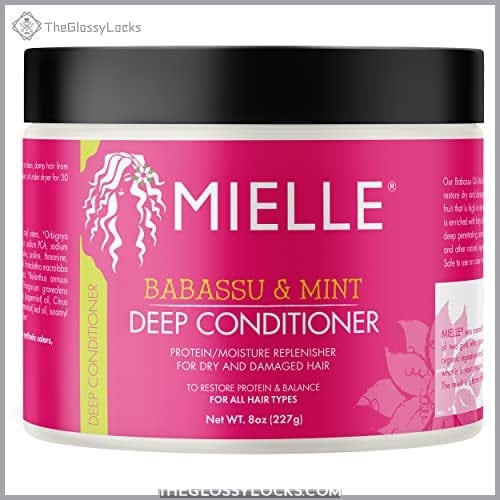 View On Amazon
Mielle Organics Babassu Mint Conditioner pampers your tresses with its luxurious, nutrient-rich formula like a soothing balm. This conditioner doubles as a sculpting gel and offers gentle organic ingredients for natural beauty enhancement.
With babassu oil sourced from South America to nourish hair and scalp, complex amino acids that penetrate follicles to promote healthy growth, plus shea butter and vitamin-rich oils for added protection – this conditioner is suitable for all hair types from 3A to 4C.
Its refreshing scent makes styling easy while providing great slip properties that make detangling effortless.
Vegan Friendly & Cruelty-Free
All Hair Types – 3A To 4C
Luxurious Nutrient-Rich Formula
Refreshing Scent For Easy Styling
Great Slip Properties For Detangling
Stimulates Scalp Growth & Hydrates Hair
Slight Spillage Issue With Packaging
Strong Fragrance May Not Be Suitable For Sensitive Users
Giovanni Smooth Silk Protein Hair Mask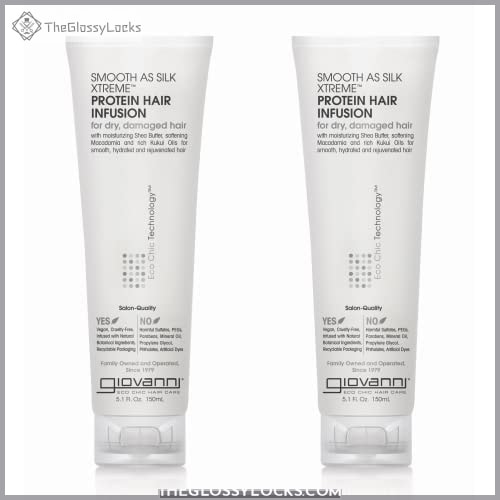 View On Amazon
Giovanni Smooth Silk Protein Hair Mask is a luxurious, vegan-friendly formula that helps repair and nourish severely damaged hair. Enriched with shea butter and vitamin-rich oils, this color-safe cream works wonders on all types of hair from 3A to 4C.
With great slip properties for easy application and moisturizing benefits, the mask penetrates deep into each follicle while restoring lost moisture. It also repairs split ends and reduces shedding for noticeably healthier locks in just two uses! Its clean scent adds an extra layer of luxury without being too overwhelming or artificial smelling.
However, there are some issues with this product. Users have reported an unpleasant smell, which suggests it may be past its shelf life date when purchased – although Giovanni does use natural ingredients, so this could be part of their signature scent profile!
There has been some confusion over the consistency, which is creamy but goes on light like a serum rather than your standard thick conditioner – not ideal if you were looking for something more leave-in focused either!
Finally, despite having multiple beneficial effects upon application, users should note that it isn't actually designed as a leave-in treatment – meaning you need to rinse out after 8 minutes maximum, otherwise risk damage due to protein overload from leaving it in longer than necessary.
Reduces shedding & split ends
Deeply moisturizes & repairs severely damaged hair
Suitable for textured/coarse hair types
Color safe & paraben-free UV Protection
Refreshing scent
Unpleasant smell
Confusing consistency
Not suitable as a leave-in treatment
Aubrey GPB Conditioner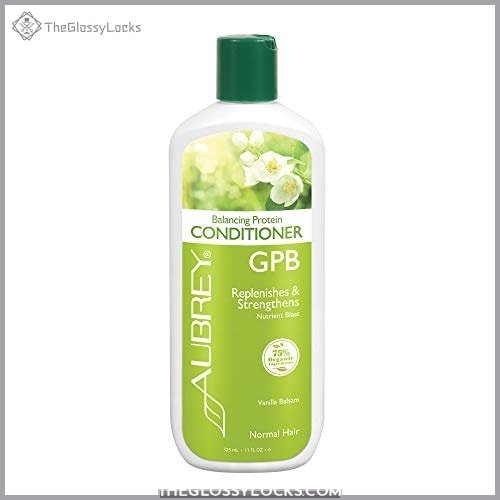 View On Amazon
Let Aubrey be the answer to all your protein-laden prayers! This conditioner is specifically designed for weak and damaged hair, using fortified ingredients like glycoprotein and milk protein. It will replenish moisture, restore softness, add shine, and provide a monthly protein boost – plus it's vegan-friendly with organic aloe & shea butter.
Aubrey GPB Conditioner has something special in store for each type of hair. From 3A to 4C curls, all can benefit from its nourishing properties. You'll find yourself amazed by how silky smooth your locks feel after use! Thanks to its silicone-free formula that is free of parabens, phthalates, or gluten, you won't have any worries about harsh chemicals damaging your scalp either.
It's easy enough even for busy folks who don't have time on their hands. Just apply it onto wet strands, leave it on for up to two minutes before rinsing off thoroughly – giving thinning areas an extra dose of proteins if needed along the way towards a healthier look overall! But keep in mind that some users might experience limited slip when detangling, so make sure you always follow directions carefully as this product may not be ideal in those cases.
Improved Hair Texture: Helps detangle hair and reduce shedding with extended application time
Protein Boosts: Suitable treatment option for those facing issues such as alopecia or significant loss
Restorative Benefits: Improves texture, especially dyed, aged, or stressed out strands
Essential For Maintenance: Works well, especially on thick curly types; an essential part of any healthy routine
Monthly Protein Boosts Recommendation: Especially suitable when looking into strengthening curls
Limited Slip When Detangling
Sticky Consistency
Unpleasant Herbal Scent
Becoming Hard To Find At Reasonable Price
Product Formula Changes Noted By Some Users
Not Ideal For Easy Detangling
Paul Mitchell SuperStrong Conditioner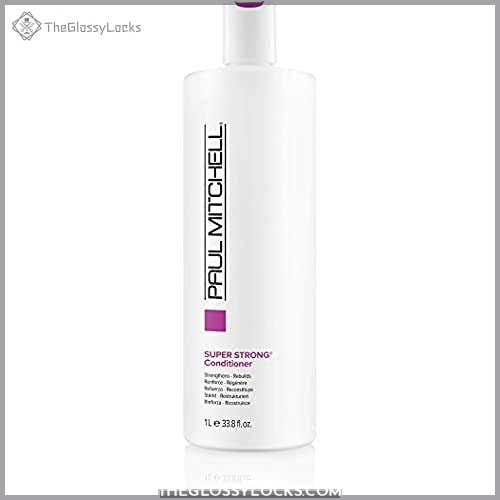 View On Amazon
Experience the power of Paul Mitchell SuperStrong Conditioner and watch it instantly transform your hair into silky, manageable locks. Formulated to penetrate deep into the cortex and rebuild its internal structure, this color-safe conditioner is designed to protect your hair from sun damage while strengthening weak or damaged strands.
With a paraben-free formula that contains UV protection, you'll be able to enjoy lasting effects for normal hair types without worrying about harsh chemicals or irritants. The refreshing scent will leave you feeling refreshed after every wash while added shea butter helps keep your scalp healthy by nourishing it with essential vitamins and minerals.
Plus, Paul Mitchell's Extra Body Sculpting Foam can be used in combination with their conditioners for even more dramatic results! Your fine color-treated tresses will love being left feeling smooth and shiny; those who experience frizziness due to coarse grey hairs need look no further than SuperStrong Conditioner – goodbye bad days spent battling flyaways!
Color safe & Paraben Free
Contains UV Protection
Refreshing Scent
Nourishes Scalp With Essential Vitamins & Minerals
Can Be Used In Combination With PM's Extra Body Sculpting Foam For Enhanced Results
Price Increased By $12 In Two Months
Understanding Hair Porosity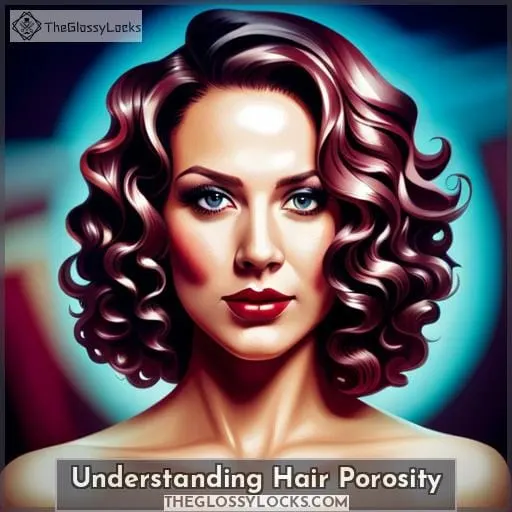 You can determine the absorbency of your hair by understanding its porosity. Porosity is determined based on a test that measures how well water enters and exits the hair cuticle.
The characteristics associated with low-porosity hair include difficulty absorbing moisture and products. High-porosity hair has gaps in the cuticle allowing for easier absorption but also increased dryness.
On the other hand, medium porosity provides an ideal balance between moisture retention and absorption abilities.
Common myths about managing porosities should be ignored. There are better methods to maintain healthy locks, such as hot oil treatments or scalp scrubs to loosen build-up from styling products or pollutants.
For those with high porosity hair, protein treatments would be beneficial. These treatments help fill any gaps present within the cuticles while reducing frizziness due to higher levels of hydration needed for this type of mane.
In contrast, low-porosity hair requires more moderate amounts of protein since too much protein could lead to dryness.
Maintaining a good protein-moisture balance is essential when caring for different types of tresses.
The Importance of Proteins for Hair Porosity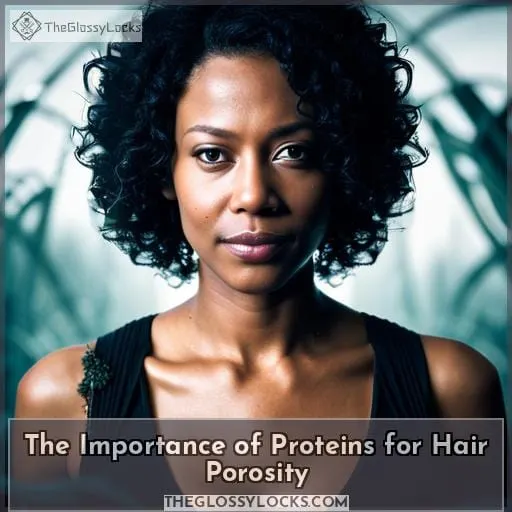 As we've learned, hair porosity has an impact on the resilience and health of our hair. High porosity hair is particularly in need of special attention and care as it lacks protein, which leads to weakness.
Consequently, understanding the role that proteins play in strengthening high-porosity tresses becomes crucial for maintaining healthy locks.
Proteins are essential for providing structure to our strands. Keratin forms a protective layer around each strand, while hydrolyzed proteins fill gaps within them, resulting in increased strength and elasticity.
Protein treatments should be used according to one's individual needs. Hydrolyzed keratin, wheat protein, or silk amino acids are all suitable options. It's important not to overload your mane with too many strong products at once, as this can lead to dryness due to adverse reactions from sensitivity towards certain ingredients or overuse of harsh chemicals present within them.
To maximize success when caring for high porosity strands, it requires balancing moisture with protein correctly. Pay attention to labels when selecting appropriate dosage frequency tailored specifically for your unique needs.
Maintaining Protein-Moisture Balance in High Porosity Hair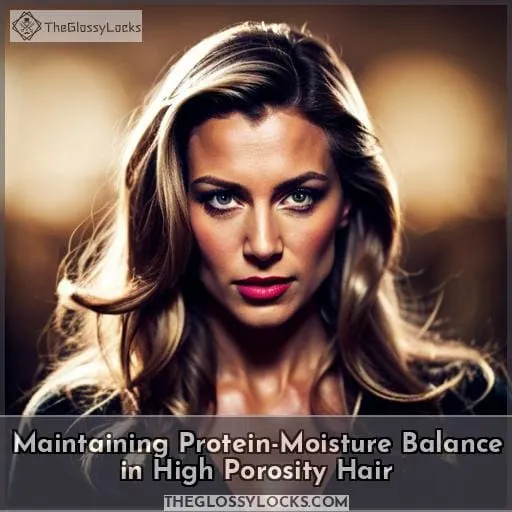 Understanding the difference between moisture and protein is essential for maintaining a healthy balance in high porosity hair. Hydration plays an important role here as it helps to retain vital proteins within the hair shaft, keeping your locks looking smooth and manageable.
The Difference Between Moisture and Protein
Understanding the difference between moisture and protein is key to maintaining a healthy balance for your hair porosity. Moisture helps keep high porosity hair hydrated, while proteins help fill in gaps on the surface of strands to reduce frizziness.
As this type of hair tends to be prone to damage, it's important that you achieve an ideal protein-moisture ratio, which will depend largely on your specific porosity type. Misconceptions about what ingredients are suitable for different types of curl patterns should also be avoided.
Where Does Hydration Fit In?
To maintain a healthy balance of moisture and protein in high porosity hair, it's important to understand the role hydration plays. Hydrating products are essential for preventing protein overload as they help infuse water into the cuticle without disturbing its delicate structure.
Moisturizing techniques such as co-washing, deep conditioning, and hot oil treatments can also be used to lock in moisture. For added protection against breakage and dryness, consider using hydrating leave-in conditioners or serums that contain humectants like glycerin or panthenol.
These humectants attract water molecules from the air into your strands, resulting in increased softness and shine.
With proper hydration strategies in place within your hair care routine, you can ensure optimal healthiness of your high porosity locks while still receiving enough nourishment with proteins!
How to Care for High Porosity Hair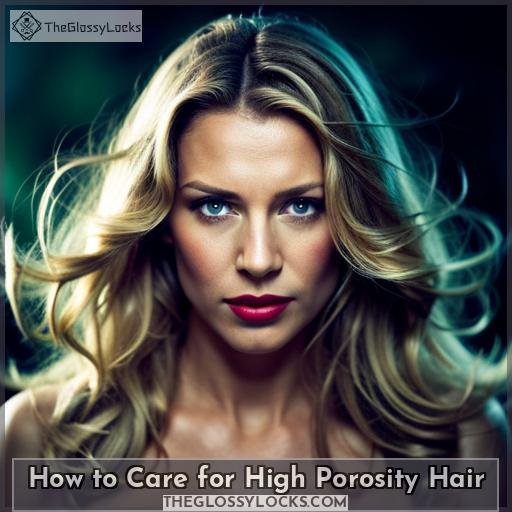 Are you wondering if your hair is high porosity? If so, it's important to understand what this means and how to care for it. High porosity hair has difficulty retaining moisture and can be prone to damage; however, with the right products and techniques, you can keep your strands healthy.
How to Know if You Have High Porosity Hair
If your hair is prone to frizz, tangles easily, or takes a long time to dry, you may have high porosity hair.
Observe texture: Hair with higher porosity appears rough and brittle when wet.
Touch test: High porous strands don't retain moisture as well as healthy ones.
Porometer test: It measures air permeability using hydrostatic pressure measurement technique.
Float Test: Put a strand of clean dampened on the water surface for 10 seconds — it should float instead of sinking quickly.
Burn Test: Place the strand into the fire flame — damaged one will burn out quickly while healthier stays intact before burning away slowly.
Being aware of these tests helps prevent protein overload from using unsuitable products that could worsen damage caused by excessive styling or heat treatment tools usage. A personalized regimen tailored specifically for high-porosity type (such as deep conditioning masks) combined with natural protein sources like egg yolk plus moderate use of leave-in conditioners can help restore balance in this type without overloading the follicles too much.
What Helps With High Porosity Hair
For optimal hair health, personalized care for high porosity strands should include nature-sourced proteins and protein treatments to balance strength and elasticity. Hydration techniques, such as deep conditioning or oil treatments, are beneficial for maintaining moisture levels.
Managing frizz can be done with smoothing products or leave-in conditioners that contain humectants like glycerin or honey to attract water molecules from the atmosphere into your cuticles. Protein-free alternatives like avocado oil, argan oil, and aloe vera gel are also good options if you're sensitive to them.
However, they may not penetrate the cuticle layers as deeply as a protein treatment would, so it's important to use them in combination with other moisturizing ingredients.
Lastly, dispel any misconceptions about high porosity hair being dry all the time by using rich hydrating hair care products formulated specifically for this type of porousness.
Does Low Porosity Hair Need Protein?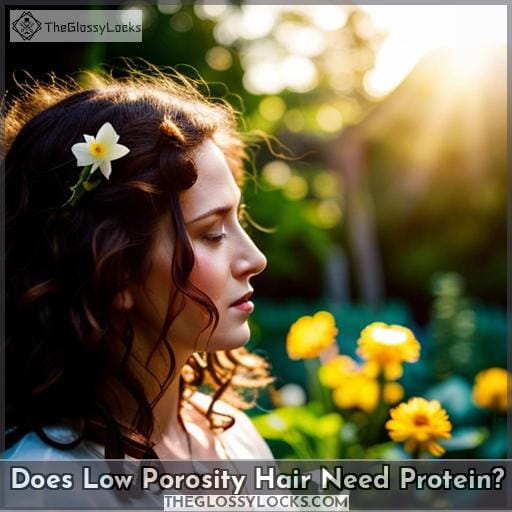 Discover how to nourish the strength of your hair with protein tailored to its porosity. Low porosity hair requires a moderate amount of protein for optimal health, but too much can lead to dryness. Protein treatments like keratin and wheat protein are beneficial as they provide extra structure and elasticity while preventing breakage.
Hydrolyzed proteins work best for low porosity hair, allowing it to absorb more easily without overloading the strands with moisture or product buildup.
For high porosity tresses that need help maintaining balance between moisture and proteins, look into nature-sourced ingredients such as hydrolyzed keratin or silk amino acids which can fill gaps in porous strands while reducing frizziness from excess hydration absorption.
Finding the Right Balance: Does Your Hair Need Protein and Moisture Together?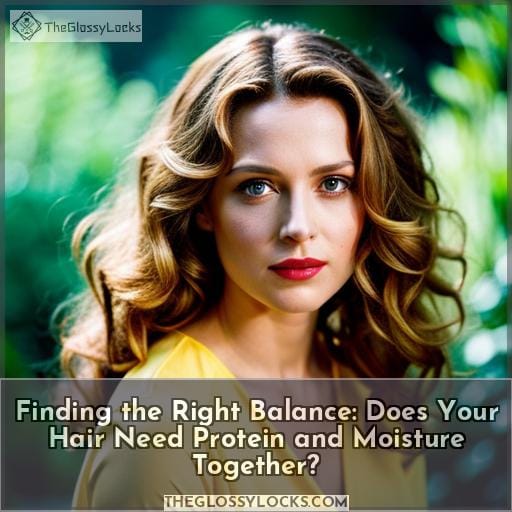 Hair porosity is an important factor when it comes to hair health, and understanding how protein and moisture interact can help your hair stay strong. For high porosity hair in particular, a balanced regimen that incorporates both elements is key for creating resilient strands.
The right combination of protein treatments with hydration techniques can help fill gaps in the cuticle layer and reduce frizz caused by excess heat or chemical damage. When using protein treatments on high porosity hair, pay close attention to product labels as dosage will vary depending on the type of treatment you use.
Some treatments may be too harsh for certain types of curls if used more than once per week.
Hydrolyzed keratin works best for this type of texture due to its ability to penetrate deeper into the strand structure compared to other proteins like wheat or silk amino acids, which are better suited for low-medium textures.
Additionally, those with sensitive scalps should do a patch test before trying any new products as overloading your tresses could lead to dryness or breakage over time from excessive buildup residue from frequent usage.
It's also essential that one pays attention to their individual needs when crafting their own personalized care routine rather than relying solely on what works well for others. Experimenting with different ingredient combinations while tracking results helps create desired outcomes tailored specifically towards unique requirements such as lifestyle habits, climate conditions, and overall goals.
With patience and dedication combined, it's possible for even difficult cases to achieve beautiful, healthy-looking results through customizing an effective regimen.
Conclusion
Do you know how to find the right balance for your hair porosity needs? High porosity hair benefits from a combination of protein and moisture treatments, as the protein helps to fill in gaps and reduce frizz, while the moisture helps to protect the hair shaft from damage.
Low porosity hair, on the other hand, should be treated with protein in moderation. It's important to experiment with different products and tailor your hair care routine accordingly. Maintaining the protein-moisture balance is essential for ensuring healthy and strong hair.
With the right balance, you can enjoy beautiful, healthy hair!