This site is supported by our readers. We may earn a commission, at no cost to you, if you purchase through links.
Some hair clippers sometimes work better on specific hair types. For instance, black men have thicker hair that is sometimes curled or ingrown. So a simple clipper certainly won't do the job, so you'll need a stronger one that can handle the particularities of your hair.
Let me help you find the best clippers for black men, and I've explained the features and pros and cons of several great clippers on the market today below!
These tools give you a close shave, but they're also made to help you help to cut hair quickly and easily.
All men's grooming products are rated based on key features, including the power source, run time, water resistance, length settings, dimensions, warranty, attachments, and extras, to name a few.
How to Choose the Best Clipper for Black Men
Before buying a clipper, let's go over a few features of the right clipper. These will determine many factors, including performance, durability, and convenience.
The following features can distinguish between a pleasant and unpleasant shaving experience.
The Motor Power
In any hair clipper, the motor means everything. Because it affects almost all aspects of the clipper, including:
Performance
Power
Noisiness
Heating
Convenience
Speed
Durability
Shaving comfort
Therefore, this should be the first thing you look for when looking for the best clippers for black hair.
There are three types of motors available: rotary motor, magnetic motor, and pivot motors. Each has its advantages and disadvantages.
For example:
Pivot motors are powerful but have lower blade speeds. Rotary motors can dash, but they also wear out quickly. Magnetic powerful motors are robust and deliver high blade speeds, but most also have heat issues.
High-Quality Blades
The most important feature to look for in a clipper is the blade. The quality, material, proximity, etc. It is like the control equipment of a clipper. You need to know whether you are looking for titanium, stainless steel, or a carbon blade.
The stainless steel blades are probably the most used and preferred and go back to the first electronic clippers. However, high-end companies have introduced new carbon steel for the improved clippers because they are more durable than their counterparts.
Design and Comfortability
Indeed, good design doesn't always make for effective clippers, but luck never hurts. A poorly designed product which one would you choose? Do you see what I mean?
In addition, it is always better to buy a clipper with the most comfortable grip and easy access to the functions to make work easier on long days.
Waterproof
We suspect that most of your own hair care activities will occur in the bathroom. This allows you to be near water and not exclude splashes. The last thing you need is a clipper that will stop working if it comes into contact with a few drops of water.
Choose one that is waterproof to avoid the above scenario. If you buy a waterproof clipper, you can also run it through water after use for easy cleaning. But make sure not to immerse the device in water for too long as it may damage the device. Most of the models on our list, like the Oster, are waterproof.
Cordless or Corded Clippers
Thanks to lithium-ion batteries that contain a load much better than other types of rechargeable batteries, cordless beard trimmers are now a feasible option.
However, you still want to pay attention to the battery's life so that your clippers don't hit the middle of your juice. The battery's life in cordless clippers is essential to consider because hair clippers for black men need a more extremely powerful motor to get the job done.
If you don't mind staying connected while you trim your own hair, there are still countless moral trimmers. You have peace of mind to know that your clippers no longer have battery power and offer a consistent performance level.
Accessories
If you are a professional barber with many hair types every day, you need various tools and accessories. People with curled, ingrown, or coarse hair have attachment combs of different sizes. Another essential accessory to consider is the cleaning brush.
Length Settings
The clippers you buy should meet your length requirements.
This is the only way to make sure you get the most out of your purchase.
So make sure these have all functions. Guide combs you need and if you have to buy them separately, make sure the guides are readily available.
Noise level
Shaving doesn't have to be a noisy affair. If you don't want to wake up your family while shaving in the early morning hours, choose a silent clipper. Determine the noise level of the clippers before making your final purchase.
10 Best Clippers for Black Men of 2023
Now that you know what to look for in the best clippers for African American hair, here are my top five recommendations. You really can't go wrong with any of these. It's just a matter of preference and price.
Please note that these are in no particular order, so be sure to read all the details for the best-informed purchase decision.
1. Oster Classic 76 Universal Motor Clipper

View On AmazonThis men's hair clipper from Oster is considered one of the best clippers for black men. Some professionals even consider it the best hair clipper for black men. Shaving with this device is a cinch, thanks to the powerful motor. Although the engine is powerful, you will appreciate how quiet it runs. You don't have to worry about waking your family if you decide to shave while everyone else is sleeping.
Choose this model if you are not a fan of cordless clippers. The unit comes with an 8-foot power cord which ensures easy use. You can operate it without getting too close to the power source.
Oster Fast Feed adjustable pivot motor clipper is a versatile appliance used on wet or dry hair. And in both cases, you can expect seamless performance.
The oster fast feed adjustable pivot motor clipper has an ergonomic design that ensures easy and comfortable shaving operation. This is also due to the comfortable grip that the clipper offers.
You can adjust the settings of this clipper to the desired cut. It has four guide combs of different lengths.
In addition to the clipper, you will also find a blade guard, blade oil, and a cleaning brush.
Some users noticed that it pulls on the clipper—hair while shaving. Just be sure to lubricate it regularly to ensure optimal performance every time.
Also, the protection can sometimes come loose during use. To avoid this, make sure you shave forwards and not backward.

Quiet operation
For dry and wet hair
Comfortable grip
Surveillance design questionable
Can pull hair
2. Wahl Professional 5-star Cord/cordless Clipper #8148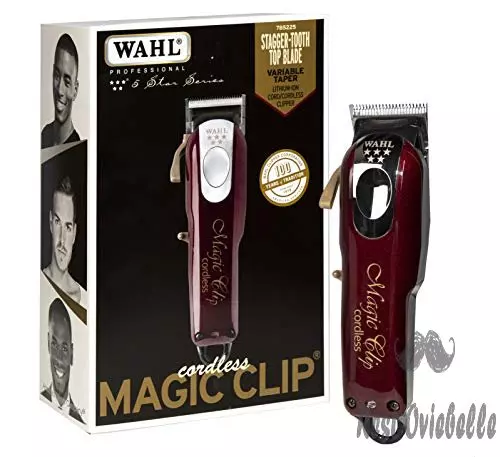 View On AmazonWahl professional 5-star magic clip has the highest precision blade (stagger-tooth2161) that allows professionals to trim the coarsest and wildest beards with ease and efficiency. The needs of professionals.
However, in today's world, where we hardly have time to organize our daily activities, going to a barber seems like a lot of work.
Luckily for us, with the Wahl professional 5-star magic clip, the hairdresser for us. Plus, the no-overlay technology and wahl cordless magic clip design mean you can get a professional cut in the comfort of your own space. Ensures that the mixing and blurring process is carried out effortlessly and with the highest accuracy.
In addition, the Wahl cordless magic clip is equipped with a whisper-quiet pivot motor and a crunch blade that gives a precise textural cut. This versatile clipper allows a very professional cut with a ½ and one protection that gives a natural fade. You don't know your way around in a clipper.
The wahl professional 5-star magic clip comes with a charging cord, oil, brushes, cleaning equipment, a charging stand, etc.
There's more:
The clippers not only come with a solid lithium battery that lasts about two hours but also has a charging cable in case the battery runs out.
If you forgot the charge of your clippers, you just need to connect it to the wire and continue cutting your own hair.
However, you will notice the battery life, which becomes noticeable after a few uses. Is.

You can use this clipper corded or cordless.
Provides the highest professional accuracy.
It has a sharp blade that gives a textured look and a professional fade.
The battery lasts 90 minutes.
The smooth tapered handle allows for effortless blending and blending.
You have to be extra careful with the blades as they are extremely sharp, and you can get injured if you are not a professional.
Battery life will decrease after first use.
3. Remington Hc4250 Shortcut Pro Self-haircut Kit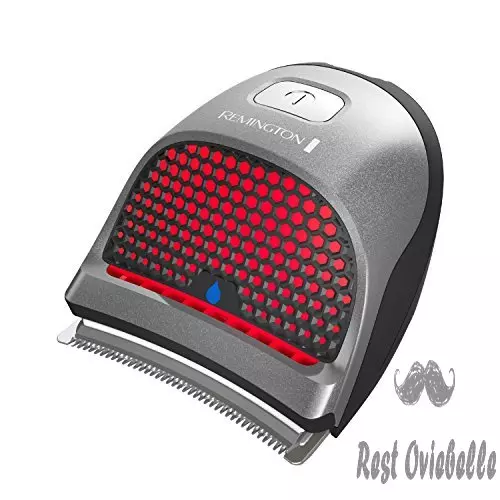 View On AmazonCompared to the Oster Classic 76, the Remington HC4250 looks about as modern as possible. It looks compact and fits in the palm of your hand with an ergonomic grip.
You will also notice that the Power Curve stainless steel blades are extra wide and fit perfectly to the contours of your head. It makes cutting black hair on the back of your head and around your ears a breeze.
You can use it on the wall or as a cordless trimmer for versatility. It only works for about 40 minutes after a four-hour charge when used as a cordless clipper. So charge the trimmer after every use or use the five-minute quick charge function.
The battery provides a decent amount of torque and power, so don't worry about the Remington not being able to trim your hair.
Men who prefer low-maintenance clippers will be happy to hear that cleaning the Remington is a breeze. After each use, you can run it underwater without worrying about damaging the clipper.
The accessory pack includes nine attachment combs with length guides, lubricating oil, a cleaning brush, and a storage pouch.

The innovative curved design makes trimming black hair a breeze.
It's easy to clean because it can be submerged.
It's affordable.
The short playing time of 40 minutes is disappointing.
4. Philips Norelco Multigroom Series 7000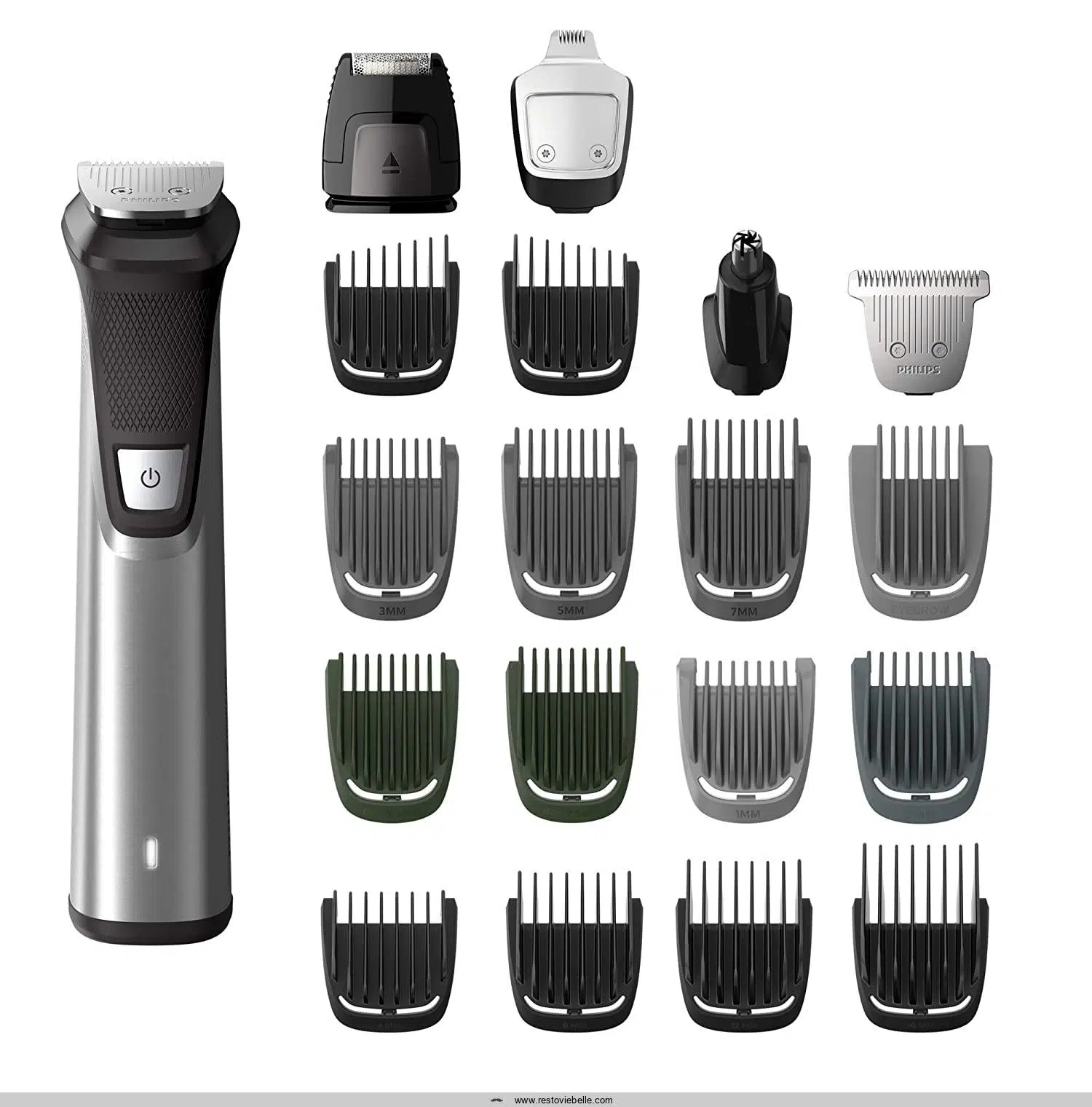 View On AmazonThe Philips Norelco MG7750/49 comes with shaving variants to suit your shaving needs and choices. With all 23 trim pieces, you don't have to switch from one style to another.
The Philips Norelco complements the credibility of the Norelco brand. It can easily turn your own hair cutting day into a party. That said, I find it hard to fault this afro hair clipper. It is also certainly one of the best clippers for fading black hair.
In terms of hair shaving and balding accuracy, manufacturers arm the product with DualCut technology; this speeds up the whole shaving process even more. With this feature, you will have no wet or dry shaving problems!
Unlike the thin shaving and weak competition base, this Philips Norelco MG7750 holds its guards firmly while trimming.
0]The product measures 2.36 x 5.91 x 10.83 inches (yes, it's quite handy!). It weighs just over 0.93lb and appears smaller than the competition. This is one of the best hair clippers for afro hair.
What I find problematic about the product is the length adjuster.

With its 23 shaving items, this clipper is considered one of the best clippers for black men.
The product has a high battery capacity and a very long life.
The DualCut technology is an effective way to shave/go bald. Function.
It has a strong razor blade and a strong base.
The product guards do not swing, despite heavy shaving (wet or dry).
It is a lightweight clipper with an easy-to-handle shape.
The length adjuster is difficult to use.
Some blanks are not easy to replace.
5. Andis 01557 Professional Master Adjustable Blade Hair Clipper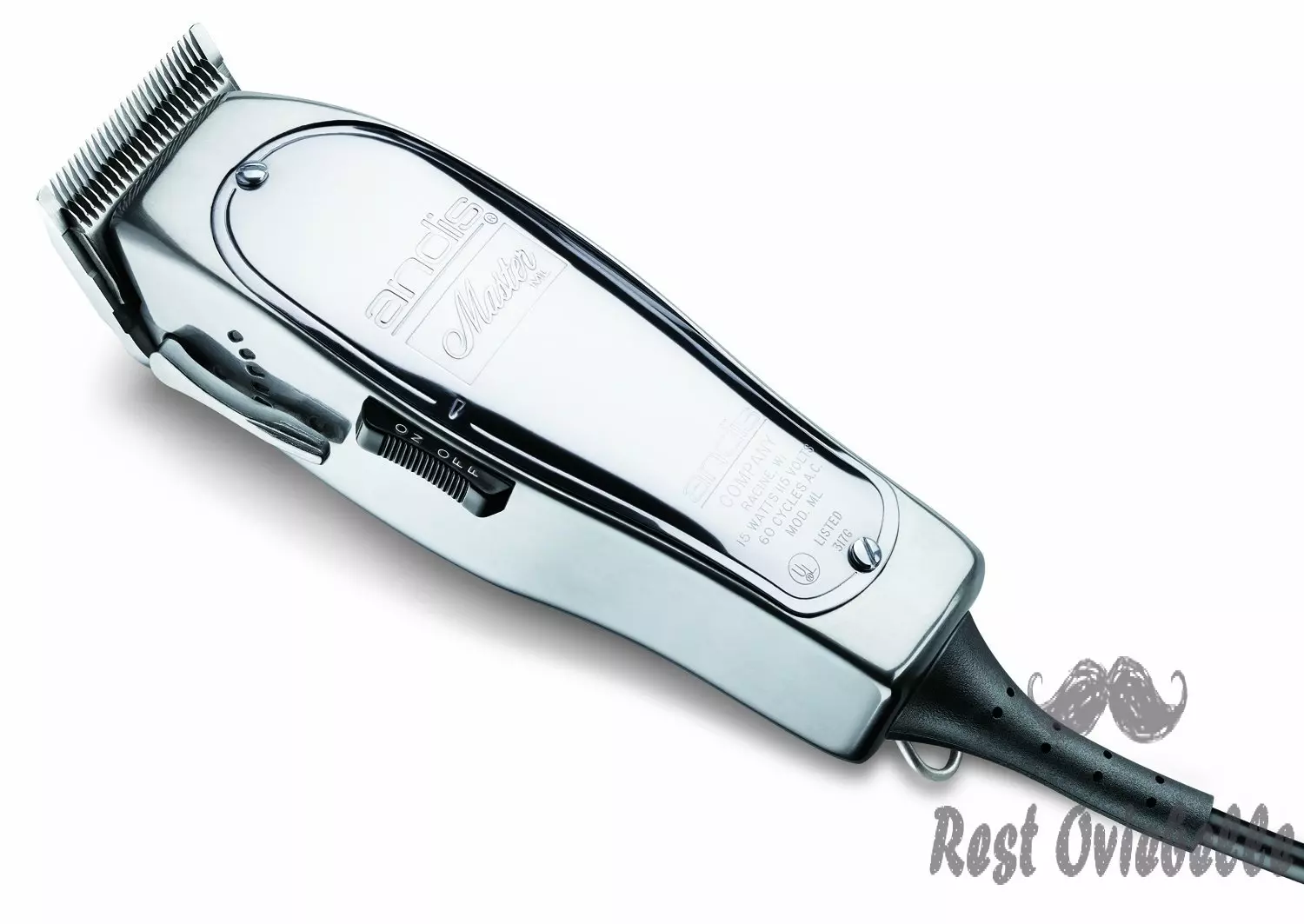 View On Amazon
For our best pick, we present this Andis clipper. Due to its versatility, you can use it for cutting and tapering powerful. It is considered the best Andis hair clipper for black men.
We are impressed by the extremely powerful motor on the clipper, which is designed to generate 14000 cuts per minute. You'll be done trimming your beard in no time.
The clippers have a sturdy construction; it is made of lightweight aluminum but quite sturdy. The chance that the device will break during use is improbable. This tool lasts a long time.
Note that the case is quite slippery, which means that the device can slip while shaving.
You want to do this for convenience. Be happy to know that the clippers are adjustable. Do you want to cut fine or coarse hair? Simply set it to your desired preference.
This clipper is also very easy to operate. You can easily operate it with the thumb-operated side switch that you can operate with one hand.
The manufacturer has included a user manual with the product. We strongly recommend that you familiarize yourself with the operating instructions before using the device to avoid damage. Also, be sure to lubricate it before each use for smooth operation.
The manufacturer is confident in their product; they have a one-year warranty.
Keep it. Please note, however, that this device is intended for dry use only, as it is not waterproof.

Lightweight
Easy to operate
Sturdy
6. Philips Norelco Hair Clipper Hc7452/41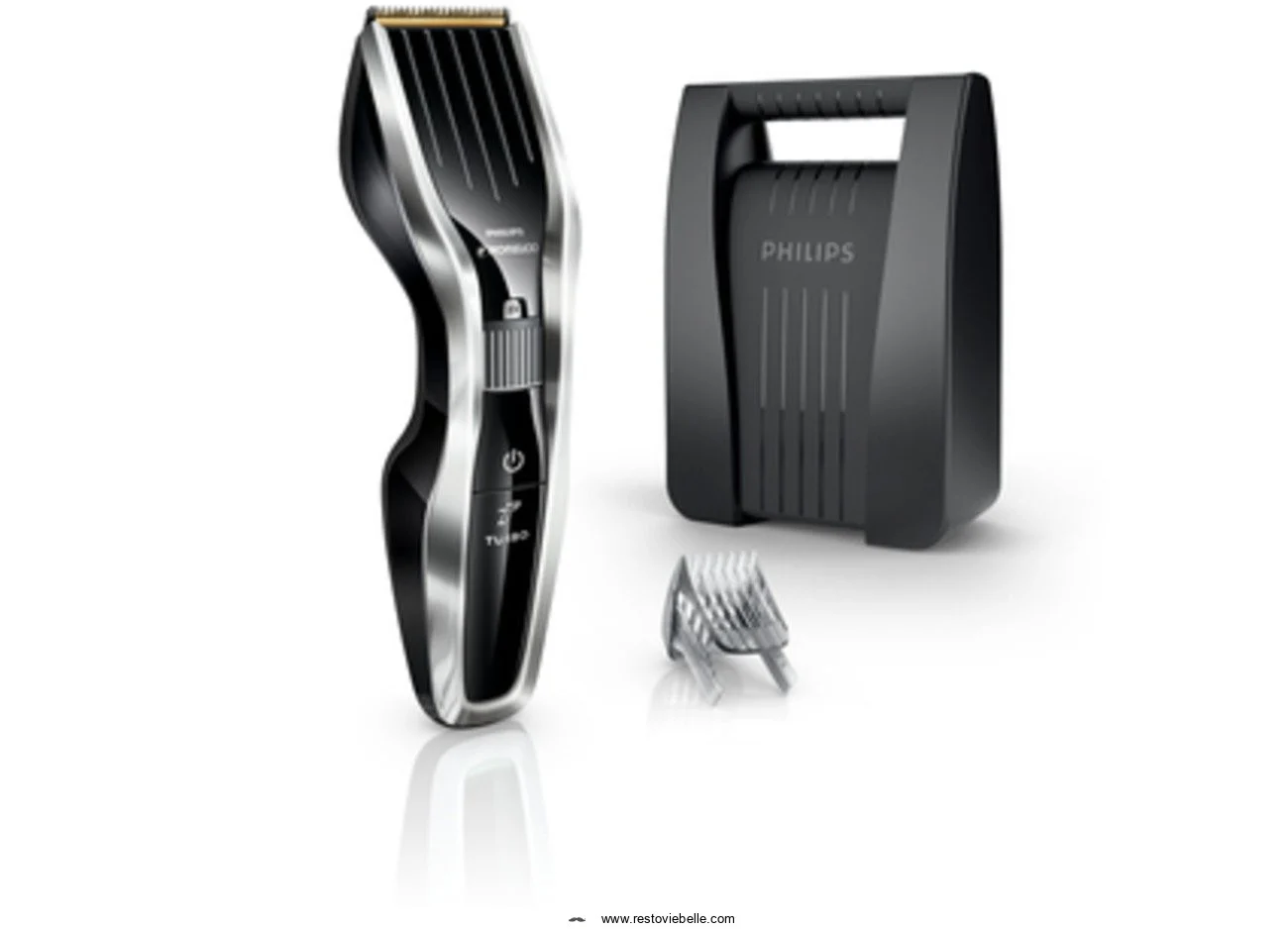 View On AmazonIn addition, it is a unique cordless clipper that offers 120 minutes of battery life. You can now cut your hair comfortably without worrying about cords and wires and current availability.
The most outstanding feature of these clippers for black men is the Dual Cut technology, which ensures that your hair is twice as fast. Imagine combining this technology with low-friction technology.
That's right! Thanks for the fast, robust stainless steel protective cap.
It cuts faster and ensures maximum skincare addition, and the Philips HC7452 has a powerful and long-lasting lithium-ion battery that allows it to work. Up to 120 minutes cordlessly. After that, you can still use it by plugging in the charger.
Finally, you can adjust different lengths with just one comb. Ranging from 1mm to 23mm, you can easily change the length you want and lock the settings for hassle-free and easy use.

Thanks to the cordless technology, you can use the clipper comfortably.
It runs for up to two hours on the battery, after which you can connect the charger for continuous use.
The unique feature of the Dual Cut technology ensures a faster, safer cut.
It is equipped with washable high-quality blades, so you don't waste hours cleaning the sink yourself.
The turbo on/off button increases speed and allows you to cut through the coarsest hair. To cut, making it perfect for back hair.
The single comb function with a different cutting range ensures hassle-free and comfortable use.
The size of the steel blade guard is quite large, making it difficult to trim the hair around the smaller areas such as the nose and back of your ears.
7. Wahl 5-star Balding Clipper 8110
View On AmazonNot to be confused with the Wahl 5-Star Magic Clip, this wahl clipper is specially made for men who want to achieve the most precise cut possible. It's the closest thing to shaving your head with a razor without solving the irritation a razor can cause.
Thanks to the self-sharpening blades, you can easily cut your hair to 0.1 mm. The electromagnetic motor also cuts at twice the speed of a swing motor, ensuring a precise cut with just one pass.
Please note that when I say the hair clipper blades are super sharp, I mean it. They are almost too sharp, so you have to avoid cuts and nicks. Take your time and use fluid movements! Otherwise, you might be wearing a hat instead of your light shade or bald look.
It's a corded clipper, supplied with a 6-foot professional cord, so you don't have to worry about the cord falling apart after just a few uses.
Because it has a cord, you can't clean it with water. Fortunately, cleaning without water is easy. Stick to the brush and lube oil to keep the clipper in top condition.
Even though this is billed as a balding razor, the wahl clipper comes with a decent accessory pack. The clipper comes with two comb attachments, lubricating oil, a cleaning brush, and a blade guard.

Despite being of professional quality, it is affordable.
The super sharp blades ensure a perfect cut that lasts.
The powerful electromagnetic quiet pivot motor provides a close-cut in one pass.
The sharp blades can cause cuts if you're not careful.
8. Philips Norelco 5580/40 Diy Hair Clipper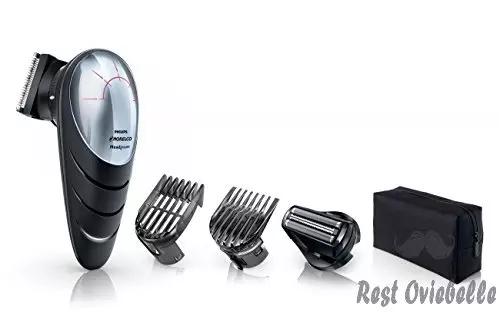 View On AmazonIf you are looking for a more straightforward, simpler, and generally safer option, Norelco 5580/40 is the black male balding clipper you need. This Philips DIY clipper comes with precision-cutting, self-sharpening blades. The bald head attachment will undoubtedly interest you the most.
The Norelco 5580/40 clipper provides a smoother shaving experience. First of all, it is cordless with a battery charge of 60 minutes. Second, while sharp, the blades are not as risky as the Wahl Balding cutter.
Third, all parts are washable. Even a little stubble can hide things in clippers. Typically, cleaning clippers is a big problem, but not with this Philips model.
In addition, Norelco's balding clippers for black men are pretty light and very compact. If you decide (or can) rock a longer or buzz cut, the built-in 14-length adjustment will come in handy. It's also relatively mild on sensitive skin and helps with bumps.
Of course, balding clippers for black hair literally come at a price. This is a more expensive alternative that may exceed your intended budget.
In addition, the engine power is inferior to that of the Wahl model. The Norelco 5580/40 is not as sturdy and does not cut as closely as the 5-star Balding clippers.

The 180 rotating head allows you to shave faster.
The long-lasting performance of the product allows you to cut your hair yourself.
The product is assembled in Hungary.
The razor has a short shelf life.
The product can be pretty expensive due to the quality of the razor.
9. The Panasonic Er 1611 Professional Cordless Clipper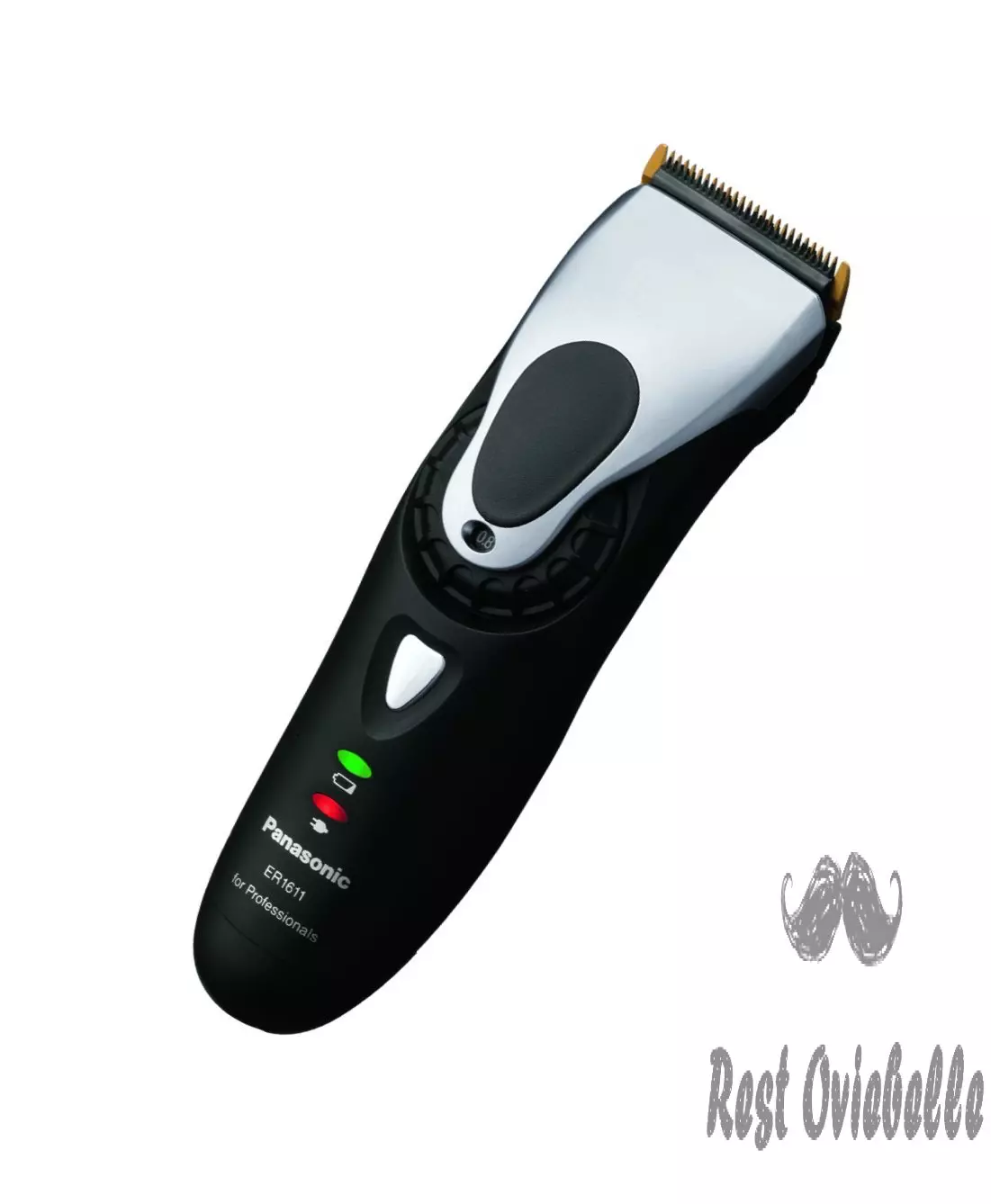 View On AmazonPanasonic is another reputable company, and this device is made in Japan. It has a powerful 10,000 rpm motor that easily cuts through any type of hair. And for such a motor, the noise it makes is relatively low.
The precision blades are angled at 45 degrees, which allows for precise cutting every time, and the shape of the adjustable blade clipper provides a larger cutting surface. Then other models.
You can adjust the cutting length in two ways: either by using the comb accessories with different lengths from 3mm to 15mm, or without using the attachments, from 0.8mm to 2mm.
It can be used cordlessly for up to 50 minutes and needs to be charged for approximately 60 minutes when fully charged.
Long battery life
Powerful motor
Fast shave
Durability questionable
Expensive
10. Andis T-outliner Trimmer Gto (04710)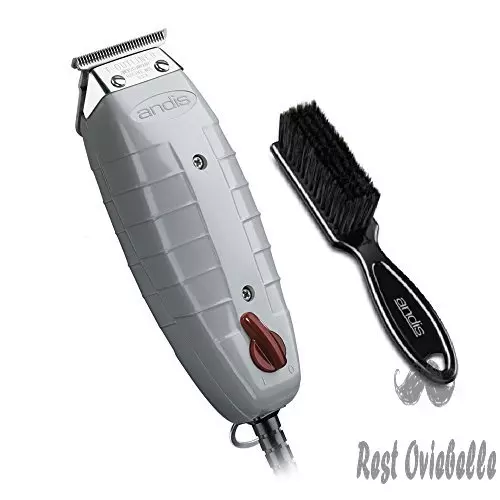 View On AmazonThis is another excellent product from our list of the best clippers for black men. The Andis Professional T-Outliner Beard/Hair Trimmer (04710) is also on our list of professional groomers and clippers for black men (and all races!) Equipped with a hefty blade design, it meets the needs of beard and mustache grooming.
Another credible addition to the Andis brand, the Andis Professional T-Outliner trimmer, was repeatedly factory tested before being released. With this, you are assured of a very durable package! Like any Andis product, this trimmer is perfect for dry shaving.
T-outlining, a favorite look of black men, is the trimmer's specialty. This hair trend is effortless to achieve, thanks to the carbon steel blades!
This Andis clipper model is also relatively lightweight. Measuring 1.8 x 1.5 x 5.2 inches and weighing just 11.2 grams, it has a convenient grip.
HOWEVER, I find it problematic about the product because it overheats quickly. It has a short cord that gets in the way of heavy shaving and grooming.

The T-blade design makes it an ideal fashion maker.
The well-designed adjustable blade clipper allows the product to trim beards and mustaches.
This clipper is super lightweight.
It is pretty durable.
It overheats quickly.
The short cord gets in the way of heavy shaving.
It may be too expensive for its quality.
FAQ about Hair Clippers for black hair
Do you find it challenging to decide which are the best hair clippers for black men? Do they all look the same? Are the features too many to recognize alone? Don't worry anymore! Here are quick FAQs to help you!
What is included in the package?
Each model comes with its own unique combination of tools and accessories. Some include multiple comb attachments, a cleaning brush, scissors, a comb, and even lubricating oil. Others don't have that many accessories, but it really depends on what you need and whether you are a home user or a professional user.
Do Oster or Wahl clippers blades fit into Andis's or vice versa?
Yes, you can fit their blades into the others. You may have a little problem during the first run, but you'll be fine.
Should I Only Focus on Clippers Branded as the Best Clippers for African American Hair?
N0, Manufacturers, blog posts, and friends can recommend brands tailored to your hair type. But never believe that. There is no single clipper intended for just one hair type. What we strive for here is the one that suits your hair. Most likely, you will be surprised to find that there is no best hair clipper.
How often do I need to oil my blades?
It would be best if you oiled the blades after each use. For example, if you're a professional, you may need to oil your knife every day, but if you're using it at home, you can oil it once or twice a week, depending on how you use it.
What oil should I use for my clippers?
Some manufacturers provide small oil bottles that you can use to lubricate your clippers. But let's face it; they rarely last long. When it runs out, there are a few alternatives at your disposal. However, make sure that the oil you choose is lightweight and can withstand high temperatures. Your first option should be to buy natural clipper oil. But if you can't find it, vegetable or olive oil are suitable alternatives. Another option is an oil designed for small machines. It is light enough to use on your clippers for effective performance.
Is the Brand an Assurance to Spotting the Best Hair Clipper?
It depends. While I would personally say no, it's still worth basing the standards on the product brand. However, a balanced approach must be taken: a classic brand can underperform after ten years. It is still advisable to research it, and it can also save you a few bucks!
Is my clipper water-resistant?
This usually depends on the model: some are water-resistant, and others are not. Be sure to read the manual carefully to determine whether or not your clippers are water-resistant. It probably isn't if you don't see this anywhere, so keep it away from water.
Get The Best Clipper For Black Hair
All you need to know about the best clippers for black men.
Do you know which clipper for black men to choose? If you're still unsure, check out our top three picks. The Oster Clipper we chose as our editor's choice is worth considering for its versatility. You can use it on both wet and dry hair. Plus, it works quietly.
I hope you enjoyed reading and picked up on something along the way.
References
malesensepro.com
theapricots.com
wisepick.org
dappermane.com