This site is supported by our readers. We may earn a commission, at no cost to you, if you purchase through links.
Buying one of the best barber clippers is essential because it can mean the difference between a good and a bad haircut. So when you buy a high-quality hair clipper, you want to make sure that they last a long time. One of the most important staples of a barber's arsenal, barber clippers, is key to a good haircut.
You must use high quality and reliable clipper. Your service level as a professional barber depends on whether you can keep your customer.
Every skilled professional understands the importance of the right tools, and finding good hair clippers for your barbershop is no different. These premium commercial grade trimmers are designed to deliver a smooth, clean cut every time, whether you trim the hair on top, fade the sides or outline a hairline or neckline.
It can be tricky to get the best barber clippers because there are so many hair clippers on the market, but here we've listed the best hair clippers in this handy guide. Now you can choose the one that is most suitable for you and the work you need to do.
Things To Consider When Choose Good Barber Clippers
There are so many clippers on the market, so it can be very difficult to choose which one is best for the job. There are also many things to consider before making a decision and buying the best barber clippers.
Here we have put together some things to keep in mind when looking for a hair clipper.
1. Powerful motor
The motor is the heart of a hair clipper. Without a robust, fast motor to power the blades, barbers will get stuck with thick and curly hair, wet and dry. That is why we specifically chose products with specifications that have a high number of strokes per minute.
How embarrassing would it be if a professional barber holds the cutting tool or pulls on a customer's hair and stops trimming halfway through? Fortunately, all the models that made it to our list will not allow you ever to have that problem.
2. Reliability
You need clippers you can believe, so it's a necessity to look for high-quality barber clippers.
These types of clippers will provide you with excellent service for a long time, made of high-quality materials so that they do not break.
If you buy cheap clippers, you will not get the cut you want and will not last long, which means you will have to buy a new one soon.
This is because they are made of cheap plastic material and tend to have cheap motor power that will 'hack' your hair instead of giving it a soft cut.
Strong, durable, and reliable clippers work well and provide you with a cut you can be proud of.
3. Frequency of use
It all depends on your previous experience with clippers. Many products are available that are perfect for home and family use. The high-quality, mid-priced models are perfect for this, as they are not used as often as professionals in the barber business.
For those in the hairdressing industry, you should find a durable and long-acting product that may be a little more expensive, but worth the investment for the service you get.
4. Better design
Ergonomics is a noticeable difference between a barbershop and home clippers. Professional hair clippers are designed to be used all day every day. The structure and weight of the trimmers reflect that need.
Hair clippers for barbers are light and comfortable to hold, while clippers for home use are more voluminous. If you are going to cut your hair, it can be useful to pay a little more and buy a machine that is easier to hold.
10 Best Barber Clippers Of 2023
We have researched and tested the best barber clippers from leading brands. As expected, the best professional hair clippers for barbers are made by companies such as Wahl, Oster, and Andis. These professional barber clippers come with powerful motors, sharp blades, cool designs, a complete set of quality accessories, and affordable prices.
To help you find the right barber clippers for that, we have put together the best barber clippers for you so that you can easily find the ideal clipper for you and without wasting any further time, let's meet them:
1. Oster Classic 76 Universal Motor Clipper
View On AmazonWhat makes the Oster Classic 76 the top-rated professional hair clipper are its powerful heavy-duty motor, super-sharp blades, ergonomic design, and durable housing for long-lasting, premium performance.
With the ability to cut all hair types and the excellent functionality that everyone expects from a clipper, this Oster machine will last for years and remain one of the highest-rated models.
Don't be fooled by the retro look of this hair clipper; everything about this hair clipper is of high quality and made with quality in mind. For starters, the housing is super durable because these hair trimmers will last for years. This hair-cutting machine buzzes easily through wet or dry hair and cuts through all types of hair in one movement.
The lack of complexity is an advantage for novice barbers because the only steps required to use these hair are the clippers they plugin and turn on. The powerful motor and razor-sharp blades will stand the test of time, so you can rest assured it will last as long as you need. In addition, the stainless steel blades ensure a smooth, precise cut.
Although a little pricey in advance, you get a good price in the long run. Just consider this Oster clipper a good investment. Ultimately, the Oster Classic 76 Universal Motor Clipper may be simple and straightforward, but commercial quality and made for both barbers and salons. As the top-rated product on the market, any barber would be wise to buy one.
Ultimate professional clipper
Powerful motor and amazing blade quality
Masculine classic design and sturdy body
Requires some skill
Louder than normal clippers
2. Wahl Clipper Lithium-Ion Cordless Rechargeable Hair Clippers
View On AmazonThis hair clipper is from Wahl, one of the top brands of hair and beard trimmers. They have a run time of two hours and a quick charge time of ten minutes and can be charged for up to a year. They come with a complete cutting kit with multi-sized guide combs, so you can cut different lengths and haircuts for easy and carefree haircuts at home.
This hair clipper contains the self-sharpening precision of Wahl blades, which keeps the clipper sharp for longer, so they don't get caught during cutting. This clipper also has a much faster speed, which is up to 40% more than other clippers, even Wahl's. They also have an adjustable conical handle for easy mixing.
This hair clipper also comes with a five-year warranty and the required voltage 120V / 60Hz. The special features of this clipper are their wireless capabilities. This means you can move easily and reach all angles of the head or beard and perform better. The hair clipper uses lithium for the power behind the cordless unit.

Very long battery life
Self-sharpening blades
Fast charging function for emergency hairstyles
Wide variety of accessories
The included trimmer is matte
Slightly thin build quality
Non-removable hair clipper
3. Wahl Professional 5 Star Magic Clip #8148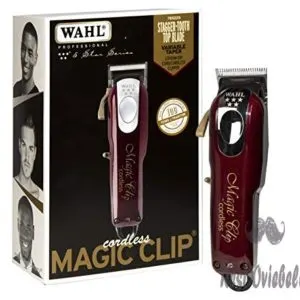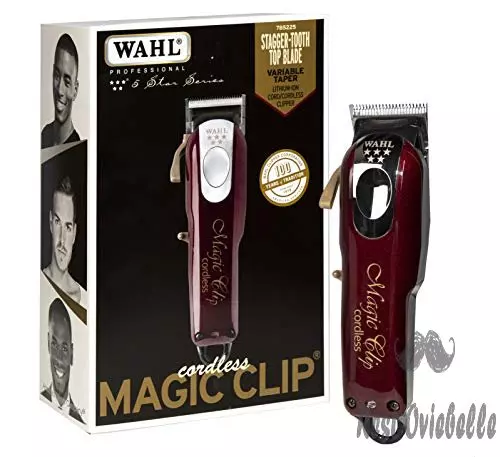 View On AmazonWahl has always made quality products, and its wireless Magic Clip is no exception.
The Magic Clip comes in a standard Wahl clipper. It weighs only ten grams, making it easy to grip and move. To perform his magic, he has a rotating motor that drives a stainless steel # 2161 crank blade with a tugging tooth, a combination that allows him to cut even thick and coarse hair.
You have two options for length control. Eight combs are available, ranging from cutting lengths from 1/16 ″ on the shortest to 1 ″ on the longest. For fine adjustments, there is a tapered lever on the left side of the trimmer that allows you to adjust the blade position. This makes it excellent for blending and fading.
Power is supplied by a lithium-ion battery that gives you 90 minutes of use time after 2 hours of charging. That should be enough for most hairstyles, but if you are short of it, it can be tied too. Just insert the cord into the tail and go back inside. The battery also delivers constant power regardless of the charge level, so you don't have to worry about the battery weakening over time. The other items in the box are the charger, a blade guard and blade oil, and a cleaning brush for maintenance.
There are still some drawbacks, even in a product as good as the Magic Clip. Caution is advised when using the short position on your pointed handle without a comb as the blades are very sharp. You can cut into the skin if you push too hard. The Magic Clip also lacks a battery indicator, which means you have to keep track of how long you cut.
It's hard to find a combination like the Magic Clip has: a powerful all-rounder motor, versatile cutting power, and a long-lasting battery, all brought together in such a super lightweight package.
It doesn't matter if you are a home barber or a professional barber, no, no matter whose hair you cut, you can always count on the Magic Clip.

Works beyond expectations
The battery lasts a long time
Lightweight so easy to hold and use
Terrible battery life
Badly made charger
Not recommended for beards
4. Andis Master Adjustable Blade Hair Clipper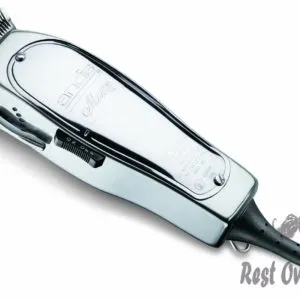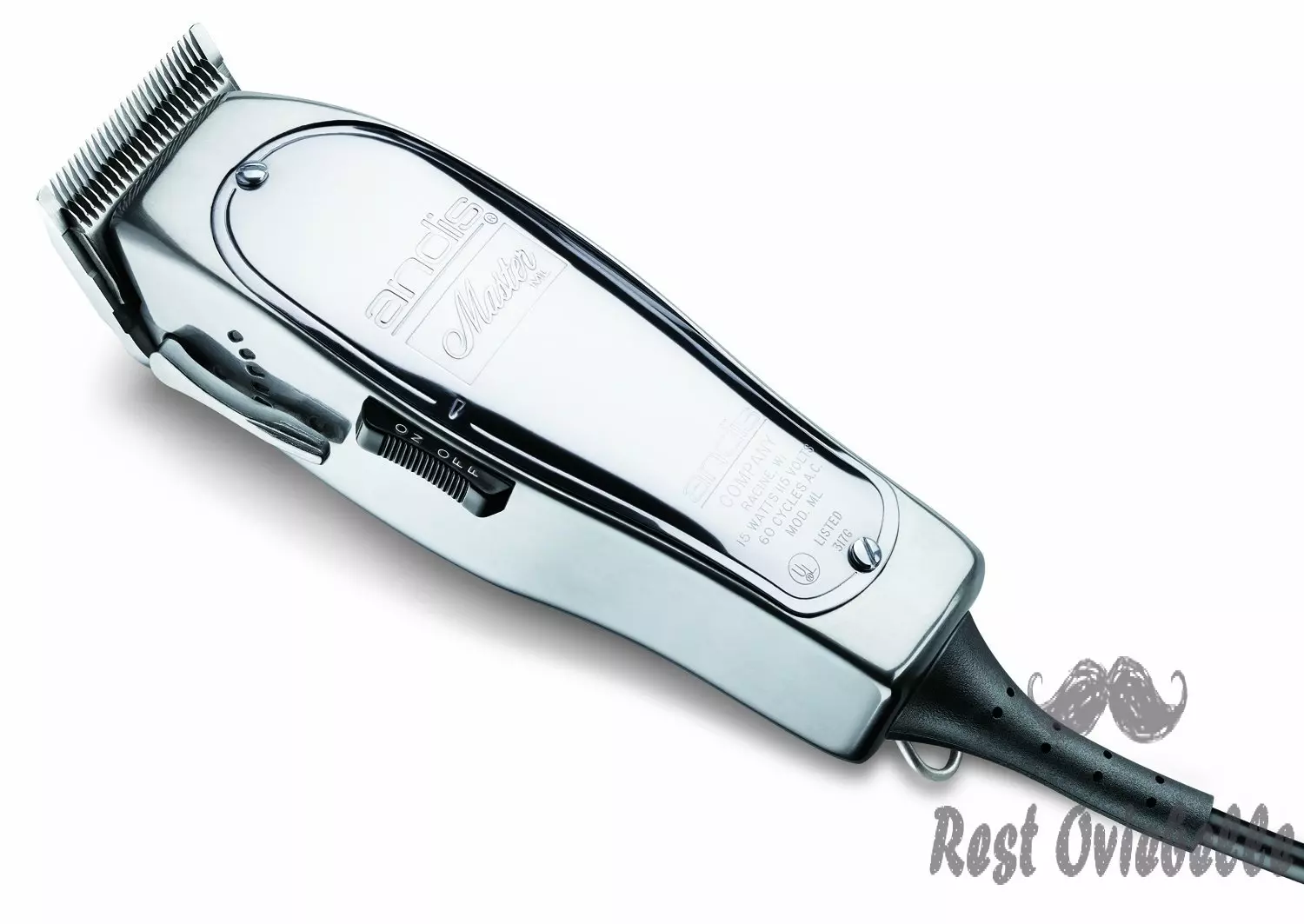 View On AmazonAndis is one of the best-known and best-known brands in the industry. Respected for its high-end products, the Andis Master adjustable knife clipper maintains the company's great reputation.
This Andis hair clipper comes with a powerful, fast magnetic motor, a durable, adjustable carbon steel blade, an intuitive design, and sturdy yet lightweight housing, making it an excellent clipper for professional barbers everywhere.
Cutting is no problem for this machine, with an impressive yet quiet and cool engine running at 14,000 strokes per minute. Equipped with dense teeth on the blade, this model can tackle thick, curly, and fine hair with an agile sharpness that removes the fear of snags, pulling, or nicks.
The single lever on the side fades the blades of the blades. The result is a heavy-duty professional clipper that is great for all-round cutting and conical cutting.
In addition, the Andis Master is made of extra durable, lightweight aluminum housing that can withstand everyday use. The tool looks sharp and sleek and is comfortable to use and long-lasting.
For easy cutting, fading, and sketching, we highly recommend the Andis Master Hair Clipper for barbers and professionals. Expect hairstyles to be twice as fast and twice as accurate. While you will need to purchase a comb set separately, the quality of this tool justifies the price tag.

It features a quickly adjustable blade.
Lightweight, durable housing
5. Wahl Clipper Elite Pro High-Performance Haircut Kit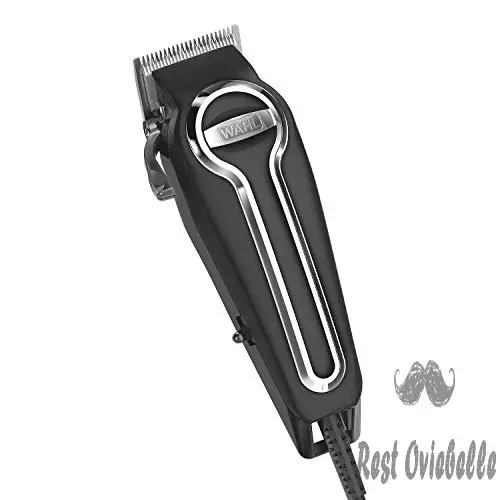 View On AmazonWahl Clipper Elite Pro Again, this clipper set is from Wahl, one of the best brands on the market.
The Elite Pro hair clippers for hair clippers have the longest durability and the most robust engine of the Wahl products. This ensures superior cuts and excellent performance for a long time.
It contains Wahl's best self-sharpening precision blades and stays sharp for a long time and can cut all hair types.
In the kit you get Wahl's stainless steel premium clip design combs, this means you will have a relaxed and smooth haircut.
The material of these guide combs is 70% more powerful compared to other Wahl products and combs.
The Clippers' industrial drive motor is 15% stronger than other Wahl products, indicating that you will have a nice, non-sticking cut.
The hair is also cut 40% faster. Than other clippers from other brands. They also include a movable pointed handle that ensures smooth mixing when cutting hair.
This hair clipper comes with a 20cm industrial H / D cord. This hair clipper is rated as the best hair clipper in Wahl's products for powerful haircuts.

The battery lasts a long time
Works as advertised
Provides great and clean cuts
Provides quiet operation
Not as durable as expected
Dull clippers
6. Wahl Professional Senior Clipper
View On AmazonThis product is designed for professional use only and is made by Wahl, one of the top brands for hair clippers. It is the original electromagnetic hair clipper and is equipped with a v9000 motor. This engine works cooler and faster than other standard clippers.
This means it is perfect for heavy-duty work such as cutting, fading, conical, and mixing without overheating. The motor also means you don't have to put in that much effort as it is extremely powerful and can cut through any type of hair and style. The housing of this product is made of metal and is very durable while also being comfortable in hand. It offers superior control and comfort.
The package for the Senior Clipper also comes with other accessories, such as three comb attachments, cleaning brush, oil, red blade guard, and instructions. The cutting guides included in the package with the trimmer are available in 1/16), 2/16) and 3/16). The cord attached to this hair clipper is 8 feet long and made from professional chemical resistant material. The electromagnetic motor v9000 of this product operates on 120 volts / 60 hertz.

Powerful V9000 engine
Precise and accurate cuts
Different models
No hair pulling
Very solid feel
Vibration
Thin guards
Heats
Gets loud
7. Panasonic ER1611 Professional Cordless Hair Clipper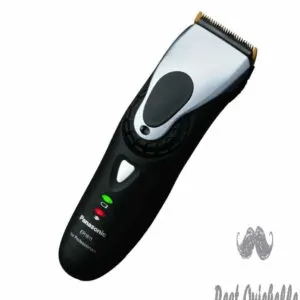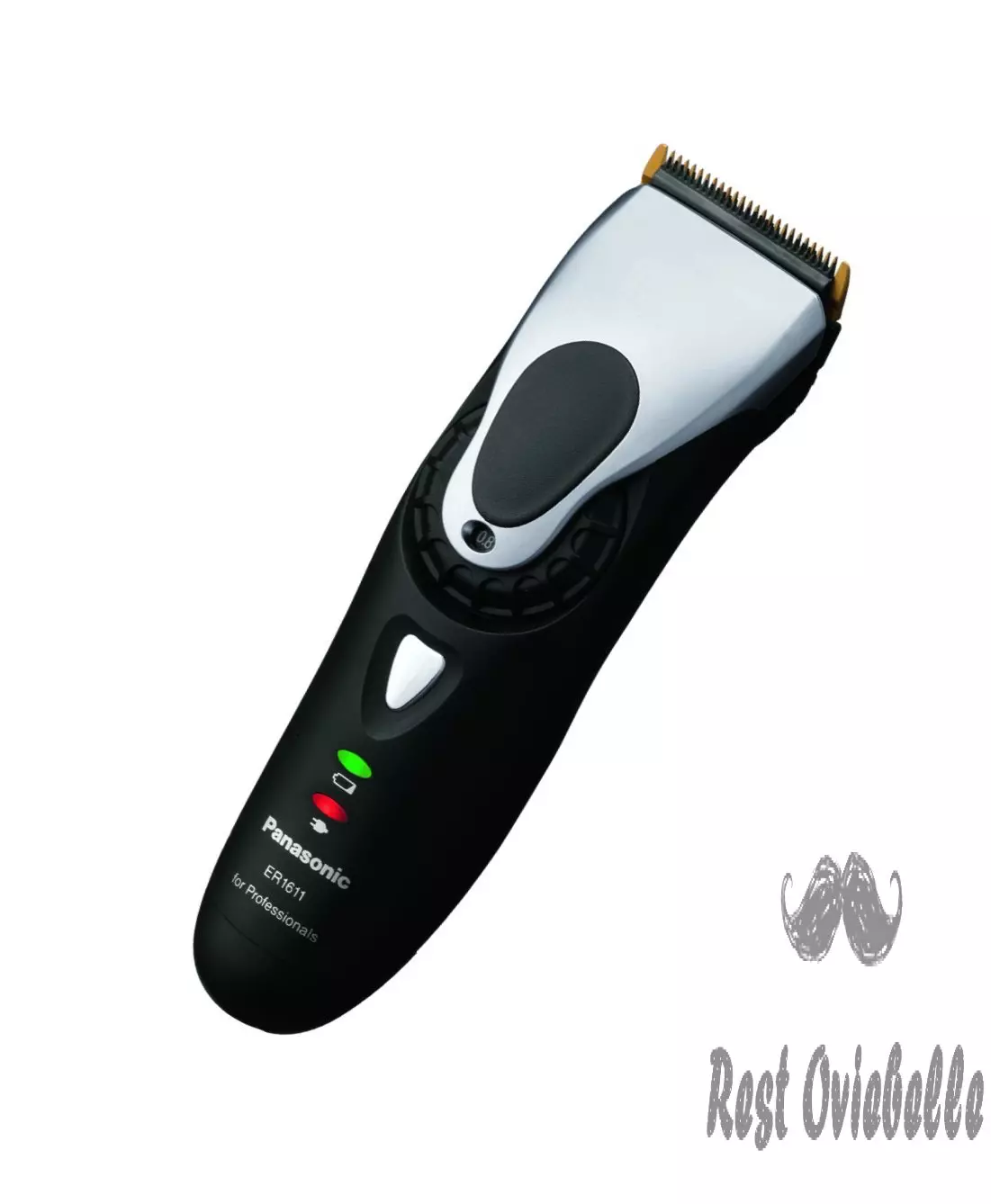 View On AmazonWhether you are a professional barber or a beginner do-it-yourselfer, the Panasonic ER1611 is easy to use and makes it easy to get a quality haircut with every use.
First, the ER1611 has a lightweight design that is great for professionals who have clippers in their hands for many hours, and ideal for less experienced people who appreciate clippers that are easy to handle and maneuver around the different parts from their heads.
There is much to appreciate about this clipper, including precision stainless steel blades that are exceptionally sharp and feature Panasonic's new X Taper blade shape.
The latter makes it easier to cut a larger area and offers a higher blade speed than many other Clipper models.
The ER1611 also offers enhanced motion cutting capabilities, and at 10,000 revolutions per minute, it has all the power you need for precise cutting and trimming without having to make multiple passes over the same area.
It is also ideal for use around your hairline and your ears for its overall precision.
The trimmer comes with three comb attachments and has a total cutting length from 0.8mm to 2.0mm. That increases to 3.0mm to 15mm when using the attachments.
A front panel control knob on the ER1611 helps users easily adjust the cutting lengths, which is ideal for newcomers or other barbers at home who have not mastered the blade change technique.
That, in turn, makes taping, fading, cutting, and trimming easier.
You will also appreciate the ER16611's ergonomic design, including a rubber grip that helps you hold the clipper firmly in your hand without worrying about it slipping or falling.
The ER1611 power supply is provided by a lithium-ion battery that has a run time of 50 minutes before it needs to be charged.
An hour of charging will bring it back to full power. An LED on the body of the hair clipper indicates the battery status of the battery and contains a charging meter.

The ER1661 is suitable for professional and home use and easy to handle
Adjusting the cutting length is easy thanks to the control knob on the front panel
You can use it on any hair type as well as on wet and dry hair
It takes more time to get the desired cut, which can make it less useful for professionals
8. Wahl Groom Pro Haircut Kit
View On AmazonThis cleaning kit is made for trimming and trimming with carbon steel blades.
These blades are made of carbon steel, self-sharpening, and sharpened to stay sharp for a longer extension and easier user experience when trimming hair.
They can be used for head to toe grooming, not just hair or beards if needed. The blades on this device also allow you to cut all different types and design many different styles.
This hair clipper is excellent for home grooming, between trips to the barber. They are all you need to get and manage the perfect hairstyle for you.
This really good complete body hair clipper.
Wahl is one of the best hair care companies, and you can trust the brand to provide you with excellent service.
The motor in this kit is motor driven for plenty of power and hairstyles without snags. It also includes worry-free combs, allowing you to produce an extensive range of hairstyles and grooming methods.
The dimensions of the combs are number 2 and number 3. A movable tapered level also allows easy mixing as well as different lengths.

Large carbon steel blades
Complete Size Trimmer
Guide Combs
Full physique grooming
Made for use in USA electrical merchants only
9. Andis Professional Barber Combo
View On AmazonFor those who need a professional hairdressing kit, the Andis Barber Combo can be a great option. This set comes with an Andis adjustable knife clipper and a T-Outliner trimmer. The clipper comes with a fast magnetic motor and an adjustable blade for precise cutting, while the T-Outliner has fine teeth for dry shaving, contouring, and fading. Whether you get a haircut, tie a neckline or bleach the sides, this hair clipper and trimmer set gives you everything you need to become a successful barber.
For starters, the Andis hair clipper comes standard with a carbon steel blade for long-lasting durability. Combined with a powerful, cool-running motor delivering 7,200 strokes per minute, you can cut all hair types, including thick, curly, and long hair. The company has also packed six protection sizes to combine the perfect blur.
While the engine on this hair clipper isn't as heavy as the one on the Andis Master, the company makes up for it with an ultra-light, ergonomic design. At 17 grams, it feels smaller and lighter in hand for easier maneuvering.
As for the corded trimmer, it's just the industry standard Andis Professional T-Outliner. Made with a carbon steel blade for the best cut possible, this machine is great for trimming necks, beards, mustaches, and around the hairline.
In addition to clearing the neckline, barbers use the T-Outliner for a temple blur or line-up hairstyle, also known as a shape or fringe.
For the best of both worlds, the Andis Barber Combo is a good starter kit. For new barbers trying the trade or men cutting their own hair at home with professional tools, this clipper and trimmer package is an excellent value. If you are an experienced professional barber, it is better to combine the Andis T-Outliner with the Master clippers above.

Inexpensive
Delivers clean shaves and cuts
Advised for novices too
Can be utilized as a present item
Precise and sharp
Trimmers get very scorching when utilized for longer hours
10. Andis Professional Barber Combo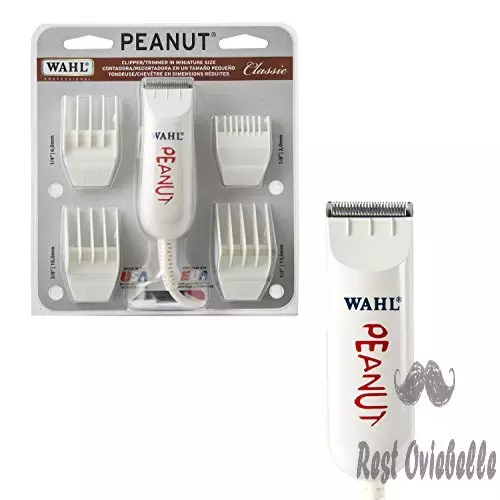 View On AmazonLet's face it, Wahl makes great grooming products, including hair clippers. So, including another one in our list of reviews: the Professional Peanut Classic Clipper / Trimmer: is by no means a stretch.
The Peanut Classic Clipper is a favorite of many professionals (it is for professional use only) and consistently delivers the sharp, precise performance demanded by both the user and the customer.
And, as the name suggests, it is smaller than most other clippers and has a compact size and sleek design.
Make no mistake; however, it offers all the power of a full-size trimmer thanks to the robust motor, but it is lighter and fits easily in your hand while reducing the fatigue that can occur during a long day in the store.
For the record, it is 10 cm long and weighs only 4 grams.
It also comes with all the accessories you need to cut your hair, including four comb attachments, a red protective cap, oil, and a cleaning brush. Thanks to the attachments, you can easily switch between different length settings.
Also included is a 7-meter power cord that plugs into 110-watt power outlets.
You can also use it to trim your beard, making it an even better investment at a very affordable price, and with regular maintenance, you will be using this hair clipper for years.
Professionals love the Wahl Professional Peanut Classic for many reasons, not least because of its easy-to-use compact design. It is also versatile enough to use for other grooming tasks, such as trimming your beard.
Compact design helps make it straightforward to deal with but without sacrificing electrical power.
You can also use it to trim your beard.
It functions fantastic for shut cuts and shaves and for producing hair and beard varieties.
It's substitute blades are a bit a lot much more expensive than other individuals.
Difference Between Professional Clippers and Home Clippers
Not all clippers are created equal. In this article, we looked at professional hair clippers. This section examines how they differ from home trimmers.
The main difference is in the possibilities. In general, a personal or home clipper has relatively few options to choose from; it cuts hair and lets you cut a few lengths, but not much further. A professional hair clipper has a much better length control, be it combs, interchangeable blades, or a tapered handle; ideally, it combines combing with one of the other two. With a wider range of options at your disposal, you have more ways to style a client's hair.
This is not to say that you cannot cut and style hair with a home trimmer, as you can. However, you don't have that many options to work with compared to a professional hair clipper.
Pro hair clippers are also built for the long term. Like consumer electronics, home trimmers are cheap because they are not expected to last long. On the other hand, a professional hair clipper is widely used, and barber clippers don't want a hair clipper that dies while they work.
Of course, pro clippers pay for their extra features at higher prices than home clippers. That's how the economy works, and when it comes to clippers, you usually get what you pay for.
Clipper Care And Maintenance Tips
Keeping your clippers clean is very important because the hair can settle around the blades and become incredibly unsanitary. If you are a professional barber, you should clean those blades after each haircut to maintain a hygienic and clean service. If you have professional barber clippers at home and use it for your own hair, you still need to clean them after each use to maintain the sharp, clean, and professional cut you desire.
Remove the blades from the device. You may need a screwdriver to remove the screws on the top of the device. Use your fingers to remove the trimmer head and/or blades, and then separate them.
Use a thick brush and use it to remove all visible hair from the head plate and the inside of the trimmer. Make sure to clean small holes in the device as the hair is likely to accumulate here. Put a little detergent on the blades and use a slightly damp cloth to wipe the blades. Also, consider using hygiene spray, especially if you use the clippers often. Use a towel to dry the trimmer head and blade and allow to air dry for a few minutes.
Once the head and blades are completely dry, reassemble with the device. Point the trimmer on the ground with the head of the appliance facing away from you, turn them on, and put a few drops of hair clipper oil along the top of the blades. Try not to add too much oil. Do not drop the oil back into the trimmer.
Now you have beautiful, clean, and professional hair clippers. Cleaning them after each use keeps them sharp and hygienic.
FAQs About Barber Clippers
Even for such simple machines, many things can go in a hair clipper. Here are some of the most common problems with our expert opinions.
How good are barber clippers in fades?
Good fading is almost only possible with a professional hair clipper because they have the right equipment for it. It's the conical lever again because the blade positions fine-tune the cutting length than is possible with guide combs. Combine these with short combs like 1/16-inch combs, and you have everything you need for a nice, gradual haze of the cut hair.
Can barber clippers handle shaved or balding looks?
Yes, especially if you set the blade to the finest and shortest position. This gives you the shortest possible cut that the clipper can do. Leave out combs and put your pointed handle in the shortest possible position so that there is no space between the two blades. This way, you get a nice sleek short look; the only way to make it even shorter is to bring a manual razor to your head.
Of course, there are also special hair clippers for a bare look, especially the Wahl 5-Star Balding Clipper. Since it is a specialized tool for a particular task, we have not included it in this guide. If you have a balding look, we highly recommend this.
Which is better between corded and cordless?
There are advantages to both corded and cordless operation, so it depends on which advantages are more relevant to your needs. We've outlined this in our buyer's guide above, but to repeat the salient points: corded clippers are more powerful and won't die mid-cut, but you're limited by the cord. Cordless clippers can move farther away, but you've got a battery to worry about.
Some clippers offer the option of both corded and cordless operation. If in doubt, we recommend such a clipper like the Wahl Magic Clip. This lets you have the best of both worlds: the mobility of a cordless model, and the constant power of a corded one.
How often should I replace my blades?
Blades last a long time. Under working conditions, the only things that can really damage the blades are accidents and breakage. If a trimmer is damaged, you can throw it away better than shaving it. But with a discount on this, clippers can generally have a fairly long life; even with intensive use, it is not uncommon for the blades to last a year or more.
Final verdict
Getting the best barber clippers is comparable to any professional who finds the right tool for the job. It is important to invest time, effort, and money to purchase the highest quality machines and products to reach your full potential. And this top barber clippers will help you with that.
The products in this review are the best you can find on the Internet today, and we recommend that you read them all carefully to find the products that.
Whether you are a beginner or an experienced professional barber, we hope you find a good unit for your needs. And if in doubt, always invest in commercial quality. Like everything else, you get what you pay for, and the frustration and hassle along the line may not be worth the few dollars you're saving right now.
References
thestrypes.com
menshairstylestoday.com
allaboutrazor.com
sharethemo.com
hairnode.com