This site is supported by our readers. We may earn a commission, at no cost to you, if you purchase through links.
Are you a barber looking for the best beard trimmer to use on your clients? With so many options out there, it can be hard to know which one will provide the most professional results. Well, worry no more! We have researched and tested some of the top-rated beard trimmers used by today's barbers.
You'll find sleek designs with powerful motors that guarantee precision trimming every time – plus all those extra features like adjustable blade sizes and self-sharpening blades that make them even better.
Key Takeaways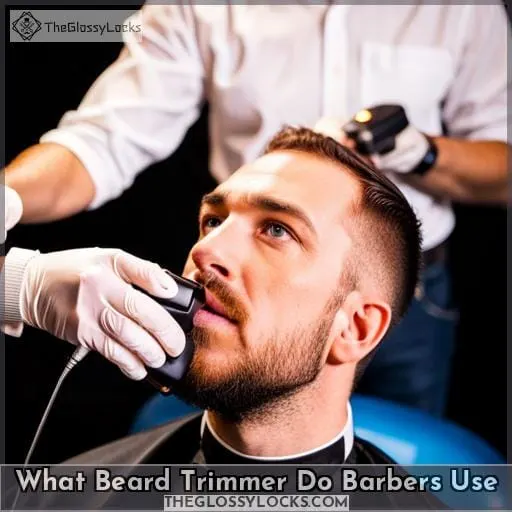 Barbers should use professional-grade beard trimmers for the best results.
The top 7 professional beard trimmers for barbers are BaBylissPRO Barberology GOLDFX Collection, Andis T-Outliner, Brio Beardscape, StyleCraft Absolute Hitter Professional Trimmer, Philips Norelco Series 7000, and GAMMA+ Protégé.
Each trimmer has unique features and strengths, so barbers should choose the one that best fits their needs.
To maintain a trimmer's performance, barbers should sharpen the blades regularly and use reliable and high-quality tools.
The Importance of Using a Professional Beard Trimmer for Barbers

For professional barbers, it's essential to have a reliable tool that offers both performance and luxury. The BaBylissPRO Barberology GOLDFX Collection trimmer is perfect for delivering precise results while being stylishly designed.
The textured housing allows for an easy grip, and sufficient battery backup makes it ideal for extended use without having to purchase additional chargers. Its golden body adds a touch of extravagance with its shiny premium finish, making this trimmer stand out from the rest.
It fits easily in the palm of hands and delivers raw power to its deep-tooth graphite blades at over 6000 RPMs with no hiccups! Not only does this device provide great trimming capabilities, but it also comes equipped with a hook attached at the bottom so you can store or display your trimmer conveniently after every use.
This professional-grade Andis T-Outliner lasts around 2 hours when used relentlessly or up to an entire day if there are pauses in between uses – making sure you meet all quality maintenance standards throughout each service session! With such features available on one device, it's no wonder why many barbers prefer using these as their favorite trimming tools – providing them not only convenience but high levels of professionalism too!
Top 7 Professional Beard Trimmers for Barbers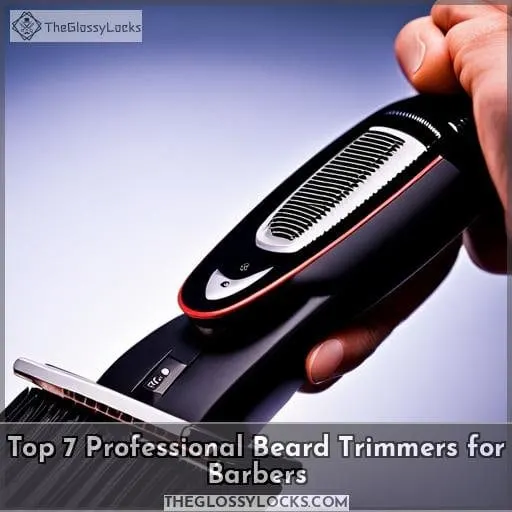 You can elevate your game by investing in one of the top 7 professional-grade trimmers, crafted to give you an edge over competitors and make every service a luxurious experience.
These tools have it all! Precision styling blades that are self-sharpening for easier maintenance, powerful motors with options like cordless trimmers or electric razors such as Philips Norelco OneBlade Hybrid.
From modular designs for customizing features to blade oil included, these products provide something special no matter what type of trimming job you may have.
Andis T-Outliner is affordable and durable, while StyleCraft Absolute Hitter offers replaceable lids perfect for bulk hair removal.
All seven offer superior performance combined with classic elegance, making them must-haves on any barber shelf!
BaBylissPRO Barberology GOLDFX Collection: a Compact and Stylish Trimmer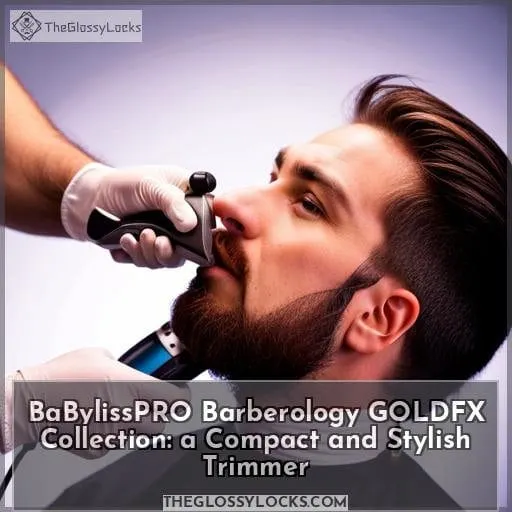 If you're looking for a trimmer that offers both style and performance, then the BaBylissPRO Barberology GOLDFX Collection should be on your list. This compact device packs a lot of power with its deep-tooth graphite blades and is beyond stylish with its golden body and shiny premium finish.
The textured housing ensures an easy grip, while the battery backup provides sufficient runtime for longer operations.
Not only does this provide raw power to tackle even the thickest hair, but it also features luxurious design elements like cordless trimming capabilities, which make it perfect for Wahl product users who need something portable yet powerful enough for Hatteker facial grooming needs.
Brio Beardscape Beard and Hair Trimmer: Sturdy and Durable With Ceramic Blades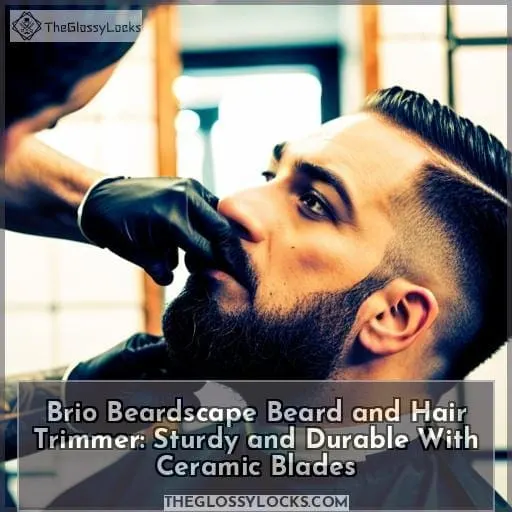 Offering a sturdy and durable design, Brio's Beardscape trimmer is equipped with ceramic blades that deliver up to 5000 RPM of raw power for even the toughest trimming tasks.
It also has adjustable lengths from 1 mm – 18 mm and an easy-grip handle for precise line work. Plus, it comes with a precision dial allowing you to make sharp lines quickly without any hiccups.
Its clean lines add style while still providing the performance needed for smooth cuts every time—perfectly suited for both professionals and beginners alike looking for quality equipment at an affordable price point.
StyleCraft Absolute Hitter Professional Trimmer: Perfect for Bulk Hair Removal
The StyleCraft Absolute Hitter Professional Trimmer is a great tool for quickly and easily removing bulk hair. It has replaceable lids and a SuperCharged rotary motor, allowing for subtle trimming of facial hair and edging at varying lengths.
The corded/cordless version provides even more versatility. The powerful motor can crank up to 7500 RPM, making it suitable for even the toughest beard maintenance duties while still allowing for precise lines when needed.
To top it off, this trimmer has an impressive battery life, making it perfect for barbers who are always on the go or those working in busy salons requiring long hours without interruption from charging their device frequently like other models, such as Esteffany Durán's T-Outliner Trimmer, require.
This trimmer also offers maximum control while using minimal effort thanks to its lightweight design and durable construction that can handle any task thrown at it by professional barbers or beginners alike looking for quality equipment that won't break their budget but still offer superior performance every time! With all these features combined, the StyleCraft Absolute Hitter Professional Trimmer is definitely one of the best options when considering premium quality beard trimmers today!
Philips Norelco Series 7000: a Versatile Trimmer With 23 Attachments
You'll be impressed by the versatility of Philips Norelco Series 7000 with its 23 attachments to help you style your facial hair effortlessly like a pro! It features self-sharpening blades, a body hair removal attachment, and a precision dial for accurate trimming.
Its powerful motor cranks up to 7500 RPM, making it suitable even for tough beard maintenance duties.
With its low maintenance design and rechargeable battery, this trimmer is ideal for barbers who are always on the go or working long hours without interruption from charging their device frequently like other models, such as Esteffany Durán's T-Outliner Trimmer, require.
The package also comes with blade guards, which can protect both user skin from cuts, as well as a senior cordless clipper, which provides extra freedom in movement while styling your facial hairs.
In addition, compared to some of Philips Norelco's more expensive products, it remains highly affordable yet still delivers superior performance every time! Without a doubt, this one should definitely be considered when looking for quality beard trimmers today!
GAMMA+ Protégé: Low Noise and Vibration With Long Battery Life
With its low noise and vibration, the GAMMA+ Protégé trimmer provides a smooth trimming experience every time. This advanced motor offers powerful battery power for those long sessions, with the added convenience of a drop top design to help you reach even difficult spots with precision.
The variety of attachments allows for more creative styles without breaking the bank. This trimmer is reasonably priced yet still boasts impressive quality! For comparison, Casey Bonsignore praised King C Gillette's Beard Trimmer but noted that it lacked some features that make it great value compared to Philips Norelco's more affordable products like GAMMA+.
Finally, if you're after an all-in-one solution at an unbeatable price, then this beard trimmer should be your next go-to choice!
Frequently Asked Questions (FAQs)
How often should I sharpen my trimmer blade?
Sharpening your trimmer blade regularly helps maintain its cutting performance and prolongs its lifespan. However, due to the delicate nature of blades, sharpen them only when necessary as over-sharpening can damage the edge.
What is the difference between corded and cordless trimmers?
Corded trimmers are like a racehorse, powerful and always ready to go. On the other hand, cordless trimmers are more like a wild horse; untamed yet full of potential.
Is it safe to use a trimmer on sensitive skin?
Yes, it is safe to use a trimmer on sensitive skin. Many trimmers come with adjustable blades and guard combs that allow you to control the length of your trim. Look for models with rounded tips, ceramic-coated blades, or hypoallergenic attachments, which can help minimize irritation when used correctly.
Does having more attachments make a trimmer better?
Having more attachments can give you greater control over your styling, but it is not necessarily better. Different trimmers have varying strengths and weaknesses for different tasks, so choose the one that best fits your needs.
Are trimmer blades interchangeable across brands?
No, trimmer blades are not interchangeable across brands. Each brand has its own unique design and specifications to ensure optimal performance. Different types of attachments may vary in size and shape, making them incompatible with other brands.
Conclusion
Barbers need trimmers that are reliable and powerful to achieve the desired look. The BaBylissPRO GOLDFX trimmer and Brio Beardscape trimmer provide barbers with captivating designs, raw power, and precision trims.
For more bulk hair removal, the StyleCraft Absolute Hitter trimmer is a great choice. The Philips Norelco Series 7000 offers 23 attachments, while the GAMMA+ trimmer has low noise and vibration with a long battery life.
All seven trimmers are suitable for barbers and beginners alike. From durable motors to adjustable blade sizes, these top-notch trimmers are sure to deliver a perfect cut every time.