This site is supported by our readers. We may earn a commission, at no cost to you, if you purchase through links.
Stubble beards have all the masculine appeal of facial hair, but they don't require the same maintenance as much longer beards.
The best stubble trimmers are worth its weight in gold: they help you achieve precisely the length and depth you want and make the whole process easy.
I'm sure you agree with me that a stubble beard is everywhere nowadays. Let's be honest.
Facial hair now becomes an accessory because it gives extra points for attractiveness, stubble beard trimmers are now essential tools for maintaining facial hair.
Studies have proven it: women love stubble and even surpassed the clean-shaven and full-bodied look.
That said, women will not just fall at your feet if you do not keep your stubble at its best.
Like everything else, when it comes to taking care of men, you need the right tools. Specifically, you need the best beard trimmer for stubble.
In this article, I will discuss the difference between a stubble beard trimmer and other facial hair devices such as beard trimmers, electric shavers, or hair clippers. I will give you tips on what to look for in your stubble beard trimmer and view ten of the best beard trimmer for stubble to help you make a final decision.
We will also take a brief look at what distinguishes between stubble trimmers and other types of trimmers (and razors and hair trimmers).
Let's start by providing information that can help you make an intelligent decision when it comes to picking the best stubble trimmer.
Things To Consider For Choosing The Best Beard Trimmer For Stubble
There are dozens of functions that you can search for while shopping, but the best stubble trimmers have these characteristics as part of their design.
There are a few things to remember before you start looking for a high-quality stubble trimmers machine:
Design and type of trimmer
You want to choose a design that fits well in your hand, is easy to handle and does not require advanced mathematics to use. Look for options that are easy to configure to the desired length, have ergonomic designs, and a simple on/off switch.
Do you use your stubble trimmer as a dry shaver, or do you also need it to be compatible with water?
When shopping for a new trimming tool, look for a trimmer that offers a head specially designed for stubble. A shaver for an electric shaver or a hair clipper cannot cut your hair to the right length. An electric shaver will shave your facial hair, allowing you to grow your beard again, while full clippers don't give you the control you want.
Settings and functions of your trimmer
Make sure that the shortest position of the trimmer is low enough to give you the desired cut that makes you most comfortable. This setting is suitable for hair of less than 1 mm (ideally 0.5 mm trim) – and it can even shape and trim your 5-hour shade. If it has a contoured head, trimming around the curves of your face will be a breeze and prevent cuts!
Is the mobility or portability of a trimmer essential for you too?
The most popular stubble beard trimmers are cordless for ease of use and easy maneuvering. However, some battery-operated models do not have devices with a plug. Fortunately, we have only selected the most powerful units on the market, so you shouldn't have any problems with this.
Battery power
Battery power and runtime can be limiting and extremely frustrating, especially if you are in the middle of a trim. View the battery life while browsing through your new trimming tool and how long it takes to charge the trimmer fully. Checking a fast charge function can also save you a lot of time and frustration!
Here is the list of the best stubble trimmers of 2023.

10 Best Stubble Trimmers Of 2023
As we said earlier, stubble suddenly represented a wow for men, and growing stubble beard can turn your social life into something entertaining.
Actors and other celebrities ride on the stubble wave, and there is no reason why you should not. Here are best beard trimmers for stubble to help you get that neat, yet irresistible stubble look.
1. Conair for Men Super Stubble – Wet/Dry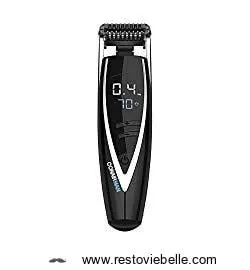 View On Amazon
Making your stubble look better requires more than an ordinary trimmer and blade, and the Conair Super I-Stubble blade is not ordinary.
It has everything you need for a precision fit, among which is its advanced technology of electrochemically shaped blades that are incredibly sharp and made to last.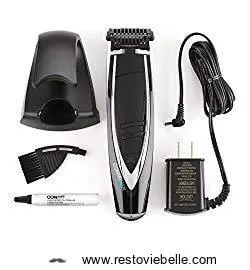 While the blades are among the beststubble razor on the market, there is much more to please about the Super I-Stubble Trimmer.
It has a wide range of lengths, from 0.4 mm to 5.0 mm, with ultra-precise motorized configurations for maximum length control. There is also a length memory function that remembers the length configuration you used last.
It also comes with an "ultra-flexible" shaving head that comfortably tracks the curves and crevices of your face, while providing the clean shave expected from a quality trimmer.
Also, it is versatile, since you can use it to cut your mustache, sideburns, and neck.
The Super I-Trimmer is ergonomically designed for comfortable use and comes in a long, smooth body that is easy to grasp and maneuver. And here's another advantage: it comes with adjustable speed levels, which is unusual for trimmers in this price range.
Advanced blade technology
Ergonomic design
Protective comb ensures length consistency
Lithium-ion energy
Some reviewers mention that the battery life decreases after a few months
2. Philips Norelco Beard Head Trimmer Series 5100, BT5215/41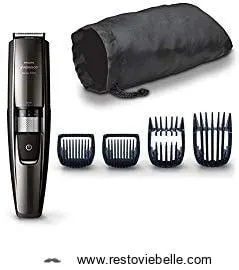 View On Amazon
While the Philips Norelco Series 5100 trimmer is not a specific stubble model, it has the tools to do the job. This wet and dry razor works with a lithium-ion battery that takes an hour to charge and lasts up to 70 minutes.
Use self-sharpening steel blades to shape your style to 17 pre-set lengths ranging from 0.4 mm to 13 mm (1/64 " – 1/2 "). You can set the cut length with a dial.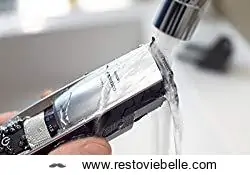 It comes with a 5-year warranty and is completely washable. Included with the trimmer are a beard comb, body comb, two hair cutting combs, a travel bag, and a cleaning brush.
This powerful manual shaver is extremely easy to use. The shape is comfortable in your hand, and although it is of plastic construction, it feels bulky. It is easy to maneuver to obtain perfect lines. It works quickly and does a good job of cutting thick facial hair.
17 length settings.
Self-sharpening steel blades
Waterproof and completely washable
Five years warranty
A little bulky and heavy
Difficult to replace the battery
It is not as versatile as other trimmers.
3. Conair for Men I-Stubble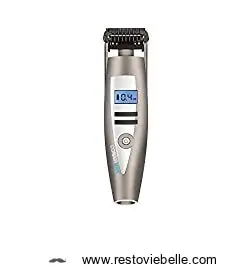 View On Amazon
As its name implies, the I-Stubble trimmer comes from the same family tree as the Super I-Stubble trimmer. As he also suggests, Conair knows clearly what he does when it comes to best stubble trimmers.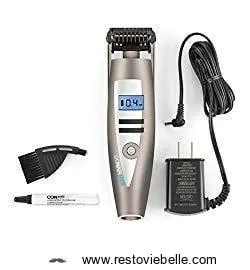 There are not many differences between the two Conair trimmers, and you really can not go wrong with either one.
They share the same blades in an electrochemical way that are precise, sharp, and durable, and both have a unique floating head to contour with precision, both have an ergonomic design that feels good in the hand and is easy to maneuver.
However, the I-Stubble is not water-resistant and, therefore, cannot be rinsed under the tap.
Apart from that, these trimmers are very similar and very effective. One has some things, but we believe that both will serve you well.
Quick and clean cutting blades
Very accessible
Adjustable lengths easy to set up
Shorter battery
It is not waterproof.
4. Philips Norelco Stubble Beard Trimmer Series 3500, Qt4018/49

View On Amazon
This Philips Norelco stubble beard trimmer is intended for dry use only and comes with a lithium-ion battery that works for up to 120 minutes after 1 hour of charging.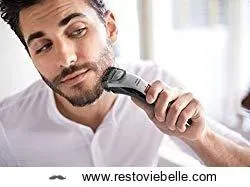 It uses skin-friendly, self-sharpening titanium blades to deliver a stubble strip to one of the 20 built-in settings without having to change the comb. You can choose between 0.5 mm and 10 mm length with increments of 0.5 mm.
Although the device itself is not waterproof, the individual heads are washable.
It comes with the trimmer, comb and cleaning brush. You receive a 45-day risk-free trial and a two-year warranty on this purchase.
The setting function with one click is extremely user-friendly because you do not need to replace combs if you want a longer or shorter length. The ergonomic handle fits great in your hand, but you want to slow down and take time with this shaver.

Very accessible
Use with cable and cordless
20 length settings
I only use dry
Without travel case included
5. Remington Mb4040 Stubble Trimmer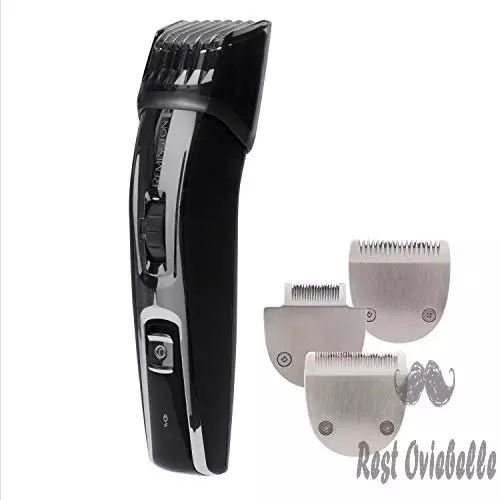 View On Amazon
If you are looking for the best beard trimmer for stubble that gives you consistent accuracy that mainly depends on the pressure you apply while pressing it against your skin, then Remington MB4040 Stubble Trimmer is the way to go.
Ideal for trimming mustache, beard, and stubble. With a cordless operation that gives you up to 2 hours of run time, you can count on this item to give you an uninterrupted, smooth, and comfortable trimming experience, thanks to its titanium coated blades and a trim range of 1.5 to 18mm.
This product is designed with three precision sharpened blades with nine length settings to help you achieve the desired trim length. The adjustable combs are easy to remove, which makes work easier, especially if they break and need to be replaced.
It is important to note that the blades of this stubble beard trimmer do not rust quickly and therefore last a long time. A very long time. Always remember to charge the battery for up to 16 hours, so you have more time to finish your trim.

Provides up to 2 hours of continuous cordless trimming
Three precision blades for precise longitudinal trimming
Titanium coated blades do not rust easily
6. Norelco Oneblade Stubble Trimmer
View On AmazonWith everything that was great about the original OneBlade, the OneBlade Pro improves on many of the features that were missing in the first model: most notably, improved battery life and cutting length settings.
Now relying on a more advanced and modern lithium-ion battery, the OneBlade Pro can deliver 90 minutes of battery life after just 60 minutes of charging: making it just that little bit better (in terms of battery performance) compared to the ConairMAN Super Stubble Trimmer.
Second, length settings are great.
Unlike the baseline OneBlade, which only comes with three attachment combs (1mm, 3mm, 5mm), the OneBlade Pro can choose a length setting between 0.4mm and 10mm long ( one of the largest ranges available in a stubble trimmer).
With the raised comb that can be attached individually, it keeps the blade just a fraction above the skin's surface, making it one of the best stubble trimmers for sensitive skin.
Even if you regularly get irritation or razor bumps when using other trimming aids, you will not experience any visible signs of redness when using this unique device.
With a small head that can easily navigate the contours of your face, this stubble trimmer cuts in a reliable and predictive way with its swivel head.
When it comes to cleanup, the OneBlade Pro is waterproof and can be rinsed out completely (or taken in the shower).
If this unit had any drawbacks compared to other stubble trimmers, this would be the replaceable head.
Yes, you will need to replace the trimmer head on the OneBlade Pro regularly. Norelco recommends changing every four months (assuming you shave twice a week).

Perfect for sensitive skin as only the comb touches the surface
Long battery life
Long cutting length
The blades should be replaced regularly
7. Panasonic Stubble Beard Trimmer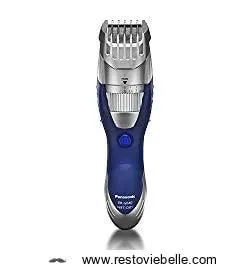 View On Amazon
The Panasonic all-in-one trimmer from Panasonic is a prize-winning model and thanks to its defining functions, and it is better than the rest. These stubble costs more than the rest and costs about $ 50, but this care tool is just too effective, powerful, and accurate to ignore.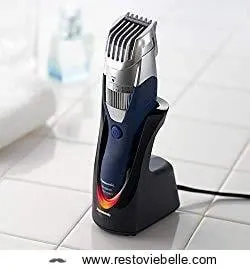 This Panasonic trimmer has 45-degree stainless steel sharp blades that can trim and shape any hair texture or length. With 19 precise settings (in increments of 0.5 mm) for hair and beard trimming, men can each time precisely cut the amount of facial hair they want for a perfect, clean stubble beard. In the end, this trim aid gives your facial hair an important definition within a few moments.
Lightweight, durable, and with 50 minutes of continuous power, this cordless trimmer can even be showered for quick trim everywhere.
This also means that you can use this machine to brush your hair or manscape below easily. Use the cleaning brush or rinse under water to clean things up effortlessly.
If you are looking for a multifunctional trimmer for your beard, hair, and body, this model offers the total package.
Durable stainless steel blades
19 precision settings for personal trimming
Cordless operation and ergonomic handle for easy handling and comfort
The edges of the guard may be too sharp
8. Remington Pg6025 Stubble Trimmer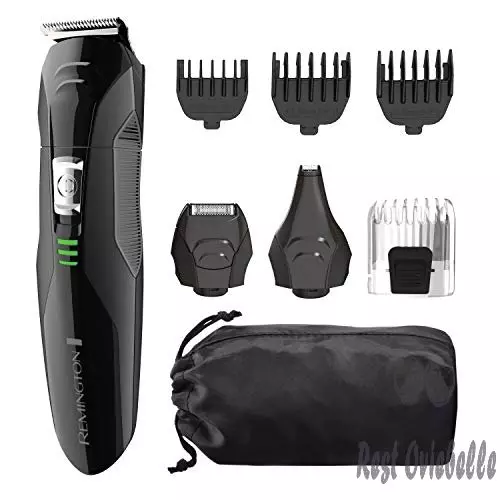 View On AmazonThe Remington Lithium Powered Stubble Trimmer comes with eight attachments to meet all your needs and is designed to help you trim the unwanted hair on your face, head, and body.
For all your grooming needs, the set includes a full-size beard trimmer, foil shaver, three beard combs, nose, and ear trimmer, and an eight-length hair clipper.
You also get a nice storage space and a travel pouch. Full-size stubble trimmer makes trimming sideburns, neckline, and rest of the beard extremely easy.
If you want even smoother results, the shaver foil comes close to the skin and helps you achieve it. For trimming and shaving body hair, use the vertical beard trimmer with a 3-length adjustable comb.
As logic implies, nose and ear trimmer are intended to be used for removing unwanted hair in sensitive nose and ears.
All of the above attachments are washable, and you just need to rinse them under the tap. The blades are self-sharpening and made of surgical steel.
This makes them durable and keeps them sharp for a long time. Surgical steel is also known for its precision and premium cutting performance, so you can be sure that you are getting a high-quality trim product.
The rechargeable lithium battery gives you up to 65 minutes of consistent cordless runtime, while the textured handle gives you ultimate control when trimming at different angles.

Eight trimming attachments
Self-sharpening surgical steel blades
Rechargeable lithium battery with up to 65 minutes of cordless run time
All attachments are washable.
Several passes are required to trim your facial hair.
The battery cannot be recharged after some time.
9. Axe Philips Norelco XA4003/42 Stubble
View On Amazon
With this stubble beard trimmer, you can select your favorite setting to get the right style you are looking for. The Ax Philips Norelco XA4003 / 42 is very simple and easy to use. It also contains 20 settings for locking so that you can cut from short hair length to long hair length.
The head is removable so that you can clean it effortlessly. This product only takes 35 minutes to recharge. The package also includes a cleaning brush, a length-adjustable comb, and a plug that allows you to walk around for relaxed trimming.
In contrast to other comparable products on the market, the Ax Philips Norelco XA4003 / 42 does not have multiple attachments. It has a single enclosure that can easily be adapted to your preference to get a perfect cut.
Also, the unique design of the stubble trimmer makes it possible to achieve a completely different effect, depending on how the appliance is angled during trimming.
The performance is as promised, and the device is relatively easy to use.
The rounded blades do not pull on the skin or pull Ax Philips Norelco XA4003 / 42 stubble Trimmerhet hair, making it a better choice than other expensive trimmers on the market.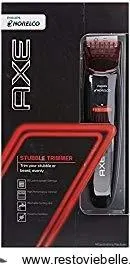 One load can take about a week. Users can, therefore, enjoy many shaves via one charge.
Easy to clean the device. Although intended for the beard, it can also be used to shave the head.
Also, extra attachments can be useful. For example, the adjustable comb works perfectly and does not bend or break.
Online customer reviews suggest that the product works best when fully charged. At full load, it is given enough energy to carry out the work efficiently.
One of the problems with this product is that the length guide seems a little fragile due to the built-in plastic. When it is pressed against the face, it tends to bend. This makes it possible for someone to shave better than expected.
Get everything from stubble to the full beard with the built-in stubble comb.
Style with precision and accuracy, 20 lockable length settings
Removable head for easy cleaning
Rechargeable up to 35 minutes
Including stubble trimmer, comb with adjustable length, cleaning brush, plug.
10. Philips Norelco Multigroom All-In-One Series 3000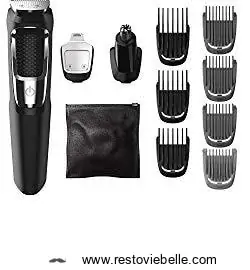 View On Amazon
The Philips Norelco Multigroom is a model that meets all your healthcare needs. With 13 attachments, this effective stubble trimmer is hard to beat. For less than $ 20, you get a full-size steelhead, a head for precise cuts, and a nose and ear trimmer. The benefits do not end here – this stubble also includes three trimmers for trimming the hair, three beard trim guards, and a stubble beard for extra skin protection.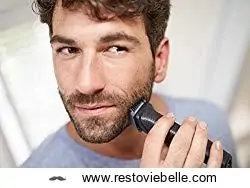 Moreover, this first-class trimmer has steel blades that sharpen during shaving, so that the quality of your cut always lasts for years after purchase. Also, the Philips Norelco Multigroom unit comes with DualCut technology, a proprietary concept that includes two self-sharpening blades, so that trimmer is satisfied.
This trimmer does not even require the use of oil – remove the blades and guards, rinse them and re-attach them. All these tools are supplied in a travel bag, so you can take this tool with you wherever you go.
Finally, the rechargeable lithium-ion battery of the trimmer offers a 60-minute runtime. And thanks to the quick charging function of the cell, you can always resume your shave within a few minutes of the device dying.
Ultimately, it is no surprise that this trimmer has become a favorite for fans – Philips Norelco is known as one of the best trimmer brands on the market. The value of this trimming shoe speaks for itself, and it can effortlessly make your stubble look stylish.
Thirteen accessories for all your grooming needs.
Maximum precision with DualCut technology, including 2x more self-sharpening blades.
The steel blades sharpen themselves as they work, resulting in blades that stay as sharp as day one after two years of use.
Blades and protectors are easy to detach and rinse, for hair type: all hair types
The blade is made of metal
Stubble Trimmer vs. Beard Trimmer vs. Electric Shaver vs. Hair Clippers
Stubble trimmers, beard trimmers, razors: what's the difference? In some cases, the difference is not that much. In another well, their distinctly different types of tools for different jobs.
Let's start with stubble trimmers and work our way through the different types of razors and trimmers.
Stubble Trimmer
Almost always, cordless stubble trimmers are a special tool for achieving that classic 5 o'clock shade.
With dial settings from 0.4mm to 5mm, men can cut their facial hair to a precise length.
This is especially helpful if you want consistency or subtle beard growth to complement a more prominent mustache or sideburn; the stubble is reliable.
The main difference from the beard trimmer is both the width of the clipper and the maximum length that you can change the cutting settings.
Beard trimmer
If your beard is longer than a stubble beard, or if you've been growing your new beard for four to six weeks, it's time to put away your stubble trimmer and get a beard trimmer.
It is also true that some, but by no means all, beard trimmers can help you get the stubble: but use a stubble trimmer if you plan to keep your whiskers extremely short.
Beard trimmers have longer length settings than stubble trimmers, and their blades should rarely if ever, touch your skin. A beard trimmer offers several benefits for trimming, including:
Allows you to shape your beard in any style you want
You don't have to worry about the blades leaving nicks and cuts on your skin.
They help give your beard an even, uniform look.
Like stubble trimmers, beard trimmers come with a variety of attachments and length guards. Some have interchangeable combs, while others have fixed combs that move with an adjustable wheel.
It's nice to have a range of options when it comes to length settings on your beard trimmer. In general, the more intermediate settings you have, the better.
Electric shaver
Electric shavers are mainly dominated by the big three (Philips Norelco, Braun, and Remington) and are designed to shave hair down to the skin's surface.
It is not possible to get reliable stubble. Due to the short shaving performance of this appliance, electric shavers should not be considered an equivalent alternative to a stubble trimmer.
While some advanced electric shavers have a detailed cutting blade (usually found on the back of the handle), these are made to lightly clean the few loose hairs, not for everyday use as a stubble trimmer.
The only exception to this is electric shavers (usually foil-based variants) that come with a variety of attachment combs (like the Braun Series 3). But again, these comb attachments offer very few cutting length settings to be a practical alternative to a stubble trimmer.
Hair Clippers
The names say it all when it comes to hair clippers, i.e., they are designed to trim the hair on your head and not your face. It's easy to confuse hair clippers with hair trimmers, but there are some important differences.
The main difference between hair clippers and hair trimmers is that hair clippers are basically designed to cut longer hair.
Clippers come with a variety of attachments, as do stubble and beard trimmers, with each attachment adjustable to the length of the hair to be cut. Clippers are often used to prep the hair for the final cut and finishing.
Hair clippers work well with shorter or fine hair and usually have thinner blades that make it easy to work on the final details of your hair.
Some trimmers come with attachments, but usually not as many as with hair clippers. Trimmers have the ability to cut hair quite close to the skin.
How To Use A Stubble Trimmer
Just like any other trimmer. However, here are some things to take into account:
Find The Right Model
With the reviews and all the advantages and disadvantages of specific stubble trimmers above, there is no doubt that you will find the best trimmer for a stubble beard that suits you.
If you are a traveler, choose a model with better battery capacity. Or maybe you prefer the one with many different combs and length settings.
Variations in height settings are especially useful for men who experiment with different stubble styles from time to time.
If you want to cut your beard in the shower, find a watertight model. Waterproof trimmers are also easy to clean with water, and removing the implanted hair is natural.
Find The Correct Stubble Length & adjustable beard trimmer.
Not every stubble-like style looks good just because it seems kind to other boys.
Your face shape will tell you which style to convince, but you have to experiment with a few before you find the one you're happy with.
Follow The Pattern
Make sure that every movement you make with your trimmer matches the pattern of the style you have chosen.
Some styles require longer sideburns and shorter hairs in the neck. For other methods, the mustache is shorter, and the beard is longer.
Be sure to cut your stubble according to the pattern, regardless of the situation.
Clean Your Trimmer
Stubble trimmer, like any other beard trimmer, must be cleaned after each use. This will double its lifespan.
It is already mentioned that watertight models can be cleaned with water, while the non-water-resistant model should be cleaned with a small brush instead.
Lubricate The Blades Of Your Trimmer
From time to time, oiling the blades of your trimmer will ensure that it works for a long time without defects.
You are not required to do this every time you use the trimmer, but it does not hurt if you do this.
Before applying the oil, clean all extra hairs between the blades. Run the edges after 20-30 seconds, switch them off and wipe them away.
Conclusion
Our method for choosing the best stubble trimmers is based on personal experience, trimmers who have the most positive reviews and research, research, and more research.
We do not have the resources or the enormous amount of time it would take to view all the best beard trimmers for stubble on the market. But we have spent time and attention to give you a list of best stubble trimmers.
What are your experiences with stubble trimmers? We would like to hear from you.
References
toolsofmen.com
baldingbeards.com
beardoholic.com