This site is supported by our readers. We may earn a commission, at no cost to you, if you purchase through links.
Gone are the days of uncomfortable shaving, waxing and epilating, Nowadays you can easily apply the best hair removing cream and let the product do the work for you, wipe the cream off, wait a few minutes and relax if necessary, It is that simple.
Unlike shaving, which causes the skin to dry out, best hair removal creams can actually help restore the hydration levels of the skin, giving you a softer, more hydrated skin, It works close to the hair root, so the hair can take longer to grow and your skin stays beautiful longer.
Hair removal creams often get a bad reputation because of the potential for chemical burns or skin damage due to the use of an unsafe or untested product.
However, there are large varieties of safe hair removal creams on the market.
Finding these products can be intimidating. With the abundance of brands, prices, sizes, and ingredients, it is easy to get overwhelmed.
Below we have done a lot of legwork in different hair removal creams to help you find the best hair removing creams for you.
What Is Hair Removing Creams?
Best hair removal creams and lotions, also known as depilatories, can quickly and painlessly remove hair from the face and body.
The results will last about as long as when shaving, from a few days to a few weeks. When you wipe the cream and hair, you naturally peel your skin so that it becomes softer and smoother than ever.
Hair removal creams work by solving hair, so it's essential to follow the directions and watch the clock.
If you sit too long, the creams can burn and dissolve the skin, making it sensitive.
Start with the lowest recommended time and build from there to reduce the risk of irritation of your skin.
If the first application does not remove all the hair, wait until the second layer has been applied.
The application of another layer immediately after the first application will burn and irritate the skin.
It is also a good idea to perform a patch test on the forearm by testing the product on a small part of the skin before applying it to your entire body or face.
Are Hair Removal Creams Safe?
The answer is yes, and no. Hair Removal Creams are generally safe when used properly.
However, it is easy to mess up and cause injury if you are not careful when using it. This is because these creams contain strong chemicals that can actually damage the skin.
The main problem arises when the creams last too long. If you are using a hair removal cream, read the instructions carefully, and follow them carefully. If depilatory creams remain on the skin for longer than the recommended time, they can cause rashes, scaling, stinging, pain, blisters, and even chemical burns. Therefore, correct use is extremely important.
In addition, depilatory creams can only be applied to specific areas of the skin. Double-check the information that came with your chosen cream to see which areas of the body it is approved for.
The Advantages To Using Best Hair Removal Creams
Speed: best hair removing creams work within ten to fifteen minutes. Of course, the smaller the area, the less time it takes, but larger areas should not go much further than the twenty-minute sign.
No blades: since hair removal creams have only been scraped or wiped, there are no razor blades involved. This means burning shavers are a thing of the past, along with painful notches and cuts.
Simple: the use of these products is straightforward. You apply the best hair removing creams or spray with a mouthpiece or your hand, let it work for a certain amount of time and then wipe it away. There is no learning curve or complicated instructions.
Painless: unless you have too sensitive skin or are allergic to any ingredient in the cream, the best hair removal creams are entirely painless. Always test the cream on a small piece of leather to check any reactions before using it
10 Best Hair Removing Creams Of 2023
1. Veet Gel Hair Remover Cream – Best Hair Removal Cream
View On Amazon
As Amazon # 1 bestseller in facial and body hair remover, this Veet Gel Hair Remover Cream is useful even for short hair.
Veet offers various hair removal creams, which are consistently selected as the best hair removal creams by various independent assessment sites.
Together with the removal of unwanted hair on the legs, knees, ankles, arms, armpits, and bikini lines, it can also leave the skin perfectly hydrated, silky, and soft.
The formula contains aloe vera and vitamin E to help restore and calm the skin. You can achieve smooth, soft hair-free skin in just about five minutes without scratches and bumps.
It quickly penetrates the skin and dissolves it closer to the root for softness that stays twice as long as when shaving.
The cream tested by dermatologists comes in a pump bottle with a handy spatula for easy application and removal. Supported by over 80 years of experience, VEET offers a range of easy-to-use creams and waxes, which are selected by more than 30 million women each year.
Hair Removal Gel Cream
For normal and dry skin types and only takes three minutes
Dermatologically tested
2. Olay Smooth Finish Cream Facial Hair Remover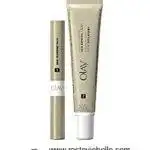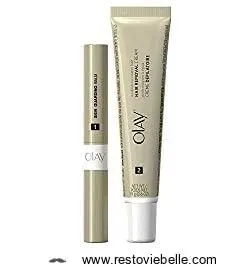 View On Amazon
This product from Olay is a cream facial hair remover. This makes their product stand out from other hair removal creams, which are often not safe or effective for use on the face.
This is a two-step kit that is effective for medium to gross facial hair. Like all hair removing creams, however, this should not be used around the eyes.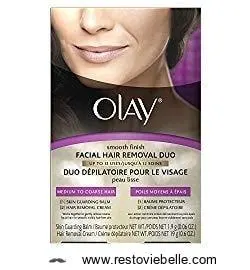 The treatment window for this product is about eight minutes long. The smell is not too intense.
Treatment begins with a balm to protect the skin against the hair removal formula. After the lotion is applied, the actual hair removal cream is applied slightly to remove the hair.
In general, the Olay hair removal cream does well when removing almost all light and medium facial hair. Some customers, however, indicate that this product is not very effective for dark or coarser hair
Skin-protecting balm and hair removal cream work together for gentle removal of medium to coarse facial hair from the upper lip, chin, cheek and jaw areas in two simple steps
Leaves your skin beautifully soft, smooth and visibly hair-free
Easy-to-use, two-step facial hair removal system transforms your skin in just 8 minutes
The balm helps protect the area from being treated, and then Cream removes the hair with virtually no pain when used as directed
3. Surgi-Cream Hair Remover Extra Gentle Formula
View On Amazon
Are you sick of hair removal creams that irritate the skin? Those products are no better than really using razors.
Surgi hair removal cream is the perfect solution for people with sensitive or irritation-sensitive skin.
It has been specially developed to feel good on the surface. That is why this hair removal cream is ideal for use on sensitive parts of the body, such as under the arms, the pubic area, the upper lip, the chin, or other parts of the face.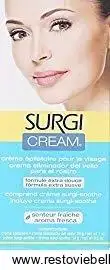 This cream contains aloe vera and cucumber that leaves the skin feeling fresh and pleasant. You will not experience any redness or inflammation with this product.
The other significant advantage of this hair removal cream is that it works quickly. You only have to wait 10 minutes after you have asked for the formula to apply. If you are a busy bee, using this cream would save you a lot of time.
It is the best hair removal cream solution for busy mornings if you want to look good, but you are in a hurry to go to work.
There is a pleasant smell that does not irritate you when you shave the hair
Cream facial hair remover
Specifically formulated for sensitive skin
Removes soft hair from upper lip, cheek, and chin in just 5-8 minutes
The formula also contains soothing Aloe Vera and Cucumber to soothe and hydrate Pleasant fresh scent that does not smell like a depilator
4. Veet Fast Acting Gel Cream Hair Removal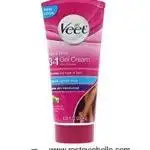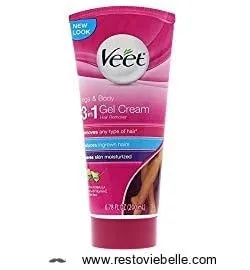 View On Amazon
Veet offers various hair removal solutions, which are consistently chosen as the best hair removal creams by various independent assessment sites, and this Veet fast-acting gel cream is ideal for the legs and body.
It offers a delicate formula enriched with aloe vera and an effective blend of essential oils and velvety rose to keep your skin hydrated, soft and subtly perfumed. It can also lead to less irritation, even for people with sensitive skin.
This product does not contain a spatula, so if you have an even layer of cream on your skin for 5-10 minutes, wipe the cream away with a wet cloth. This Veet product received the highest rating from customers and various review sites and called it the best hair removal cream around. Most users found that the fragrance on this gel-cream is considerably better than hair care creams
Best scent ever.
Silk and Fresh Technology.
Sensitive formula with Aloe Vera.
5. Sally Hansen Cream Hair Remover Kit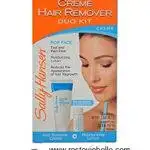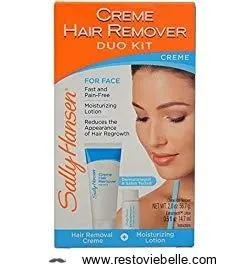 View On Amazon
It is specially formulated for sensitive body parts such as the face, under the arms, and inside of the thighs. This product is a duo kit with a nourishing lotion to reduce irritation and redness.
This formula for removing hair is a real goodie bag with healthy ingredients. It contains Aloe Vera and vitamin E to keep the skin supple and soft.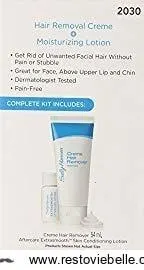 It also contains ingredients such as pumpkin seed extract of willow seed to reduce the appearance of hair growth. But the best aspect is that this formula is a salon- and dermatologically tested to be gentle on the skin.
This formula is very nourishing on the skin, so you do not have to use other creams to calm down later.
If you still experience a slight burning sensation, you can use the aftercare lotion that immediately softens and hydrates the skin. You do not need to buy a new moisturizer when you buy this kit.
The pain-free formula also works quickly with the minimal waiting time. This hair removal cream is great for people who want to get rid of fine hair on soft skin. Do not use too many shavers in places such as under the arms. Use this cream instead to remove unwanted hair without vibrating your skin
Hair removal for face and body: This quick and painless hair removal cream is just as easy to apply as it is effective in eliminating the appearance of unwanted hair on the face and body.
Works for large and small areas, from the upper lip to the lower legs.
6. Nair Cocoa Butter Hair Remover Lotion
View On Amazon
Nair is one of the biggest names in the hair removal industry.
This specific product is marketed as a depilatory lotion.
Nair has an impressively quick removal time and claims that it only takes three minutes to solve it. This product should not be left on the skin for longer than 10 minutes.
This product is different from other options because it requires a thick layer of cream over the hair without rubbing. This more adhesive layer means that you walk through the product faster than others.
It is a dermatologically tested lotion and contains cocoa butter and vitamin E to hydrate the skin. Unlike other products, the Nair depilatory lotion smells fresh and clean, with no chemical odor.
It can not be used on the face but is safe for use elsewhere. Consumers are generally satisfied with this specific formula because it does not irritate sensitive skin like other products with stronger chemicals. The only drawback is that leaving sensitive areas for much longer than three minutes can lead to severe irritation
7. StopHair Natural Hair Growth Inhibitor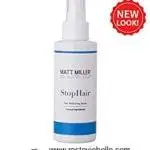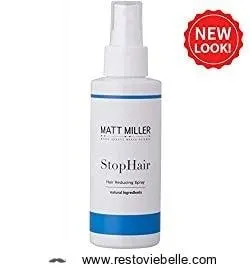 View On Amazon
StopHair is a kind of depilatory spray that specializes in preventing regrowth and not eliminating existing hair. A local spray is applied after the hair has been removed by another method.
StopHair is a unisex product, which means it works for everyone.
The formula is designed to simulate male pattern baldness and usually works within a few applications.
This is an entirely natural product that is composed of purified citrus and plant extracts, along with antibacterial agents and moisturizing creams. This differs from other similar products, which are often made from harsh chemicals.
StopHair is advertised as a permanent depilation product, but that is not entirely correct. StopHair does not inhibit regrowth, but cannot permanently wholly remove hair.
The results are real but can take some time to develop fully. For most customers, StopHair makes hair much thinner and finer than it would otherwise look
Stop hair growth naturally.
Money one-year warranty.
Patented and clinically tested.
All-natural hair removal cream
Easy and safe in use
8. Avon SKIN SO SOFT Hair Removal Cream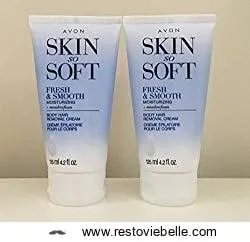 View On Amazon
This hair removal cream has been specially developed for those who fear shaving bumps and flaky skin. You can use this cream to remove hair without damaging the underlying surface.
The use of a razor, especially in sensitive parts of the skin such as armpits, can result in minor cuts and folliculitis (an acne-like rash requiring medical intervention).
When you use this hair removing cream, the plastic removal tool glides smoothly over your skin. There are fewer bumps, cuts, and infections than with a razor blade.
You do not have to rub this hair removal cream. It can be gently applied as a lotion. Those with sensitive skin will undoubtedly appreciate this quality. You can use a bit over a large area, and it will still remove all hair.
The cream is thick and very useful. If you have scraped all your hair, your skin will feel soft and silky soft. It is doubtful that you will experience any inflammation with this product.
This product also has a moisturizing effect. The cream moisturizes the skin, so if you use the scraper, it is less prone to damage
Fresh and smooth with Meadowfoam oil
Removes hair, hydrates the skin
Removes hair in 3-5 minutes. No longer than 8 minutes.
9. Gigi Hair Removal Lotion

View On Amazon
Gigi is a depilatory lotion that is specific for use on arms, legs, and the bikini line. It works quickly and needs about seven minutes to eradicate it.
This hair removal cream is a lotion, which means you have to shake the bottle before using it to make sure the product is mixed well. Unlike traditional lotion, this product should not be rubbed into the skin.
It contains the right mix of cocoa butter, vitamin C, vitamin E, and natural oils to reduce possible damage to the skin and provide a moisturizing formula. The smell is not too overwhelming but is not necessarily pleasant.
It is one of the cheapest products on the market. Consumers report general satisfaction with this product, but emphasize the importance of following the instructions.
One of Gigi's most obvious drawbacks is that it does not stop her in the long run, and you have to re-apply it almost as often as you should shave.
For use on arms, legs, and bikini
Enriched with cocoa butter, vitamins c and e and natural oils
Gigi hair removal lotion makes the skin softer, smoother and hair-free, days longer than when shaving
10. Wow All Natural Hair Removal Cream For Sensitive Skin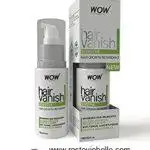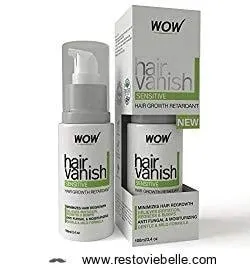 View On Amazon
Most hair removal creams contain harsh chemicals, such as perfumes that irritate the skin after use. The Wow Hair Vanish formula is designed to eliminate all these problems.
This cream is made from 100 percent natural ingredients from organic Himalayan Natural Springs.
This all-natural hair removal cream does not contain parabens that can be harmful to your health in the long term.
This hair removal cream is suitable for all skin types, especially sensitive skin. It also works with thick hair strands. This product is enriched with natural plant extracts that nourish the skin instead of dehydrating it as chemical removal creams.
WOW, hair removal cream does more than getting rid of unwanted hair. The formula can make the nose smaller and thinner with prolonged use.
Unlike most hair removal creams, you will not have any problems using this formula because it is soothing on the skin. If you use this for several weeks, you will see that your thick hair is now thinning.
It will reduce your need for constant shaving. If you are a green-conscious consumer looking for a reliable organic hair removal cream, then this is true. It is better for your skin, and it is better for the environment, and also for your wallets.
How To Use Best Hair Removing Creams?
Although you should always read the instructions about your specific hair removal cream, most products are used similarly. Always remember to have to test your hair removal cream on a small piece of skin before you use it entirely, to make sure you are not allergic to ingredients.
According to Carly Cardellino from Cosmopolitan Magazine, hydrated hair is more natural to remove than dry hair. Dry hair is harder and less malleable than hydrated hair. This makes it most effective to use your hair removal cream immediately after a shower or bath.
If you are in a hurry and do not have time to shower or bathe, you should at least clean the area where you want to remove the hair. The area must be dry, clean, and free of lotions or other products. Do not use the cream on damaged or irritated skin.
Apply the best hair removal cream only to your skin if you apply a thin layer. You do not have to rub the cream into your skin, but pat it and make sure you cover the surface thoroughly.
Check the instructions on your hair removal cream again for how long you have to leave the cream. Some products are meant for only five minutes on your skin, while others can be up to twenty.
Make sure you do not take the time that is instructed. If you leave the hair removal cream longer, it will most likely damage or irritate your skin. If the product starts to burn or itch, you should immediately remove it.
Many hair removal products come with something called a hair removal spatula. You can use this to remove the cream by scraping it in a downward motion.
Some people advise, however, to rinse the cream in the shower. This removes all cream in one go and prevents burns or irritation. The spatula cannot remove all the cream in one go, so rinsing is a method that deserves attention.
Regardless of the method you choose to remove the cream, always rinse your skin a second time to remove the remaining product.