This site is supported by our readers. We may earn a commission, at no cost to you, if you purchase through links.
If you need to cut your hair at home, it is essential to have the right tools, namely quality hair scissors.
Your kitchen scissors don't count: professional hair scissors are made with sharp blades designed to give you a close shave with ease.
If you are an experienced barber, you will probably know how to choose hairdressing scissors. If you're new to hairdressing, you may not know what to look for.
Don't worry; we went looking for the best hair cutting shears. In this guide, we'll discuss their features, accessories, pros, and cons to help you make the right decision.
We'll also share essential considerations with you to consider when making your decision.
Keep scrolling to find the best hair cutting scissors out there.
What to Look for in the Best Barber Shears
When it comes to the best barber scissors, you have to think about the blades, design features, sharpness, and durability. You want scissors that will last without rusting or falling apart. We break down these assets one by one here.
The Size of Hair Shears
Before shopping online for new hairdressing scissors, follow these steps to choose the right size for you:
Buy a ruler or old hairdressing scissors
Open your left hand and place it on the palm of your hand
Measure the entire scissors or ruler against the palm of your hand
Put the tip of the blade or ruler on the end of your middle finger
Measure the blade or ruler against your middle finger
If you're unsure, you can order 6-inch scissors that will suit most hairdressers and most cutting techniques.
Longer 7″ scissors are better for hairdressing techniques like Over The Comb. Shorter 5.5-inch scissors are better for precision cutting techniques.
Blades
There are two types of blades you will see with traditional scissors. The first is the beveled edge. These are scissors made of different metals, and they are made to be extremely light. European hairstylists usually use the beveled edge, and they have micro-serrated on one or both blades. The Tondeo T-Chiro is an example of this type of blade.
Convex blades are specific to Japanese scissors because the style originated from the techniques of swordsmithing. These blades are the sharpest, and most professionals look for these types of blades when purchasing the best barber scissors. With their razor-like edges, it's easy to get an accurate cut, even if you're working with a lot of hair.
Material
If you want to buy professional hair scissors, stainless steel is by far the best material to go for, as it retains a sharp edge, does not rust, and lasts forever.
Type of Shears
Whether you're an experienced hairdresser or a DIY semi-professional, you'll find that three types of scissors play an essential role in a great haircut:
Straight scissors: When most think of the best barber scissors, they think of straight scissors. The straightener adjusts hair length and relies on two hard blades that cut effortlessly through the hair.
Thinning shears: With a comb and a straight blade, thinning shears are used to remove bulk from a style. . These scissors are not used for length changes.
Blending Shear: Like thinning shears, blending shears are used to remove a small amount of hair to give a layered texture.
Grips
Some scissors also have a rubber coating or finger insert for a more comfortable position in the finger hole. If you often get tired or stressed from your fingers in these closed positions, a rubber finger hole insert can reduce that stress for you.
Hair Cutting Kit
A cutting kit may be the best option to learn new skills and experiment with new hairstyles. These kits usually contain a minimum of two scissors and some useful accessories.
10 Best Hair Cutting Shears & Scissors of 2023
We've done a lot of research to help both the average consumer and professional hairdressers find their perfect professional hair scissors. Check out our list of the best hair cutting scissors in 2023 below!
1. Kinsaro Japanese Hair Cutting Shears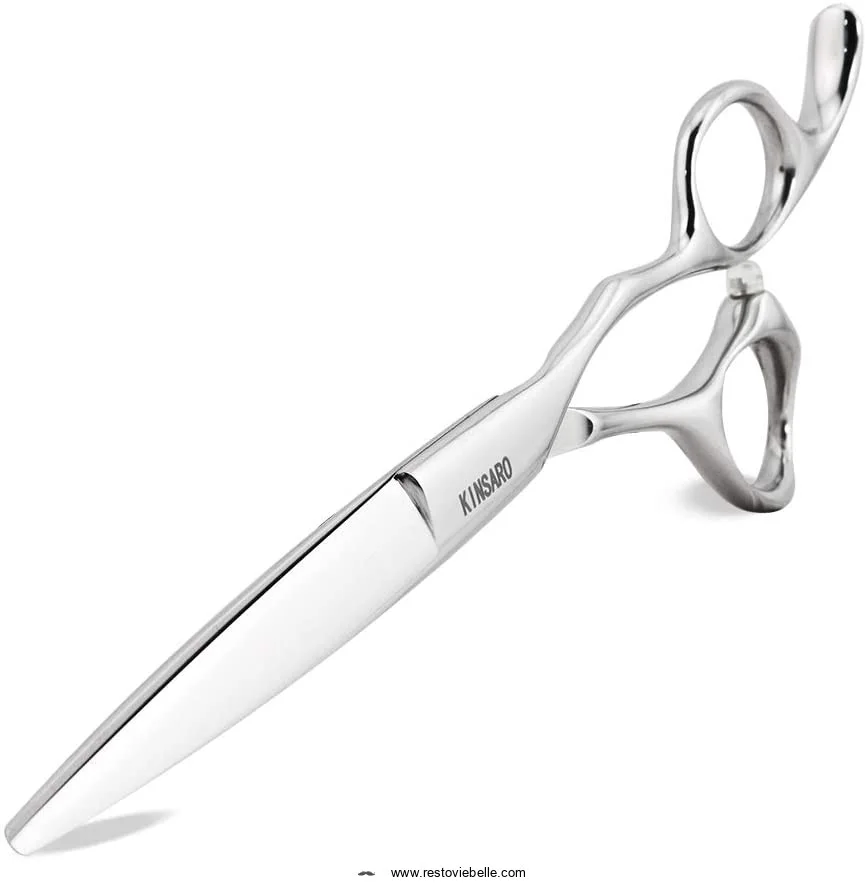 View On Amazon
There is nothing better than the Kinsarol 6 ″ scissors when it comes to quality and performance. Thanks to the solid and sharp Japanese 440C stainless steel blades, they will easily last for years without degrading their performance.
The highly sharp convex blade provides precision when cutting complex hairstyles and does not dull as quickly as other blades. Designed for professional hairdressers but priced home use friendly, these scissors offer excellent value, even making premium Japanese hair scissors work for the money.
Whether you are cutting multiple heads of hair or just one, you will find that the lift's ergonomic handle does not interfere with the natural movement of your hand. This comfortable handle will reduce fatigue when used for long periods. With a 6.69 "long body along with a 2.52" cutting blade, it will work great for men with medium to large-sized hands.
A longer body provides greater leverage allowing you to cut through thick, damp hair effortlessly.
The simple CNC screw can be easily adjusted with a flat head screwdriver or penny to adjust the tension accordingly.

Quality steel blades make cutting easy
Comfortable palm rest
Classic tension system
It does not include a storage case
2. Equinox International Hair Cutting Scissor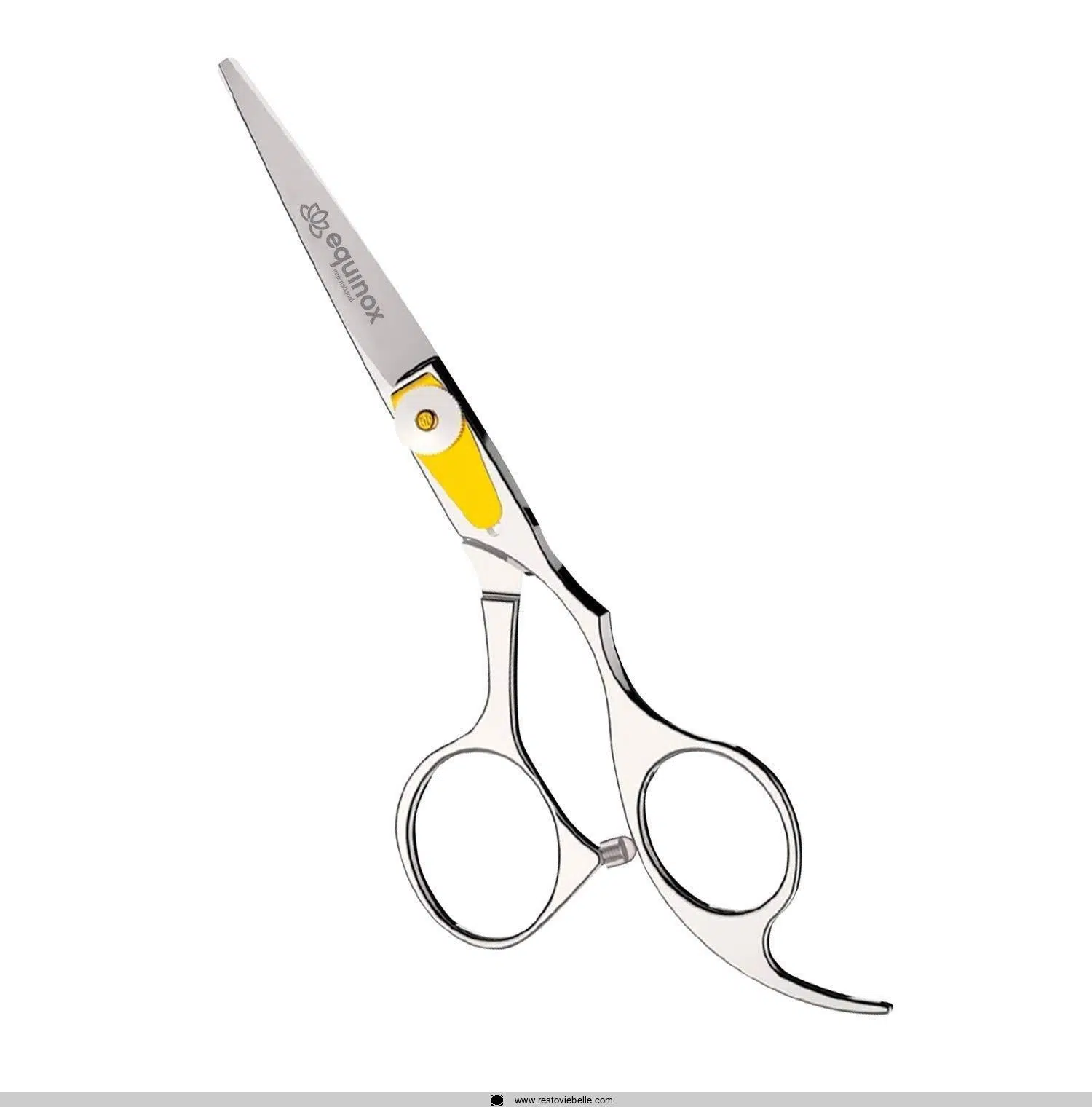 View On Amazon
Available in two colors, Stainless Steel and Titanium Blue, Equinox Barber Scissors are perfect for professional hairdressers who want a fabulous-looking pair of hair cutting shears in their barbershop or salon. That said, we also recommend these scissors for home use. Japanese stainless steel construction and sharp cutting edges lend themselves to fabulous results after every use … as long as you know what you're doing, of course!
Blade is 6.5 inches long
Versatile and practical in a variety of hairdressing situations
Lots of positive reviews
If you are offering more than one color, why limit yourself to blue?
3. Kovira 2pc Professional Hair Cutting Scissor Kit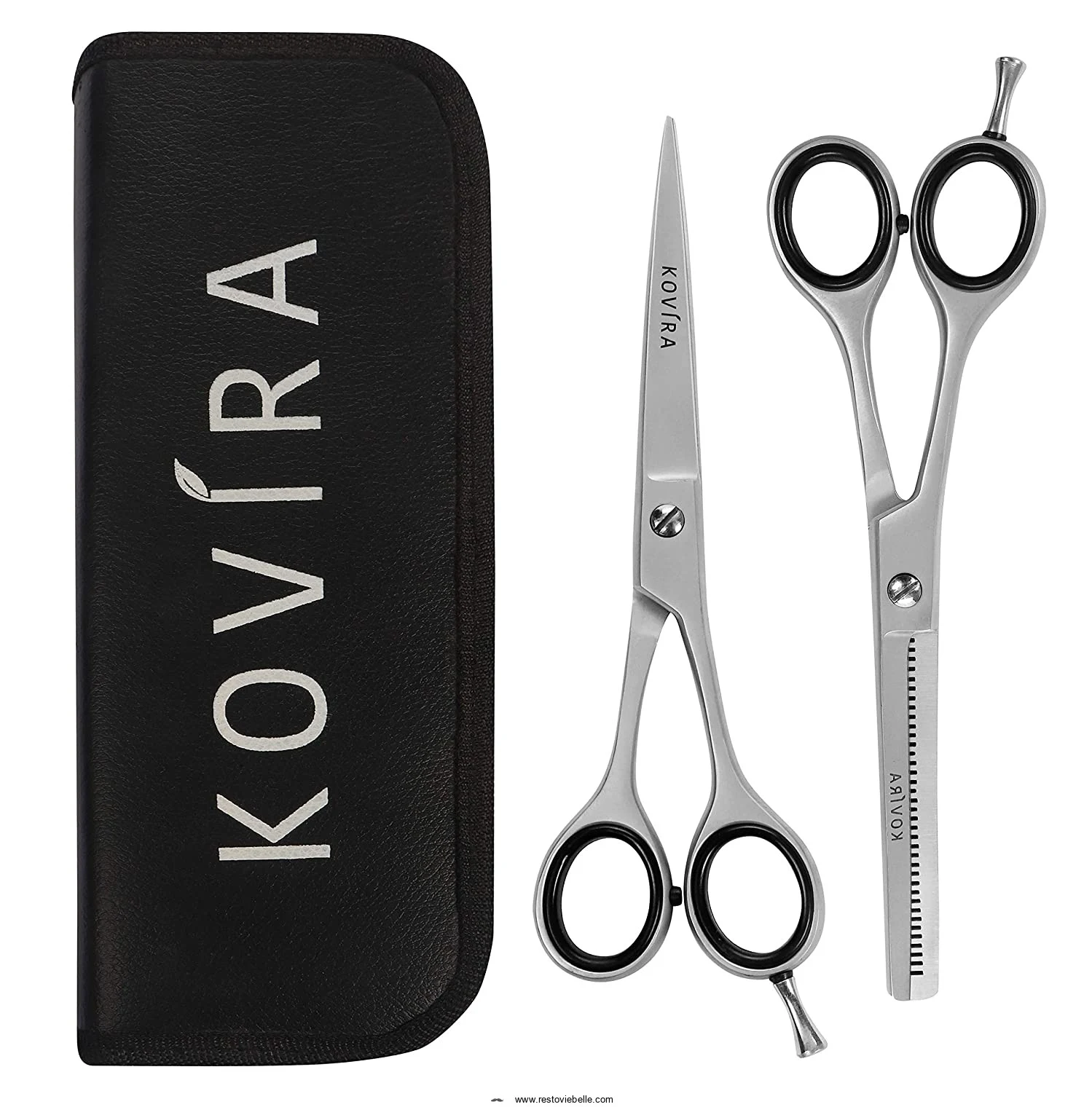 View On Amazon
For most hairdressers, the handles of the scissors they use are an essential consideration because this part dictates the level of comfort in holding them. Are you a hairdresser who has been concerned about the many hours you need to spend holding scissors daily? Next, you need the Kovira scissors that allow you to adjust them to suit you. You need to tighten or loosen the knurled knob.
These scissors give you a comfortable grip as they are equipped with a rubber handle. It is removable, allowing you to handle the scissors comfortably. Apart from the perfect grip of these scissors, the sharp blades of this tool will ensure excellent results in every haircut. Also, your clients will never have split ends if you use these hair cutting scissors.
If your salon is a busy place visited by children and adults, you should ensure that all your tools are stored safely to avoid accidents.
With these scissors from Kovira, you won't need to spend extra money on a box. The product comes with a black leather box to store the scissors.
Additionally, these barber scissors are made of premium stainless steel sourced from Japan. This 440C steel is the bare minimum for good hair scissors. It guarantees the maximum quality and durability of the model.
In addition, the material ensures that they remain sharp for longer compared to similar models on the market. So you won't need a new pair of scissors every time once you get this product from Kovira.

Premium stainless steel
Provide a comfortable grip
Come in a leather sheath.
It may not be as sharp as more expensive products.
4. Cricket Centrix Roc-it Dog Rs600 Professional Hair Cutting Shears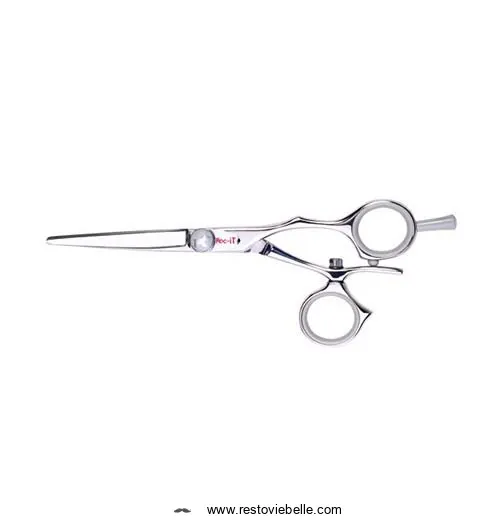 View On Amazon
There are several options when reviewing professional hair scissors; however, we found that the Cricket Centrix Roc-it Dog Rs-600 stood out above many. With a rotary thumb, this professional salon shear can be used for various techniques and cuts, including slide cut, channel-cut, and chip (source) cut.
Designed for professional groomers, the Cricket Rs-600 has a sharp convex blade edge that won't strain your hands when the days get longer. To allow full shoulder and wrist movement, these scissors also feature an off-center Ero handle designed to reduce hand and wrist fatigue.
All of the design details found inside these scissors mean you can focus on the cutting experience rather than trying to relieve pain or discomfort in your hands.
To take measurements one step further, the Rs-600 also has a removable palm rest for personal preference. As standard on scissors of this quality, you will find that the tension knob is easy to adjust so that it can be easily adjusted to a client's particular hair type.
It comes with a 100% satisfaction guarantee, and returns are accepted within 30 days for a full refund.

The brand trusted by professionals offers a spectacular product
Razor-sharp convex edge
Ergonomic design
Easily adjustable tension
5. Ulg Barber Hair Cutting Scissor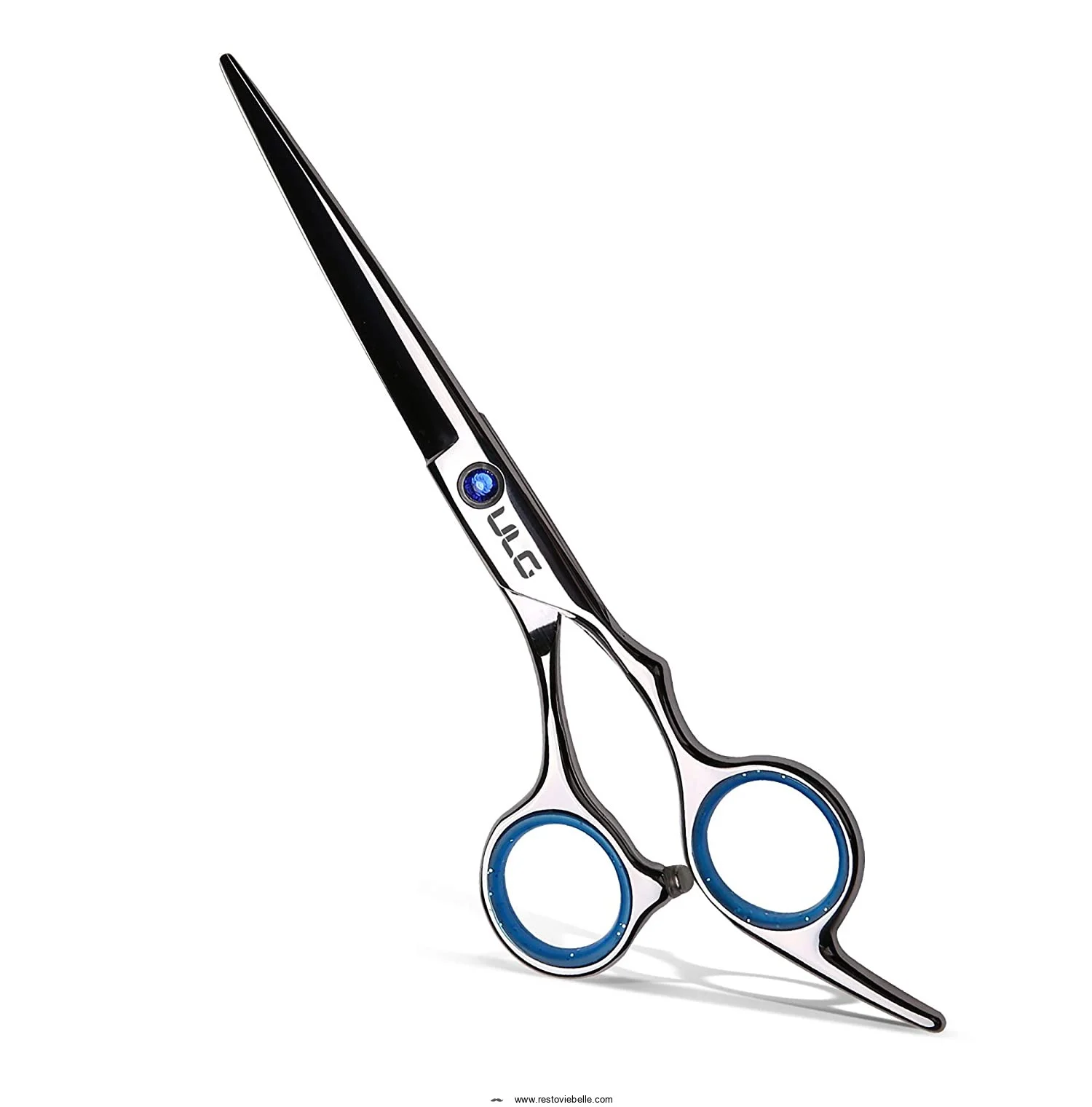 View On Amazon
Hair-cutting shears don't have to cost an arm and a leg. These ULG hair cutting shears are an affordable yet reliable tool for most hairdressing needs. Like the Equinox mentioned above, these scissors are 6.5 inches long and made with Japanese stainless steel. What sets them apart are the practical detachable finger inserts, which allow for a comfortable fit and greater ease of use. The off-center grip also helps with flexibility and prevents overextension.
The handle is specifically designed to protect your fingers and wrists
The finish is attractive and pleasing to the eye
Great in both the living room and home
Not as durable as other more expensive scissors
6. Kissaki Stainless Steel Swivel Hair Cutting Shears

View On Amazon
There may be no better option for those new to hairdressers who want a quality clipper than the six ″ Kissaki hair scissors. While most barbers don't mind knowing that the Kissaki blade has been tempered to an optimal Rockwell hardness rating of 60-61, those who do, like you, will find that you can expertly cut. Crisp and direct with every hit. Thanks to Japanese 440C stainless steel and ground hollow blades.
To ensure this blade performs at its best, the folks at Kissaki have sharpened the blade three times at the factory, so when it arrives at your shop, it's ready to go – no further sharpening required.
If that wasn't enough, which we don't know how it couldn't be, Kissaki cleverly offers a rotating thumb that lets your hands rest. In its natural position for comfort.
Whether your hands are large or a little thin, these scissors include finger inserts that allow a close but comfortable grip.
When you use scissors to cut hair, you can store them in a specially designed scissor case that includes ant lubricants and a leather cleaning cloth.
Unlike many small brands looking to make a quick buck, Kissaki stands up for its product. They set the standard by offering a best-in-class lifetime warranty covering parts, materials, and labor.

Japanese Hitachi SUS 440C stainless steel will last for years
Sharp triple blade
Rubber finger ring provides a comfortable grip
7. Shearguru Professional Barber/salon Scissor Hair Cutting Set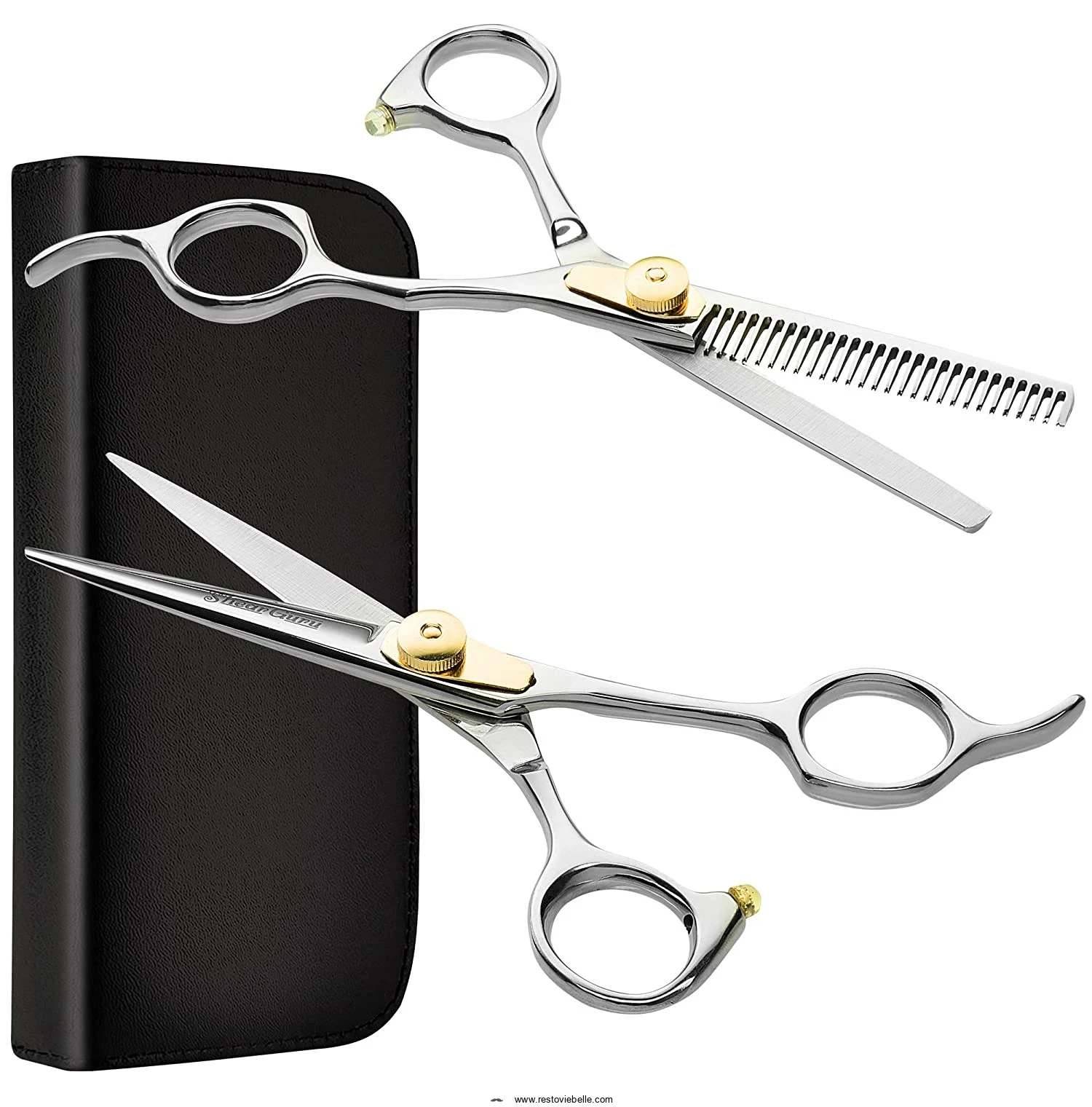 View On Amazon
Looking to upgrade your professional barber scissors and want the best tool for the money? This haircut set from ShearGuru will be ideal for your needs. With this kit, you no longer have to worry about split or choppy hair ends.
Made from superior stainless steel from Japan, these scissors retain their sharp edge up to five times longer than ordinary stainless steel. Models. Therefore, your cuts will always be clean and perfect.
Professional hairdressers have an idea of how annoying scissors become when their blades are ground or jammed. With these ShearGuru scissors, it will not be a cause for concern for you. The edges of this tool will not lock or dull as the steel material is relatively smooth.
In addition, you will experience maximum comfort when using these hair cutting shears, as they are equipped with a fine adjustment screw for adjustment. So you can spend a whole day cutting or trimming your clients' hair without feeling hand fatigue at night.
If you are a hairdresser who not only operates in salons but also outdoors or makes house calls, you need to invest in a case to store your scissors and other necessary tools.
With this game, you won't need to spend a lot of money on a box, as it comes with a free leather case. You can store the scissors safely and transport them easily.
I want to point out that these professional scissors are designed not only for cutting hair. You can also use them to thin your hair. Also, you will not turn away customers who want to texture their hair once you have this set from ShearGuru. I recommend this product to all hairdressers looking for complete hairdressing set for the job.

A set of multifunctional haircut
Made of high quality steel
High sharpness retention.
You cannot buy the scissors separately from the game.
8. Coolala Stainless Steel Hair Cutting Scissor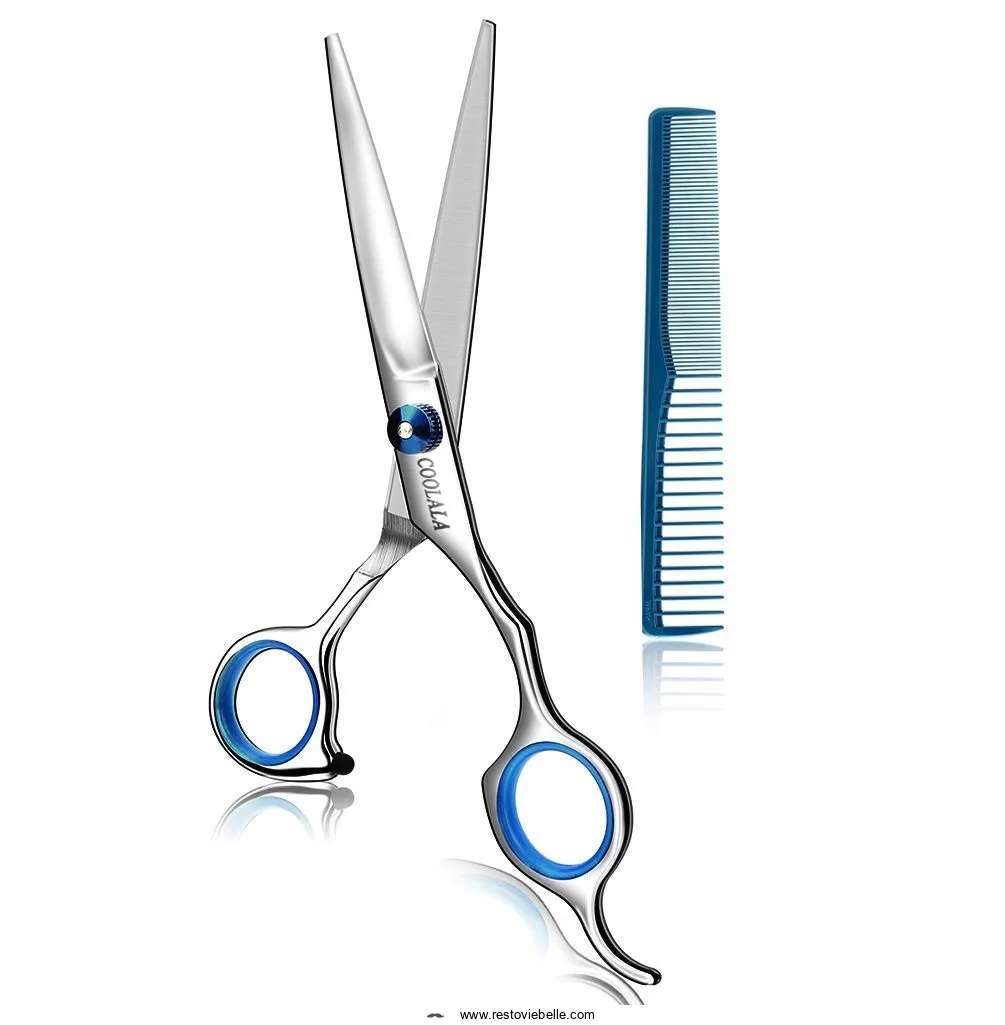 View On Amazon
At first glance, you will be forgiven for thinking that Coolala stainless steel hair cutting shears are the same as ULG hair cutting shears. The design is very similar, as are the Japanese steel materials used to make the blade. They even have a blue highlight. However, the Coolala comes with a comb included. Sure, this may not be a deal-breaker, but you'll find yourself losing combs more often than you'd like, so it's always good to have a spare.
Simple but nice design and finish
The adjustable screw allows adaptability
The included comb is a nice touch
Not as sharp as other scissors on our list
9. Feather No.65 Switch-blade Hair Cutting Shears

View On Amazon
One of the most significant disadvantages of many professional hair scissors reviewed is that they require regular sharpening to get the best performance. If the scissors are not sharpened regularly, they will not only malfunction. Still, they will also apply blunt force to the delicate hair follicles, which, in some cases, can lead to split ends and a disappointed customer.
If you don't like sharpening your blades regularly, then the Feather No. 75 Blade Shear is a perfect match. Regular readers of the site had probably heard of Feather before, as we recently discovered that they made one of the sharpest razor blades on the market.
By bringing that same quality of craftsmanship to the interchangeable blade shear, you get an ice-tempered blade made from Swedish surgical steel backed by a lifetime warranty.
Replacement blades are available from significant online marketplaces like Amazon at a reasonably affordable price.
With a straight-handled blade and a comfortable palm rest, they'll work great for lefties.
Of course, this handle design has its limitations regarding style and can cause shoulder and wrist discomfort for salon workers on long shifts.
Available in different lengths, you can find the perfect cutter for detailed cuts or heavy work.

Available in various blade lengths
No regular sharpening required
Many peer reviews
Sharp blades allow clean cuts
Limited mobility can cause sore muscles
The package is plain, does not include zippered bag or fabric
10. Japanese Hitachi Pro Hair Cutting Scissors
View On Amazon
Left-handed hairdressers often have a hard time finding tools designed for them. If you belong to this category, worry no more because these Japanese Hitachi scissors will be ideal for you. You have the freedom to choose suitable- or left-handed scissors with blade lengths from 5.5 "to 6".
Additionally, the functionality of these scissors is impressive, as they were manufactured using advanced computer software. The balanced blades line up perfectly during a haircut session.
In addition, this model allows you to create different hairstyles, tapered cuts, and layers. You also don't need to worry if your hair is dry or wet when using these scissors.
These scissors are made from the finest Japanese stainless steel. Not only does it guarantee that they last a long time, but it also prevents them from rusting. These scissors come with premium quality blade oil that you can use to prevent corrosion.
Another important fact is that these hair cutting shears are incredibly lightweight. Therefore, even if you spend a whole day cutting your hair with them, you will hardly feel fatigued.

Light
Durable
There are models for left-handed hairdressers.
The blades may be short for some barbers.
What Are the Difference Between Scissors & Shears?
When searching for hair cutting tools, you see both "scissors" and "shears," but what is the difference?
In the hairdressing and hairdressing industry, there are no differences between shears and scissors.
For hair treatment, the term "scissors" is more common. In the hairdressing profession, the time "shears" is more common.
Shears are generally more extended, and long-bladed (7″ inch) shears are better for hairdressing techniques. These scissors sizes are helpful for over-the-comb hairdressing techniques.
Scissors tend to be shorter, and most clippers are between 5″ and 6″ inches. This is especially useful for hairstyling and precise cutting.
Hair thinning and texturing tools are called scissors. These have between 10 and 40 teeth used to thin your client's hair.
Scissors and hair shears both use convex, angled, and hybrid blades. The convex blades are for precise and smooth cutting. The only drawback is that not all sharpeners use these have protruding edges.
The conclusion is that there can be a tiny problem between scissors and scissors, such a size, but most brands do not limit themselves to that definition.
So if some ask you if you buy hair scissors or shears, remember that their work is the same event.
How to Cut Your Hair at Home
If your hair is screaming for a haircut, it might be time to take the salon home with you. If it's your first time cutting hair by yourself, it's best to start small and take shorter steps. Use sharp hair scissors and a wide-tooth comb to get an even cut. Here are some tips for cutting hair at home:
1. To Cut Your Hair (and Remove the Split Links)
After shampooing and conditioning, allow hair to dry completely before cutting. Cut with the tips of the hair scissors, rather than the entire length of the blade. Use clips to separate the hair into manageable sections. Make sure the length is the same on each side. Make sure to keep your chin up when you trim split ends. If you look down, you may be taking off too much height.
2. To Cut Face Description Layers
Start with your normal parting, then create a vertical section of hair and bring it forward. Comb this section inch by inch, facing forward at a 40-degree angle. The bottom of your first inch should not be higher than the corner of your eye. Cut with the tip a small piece at a time, according to the shape your hairdresser has made (if possible).
3. Cutting Curly and Wavy Hair
Start by letting the hair air dry and then style it into the desired shape. Only trim areas of hair that seem out of place. It's best to cut half of what you originally wanted to cut because cutting 1 inch will look like cutting 2 inches. The shorter your hair is, the lighter and more bouncy the curls will be.
Hair Shears FAQs
Here are some frequently asked questions readers had when buying hair scissors:
What Happens if You Cut Your Hair With Regular Scissors?
Technically, you can cut your hair with regular paper scissors. But we don't recommend it.
Hairdressing shears are designed for sharpness, precision, and stability. They are all necessary for styling hair.
Salon hair scissors can cost a lot. I recommend you shop around for a budget option.
You can get your hands on a pair of scissors for as little as $ They may not last very long but will give you good results. Better than your trusted old craftsman.
How do I maintain hair-cutting scissors?
There are several things you can do to make sure your scissors last a long time.
Lubricate your scissors with machine or scissors oil every two to three days. Keep them wrapped when not in use to avoid damage. Never use your barber scissors to cut anything other than hair, as you will dull the blade. Clean your scissors with a brush when you clean them.
Also, only cut clean, wet hair. This is easier to cut than dry hair and keeps your blades sharp longer.
Can You Take Hair Cutting Shears on the Plane?
Are you traveling to a place where you need your hairdressing scissors? You'll probably need to bring an excellent protective leather bag.
TSA says cutting scissors with blades shorter than 4 inches (about 10 cm) can be packed in your carry-on bag. If it takes longer, it has to go to a checked bag.
That is in the states… how are the regulations elsewhere?
In Europe, sharp objects of any size are not allowed in hand luggage. You may only pack them in checked baggage. It's similar in Hong Kong 10 and Australia.
How often should I sharpen hair shears?
Most scissors only need to be sharpened once a year. Shears are made of lower-quality steel that can be bluntly sharpened more often. In addition, it is possible that a pair of scissors with a tension that is set too tight also needs to be pointed more.
How do you clean, professional hair shears?
We recommend using a cloth soaked in rubbing alcohol to clean your scissors between each use.
Conclusion
We have a complete list of the best barber shears based on value, affordability, quality, style, and reputation.
There are hairdressing scissors for professional Barbers and hairdressers, students and apprentices, and enthusiasts of home hairdressing.
We give these best hair cutting shears the highest rating. Based on the feedback, ratings, overall reputation, and quality assurance, these will satisfy every customer.
Each pair is made of premium steel, giving them excellent edges that are sharp and precise cutting tools.
References
toolsofmen.com
mystraightener.com
latimes.com