This site is supported by our readers. We may earn a commission, at no cost to you, if you purchase through links.
If you are someone who likes to shower and relax while bathing, low water pressure can be a nightmare for you.
For most people, a more powerful shower means a more pleasant shower. The best pressure shower head gives you an invigorating shower experience.
If you are faced with this kind of situation, it is time to invest in a high-pressure shower head. You can solve this low water flow problem in minutes and enjoy your shower time again! You will also notice a huge difference in cleanliness and comfort.
Below we compare the best high pressure shower heads on the market that will help you turn a dreary shower experience into something that not only performs better but makes you feel better by it. Make you want to stay in the shower longer.
How to Choose the Best High-pressure Shower Head?
There are several functional elements and design features to consider when buying a pressure shower. Flow is the primary technical concern. In addition to aesthetic choices like design and finish, look for features like spray patterns, energy-saving benefits, and other options. These are the criteria we took into account when making the choices.
Types of Shower Heads for Low Water Pressure
There are four basic designs for high pressure showerheads. These include wall-mounted, handheld showerheads, rain showerheads, and three-way. Which model suits you best depends on the size and layout of the bathroom and your personal preference.
Fixed (Or Standard) Shower Heads: As the name suggests, these types of showerheads are mounted on the wall or ceiling in your bathtub. These shower heads regulate water flow based on the amount of water they let through their holes.
Dual or Handheld: Slightly more expensive than its fixed counterpart, dual shower heads are great for versatility. You can completely cover your body with a fixed option at the top and a handheld showerhead at the bottom.In low water pressure situations, this option can make sure you get it all. Your hard-to-reach places are immaculate.
Rainfall: Although the rain shower heads look extremely relaxing, these shower heads can quickly become frustrating. Most rain shower heads are stuck and make it extremely difficult to rinse hard-to-reach areas. Second, most rain showerheads only offer a standard spray setting, further reducing their versatility.
Material
It is essential to check the material when choosing the best high pressure shower heads. Most of these shower heads are made of stainless steel with an ABS plastic cover. Make sure you choose one and avoid unnecessary hassles, such as breaking the shower rod, leakage, or a loose problem.
Spray Settings
With many showerheads, you have the option to adjust the type of spray. You could choose from powerful massage jets, pulse options, rain, or a mix. There is no general advantage of one over the other; the choice comes down to personal opinion. We love the massage jets!
Flow Rate
Flow rate, expressed in gallons per minute (GPM), is how much water flows through a showerhead. A standard 2.5 GPM showerhead delivers 2.5 liters of water every minute, or 25 liters of water during a 10-minute shower. Governments regulate the flow of the showerhead to save water and energy.
Water-saving showerheads that earn the WaterSense label from the Environmental Protection Agency (EPA) consume no more than 2 GPM while providing a shower that equals or exceeds standard showerheads on the market. EPA estimates that replacing a conventional showerhead with a WaterSense showerhead can save nearly 3,000 gallons of water annually.
Budget
This is the essential factor to consider before purchasing a showerhead. Most showerheads have essential functions but charge a lot more. You need to do detailed market research and compare the features of one product with another. This is how you find out if your investment is worth it.
Installation
Bring one shower head that can be mounted in any standard shower arm. These shower heads come with an easy installation warranty with a DIY manual.
10 Best High Pressure Shower Heads of 2023
Whether you're looking for the best shower heads or want to enjoy a spa-like shower, one possible solution is to invest in the best pressure shower head for low water pressure. This is the most affordable and most accessible way.
Our list of the best high pressure shower heads on the market will help you evaluate and compare the product's basic features. This is the most effective way to make your investment worthwhile.
1. Speakman High Pressure Adjustable Shower Head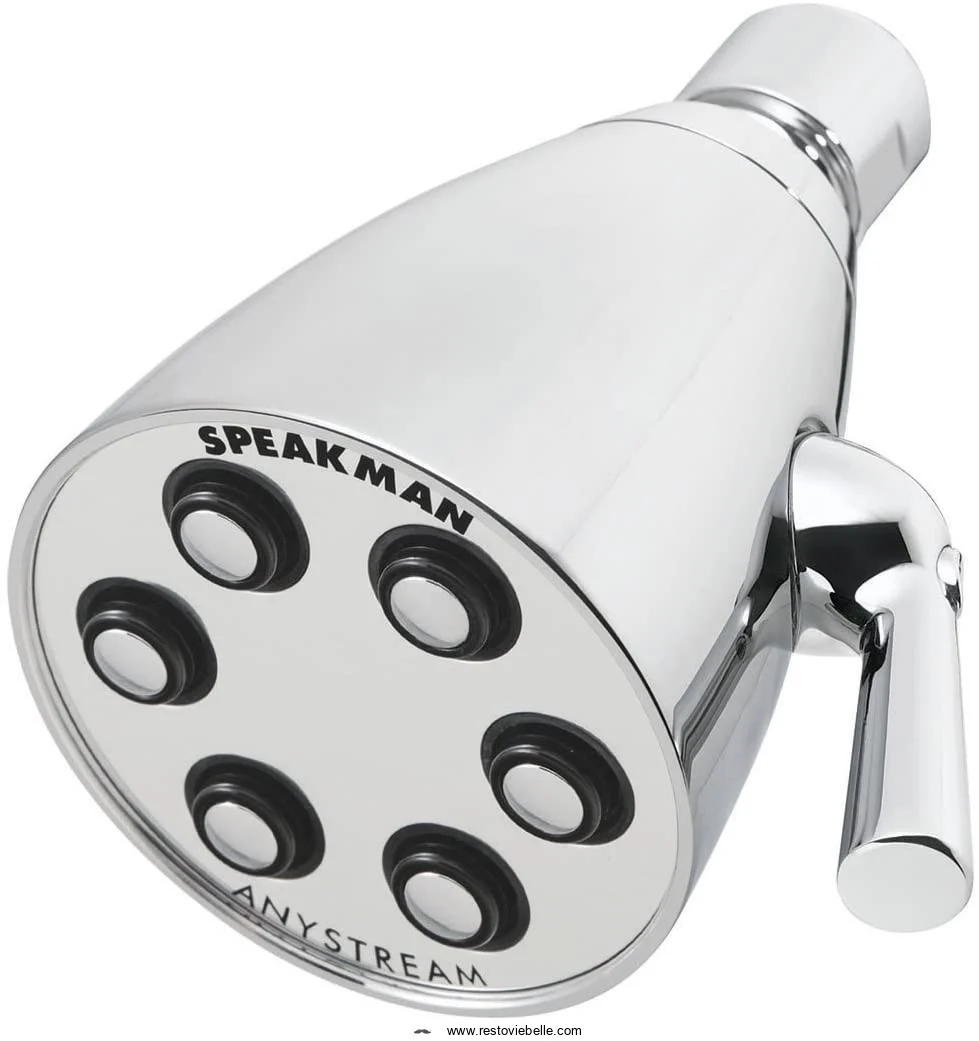 View On Amazon
The market leader for high pressure shower heads is undoubtedly Speakman.
One of the world's leading providers of luxury hotel brands, their shower heads can withstand the harshest water conditions and qualities while at the same time performing well above others on the market.
It will be a welcome upgrade to almost any shower stall with four different finishes, including brushed chrome, brushed nickel, polished brass, and polished chrome.
The Speakman S-2252 comes with three different jet flow settings that can satisfy the preferences of almost anyone.
With a flow rate of 2.5 GPM, the Speakman offers an easy-to-remove restrictor valve if you want to achieve a higher GPM rate (although we do not tolerate this as it leads to excess waste ).
Second, Speakman offers self-cleaning showerhead nozzles that will reduce the frequency you will need to clean this shower head compared to others on the market.
Of all et – Speakman brand shower heads offer the longest (lifetime) warranty.
If you are looking for a more restricted shower head to save more on your water bill, Speakman offers a 2.0 GPM option.

Solid metal design with no frills to last for years
Provides a clear stream with high pressure
Should last a lifetime
2. Sparkpod High Flow Rain Adjustable Shower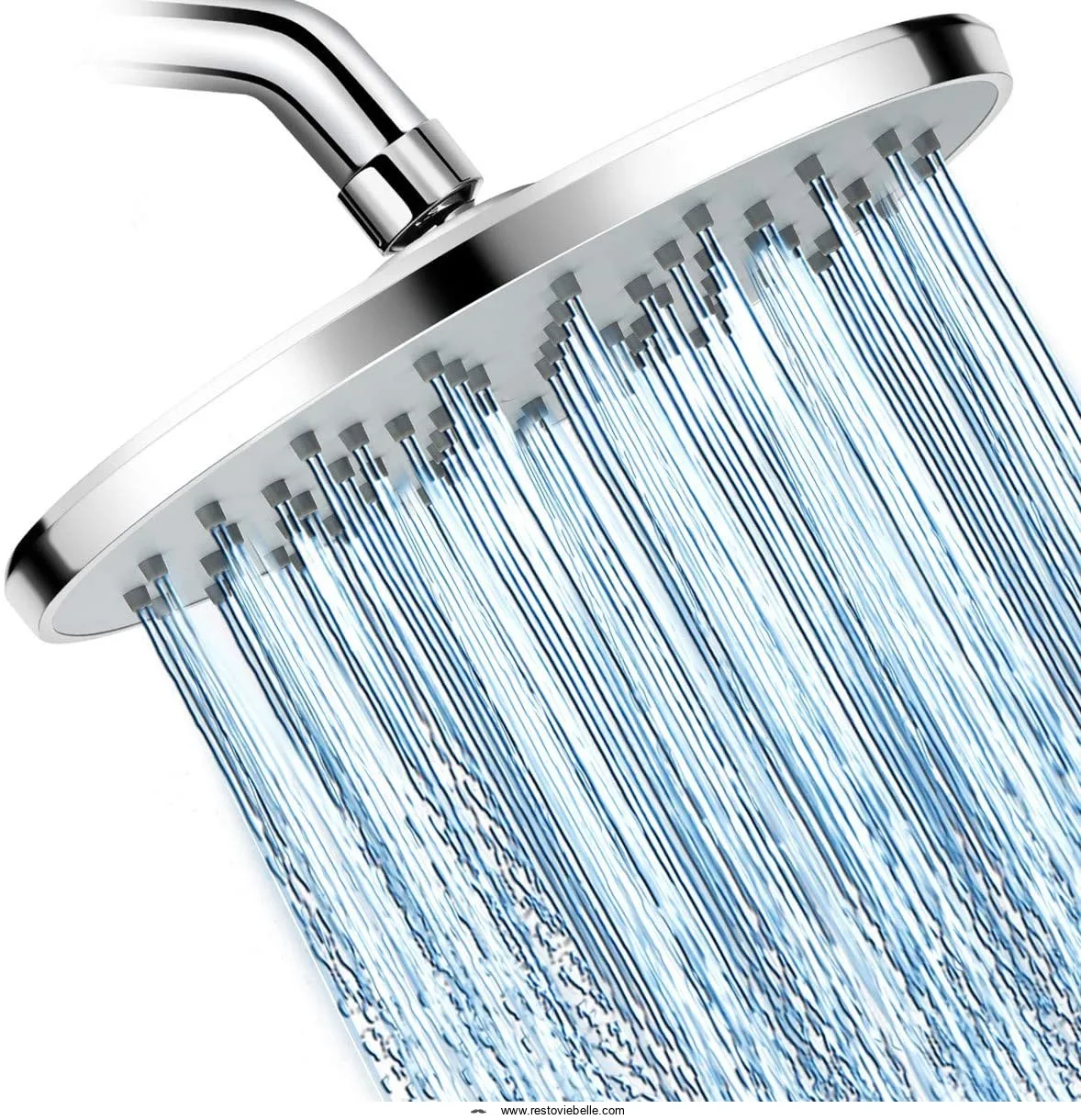 View On Amazon
With the SparkPod High Flow Adjustable Rain Shower, you can enjoy your shower as if you were standing in a sudden downpour. This showerhead comes with a unique rain jet. So when the high pressure water cascades over your entire body, you will immediately feel relaxed, relieved, and stress-free.
This product is professionally tested and certified, making it very popular in the market. This shower head has a stylish appearance with an easy tilt adjustable angle. So you can move it in any direction or tip you want to bathe in. High-pressure water helps to clean the pores of the skin and also to remove the dead skin.
Although this product has more than 100 silicone rubber nozzles, it is easy to clean. So when your budget is tight, and you want to get a decent shower head with good features, we recommend purchasing the SparkPod High Flow Adjustable Rain Shower.
It is easy to install and also without special tools. So, take home this sleek-looking shower head with a chrome finish and add elegance to your bathroom.

Affordable shower head.
It is professionally tested and certified.
Easy to clean and maintain.
Elegant chrome finish with adjustable angle.
No lifetime warranty for the product.
3. Kohler 72419-bl Awaken Showerhead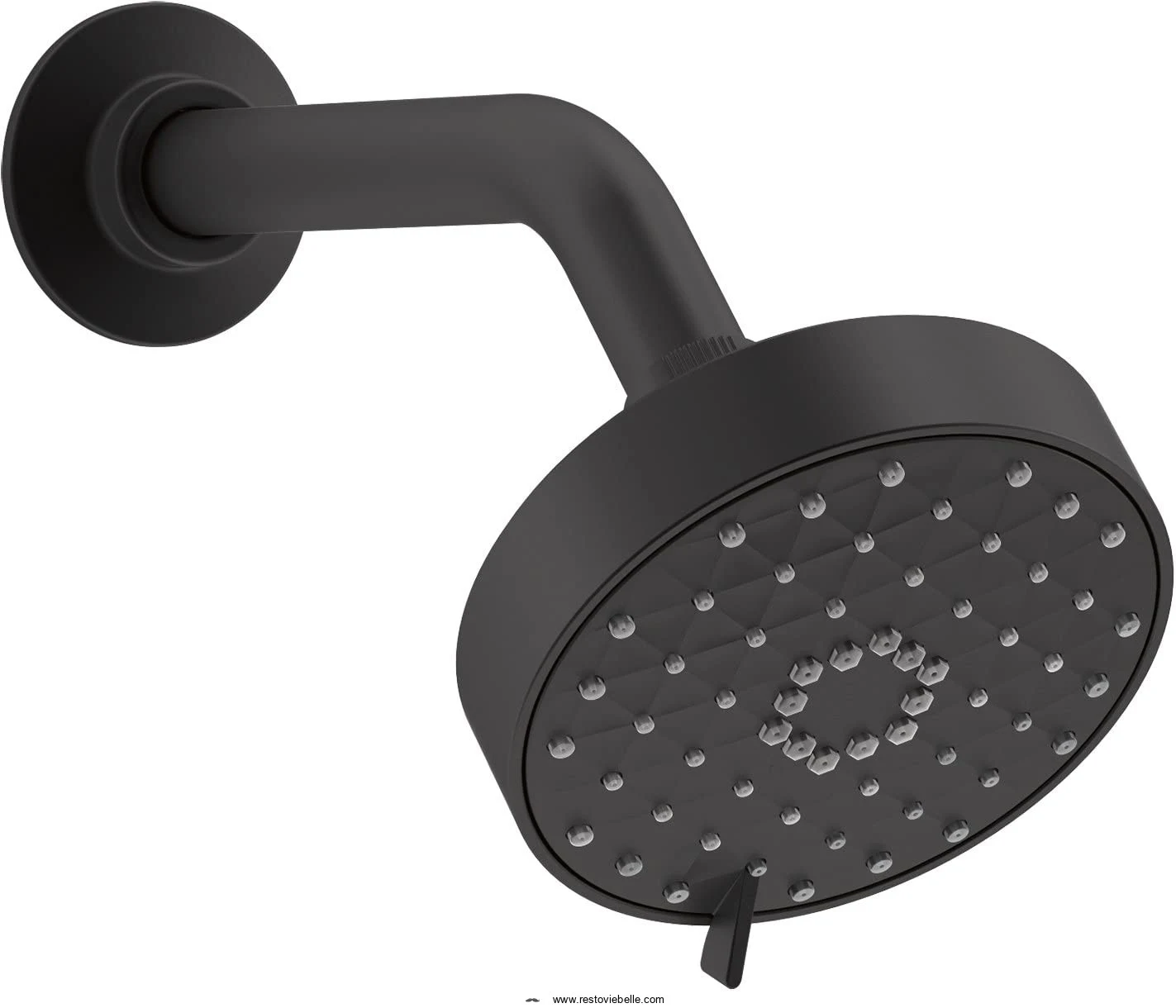 View On Amazon
From Kohler, this multifunctional showerhead offers many options for a custom look in a contemporary design. An advanced spray motor increases low water pressure for a more enjoyable shower, and the fixture provides three unique shower options controlled by a simple tab.
Wide coverage spray is excellent for general use. Intense Soak Off Spray provides a forceful spray to rinse the shampoo from hair. The targeted spray is a focused stream to massage sore muscles. The master clean spray head is easy to clean.

Sleek, modern design
Wider spray coverage
Easy to switch between sprinklers
It May not suit pipes in old houses
4. Aquadance Luxurious High-pressure Combo Shower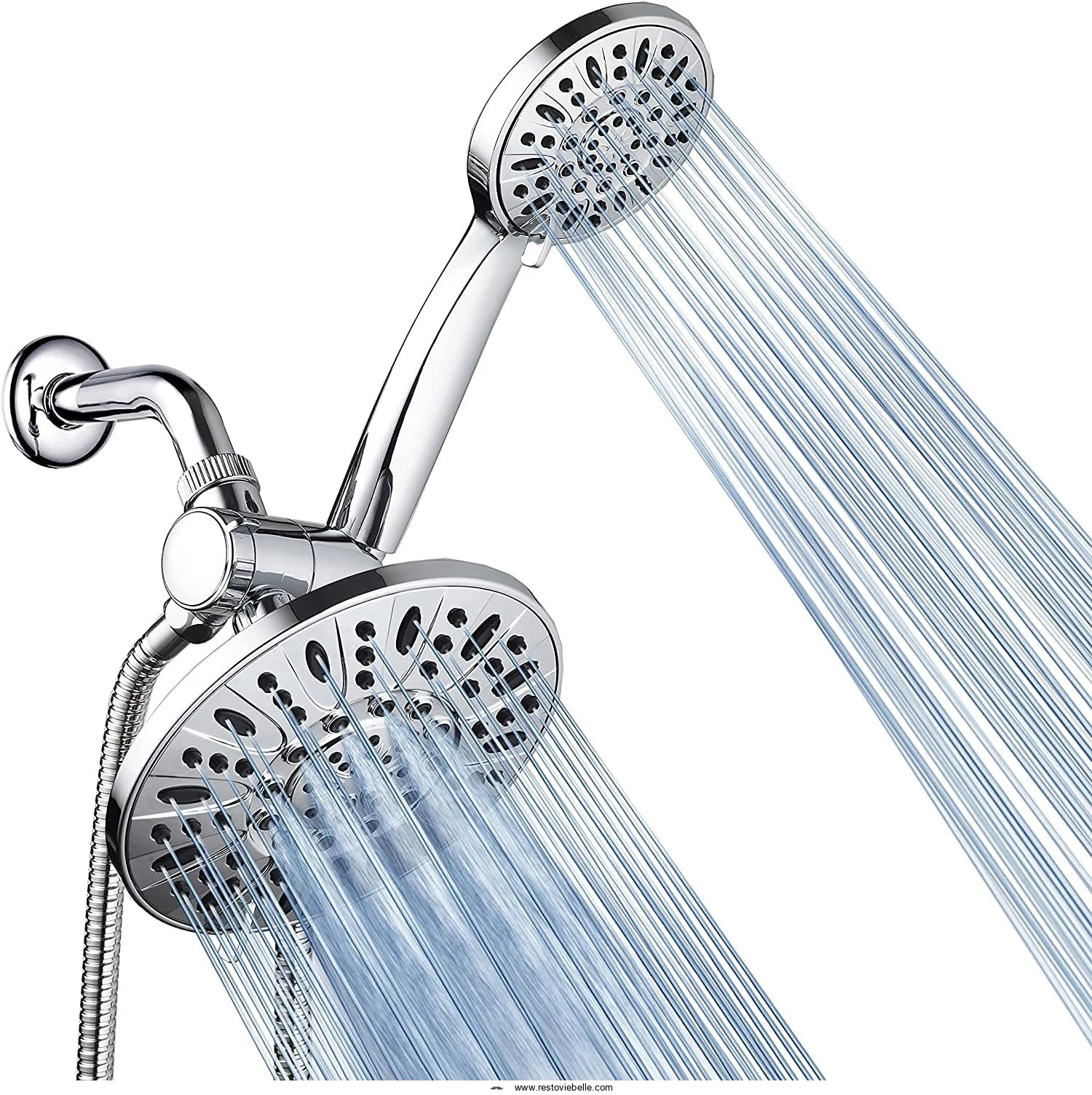 View On Amazon
We have selected the AquaDance Premium High Pressure Shower Head as the first choice on our list because it is the highest-rated peer-reviewed product. If you are looking for an all-in-one product, this high pressure shower head will be your first and last choice.
Don't think twice about doing it if you want to find excellent laminar flow along with your body's dirt and oil.
This 3-way shower head with a combination of overhead and handheld showers will never be bothered by how poor the water flow is in your apartment. The powerful 7-inch jet of water will absorb a flawless flow of water so you can feel the tiredness slowly and steadily fade away.
Exfoliating cleansing jets will easily remove oil and dirt from the face and body. And the skin will be hydrated and relaxed immediately after each bath session. Not only this, but water jet cleaning also helps prevent limescale build-up.
This chrome finish combo shower head has six different spray settings that can make your shower session new to you. Different water modes will allow you to get that precise rain shower feel and exotic spa-like experience.
The 3-way diverter with adjustable angles helps to target the area with muscle inflammation or chronic pain. Over time, you may notice the pain healing.
The showerhead has a 5-foot stainless steel hose, which is flexible and durable at the same time. The brass connection nuts and ergonomic grip also make them easy and safe to use. Another surprise is that the installation is easy and almost without tools.
It is not necessary to call a plumber to install this shower head.

7-inch combo shower head.
Six brushed nickel spray settings and friction cleaning jets.
High water pressure with water-saving mode.
Easy installation without a plumber.
You may need a separate shower arm for the product.
5. Aqua Elegante Luxury Shower Head
View On AmazonThe highest peer-reviewed high-pressure shower head on our list comes from Aqua Elegant, and for a good reason.
If you are looking for one of the best fixed high pressure shower heads on the market, this may be the one for you.
With its 6 jet functions, you should be able to find a laminar flow stream that will blow dirt and oil build-up straight off your skin with ease, no matter how low the water pressure is in your home.
With four different finishes, including brushed nickel, chrome, oil polished bronze, and polished brass, this showerhead will be an instant update to your bathroom design.
While we mentioned the 2.5 GPM flow limit earlier, many manufacturers like Aqua Elegant place a restrictor valve on the neck of the shower head to comply with regulations.
With the removal of the restrictor valve, your shower head will draw more water well beyond the imposed 2.5 GPM limit.
While excess water may be considered waste by some companies, companies may subtly indicate that their restrictor valve can be easily removed (:: tip: :). This is the case with the Aqua Elegant, which is probably why it has received such a high rating among users.
Beyond spray settings, finish, and water performance, this shower head is backed by an impressive 5-year warranty.
As a nice touch, the Teflon tape is included in the box.

Removable restriction valve
Six different jet settings
Self-cleaning to prevent the build-up
6. Yoo. mee High-pressure Shower Head
View On AmazonAfter working at the computer for many hours, many people have muscle aches. If you also suffer from back pain, you must try a hot shower with this unique showerhead.
Yoo. Mee high pressure shower head will provide the best bathing experience. You will feel the water pressure increase as the water spills over you. It is proven that high water pressure, specifically a little warm, helps relieve muscle aches.
This 79-inch hose product is made of stainless steel and has brass fittings. With its patented turbo design, this showerhead will have a powerful jet even at low water pressure.
The showerhead and adjustable wall mount bracket are made of technical-grade plastic. Therefore, they are solid, durable, and will never crack or break. Plus, you also have a 12-month warranty on the showerhead.
This shower head comes with three different spray settings: Power Spray, Massage Mode, or both at the same time. You can select the water flow you want from this shower head.
Other than this, you don't have to worry about mineral build-up in hard water and scale because the nozzles of the shower jets are made of silicone. The complete set also includes two additional hose joints and a water flow regulator.

Different spray configurations
Silicone nozzles
Made of stainless steel
12-month warranty
Sometimes the pressure is too intense
7. Moen Engage Magnetix Six-function Handheld Showerhead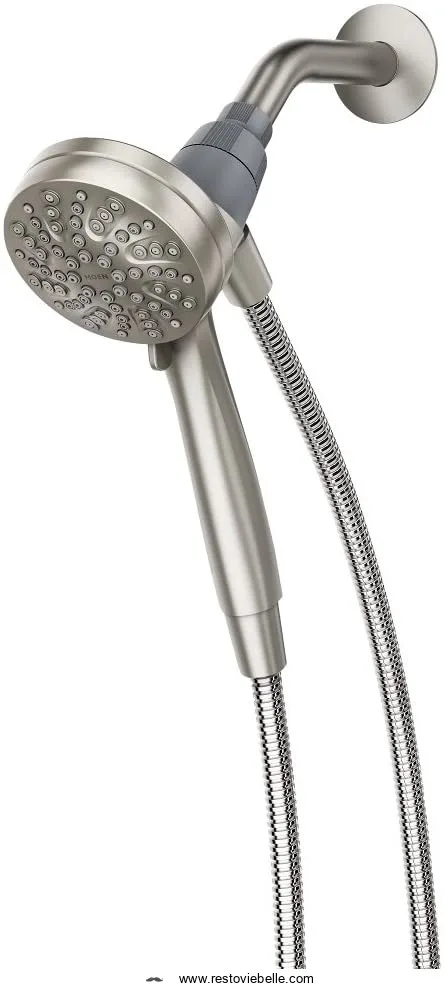 View On Amazon
Moen's handheld showerhead offers freedom and flexibility. The base features a magnetic docking system that allows you to quickly disconnect the unit and use it as a handheld shower head. When you're done, snap it back to the base with the snap of a magnet.
A 5-foot interlocking coiled metal water supply hose provides broad reach. The 3.5-inch diameter spray head features six unique spray functions to offer a personalized shower experience and optimal spray force. Moen meets the specifications of the Americans with Disabilities Act (ADA) and is WaterSense certified.

Magnetic coupling system
Easy to install
Multiple jet options
8. Lokby Handheld Powerful Shower Head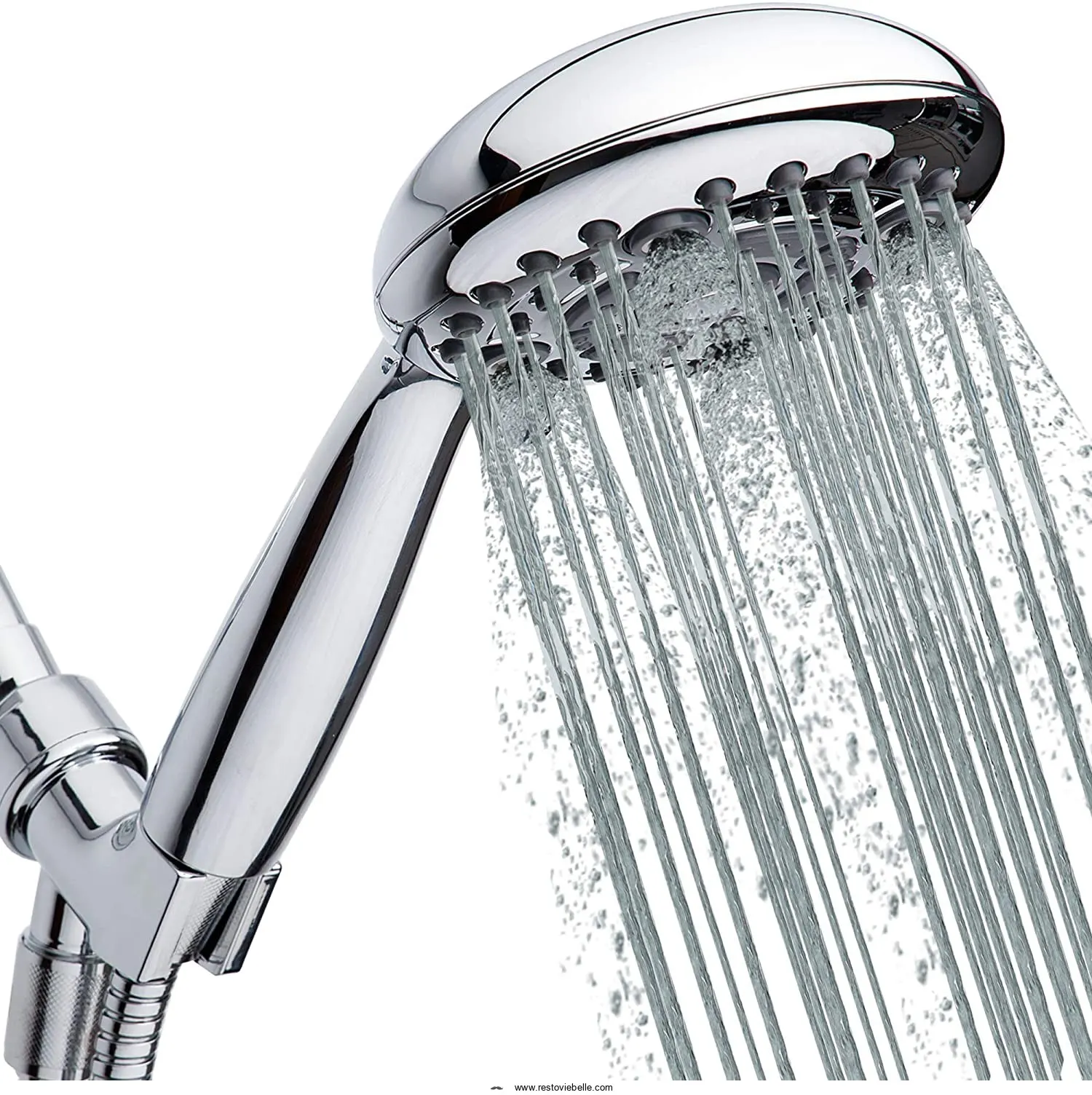 View On Amazon
This multifunctional hand shower turns your morning routine into a new surprise every day. We have chosen this Lokby high pressure shower head for many reasons.
The unique and beneficial features of this handheld shower head will force you to choose this product without a second thought. If you have a low water pressure problem in your area, this high pressure hand shower kit is sure to solve your problem.
Pressure boost flow function will give you high water velocity, so you don't complain about low water pressure problems. The 6-spray function will provide a boosting effect, and the different modes will allow you to get the right amount of water pressure in specific areas that need focus.
There is a stainless steel hose, which is quite flexible and durable at the same time. The shower head pause function is exceptionally beneficial in saving a considerable amount of water.
You can tell the difference in your water bill at the end of each month. This is sure to give you the best shower experience you have ever wanted. The easy-to-clean silicone jet nozzle is an added benefit of the product.
It would help to clean the nozzles manually to prevent water from flowing through unnecessary hard water deposits and lime build-up. The product is one of the preferred options by customers due to its materials.
High-quality material, such as durable chrome-plated ABS, is the maximum benefit of using this product and installing it in the bathroom.

Stainless steel material for durability.
ABS plastic coating.
Silicone jets are easy to clean.
Installation is not a headache.
There is no lifetime warranty for the product.
9. Delta Faucet Shower Head
View On Amazon
One of the few aerated shower heads that we have on our list comes from Delta Faucet.
As we mentioned earlier, aerated shower heads are great if you want to get the most out of your already low water pressure. The water hitting your body will be a bit mistier with an aerated stream than a laminar flow alternative.
So if you live in a highly humid climate (i.e.,i.e.lorida), we highly recommend that you check out the other options as steam and mist generated by shower heads like the 52652 -PK can Be too much.
This Delta Faucet showerhead is by far one of the cheapest options on this list at a price under $ 10.
Made with a chrome plate, this showerhead will pass through the water at 2.5 GPM.
The 52652-PK comes with only two settings: on / off. So it is for someone looking for a simple option.
While this shower head is entirely suitable for indoor showering, others have often used it for poolside or beach showers due to its meager price, along with its aeration capacity to remove sand and chlorine.
Like the Speakman, this showerhead is backed by a lifetime warranty.

Provides a high pressure mist
Extremely affordable
Compact design
10. Hansgrohe Raindance S 9-inch Showerhead

View On Amazon
The Hansgrohe shower head efficiently provides an excellent rain shower experience. While not an actual high pressure shower head, operating at a flow rate of 2.5 GPM, this showerhead uses efficient technology to infuse air into every drop of water. Produces a luxurious shower experience without wasting water.
Rainshower heads sometimes disappoint those new to the concept, as the water tends to fall off the chair rather than being emitted forcefully. Hansgrohe tackles the problem with its RainAir jet mode, which provides a more intense shower. Air mixed with water, combined with reduced pressure, may take a little longer to rinse.
The quality of the material is excellent. A fully chrome-plated spray disc and flexible silicone nozzles allow for quick cleaning and long-term durability. The flow rate is 2.5 GPM.

Large diameter for wide coverage
Durable materials
Silicone nozzles clean easily
Cons
Expensive
Water pressure may be low
Frequently Asked Questions (FAQs)
What is a good water pressure for a shower?
The standard water pressure for homes in the United States is between 45 and 55 pounds per square inch (PSI). Lower water pressure can be increased by installing a high pressure shower head.
How do the spray settings of these showerheads work?
The spray settings come in different modes: rainfall, fog, watering, pause mode, and more. You need to press the respective switches to go from one way to another. These showerheads work the same in every manner and will never give you that low water pressure.
Remember that these jets also come with combined handheld showerheads. Then you can use these jet types in overhead showers as well as hand showers.
Are there shower heads that increase water pressure?
Yes. High-pressure shower heads increase water pressure by reducing the flow rate or by using a compression chamber.
Do these shower heads come with hosepipes?
Some shower heads come with hoses as this is a combination of overhead and handheld showers. As soon as you take such a combi shower head home, you get a hose with it.
These hose lines are also made of stainless steel and are incredibly flexible. You can move this pipe around your body and get water pressure on the targeted areas. This will help you heal arthritis pain and other painful muscle problems.
Conclusion
With the help of these fantastic high pressure shower heads, you can turn a dreary shower experience into a relaxing bath episode that will make you want to stay longer.
This sleek accessory with modern features will make your apartment look beautiful and elegant.
So this is all about the best shower heads. I hope this blog has helped you to buy the best high pressure shower head for your bathroom. Order your favorite high-pressure shower head and enjoy a refreshing, relaxing, and spa-like experience at home.
References
architecturesideas.com
toolsofmen.com
bobvila.com
mavsoho.com