This site is supported by our readers. We may earn a commission, at no cost to you, if you purchase through links.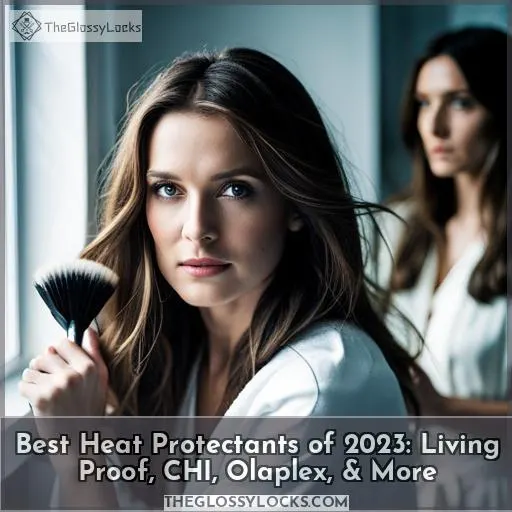 Stepping into the salon, you're surrounded by a cloud of heat and humidity. The sound of blow dryers buzzing in the background is like white noise as your stylist works her magic on your hair.
From Living Proof Restore New Formula to Oribe Heat Styling Shield, this list contains some of the best hair heat protection sprays available in 2023 for all types and textures – giving you healthier-looking locks with each application.
Keep reading for our top picks plus helpful information about what to look out for when buying one!
Key Takeaways
Heat protection up to 450°F
Hydrating ingredients such as oils to nourish hair
Multi-purpose, including UV protection, frizz control, and added shine
Repairing damage and preventing breakage
Top 10 Best Hair Heat Protection Sprays
Finding the right heat protection spray for your hair can be tricky, but luckily there are plenty of quality options available.
From Living Proof Restore New Formula to Redken Quick Blowout, some of the best products include CHI TotalProtect Defense Lotion, Olaplex No.
For those with curly hair or looking for additional features like repairing damage or boosting hydration, Briogeo Blow Dry Cream is a great choice.
Bumble Hairdresser's Invisible Oil Primer and VERB Glossy Hair Spray can provide frizz control, while Kerastase Ciment Thermique helps strengthen hair's texture and Oribe Heat Styling Shield seals in moisture.
So why not take some time to find out what works best for you?
Living Proof Restore New Formula

View On Amazon
You'll be amazed by the way Living Proof Restore New Formula instantly boosts hydration and helps your hair look and feel healthier, all while protecting it from UV & heat damage up to 400°F.
This restoring hair spray is ideal for dry, damaged tresses of any type – color or chemically treated alike – as it contains no parabens, sulfates, or phthalates.
To use this product properly, shake well before spraying onto clean, damp hair with an emphasis on tangled areas.
You can expect an instant boost of hydration that will last thanks to its time-released conditioning properties, plus added body and shine for a beautiful result!
Even better, you won't have to worry about damaging your locks because this protective formula shields against thermal styling tools at up to 400°F degrees, so you can enjoy healthy-looking luscious locks every day!
Instant boost in hydration
Contains no parabens, sulfates, or phthalates
Time-released conditioning
Shields against heat damage (up to 400°F)
Adds body & shine
CHI TotalProtect DefenseLotion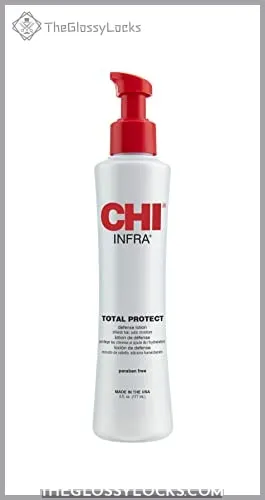 View On Amazon
You can rely on CHI TotalProtect Defense Lotion to be your hair's armor, shielding it against the harsh heat of styling tools like a knight protecting its castle.
Infused with positively charged silk molecules that interlock with your hair structure and ionic and cationic hydration technology, this leave-in treatment is formulated to lock in moisture while also reducing frizz and enhancing shine.
Free from parabens and scent, it suits all normal hair types – leaving you feeling confident about the condition of your locks!
Not only does this product protect from damage caused by thermal styling, but reviews show that using it leaves you with softer strands as well as a pleasant subtle fragrance.
With an affordable price tag, this must-have offers great value for money if you're looking for protection against heated equipment use or UV rays while nourishing your tresses at the same time!
Protects against thermal & UV damage
Reduces breakage & repairs existing damaged areas
Smoothes & adds shine
Suits different textures/types of hair
Follow label instructions for proper use
Only suitable for normal hair types
Can weigh down fine hair
Olaplex No9 Hair Serum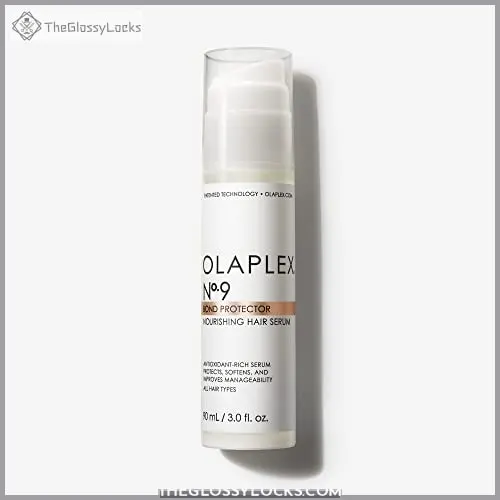 View On Amazon
Experience the power of Olaplex No.9 Hair Serum. Its heat protection, shine, and repair capabilities will leave your hair feeling softer and healthier than ever. This unscented, silicone-free formula is designed to protect hair from heat damage while providing shine without weighing it down.
It detangles and smooths locks, reducing frizz for all types of hair textures. This makes it a great choice for those with curly tresses looking to reduce breakage.
Protects hair from heat damage
Provides shine without silicone
Detangles and smooths locks
Reduces frizz on all types of textures
Helps repair bleached/damaged strands
A little pricey
Bottle size could be bigger considering the price
Goes quickly if you have thick hair
Moroccanoil Heat Protectant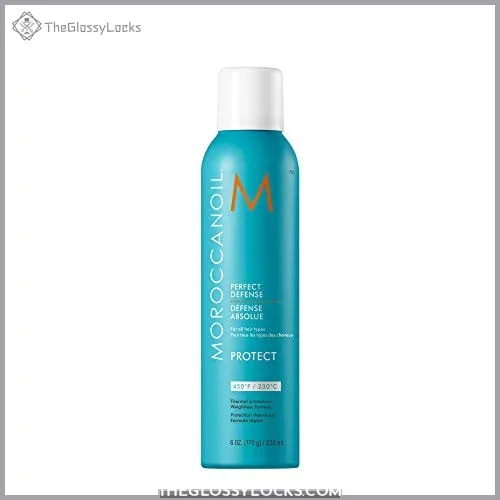 View On Amazon
Feel the weightless protection of Moroccanoil Heat Protectant as it seals in moisture and adds shine to your hair. This lightweight, no-hold thermal protector spray keeps hair safe from hot styling tools that may dry or damage it.
Infused with Argan Oil, this product helps to hydrate and seal in moisture while leaving hair smooth, shiny, and frizz-free.
Plus, this paraben-free formula is suitable for all types of textures, so anyone can use it without worry!
Lightweight & no hold
Seals in moisture & hydrates
Even distribution & coverage
Signature scent not everyone enjoys
Briogeo Blow Dry Cream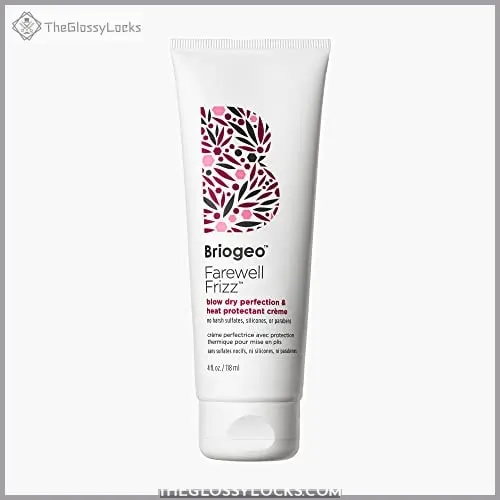 View On Amazon
Briogeo Blow Dry Cream is a godsend for taming frizz and protecting your hair against heat up to 450°F, so you can put the frizzies to bed. This lightweight styling cream contains key ingredients like rosehip oil, argan oil, coconut oil, and Vitamin E that help soften strands while sealing in moisture.
It fights dryness and adds shine without weighing down fine hair or causing static.
Suitable for all types of textures from normal to curly-haired beauties alike, this cruelty-free formula is free of silicone, dye, paraffin, phthalate, and sulfates, making it a smart choice when looking for something gentle yet effective at combating humidity-induced fluffiness.
Minimizes Frizz
Smooths Hair
Protects Against Heat Up To 450°F
Decreases Frizz By 80% For Up To 48 Hours
Fights Dryness
Seals In Moisture
Can Cause Static If Not Paired With Leave-In Conditioner
Does Not Speed Up Drying Time
Bumble Hairdressers Invisible Oil Primer

View On Amazon
Try Bumble Hairdresser's Invisible Oil Primer for a lightweight, heat-protecting primer that helps to condition and soften your hair while providing protection from breakage, UV rays, and frizz. This product is dairy-free and comes in a 250ml bottle, easily spraying onto hair.
It restores damaged or brittle hair to its healthy state without weighing it down with silicone or other harsh chemicals. Additionally, this product adds shine while preventing split ends caused by hot tools up to 450°F, so you can style confidently knowing your locks are safe from excessive damage.
Lightweight
Heat protection up to 450°F
Conditions & softens hair
Restores damaged/brittle hair without weighing it down
Sweet fruity scent
VERB Glossy Hair Spray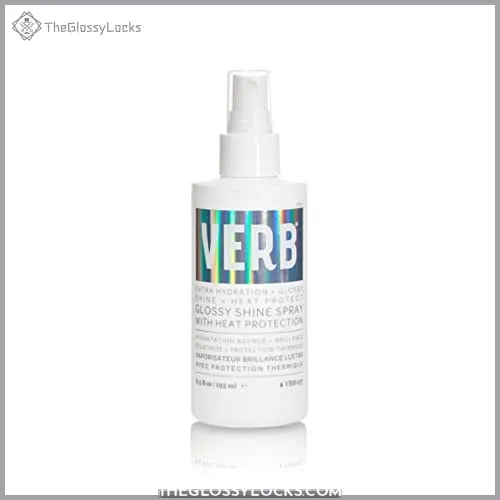 View On Amazon
Experience a professional blowout look with VERB Glossy Hair Spray, which nourishes and protects your hair from heat up to 428°F. This vegan, paraben-free spray is formulated with key ingredients like Peach Oil, Rosehip Oil, Squalane, and Castor Oil that help protect against heat damage while adding shine.
It helps restore moisture levels in the hair shafts for long-lasting frizz control without weighing down your locks. Plus, it's suitable for all hair types! With this spray, you can create intense shine without worrying about damaging your tresses or having to use other products over it as it's layering safe.
Protects against thermal damage up to 428°F/220°C
Smooths & adds shine; reduces frizz
Suitable for all types & textures; cruelty-free
Kerastase Ciment Thermique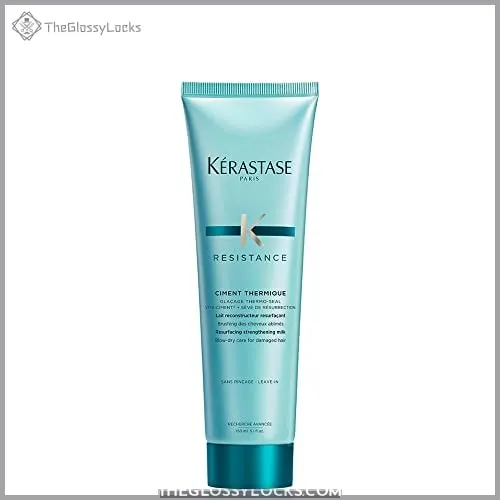 View On Amazon
Treat your hair with Kerastase Ciment Thermique, a luxurious shield that will lock in moisture like an airtight vault. This lightweight heat protectant is formulated to strengthen and restore damaged hair while helping reduce breakage.
It also intensely hydrates the hair for added shine, smoothness, and elasticity.
Layer it safely with other products as part of the Kerastase Resistance Collection to reinforce protection against damage from heat up to 450°F, as well as keeping flyaways under control.
Strengthens & restores damaged locks
Enhances shine & reduces frizz
Provides intense hydration
Protects from thermal damage up to 450°F
Can be layered safely with other products
Good value for money
Not suitable for all types of hair
Some reviews mention quality issues when purchased on Amazon compared to salons
Oribe Heat Styling Shield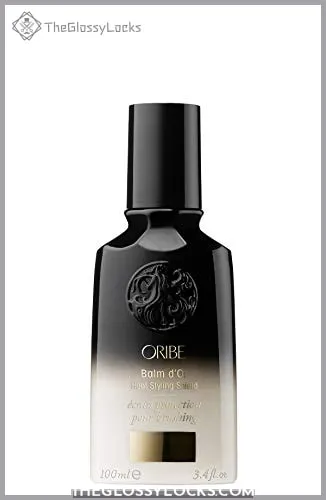 View On Amazon
Protect your hair from heat damage and get sleek, shiny results with Oribe Heat Styling Shield. This lightweight, no-hold thermal protector spray shields the hair from up to 450°F of heat while fighting frizz and flyaways for a salon-level blowout look at home.
The age-defying formula also restores strength and density by locking in moisture without weighing down the strands. Infused with Cote d'Azur scent, it is perfect for all normal hair types looking to add shine as well as protect against hot styling tools.
Protects from heat up to 450°F
Reduces frizz and flyaways
Age-defying formula strengthens and restores
Lightweight and won't weigh down strands
Adds shine without silicone
Mixed reviews performance-wise
Not the most popular/favored Oribe scent
Only need a small amount applied
Redken Quick Blowout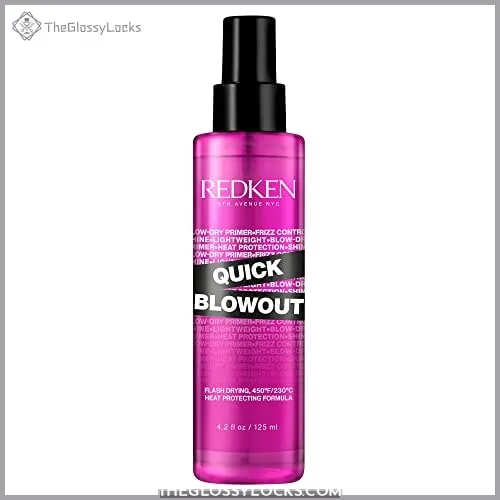 View On Amazon
Discover Redken Quick Blowout and enjoy salon-quality results with its quick-dry formula—protecting your hair up to 450°F, while adding shine and volume.
Formulated with a unique blend of ingredients like citrus, vanilla, and sandalwood fragrances, it's suitable for all hair types and textures.
This lightweight blowdry spray helps reduce frizz as it conditions the cuticle layer, leaving your tresses smooth and shiny! It also provides volumizing benefits while cutting down on drying time, so you can achieve professional-looking styles at home quickly.
Best of all, you don't have any extra product weighing down your locks. So go ahead – take control over those unruly strands with Redken Quick Blowout!
Lightweight formula doesn't weigh hair down
Adds shine and smoothes out texture
Heat protection up to 450°F
Volumizing effects
Not ideal for fine or thinning hair
Can be pricey compared to other brands
Things to Consider Before Buying Heat Protectant Sprays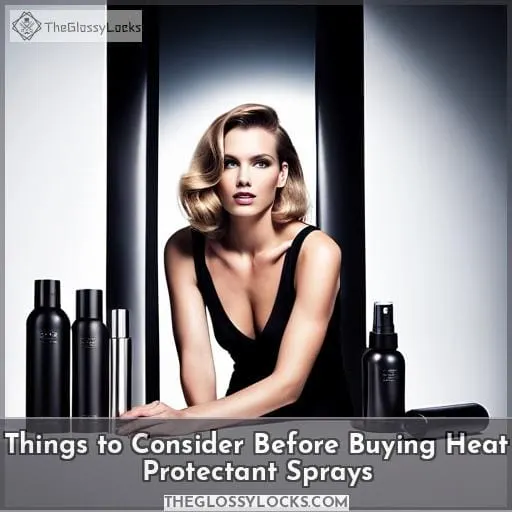 When considering the best hair heat protection sprays, it's important to look at the temperature threshold, hydrating ingredients, flexibility, and multi-purpose functionality. Many products boast up to 450°F heat protection, but you should always check what is being tested – some only protect against styling tools, while others are for exposure from the sun or UV rays.
Look for formulas that contain oils and humectants as these will help keep your locks hydrated while providing flexible hold without stiffness or crunchiness.
Temperature Threshold
Be sure to check the temperature threshold of any heat protectant spray you choose, as some are designed to guard against damage up to 450°F. Improved protection means added strength and necessary ingredients like oils and proteins in your personal preference of a product.
Finding the best one for your hair type depends on how much heat it can withstand. Heat styling tools vary widely in their levels, so make sure that your chosen protectant has what is needed for safe usage with them.
Hydrating Ingredients
Look for heat protectants with nourishing ingredients like Argan Oil, Rosehip Oil, Coconut Oil, and Vitamin E to keep your hair hydrated while protecting it from heat damage. Many of these products have been clinically tested and proven to reduce breakage by up to 94%.
Choose a product that provides protective properties such as UV resistance and heat resistance. It should also help nourish the hair with oils and suit different types of hair textures. Additionally, it should enhance shine without weighing down your locks. Consider cream or oil formulas depending on your preference.
Sprays are best for even distribution, while creams may add extra shine but could weigh fine hairs down.
Flexibility
When choosing a heat protectant, make sure it offers the flexibility you need to style without stiffness or crunchiness.
Products like Living Proof Restore and CHI TotalProtect Defense Lotion provide this kind of heat resistant coverage while also nourishing strands with oils and hydrators. Creams add shine but may weigh down fine hair, whereas lightweight formulas like Moroccanoil Heat Protectant are great for curly textures as they won't pull on delicate strands when styling at high temperatures.
Sprays offer even distribution so your hair is fully protected, plus frizz control and added shine enhancement!
Multi-Purpose Functionality
Choose heat protectants with multi-purpose functionality for a versatile, all-inclusive styling experience. Sprays can seal in moisture and reduce frizz without weighing down hair, while creams add shine and oils are great for curly hair.
Look out for thermal shielding to protect against damage, as well as humectants, proteins, and oils which absorb into the cuticles to nourish and hydrate. Different types of formulas suit various textures, so you'll be able to find something perfect regardless of your hair type.
For optimal results, use the product according to label instructions. Adding even coverage on damp or dry locks before using hot tools will ensure maximum protection, while providing flexible hold without stiffness or crunchiness as an added bonus!
What is Tested?
When it comes to testing heat protectant sprays, how can you be sure they'll suit your hair needs? Consider the thermal damage protection and product types: sprays, creams, or oils. Their price range from drugstore to salon brands. Key features like protecting against UV rays and blow drying.
Heat protectant sprays keep hair safe from styling tools while helping repair existing damage for smoothness and shine. Choose a spray that suits your hair type – fine or coarse – with ingredients such as proteins, humectants, and oils.
What to Look for When Buying a Heat Protectant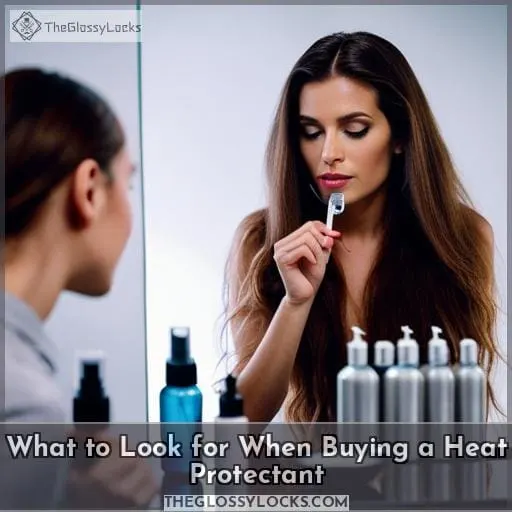 Choosing the right heat protectant for your hair can be a daunting task. When selecting one, consider factors such as the formula and application method, humectants, strengthening ingredients, and why you should trust it.
Picking a quality product with these elements will ensure that your hair is kept safe from thermal and UV damage while providing lasting shine.
Formula and Application Method
Take your hair to the next level with a heat protectant spray that offers a tailored formula and application method for your individual needs. For optimal protection, look for sprays specifically made to protect from both thermal and UV damage.
Styling creams or leave-in treatments are great options if you want added hold as well as protection. High-performance oils provide lightweight yet powerful defense against heat damage while smoothing out frizzy strands.
Humectants
Look for heat protectants with humectants that work to hydrate and nourish your hair, making it feel silky soft while protecting against high temperatures. Humectants like argan oil, rosehip oil, and coconut oil are great for all hair types as they help prevent thermal damage from styling tools up to 450°F while providing natural shine and smoothing out frizz.
They also provide a lightweight formula that won't weigh down fine or curly hair, plus UV protection too! Choose products specifically created for your own unique hair type. Whether you have straight or curly locks, this will ensure the best results in terms of moisturizing properties as well as natural-looking shine without stiffness or crunchiness.
Take control of your look today by choosing the right protective product so you can achieve smooth, healthy-looking tresses every time!
Strengthening Ingredients
Strengthen and restore your hair with strengthening ingredients like Peach Oil, Rosehip Oil, Squalane, Castor Oil, and Bakuchiol found in heat protectants.
Look for products that provide thermal protection up to 450°F, which can help prevent breakage while adding shine.
Oils are a great choice for curly hair as they won't weigh it down or reduce color-treated pigments.
For straight hair, opt for sprays that seal in moisture to decrease frizz without weighing the locks down too much while providing UV protection at the same time!
Heat-resistant formulas shield all types of tresses from damage while leaving them looking smooth and healthy – a must-have product!
Why Trust
Trust the power of professional-grade heat protectants to help keep your hair looking and feeling its best. Brand loyalty is important when it comes to product selection, but don't forget that tested heat protectants offer superior protection against UV damage and thermal styling.
Heat protection products provide smoothness, shine, and frizz control for all types of hair – fine or wavy.
Choose creams if you need added body without stiffness; sprays are great at distributing evenly on damp or dry tresses before using hot tools.
Frequently Asked Questions (FAQs)
How long should I use a heat protectant for?
You should use a heat protectant every time you're using hot styling tools to ensure your hair is protected from damage. To stay safe, always follow label instructions and apply it evenly before using heat.
Can I use a heat protectant on wet hair?
Yes, you can use a heat protectant on wet hair. Before using hot tools, apply it evenly and in the amount directed to lock in moisture and shield your locks from damage. Look for protection against thermal and UV damage as well as humectants, proteins, and oils for best results.
How often should I use a heat protectant?
Use a heat protectant every time you use hot tools on your hair, as it provides a protective barrier from damage. It will help keep your locks looking shiny and smooth with long-term protection against breakage.
Does using a heat protectant make my hair greasy?
No, using a heat protectant won't make your hair greasy. It forms a barrier between the heat and your hair to protect it from damage while providing flexible hold without stiffness or crunchiness. Heat protection products contain oils and humectants that nourish and hydrate, giving you smoothness with no added grease.
Can I use a heat protectant with any type of styling tool?
Yes! Heat protectants are designed to work with any type of styling tool, so you can get creative and enjoy the freedom to style your hair without worry.
Conclusion
A stitch in time saves nine: the same applies to taking care of your hair. With the right heat protectant spray, you can protect your hair from up to 450°F of heat and keep it looking healthy and glossy.
Taking the time to research the best hair heat protection sprays is key to ensuring you choose the right product for your hair type and texture. Look for a product with a temperature threshold, hydrating ingredients, flexibility, multi-purpose functionality, and strengthening ingredients to protect and nourish your hair.
Some popular options to consider are Living Proof, CHI, Olaplex, Moroccanoil, Briogeo, Bumble, VERB, Kerastase, Oribe, and Redken.
With the right heat protectant, you can keep your hair looking healthy and beautiful for years to come.