This site is supported by our readers. We may earn a commission, at no cost to you, if you purchase through links.
The best back shaver for men is one that offers you flexibility. You should be able to use it wet or dry, depending on your needs. Some men have sensitive skin, and others have never shaved their backs.
The best back shaver can stand out above the other with functions such as a retractable handle and attachments.
It should be comfortable with sharp blades that cut easily without damaging the skin.
We have compared some of the most popular electric back shavers on the marketto find the best overall back hair shaver.
They are all there for your comparison, and you really can not go wrong with one of these.
In the end, however, we tell you why we certainly have a preference that we would recommend.
In this comprehensive guide, you will find the best men's back shaver and the benefits of using one of these products to get rid of back hair.
How to Choose the Best Back Shaver for Men
Before we go into the details of the best men's back shaver on the market, let's review some essential features you should consider when making your final selection.
If you understand these characteristics, you can make a well-considered choice to shave your back.
1. The Handle
You must also realize that the best back shaver is equipped with a good handle. With the handle, you must reach behind your back and get rid of the hair.
This is the best way to guarantee that you can arrange everything yourself. Otherwise, you have to ask for help, which you probably want to avoid. Make sure the handle is long.
However, you must be able to slide the lever in and out if necessary. It must also be possible to lock it in place. This prevents the handle from collapsing or moving when you shave your back.
2. Wet / Dry Shaving
With most back shavers, you can shave with wet or dry skin.
Although dry shaving is undoubtedly possible, and different models ensure that you do not suffer from skin sensitivity or cuts, it is usually a better idea to shave when your skin is wet.
This opens the pores on your back and allows you to cut the hair closer to the root and get a clean shave.
The FDA supports this with its information about the safe removal of body hair.
Besides, it also extends the time between shaving sessions and allows you to enjoy smooth skin longer.
3. Flexible Head or Blades
You should also pay close attention to the shaver's design. Make sure that the head is flexible. This will make sure that it can follow your back's contours, which will provide you with a more comfortable shave.
Some back shavers do not have a flexible head. Instead, they have gentle blades. Either option will work great for ensuring that you do not suffer from any skin irritation.
Reading reviews can help you determine how gentle the razor will be in the long run.
4. Blade Replacements
Some shavers can use all kinds of replacement blades, which are usually economical choices.
By choosing from many different replacement blades, you ensure that you can always get sharp, fresh blades as soon as your current blades become boring.
Other razors, however, only have contained types in size or brand.
This is not a big mistake, but it limits your choices if you suddenly run out of sharp blades and need to be replaced quickly.
You should also pay attention to the blade's size that your favorite shaver accepts and ensure that more replacement blades for the shaver are readily available when you need them.
Types of Back Shavers
For the most part, back shavers are divided into electric and manual back shavers.
Manual Back Shavers
The majority of the products on this list are manual back shavers, which in a sense, are essentially larger versions of an ordinary razor.
You have a long handle and a back razor with manual back razors that do all the work. These blades are usually more comprehensive than a conventional razor and have a more flexible design that better fits the curves on your back.
Due to the back razor's design, most manual shavers can be used on both wet and dry skin, but it is always best to double-check each product first.
Electric Back Shavers
Electric back hair shavers are essentially modified versions of beards trimmers. They use the same type of motor and most of the same blades but come with an extension that you can attach to the device to reach all your back parts.
Although electric back shaversare similar to beard trimmers, the slight difference in construction and blade construction means that they are more attuned to the softer, less coarse hair on your back. If you try to use it on your neck or face, you will get poor results, so don't buy one that thinks you can use it anywhere.
10 Best Back Shavers for Men of 2020
With the men's body shaver, you can shave the hair effortlessly and efficiently on your back.
As a man, you will grow unwanted hair in all parts of your body. This includes your face and back.
Unfortunately, shaving is not fun, but it needs to be done regularly.
Even worse is that shaving the hair off your back will be extremely difficult. If you are lucky, you have a family member who is happy to help you.
If not, you need to be creative. Or you can consider investing in one of the best men's back shavers.
1. Mangroomer Ultimate Pro Back Hair Shaver
A decade of research and development went to man groomer ultimate pro back shaver and the attention to detail. You will find it on several reviews of the best body groomers available today, and we think this is the best electric back shaver.
What makes the man groomer ultimate pro back shaver so good? Let's call the roads.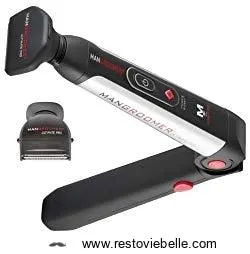 View On Amazon
Interchangeable flexible shaving heads
The typical Mangroomer shaver has various functions that demonstrate their dedication to detail (not to mention their years-long R D).
It comes with two interchangeable cartridge heads, each with a multifunctional, flexible neck that helps prevent skin irritation.
An ultra-wide groomer blade is designed to shave more significant parts of the back and a foil-body groomer with a multidirectional shaving head, suitablefor regular maintenance and shorter shortcuts.
Substantial handle
The long handle of the Mangroomer allows you to reach the hard to reach your back parts and comes with an ergonomic rubber handle and a lock button for extensions.
It also features an electric hinge with a push-button lock that allows you to shave at different angles.
Shock Absorption
The multifunctional Mangroomer neck on both attachment heads comes with a shock absorber that makes it easy to follow your back's contours while providing an ideal angle for the blade. Meet the skin.
Extra power
The Mangroomer also features a Power Burst button that gives extra strength, significantly when cutting through the more woody areas of your back hair.
Cord or Cordless Use
The man groomer ultimate pro back shaver is coming with a battery that charges quickly and includes a charging light indicator, but you can also use it with a power cord if you want.
The blades
You will also love the ultra-sensitive, hypoallergenic blades of the Mangroomer made of stainless steel. They help you get a soothing shave without causing skin irritations.
Multifunctional shaving head with shock absorption
Substantial handle
Power burst function
More durable than many other back shavers
2. Mangroomer Professional Do-it-yourself Electric Back Shaver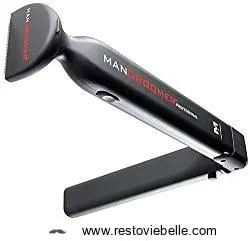 View On Amazon
The shaver blade of this shaver is 1.5 inches wide. The wide shaver can work quickly on the back hair that plagues many men with a few steps. It does not take you hours to make you look good.
The adjustable handle can reach as far as you need it. It can even extend a maximum of 2 feet. You do not have to move your body unnaturally to get the best angle for shaving your back. The handle can be used at an angle and locked in place.
An ergonomic handle makes operating and using the shaver easier while holding it over your shoulder. The grip is anti-slip and provided with rubber for comfort and a firm grip. The entire shaver is also lightweight.
You never get a cramp in your hand with this shaver over your back, butt, or legs.
Our impression
This is a simple back and body shaver without any attachments. However, it has some great features. The retractable arm ensures that you can not pull your shoulder out of the bowl to try to reach your back.
There's a fantastic comfortable rubber grip. It gives you a confident grip on the shaver so that it does not fall out of your hand. No matter how long you hold it, your hand will not cramp either.
One of the best parts of this shaver is that the shaving head is quite broad. At 1.5 inches is made for maximum coverage. Instead of two steps to get a small area, you cover more of your back with fewer strokes. Nobody wants to shave an hour, and The broad shaver head makes the process much faster.
100% rubber, non-slip handle on the handle.
The extendable arm reaches up to 2 feet long.
Broad, 1.5-inch shaver head.
Rechargeable battery with fast charging.
Includes handy accessories.
The shaver itself can be pretty loud if you are not used to the sound of a foil shaver.
3. Mangroomer Lithium Max Plus Back Hair Shaver
View On AmazonThe MANGROOMER LITHIUM MAX back shaver is the newest MANGROOMER back shaver. It is an update for the MANGROOMER ULTIMATE PRO Back Shaver and differs from it in one crucial aspect – the battery.
This back shaver comes with a new Lithium Max battery that lasts up to three times longer than a standard HD battery. or NiCad battery.
The Lithium Max battery lasts longer and can still be charged quickly.
The charging indicator maintains the traffic light design of the MANGROOMER ULTIMATE PRO: red when it is charged and green when it is fully charged.
The MANGROOMER LITHIUM MAX back shaver has two attachments: a 1.8-inch ultra-wide rear groomer for larger areas and longer hairs and a groomer foil head for regular maintenance.
Both shaving heads are equipped with shock-absorbing flexible necks that follow the contours of your back.
This flexible neck gives you optimal blade-to-skin contact at all angles that your shave is comfortable without compromising proximity.
The rubber handle is extendable and locks at any length and angle up to 135 degrees.
It also retains the Power Burst mode designed for extra thick and coarse hair.
For the best results, I recommend using the trimming head to remove most of the hair and then clean it with the trimming head.
This does not give you the best shave because it is an electric back shaver, but your skin still feels nice and smooth.
Not much hair is clogged during use, and cleaning the shaving heads is easy. There are loud, reassuring clicks when changing your handle's angle and locking the handle feels secure and solid.
Power bust mode slides straight through thick hair.
It contains two different attachment heads.
It contains a 50% wider head for fast groomer purposes.
The flexible neck provides access to every unique angle of the back.
Powerful and long-lasting lithium battery
It contains only two attachments.
Maybe louder than expected
4. Back Blade 2.0 Plus back and body shaver
View On AmazonThe back blade did something well and made it better. That's good news for men who want to get rid of back and unwanted hair.
It is not that new and improved means, well, new and improved, but bakblade 2.0 plus respects the label in this case. Their 2.0 Back Hair Removal and Body Shaver are, in many ways, a step higher than the previous model. First, it has an ergonomic, S-shaped handle that provides access to the distant parts of your back that many other back hair shavers cannot reach.
With the lever, you can also apply sufficient pressure to get a clean-shaven face without cutting or cutting the skin. Moreover, the handle is collapsible, which ensures easy storage and travel.
The 2.0 includes a redesigned shaver head attachment with two shaving heads instead of one.
The newer model also comes with a small cleaning brush attached to the bottom of the device. Moreover, the new BAKblade is matte black – and not blue like the bakblade 1.0 – while the bakblade 2.0 plus also comes with a suspension system for suction cups.
back shavers do it yourself
Yet another advantage of the bakblade 2.0 elite plus is the patented DryGlide safety blade from BAKblade. The cartridge is detachable from the shaving handle, while a protective cover helps prevent cuts and razor blades.
Of course, we think that the bakblade 2.0 elite plus works well for removing hair in the back, but you can easily use it to trim your chest and stomach if you wish.
All in all, design 2.0 and the shaver's flexibility create less friction between the blade and the skin. Less friction is always good when shaving, especially when it is challenging to reach hard-to-reach places.
The 2.0 sharp blades also represent an upgrade because they are designed to last longer.
But the price of replacement sheets is very affordable, so you do not kick in the wallet every seven or eight shaves change into new sheets. The blades are also easy to change.
bakblade 2.0 elite plus is suitable for dry and wet shaving. It is easy to clean, and you do not have to worry about the hassle of clogged blades.
The new design that improves an already good shaver
Great for reaching hard to reach places
Do not jam with its
A handle is shorter than the previous version.
5. Mangroomer Do-it-yourself Electric Back Hair Shaver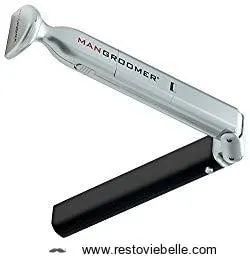 View On Amazon
When it comes to reaching your back, a retractable handle is an absolute must. It makes it much easier to shave your own back. You do not have to ask anyone to help you. An electric shaver like this also ignores your size. Anyone of any size can use this in the privacy of his home to remove the hair.
The handle extends as far as you need from the middle of the back, difficult to reach. It locks in every corner within 135 degrees that it can be bent.
The process is also painless. Resins, chemical treatments, and epilation all have painful side effects. The roots wrinkle hair, or the skin is irritated with chemicals. This electric back hair shaver is pain-free.
It works on batteries, so you never have to wait for a fee. Imagine that you are on a date and notice that you can use a retouch option on your hair. Collect this electric back hair shaver under the sink and immediately start shaving and removing hair from your back and shoulders. Never wait again to recharge.
Our impression
The ability to shave at home gives more men more self-confidence. They do not have to ask someone else to remove their back hair. That can be painful for many men. They do not want their partner to take care of her. It feels unattractive. Salons can also be quite expensive.
This electric back hair shaver works on batteries, so you never have to wait for a charge. The shaver works at the same power until it is time for a new set of batteries. Just connect them to power, and you immediately have a good back shaver.
As for the handle, there is magic. You do not want a shoulder blade to pop when you try to reach the middle of your back. This back shaver opens to a vast 135 degrees. It gives you the exact angle you need to remove the hair from every part of your back.
Fully extendable handle length to reach all parts of the back.
Elegant and lightweight for comfort-grip.
Wide blade for less fit during shaving.
An opening of 135 degrees on the handle.
Operates on batteries – 5 hours of life on 2 AA batteries.
Some people think that the shaver is quite loud when they are not used to a shaver.
6. Bro Shaver Back Hair Shaver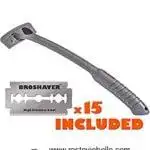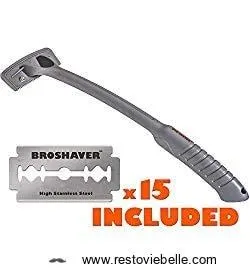 View On Amazon
Although the Bro Shaver Back Hair shaver may not have all the bells and whistles that other back shavers do, this does not mean that it does not help you get rid of ugly hair. It helps you perform the challenging task of shaving your hair better than most shavers.
Bro Shaver is an American company with over 15 years of experience in producing back shavers.
Their Back Hair Shaver has a solid construction with stainless steel bolts, and they support all their products with a 60-day money-back guarantee and a one-year warranty.
If you do not like Bro's back shaver for any reason, send it back, and you will receive a full refund. It is always lovely to have such a guarantee in your back pocket.
Why do we take the Bro Shaver on our list differently? Let's see:
The Bro Shaver works for both wet and dry shaving. It is 100% water-resistant.
The latest version of the Bro Shaver Back Hair Shaver comes with Comfy Cloud Shaving Technology to prevent skin irritation even with dry shaving.
It comes with 15 stainless steel double-sided safety strips. Meanwhile, their magazine fills the costs less than many other shavers brands.
The standard double edge blades are sharp enough – and the shaver is easy to maneuver – so you can complete the task of shaving back in less time than with most other black shavers. Not that something is wrong with taking your time; pay attention.
The design is sleek and modern and has a handle length that prevents the shaver from moving or falling in the middle of your work.
The handle measures 22 inches and helps you shave those hard-to-reach places.
Double edge blades are easy and quick to load, as well as factory-sealed and sterile.
You do not have to worry about a power source because the Bro Shaver Back Hair Shaver is an entirely manual back shaver.
Again, you can use the Bro Shaver with or without shaving foam and oil. Many users say that you can shave your back and get a smoother, close shave your back with shaving cream, but you still get a soft feeling, no matter how you use it.
Functional, modern design
Suitable for wet and dry shaving
Made by a company with a lot of experience in developing back shavers
Some say the handle is a bit too wide, is
7. Bakblade Big Mouth Back Shaver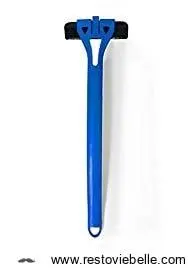 View On Amazon
This manual back shaver has many razor blades that remove all your backs. With one or two strokes, the hair removes hair from an area without irritation. The blades are meant to shave fine, incomplete, or thick hair equally.
The shaver can be used dry, which is one of the product's characteristics. It has sharp blades that are specially designed for use on dry skin. They call it DryGlide technology. Instead of a stiff blade with a flexible head, the blades themselves are flexible. It provides a lighter touch. This leads to less friction on the skin itself.
Although designed to be used dry, shaving cream and water can also be used. There is no reason you can not enjoy the blades' flexibility while protecting your skin with gel or shaving cream. It gives you a pain-free shave.
The width of the sheets is pretty impressive. Its handle length is 10 cm or about 3.9 inches. You will not shave hours on your back with such a broad blade. The handle length is long enough to shave your back without making adjustments.
Our impression
When you can shave your back without shaving cream, foam, or gel, you can be in a well-lit place with good placement of the mirror. You want to see when you are shaving. If you are sensitive, you can undoubtedly use shaving cream and water. This kind of versatility is great for any man who wants to do a full shave or a quick touch-up.
The handle length is long enough to reach all parts of the back, and the width of that blade is impressive. You can reach every part of your back and sweep it quickly with the wide blade. You will spend much less time taking care of a shaver like this.
As far as the flexible cutting blade is concerned, it's a great concept. Instead of giving the shaving head flexibility, you get that in the blade. For example, it is the opposite of what you would find with a shaver.
Flexible patented cutting razor blades.
Extra-long handle for good reach.
Wet or dry shaving is possible with this manual back shaver.
Bakblade technology for a lighter touch.
Wide 10 cm (3.9 inches) blade.
It takes some time to learn the surface of your back to avoid cutting yourself without a mirror.
8. Razorba Back Hair Shaver
View On AmazonIf you are looking for an excellent paper, you can visit Razorback. This shaver is fantastic in almost every category.
It was very cheap, so you do not have to worry about breaking the bank. Moreover, it is very durable and lasts a lifetime, as long as you treat it well.
You also need to know that replacement blades are available.
This ensures that you can use the same shaver for the rest of your life. The replacement blades are not expensive, so the maintenance of the razor will not destroy the bank.
Easy to use
First of all, you should understand that razorba back hair shaver is easy to use. It is much easier to use than many of its competitors.
All you have to do is apply the shaver, apply shaving foam to the area, and interrogate and start shaving. It does not take longer than a few minutes to start, and the hair will be removed just as quickly.
Painless
Another thing to note is that the back shaves you painlessly. This may not be true with the competition back shavers. Make sure you use a lot of shaving cream or gel, and the razorba back hair shaver does not cause any problems.
Economical
Rubber handle provides a firm grip
The ergonomically designed handle provides full control and comfort
Replacement blades are very affordable
Includes a hook for easier storage
Takes a lot of practice to achieve a satisfying shave
Maybe not long enough for men with a high attitude
9. MANBLADE PRO Back Hair Shaver
View On Amazon
This shaver is quite long and can easily reach most skin areas.
The MANBLADE PRO Back Hair shaver is another right choice if the grooming tool length is a paramount concern.
The handle reaches 18 inches, which means that most men can reach the entire back.
The head is proportioned in the same way and measures 6 inches wide.
With this, you can shave large parts of your back with every pass.
This shaver with rear hair is also of great value because it accepts almost every type of blade you want to place on the head.
You can combine safety razor blades from different brands or even previous back shavers that you want to mix and match with this handle and head.
You can also use double-sided razor blades to get even more value with every purchase of replacement safety razor blades.
This shaver is equipped with a rolling shaving design that allows the safety razor blades to glide more smoothly over your skin than various other competing models.
This reduces the risk of skin irritation or shaving fire, and it also feels great on your skin.
It can be an excellent substitute for shaving cream for the right choice if you have naturally sensitive skin.
However, this function is affected by the type of blade you install, so keep that in mind if you're looking for a sensitive shave.
Besides, reloading new razor blades in the head takes just a few seconds, regardless of the type of blade you use.
This is the best choice for the razor if you already have several replacement blades for a model they are likely to accept.
It is also a good back shaver if you do not want to worry about specific types of replacement blades from one type of seller or manufacturer in the future.
Wide main design
Uses universal razor blades for topping up
Easy to slide the razor over the skin
A bit on the expensive side
10. Potou DIY Back Shaver with Adjustable Handle
View On Amazon
The Poitou Back Shaver is another excellent option for a manual back shaver. It has a 5-inch shaving head with a set of standard double edge blades.
It uses a closed standard double edge razor system, so you must purchase replacement heads when the shaver blades become blunt.
A small plastic comb helps control and direct your hair, and it is a thoughtful feature.
This shaver can be used for both wet and dry shaving. The standard double edge razor can shave smoothly while minimizing wounds or irritations thanks to the curved shaving head. It also has a protective cap that helps prevent cuts and razor burn and ingrown hairs.
It has a sturdy, retractable handle length that can be adjusted from 14 inches to 20 inches.
This shaver consists of three parts – the attachment head, and the handle – and is easy to dismantle and reassemble.
The adjustable handle length makes this an excellent choice for users of different body types and helps with complex parts of the back. Because the parts are removable, storage is safe, both at home and when traveling.
Potou offers a manual back shaver, two replacement double edge blades, and a storage bag in addition to the shaver itself.
I liked the hidden shaver blades of this shaver. Because it's hard to see your back while shaving, hidden edges help reduce the chance of accidental cuts. This product has been designed for user safety.
I wasn't too worried about cutting myself while using this shaver, and even with hidden shaver blades, the Potou Back Shaver still delivers a good, sharp shave.

Clover Wet or Dry!
Practical grooming tool Back Hair
Easy to Use
Why Buy Men's Back Shaver?
The truth is that many men believe that back razors are useless. This can not be further from the truth.
Unless you are satisfied with excessive hair in the back, you will undoubtedly want to invest in one of these best back shavers instead of later.
After all, they offer an abundance of benefits and help you remove the back hair more quickly than otherwise.
No pain
Even though it might be possible to cut your back hair with a regular trimmer, it would likely cause problems. A conventional back hair trimmer can be too rough on your back. This can cause you to suffer from skin rash and pain.
A back razor is specially designed to cut the hair.
This ensures that it is soft enough to serve this purpose exceptionally well. As long as you give yourself reasonable, you do not have to worry about pain.
Applied ease of use
While you are there, you should understand that using a regular shaver to cut your back hair will cause many problems. For example, you can request help from a friend or family member. An ordinary shaver is not equipped with a long handle. That is why it is not suitable to shave your back hair.
This is where a back-shaver excels. With this type of shaver, you can cut your beard hair whenever you want. That will make your life so much easier and help you avoid embarrassment.
Get everything
Finally, you should know that a shaver for your hair will enable you to remove the back hair faster and more efficiently than other back shavers.
Because they are designed specifically for this purpose, you never have to worry about not missing her. You can lose all hair and leave nothing behind with the handle length.
If you want more accuracy and precision, it is in your best interest to invest as quickly as possible in the best men's back shaver or back hair trimmer.
How to Shaving Your Back Hair Yourself
The back is one of the hardest, if not the hardest, parts of your body to shave. Whether you are shaving your back for the first time or already having the experience, I think these guidelines will help you.
FAQs About Electric Back Shavers
Do you have to shave or cut the hair on your back?
It depends on whether you want a completely smooth back or not. You could decide to cut the hair, so it is not a tangled wild jungle on your back. Most men want a completely smooth back, but this is a personal preference.
Is laser hair removal a viable option to remove male hair?
Some men may decide that it is worth the price. They want a completely smooth back without doing the required maintenance during shaving. To be honest, shave regularly. However, it is less expensive than laser hair removal. Laser hair removal requires different salon visits, which can be pretty expensive with the time.
Is waxing a good option instead of shaving?
Waxing is a type of hair removal that lasts longer than shaving. Instead of regular weekly shaving to keep hair-free, waxing smooth skin can last for weeks. However, it is pretty painful. You also need some help to get the resins ready. You need the help of your partner or go to a salon for professional waxing. It is also more expensive than shaving and can not be done alone.
Will shaving damage my sensitive skin?
As long as you prepare well, shaving with your back should not be a problem. People with sensitive skin must first shower and apply shaving cream. With a good shaver with sharp blades, you really should not have a problem with irritation or sensitivity. Also, apply lotion after shaving.
Is an ordinary shaver a good choice for my back?
You will find it challenging to reach your back hair alone. If you have the help of a partner, you can use an ordinary shaver. However, it does not give you the same performance. If you do this yourself, there is no way to shave your own back without the right tools.
How We Determined Our Electric Back Shaver
You will be surprised at how many back shavers there are today. Although certain brands (e.g., Mangroomer) seem to dominate the market, you will encounter numerous quality products from different manufacturers.
Our criteria for choosing the best back shaver for men came down to several things, such as ease of use (including the quality and length of the handle), durability, and how effective it is to reach parts of the back not easily accessible.
Of course, we also considered whether this resulted in an excellent comfortable shave, and we have studied the reviews of others, especially customer reviews.
Finally, we always ask for your feedback and suggestions. Do you use a shaver? If so, which product? Have you tried one of the best men's back shavers on our list? We would like to hear from you.
References
bestclippersformen.com
getarazor.com
primandprep.com