This site is supported by our readers. We may earn a commission, at no cost to you, if you purchase through links.
There are not many things in the world that will make you feel better and refreshed than when you shave properly.
When it's time to shave, you want a shave that feels good with a razor that won't fail when you're on your way to work. You also want a smooth, clean, and hassle-free feel from a razor that's reliable, affordable, and won't leave you with sore and unsightly ingrown hairs later on.
For a good shave every morning and a pleasant task instead of a difficult task, you need the best Norelco shaver.
Norelco shavers are among the best in the world, and their Norelco shavers are perfectly designed to give you the smoothest shave you'll ever have.
Philips Norelco electric shavers stand out for their comfort and unique designs that offer different ways of shaving. The shavers are known for their reliable performance and useful functions.
Whatever you need in an electric razor, there's something on our best Philips Norelco shavers List complies with it.
Regardless of the type of shaver you want and your specific needs. With that in mind, we have put together ten of the most efficient Norelco shavers on the market. Some of the numerous key factors contributing to our compilation were some shaving elements, shaving and charging time, and weight.
Everything you need for your next Norelco Electric Shaver can be found in our Top 10 Best Norelco Electric Shavers.
Things to Consider Before Buying a Norelco Electric Shaver
Do you know what specific features you need with your Philips Norelco electric shaver? Normally, the more expensive the shaver, the more extras, and add-ons it will come with it. By looking at the things you need and the additional features you don't need, you can improve your search for the best Philips Norelco shaver.
Blades
V-Track blade system: One of the most popular Norelco blade systems is lifting hard-to-get hair for a clean shave.
DualPrecision blade system: This is designed for stubble or longer hair.
MultiPrecision blade system: This works well for cutting longer hair or short stubble, although it may take a few steps to achieve a clean shave.
ComfortCut blade system: This provides a soft shave that is perfect for sensitive skin.
CloseCut blade system: This uses self-sharpening blades that easily achieve a smooth shave when working with stubble.
Super Lift & Cut Action system: This is a dual-blade system designed to target hairs that lie flat. This system can be linked to one of the other Norelco blade systems.
NanoTech Precision blade system: This is Norelco's most accurate blade system, which allows you to shave clean with a single pass.
SkinProtect blades: These are designed to move smoothly across the skin and cut hairs in just a few steps.
GentlePrecision blades: These are designed for use on sensitive skin and a range of hair types.
Shaving and charging time
Depending on the model, the shaving and charging time usually varies from model to model. However, you need to make sure that the model you choose gives you several full shaves before you need to charge. Most models on this list deliver an average shaving time of thirty-five minutes to an hour, except for the Philips Norelco Oneblade Pro that delivers about ninety minutes.
You should also consider the charging time and ensure that the model you choose reaches full battery capacity as soon as possible. With its ability to reach full battery capacity in just forty minutes, the Philips Norelco Electric Shaver 5110 has the fastest charging time on this list.
Foil or rotary
Electric razors are almost always available in two types: foil or rotating.
Foil razor blades were the first type of electric razor blades to come on the market – thanks to the efforts of shaving icon Jacob Schick many moons ago – and can be recognized by their thin, curved metal film that covers oscillating blades.
Rotating razor blades, a more modern invention, feature three rotating shaving heads that rotate. Shave your face in circular motions with a rotating shaver; the foil shaver's design limits you to a straight line, up-and-down movements.
Wet and dry shaving
Another important consideration you need to make is whether the device can be used dry and wet. Dry shaving is very clean and fast, so no wonder many men prefer to do it this way. In addition to dry use, some electric razors can also be used wet with a foam or shaving gel, giving the best of both worlds. Although some can be used in the shower, we do not recommend fully immersing them. The Philips Norelco Electric Shaver 7500, in particular, offers great wet and dry shaving performance.
Corded/cordless
Although most Norelco electric shavers are cordless and cannot be used while charging, some models can be used as a cord or cordless razors. If you shave occasionally, consider a cord-only shaver.
Skin type
Although we talked briefly about the skin type when comparing foil and rotating razors, it is worth stressing that your skin type will help you determine which razor best is for you.
Men with sensitive skin can benefit most from using a foil shaver, but that doesn't mean you should automatically ignore rotating razors just because your skin is prone to razor irritation.

10 Best Norelco Shavers of 2023
1. Philips Norelco Electric Shaver 7500 for Sensitive Skin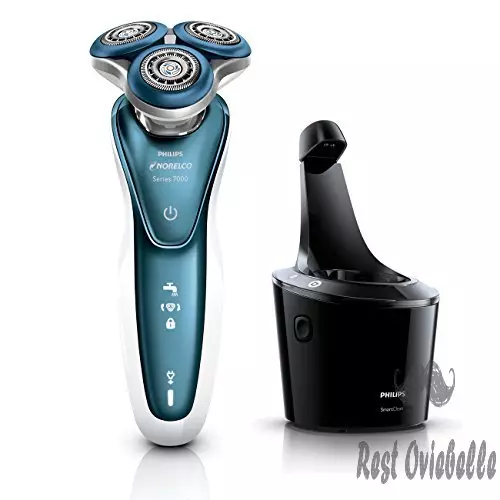 View On AmazonShaving shouldn't be drudgery. However, it can be a hassle for men with sensitive skin due to razor burning, bumps, and other types of irritation that can be caused by shaving.
Fortunately, electric razor blades such as the Norelco 7500 remove the sting by offering a comfortable shave without compromising proximity.
It is also an excellent all-around razor suitable for men of all skin types and beard density, and it is the best Philips Norelco shaver in general.
The 7500 comes with features that make shaving easier and no hassle, including Norelco's patented Comfort Rings.
The latter contains thousands of powdery beads that help create a smoother shaving surface so that the rotating films glide easily over the skin. According to Norelco's people, comfort rings, micro-pearl technology reduces friction by up to 85%.
We also love the GentlePrecision blades from the 7500 that cut clean short, and flat hairs while giving a narrow cut on stubble that you had trimmed in a few days.
The 7500 also features Norelco's DynamicFlex technology, which allows the shaving heads to move in five directions, making it easy to trim the different contours and hard-to-reach places of a man's face and neck.
The Norelco 7500 shaver includes an LED display with a 1-level battery indicator that alerts users when the battery juice is running low. The LED also has a cleaning indicator, replacement main indicator, and a travel lock indicator.
It's easy to keep your 7500 in shaving-ready shape, thanks to a SmartClean cleaning station that lubricates and charges the razor to keep it running at maximum efficiency. The cleaning station is skin-friendly as it does not use alcohol.
The 7500 runs on a Lithium-ion battery (usually the longest durable battery in electric razor blades) but also comes with a power cord.
It is suitable for wet and dry use, thanks to Norelco's AquaTec technology. Feel free to use it with your favorite shaving foam or gel or in the shower.

Multidirectional shaving heads make it easier to access hard-to-reach parts of the face.
Wet and dry shaving capacity
Excellent for use on sensitive skin
Replacement heads are expensive.
2. Philips Norelco Electric Shaver 8900
View On Amazon
Philips Norelco is a company that has produced numerous electric razors since the turn of the century, making it a difficult task to choose a particular model as their best. However, the Norelco 8900 Electric Shaver must be very close to the top. That's what it wants if it's not number one. With GyroFlex 3D technology, in which there are rotating dynamic parts that tilt inwards and bend outwards to track your face contours and curves with maximum comfort, this is without a doubt one of the best Norelco shavers on this list.
The Philips patented Super Lift and Cut system is also integrated into this device, allowing it to lift the hairs with the utmost comfort to deliver a close and even shave. You can opt for a wet or dry shave with your favorite shaving cream or gel, with the included AquaTec seal. With the built-in SensoTouch 3D, you can shave comfortably, regardless of whether you shave in wet or dry mode. The SkinGlide shaving surface keeps friction to a minimum, allowing the razor to glide smoothly over your skin without any irritation.
Although cleaning is a common problem with electric shavers, Philips Norelco appears to have solved this issue correctly, thanks to the included Jet Clean System. With a wide range of settings, including Automatic, Intensive, and Eco, all you have to do is choose the one you want for detailed cleaning. With the included Click-on Beard Styler, you can also choose from five length settings that make you even more versatile.
The included battery reaches a capacity of 100 percent in just one hour, and a fully charged battery gives you about 60 minutes of use. While this device is quite bulky at 16 ounces, that's only a tiny drawback, and that shouldn't be enough to influence your decision.

It comes with Super Lift and Cut technology.
GyroFlex 3D technology features
Use dry or wet as desired.
Fast charging
Easy to clean
The equipment is a bit bulky.
3. Philips Norelco 1150x/46 Men's Shaver 6100
View On AmazonWith a total of 17 features, tied only with a full care suite, this razor is the leader of the package. Everyone hates finding a dead battery and waiting forever for it to charge, but that's no problem here with a quick five-minute charging option and just 60 minutes to charge regularly. So, you don't have to worry about how to extend battery life.
Shave wet; shave dry; Shave smoothly. This razor can do it all. No risk of razor burning with this baby, and because of the ultra-smooth sliding head, irritation can no longer be irritating. With a price still in the double digits, you can't go wrong with this amazing razor.
Most buyers love this model. Many say they don't have to charge the thing for a week or two. It seems very long, but I won't argue with the masses. I love the ergonomics of the handle, the rich royal blue color (yes, yes, guys aren't supposed to care about that), and the soft feel of the grip.
Some of us like to let us go for a while between shaving, and some are almost obsessed with being silky soft. No matter how you shave, the 6100 can do the work. After experiencing stress-free mornings with the help of this little one, you will feel like a child again.
This razor likes wet or dry; this razor loves it in the air; this razor likes long and short hair; You're going to love this razor everywhere. There's no sign of green-tinted ham and eggs here, just shaving wounds. No longer a chore, you will wish that your stubble grew a little faster so that you do it all again.
GyroFlex 2D for even shaving on uneven surfaces
SkinGlide technology to eliminate irritation
DualPrecision heads for a close shave.
An hour of full charging, five minutes of fast charging, so you never have to worry if there's enough juice in the morning.
Wet and dry shaving options
A little pricey but still under $100
4. Philips Norelco Shaver 4100 (Model At810/41)

View On AmazonWhile the 4100 doesn't come with the bells and whistles of some other electric razors, it doesn't mean it's less effective. In most cases, it's even more effective.
The 4100 is similar to the Norelco 3500, except it's waterproof, and you use it with your favorite shaving gels and creams. However, that's not the only reason we like it, as it has many useful features that make electric shaving a pleasure, including:
A DualPrecision shaving head with rotating elements that contain wider slots for cutting long hairs and smaller holes for trimming short hairs.
The shaving heads bend and float to adapt to your face's unique curves and cause less irritation.
PN's patented lift and cut dual-blade action lift your whiskers and allow you to cut comfortably below skin level.
The 4100 is, as mentioned, waterproof. You use it with your favorite gels and lotions and just clean it by running it under tap water.
It comes with a handy pop-up trimmer that includes detailed work such as sideburns and mustaches.
The razor case is equipped with LED charging, a dead battery, and full battery indicators.
The 4100 also offers cordless shaving convenience thanks to a lithium-ion battery that provides 50 minutes of use before charging.
It only takes about an hour to charge fully, and it has a 3-minute fast charging function that provides enough power for one shave.
Another feature we think we appreciate is the rest of the engine of the Philips Norelco 4100. You get a clean, comfortable shave without the excess sound of other electric razors.

It is easy to use, and it does not irritate the skin, making it a good choice for beginners.
It is waterproof and easy to clean.
The blades are very durable.
It cuts a little slower than some other razors.
5. Philips Norelco Oneblade Qp6520/70 Pro
View On AmazonMost men hate the complicated operation and bulkiness of most electric razors, which is why a product like the Philips Norelco Oneblade Pro continues to gain popularity. This model offers a hybrid shaver and trimmer that is accurate and powerful. The trimmer uses a powerful battery that delivers 90 minutes of use and only takes an hour to charge fully. Since this product is advertised as a hybrid unit, you may be wondering what the catch is exactly. However, there is no catch; both the shaver and the trimmer that came with the model do wonders, even on sensitive skin.
Although the product comes with a replaceable blade, it is designed to last. However, to ensure that the device remains optimal, the manufacturer recommends replacing the blade every four months. The coated blades glide effortlessly over your skin without any irritation, and it also features special polymer points that help prevent scratches on the skin and ensure a smooth, clean shave. The fast-moving cutter means that you do not have to suffer from the typical tugboats and pull when cutting longer hairs.
The device is also water-resistant, which means you can clean it quickly and easily. And the knife is designed to follow your facial contours so you can gently trim your beard without complications. To remove any doubts in your head, the manufacturer has also supported this shaver with a full two-year warranty. However, this product doesn't really have as much power as an old-fashioned shaver, but that doesn't mean it's ineffective.

Power hybrid unit
Double-sided blade
Easy to clean
Durable battery
Blade follows your facial contours.
Needs to change blades regularly
Less powerful than traditional razor blades
6. Philips Norelco Multigroom 5100 Grooming Kit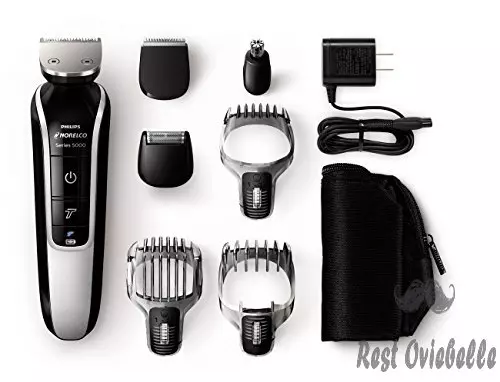 View On AmazonCombined with our Top Pick for most features and paired with our Budget Pick for the second-lowest price, this Philips shaver does everything. With 7 included attachments, including a large trimmer, mini shaver, detailer, and nose hair trimmer, it's your one-stop solution for hair, neck, and face care.
Philips Norelco Multigroom is a complete barbershop that fits in a pouch (included.) The price is great, the options are great, the operational convenience is great, and the accessories suite is great. Norelco has outdone itself this time with this product. Or, should I say products? I mean, anything to trim every piece of hair you find is included here. And since when do I no longer have to scroll through guides for different lengths?
Trimmers made only for your hair still require you to dig through a bag of plastic to find the right size, but this one is just an institution. Wahl has some explaining to do here.
Then we add the fun things – Turbo boost. Then I want to make some home improvement, what about you? Although this model is not recommended for manscaping, it will do any other care room, and if mowing to the south is important, the next model number in this product line makes that possible and full shower use.
Unfortunately, it is not safe to usefully in the shower, but it can be washed with real water, not only a little stiff brush. I'm not someone who tries to shave in the shower, but if you do, consider that factor. I'm more inclined to be in a hurry in the morning, and shaving is an afterthought. With a lightning-fast charger of 60 minutes, we don't miss the fast charging function.
Four devices in one package, 79659000easy-to-clean, it only underwater.
Rapid battery charge to the full79659000, not a few of the parts to dig through to the mid-lengths
Self-locking blade
Like the OneBlade Hybrid, this doesn't offer a close shave. According to some buyers, not even as close as a regular hair trimmer without a guard.
7. Philips Norelco 5100 Electric Shaver Wet & Dry
View On AmazonHow to quickly get a shave with a straight razor is important for many reasons, including that it can help you rush out of the door in the morning and if you're going to be late. Rapid milling machines can cut whiskers efficiently without having to pull and tug on the wrong knife.
, it is Not a fast-paced, razor delivers a close shave, but we think you'll appreciate the proximity to be provided by the Norelco 5100 is a razor, and that's a whole lot of men out of action, it will be recorded in the field, both in terms of speed.
A bonus also delivers a close shave without any skin irritation, making it suitable for men with sensitive skin.
The 5100 is a Norelco, the MultiPrecision blade system that cuts both long and short hair effective and flexible way.
. The focus of The five-directional rotating heads moves independently of one another. To make it easier for you to cut close to the skin, it will also make it easier for you to cut in tight spaces, such as in your neck and jawline.
Besides, if you don't have to go until you get a smooth, close shave you desire.
The 5100 is suitable for both dry and wet shaving, thanks to the AquaTec function. You can also shave dry, and you can make it with your favorite shaving foam or gel, or even shave in the shower.
The 5100 is also with a SmartClick precision trimmer, which you will care for the finer details, sideburns, mustaches, etc.).
The 5100 is wireless and comes with a Lithium-ion battery that provides you with more than a 40-minute run time, and that's about 13 shaves and a one-hour charge. There is also an LED to let you know how much battery time is left and is equipped with a small sensor.

For a fast and smooth shave
It is to be Effective in trimming the length of the hair length
. the Precision trimmer to look at you
Heavier than some of the electric shavers
8. Philips Norelco Electric Shaver 9700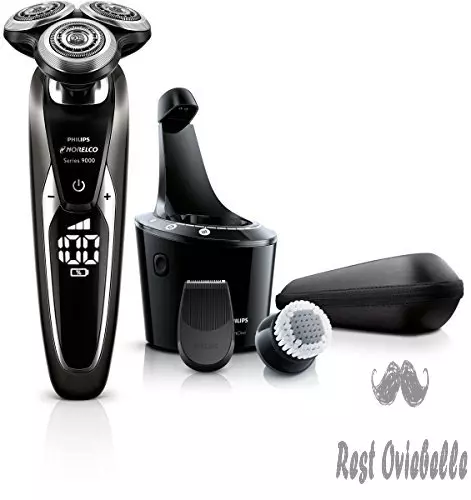 View On AmazonWith the ability to provide a safe and comfortable aftershave, the Philips Norelco Electric Shaver 9700 is the most likely that of a Philips' – most advanced shaver. It also comes with a special Contour-Detect Technology, which allows the module to follow every aspect of your face, and the corners are not all independent. The improved contouring from the system to the unit will help you cut as much as twenty percent more facial hair at the same time. The newly designed V-Track Precision Blades have been designed to make it the best cutting position, resulting in a comfier to shave that is 30 percent closer to you.
When it comes to ease-of-use, this electric shaver from Philips is very, very good. With a single click, you can effortlessly use your sensitivity to change your settings. The unit also has a digital interface for displaying the current battery status, battery level indicator, cleaning indicator, travel lock indicator, and a complete replacement of the main screen. By the way, it also comes with a water-technology – – technology-so it's comfortable for a both dry and wet shave with shaving cream or gel. Apart from the five-minute quick-charge feature, which provides a complete performance, a one-hour charge provides a 60-minute, easy-to-shave with the device.
. The shortcomings of this device are provided with a pair of. The first of these is its inability to work while it is plugged in; it is likely to be a very unnecessary safety and security of its function; that is, no one knows for sure. In addition to that, most customers believe that the product is a bit expensive, it is worth more than the less-expensive models from Norelco.

It provides a smooth and clean shave that is 30 percent better than the other models
The amount of the battery,
, High-accuracy contouring system
A little bit expensive,
It is not a function when it is connected to
9. Philips Norelco Travel Electric Razor Pq208/40
View On AmazonThanks to the combination of key travel-friendly features, such as the case may be, the use of AA-size batteries, which is interested into the ac power outlet voltage, around the world, and it's a small size, sleek design, combined with a meager price (less than the cost of a new DVD, this razor makes for an amazing best Travelers should take.
This low price makes it a lot less nerve-wracking to reduce the risk of breakage or loss during the trip; because there is almost no investment, you could buy two of these for less than our lowest-priced razor. To add to the above features, there is no need for you to travel with a lot of accessories to maintain the function of the Philips shaver has a self-sharpening feature and the fact that there is no cost for cable or dock needed.
For some people, it is the lack of charging power, this electric razor may seem like a drawback, but for me, it is a perfect traveler's; it is a huge bonus.
I don't need to find a wall outlet, or you will have to make some kind of an outlet, and it can even be available to you. With this blade, it runs on commercially available AA size dry cell batteries. Not only can these be purchased world-wide, but you can lend several devices, you will need to travel every couple of months, and if they are really to die for. I know that if I do this, I do a lot of it on the road.
, Active in a non-intrusive design, I can squeeze this puppy in one small crack that I couldn't find in my luggage and take a trip a whole lot easier. In the absence of additional components that are needed to do that, and I don't lose what's important, in other words, it's all going to be in the same place.
, The low-cost, saying it's not a big deal, if it loses, the airline, or the use, of my room. If this were to happen, I'd just buy a new one. How to shave with this thing, it is so close and comfortable with plenty of higher-priced, and the not-so-portable, the razor, so there is no need to compromise on travel. Less stress when I'm on a trip makes me so happy.

Self-sharpening blades
Very low
Long service life available everywhere, disposable batteries,
It is minimal and is light-weight, but it gives you a great shaving experience
Just a basic Philips electric shaver. No additional options
Not suitable for use in the bathroom, or simply to be cleaned with water.
10. Philips Norelco Shaver 2100
View On AmazonEveryone has to start somewhere, including how to shave with an electric shaver.
That's why as a straight razor like the Norelco 2100 MHz); it is considered to be ideal, " input" an electric shaver that is perfect for newcomers, but it is effective enough to be used by people at all levels of it for her.
, such As the Norelco OneBlade, by 2100, it will be delivered to you at an affordable price, without the need to cut down on the craft of Norelco, and he is in his name.
It has a CloseCut blade system, that is, to get a better shave with less irritation, while the blades are self-sharpening and maintaining the consistency of shaving trimming.
In The 2100s, shaving heads flex in four directions, easy to use, with its unique curves and contours of a man's face.
It also has a pop-up trimmer that allows for the "details" work of the sideburns and mustaches for putting the finishing touch on the style you want to achieve.
In 2100, it is suitable for both dry and wet shaving, and it's so easy to clean (with water) due to the one-touch function that allows you to create the head so that you can wash.
Besides, it has been a very, very quietly razor, and some users say it is so. Think about the fact that you will not be able to hear yourself unless you're standing next to the person who will use it.
The Lithium-ion battery provides up to 35 minutes of shaving time of about eight hours to charge fully. An LED indicator lets you know when battery power is low.

A great place to stay, and where is the razor's edge.
, Close shave with less irritation
The ultra-quiet motor
Geen quick charge functie
FAQs About Best Philips Norelco Shaver
Which model is the best to use if I have sensitive skin?
Suppose you are looking for the best model for even the most sensitive skin, best commitment to the Norelco With Gentle Precision Pro blades of the high-tech control system and the comfort stakes, this device can slide gently over your skin without causing any irritation.
Can I replace the blades with a different Norelco blade system?
Most of the Norelco electric shaver can accept only the type of head of the blade and the system that they have. You will need to consider the price and the replacement of the blades in the shop for a Norelco electric razor.
How often should I change the blades?
Unless you have a beard that grows in the night, you don't have to change the blades on more than two or trice a year. As for the models, we have made a list of the best practices for the replacement of the razor blade. It is the ideal period of time, and it will be once every four months. Self-sharpening blades are powerful and can be changed for less than the other types. In any case, each of the electric shaver from Philips with a sheet as a reference will give you the recommendations you will need to have to be able to replace it.
How long do Norelco electric shavers last?
The majority of Norelco razors can be expected to last between five and seven years old, but many of them could be used for ten years or more.
Conclusion
If you're still unsure what is best Norelco shaver could be right for you, please make sure that you've figured out your priorities and a razor as soon as that is achieved to compare and contrast the major qualities of two or three of the models and the roads all the way to the bottom. Perhaps your most important concerns are the price and the service life of the battery, durability, and value-added features. Whatever it is, try to see only 2 or 3 properties. Track the most to the least important.
What do you think? You can use a Norelco electric razor? If so, what model? Or, you can use a different type of razor? We are always happy to hear from you.
[/Conclusion]
References
instantgrooming.com
wisepick.org
baldingbeards.com