This site is supported by our readers. We may earn a commission, at no cost to you, if you purchase through links.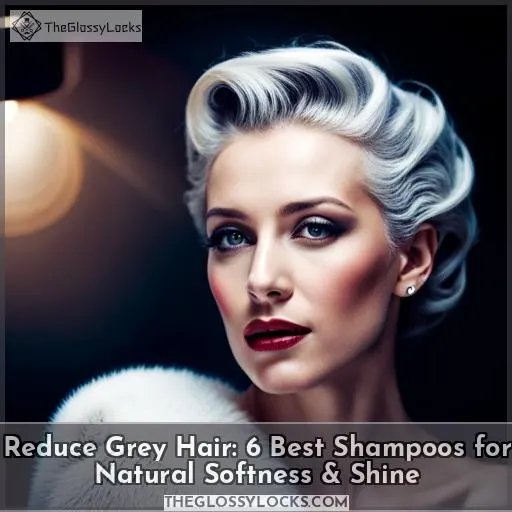 Smoothly sailing towards silver strands? It's time to get the best shampoo for reducing grey hair. Everyone is bound to welcome some greys at one point or another, so why not make it a graceful transition instead of an abrupt change? With the right products and techniques, gray can be glamorous! Read on for our top picks on shampoos that will help reduce your grays while keeping them soft and shiny.
Key Takeaways
DPHUE Gloss Plus Black and John Frieda Cocoa Infused Darker Color Treatment are effective shampoos for reducing grey hair without ammonia or peroxide.
Using moisturizing shampoos with blue or violet undertones can help make grey hair soft and shiny naturally.
Specialized shampoos for grey hair, like Redken Graydiant Silver Hair Conditioner and American Crew Daily Silver Shampoo, can restore and maintain softness and shine.
While grey hair reversal is not scientifically proven, preventing grey hair through a healthy lifestyle, balanced diet, and stress management is recommended.
6 Best Shampoos to Reduce Grey Hair
When it comes to reducing grey hair, you have several options. For an effective and luxurious experience, try DPHUE Gloss Plus Black for a glossy finish; John Frieda Cocoa Infused Darker Color Treatment weekly for rich nourishment; Boldify Gray Hair Fibers for worry-free color matching; Redken Graydiant Silver Hair Conditioner to neutralize brassy tones and increase softness; Just For Men Touch of Gray Medium Brown as a no-mix formula that lasts up to 8 weeks; or American Crew Daily Silver Shampoo with key benefits such as yellow toning reduction.
1. DPHUE Gloss Plus Black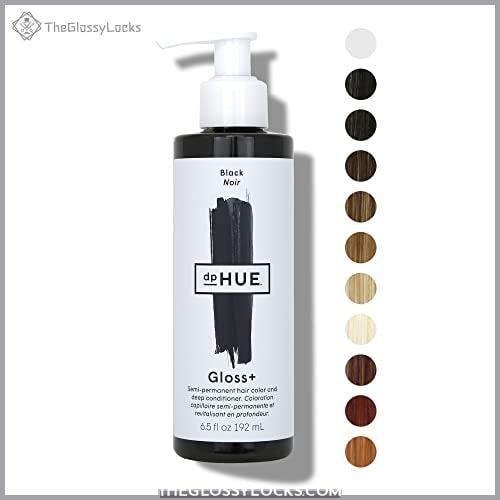 View On Amazon
Dive into the deep, glossy richness of dPHUE Gloss Plus Black for a semi-permanent hair dye that'll enhance and deepen your natural or color-treated locks. This black shade has a brown base to provide you with a neutral look, which is great if you want to avoid an overly dramatic transformation.
There's no mixing required; just use it straight from the package as easy as can be! The ammonia-free formula is gentle on hair yet conditions while coloring, so your tresses remain soft and shiny after application.
It's also free from parabens, sulfates, phthalates, and gluten, giving you peace of mind when using this product at home.
And if you're looking for something more customized, you can mix this with other shades or products to create various effects depending on what kind of look suits your style best!
Enhances & deepens natural/color-treated hair
Neutral tone provides non-dramatic results
Ammonia-free formula is gentle on hair
Free from parabens, sulfates, etc.
Can be mixed with other shades/products
Not suitable for full gray coverage
Some leakage issues reported
May require additional applications
Experienced staining & unpleasant odor
2. John Frieda Cocoa Infused Darker Color Treatment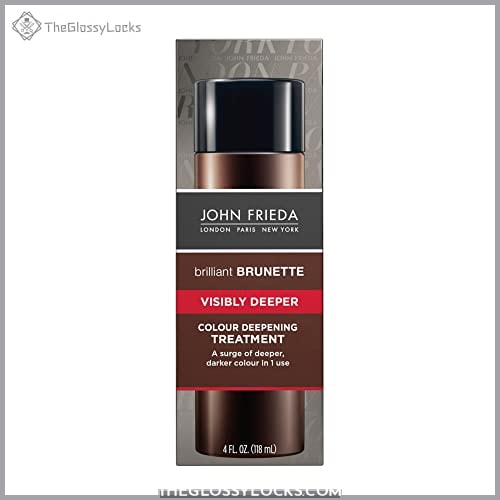 View On Amazon
Transform your grey-haired look with John Frieda's Cocoa Infused Darker Color Treatment – no fuss, just a smooth sailing experience! This product is designed to deepen and enrich all shades of brunette hair.
The rich and nourishing formula contains cocoa and evening primrose oil to hydrate while adding shine. It has been formulated without the use of ammonia or peroxide for gentle coverage that can be used weekly in place of conditioner.
This creamy blend gives you healthy-looking color as it works to temporarily accentuate natural hues, cover white or gray hairs, tone down brassiness, and reduce yellow undertones from hard water exposure – all while restoring softness and shine.
Plus, it smells amazing – a definite plus! Whether you're between coloring appointments or simply want more depth in your mane without harsh dyes staining everything around you, then this is the perfect solution for you.
Intensifies brunette hair color
Results after just one use
Enhances richness & shine
Suitable for natural/colored hair
No harsh dye/staining
Helps tone down brassiness
Some users reported no significant change
3. Boldify Gray Hair Fibers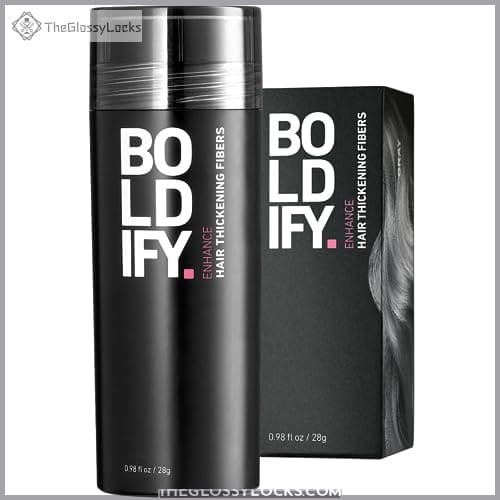 View On Amazon
Give thinning hair a natural boost with Boldify Gray Hair Fibers. This cruelty-free, clump-proof solution instantly disguises patchiness and thinning strands across the temples, part, crown, and sides for an undetectable finish.
Follicle-mimicking molecules blend seamlessly to give you real hair results that last long after application.
Get worry-free color matching with Boldify's Color Match Guarantee and hassle-free satisfaction guaranteed from their team of experts at every step of your journey towards thicker-looking locks! Enjoy a natural look without worrying about sweat or sleep ruining your hairdo, as these fibers are designed to stay on even through vigorous activity or restful slumber.
It suits both men and women who suffer from premature balding due to genetics or lifestyle factors, giving them back their confidence in no time!
Cruelty-free & Clump-proof
Seamless Blending & Undetectable Finish
Worry-Free Color Match Guarantee
Hassle-Free Satisfaction Guarantee
Long-Lasting Results
Potential Messiness During Application
4. Redken Graydiant Silver Hair Conditioner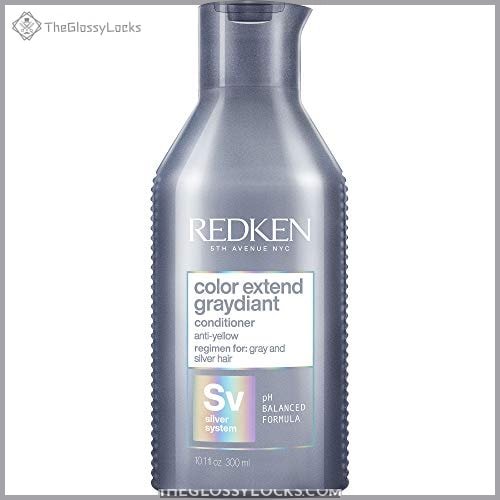 View On Amazon
Experience the power of Redken Graydiant Silver Hair Conditioner and be amazed at how it can transform your graying hair! Its toning, strengthening, and softening properties make this professional shampoo an ideal solution for gray and silver hair.
The dual-action system works to restore brightness while neutralizing any brassy tones or unwanted yellow undertones.
With customized violet pigments that deposit color tone as well as Amino Acids that add strength, you'll have silvery locks in no time! For added hydration benefits, Citric Acid is also included in its formula, which helps protect against hard water-induced yellowness.
Users report softer strands with a noticeable detangling effect after using this product, plus a pleasant smell on top of it all! Don't forget the compliments they receive too when their gray hairs look so bright and beautiful!
Tones & strengthens grey/silver hair
Neutralizes brassy tones & yellow undertones
Restores brightness to grey/silver locks
Provides softness & detangles strands
Pleasant scent upon use
Not as dramatic results compared to expectations
Initial leakage issue upon receipt
May not extend shine significantly
5. Just for Men Touch Gray Medium Brown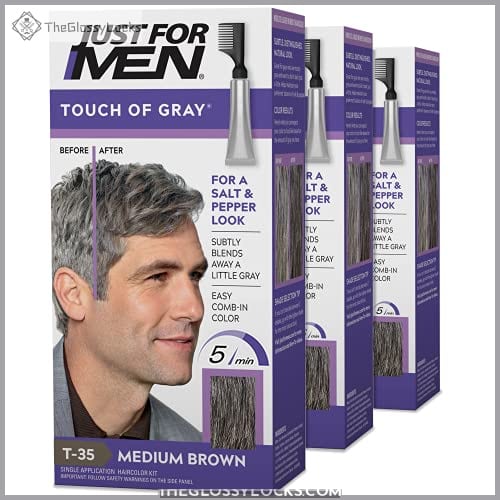 View On Amazon
Try Just For Men Touch Gray Medium Brown to get rid of some gray hairs for a salt-and-pepper look. This no-mix, easy-to-apply hair dye is designed to last up to 8 weeks and comes in an ammonia and peroxide-free formula.
With the simple comb applicator, you can quickly apply this product without any mess or fuss – just be cautious when applying around your nails and bathroom tiles! Many users report that leaving it on for 6 minutes provides better results.
The B45/55 variant has been specially formulated with key benefits such as reducing yellow tones while increasing softness and shine – perfect if you're looking for salon-quality results at home! It's also reasonably priced, allowing one package multiple uses over time so you won't have to keep buying more products every few months.
Reduces yellow tones
Cruelty-Free
Increased softness & shine
Initial scalp warmth may occur
Potential staining issues
Results vary based on the user
6. American Crew Daily Silver Shampoo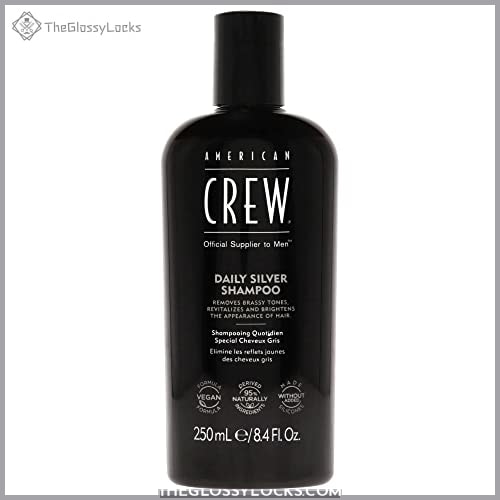 View On Amazon
Discover American Crew's Daily Silver Shampoo, formulated to minimize yellow tones and soften gray hair with its fresh scent. This liquid shampoo is designed for men of all ages who want to maintain the vibrancy and softness of their gray hair.
Containing key benefits such as amino acids, customized violet pigments, Citric Acid, and more, it neutralizes brassy hues while increasing shine.
Minimizes yellow tones in gray hair caused by minerals/impurities/product buildup
Maintains vibrancy & softness
Formulated with key benefits like Amino Acids & Customized Violet Pigments
Provides long-lasting results & protects against hard water-induced tinge
Pleasant smell throughout the day
Can be too harsh for daily use
May leave residue on some users' hair
Some users found minimal impact on overall softness
How Can I Make My Gray Hair Soft and Shiny Naturally?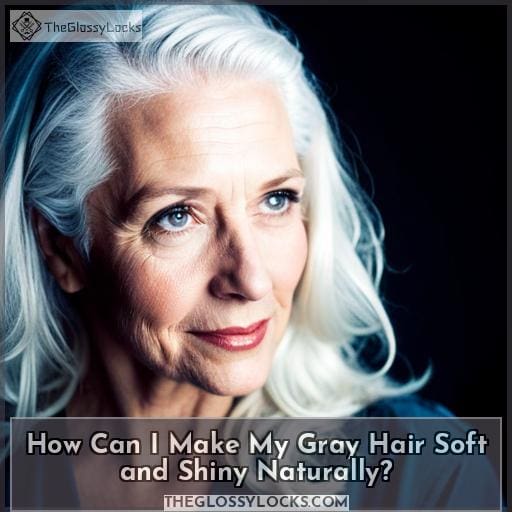 To make your gray hair soft and shiny, use moisturizing shampoos with blue or violet undertones to help reduce yellowing – like the one recommended by dermatologists 87% of the time.
For natural shine and a soft texture, try these DIY remedies:
Use cold water when washing your hair as hot water can strip away moisture from gray hair faster than other colors.
Incorporate weekly deep conditioning treatments into your routine for extra hydration that is essential in maintaining gray hair's shine and healthiness.
Avoid excessive heat styling such as blow drying or frequent curling/straightening which can damage fragile follicles over long-term use.
Consider lifestyle tips such as eating a balanced diet full of vitamins & minerals necessary for healthy locks while also reducing stress levels to prevent premature graying.
Manage those silver strands responsibly with the best shampoo to reduce grey hairs combined with a few simple lifestyle changes tailored specifically towards managing delicate grey tresses!
Can You Use Regular Shampoo on Gray Hair?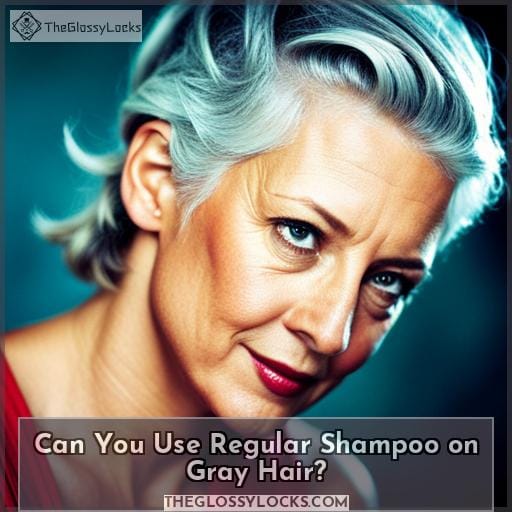 You may be tempted to use regular shampoo on your gray hair, but it's important to consider that some ingredients can strip away the natural moisture needed for healthy-looking strands. A specialized shampoo designed specifically for gray hair is best as it helps restore and maintain the softness and shine of graying locks.
These shampoos are formulated with nourishing ingredients like coconut or argan oil, which help add back lost hydration. They also contain violet or blue undertones to reduce yellowing. It's important to avoid sulfates as they can dry out already dry gray hair even further.
Daily care should also include UV protection against sun damage to keep gray hairs looking their best over time. Additionally, purple toning products can help reverse any existing discoloration from environmental factors like chlorine exposure from swimming pools.
With proper daily care, you'll be able to make sure your silver mane stays vibrant and full of life!
Can Grey Hair Be Reversed?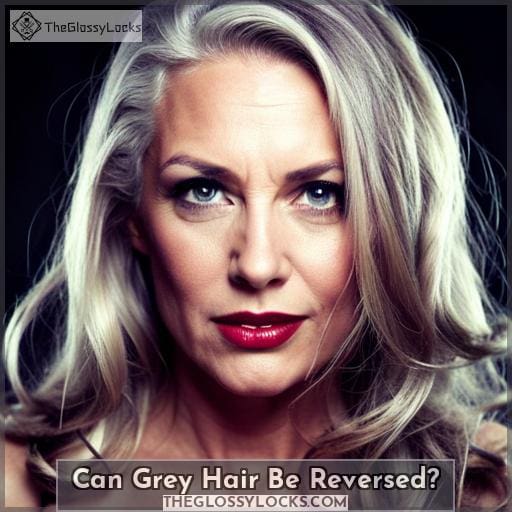 Do you have gray hair and want to know if it can be reversed? Unfortunately, there is no scientific proof that gray hair can be completely reversed. But that doesn't mean all hope is lost! There are certain lifestyle and dietary influences that may help slow down the graying process or aid in reversing gray hairs naturally.
It's important to remember, however, that genetics play a major role in premature graying. So even with changes in diet or lifestyle factors, it might not completely reverse the situation. Additionally, there are products such as shampoo for gray hair available on the market.
These aim to reduce yellow tones and soften strands while adding shine. This could give the illusion of lessening greyness over time, but it will not technically reverse any existing grays.
So, instead of relying solely on myths about how one product might magically turn your locks back into their original color again, look out for natural solutions.
How to Prevent Grey Hair Naturally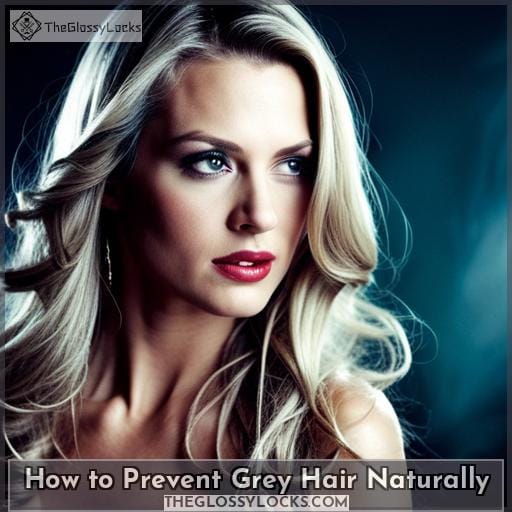 Taking proactive steps to prevent premature grey hair can help you keep your locks looking vibrant and youthful. To reduce the appearance of gray hair, maintain a healthy lifestyle with a balanced diet, get regular exercise, and manage stress levels.
Try to limit exposure to environmental pollutants. Additionally, genetics play an important role in determining when graying occurs. If one or both parents began greying early on, it is likely that you will as well.
Some natural remedies for preventing premature grayness include eating foods rich in copper, such as nuts and beans. Vitamin B-12, found in dairy products, and folate, found in leafy greens, can also help.
Iron, which can be found in meat, nuts, and beans, as well as zinc from seafood, are beneficial too. Vitamins C and E, found in oranges and strawberries, are also helpful. Managing stress through relaxation techniques such as yoga or meditation can be beneficial for reducing grey hairs naturally.
Conclusion
As you embark on the journey of embracing your silver locks, it's important to find the best shampoo to reduce grey hair and keep it looking silky and vibrant.
From dPHUE Gloss Plus Black to American Crew Daily Silver Shampoo, there are plenty of options to keep your locks looking luxurious.
With nourishing ingredients like coconut and argan oil, sulfate-free formulas, and violet and blue undertones, you can keep your gray hair healthy and glossy.
Regular use of these shampoos can help reduce grey hair and maintain a natural, youthful appearance.
The key is to find the right shampoo for you and your hair goals!